This is the ninth edition of theScore's NHL Power Rankings for the 2020-21 season. Check back for updated rankings every second Monday during the regular season.
In this edition, we select each team's best newcomer this year. This could be a rookie, a free-agent addition, or a trade acquisition. In other words, someone who played their first game with the team during this campaign - or played elsewhere between previous and current stints with the club.
1. Vegas Golden Knights (36-12-2)
Previous rank: 2nd
Alex Pietrangelo hasn't quite lived up to the hype he generated in free agency, but the veteran rearguard has still been solid for the Golden Knights. He's racked up 18 points, averaged over 24 minutes per game, and has strong underlying numbers.
2. Carolina Hurricanes (34-10-7)
Previous rank: 3rd
The Hurricanes have a talented and established core group, but Jesper Fast has been a welcome addition this season. The 29-year-old is currently injured, but he's contributed 18 points in 41 games and had favorable expected goals for and scoring chances for percentages before getting hurt. Fast has also occasionally been entrusted with top-line minutes.
3. Colorado Avalanche (33-12-4)
Previous rank: 1st
Many viewed the trade that brought Devon Toews to Colorado as a steal for the Avalanche, and his play has done nothing but justify that stance. The 27-year-old has made the team's top pairing as dynamic as any in the league, chipping in 25 points in 46 games while boasting a 63.68% expected goals rate at five-on-five.
4. Tampa Bay Lightning (35-14-3)
Previous rank: 4th
Ross Colton has made the most of his opportunity with the Lightning, who have given some young players a look with a pair of superstars out of the lineup. Colton has posted eight goals and three assists in 26 games, and the 24-year-old has done it while largely playing a bottom-six role.
5. Toronto Maple Leafs (33-13-5)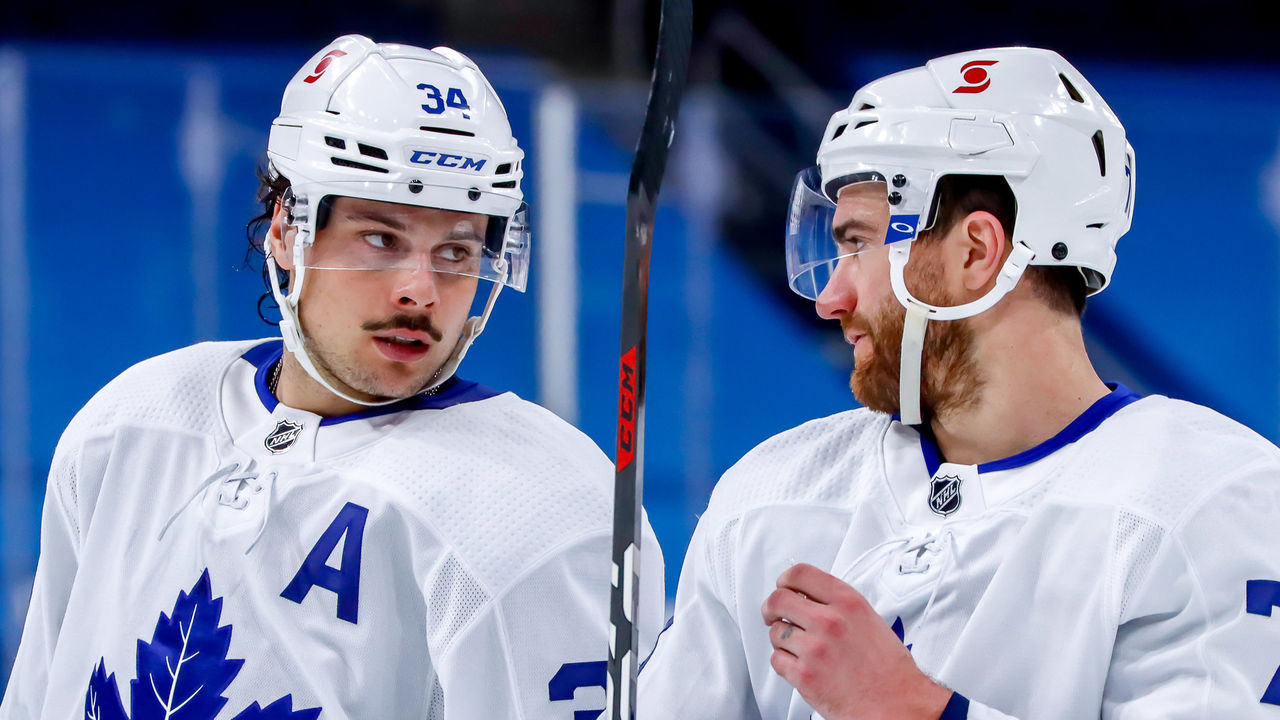 Previous rank: 6th
TJ Brodie has been everything the Maple Leafs needed and more. He's been a steadying presence on the top pairing and makes significantly fewer mistakes than any partner Morgan Rielly has ever had. Toronto has scored 66.6% of the goals with Brodie on the ice at five-on-five this season.
6. Pittsburgh Penguins (34-15-3)
Previous rank: 8th
One of the Penguins' offseason goals was finding a second-line winger to play alongside Evgeni Malkin, and Kasperi Kapanen has filled that role nicely. Malkin hasn't played since March 16, but he and Kapanen showed great chemistry before his injury, and Kapanen finds himself with 26 points in 36 games.
7. Florida Panthers (34-14-5)
Previous rank: 7th
What a steal Carter Verhaeghe has been for the Panthers. Poached from Tampa Bay on a two-year, $2-million contract in free agency this past offseason, the 25-year-old ranks third on the team with 35 points in 42 games.
8. Boston Bruins (30-14-6)
Previous rank: 10th
The Bruins managed to bring in Taylor Hall at the deadline without paying a king's ransom, and the move is paying dividends so far. With five goals and five assists in 11 games with Boston, the winger is starting to look like his former MVP self. The Bruins desperately needed their second line to get going for the postseason, and it's heating up at the right time.
9. Minnesota Wild (32-14-4)
Previous rank: 9th
Kirill Kaprizov is probably the easiest pick in this entire exercise. The electric rookie leads the Wild with 43 points and is a lock to be nominated for the Calder Trophy. For a team that's lacked offensive flair for years, Kaprizov has been a godsend.
10. Washington Capitals (32-14-5)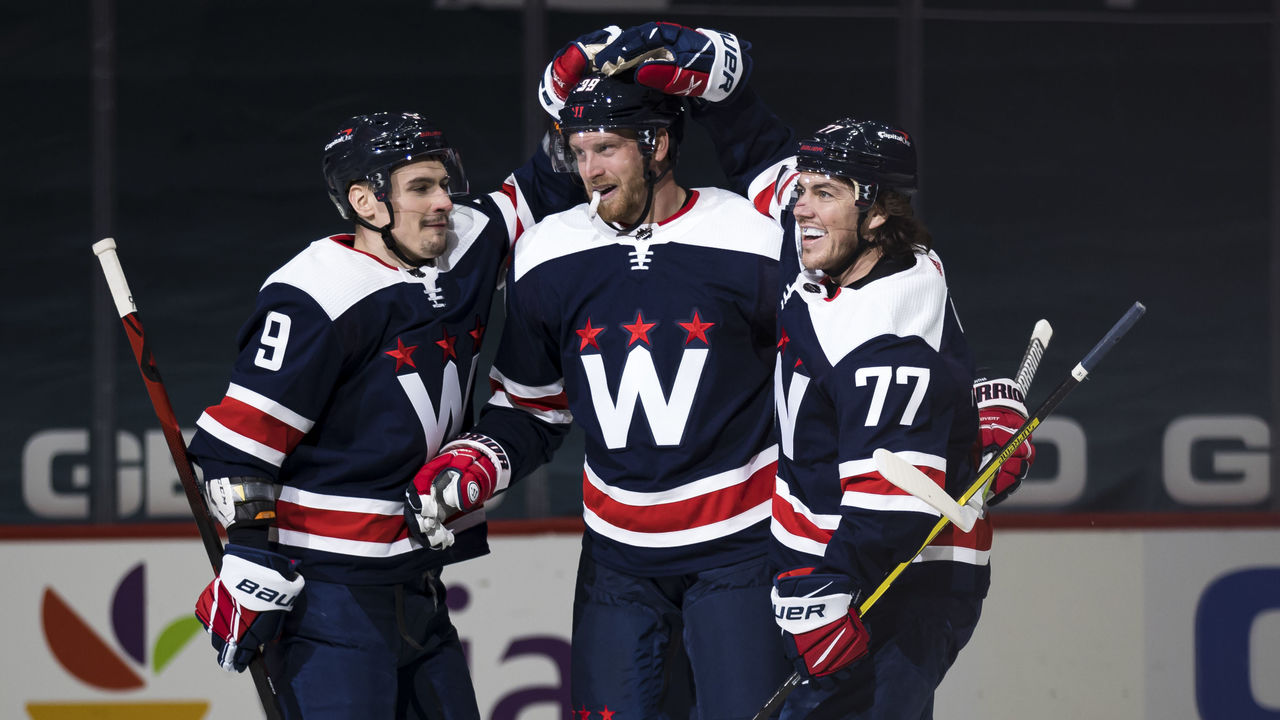 Previous rank: 5th
Anthony Mantha has been a perfect fit with the Capitals since they landed him in a blockbuster trade on deadline day. The 26-year-old has racked up four goals and two assists in nine games with Washington, further bolstering an already potent top six.
11. New York Islanders (31-15-5)
Previous rank: 11th
The veteran Islanders don't have too many candidates here, but Ilya Sorokin is the pick. The highly touted rookie netminder has made the most of a backup role so far, going 12-6-1 with a .918 save percentage and a 2.19 goals-against average.
12. Edmonton Oilers (30-17-2)
Previous rank: 13th
The Oilers gambled on Tyson Barrie with a one-year, prove-it deal after his down year with Toronto last season. While his defensive game is still not great, he's been an offensive force throughout the campaign - which is what Edmonton was banking on. His 42 points so far are good for third among Oilers skaters and NHL defensemen.
13. New York Rangers (26-20-6)
Previous rank: 14th
Colin Blackwell has more than doubled his previous career high in points during his first season on Broadway, registering 22 in 43 games in a bottom-six role. The unheralded 28-year-old ranks fourth among Rangers forwards with 1.22 goals per 60 minutes this season.
14. Nashville Predators (28-22-2)
Previous rank: 16th
The Predators' signing of Erik Haula didn't generate much buzz in the offseason, but the versatile forward has provided value on a $1.75-million cap hit. Haula has been an effective third-line center for Nashville, collecting 19 points in 48 games.
15. Dallas Stars (21-17-13)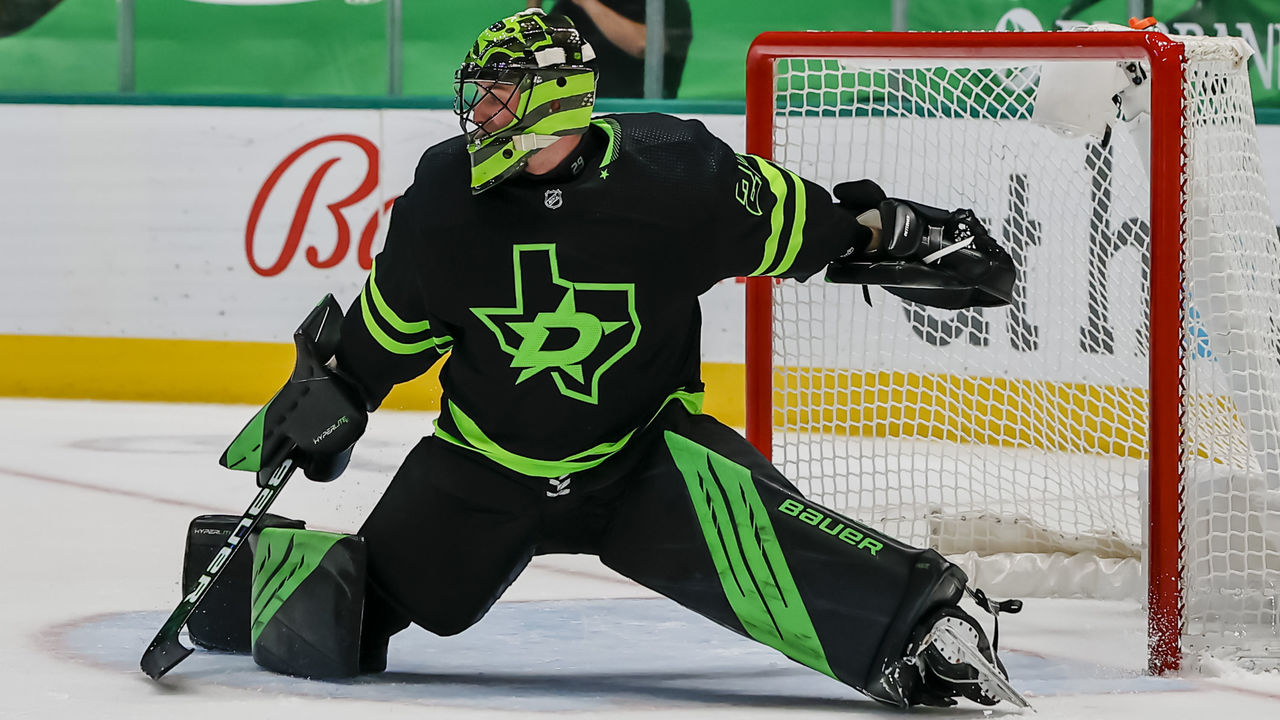 Previous rank: 15th
Jason Robertson would be the obvious choice here if he hadn't played three games with the Stars last season, but rules are rules. Instead, we're giving the nod to another exceptional Dallas rookie in Jake Oettinger. The freshman netminder has a .916 save percentage and 4.6 goals saved above average in 26 appearances this season.
16. Montreal Canadiens (23-18-9)
Previous rank: 17th
The Canadiens had one of the busiest offseason in recent memory, but the addition of Tyler Toffoli was by far their best move. Not only does he lead the team with 27 goals, but that total is good for fourth in the NHL.
17. St. Louis Blues (23-19-7)
Previous rank: 20th
Mike Hoffman has come as advertised through 45 games for the Blues, ranking second on the team with 16 goals and third with 32 points.
18. Winnipeg Jets (27-20-3)
Previous rank: 12th
Pierre-Luc Dubois has been just fine with the Jets since arriving in a trade for Patrik Laine, but Paul Stastny has arguably made more of an impact. The 35-year-old has averaged over two more minutes of ice time than Dubois, and he's edging him out in points per game with the team. Stastny also has slightly better underlying numbers than his 22-year-old teammate.
19. Calgary Flames (22-25-3)
Previous rank: 22nd
Chris Tanev has lived up to his big-ticket contract in Year 1 with the Flames. He's not lighting up the scoreboard - that's not what he's paid to do - but he's been a rock in his own end while playing over 21 minutes per night. He leads all Calgary blue-liners with a 57% expected goals mark.
20. Chicago Blackhawks (22-23-6)
Previous rank: 18th
Kevin Lankinen seemingly came out of nowhere to snatch the starter's role with the Blackhawks for much of the season. He faltered a bit down the stretch, but he's still had a strong campaign with a .908 save percentage and a 16-14-5 record.
21. Ottawa Senators (19-27-5)
Previous rank: 29th
All eyes were on Tim Stutzle entering this season, and the rookie has delivered for the Senators. The third overall pick of the 2020 NHL Draft has shown flashes of his potential, scoring some highlight-reel goals throughout the year while racking up 26 points in 48 games.
22. Philadelphia Flyers (22-22-7)
Previous rank: 19th
The Flyers have underachieved, and their roster is largely unchanged compared to last season. But one newcomer has provided some hope. Wade Allison has only played nine games with Philadelphia, but the 2016 second-rounder buried his first NHL goal in his second contest and earned a quick call-up after posting four goals and five assists in eight AHL games.
23. Arizona Coyotes (22-24-6)
Previous rank: 21st
Derick Brassard has provided experience for a Coyotes club that features more than a few players who are still developing. The 33-year-old journeyman has contributed 19 points in 49 games while playing both at center and on the wing in a bottom-six role.
24. Los Angeles Kings (19-24-6)
Previous rank: 24th
Andreas Athanasiou has enjoyed a solid campaign after joining the Kings on a one-year deal during the offseason. The 26-year-old has racked up 10 goals and 12 assists in 41 games and proved he's a legitimate middle-six forward.
25. Detroit Red Wings (18-27-9)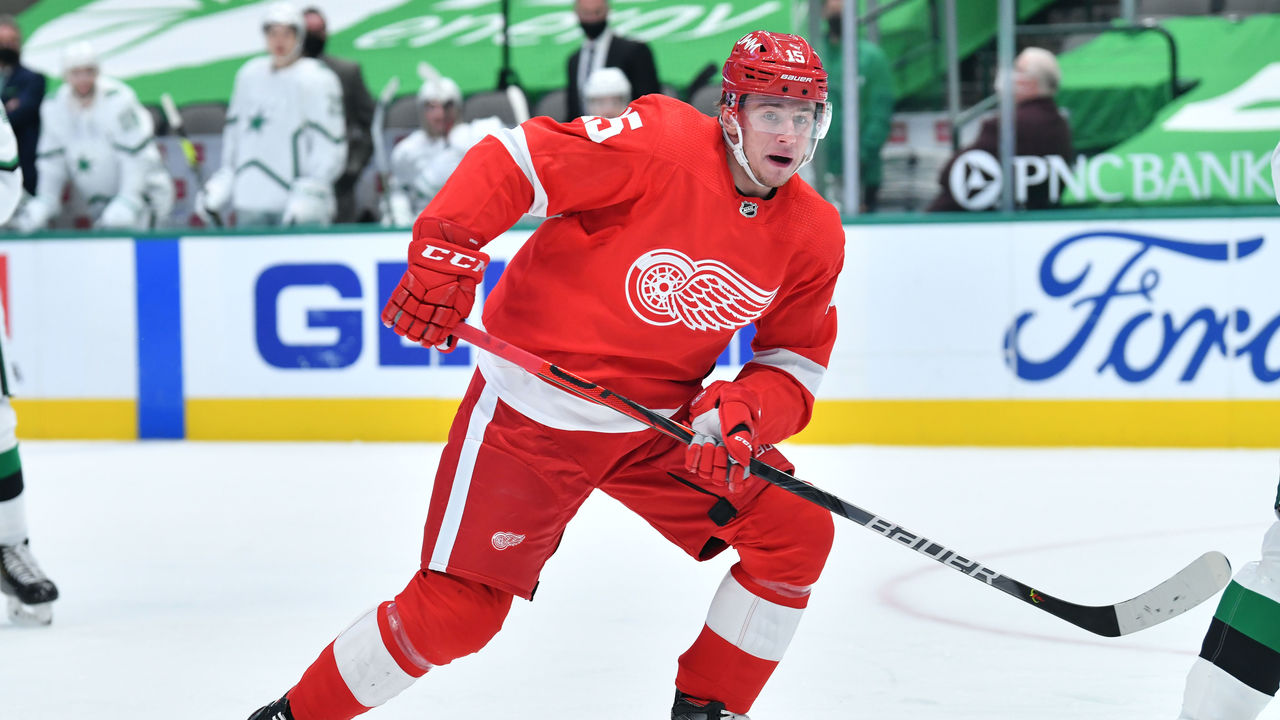 Previous rank: 26th
The Red Wings shocked the hockey world with a blockbuster trade on deadline day, parting ways with Mantha to bring in Jakub Vrana. The 25-year-old has been electric since joining Detroit, notching six goals and one assist in nine games.
26. San Jose Sharks (20-26-5)
Previous rank: 25th
Alexander Barabanov has only played four games with the Sharks, so we'll give the nod to Rudolfs Balcers, who's netted seven goals and nine assists in 36 contests. Not bad for a player San Jose drafted in the fifth round in 2015, traded to the Senators in the Erik Karlsson blockbuster in 2018, then reacquired from Ottawa on the waiver wire in January.
27. Columbus Blue Jackets (16-25-11)
Previous rank: 27th
Some saw Jack Roslovic as a throw-in player in the Laine deal, but he's been one of the Blue Jackets' most productive players since that trade. Through 44 games with Columbus, Roslovic ranks second on the team with 30 points.
28. Vancouver Canucks (19-23-3)
Previous rank: 23rd
The Canucks waited patiently for Nils Hoglander's NHL debut, and he's turned in a solid rookie campaign. The 20-year-old finally came over from Sweden and has totaled nine goals and 11 assists in 45 games so far. More importantly, he's shown what he can bring to the table for years to come.
29. New Jersey Devils (17-27-7)
Previous rank: 30th
Ty Smith was in the Calder Trophy race early in the season, but he's cooled off a bit after a hot start. Still, the rookie defenseman has had a great campaign with the Devils, racking up 23 points in 47 games. The 21-year-old figures to be a staple on New Jersey's blue line for the foreseeable future.
30. Anaheim Ducks (16-29-7)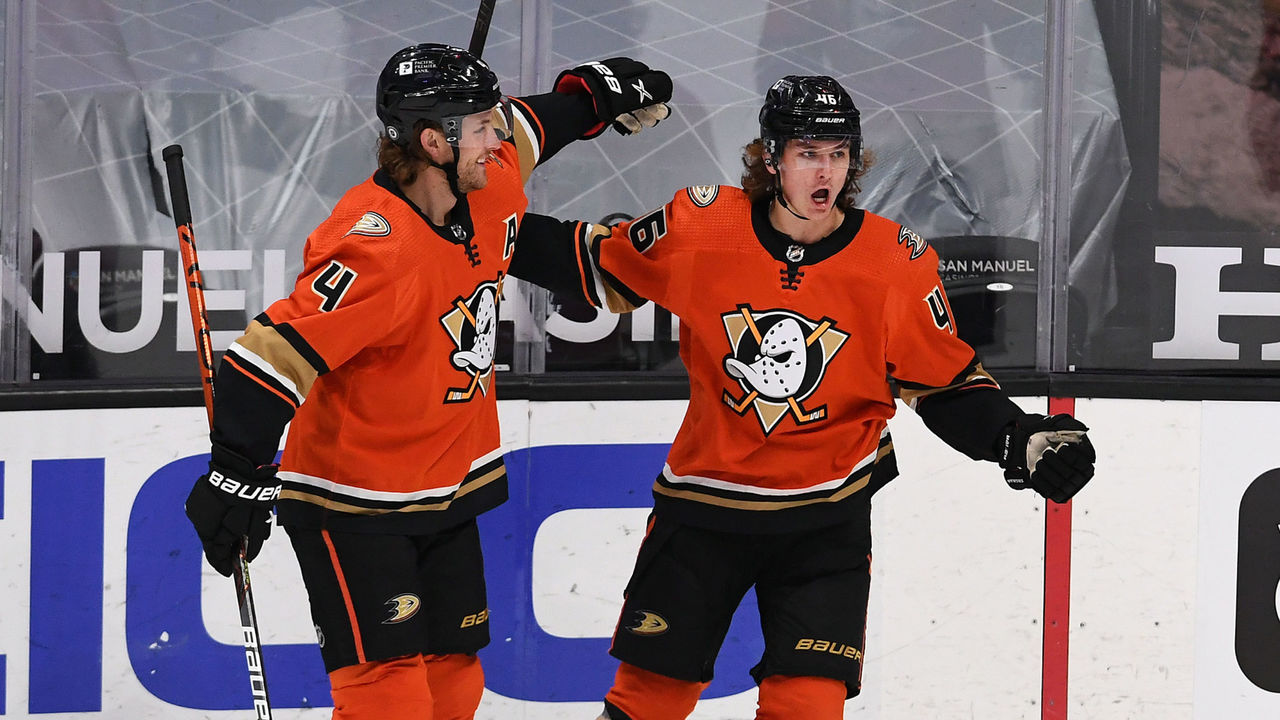 Previous rank: 28th
Ducks fans had reason to be excited watching top prospect Trevor Zegras' MVP performance at the world juniors this year, and now he's given them a taste of his NHL potential. He's scored twice and added eight assists in 20 games this season, showing that the team's future is in good hands.
31. Buffalo Sabres (13-32-7)
Previous rank: 31st
There isn't much selection in terms of productive newcomers for the punchless Sabres, but Dylan Cozens has shown flashes in his rookie season. The 2019 seventh overall pick only has four goals and nine assists in 37 games, but he's already being trusted on Buffalo's top power-play unit and has seen his average ice time surpass 16 minutes over his last 12 contests.
(Analytics source: Natural Stat Trick)