Welcome to the 14th edition of "Looking North," our weekly Friday dive into the all-Canadian division. This installment dates back to April 16.
The rundown
The Vancouver Canucks, after weeks of turmoil due to a major COVID-19 outbreak, had an overwhelmingly successful return to the ice. The club topped the division-leading Toronto Maple Leafs in overtime in its first game in weeks, then beat Toronto again two nights later. Positive news out of Vancouver after a difficult month is a welcome sight.
The Maple Leafs' troubles in Vancouver marked the low point of a five-game losing streak they snapped Thursday with an important win over the Winnipeg Jets. Toronto has lots to sort out as it gears up for the postseason.
The Edmonton Oilers gained some ground on the Jets this past week, and they're now within one point of second place with a game in hand. The Calgary Flames have fizzled out after a brief push toward the fourth-place Montreal Canadiens, while the Habs had a decent week but once again lost goaltender Carey Price to injury.
The Ottawa Senators are far removed from playoff contention but are the hottest team in Canada. They're a thorn in the side of any opponent and have played some quality hockey of late - as evidenced by their three straight wins since our last edition.
| Team | Points over last week |
| --- | --- |
| Ottawa Senators | 6 (3-0-0) |
| Vancouver Canucks | 4 (2-1-0) |
| Edmonton Oilers | 4 (2-1-0) |
| Montreal Canadiens | 4 (2-2-0) |
| Toronto Maple Leafs | 3 (1-1-1) |
| Winnipeg Jets | 0 (0-2-0) |
| Calgary Flames | 0 (0-2-0) |
The stars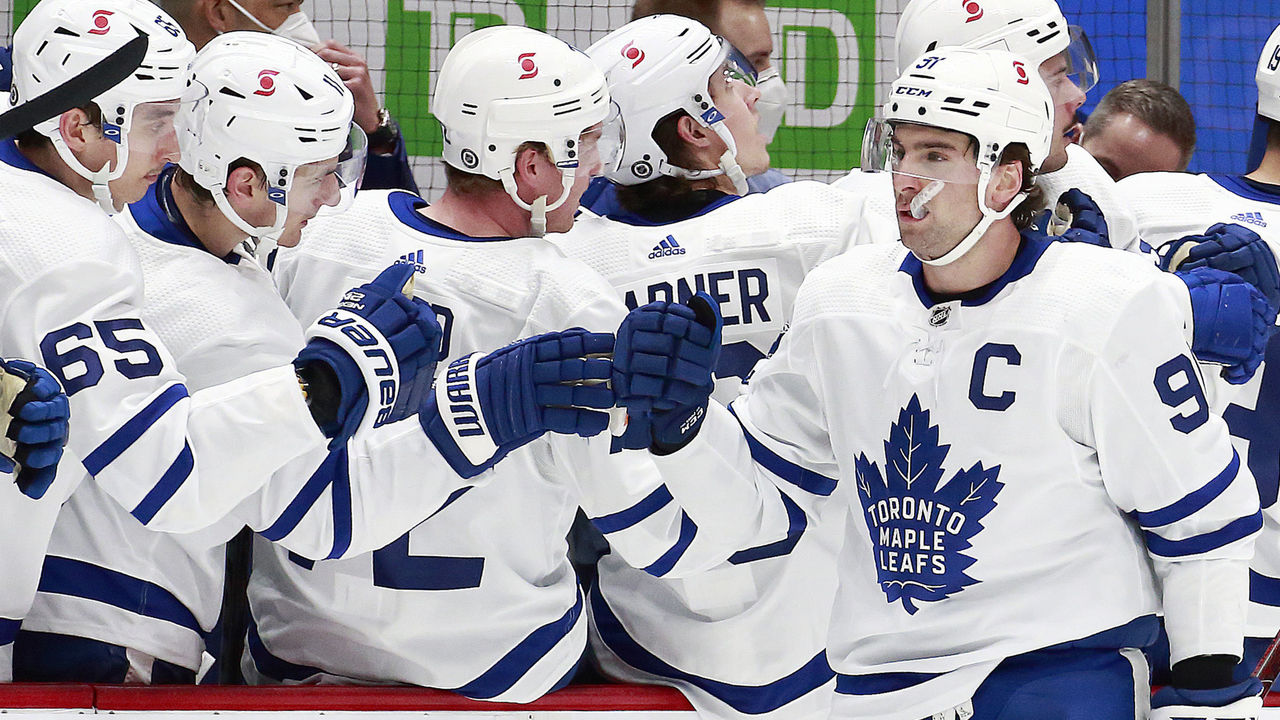 Forward: John Tavares is starting to put some points on the board. The Maple Leafs' captain has notched two goals and three assists in his last three games while averaging 19:44 of ice time per contest and winning over 55% of his draws. His production has picked up considerably in the second half of the season, and Toronto should be in good shape if he's in similar form come playoff time.
Defense: No North Division blue-liner stole the show this past week, but Quinn Hughes registered three points while logging major minutes in his club's two-game set with Toronto. Vancouver's best players have led the charge in its successful return, and Hughes has played his part thus far.
Goaltender: Matt Murray posted two shutouts and an additional win this past week. He's struggled since joining Ottawa, but a strong stretch run could go a long way in building some confidence and creating a positive mindset for the 2021-22 season.
Canadian of the week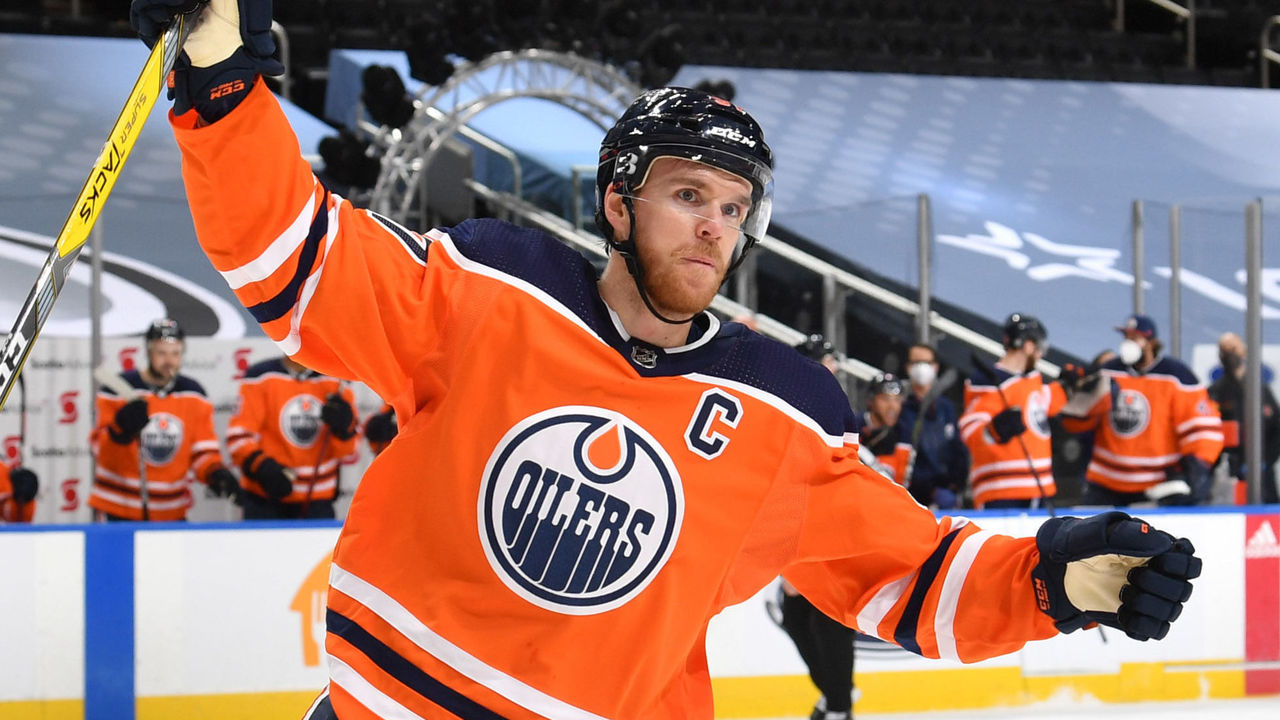 Connor McDavid could realistically win this award every week. The Oilers' captain upped his ridiculous scoring pace with eight points across three games this past week, producing some typically jaw-dropping highlights in the process. McDavid also averaged a whopping 26:16 of ice time over that span.
The moments
McDavid blows past Habs to secure win 💨
Stuck in a 1-1 tie with under five minutes left in regulation, McDavid did what only he can do. The MVP favorite picked up the puck in the neutral zone, effortlessly scorched both Canadiens defenders, and buried a showstopping game-winning goal.
Horvat's the hero 🎉
The Canucks rallied from a 2-0 deficit versus Toronto to force overtime in their first game back, and Bo Horvat completed the stunning comeback with his second goal of the night.
34 for 34 🚨
Auston Matthews kick-started a high-octane clash between the Maple Leafs and Jets on Thursday night, notching his league-leading 34th goal of the season just 27 seconds into the contest. Matthews now has 10 tallies in 10 April games, padding his lead in the race for the "Rocket" Richard.
The question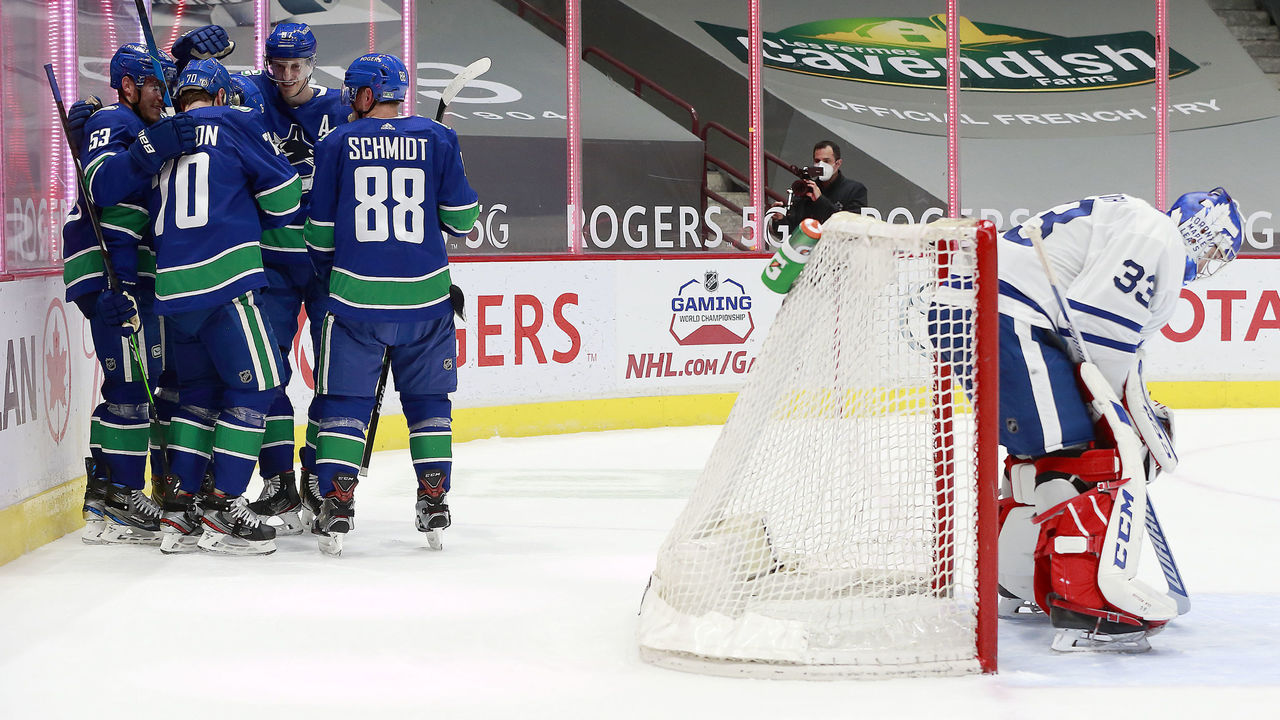 Toronto is battling injuries and performing terribly on the penalty kill, but one issue trumps all others at the moment: Who can the club rely on in goal?
David Rittich, acquired from the Flames for a third-round pick at the trade deadline, has lost all three of his starts since joining the team and gave a game away with a series of weak goals against Vancouver. He hasn't proven to be a reliable depth option behind Jack Campbell, who has come back down to earth after setting an NHL record with 11 straight wins to start the season.
Campbell toughed out a win against the Jets to snap his and Toronto's slumps, but he's allowed at least three goals in five consecutive starts. It's difficult to determine if the starter's workload is affecting his performance or if his struggles are just a blip on the radar.
Frederik Andersen remains unfit to play, and Maple Leafs head coach Sheldon Keefe can't simply throw him into the fire if he's healthy come playoff time. If Andersen returns during the regular season, he'll need to prove he's moved past the dreadful form he was in before being sidelined.
The Maple Leafs need someone to take the reins in goal if they're to go anywhere in the playoffs, and they need to find an answer before it's too late.
Stat of the week
Yup, you guessed it: Time to talk about McDavid again.
As recently pointed out by Sportsnet Stats, McDavid has been involved in a whopping 51.8% of all Oilers goals this season - the sixth-highest percentage in NHL history.
That figure doesn't include his three-point effort in Wednesday's loss to the Canadiens. McDavid leads the NHL with 1.71 points per game and can reach the 100-point plateau in a 56-game season with 23 points in his final 11 contests. Don't rule it out just yet.
Games to watch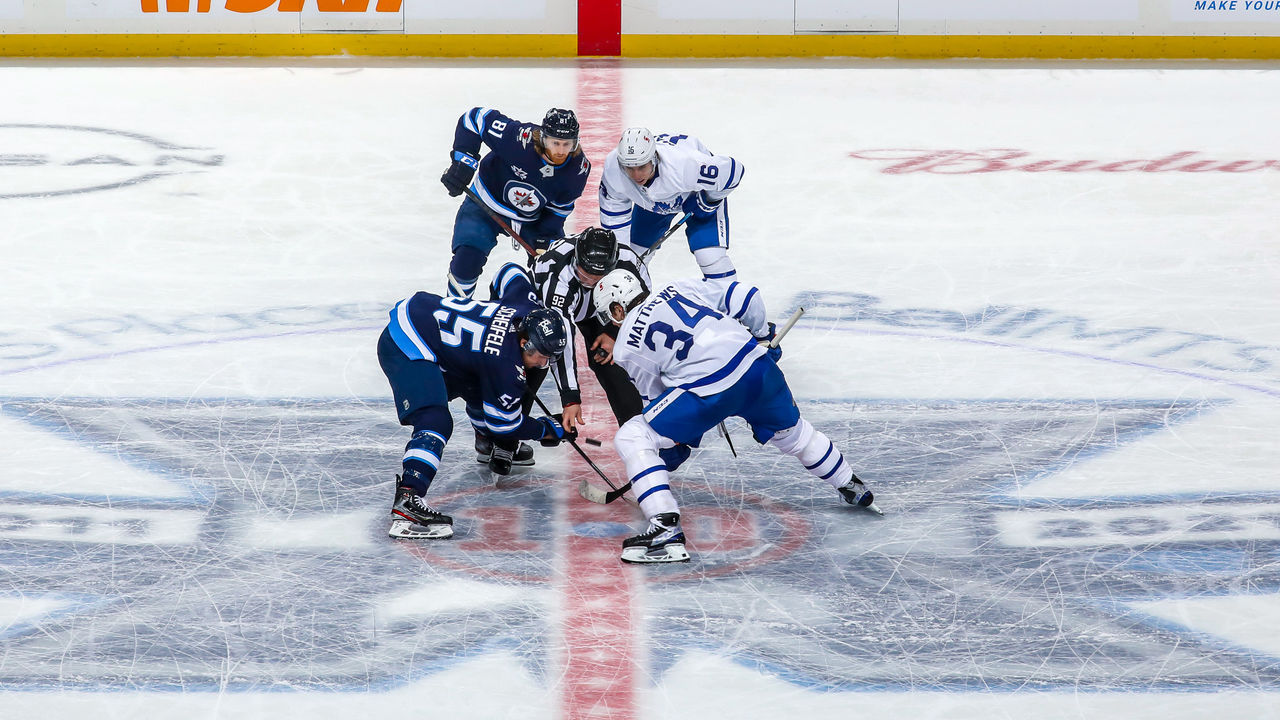 The Maple Leafs and Jets go at it again Saturday night in their penultimate regular-season matchup. With Toronto six points up in the standings, Winnipeg needs to find a way to win if it wants first place in the division.
Elsewhere, the Oilers have two games against the Jets and two more against the Flames next week. Edmonton's clashes with Winnipeg have major implications in the standings, while the Battle of Alberta is always appointment viewing.