The NHL's bubbled postseason continued Sunday in Toronto and Edmonton. Here are four takeaways, one each from the Arizona Coyotes' 4-3 win over the Nashville Predators; Philadelphia Flyers' 4-1 victory over the Boston Bruins; Colorado Avalanche's 2-1 defeat of the St. Louis Blues; and Minnesota Wild's 3-0 toppling of the Vancouver Canucks. (Note: The Toronto Maple Leafs-Columbus Blue Jackets game was covered in a separate post.)
Kadri flips the script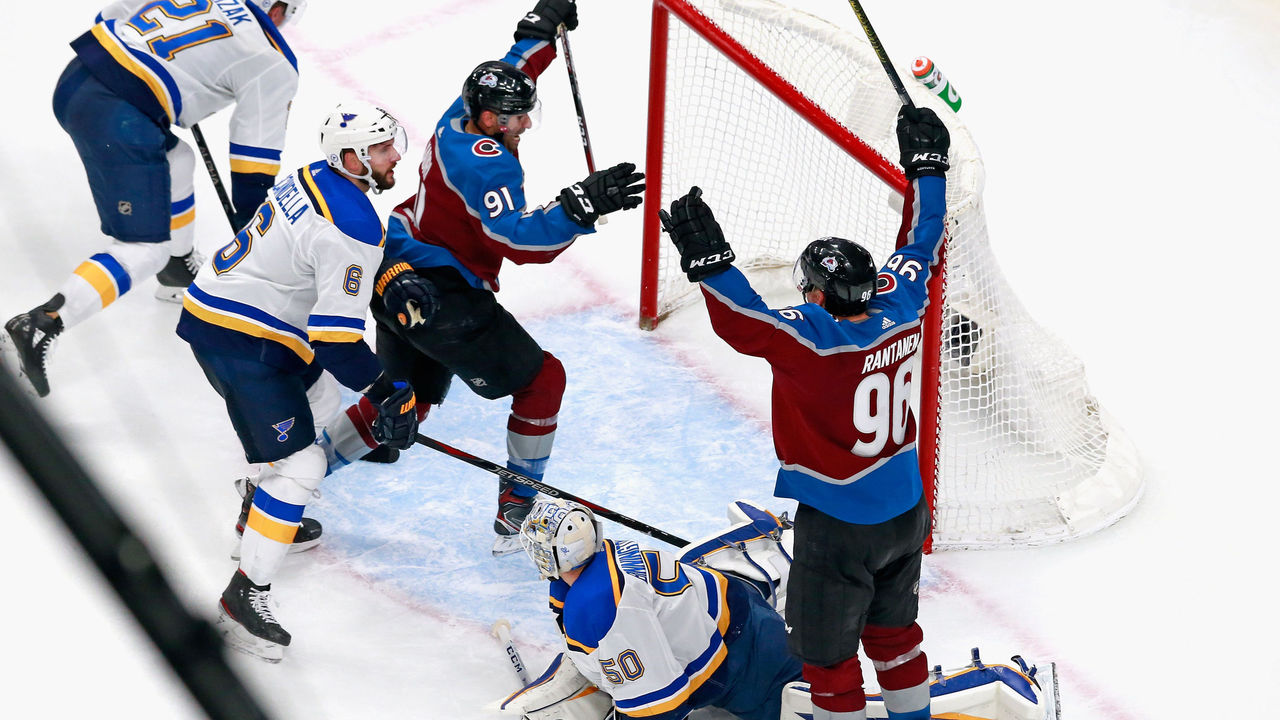 Somehow, someway, Nazem Kadri and the Avalanche defeated the Blues in regulation Sunday night.
Kadri - who's been on the wrong end of some notable playoff moments in recent years (see: multiple suspensions) - whacked the puck into a yawning cage with 0.1 seconds remaining in the third period, his internal clock telling him to hurry as he launched into the crease.
"Not quite down to the decimal point," he said. "But I knew there wasn't much time left."
The positive outcome represents a flipping of the script for a fiery competitor known more for his playoff shenanigans than glorious moments thanks to his roller-coaster tenure in Toronto, and the miraculous tally counts as the craziest sequence of the first two days of hockey in this 24-team restart.
Saturday's madness set a high bar, too: the early-game fisticuffs in Carolina Hurricanes-New York Rangers, the jaw-dropping upset in Chicago Blackhawks-Edmonton Oilers, and the nonstop overtime action of Pittsburgh Penguins-Montreal Canadiens.
Kadri's tally also holds great practical value for the Avs, with Colorado now 1-0 to St. Louis' 0-1 as the Western Conference's four best squads duke it out for seeding in the round of 16.
Regular-season points percentage is the tiebreaker, so the Blues have the upper hand over the Avalanche, Vegas Golden Knights, and Dallas Stars. Yet, heading into Monday's slate of games, which includes Dallas versus Vegas, it's the Avs who are in an enviable position. They were unbelievably close to needing overtime, but the West's top seed is now theirs to lose.
Will we look back on this goal in a couple of weeks and wonder what could have been for the Blues if they draw a tricky first-round opponent and are forced to empty the tank while the Avs cruise to a sweep? When line-matching becomes more prevalent later in the postseason, how crucial will intraconference home-ice advantage prove to be?
Those questions are completely hypothetical at this point, but there's no denying these round-robin games count for something, despite the distinct difference in intensity compared to the contests in the eight elimination series.
Kadri called Sunday's showdown "as close to a real playoff game as you can get" under these circumstances. It wasn't as hotly contested as some of the other games we've seen so far, but both teams were trying to get back into the routine of competition. They accomplished just that, and neither will forget the outcome.
"At 0.1, it's on the line and at 0.0 it's in the net," Blues forward David Perron said. "I'm sure it's as close a goal as you'll ever see."
"Luckily, it worked out," Kadri said.
A different kind of victory
The Bruins both won and lost on Sunday.
The loss is obvious. That occurred on the ice against the Flyers. It's safe to say the Presidents' Trophy-winning Bruins - who have the least to gain in the three-game round robin in the Eastern Conference due to the reseeding format - won't revisit this lackluster showing in an effort to boost team morale. In the words of Boston coach Bruce Cassidy, the typically hyper-focused group was still stuck "a little bit in summer hockey mode."
More specifically, Bruins skaters - from the top line of Patrice Bergeron, David Pastrnak, and Brad Marchand to the club's depth players - weren't making smart decisions with the puck. Similar to the cuteness the Pittsburgh Penguins displayed early in their postseason debut Saturday against the Montreal Canadiens, Boston sacrificed prime shooting opportunities for extra passes or dekes versus Philadelphia.
"I'm thinking we need to make a better play with the friggin' puck," Cassidy said on a postgame Zoom call, emphasizing how mental rust plagued the team. It'll be fascinating to watch how Boston responds Wednesday against the Tampa Bay Lightning. Sunday's uninspired effort was the Bruins' mulligan.
As for the win, well, just look at this shirt on forward Par Lindholm: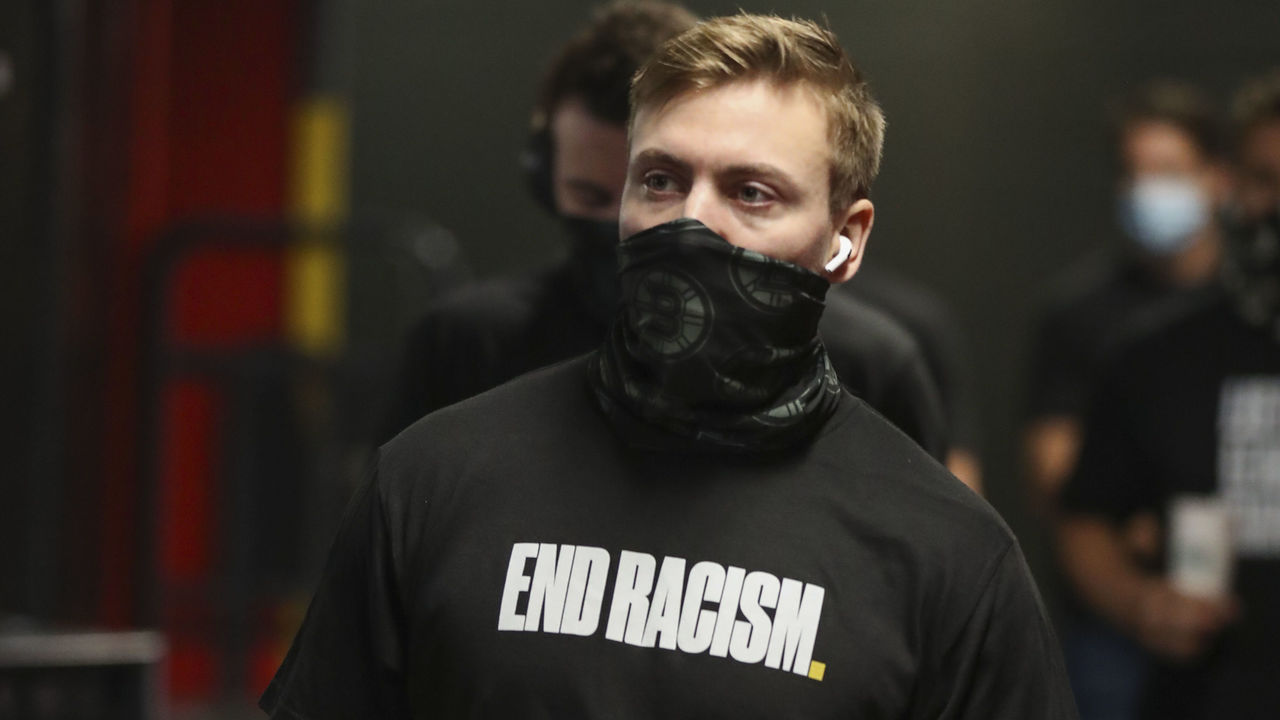 Bruins players donned one of two anti-racism tees during their pregame walk inside the rink - the one above, which says "End Racism," and another that says "Listen. Learn. Change." Players and coaches linked arms during the national anthems in a show of support for the Black Lives Matter movement.
"Matt Dumba's comments yesterday, I thought, were very strong and heartfelt," Cassidy said. "We're trying to get behind eradicating racism. Listening, learning, educating, changing the social injustices. I believe that's what the players were representing and will continue to represent. That was the impetus behind the dress code today."
In Edmonton's Rogers Place, the Predators wore matching black shirts, too.
"The message we want to send is equality throughout," Nashville defenseman Ryan Ellis said of the T-shirts, which simply read "Black Lives Matter."
"Equality for everyone is important for today's society," he added. "We're looking to be a positive change in that sense."
Just as we remembered him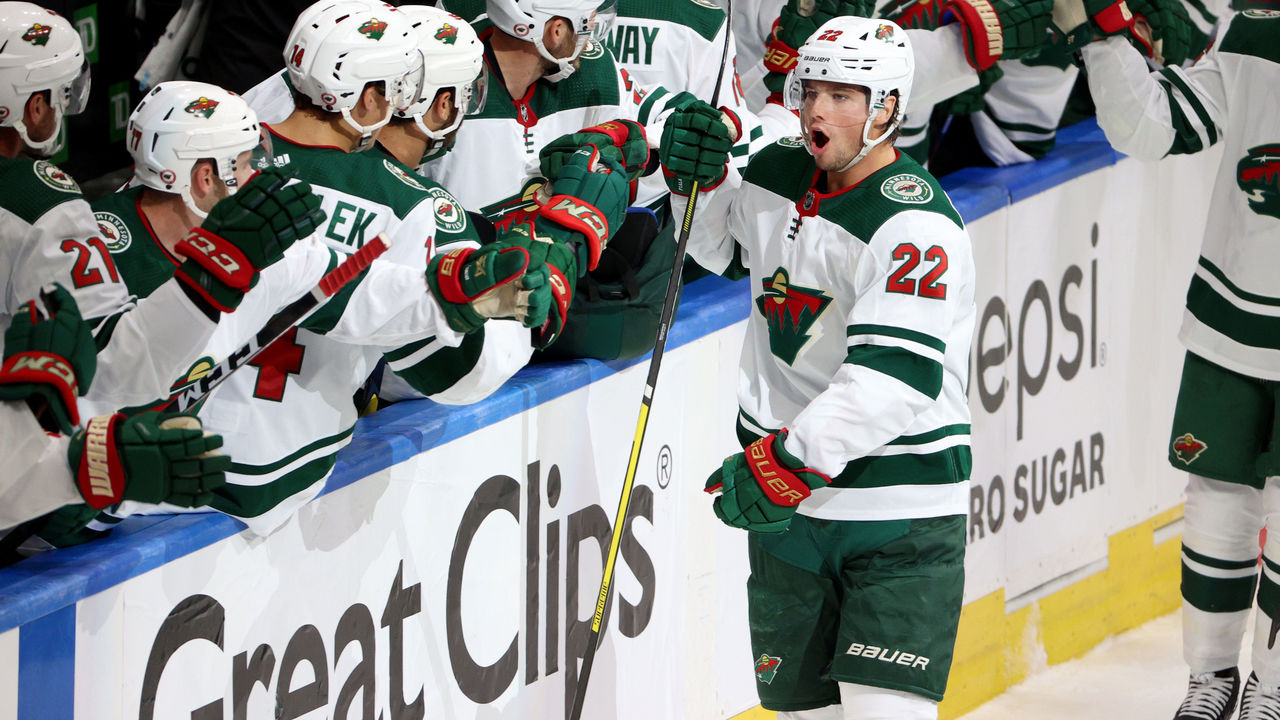 The Wild kept Elias Pettersson, J.T. Miller, Quinn Hughes, and the rest of the Canucks' attack off the scoresheet in a Game 1 shutout. It was an impressive defensive performance, to be sure, and has set the tone for the series.
What really popped off the screen, though, was how the hot hand and swagger of Kevin Fiala clearly carried over from the regular season despite the nearly five-month layoff. Fiala, who bagged an incredible 14 goals and 12 assists in the 19 Wild games before the hiatus, was a factor all night.
Lining up alongside Eric Staal and Jordan Greenway and skating for 17-and-a-half minutes, Fiala beat Canucks goalie Jacob Markstrom immediately after a faceoff on the power play with a wicked slap shot from the right point. He led players on both teams in shots on goal (five) and shot attempts (eight). Staal was the recipient of multiple crafty Fiala passes that led to scoring chances.
Fiala's an interesting case. The 11th pick in the 2014 draft has broken out as a 24-year-old. It took him more or less four years to get going at this star level. He had a strong showing in the Wild's exhibition game, proved that was no fluke in Game 1, and no doubt is making folks in his native Switzerland proud.
What a nice gift from Paul Fenton, the former Minnesota GM who acquired Fiala for Mikael Granlund in a one-for-one trade with Nashville last February.
Game 1 not kind to No. 95
It was a tough day at the office for Matt Duchene.
Eight minutes into the first period, a Coyotes point shot deflected off Duchene's shoulder and past goalie Jusse Saros to open the scoring. It was a classic case of bad luck, as Duchene was standing near the bottom of the left faceoff circle minding his own business when Oliver Ekman-Larsson's one-timer ricocheted off Kyle Turris and found the star's upper body.
Six-and-a-half minutes later, Duchene took a holding penalty just after being knocked to the ice by a body check. The Coyotes scored on the ensuing power play.
Frankly, Duchene hasn't played up to his seven-year, $56-million contract throughout this campaign. He contributed 42 points in 66 regular-season contests, or 0.64 points per game. In his previous 10 years in the NHL, Duchene produced below 0.65 points per game only twice. Points aren't everything - Duchene typically posts strong puck possession numbers, which is helpful - but the Predators surely expect more out of him.
On Sunday, Duchene finished with a team-low expected goals share (42%) during even-strength action, according to Natural Stat Trick. This sub-50% share suggests the Coyotes outplayed the Predators when Duchene was between the boards. (In terms of strictly shot attempts, Duchene broke even, with Nashville both generating and conceding 14 attempts.)
The 29-year-old also lost five of seven faceoffs. He was out for two goals against and two goals for in around 16:30 of ice time. One positive: Duchene picked up a secondary assist on the Predators' third tally.
Full marks to Arizona for the win; it was well-earned. However, Nashville needs better individual performances in Game 2, and that starts with Duchene, who lit up the 2019 postseason as a member of the Jackets. He had 10 points in 10 games, including seven in a stunning sweep of the Lightning. Recapturing that magic could go a long way.
John Matisz is theScore's national hockey writer.