An ode to feisty Brendan Gallagher, an NHL draft steal for the ages
Icon Sportswire / Getty Images
Every draft produces selections and storylines that, given time, become generational talking points or fade from view. Our writers are throwing it back a decade to tell some tales about the classes of 2010. The five-part series began with the NHL, detoured to MLB, the NBA, and the NFL, and now is back to the NHL for its finale.
It dawned on Brendan Gallagher at an early age - in Grade 1 or Grade 2, he's not exactly sure - that he might one day make the NHL. His school pals told him so, and he would relay those lofty dreams to his teacher.
At the same time, Gallagher says it didn't fully register that playing in the NHL was attainable until he took his first shift for the Montreal Canadiens in 2012. He'd never aspired to be the best player in his minor hockey loop, junior hockey league, or the AHL. He just put his head down and played.
"I've always had a short-term mentality," Gallagher, now 28 and more than 500 games into his NHL career, said in an interview.
"There was never a moment of comfort, I'll put it that way," he added. "It was always about what I had to do to improve."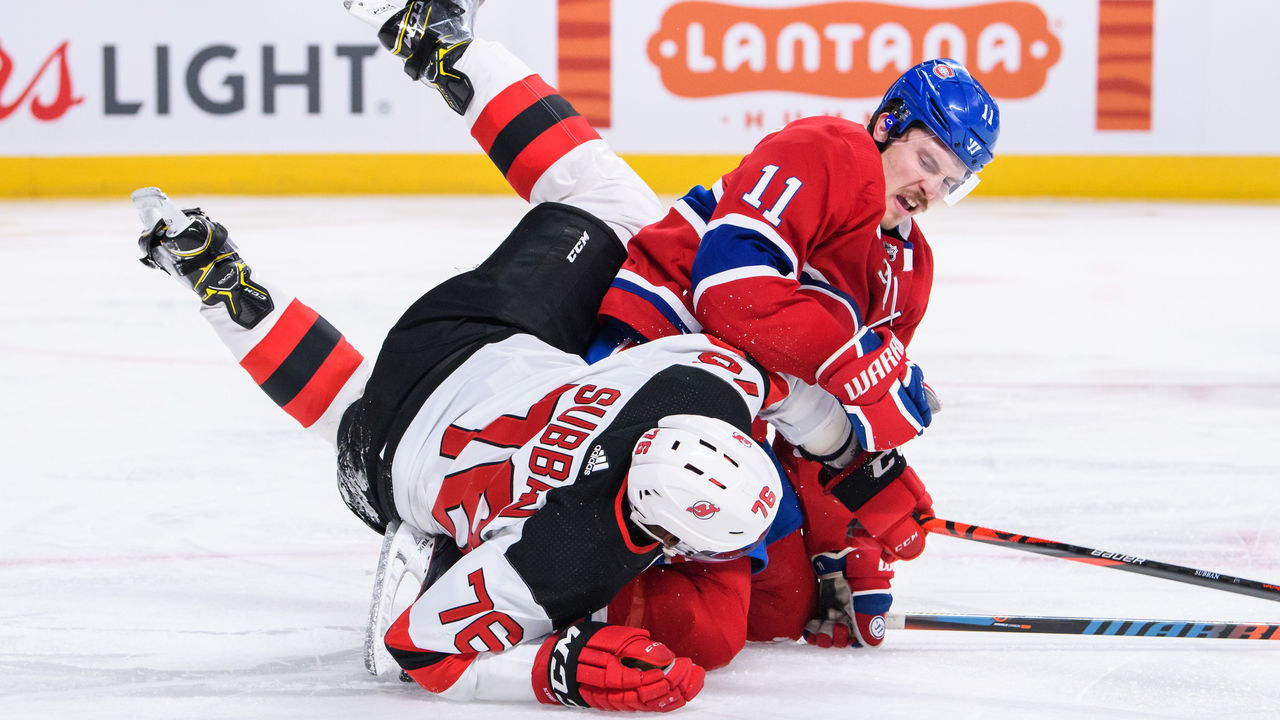 This restless approach to playing hockey aligns with how June 26, 2010 - the second day of the NHL draft - unfolded inside the Gallagher household.
There was a solid chance Gallagher would get picked at some point, so he tuned in to the NHL Network broadcast. His mom Della and one of his two sisters were around, but there was no draft party in Tsawwassen, British Columbia. Gallagher's dad and brother were out of town for a hockey tournament, and Gallagher himself had a community event to attend with his teammates later.
Around lunchtime, the TV commentators stopped offering instant analysis as the late-round selections streamed in at a rapid pace. Instead, they began recapping the top 60 picks, which, for a draft hopeful, was poor programming. Luckily, a giant board in the background of the shot listed all the recent picks.
One name on the board looked awfully familiar from afar.
"Brendan! Did you get drafted by Florida!?" Della asked.
"I don't think so, Mom. I feel like I would know by now ..." her son replied.
Benjamin Gallacher had been picked by the Panthers in the fourth round, 93rd overall. Close, but not quite.
Mom and son shared a laugh, and Gallagher went back to scarfing down his lunch. That afternoon commitment - road hockey with excited local fans of the WHL's Vancouver Giants - wouldn't be waiting for the draft to end. Then the phone rang.
"I had a mouthful of Kraft Dinner when my agent called and told me I was about to get drafted to Montreal," Gallagher said. Minutes later, he was accepting congratulations from Canadiens brass after being selected in Round 5, 147th overall.
Ten years on, Gallagher's arguably the biggest steal of the 2010 draft class.
Among the 210 picks, Gallagher, ranks fifth in goals (173), 10th in points (334), and 10th in games (547). A feisty right winger with gaudy puck-possession numbers and an 'A' on his jersey, Gallagher's a two-time 30-goal scorer who consistently hovers around the 50-point mark. He's become one of the NHL's most reliable and effective players.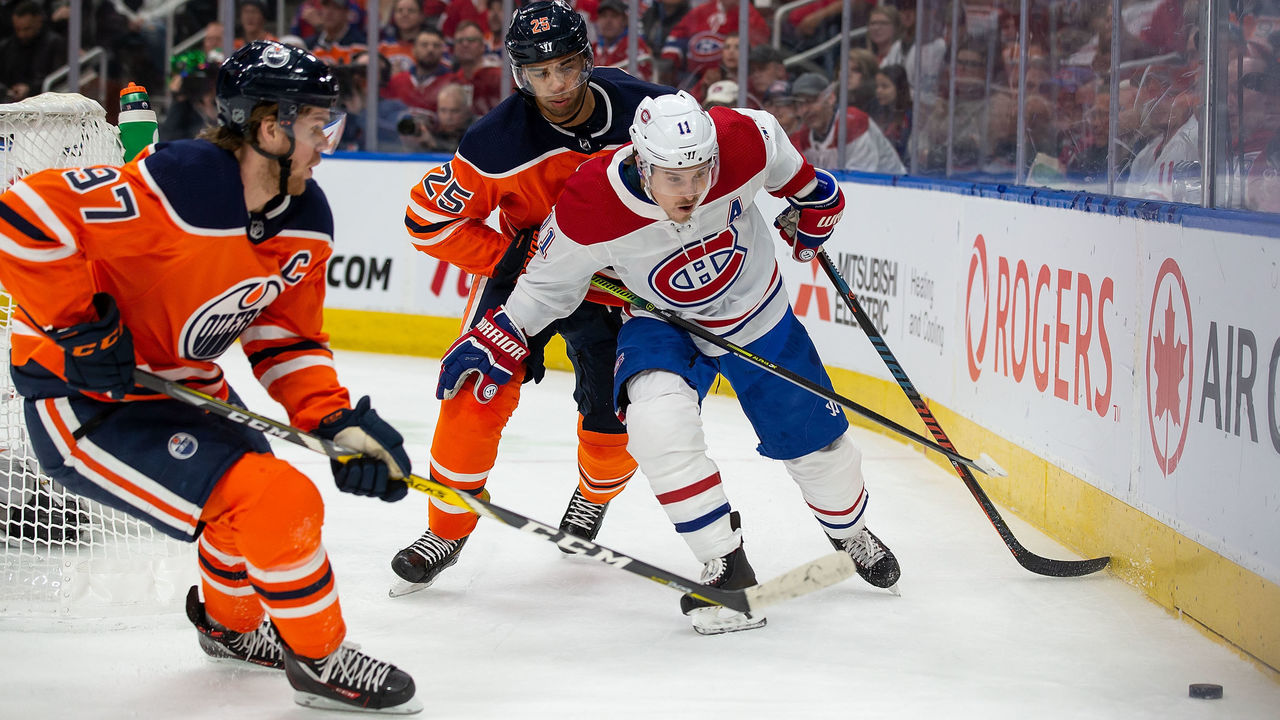 In theScore's recent redraft of the 2010 class, Gallagher went ninth overall, right after Ryan Johansen and right before Cam Fowler, who in the actual draft were chosen fourth and 12th, respectively. The Athletic earlier this week pegged Gallagher as the 14th-best pick of the salary-cap era (2005 to 2016, anyway) by using the advanced statistic Game Score Value Added as a performance measure. Vladimir Tarasenko, the 16th pick in 2010, was slotted ninth on The Athletic's list, while John Klingberg and Mark Stone - two other late-round gems at 131st and 178th overall - ranked 15th and 18th.
"Gally: Low maintenance, high return," Canadiens general manager Marc Bergevin told reporters in late 2019. "Every night, every shift, you know what you're getting, and it's 150% every night, every shift. There's an expression that we use: He drags his teammates to the fight."
Gallagher doesn't play the game any differently now as a 5-foot-9 NHLer than he did as the 5-foot-3 teen drafted by the Giants in the ninth round of the 2007 WHL bantam draft. One of the shortest players on the ice his entire life, a first taste of success came as a tiny net-crasher who led his peewee squad to a provincial championship.
"I went up to get my gold medal and I got booed by the other team's crowd," Gallagher said, chuckling at the memory of accidentally injuring an opposing goalie en route to a B.C. title. "That was the first time I ever got booed, at 13, I think. It started early."
Gallagher notes he's had that edge, that trademark bite in his game, since the very beginning. You've surely seen it countless times, when he swarms the crease in an effort to will the puck past the goal line. The video footage below, taken at the 2002 Brick Invitational hockey tournament, provides historical evidence:
Scan yearly scouting reports on Gallagher and three things show up in every submission: He's a small guy who plays a big guy's game, he's determined to leave all of himself on the ice all the time, and he's coachable. The common threads aren't happy accidents, either. For as long as he can remember, Gallagher's been focused on accentuating his strengths.
If Gallagher devotes most of his time and energy on improving what he does well, the thinking goes, he'll never be bogged down by his limitations.
"When you talk about skill sets, I'm nowhere near the top of any category," Gallagher said. "I'm not the fastest guy, I don't have the best shot, none of that. But you can look back at my conditioning - how I've worked in the gym and off the ice - and point to the power I've developed. I can go up against anyone in the world, and that comes from work."
"I don't work on the things that Connor McDavid works on, because Connor McDavid is a more talented player than me," he added about his on-ice training. "I work on things that I'm going to be able to use on a nightly basis, whether it's puck protection or little skills in front of the net or quick little movements that create a little bit more time and space."
Producing offense has never been an issue for Gallagher. It was the eye test that failed him as a younger player. He was picked so late in the WHL draft because he was small and didn't skate or shoot particularly well. By 2009-10, his NHL draft year, he wasn't much bigger and was still scoring the bulk of his goals - 41 in 72 games to lead the Giants - through sheer will and determination versus skill.
According to Gallagher, the Canadiens were the lone club to express strong interest in him as the NHL draft neared. There were no guarantees. He was 63 picks away from going undrafted and heading to a development camp as a free agent.
"He's such a driven young man," Don Hay, Gallagher's junior coach, said. "I knew he'd find a way - whether it was in the weight room or on the ice - to work at his game so that he could one day have the opportunity to play in the National Hockey League." Over the course of the past 10 years, including eight in the NHL, Gallagher's won over any and all naysayers.
"Small size can be a disadvantage," Jaroslav (Yogi) Svejkovsky, Gallagher's longtime skills coach, said. "But I do believe, from Brendan's point of view, he's learned how to make it an advantage."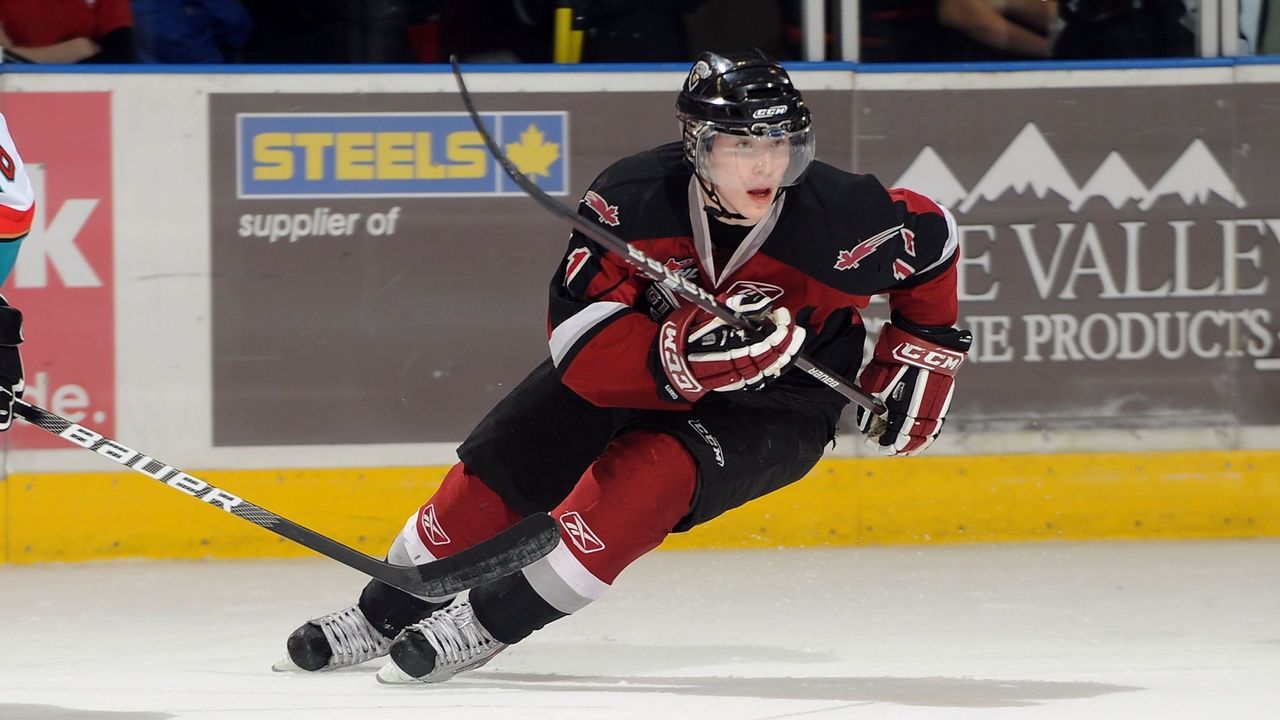 Gallagher's honed a low center of gravity through decades of customized off-ice training with his dad Ian, a renowned strength and conditioning coach who runs Delta Hockey Academy. Similar to Hall of Famer and childhood idol Martin St. Louis, Gallagher's robust lower body more or less eliminates any size discrepancies. For context, only three of the 20 NHL forwards currently listed at 69 inches are heavier than Gallagher. He's a truck at 184 pounds.
Combine that physical stability with a fearlessness that's become second nature, an uncanny grasp of the difference between being a pain in the ass and being a frequent visitor to the penalty box, and drastically improved wrist and snap shots, and you have an irritant who keeps defenders honest.
Hay and Svejkovsky relayed important advice to Gallagher during an end-of-season evaluation midway through his time with the Giants. "If you can add a shot that can be a threat from the outside, people have to start playing you tighter," Svejkovsky recalled saying. "Which is actually really good for you, Brendan, because you can expose them."
Of his student now, Svejkovsky said: "His understanding and awareness in small areas, and his determination, makes him so hard to play against. If you don't really know, as a defender, what to do - should I play him super hard and tight, or should I give him space? - that's valuable."
Gallagher's development is evident on a nightly basis. Montreal was a nightmare to contain when he was on the ice during the 2019-20 regular season. The heat maps below - the left shows the Habs' offense with Gallagher, the right without him - illustrate how comically impactful he was in 5-on-5 situations playing alongside Phillip Danault and Tomas Tatar.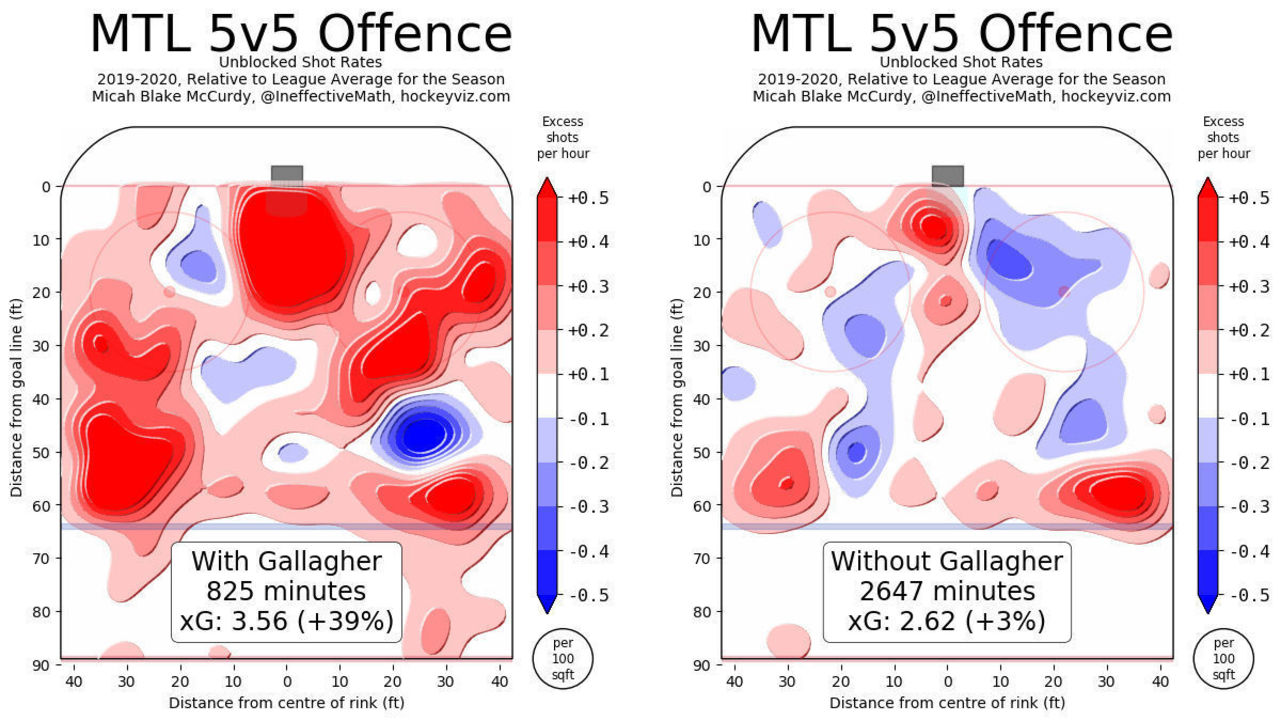 A total of 390 NHL skaters logged 750 or more minutes at even strength in the regular season, according to Natural Stat Trick. Gallagher ranked second overall in both shot attempts for per 60 minutes and shots for per 60, sandwiched between linemates Tatar and Danault in both categories. He ranked second, again, this time behind draft classmate Stone, in scoring chances for per 60. And he sat atop the leaderboard in high-danger shot attempts for per 60.
The numbers show Gallagher and his linemates were relentless in the attacking zone. Despite often lining up against the opposition's most dangerous offensive players, they found a way to throw puck after puck towards the goalie.
"You want to make sure that these top guys are playing defense and playing in the defensive zone," Gallagher said of the trio's game plan. "You don't want them to have confidence and time with the puck. We'll know pretty quickly if we're having a good game by how much we're skating and how much possession time that we have. We try to simplify the game, and when we do that we know we're helping our team and improving our chances to win."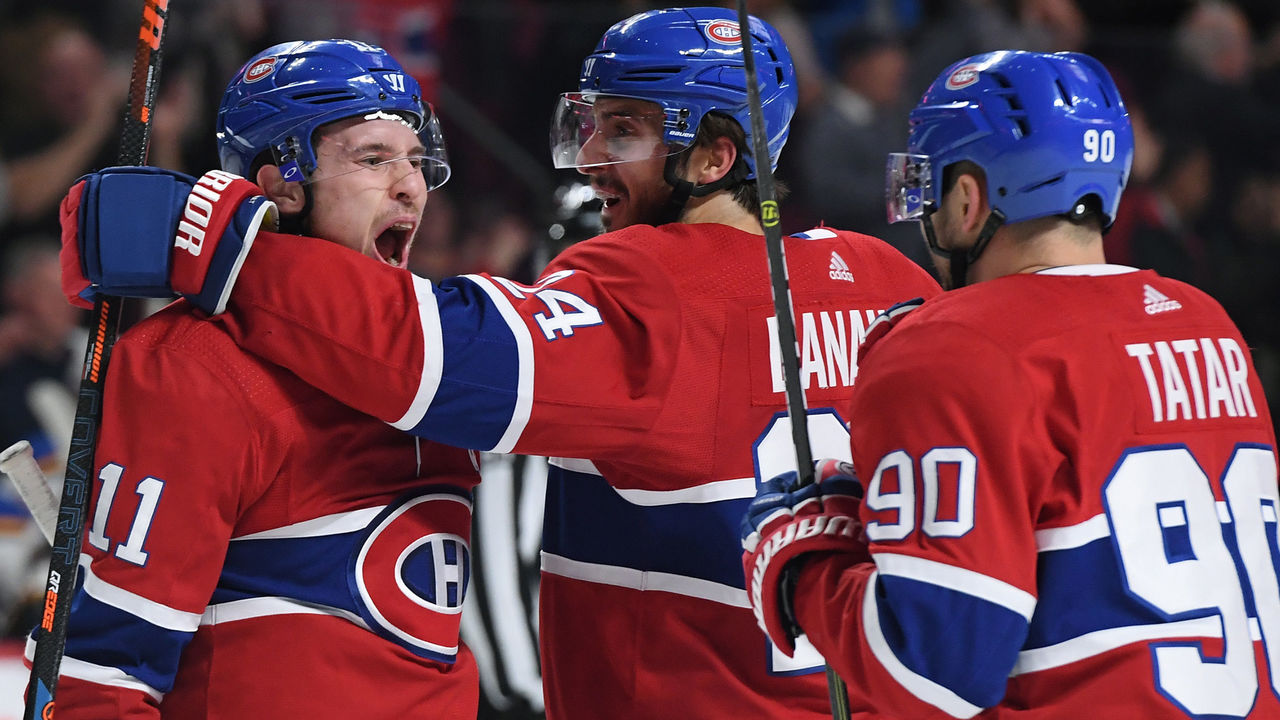 Gallagher, a 56% possession player over his career, finished seventh in the NHL in shots on goal per game (3.83). The six players ahead of him were Nathan MacKinnon, Alex Ovechkin, Max Pacioretty, Auston Matthews, David Pastrnak, and Patrick Kane. Gallagher's shot's come a long way, but it can't compete over a full year with that group of all-world snipers.
So Gallagher contributes to Montreal's success by gaining the inside track on defenders, keeping his stick on the ice, finding the soft spots in hard areas, and taking abuse from whoever's between him and the net.
"When he goes to the net, he stays to the net. He goes to the hard places and he doesn't move," Gerry Johannson, Gallagher's agent and president of The Sports Corporation, said. "A lot of guys go to the net and then drift away from it. But he'll go to the net and he'll stay there, and stay there, and stay there."
Montreal's drawn the Pittsburgh Penguins in the play-in round for the NHL's 24-team tournament aimed at completing the season this fall. Expect the same Gallagher you saw before competition stopped in March: self-aware, fearless, smart, and - above all - a pounding headache for defenders.
"If you can show up every night and do your job," Gallagher said, "it's 15 to 20 minutes of work. It's hard work, but if you're able to do that on a consistent, nightly basis, having the trust of your teammates goes a long way in feeling important to the team."
John Matisz is theScore's national hockey writer.