Sam Bradford was the can't-miss prospect who kept missing
Jeff Zelevansky / Getty Images
Every draft produces selections and storylines that, given time, become generational talking points or fade from view. Our writers are throwing it back a decade to tell some tales about the classes of 2010. The series, which will run throughout June, began with the NHL, MLB, and NBA.
The 2010 NFL draft class turned out to be one of the deepest and most talent-rich of this century. Players selected that year include defensive tackle Ndamukong Suh, safety Earl Thomas, tight end Rob Gronkowski, and wideout Antonio Brown - all considered among the best of the last decade at their respective positions.
The St. Louis Rams possessed the No. 1 overall pick that year. They chose a quarterback out of the University of Oklahoma who had won the 2008 Heisman Trophy before missing nearly all of the 2009 season with a shoulder injury. But Billy Devaney, then the Rams' general manager, never wavered on his decision to pick Sam Bradford first.
"He had everything," Devaney told me. "He checked all the boxes. There was no doubt in my mind that was who we were going to take."
Bradford's career never came close to fulfilling that promise. He spent nine seasons in the NFL with four teams, and he always seemed to be on the brink of becoming that guy, only to slink back into mediocrity again and again.
Bradford battled numerous injuries, but he was also somewhat miscast - particularly early in his career when he caromed through three offensive systems in as many years. He was a casualty of NFL coaches' longstanding reluctance to embrace the spread concepts that had begun proliferating at the college level. He was also the last No. 1 pick to command top dollar, if only because he was the last for whom the rules still allowed it. Sam Bradford will go down as the can't-miss prospect who always somehow missed.
During Bradford's redshirt freshman season at Oklahoma in 2007, the Sooners ran a traditional offense that was run-heavy, huddled often, and used a lot of basic personnel. The following year, they switched things up.
"Our offense changed dramatically," Bradford once told ESPN's Nick Wagoner. "We went no-huddle, fast break. We had 11 personnel (one running back, one tight end, three receivers), 10 personnel (one running back, zero tight ends, four receivers), smaller, faster, and spread it out to start throwing the ball a lot more.
"I remember that first spring, I really wasn't sure I was going to like it because I had never run the no-huddle before. It seemed like everything happened too fast but the more we did it, the more comfortable I got with it. It turned out; it was probably the best move we made because we were really good at it."
The idea was for Bradford to work out of the shotgun, make quick reads, and let his assortment of playmakers do the rest. It was football predicated on speed and on using the entire field. Bradford wound up throwing for 4,720 yards, 50 touchdowns, and just eight interceptions. He won the Heisman.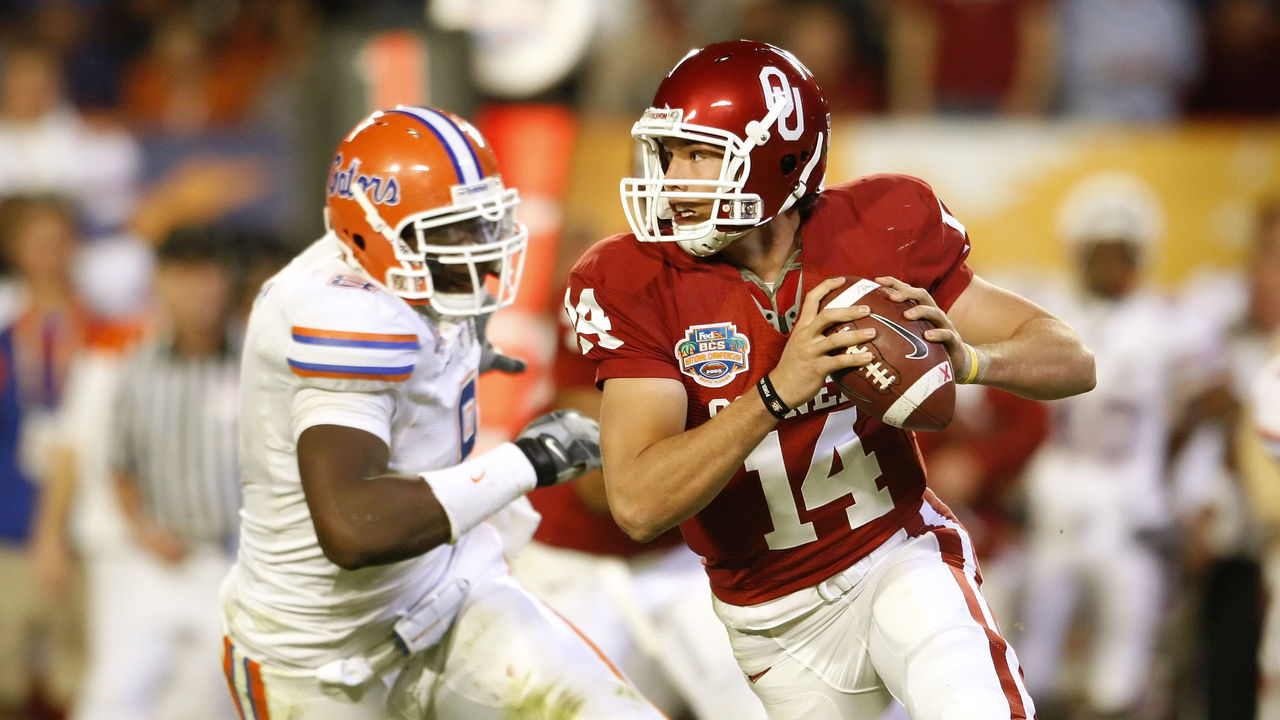 As a junior in 2009, Bradford sprained his shoulder in the opener and played in just three games before being shut down midway through the season. He decided to declare for the draft anyway. Durability was maybe the only question about him, but Bradford passed all his physicals and left little doubt after a dazzling pro day that rendered scouts and other observers "speechless."
Leading up to the draft, Devaney was bombarded with offers to trade out of the No. 1 spot. He said one team executive even told him he'd "give you my whole draft right now" in exchange for the pick. That same exec called again a few hours before the draft to ask what it would take. Devaney wouldn't entertain the thought.
"He was one of the best, best pure passers I've ever seen," Devaney told me. "Just an unbelievable, beautiful thrower of the football. And he was big (6-foot-4, 224 pounds), great teammate, he had that 'it' factor to play quarterback. He had everything."
When it came time to sign a contract, Bradford cashed in. On the eve of training camp, he agreed to a deal with a max length of six years and a max value of $78 million, including $50 million in guarantees. Though it was no fault of Bradford's, the contract served as a kind of shorthand for the lucrative deals that led to the enactment of the rookie scale in the following year's collective bargaining agreement. That CBA locked in four years of cost control for drafted rookies. Cam Newton was the top pick in the 2011 draft. With no chance to negotiate, his first contract was set at four years and just $22 million.
Devaney told me the talks with Bradford's camp weren't difficult or complicated; he knew drafting a QB first overall was going to be costly. The year before, the Detroit Lions had taken Matt Stafford No. 1 and given him a max of six years and $72 million, including $41.7 million in guarantees. Tom Condon was the agent for both players.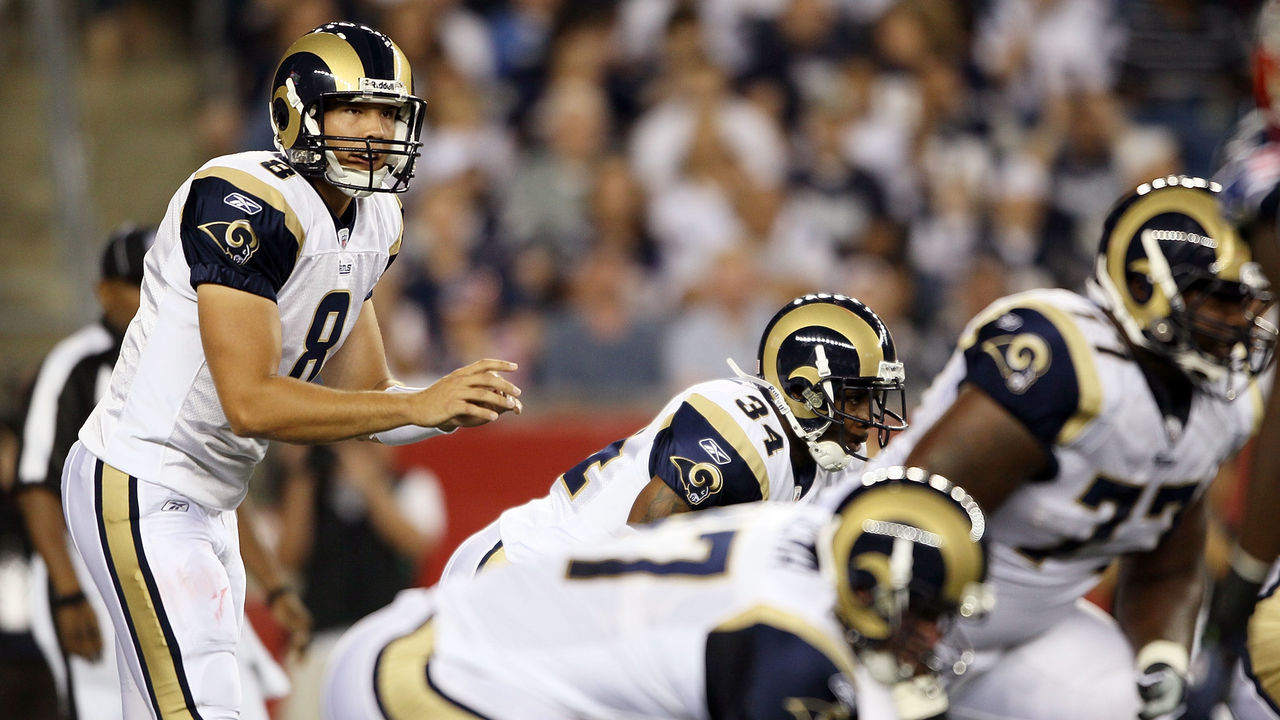 Bradford started all 16 games as a rookie, and the Rams improved from 1-15 to 7-9. But instead of leaning into the tempo-driven, fast-break style that helped Bradford win the Heisman, offensive coordinator Pat Shurmur concocted a scaled-down version of the West Coast offense that minimized the potential for mistakes. It also proved to be awfully conservative: The same Sam Bradford who had attracted comparisons to Tom Brady because of his ability to throw an accurate deep ball in college was often reduced to checking down when he got to the NFL. Bradford was the league's Offensive Rookie of the Year, but something seemed off.
As a rookie, Bradford's average depth of target (aDOT) was just 6.6 yards, and he averaged just 6.0 yards per attempt, among the lowest in the league. Per PFF, Bradford attempted a throw that season of 20 or more yards just 6.8% of the time. He took the majority of his snaps from under center. The Rams' offense finished 30th in DVOA and 27th in passing DVOA, according to Football Outsiders. Bradford's DYAR was below replacement level.
Shurmur left to become the head coach of the Cleveland Browns, and he was replaced by Josh McDaniels, the previous and future New England Patriots offensive coordinator. McDaniels tried to get Bradford to throw downfield more, but there were other problems to contend with.
The 2011 Rams were wracked with injuries, with Football Outsiders calculating that they compiled 110.0 adjusted games lost (AGL), or the equivalent of seven key players lost for the entire season. The offense accounted for 66.6 of that AGL total. Bradford worked out of the shotgun on 72% of his snaps and threw deep 11.5% of the time, but with Brandon Lloyd and Danario Alexander as two of his top targets, this proved to be a tall order.
It didn't help that a lockout that lasted the entire offseason prevented Bradford and his pass-catchers from getting any kind of feel for the new system. Bradford endured an adjusted sack rate of 9.1%, and he missed six games with a high ankle sprain. He again posted a negative DYAR, and the Rams finished last in offensive DVOA en route to a 2-14 finish. Devaney and head coach Steve Spagnuolo were fired.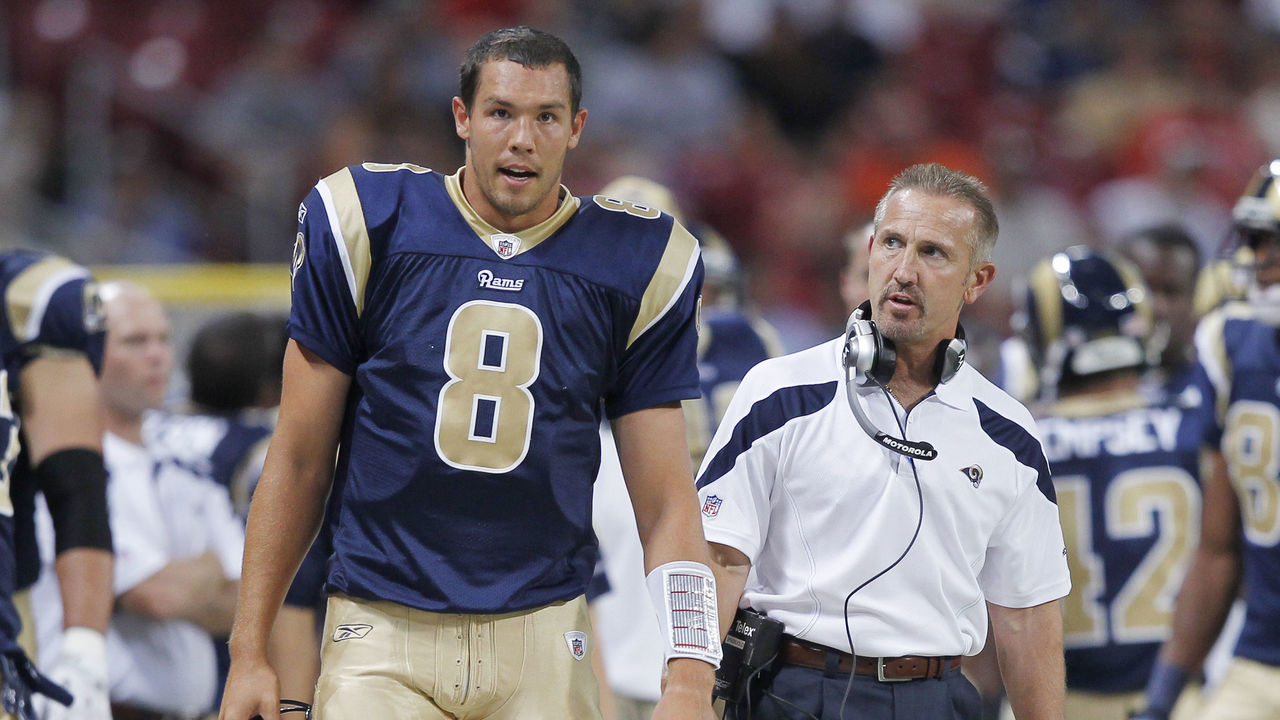 Jeff Fisher came on as head coach in 2012, and he brought Brian Schottenheimer in as his OC. Rather than draft Robert Griffin III with the No. 2 pick, the Rams traded down. The Rams improved to 7-8-1 with Bradford showing noticeable improvement, even if he still hadn't reached anything close to stardom. He finished 16th in DYAR, and the Rams' offense likewise was 16th in DVOA, but the limitations weren't all Bradford's fault: From 2008 through 2012, per Football Outsiders, the Rams drafted 21 offensive players. Just four were regular starters in 2012.
In 2013, Schottenheimer committed the Rams to playing faster. Running back Steven Jackson, the fulcrum of the offense for nearly 10 years, had left via free agency. The Rams surrounded Bradford with playmakers such as first-round pick Tavon Austin and free-agent tight end Jared Cook. They were 3-3 when Bradford tore his left ACL in Week 7. His attempt at a comeback was thwarted during the 2014 preseason when he tore the same ACL again.
In March 2015, the Rams moved on, trading Bradford to the Philadelphia Eagles for Nick Foles in a package that also included a swap of late-round picks. Bradford's comfort in the spread seemed to be a perfect fit for head coach Chip Kelly's wide-open style, and the Eagles were even a sneaky pick to reach the Super Bowl. Bradford was fine, but one week after a big performance in an overtime win at the hated Dallas Cowboys improved the Eagles to 4-4, he injured his left shoulder and suffered a concussion, which caused him to miss the next two games. The Eagles were blown out in both. Bradford returned in Week 13 to beat the Patriots, but Kelly was fired before the season was over. Philly finished 7-9. Bradford was 24th in DYAR, and his contract was up.
The following March, Bradford signed a two-year deal to remain with the Eagles. But Philadelphia had other plans and aggressively traded up twice in the weeks ahead to land the No. 2 overall pick, which they used to select Carson Wentz. At the end of the preseason, after Vikings QB Teddy Bridgewater blew out his knee, the Eagles shipped Bradford to Minnesota, where he'd be the starter. With the Vikings, Bradford returned to his role as a checkdown specialist, completing a then-league record 71.6% of his passes. Again, though, he was 16th in DYAR for an offense that was 26th in DVOA. That seemed to be his ceiling.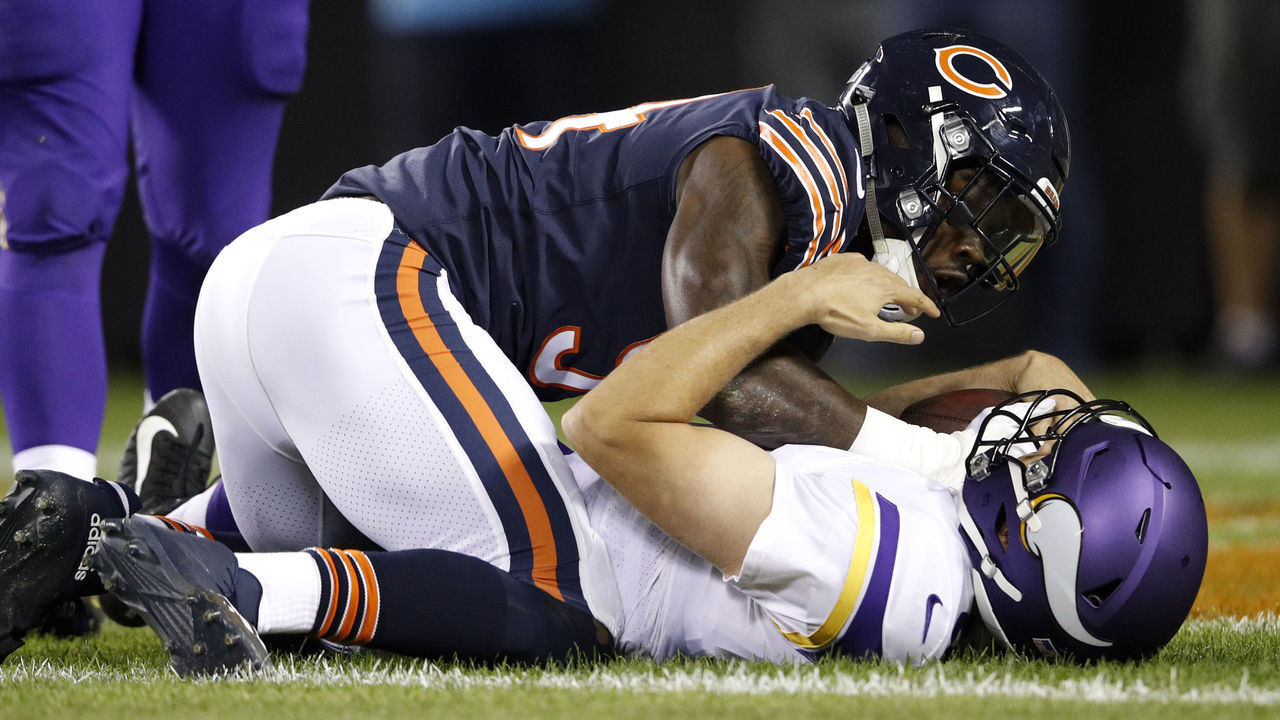 By Week 2 in 2017, soreness in his twice-repaired left knee ended his season. The Vikings signed Kirk Cousins the following spring and let Bradford walk. The Arizona Cardinals gave him nearly $16 million guaranteed to be the veteran placeholder for rookie Josh Rosen. Bradford lasted three disastrous starts before being benched. He was released in early November. His career was over.
A quarterback is the most important player on any football team, but a quarterback's performance doesn't happen in a vacuum. Coaching and infrastructure matter greatly, as the NFL discovered over the course of the last decade. Rule changes designed to protect both the quarterback and receivers opened up the passing game and placed an emphasis on speed. Scoring and passing volume went way up. But it was more than that.
Drafting a franchise-caliber QB has always been a difficult proposition for NFL teams. But for too long, many of the league's coaches chafed at having to adapt what they do to build around the skill sets of the spread QBs the game's lower levels began producing in the mid-2000s. It wasn't until the last half of the 2010s that most teams began to figure this out. There's a reason Patrick Mahomes and Lamar Jackson are the last two league MVPs.
"The college game gave the NFL a blueprint on how to maximize its quarterbacks, and the NFL spent half the decade complaining about it," The Ringer's Kevin Clark wrote last fall. "The pro game was eating itself. This bit of conventional wisdom was eventually toppled in the biggest way possible, but it is instructive how resistant most of the league was before these offenses were adopted en masse."
Sam Bradford was one of those square pegs for a round hole. Devaney remains convinced that injuries did him in, but it's fair to wonder whether Bradford maybe came along too soon. There's no way to know whether he would have lived up to the hype, just the certainty that there are lots of reasons why he didn't.
Dom Cosentino is a senior features writer at theScore.
Comments
✕
Sam Bradford was the can't-miss prospect who kept missing
  Got something to say? Leave a comment below!