With sports on pause, theScore's redrafting 2015 across the Big Four - check out redrafts on MLB, NBA, and the NFL as we approach the five-year draft anniversaries.
The 2015 draft is arguably the deepest in NHL history. The 2003 class may like to have a word, but draftees from '15 are littered across the league today. With this summer representing the five-year anniversary of that star-studded night in Sunrise, Florida, we decided to redraft the entire first round based on what we've learned since.
1. Edmonton Oilers
Original pick: Connor McDavid
New pick: Connor McDavid
No explanation required.
2. Buffalo Sabres
Original pick: Jack Eichel
New pick: Jack Eichel
Another no-brainer. Nos. 1 and 2 were locks in this draft.
3. Arizona Coyotes
Original pick: Dylan Strome
New pick: Mathew Barzal
Strome shouldn't be considered a flat-out bust after he resurrected his career with the Blackhawks, but he certainly wasn't worthy of a third overall selection in this loaded class. Enter Barzal, one of the best zone-entry and puck-possession artists in the game. The elite playmaker would probably post higher numbers if he didn't play in the Islanders' defensive system.
4. Toronto Maple Leafs
Original pick: Mitch Marner
New pick: Sebastian Aho
The Leafs pass on the hometown star in Marner in favor of Aho. The young Finn, who somehow fell to 35th in this draft, isn't the flashy playmaker that Marner is, but he is a better goal-scorer, plays center, and is an all-around more effective two-way player.
5. Carolina Hurricanes
Original pick: Noah Hanifin
New pick: Mitch Marner
Hanifin was rumored to go as high as fourth overall in the lead-up to the draft. He's yet to develop into a player worthy of the No. 5 selection in this draft, so we've given Marner to the Hurricanes.
6. New Jersey Devils
Original pick: Pavel Zacha
New pick: Thomas Chabot
The Devils would surely like to have this one back. Zacha is the first major bust of this draft despite setting a new career high in points (32) this season. Instead, New Jersey scoops up Chabot, who's become a workhorse for the Senators after going 18th overall. There are other worthy skaters to choose from, but Chabot is the best player on the board.
7. Philadelphia Flyers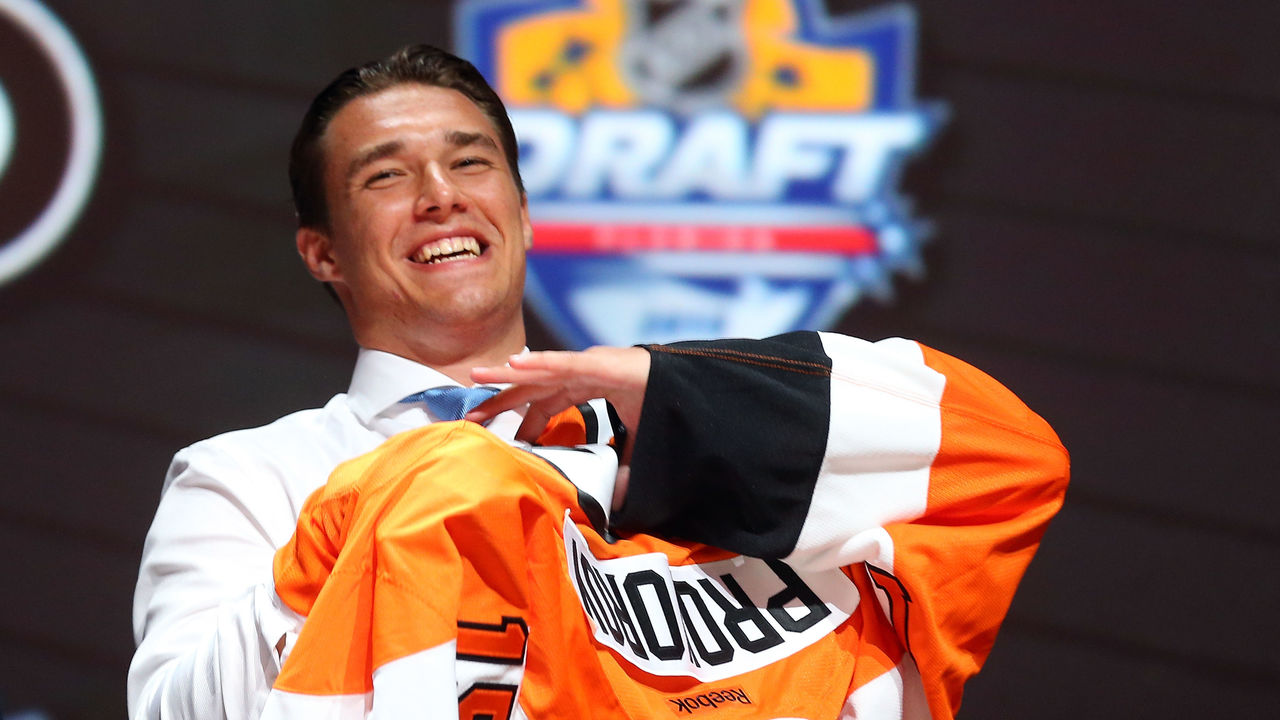 Original pick: Ivan Provorov
New pick: Ivan Provorov
No change for the Flyers. There's no doubting Provorov's worth as the seventh overall pick, as he's quickly developed into Philadelphia's No. 1 defenseman and is one of the league's better young blue-liners.
8. Columbus Blue Jackets
Original pick: Zach Werenski
New pick: Zach Werenski
The Blue Jackets stand pat here as well. Werenski currently leads this class in goals and points among defensemen - both this season and career. However, Chabot and Provorov are more effective two-way rearguards, explaining Werenski's place at No. 8.
9. San Jose Sharks
Original pick: Timo Meier
New pick: Mikko Rantanen
The Sharks sub out one winger for another. There's certainly a case to be made that Rantanen, who has 212 points in 197 games over the last three seasons, could've gone higher than ninth overall, but San Jose would likely be happy to swap out Meier, who is carving out a nice career in his own right.
10. Colorado Avalanche
Original pick: Mikko Rantanen
New pick: Kyle Connor
The Avalanche lose Rantanen but replace him with arguably an equally effective player in Connor, who went 17th overall to the Jets. He was enjoying a career year before the NHL's pause, collecting 38 goals and 73 points in 71 games. Connor is a highly intelligent player and can score in a variety of ways. It's easy to imagine him finding instant chemistry with Nathan MacKinnon.
11. Florida Panthers
Original pick: Lawson Crouse
New pick: Travis Konecny
Woof. By 2015, most GMs were already targeting speed and skill over size and strength. But the Panthers were a bit behind the curve, taking Crouse, a forward with just 63 points in 230 NHL games. Konecny a skilled, hard-working forward who plays with a bit of an edge, was having a career year with the Flyers this season, tallying 61 points in 66 contests.
12. Dallas Stars
Original pick: Denis Gurianov
New pick: Brock Boeser
Gurianov was enjoying a breakout, 20-goal campaign, but there are simply better and more proven players on the board at No. 12. Boeser was having a bit of a down year (16 goals, 45 points in 57 games) but has 40-goal potential, which would certainly help the Stars, who struggle to score.
13. Boston Bruins
Original pick: Jakub Zboril
New pick: Noah Hanifin
Yikes. The first of three straight selections for the Bruins, Zboril has played just two NHL games. The B's picked the right draft to stockpile first-rounders, they just chose poorly. With this pick, we've given them Hanifin, a Beantown native and Boston College product, who falls from No. 5.
14. Boston Bruins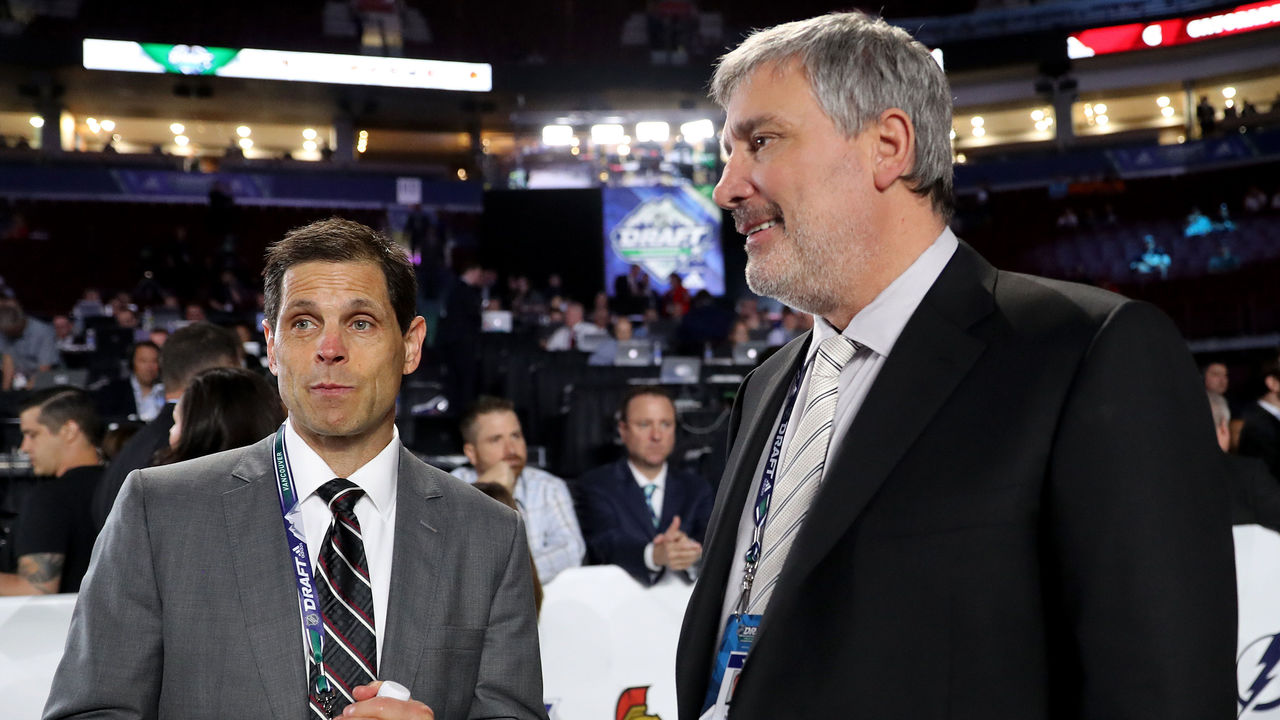 Original pick: Jake DeBrusk
New pick: Anthony Cirelli
DeBrusk has developed into the only NHL regular of Boston's three first-round picks, but there are still better players up for grabs. Cirelli, who the Lightning only selected in the third round, has become one of the game's most effective two-way centers. With the Bruins, he'd get to learn from the master, Patrice Bergeron.
15. Boston Bruins
Original pick: Zachary Senyshyn
New pick: Timo Meier
Only two players taken in this first round have played fewer games than Senyshyn's six: Zboril and Nick Merkley, the latter of whom went 30th overall. Meier already has a 30-goal season in 2018-19 under his belt, and while he regressed this past season, he's just scratching the surface of his potential.
16. New York Islanders
Original pick: Mathew Barzal
New pick: Dylan Strome
Strome was unable to figure things out with the Coyotes, but he's tallied 89 points in 116 games with Chicago. The lanky center might just be something of a late bloomer.
17. Winnipeg Jets
Original pick: Kyle Connor
New pick: Brandon Carlo
The draft begins to fall off a bit here, but Carlo would help restock the Jets' depth on the right side of the blue line. The 6-foot-5 rearguard, who went 35th overall to Boston, doesn't contribute much offensively but brings many of the same defensive qualities that Winnipeg lost with the departures of Dustin Byfuglien, Jacob Trouba, and Tyler Myers.
18. Ottawa Senators
Original pick: Thomas Chabot
New pick: Anthony Beauvillier
There are a few directions that the Senators could go with multiple options up front, on the back end, and in goal, but we've given them Beauvillier, who grew up about two-and-a-half hours from Ottawa in Sorel-Tracy, Quebec. The speedy winger ended up going 28th overall to the Islanders. He's already proven to be a 20-goal scorer and impressive play-driver.
19. Detroit Red Wings
Original pick: Evgeny Svechnikov
New pick: Jake DeBrusk
Svechnikov hasn't quite panned out the way his younger brother, Andrei, has in Carolina, as the 23-year-old has totaled just four points in 20 career NHL contests. His AHL numbers haven't jumped off the page, either. Instead, the Red Wings land DeBrusk, who potted 27 goals in 2018-19, and despite a slow start this season, scored 19 times in 65 games.
20. Minnesota Wild
Original pick: Joel Eriksson Ek
New pick: MacKenzie Blackwood
Taking goaltenders in the first round generally isn't the smartest strategy due to their unpredictable nature, but in retrospect, Blackwood is definitely worthy of the selection. The Devils netminder, who went 42nd overall, has proven to be the best goalie in his class, posting a .916 save percentage and 12.6 goals saved above average in 70 career games. Eriksson Ek has developed into a solid shutdown center, but goaltending is a bigger need in Minnesota.
21. Ottawa Senators
Original pick: Colin White
New pick: Vince Dunn
White is still on the board in this scenario, but the Sens opt to pass on him in favor of defensive help after losing Chabot. The smooth-skating Dunn, who was selected 56th overall, has excelled in a sheltered, third-pairing role with the Blues but would get a chance to assume more responsibility in Ottawa.
22. Washington Capitals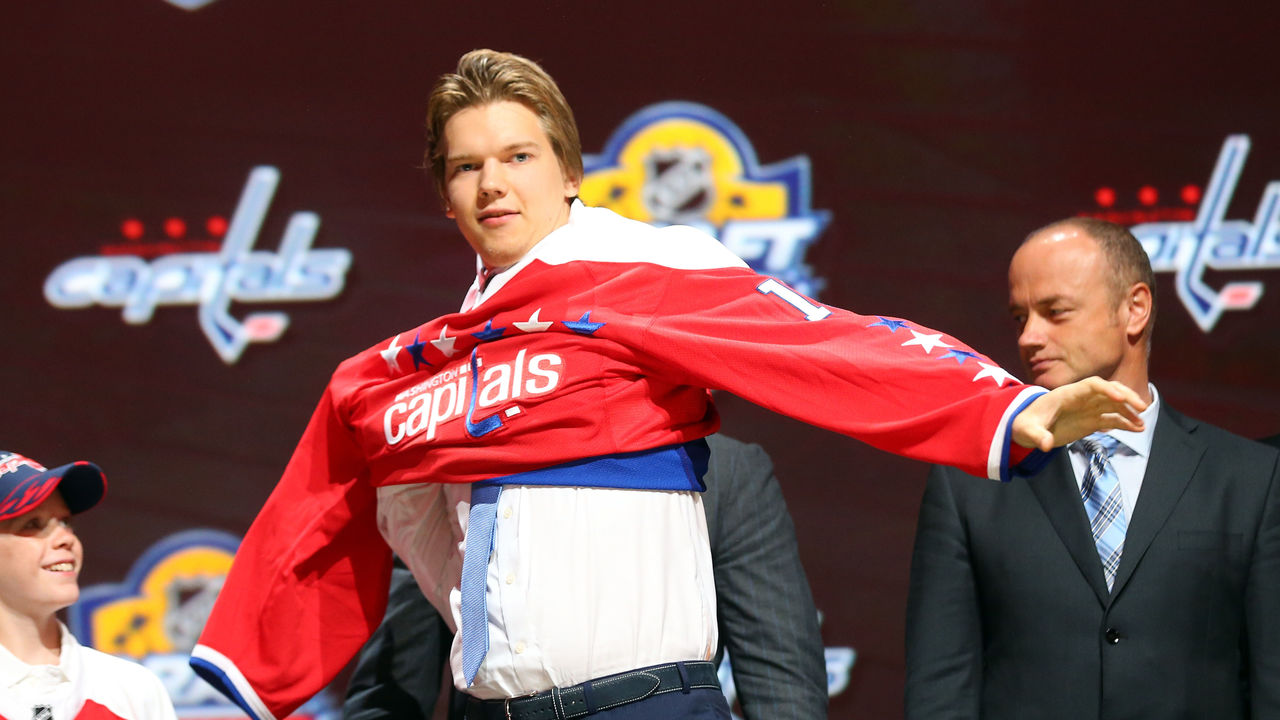 Original pick: Ilya Samsonov
New pick: Ilya Samsonov
Samsonov drastically outplayed Braden Holtby in the crease this season, albeit with a smaller workload. He's primed to take the reins next season, so there's no change here for the Capitals.
23. Vancouver Canucks
Original pick: Brock Boeser
New pick: Conor Garland
Garland was one of the draft's hidden gems. He went undrafted in 2014, then was scooped up by the Coyotes in the fifth round in 2015 as an overager following a 129-point campaign in the QMJHL. Garland played at a 23-goal pace as a rookie in 2018-19 and netted 22 goals in 68 games this year. The shifty, 5-foot-10 winger is a decent alternative to Boeser.
24. Philadelphia Flyers
Original pick: Travis Konecny
New pick: Andrew Mangiapane
Mangiapane's story is similar to Garland's. He also went undrafted in 2014 but was selected in the sixth round by the Flames as an overager after a 104-point OHL season. Another undersized player, the 5-foot-10 winger totaled 17 goals and 32 points in 68 games in Calgary this season and has proven to be an excellent possession-driver.
25. Winnipeg Jets
Original pick: Jack Roslovic
New pick: Rasmus Andersson
After taking Carlo at No. 17, the Jets add another right-handed defenseman in Andersson, whom the Flames picked up in the second round of this draft. Roslovic is still there for the taking, but Andersson is a more valuable commodity and fills a bigger positional need.
26. Montreal Canadiens
Original pick: Noah Juulsen
New pick: Travis Dermott
The left side of Montreal's blue line is severely lacking in talent, so we've given them Dermott, a second-round pick of the Maple Leafs. Dermott struggled at times this season when pressed into bigger minutes, but he's a mobile puck-mover and a significant upgrade over Juulsen, who's been impeded by injuries thus far.
27. Anaheim Ducks
Original pick: Jacob Larsson
New pick: Denis Gurianov
Until this year, Gurianov was considered a bust with just one goal in 22 NHL games. However, he's enjoyed a breakout 2019-20, registering 20 goals in 64 contests while averaging less than 13 minutes. Larsson hasn't inspired much confidence that he can be anything more than a third-pairing D-man.
28. New York Islanders
Original pick: Anthony Beauvillier
New pick: Roope Hintz
Hintz, a second-rounder for the Stars, made a name for himself in the playoffs last year, recording eight points in 13 games. He was putting together a solid campaign before the postponement, racking up 19 goals and 14 helpers in 60 contests. The rugged, versatile, two-way forward would fit well with the Isles' style of play.
29. Columbus Blue Jackets
Original pick: Gabriel Carlsson
New pick: Colin White
Carlsson hasn't quite panned out, spending most of his pro career so far in the AHL. White is tough to gauge. He showed enough promise in 2018-19 for Ottawa to reward him with a six-year, $28.5-million contract, but he was a major disappointment in the first year of his new deal. Perhaps it was just the pressure of a new contract. Regardless, the Jackets have holes at both center and wing that White could help fill.
30. Arizona Coyotes
Original pick: Nick Merkley
New pick: Joel Eriksson Ek
Merkley played just one game for Arizona before he was moved to the Devils in the Taylor Hall trade, so one can argue that, in a sense, he served his purpose. However, Eriksson Ek has become an effective shutdown center for the Wild, making him a much better pick here.