NHL Power Rankings: 1 contract each team wishes it could move
Joel Auerbach / Getty Images Sport / Getty
This is the 11th edition of theScore's NHL Power Rankings for 2019-20. Check back for updated rankings every second Monday during the regular season.
In this edition, with the Feb. 24 trade deadline approaching, we examine one contract each team wishes it could move at the deadline.
1. Tampa Bay Lightning (39-15-5)
Previous rank: 3
The Lightning don't have many truly unsavory contracts, but fourth-liner Yanni Gourde's $5.16-million cap hit through 2024-25 certainly isn't ideal, especially considering the 28-year-old has managed only eight goals and 23 points in 59 games this season.
2. Boston Bruins (37-11-12)
Previous rank: 2
David Backes and his $6-million cap hit have been buried in the minors, but the league-leading Bruins would likely love a chance to permanently rid themselves of that contract, which has one more season remaining.
3. Pittsburgh Penguins (36-15-6)
Previous rank: 4
The general manager and captain are big fans of what Jack Johnson brings to the team, but a 33-year-old defenseman making $3.25 million until 2023 doesn't do the Penguins' salary-cap picture any favors.
4. Washington Capitals (37-16-5)
Previous rank: 1
With Braden Holtby set to become a free agent on July 1, the Capitals should make the tough decision and cut ties a few months early. Rookie netminder Ilya Samsonov has heavily outplayed the veteran and is clearly Washington's goaltender of the future. Getting any sort of return for Holtby could be considered a win, and moving his $6.1-million cap hit would free up cap space to potentially add some offensive depth.
5. Dallas Stars (34-19-6)
Previous rank: 12
The Joe Pavelski signing was ill-advised at the time. Though the contending Stars can't move him now, they probably regret inking the then-34-year-old to a three-year, $21-million pact last July, especially after he's predictably regressed this season.
6. Colorado Avalanche (33-18-6)
Previous rank: 10
Mark Barberio has slotted into Colorado's lineup just 14 times this year, recording two assists. With the defensive pairings playing well, Barberio is one of the only players on the Avalanche's active roster who could potentially net them a depth forward in a trade. He's playing on an expiring contract and has a $1.45-million cap hit.
7. Vancouver Canucks (32-22-5)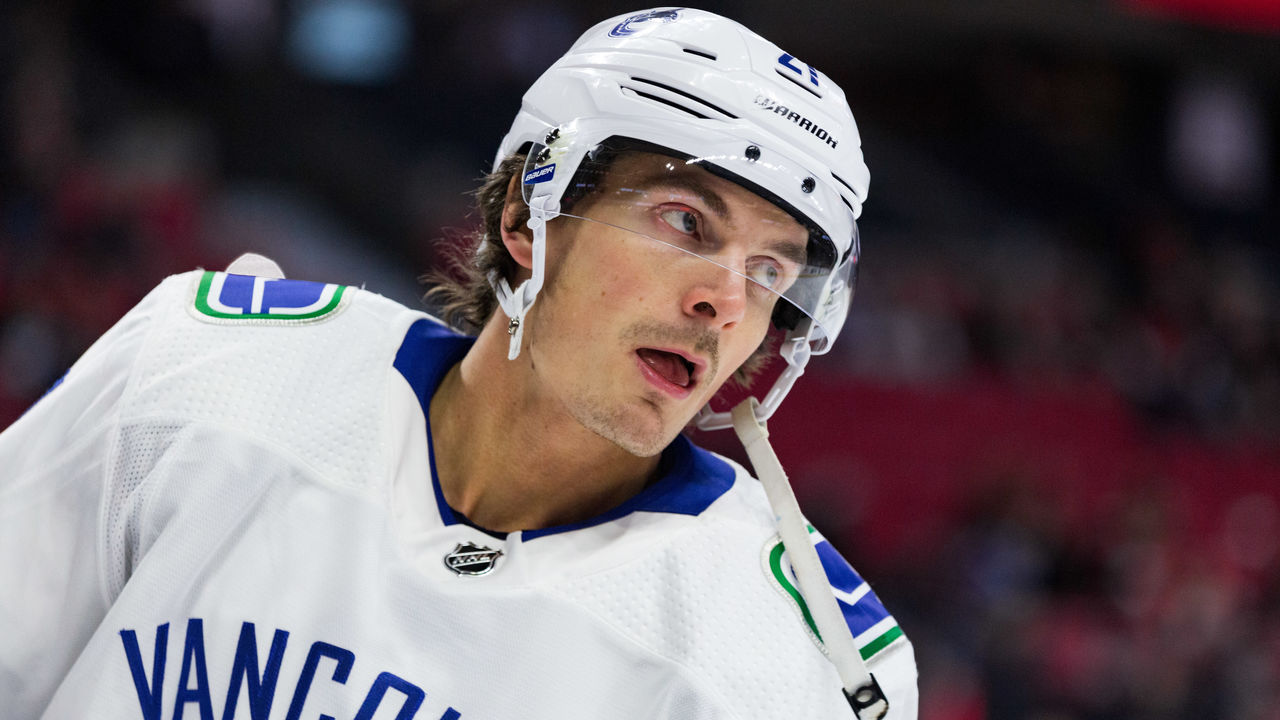 Previous rank: 6
Since signing a six-year, $36-million deal in 2016, Loui Eriksson has amassed 37 goals and 86 points in 235 games with the Canucks. He's been a healthy scratch numerous times this year, and the Canucks almost certainly wish they could move his hefty cap hit and make room for some additional talent to help the playoff push.
8. St. Louis Blues (32-17-10)
Previous rank: 5
He's been a staple in St. Louis for ages, but Alex Steen is now 35 years old and will make $5.75 million for another season beyond 2019-20. He's unquestionably one of the Blues' leaders, but 15 points for that kind of dough isn't going to cut it.
9. Toronto Maple Leafs (31-21-8)
Previous rank: 7
Andreas Johnsson's injury wasn't timely, but it didn't completely diminish his trade value. Though the forward is likely to miss the rest of this campaign, he's still signed for three more years at $3.4 million per season. That's a contract many teams would find attractive, and shipping him out could net the Maple Leafs some immediate help for a potential playoff run.
10. New York Islanders (33-18-6)
Previous rank: 8
Leo Komarov has scored three goals this season and is on the Islanders' books for another two seasons beyond this one at $3 million per year. Not ideal.
11. Edmonton Oilers (32-21-6)
Previous rank: 13
With Mike Smith set to become an unrestricted free agent at season's end, Mikko Koskinen could become the Oilers' No. 1 goalie of the future. It's nice to have security in net, but $4.5 million a season until 2022 for a starting goaltender with a .909 save percentage is a little rich.
12. Philadelphia Flyers (32-20-7)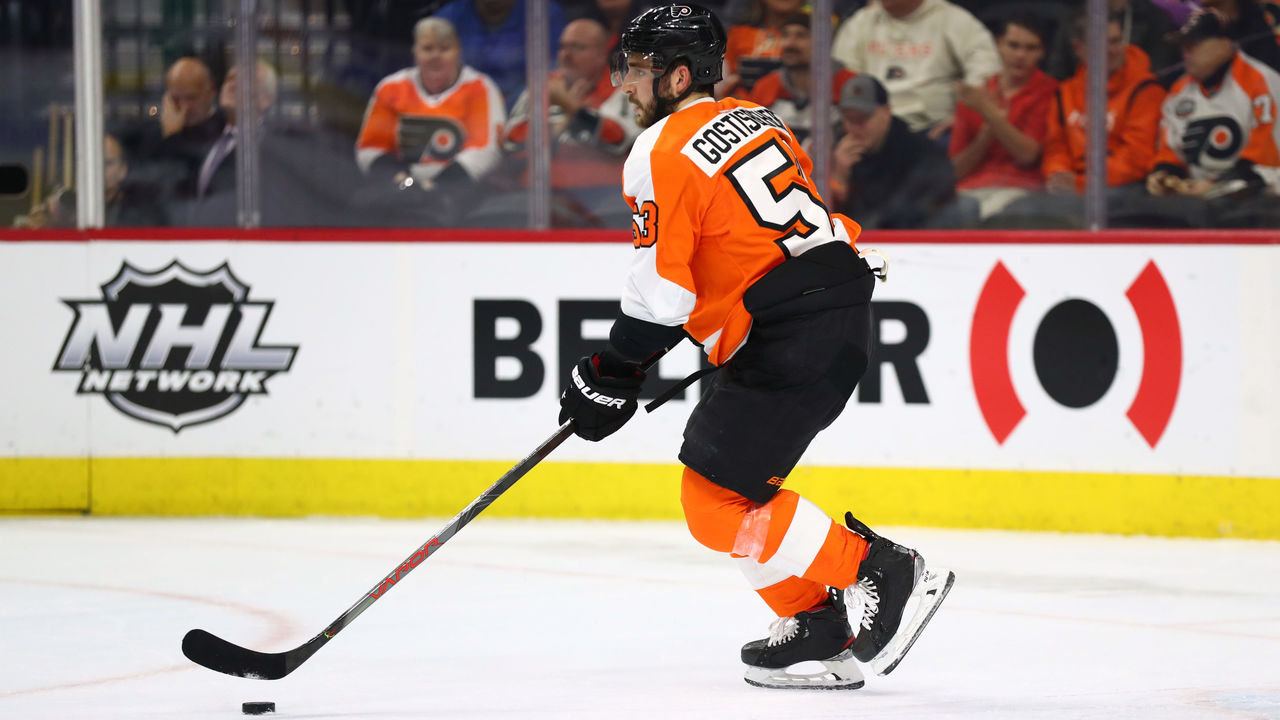 Previous rank: 11
A healthy scratch for a couple of games earlier this year, Shayne Gostisbehere has failed to find his footing in his fifth NHL season. Managing just five goals and 12 points while averaging 18:21 minutes of ice time in 41 games this season, he could still net the Flyers a solid return. Signed until the end of the 2022-23 season at $4.5 million per year, a team in need of a defenseman might be willing to take a shot on the 26-year-old.
13. Columbus Blue Jackets (30-18-12)
Previous rank: 9
Brandon Dubinsky hasn't played at all this season due to a wrist injury, and the 33-year-old grinder's production had declined over the last couple of years even before he got shelved. The Blue Jackets currently have ample cap space courtesy of a slew of other ailing players, but Dubinsky will carry a $5.85-million cap hit through 2020-21 if and when he comes off long-term injured reserve.
14. Carolina Hurricanes (33-21-4)
Previous rank: 16
They'd never admit it, but the Hurricanes might prefer not to have 31-year-old captain Jordan Staal's $6-million cap hit on the ledger for three more seasons beyond this one, despite the veteran forward's leadership, experience, and favorable underlying numbers.
15. Vegas Golden Knights (30-22-8)
Previous rank: 15
It's not a contract, per se, but the $500,000 in annual salary Vegas retained in the Tomas Tatar trade will be on the books until 2021. That has to hurt a team as cap-strapped as the Golden Knights.
16. Florida Panthers (30-22-6)
Previous rank: 14
Mike Matheson's eight-year, $39-million contract was a head-scratcher when it was signed. Less than two years into the deal, the Panthers have asked the blue-liner to play forward and made him a healthy scratch on multiple occasions. Florida has until the 2021-22 campaign before his modified no-trade clause kicks in.
17. New York Rangers (30-24-4)
Previous rank: 22
Brendan Smith has logged minutes at both forward and defense for the Rangers this season, and he hasn't particularly been great in either situation. The 31-year-old hybrid only has three goals and three assists in 52 games, but he'll make $4.35 million for one more season beyond 2019-20.
18. Nashville Predators (29-22-7)
Previous rank: 21
The Predators acquired Kyle Turris during the 2017-18 season and immediately inked him to a six-year, $36-million extension. In the two campaigns since signing the deal, Turris has amassed just 16 goals and 51 points in 106 games. His $6-million cap hit will run through the 2023-24 campaign, and Nashville would surely love to spend that money elsewhere.
19. Calgary Flames (30-24-6)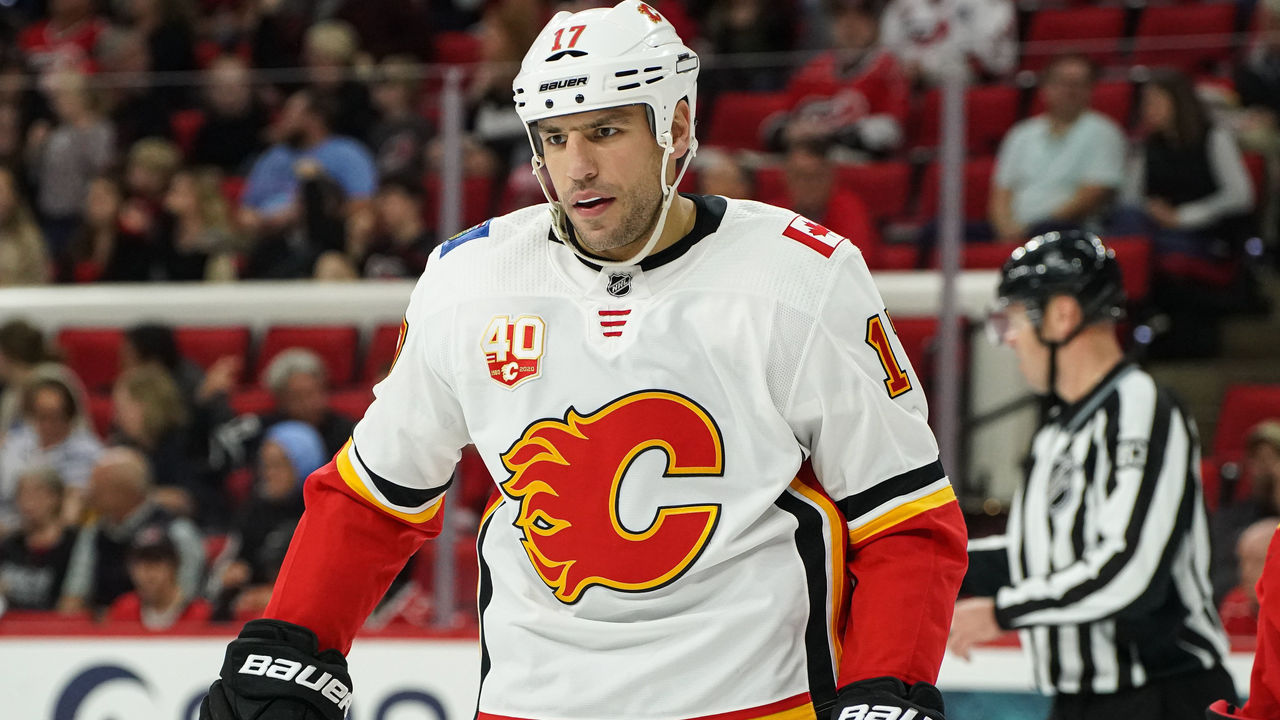 Previous rank: 17
Milan Lucic seems to be a better fit in Calgary than he was Edmonton, but another three seasons at $5.25 million for a 31-year-old enforcer is a big cap issue for the Flames.
20. Winnipeg Jets (30-25-5)
Previous rank: 20
Mathieu Perreault has battled injuries this season, but even when healthy, he's only produced 14 points in 46 games while averaging 13:23 per contest for the Jets. For a player making $4.125 million this season and next, the numbers have to be better.
21. Arizona Coyotes (29-24-8)
Previous rank: 19
Considering the way young goaltender Adin Hill has played when called upon this season, the Coyotes probably wish they could move Antti Raanta's $4.25-million cap hit, which runs through next season. But Raanta's injury history and Darcy Kuemper's absence due to an ailment of his own make such a move impossible.
22. Minnesota Wild (27-24-7)
Previous rank: 25
The Wild inked Zach Parise and Ryan Suter to identical 13-year, $98-million contracts in 2012. Eight years later, the deals haven't held up. Parise bounced back last year and has continued to do so this season, but with five more years left on both pacts, it would clearly benefit Minnesota to unload either 35-year-old before regression hits even harder.
23. Montreal Canadiens (27-26-8)
Previous rank: 23
A playoff berth looks unlikely, but the Canadiens reportedly believe the current roster can compete next year after injuries helped derail the 2019-20 season. With only a handful of players on expiring contracts, Montreal might hope Dale Weise will be a sought-after individual on deadline day. His $2.35-million cap hit is a bit high for a player of his caliber.
24. Chicago Blackhawks (26-25-8)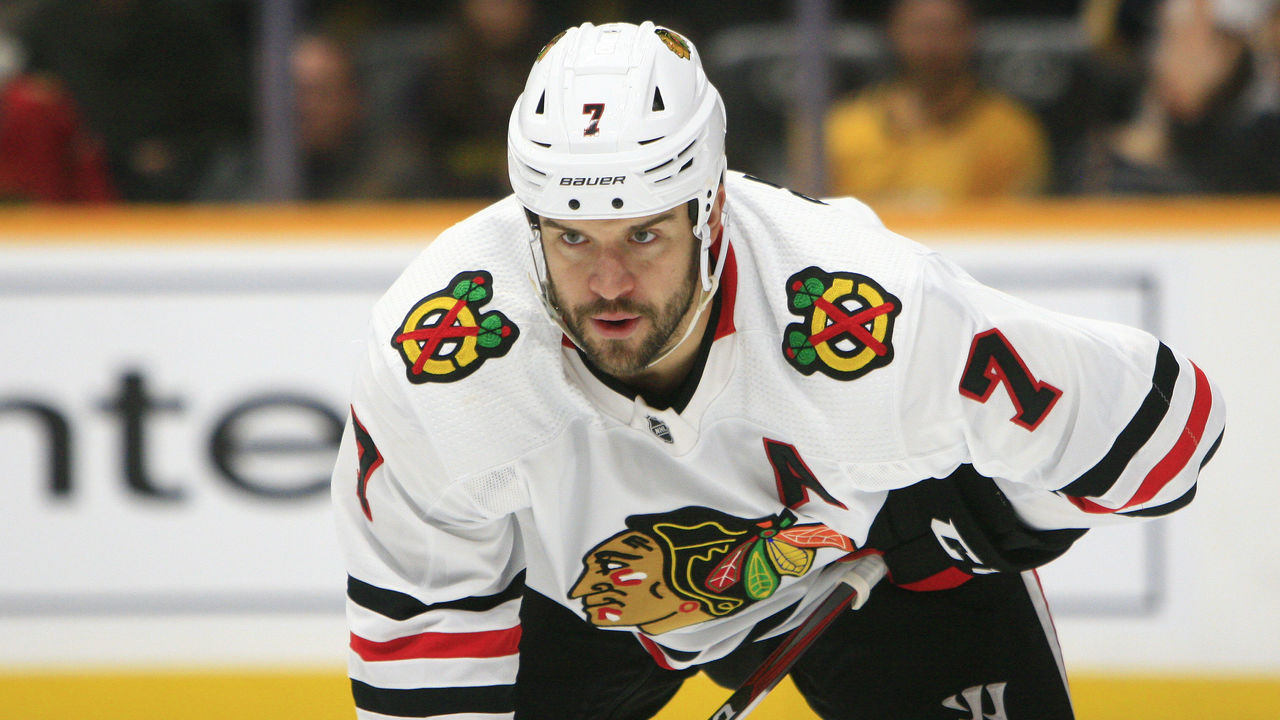 Previous rank: 18
He's a franchise icon from the most successful era in team history, but Brent Seabrook's cumbersome contract remains a burden for the Blackhawks. A slew of injuries has sidelined him this season, but the 34-year-old's ticket includes four more campaigns at $6.875 million per season.
25. Buffalo Sabres (27-24-8)
Previous rank: 24
Kyle Okposo has been playing on the Sabres' fourth line lately, averaging just over 12 minutes of ice time per game. He fits that bottom-six role nowadays, so the fact he's making $6 million for three more seasons after this one is worrisome for Buffalo. The 31-year-old has just six goals and 13 points in 42 games this year, and he has a 15-team no-trade list. Dealing him would be nearly impossible.
26. San Jose Sharks (26-28-4)
Previous rank: 27
Joe Thornton has a no-movement clause and may be content to stick out a disappointing season with the Sharks. But after shipping its first-round pick to the Senators, San Jose must be hoping Thornton will waive his clause and allow the team to ship him to a contender; the veteran center could likely fetch a decent return in a depleted market.
27. Anaheim Ducks (24-27-7)
Previous rank: 26
Adam Henrique has been a bright spot for the lowly Ducks, leading the club in goal-scoring in 2019-20. The 30-year-old's contract is bound to cause some regret sooner rather than later, though. He's on the books for four more seasons after this one at a cap hit of $5.825 million.
28. New Jersey Devils (22-26-10)
Previous rank: 29
P.K. Subban's $9-million cap hit through 2021-22 is heavy, but surely there are teams out there that still believe in the former Norris Trophy winner. Trading Subban, even in the midst of a career-worst season, could work out well for the Devils and land them some additional assets for their young core.
29. Los Angeles Kings (21-33-5)
Previous rank: 30
Several Kings will surely be finding new homes before Feb. 24, but Los Angeles probably won't be moving goaltender Jonathan Quick. The 34-year-old's play has declined noticeably and - likely to GM Rob Blake's chagrin -he carries a $5.8-million cap hit for three more years after this one.
30. Ottawa Senators (20-28-11)
Previous rank: 28
Nikita Zaitsev has been less than stellar since joining the rebuilding Senators from Toronto. Given Zaitzev's $4.5-million cap hit that runs through 2023-24, Ottawa would be oh so lucky if it could move the 28-year-old and make room for the rearguards of the future.
31. Detroit Red Wings (14-43-4)
Previous rank: 31
This year's trade market features a limited number of defensemen, making Mike Green one of the few assets that could potentially fetch the Red Wings something worthwhile at the deadline. With the rebuild in full swing, getting any sort of return for an aging blue-liner on an expiring contract would be a boon for Detroit.
Comments
✕
NHL Power Rankings: 1 contract each team wishes it could move
  Got something to say? Leave a comment below!