NHL Power Rankings: 1 pleasant surprise from each team
Gregg Forwerck / National Hockey League / Getty
This is the third edition of theScore's NHL Power Rankings for 2019-20. Check back for updated rankings every second Monday during the regular season.
In this edition, we identify one pleasant surprise from each team after the first month of the new campaign.
1. Boston Bruins (8-1-2)
Previous rank: 3
Having yet to lose a game in regulation, Tuukka Rask is off to a scorching hot start. The netminder is 5-0-1 in six games, posting a microscopic 1.48 GAA and .952 save percentage. Despite a lengthy playoff run last season, Rask has been locked in to start this year.
2. Colorado Avalanche (8-2-1)
Previous rank: 1
Signed to fill in as their fourth-line center, Pierre-Edouard Bellemare has settled into his role with the Avalanche. The forward is already halfway to his 2018-19 goal total with three goals and three assists so far for his new club.
3. Buffalo Sabres (9-2-1)
Previous rank: 5
Many forget Rasmus Dahlin is still a teenager at 19 years old. The first overall pick in 2018 has taken another step forward and likely hasn't reached his full potential yet. His 10 points in 12 games puts him in the top 10 in points among defensemen.
4. Washington Capitals (8-2-3)
Previous rank: 6
John Carlson has been a force of nature to kick off the year. He leads all defensemen with 21 points and has his name involved in the Art Ross, Hart, and Norris Trophy conversation early in the season. He's looking to shatter his career-best 70 points he put up last year.
5. Edmonton Oilers (8-3-1)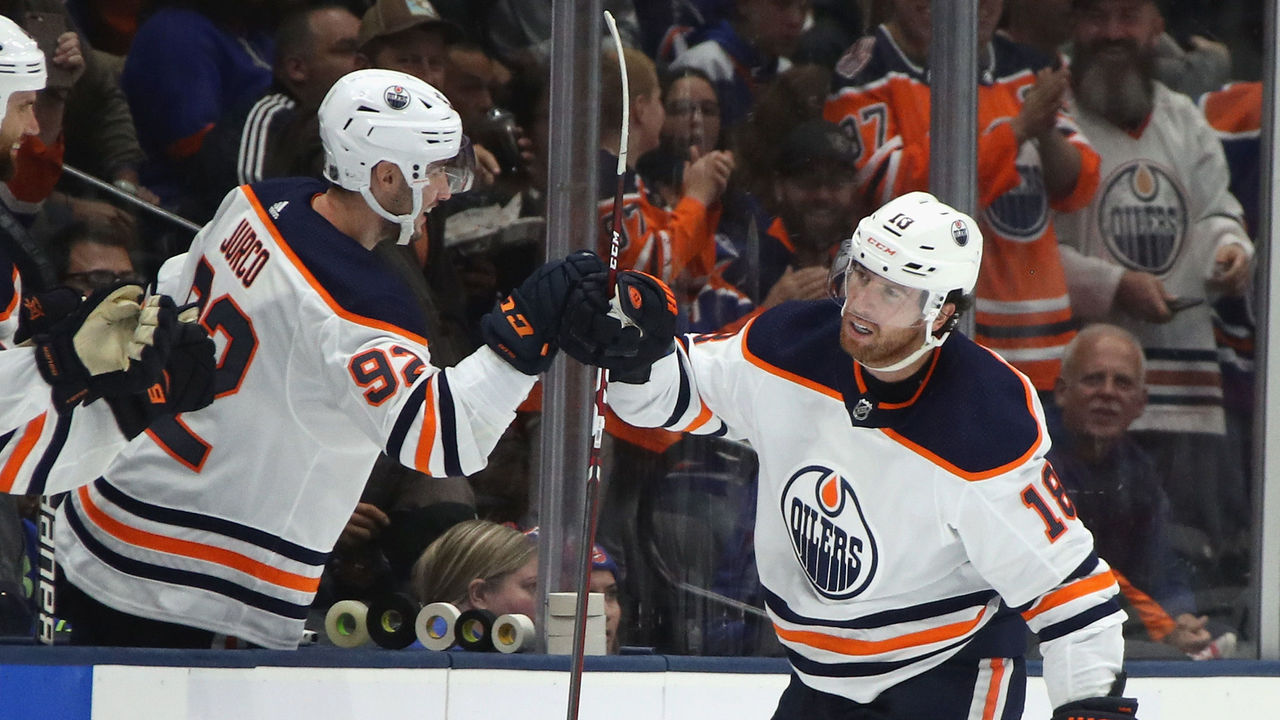 Previous rank: 4
James Neal had seven goals in 63 games with the Flames last season. He has 10 goals in 12 contests so far this year with the Oilers. The winger scored 25 with the Golden Knights two seasons ago and has shown he can reach that potential again. That is the definition of a pleasant surprise.
6. New York Islanders (8-3-0)
Previous rank: 22
After inking a six-year deal worth $36 million during the offseason, Brock Nelson hasn't disappointed so far. With four goals and six assists through 11 games, Nelson has shown he is worth that kind of money.
7. Carolina Hurricanes (7-3-1)
Previous rank: 2
The Hurricanes have more defensemen than they can count, but Dougie Hamilton is still standing out among them. With six goals and six assists in 11 games and excellent defensive play so far this season, Dougie is proving why he can be one of the league's top blue-liners.
8. Nashville Predators (7-3-1)
Previous rank: 12
Nashville's power play finished 30th in the league last season. With Roman Josi and Ryan Ellis quarterbacking the unit now, the Predators have been clicking. They're currently ranked ninth in the league and are converting at a 22% clip.
9. Arizona Coyotes (6-3-1)
Previous rank: 26
The Coyotes made a splash in the offseason by acquiring Phil Kessel, and despite his slow start, the team is still knocking down opponents. Although Kessel has just two goals in 10 games, the Coyotes are evidently still getting the job done.
10. Vancouver Canucks (6-3-1)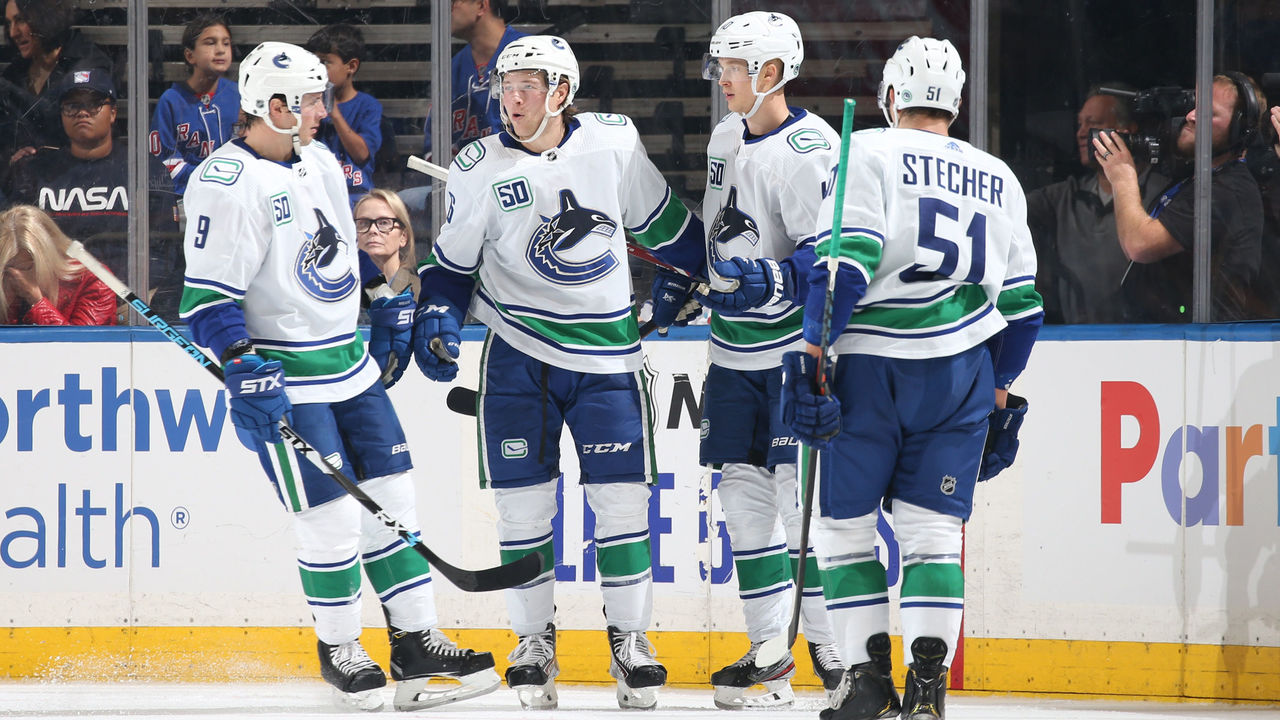 Previous rank: 17
Jim Benning made a gutsy trade during the summer, shipping off a couple of premium draft picks for J.T. Miller. The veteran forward has been better than expected, leading the team with 11 points in 10 games.
11. Vegas Golden Knights (8-5-0)
Previous rank: 8
It's been an inconsistent start for the Golden Knights, but the club has significantly improved its penalty kill thus far after finishing in the middle of the pack in 2018-19. Despite being the third-most penalized team, Vegas has only surrendered five power-play goals and is killing penalties at a rate of 89.6% - good for second in the league.
12. St. Louis Blues (6-3-3)
Previous rank: 9
If we told a Blues fan the club would have a combined seven goals between Ryan O'Reilly, Vladimir Tarasenko, Jaden Schwartz, Tyler Bozak, and Alex Steen through 12 games but would still be third in the Central Division, they'd be pleasantly surprised.
13. Tampa Bay Lightning (5-3-2)
Previous rank: 7
The Lightning are still searching for their A-game after being swept out of the postseason by the Blue Jackets last spring, but the low-risk September signing of rearguard Kevin Shattenkirk has returned a high reward. With a cap hit of just $1.75 million, the veteran is second on the team with four goals and first among Lightning defensemen with seven points in 10 contests.
14. Toronto Maple Leafs (6-5-2)
Previous rank: 10
Russian rookie Ilya Mikheyev has been quite the revelation so far in Toronto. The "souperman" has endeared himself to Leafs fans and media alike with his splashy game and quirky personality, and has even been bandied about in much-too-early Calder Trophy discussions. Mikheyev has potted four goals and ranks fourth on the team with 10 points over his first 13 NHL games.
15. Pittsburgh Penguins (7-5-0)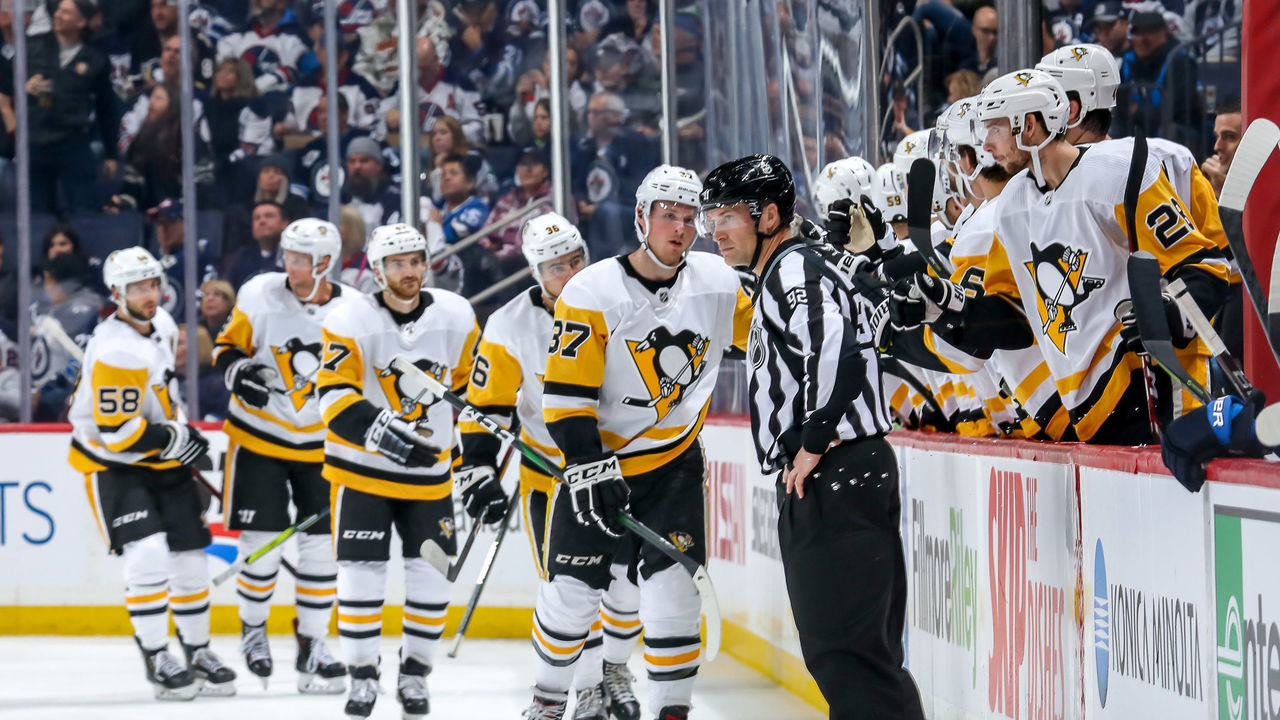 Previous rank: 13
Many counted the Penguins out after they were hit with early injury trouble, but the club has gotten a surprising amount of production from their depth. Pittsburgh has received at least one goal from 16 different players so far with neither Alex Galchenyuk or Nick Bjugstad cracking that list.
16. Philadelphia Flyers (5-4-1)
Previous rank: 11
Travis Konecny's elite level of production early this season has masked sluggish starts from Claude Giroux and Sean Couturier. The Flyers wanted Konecny to take another step after signing him to a six-year, $33-million deal in September, and the 22-year-old has exceeded expectations so far.
17. Calgary Flames (6-5-2)
Previous rank: 15
He may only have one victory to his name this season, but Cam Talbot has shown the Flames he still has plenty left in the tank. The 32-year-old netminder has posted a 2.46 GAA while stopping 79 of 87 shots through four appearances. For a team in need of reliable goaltending, Talbot could provide the answer.
18. Anaheim Ducks (7-6-0)
Previous rank: 16
Hampus Lindholm is off to the best start in his career with nine assists in 12 games. It's unlikely he keeps this 61-point pace alive all year, but the 2014 sixth overall pick is teasing a breakout campaign that could help keep the Ducks relevant in a murky Pacific Division.
19. Florida Panthers (5-2-4)
Previous rank: 23
With captain Aleksander Barkov still goalless through 12 games, the Panthers have seen their depth produce, including 22-year-old Denis Malgin. The Swiss winger has collected three goals and eight points in nine games after tallying only 16 points over 50 contests last season.
20. Montreal Canadiens (5-4-2)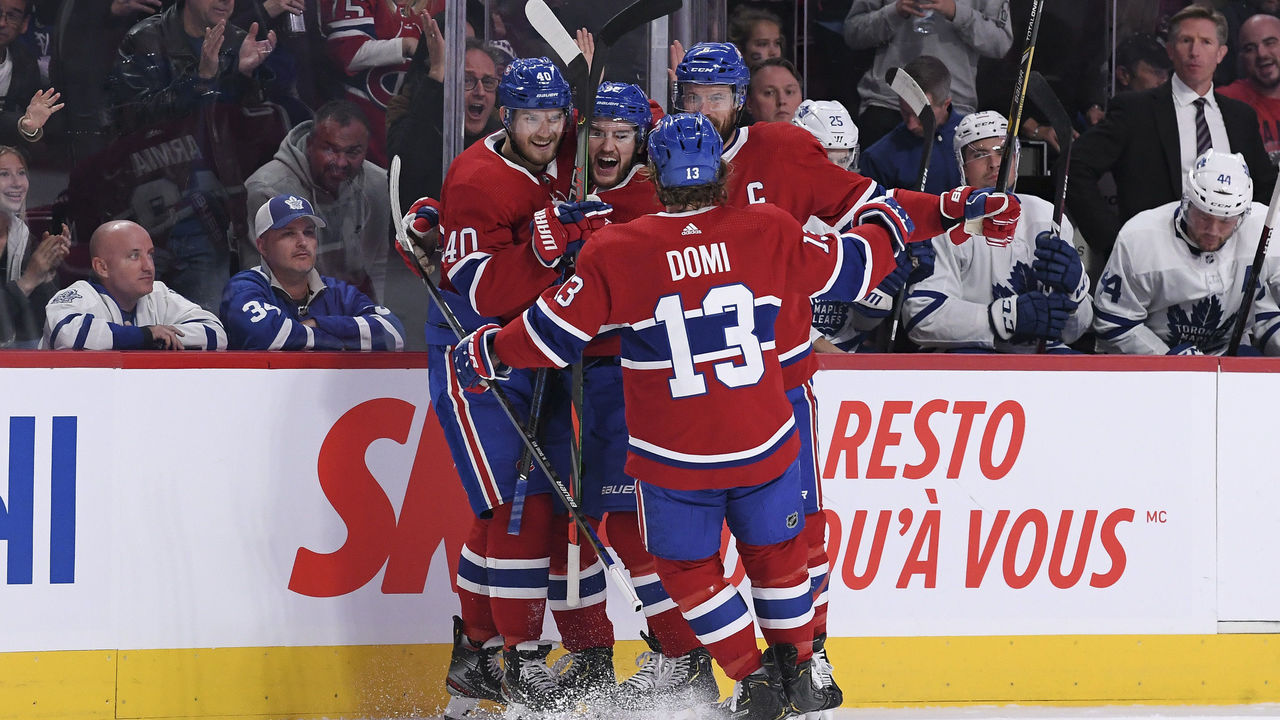 Previous rank: 18
Much like the Predators, the Habs have found success with a rejuvenated power play. Montreal ranked dead last in 2018-19 with just 31 power-play markers but has seen its efficiency with the man advantage double from 13.2% to 26.3% so far this season.
21. Winnipeg Jets (6-6-0)
Previous rank: 14
Although the Jets lost four of their regular defensemen from last season, rookie Ville Heinola has made the most of his opportunity.
Winnipeg's 2019 first-round selection has collected five points in eight contests. But with his ninth game approaching, the club will have an important decision to make: If he plays a 10th contest, he'll burn the first year of his entry-level deal.
22. Columbus Blue Jackets (5-4-2)
Previous rank: 25
The Blue Jackets have needed extra time for three of their wins and have struggled at both ends in terms of special teams. It's been a tough transition into 2019-20 for John Tortorella's club, and it's a surprise to see them above .500 considering the underlying numbers.
23. San Jose Sharks (4-7-1)
Previous rank: 19
Patrick Marleau returning home to the Sharks certainly came as no surprise, but his six points through eight games to start his 22nd season sure is.
24. Dallas Stars (4-8-1)
Previous rank: 27
Roope Hintz made a name for himself during last year's playoffs, and he's notably carried his success into the regular season with six goals in 13 contests - twice as many as any of his teammates.
25. Los Angeles Kings (4-8-0)
Previous rank: 24
Things haven't gone well for the Kings in 2019-20 but 24-year-old blue-liner Sean Walker has racked up six points in 12 games. He also leads all of Los Angeles' regular defenders with 61.67% Corsi and 62.26% of expected goals at five-on-five.
26. New York Rangers (3-5-1)
Previous rank: 20
The Rangers don't look like a team ready to take a step forward after a big summer, but defenseman Tony DeAngelo has emerged with eight points in nine games so far.
27. Minnesota Wild (4-7-0)
Previous rank: 31
Thirty-one-year-old defenseman Brad Hunt of all people leads the team in goals and points, which is great for him, but probably not so great for the current outlook of the Wild.
28. Chicago Blackhawks (3-5-2)
Previous rank: 29
After struggling to find his groove in Buffalo, winger Alex Nylander appears to have discovered himself in the Windy City. The No. 8 pick from the 2016 draft has two goals and three assists through his first nine games with the Blackhawks.
29. New Jersey Devils (2-5-2)
Previous rank: 30
Pavel Zacha, the club's first-round pick in 2015, looks to have finally made some strides this season. He's already notched five points - which puts him on pace to shatter his previous career high of 25 - and has looked confident with the puck most nights. A step forward for the big pivot would be huge for the Devils.
30. Ottawa Senators (3-7-1)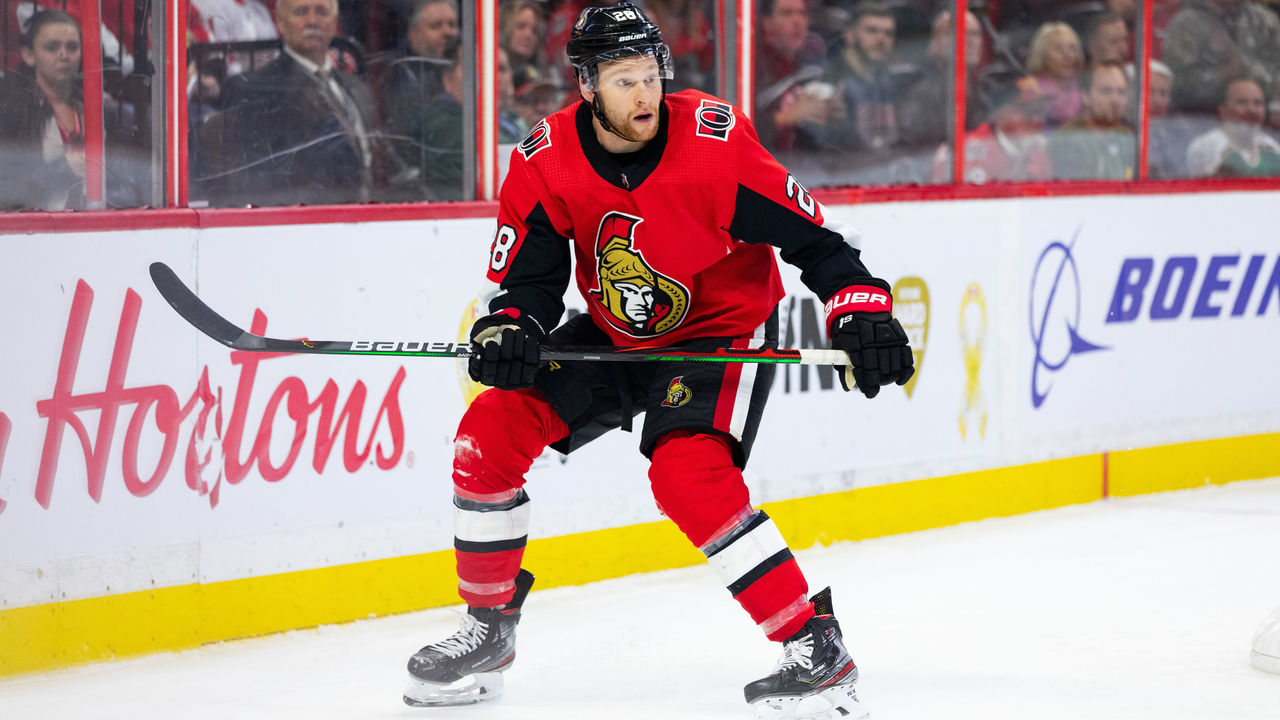 Previous rank: 28
Somewhat a forgotten aspect of the Senators-Leafs mega trade this summer, forward Connor Brown has made the most of an elevated role in the nation's capital. He leads all Ottawa forwards with 10 points in 11 contests.
31. Detroit Red Wings (3-8-1)
Previous rank: 21
Detroit only has one victory in its last 10 outings, but Tyler Bertuzzi notching 12 points thus far has to be a welcome sight for Red Wings brass.
(Advanced Stats Courtesy: Natural Stat Trick)
Comments
✕
NHL Power Rankings: 1 pleasant surprise from each team
  Got something to say? Leave a comment below!