NHL Power Rankings: Maple Leafs' offense wreaking havoc, Canes surging
Claus Andersen / Getty Images Sport / Getty
During the regular season, theScore's NHL Power Rankings will be published every two weeks. This latest edition is the first of the regular season. It was compiled by editors Craig Hagerman and Cory Wilkins.
1. Toronto Maple Leafs (5-1-0)
The Maple Leafs offense is firing on all cylinders. Auston Matthews has been a man possessed scoring in all six of the club's games so far and has already hit double-digit goals. Morgan Rielly, meanwhile, sits just behind Matthews in the NHL scoring race with 13 points of his own. If they can tighten things up a little more in the opposite end of the ice - as they did on Saturday night - the Maple Leafs could really make some noise. - Hagerman
2. Carolina Hurricanes (4-1-1)
The Hurricanes seem to be having the most fun league-wide and after getting off to a quick start, it's easy to understand why. They're averaging an outrageous 42.3 shots per game and only 25 against. Factor in that only four players on their roster haven't recorded a point and it seems head coach Rod Brind'Amour has the entire team buying into his system. - Hagerman
3. Boston Bruins (4-1-0)
After getting blown out 7-0 by the Capitals in their first game of the season, things looked hairy for the Bruins, but they've quickly turned things around. The club has since won four straight, outscoring the opposition 22-6. Their top line is once again driving the bus, having combined for 30 points in five games. - Hagerman
4. New Jersey Devils (3-0-0)
The Devils are perfect through three games and Kyle Palmieri is a big reason for that, having scored twice in all three games. The Devils hot start is highlighted by a 6-0 shelling of the Washington Capitals. They're allowing just 26 shots against per game and currently boast the best goal differential in the league at plus-10. - Hagerman
5. Nashville Predators (4-1-0)
The Predators have been perfect outside a 3-0 loss to the Calgary Flames. Their season to date is highlighted by a gutsy 3-0 win over the Winnipeg Jets. Pekka Rinne has followed up his Vezina Trophy win with a solid 1.67 goals-against average and a .946 save percentage through three games. - Hagerman
6. Dallas Stars (3-1-0)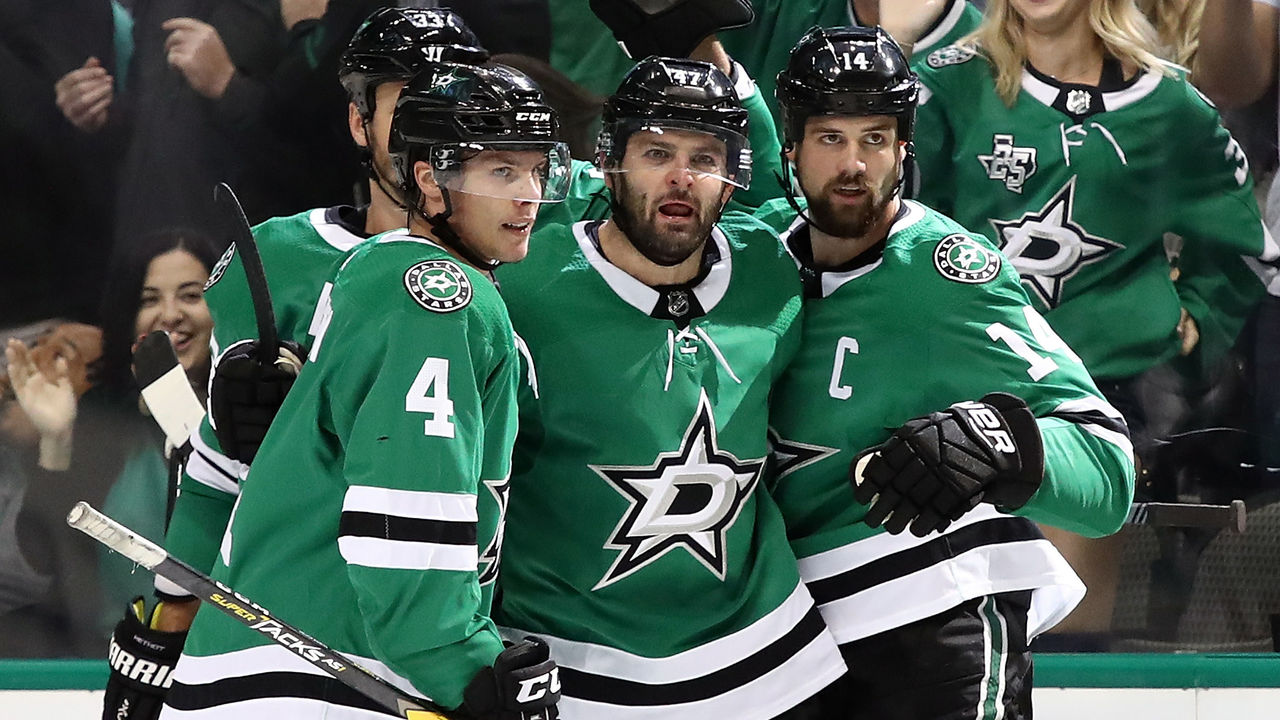 The Stars are flying under a new system deployed by rookie head coach Jim Montgomery. The club continues to be held up by the line of Jamie Benn, Tyler Seguin, and Alexander Radulov who've combined for 27 points in four games. Meanwhile, Ben Bishop has been great outside of a meeting against the Maple Leafs. - Hagerman
7. Chicago Blackhawks (3-0-2)
The Blackhawks have done a great job early of putting a down 2017-18 season in the rearview mirror. Chicago has gotten off to a 3-0-2 record led by captain Jonathan Toews, who has jumped out with five goals and nine points in five games. The team surely misses Corey Crawford, having given up 21 goals so far, but for the meantime, they appear to be outscoring their defensive woes. - Hagerman
8. Colorado Avalanche (3-1-1)
Nathan MacKinnon has followed up an MVP-caliber 2018 by tying a franchise record, scoring in five straight games to begin the season. Meanwhile, Mikko Rantanen has posted eight points of his own. Despite the solid forward play, Semyon Varlamov might be the Avs' biggest surprise, having given up just seven goals on 130 shots to begin the season. - Hagerman
9. Anaheim Ducks (4-1-1)
Through the first week and a half of the season, the Ducks find themselves atop the Pacific Division. The club has done so with Corey Perry out for five months and captain Ryan Getzlaf playing in just two of the first six games. John Gibson, on the other hand, has been a wall between the pipes. - Hagerman
10. Calgary Flames (3-2-0)
The Flames are getting contributions from their big forwards early on. Johnny Gaudreau, Mathew Tkachuk, Elias Lindholm, and Sean Monahan are all averaging more than a point per game through five contests. However, Calgary could benefit from stronger play by Mike Smith going forward. - Hagerman
11. Vancouver Canucks (3-2-0)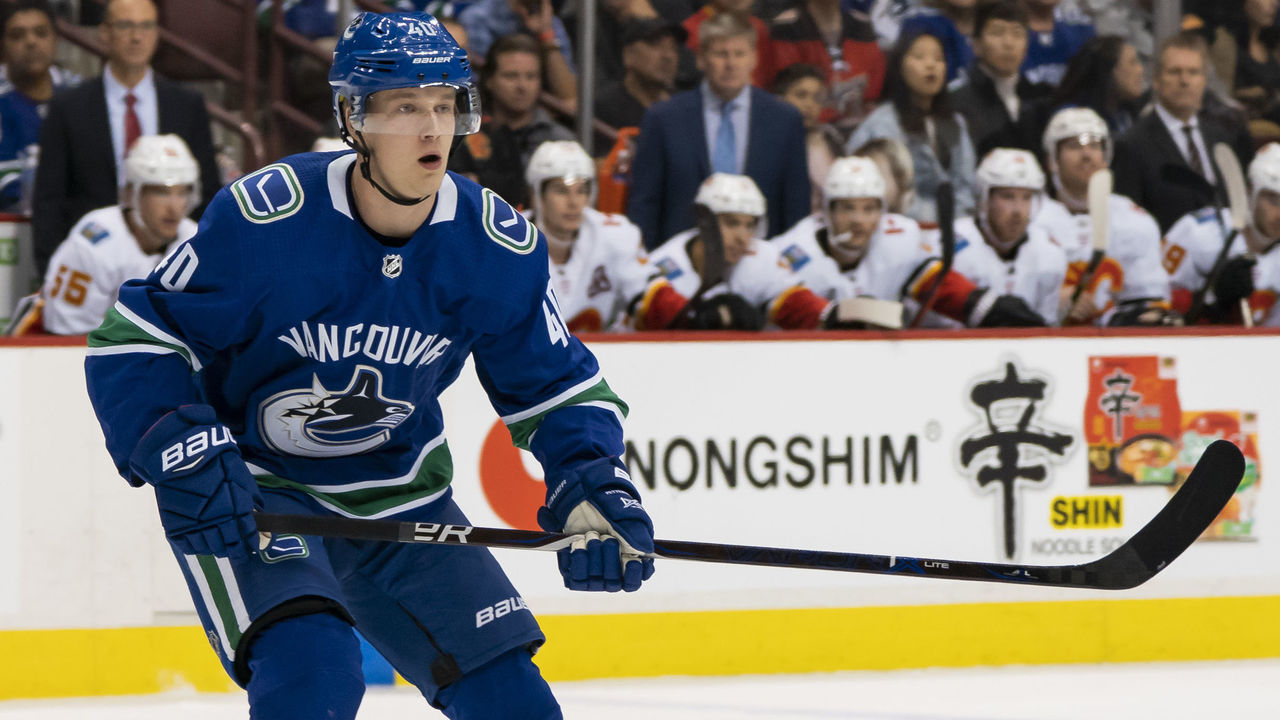 The Canucks are turning heads early into the season and they have rookie Elias Pettersson to thank for that. Vancouver has won three of its opening five games, with the rookie sensation picking up five goals and eight points. Once Brock Boeser starts heating up, the Canucks could cause problems for top teams. - Hagerman
12. Tampa Bay Lightning (2-1-0)
It's been tough for the Lightning to get going after enduring a stretch of just two games in seven days that featured a 4-1 loss to the Canucks. Luckily, they flexed their offensive muscles on Saturday with an 8-2 win over the Blue Jackets and looked poised to break out. - Hagerman
13. Montreal Canadiens (2-1-1)
The Canadiens have been making life difficult for some Eastern Conference juggernauts early this season. After forcing the Maple Leafs to overtime in the first game of the season, the Habs picked up four points in two games against the Penguins. Carey Price appears to be returning to form, which makes the idea of reaching the playoffs a little less far-fetched. - Hagerman
14. Washington Capitals (2-2-1)
The Capitals have looked both red hot and ice cold to begin the season. They were lights out in their 7-0 opening-night win over the Bruins. However, the club has now dropped two straight, including a 6-0 shutout loss to the Devils. But after winning the Cup this past spring, they're likely not too worried. - Hagerman
15. Buffalo Sabres (3-2-0)
The Sabres' active offseason, which featured drafting Rasmus Dahlin first overall, looks to be paying off. The club sits above the .500 mark, Jack Eichel and Conor Sheary have already picked up three goals apiece, and Carter Hutton and Linus Ullmark have both looked solid between the pipes. Not bad for a team that finished 31st in the standings last year. - Hagerman
16. San Jose Sharks (2-3-1)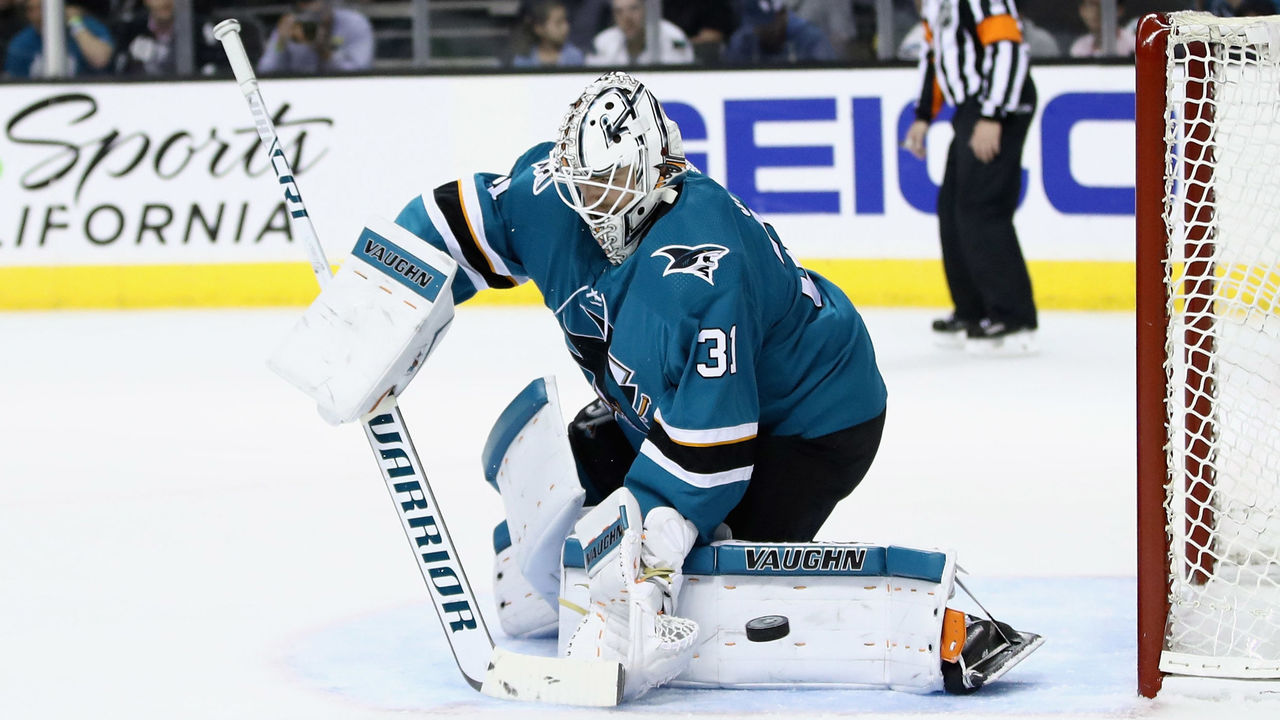 The Sharks haven't lived up to expectations in the early goings, particularly big-ticket addition Erik Karlsson, who's still finding his way with San Jose. Netminder Martin Jones has allowed at least three goals in three appearances and has just one win to show so far. Joe Thornton's eventual return from injury will help straighten out the Sharks. - Wilkins
17. Pittsburgh Penguins (2-1-1)
The early goings for the Penguins have been a mixed bag. The four games have featured two frustrating losses to the Canadiens, but also a barn burner against the Capitals and another win over the Golden Knights. An early season concussion scare to Matt Murray may not be as bad as originally feared, as he returned Saturday to back up Casey DeSmith. - Wilkins
18. Columbus Blue Jackets (3-2-0)
The Blue Jackets have had a strong start to the season, but tumbled down this list thanks to being on the wrong end of an 8-2 drumming by the Lightning. Still, the early returns have been promising, and the uncertain futures of top forward Artemi Panarin and star goaltender Sergei Bobrovsky haven't seemed to have impacted their play. - Wilkins
19. Winnipeg Jets (3-2-0)
A Stanley Cup favorite, the Jets haven't found their offensive game through their first five contests, having scored more than two goals just twice. Patrik Laine and fellow winger Kyle Connor remain the only Winnipeg skaters with more than one tally. Handing the Hurricanes their first regulation loss of the season could be a sign that the Jets are rounding into form. - Wilkins
20. New York Islanders (2-2-0)
The Islanders have had a strong start to the season - when they're not playing the Predators, who've handed New York both of their losses. Mired by poor goaltending last season, new face Robin Lehner has been a revelation, owning a .937 save percentage across his two appearances this year. With five points in four games, a sophomore slump looks to have skipped Mathew Barzal. - Wilkins
21. Ottawa Senators (2-2-1)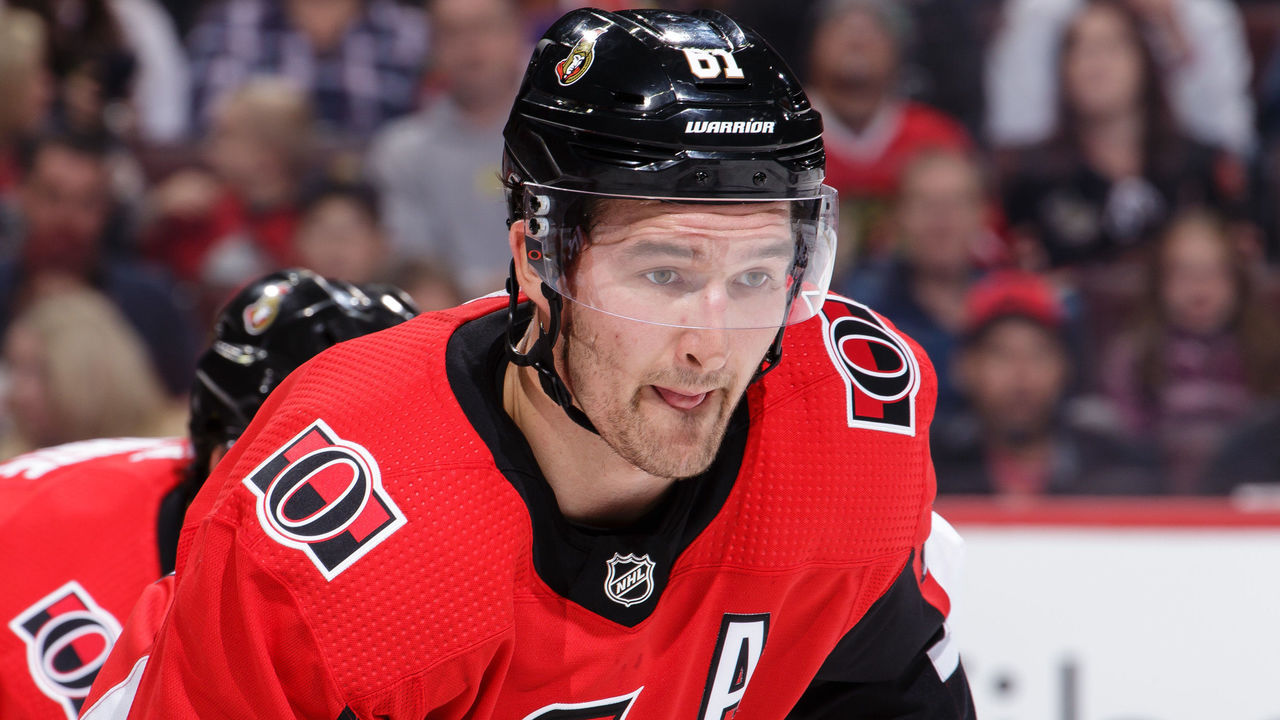 The pick of many pundits to be the 2018-19 basement dweller, the Senators have been anything but through early October. The team's five games have been highlighted with plenty of offense, including a takedown of the high-flying Maple Leafs. Rookie defenseman Max Lajoie has impressed with six points to start the year. - Wilkins
22. Philadelphia Flyers (2-3-0)
It's not hockey season if the Flyers' goaltending isn't being called into question. Little time was wasted this year, as Brian Elliott allowed eight goals in Philly's home opener, while backup Michal Neuvirth is once again on the injured reserve. Still, credit to the Flyers for pulling off a rare feat - defeating the Golden Knights in Sin City, and in Vegas' home opener no less. - Wilkins
23. Los Angeles Kings (2-2-1)
It's 2016-17 all over again for the Kings, as an early-season injury to Jonathan Quick has Los Angeles turning to its backup. Fortunately, Quick's ailment isn't as severe as it was two seasons ago, while Jack Campbell has also performed admirably in his absence. Up front, Ilya Kovalchuk has picked up three points in five games, chipping away at the doubt that he could be productive in the NHL. - Wilkins
24. St. Louis Blues (1-2-2)
The good news is Ryan O'Reilly and familiar face David Perron have impressed in the early goings for the Blues. The bad news is netminder Jake Allen's inconsistencies appear to have carried over from last year. A pair of overtime losses to the Blackhawks should be considered lost opportunities. - Wilkins
25. Vegas Golden Knights (2-4-0)
It's not the start that Golden Knights fans saw last season, as netminder Marc-Andre Fleury has struggled, while the goals at the other end aren't coming as easily following the departures of forwards James Neal and David Perron. A long-term injury to center Paul Stastny would be devastating for Vegas. - Wilkins
26. Minnesota Wild (1-1-2)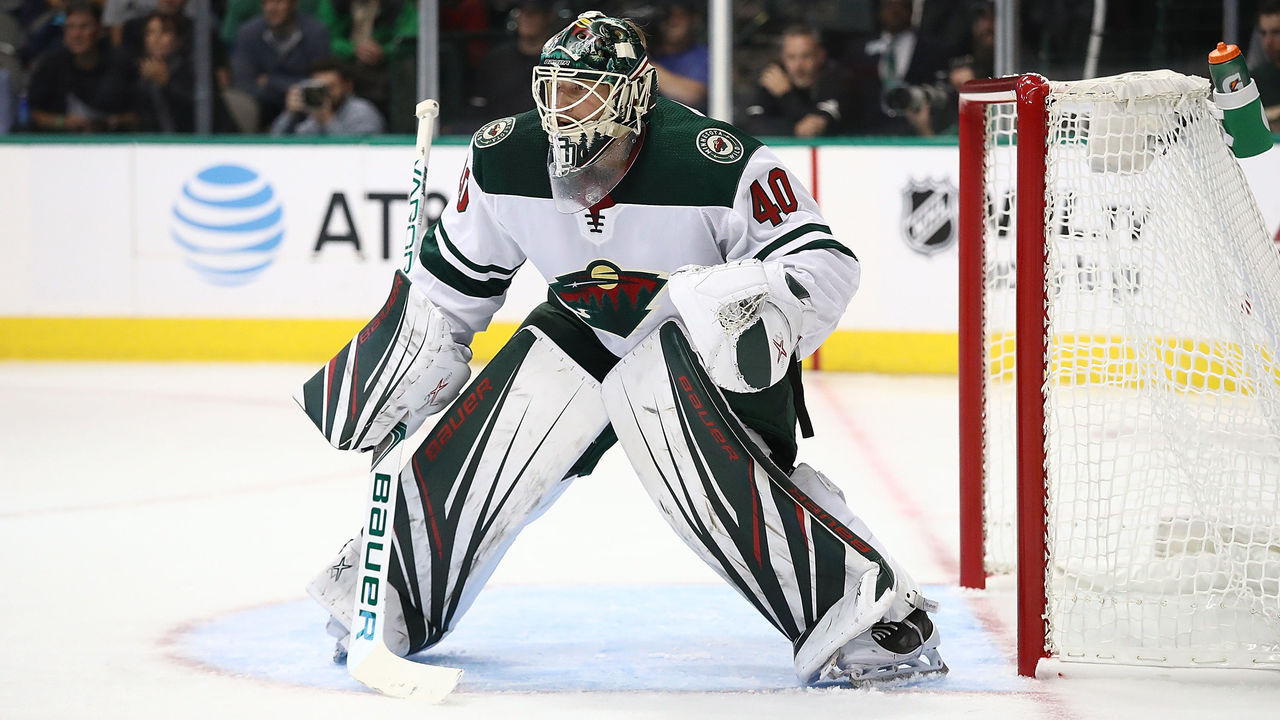 Devan Dubnyk is the biggest reason why the Wild own a .500 record through four games. The netminder owns a sparkling .934 save rate on the season, having faced at least 30 shots in each appearance. The apex came with a 52-save effort in an overtime loss to the Hurricanes. The workload has only increased with three Minnesota games requiring extra time. - Wilkins
27. Edmonton Oilers (1-2-0)
Connor McDavid factoring into each of the Oilers' five goals this season speaks to the superstar's talent, but also highlights the lagging depth in Edmonton. The team's lack of secondary scoring is even more apparent with Ty Rattie, Jesse Puljujarvi, and Kailer Yamamoto unable to replicate their preseason production thus far. - Wilkins
28. Detroit Red Wings (0-3-2)
These aren't your father's Red Wings. The one-time perennial contender is winless through its first five appearances, while the upcoming slate doesn't get any easier. Still, the club hasn't been without positives, as youngsters Tyler Bertuzzi, Dennis Cholowski, and Filip Hronek have impressed. - Wilkins
29. New York Rangers (1-4-0)
The rebuilding Rangers weren't expected to contend, but one win through five games seems underwhelming for a lineup that still includes the likes of Mika Zibanejad, Mats Zuccarello, and future Hall of Famer Henrik Lundqvist. There's also Kevin Shattenkirk, but the veteran blue-liner has already been scratched by new bench boss David Quinn. - Wilkins
30. Florida Panthers (0-2-1)
One of two clubs yet to find the win column, times will only be tougher for the Panthers with starter Roberto Luongo on the shelf. The good news is that all three Florida games have been close, having been decided by one goal, including the season opener, which was ultimately decided in a shootout. - Wilkins
31. Arizona Coyotes (1-3-0)
With just two goals and zero even-strength tallies through four games, little has gone right for the Coyotes. Most surprising is the team's underlying numbers support success - Arizona is among the NHL's best in shots for, shots against, and goals against, but the results haven't followed. The team awaits Alex Galchenyuk and Christian Dvorak's return from injury. - Wilkins
Comments
✕
NHL Power Rankings: Maple Leafs' offense wreaking havoc, Canes surging
  Got something to say? Leave a comment below!