3 teams that could become legit Cup threats with the right deadline deal
Bruce Bennett / Getty Images Sport / Getty
As NHL teams continue to jockey for playoff positioning, front offices around the league will do some maneuvering of their own in an attempt to construct Cup-winning rosters.
This year's NHL trade deadline falls on Monday, Feb. 26, giving general managers exactly 40 days to try to swing a deal to put their clubs over the top. Certain teams are much more than just a piece or two away from competing for that coveted silver piece of hardware, but some clubs are tantalizingly close to being a championship-caliber squad, and one player in the right position could be the difference between early trips to the golf course and springtime hockey.
Here's a look at three teams that could become legitimate threats to win the Stanley Cup with the right deadline deal:
New York Islanders
There's no denying it: the Islanders are a team on the come up, but they're top heavy.
A forward group that includes the likes of Anders Lee, John Tavares, Josh Bailey, and rookie phenom Mathew Barzal has developed New York into a club that can put the puck in the net with the best of them. Those four are all having career years and also find themselves in the top 30 in league scoring.
| Player | Goals | Assists | Points | GWG | CF % |
| --- | --- | --- | --- | --- | --- |
| John Tavares | 24 | 30 | 54 | 2 | 50.4 |
| Josh Bailey | 12 | 38 | 50 | 2 | 48.7 |
| Mathew Barzal | 16 | 31 | 47 | 3 | 54 |
| Anders Lee | 26 | 15 | 41 | 2 | 50 |
(Stats courtesy: Hockey Reference)
New York sits second in the NHL with 156 goals - only the Tampa Bay Lightning have more (159). Unfortunately, the Islanders also excel at allowing goals, conceding a league-high 167 (seven more than the lowly Arizona Coyotes) to go along with a goals-allowed per game rate of 3.63, also good for most in the league.
With all that said, it's evidently clear that New York is in need of help on the back end.
Injuries to top-four rearguards Johnny Boychuk and Calvin de Haan make the need for defensive help all the more crucial, as Boychuk's return date is still uncertain and De Haan is done for the year. Sprinkle in the fact that goaltenders Jaroslav Halak and Thomas Greiss own goals-against averages of 3.22 and 3.89, respectively, and the need for blue-line help becomes most dire.
If GM Garth Snow can manage to pair one of his four picks in the first two rounds of the 2018 NHL Draft with the right player to secure the appropriate D-man, the Islanders have more than enough firepower to go on a deep postseason run.
Calgary Flames
All puns aside, the Flames really are on fire, as seven straight Ws have Calgary holding down the third spot in the always-tough Pacific Division. But, the Flames are still missing one or two key pieces up front to round their roster into one that will be truly tough to beat.
The offensive talents of Johnny Gaudreau and Sean Monahan are obvious, while Matthew Tkachuk, Micheal Ferland, and Mikael Backlund offer some decent secondary scoring options. But that won't be enough to go up against the Tampa Bay Lightnings and Winnipeg Jets of the world that Calgary will have to go through if it wants to drink out of Lord Stanley's mug come June.
The quality of the lineup that GM Brad Treliving has assembled is evident, as the Flames boast, arguably, the NHL's deepest D-corps. And there's no denying that goaltender Mike Smith is having one of the best campaigns of his 12-year career.
However, Calgary needs to be more dangerous up front if it hopes to make the deep playoff run for which fans on the Red Mile are longing.
Glen Gulutzan's squad is very much for real, and if they can bring in the right veteran scorer to help boost production, don't be surprised if you see the Cup being lifted this year in the shadow of the Rockies.
Toronto Maple Leafs
We know, we know.
Just another classic case of the hockey media praising the Maple Leafs. Well, whether everyone wants to admit it or not, Toronto's hockey club is also a mere piece or two short of having a Cup-winning type of roster.
Sure, the Leafs run-and-gun style has burned them on multiple occasions, especially lately, losing six of their last eight games. But that doesn't change the fact that Toronto's lineup is stacked up front with the likes of Auston Matthews and Co., or that Freddy Andersen is playing some Vezina-level puck right now.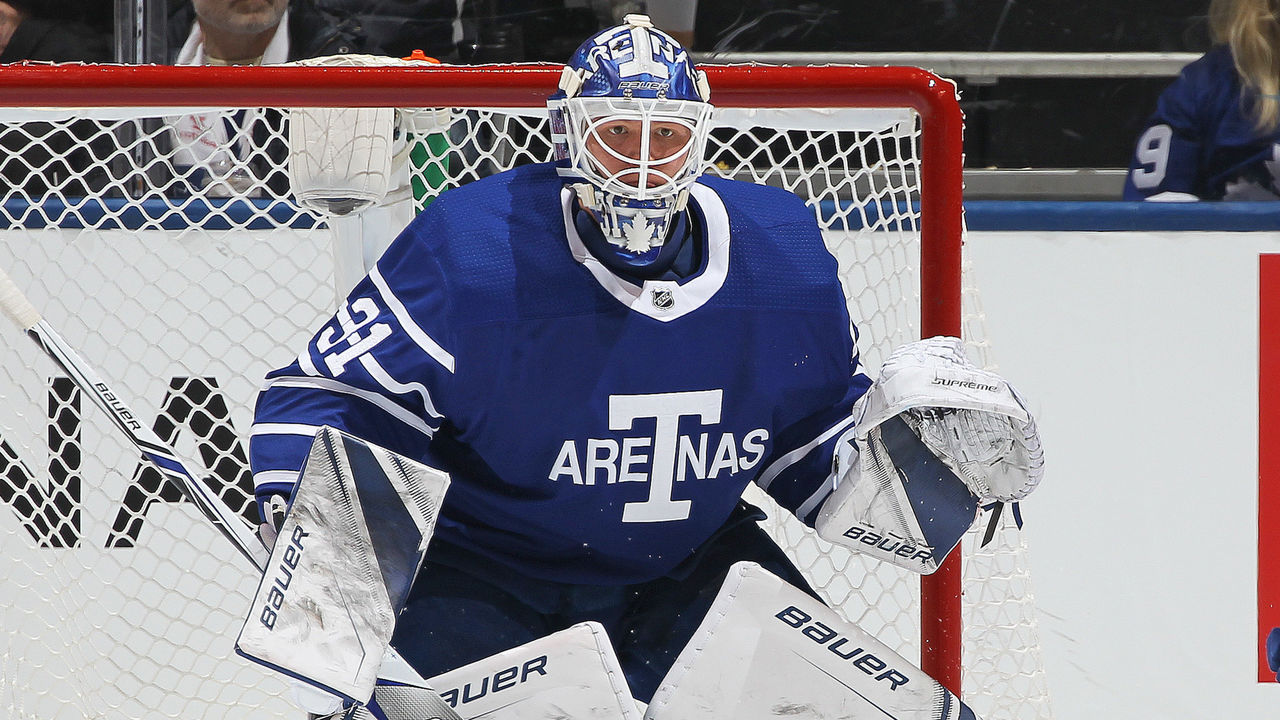 (Photo courtesy: Getty Images)
Meaning, if Lou Lamoriello - after more than a year and a half of searching - can finally find the defensive piece (or two) he needs, the Leafs should find themselves going toe to toe with the Bolts in June with the Eastern Conference title on the line.
It's no secret Lamoriello dangled James van Riemsdyk last season in an attempt to acquire a rearguard, and it will take that type of player to secure the return Toronto is looking for on its blue line this time around.
With Morgan Reilly having a stellar year and Nikita Zaitsev soon to return from injury, along with the Leafs' solid positioning in the Atlantic Division, the groundwork is in place for Toronto's front office to pull the strings necessary and bring in a top-four D-man to anchor the back end.
If they can, all those premature parade plans might not have been premature at all.
Comments
✕
3 teams that could become legit Cup threats with the right deadline deal
  Got something to say? Leave a comment below!