Offseason Outlook: Winnipeg Jets
Bruce Fedyck-USA TODAY Sports
Presented by
With the offseason underway for a number of teams and the remainder set to join them in a few weeks, we're looking at what's in store for each club in the coming months.
2016-17 Grade: D
The Winnipeg Jets were among the most exciting teams this season, playing a lineup that featured rookie sensation Patrik Laine, youngster Nikolaj Ehlers, and emerging top center Mark Scheifele.
It made for a team that could score but lacked structure. Winnipeg allowed the fourth-most goals this season as the team's netminders struggled, while the blue line had challenges of its own, from defenseman Tyler Myers missing most of the season with a lower-body injury to Jacob Trouba's month-long absence due to a contract dispute.
Free Agents
Six Jets regulars are free agents this summer, with Marko Dano the most notable among them. The 22-year-old appeared in 38 games this season and remains an important piece for Winnipeg.
| Player (Position) | 2017-18 Status | Age | 2016-17 Cap Hit | '16-17 Points |
| --- | --- | --- | --- | --- |
| Chris Thorburn (F) | UFA | 33 | $1.2M | 4 |
| Marko Dano (F) | RFA | 22 | $925K | 11 |
| Andrew Copp (F) | RFA | 22 | $925K | 17 |
| Brandon Tanev (F) | RFA | 25 | $874K | 4 |
| Paul Postma (D) | UFA | 28 | $888K | 14 |
| Ben Chiarot (D) | RFA | 25 | $850K | 12 |
Between the pipes, the Jets can wash their hands of veteran netminder Ondrej Pavelec, a pending unrestricted free agent who split the season between the NHL and the minors.
| Player (Position) | 2017-18 Status | Age | 2016-17 Cap Hit | '16-17 SV% |
| --- | --- | --- | --- | --- |
| Ondrej Pavelec (G) | UFA | 29 | $3.9M | .888 |
| Connor Hellebuyck (G) | RFA | 23 | $668k | .907 |
2017 Draft Picks
Winnipeg will select 13th overall in the entry draft. The Jets were set to pick at No. 12, but were leapfrogged by the Philadelphia Flyers at the draft lottery, who moved from 13th to second overall.
| Round | Picks |
| --- | --- |
| 1 | 1 (13th overall) |
| 2 | 1 |
| 3 | 1 |
| 4 | 1 |
| 5 | 1 |
| 6 | 1 |
| 7 | 2 (Own & Canadiens) |
Summer Priorities
1. Add a goalie to share duties with Hellebuyck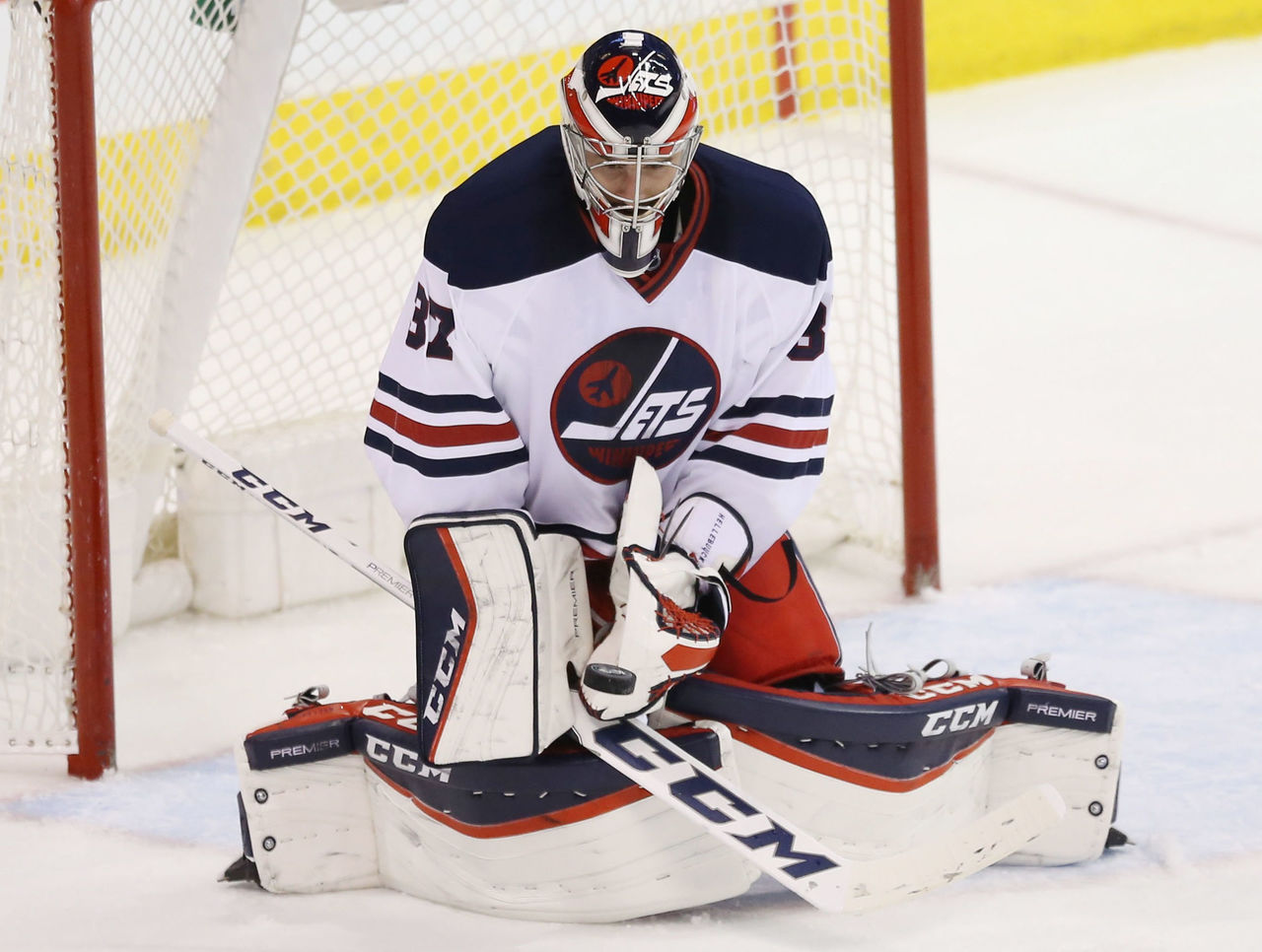 Hellebuyck is a promising young netminder, but the Jets need insurance in the crease in order to make measurable progress.
While Winnipeg could consider bringing in a top name to handle No. 1 duties, with Hellebuyck making spot starts, getting a veteran 'keeper to share the crease may be more realistic.
Could the Pittsburgh Penguins' Marc-Andre Fleury be a reasonable target? If Pittsburgh is prepared to move on from Fleury and grant its top job to Matt Murray, he could be an option for the Jets. Fleury is signed for just two more seasons, which should be the ideal time frame for Hellebuyck to grow into the No. 1 spot.
2. Resolve Jacob Trouba's long-term future
After missing a month due to a contract holdout, Trouba agreed to a modest two-year deal to stay in Winnipeg. The first season of that pact is now burned up, meaning the Jets and Trouba will soon be back to the bargaining tables.
But the issue Trouba raised hasn't changed - the blue-liner feels he cannot reach his potential as a right-shot defenseman given Winnipeg's depth on that side of the ice. Dustin Byfuglien and Myers both play right defense in Winnipeg.
Moving forward, the Jets will need a long-term commitment from Trouba, who becomes a restricted free agent after next season. If they can't reach a deal, Winnipeg will need to revisit trade possibilities for the 23-year-old.
3. Continue along the growth path
There's no need to rush in Winnipeg. Rather, the team should grow from within and watch as its young talent develops. Laine scored 36 goals as a freshman, and has the potential to do even more as he becomes more familiar with the league and the North American game.
Related: Matthews, Laine, Werenski named Calder Trophy finalists
Laine wasn't the only Jets skater to have a breakout season. Scheifele, 24, reached a new career high in goals and assists, as did Ehlers, while Byfuglien and captain Blake Wheeler maintained their consistency.
The Jets are likely to introduce more young talent to their offensive ranks next season, with their top pick in 2015, Kyle Connor, a prime candidate to take a regular shift. Connor scored five points in 20 games with the Jets this year.
2017-18 Outlook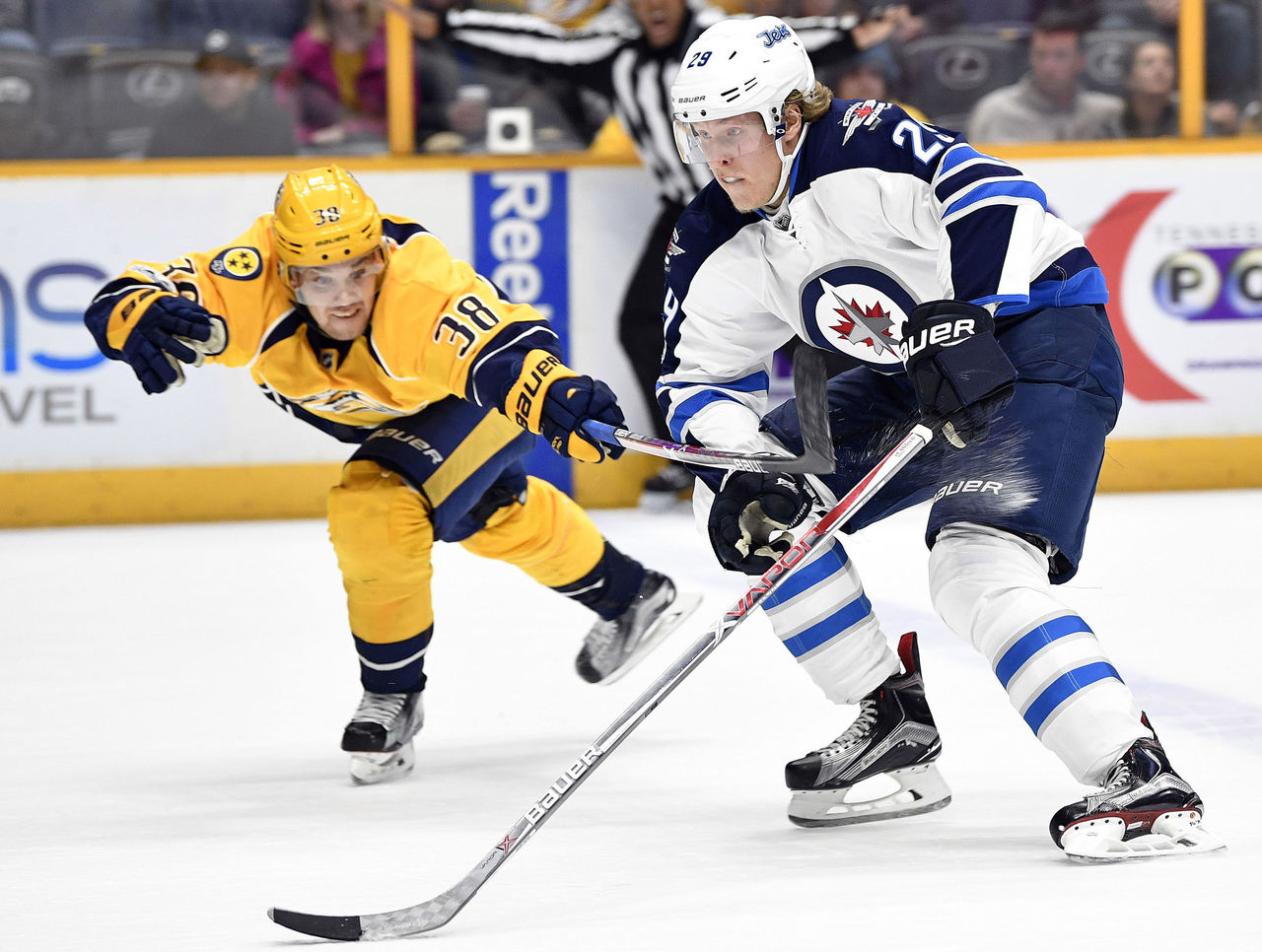 Winnipeg was in the playoff mix for much of this season, falling short of the postseason cutoff by just seven points.
If the Jets have a healthy lineup, their young players take the next steps, and they add some stability between the pipes, Winnipeg could challenge for a playoff spot in 2017-18.
(Photos courtesy: Action Images)
Offseason Outlook Series
COL | VAN | NJD | ARI | BUF
DET | DAL | FLA | LAK | CAR
WPG | PHI | TBL | NYI | WSH
TOR | CGY | BOS | SJS | STL
NYR | EDM | MTL | ANA | MIN
CBJ | CHI | OTT | PIT | NAS
LGK