Offseason Outlook: Carolina Hurricanes
Geoff Burke / USA Today Sports
With the offseason underway for a number of teams, with the remainder to join them in a few weeks, we're looking at what's in store for each club in the coming months.
2016-17 Grade: C+
In the end, the 2016-17 Carolina Hurricanes were what we thought they would be: a non-playoff team that appears to be trending upward.
Sure, the Hurricanes finished with a single point more in the standings than they did the previous season, but a promising group of talented young forwards and defensemen now have another year under their belts, with steps taken in the right direction under head coach Bill Peters.
It was near the end of the season that the Hurricanes put the rest of the NHL on notice, amassing the fourth-highest point total (28) from March 1 onward, thanks to a record of 11-6-6 in 23 games down the stretch.
More of that, and these Hurricanes will be upgraded a category or two sooner than later.
Free Agents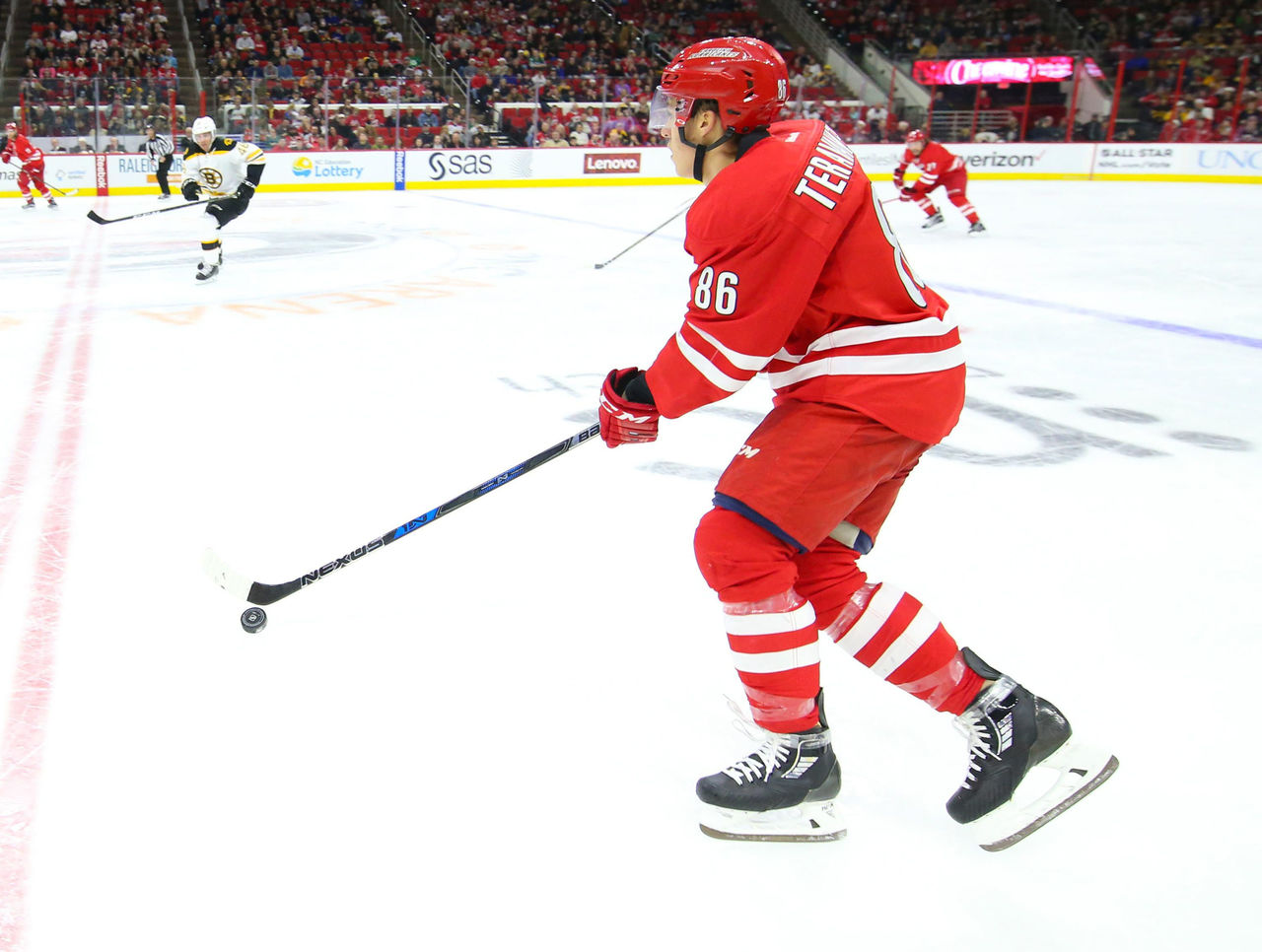 (Photo courtesy: Action Images)
The Hurricanes have a handful of players who need contracts come July 1, with Teuvo Teravainen standing out from the bunch:
| Player (Position) | 2017-18 Status | Age | 2016-17 Cap Hit | '16-17 Points |
| --- | --- | --- | --- | --- |
| Jay McClement (F) | UFA | 34 | $1.2M | 8 |
| Teuvo Teraivanen (F) | RFA | 22 | $894167 | 42 |
| Brock McGinn (F) | RFA | 23 | $811667 | 16 |
| Derek Ryan (F) | UFA | 30 | $600000 | 29 |
| Matt Tennyson (D) | UFA | 27 | $675000 | 6 |
2017 Draft Picks
The Hurricanes have 10 picks over seven rounds in the coming draft.
| Round | Picks |
| --- | --- |
| 1 | 1 (12th overall) |
| 2 | 3 (Own + Rangers + Penguins) |
| 3 | 2 (Own + Devils) |
| 4 | 1 |
| 5 | 1 (Bruins) |
| 6 | 1 |
| 7 | 1 |
Summer priorities
1. Center of attention: One of the worst kept secrets in hockey is the Hurricanes' need for a top-line center, an acquisition that is most likely to be made possible by dealing from a position of strength, namely defense.
General manager Ron Francis, to his credit, has done an amazing job stockpiling impressive talent on the blue line, and while there's also some nice pieces to build around up front, a high-end pivot is an absolute necessity if this team hopes to return to the ranks of the relevant.
2. Clear out the crease: The Hurricanes already took care of a huge piece of business by trading for and subsequently signing goaltender Scott Darling to a four-year, $16.6-million contract. Darling has the look of a backup ready for a starting gig, and he's certainly being compensated as such before really proving he can do it.
The offshoot to that is Cam Ward ($3.3 million) and Eddie Lack ($2.75 million) are still on the books for 2017-18, and Francis will certainly be looking to move one - presumably the more expensive Ward - to clear the goalie glut and free up some cap space in the process.
3. Complement blue line with experience: The age range of the Hurricanes' defensemen under contract for next season is 20 to 25. There's obviously no need to break the bank here, as Francis has some star potential and heavyweight depth already at the position.
Some veteran savvy would be nice, however, and the addition of an older, serviceable, and affordable free agent at this position could go a long way toward not asking too much, too soon of this young core.
2017-18 Outlook
The Hurricanes have not qualified for the Stanley Cup Playoffs since 2009, and that drought needs to end as soon as possible. As mentioned above, Carolina made a late push to jump into the postseason conversation, but ultimately fell short by eight points.
Darling should bring an immediate boost to a team that registered a 26th-ranked .902 save percentage last season. Conversely, the Hurricanes ranked third with a Corsi For rating of 57.25 in all situations, meaning even average goaltending should give this team a much better chance to pick up some points on any given night.
Francis has done a solid job of setting up a foundation for success since taking over the job in 2014, stockpiling assets and clearing cap space. Few deny he's doing it right, but what he does next - beginning this summer - will determine where Carolina goes over the next few seasons.
Offseason Outlook Series
COL | VAN | NJD | ARI | BUF
DET | DAL | FLA | LAK | CAR
WPG | PHI | TBL | NYI | WSH
TOR | CGY | BOS | SJS | STL
NYR | EDM | MTL | ANA | MIN
CBJ | CHI | OTT | PIT | NAS
LGK
Comments
✕
Offseason Outlook: Carolina Hurricanes
  Got something to say? Leave a comment below!