3 line combinations that will decide the Sharks' fate in the Stanley Cup Final
Ezra Shaw / Getty Images Sport / Getty
Presented by

For a team with so much playoff experience, it's hard to fathom this will be the San Jose Sharks' first appearance in the Stanley Cup Final. After making the playoffs for 10 consecutive seasons, the Sharks underwent a head-to-toe makeover last offseason. With a new coach, a new captain, and a new goalie, at last San Jose has taken that extra step.
A lot has to go right to reach hockey's finale, and a lot has for the Sharks. They erased the ghosts of their playoff past by crushing the Los Angeles Kings, then followed up with a massive Game 7 win on home ice over the pesky Nashville Predators. After topping the St. Louis Blues in six games, the Sharks made history, and sit four wins away from the ultimate prize.
Above all else, it takes team chemistry to get to this point of the season, and San Jose oozes it throughout its lineup. Here are three combinations that can close it out against the Pittsburgh Penguins.
Hertl - Thornton - Pavelski
It's no secret Joe Thornton and Joe Pavelski are the key to San Jose's offense, but the addition of Tomas Hertl to the Sharks' top line has made it nearly unstoppable. While Thornton and Pavelski rightfully earn power-play minutes, Hertl has produced best at even strength, where he's scored nine of his 10 postseason points.
| Player | Games | Goals | Assists | Points | Powerplay Points |
| --- | --- | --- | --- | --- | --- |
| Joe Pavelski | 18 | 13 | 9 | 22 | 9 |
| Joe Thornton | 18 | 3 | 15 | 18 | 9 |
| Tomas Hertl | 18 | 5 | 5 | 10 | 1 |
The trio works near flawlessly in unison, as each player has a role on the top line. Hertl's the retriever, Thronton is the distributor, while Pavelski is the finisher.
Marleau - Couture - Donskoi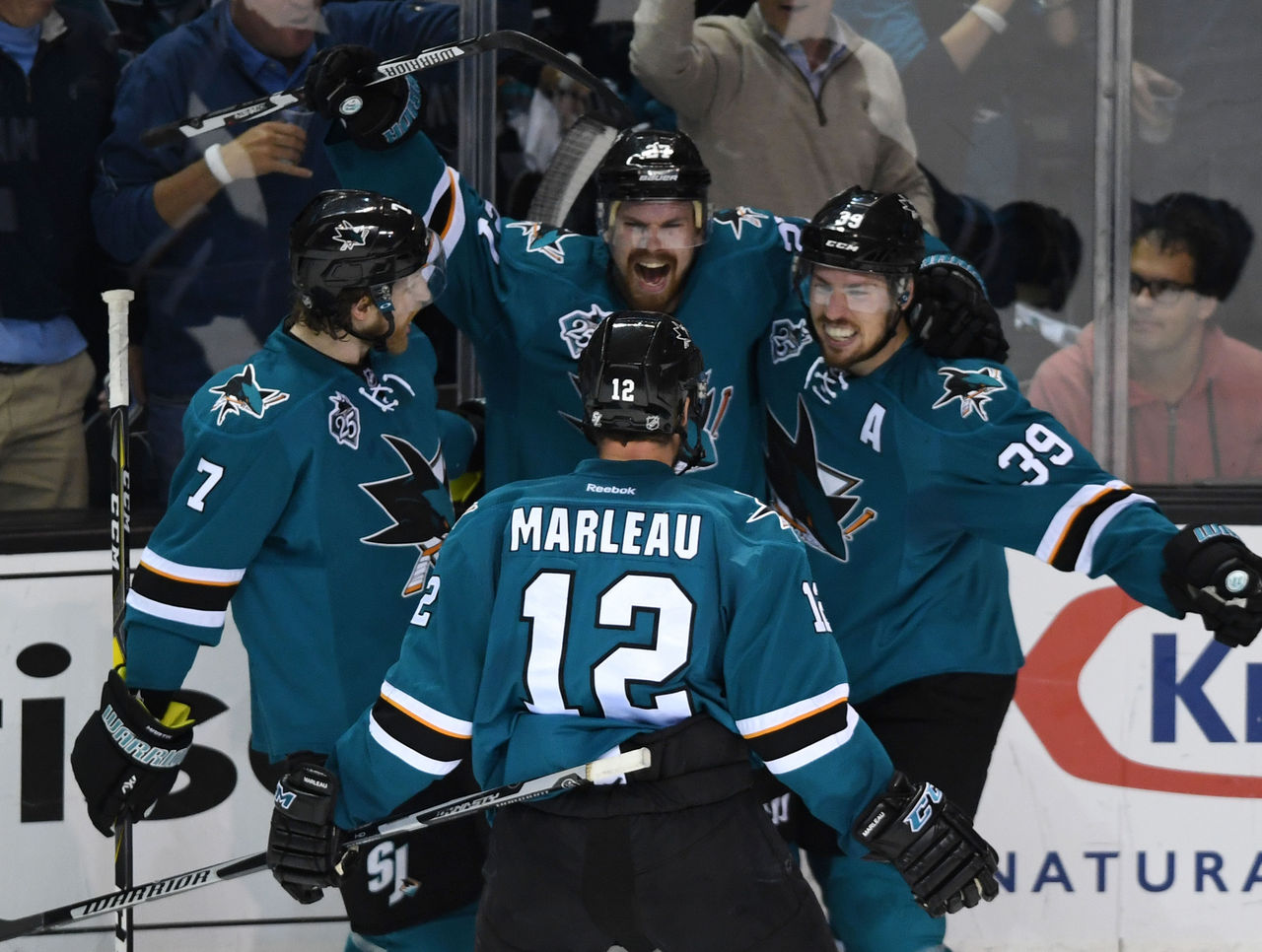 It would be unfair to praise the Sharks' offense without crediting the play of Logan Couture. The 27-year-old leads the playoffs in points with 24, and has anchored San Jose's lethal second line.
Alongside Couture is Patrick Marleau, the longest serving Shark. Marleau has contributed 12 points in 18 games, and it's hard to imagine anything but him relishing his first opportunity at Lord Stanley's chalice.
Joonas Donskoi has been a pleasant surprise in San Jose's top six as well. In his first Stanley Cup Playoffs, the Finn has notched nine points, and pushes the pace of the team's second line. Much like the line ahead of them, these three can all score, and have been a nightmare to contain thus far.
Vlasic - Braun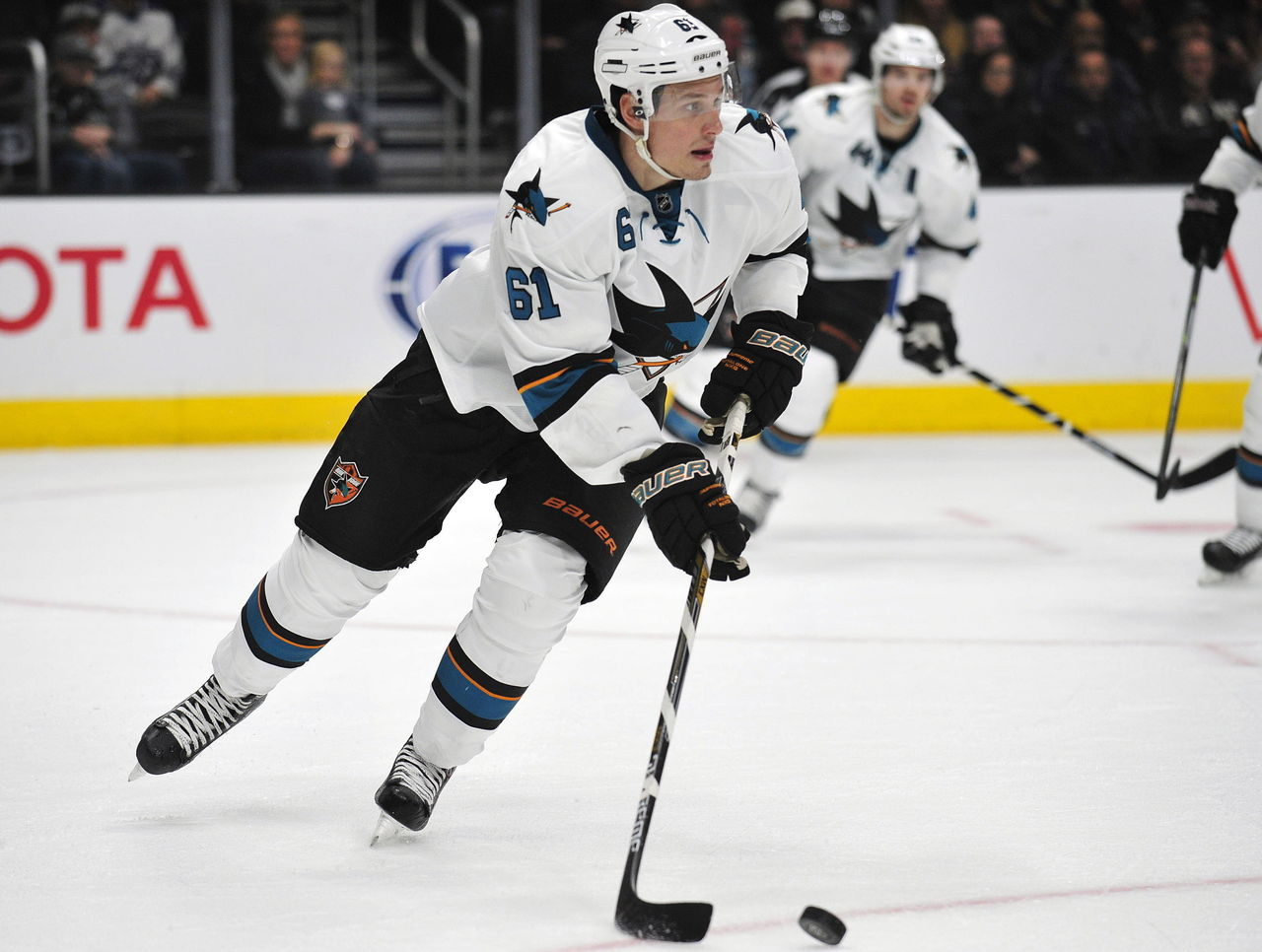 Pittsburgh's depth is arguably its greatest asset, and while Brent Burns and Paul Martin will face the brunt of their minutes versus Sidney Crosby, it will largely be up to Marc-Edouard Vlasic and Justin Braun to neutralize the rest of the Penguins' dangerous lineup.
Quietly, Vlasic has become one of the most steady defensemen in the league. He doesn't garner much exposure, but the Stanley Cup Final should deservedly shine some light on his abilities.
He scored 39 points in the regular season, and has notched one goal and 10 assists in the playoffs while averaging over 23 minutes per game.
Meanwhile, Braun has turned into the perfect complementary defenseman to round out the Sharks' top four. Much like Vlasic, the 29-year-old isn't flashy, but consistently makes smart decisions with the puck.
He doesn't possess the offensive upside of Vlasic, only recording four assists in 18 games, but Braun is a plus-seven in the postseason, and has blocked 37 shots. Given Vlasic's power-play time, Braun averages slightly less ice-time, but at even strength, the duo thrives together.
Vlasic and Braun will be facing the likes of Evgeni Malkin, Bryan Rust, and the "HBK" line, and if Pittsburgh's depth is held in check, San Jose should be in great shape to win it all.
Comments
✕
3 line combinations that will decide the Sharks' fate in the Stanley Cup Final
  Got something to say? Leave a comment below!