Why it's better to wear white on Super Bowl Sunday
This Super Bowl you could spend hours, days, weeks and pore over the various players, their stats, and how they'll match up against each other in an attempt to pick a winner. Or you could just do what we do and look at which uniform the team is wearing.
Picking a jersey color is not taken lightly in any sport. In baseball the starting pitcher that day will choose a jersey color in which he's usually had success. In basketball some uniform colors have been completely eliminated because of a perceived unlucky streak. In fact, we were able to dedicate an entire post on "unlucky" jerseys just last month.
Football is no different. The Dallas Cowboys almost always wear their white jerseys, only going blue when forced to by a home team looking to get into their heads. At Super Bowl XL, the "home designated" Pittsburgh Steelers elected to wear their road whites because that's what they wore for all their victorious playoff games leading up to the game.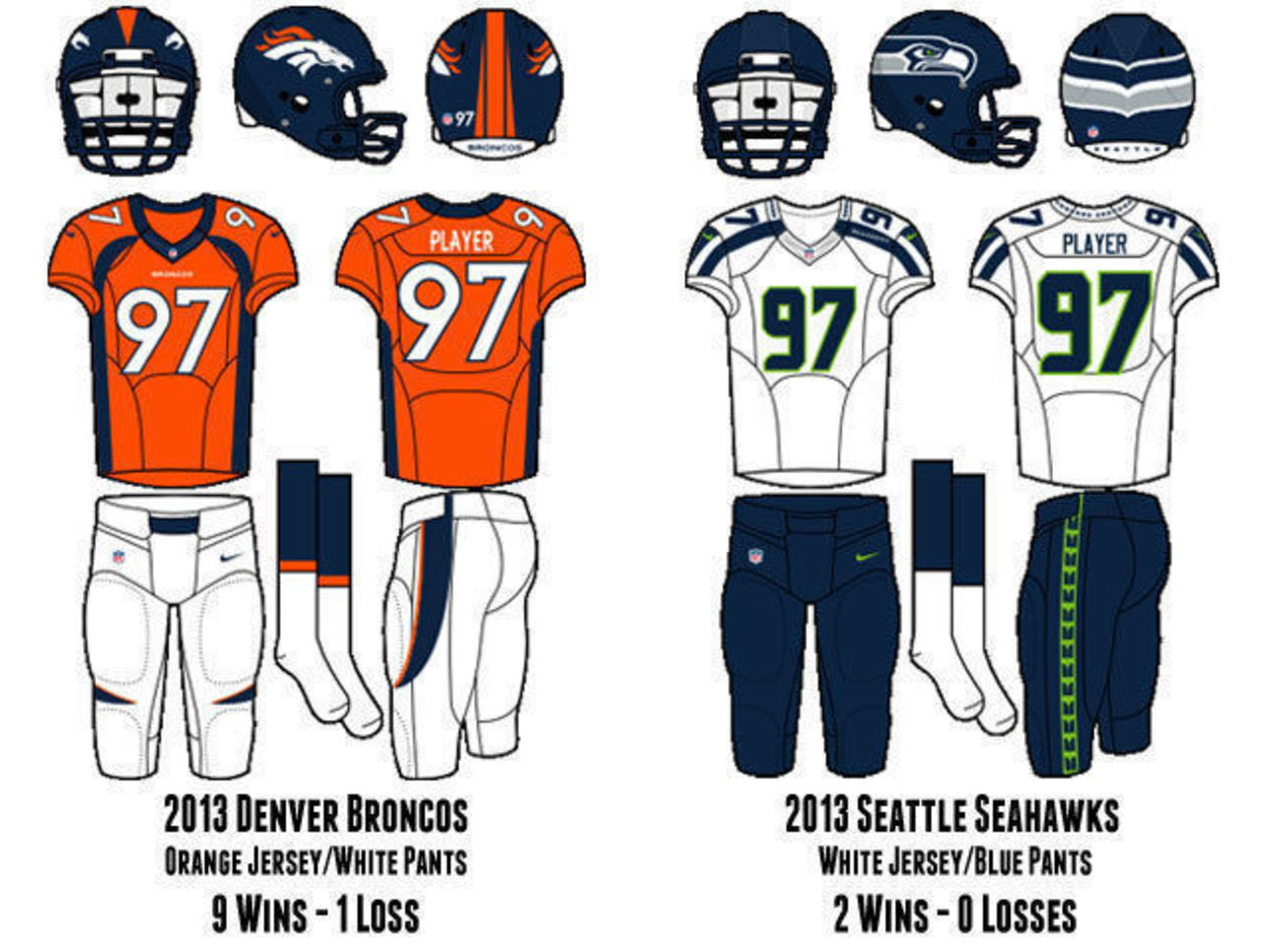 For Super Bowl XLVIII this weekend, the "home" Denver Broncos have chosen to wear their home orange jerseys with white pants. An unsurprising move, typically the home team wears their home colors, not to mention the Broncos are a rather impressive 9 and 1 in 2013 when wearing that combination - their only blemish was in Week 15, a 27-20 loss at home to the Chargers.
The Seattle Seahawks were then left with two jersey options, and decided to go with the traditional road white rather than their unconventional all-grey alternate outfit (only the Super Bowl XXIX Champion San Francisco 49ers have worn an alternate or throwback jersey for the championship game). Seattle was 3-2 in 2013 when wearing white, but an undefeated 2-0 when they paired the white with blue pants which they will do this Sunday. Last time the Seahawks wore white and blue? A 23-0 shutout over the New York Giants at MetLife Stadium, the site of Super Bowl XLVIII. Fancy that.
Both teams have looked fairly solid in 2013 wearing their chosen uniform combinations, so all we can do now is look back at what's happened in the past... and it certainly starts to look better for the Seahawks.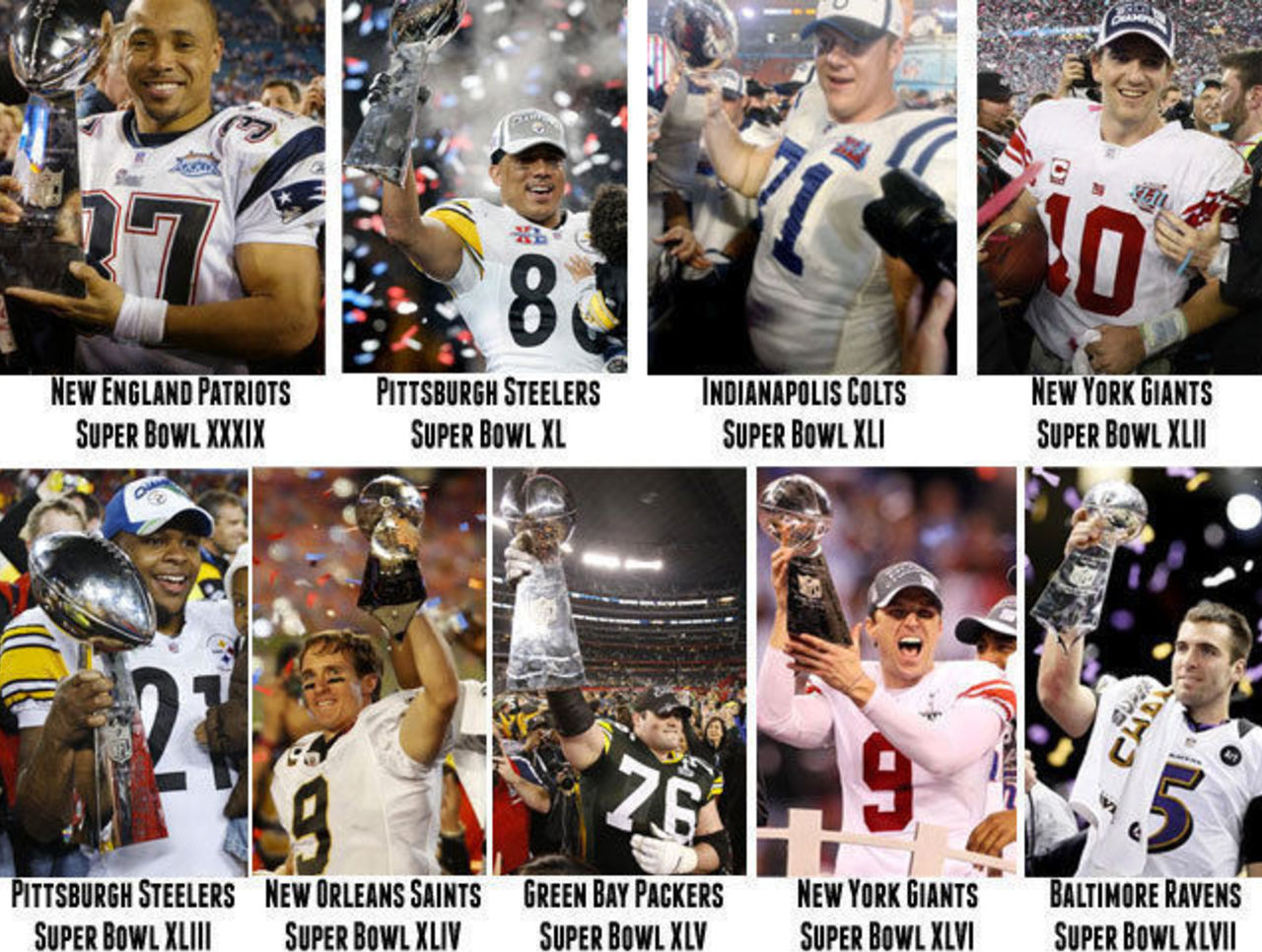 Over the past nine Super Bowls, going all the way back to XXXIX, eight of the winning teams were the side decked out in white jerseys. Only the Green Bay Packers, winners of Super Bowl XLV while wearing green, have taken home the title in a dark colored uniform.
It doesn't just stop there, over the entire history of the Super Bowl the team in white has won 62% of the time - a record of 29 wins and 18 losses in the 47 Super Bowl games played so far.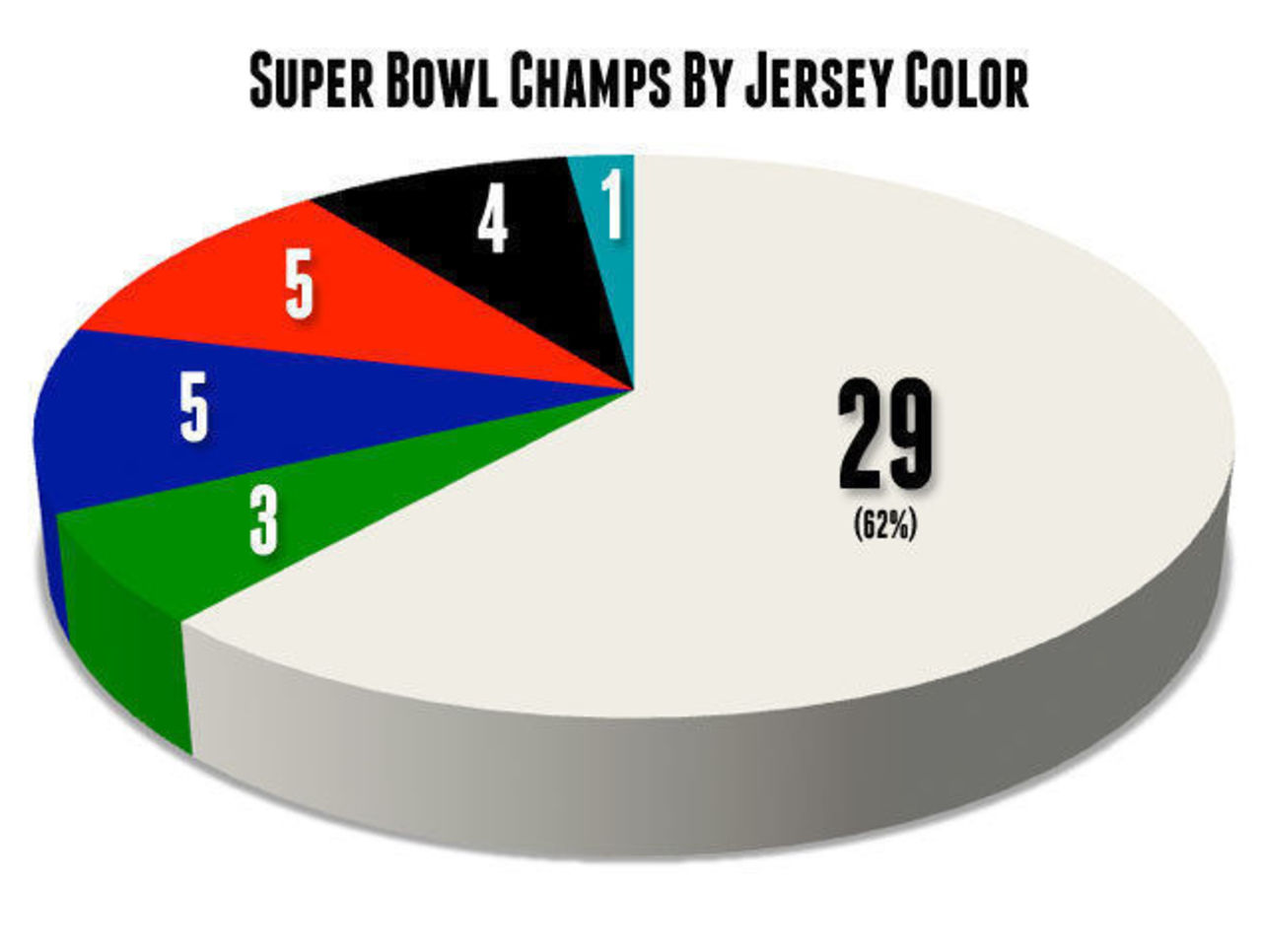 In the chart above you see how many times each color has won, white clearly dominating with red and blue far behind. One color you won't see in that "Champions Chart" (trademark pending) is what Denver is wearing Sunday. Orange.
You'll find a slice of orange in this one though...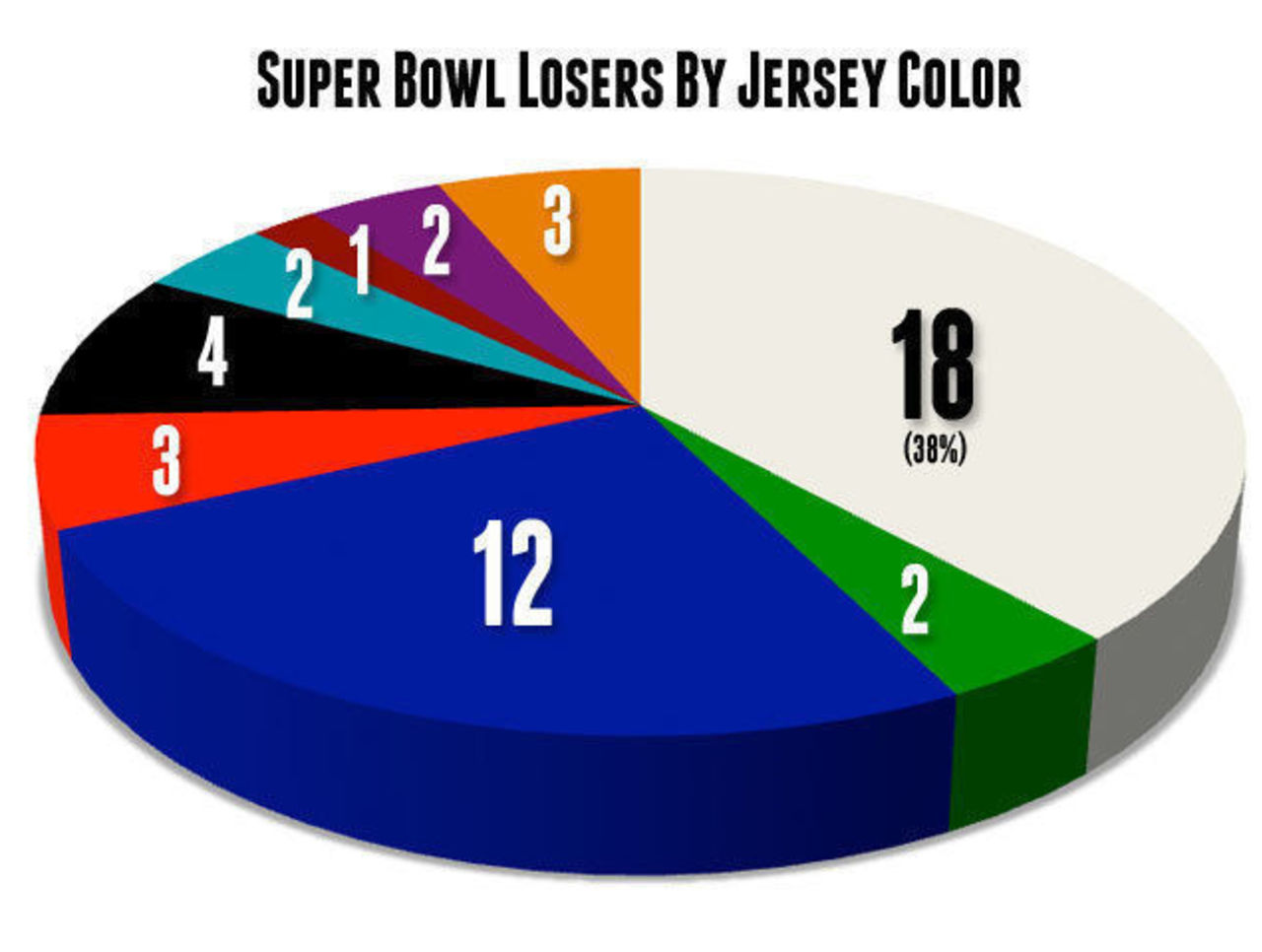 Yeah, orange has lost every time they've played in the big game, all three times, and every time the name of that team in orange has rhymed with "Schmenver Johncos." Also interesting but not relevant to this year, a team in blue is 5 and 12? Surely the Buffalo Bills are to blame for a handful of that terribleness.
What can we take from all this? Probably nothing, but it's fun to look at these odd patterns. We'll see if the Broncos can overcome the jersey odds (in Jersey, no less), and end that wild streak of white winners in the Super Bowl.
Chris Creamer is the creator and editor of SportsLogos.net. You can follow him on twitter at @sportslogosnet.
Comments
✕
Why it's better to wear white on Super Bowl Sunday
  Got something to say? Leave a comment below!