10 takeaways from NFL Week 12
L to R (Getty Images): Sarah Stier/Eric Espada/Billie Weiss
Sunday Rundown recaps the most important developments from the day's action and examines the significance of them moving forward.
Fournette, Bucs gut one out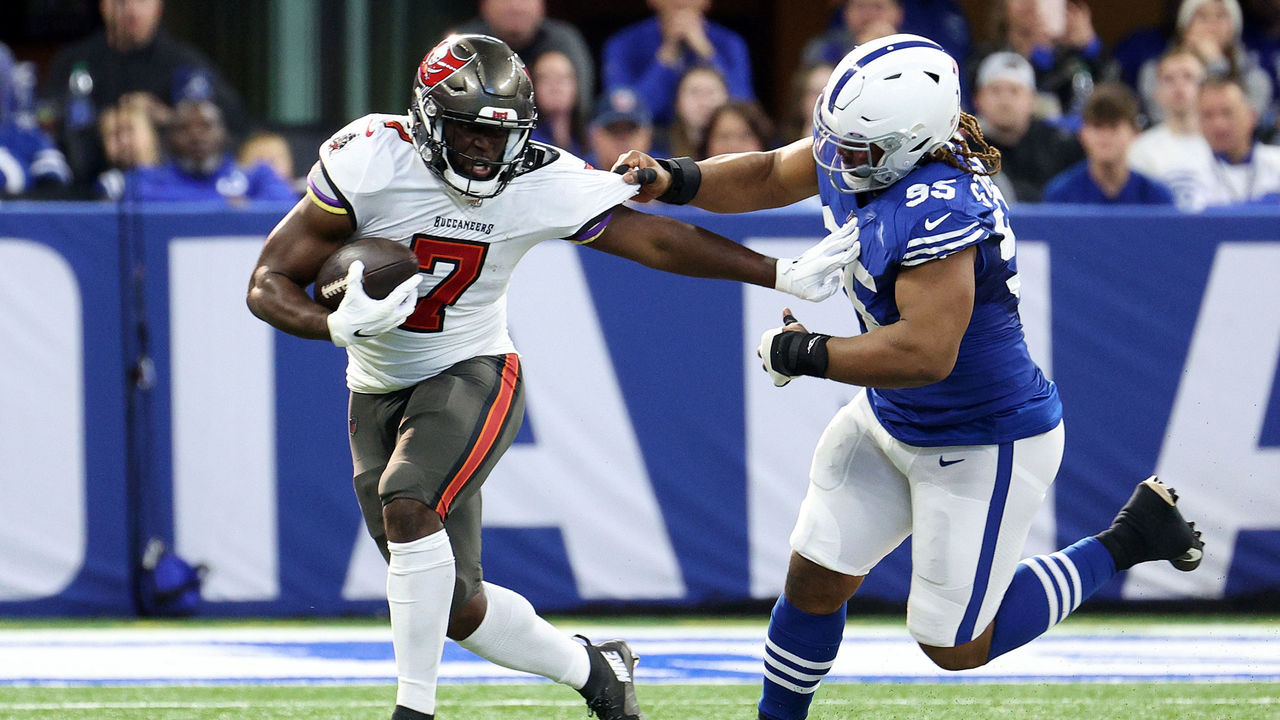 Leonard Fournette is a terrific example of how some players who struggle in one place can thrive somewhere else, given better circumstances.
After being waived by the Jacksonville Jaguars' never-ending clown convention, Fournette became a key contributor for a Tampa Bay Buccaneers team that won last year's Super Bowl. And against the Indianapolis Colts on Sunday, Fournette turned in one of his finest performances as a pro: 131 scrimmage yards, including 32 rushing yards over expected, a career-best expected points added of 7.6 on those rushes, and four touchdowns (three rushing and one receiving).
Fournette is just one part of a Bucs offense that's deep enough to attack teams in many ways. Tampa Bay's talented receivers (Chris Godwin, Mike Evans, Tyler Johnson) combined for just eight catches against the Colts, yet the Bucs came back from 10 points down at halftime anyway because Fournette and tight end Rob Gronkowski combined for 14 catches for 154 yards. The quarterback distributing the ball to these dudes needs no introduction, of course.
Fournette, who rushed for 50 of his 100 yards in the fourth quarter, credited the inclusion of running back Ronald Jones in the rotation with helping him stay fresh late in the game.
"As a unit, it's all about winning," Fournette said afterward. "No matter what it takes, no matter the part we play, as long as we got it done, executed, that's all that matters."
Something to keep in mind about the Bucs as the calendar flips to December.
Aaron Rodgers can't leave this, can he?
Rodgers was his usual sensational self in the Green Bay Packers' big win over the Los Angeles Rams. He made big pass plays totaling 54, 43, 28, and 27 yards, including ... I mean, come on:
Plus, A.J. Dillon and Aaron Jones combined to grind out 92 yards. But what about Green Bay's defense? The Packers gave up big-play scores to Van Jefferson and Odell Beckham Jr., but Rashan Gary forced a fumble that set up a touchdown, Adrian Amos blew up a fourth-and-short that led to a field goal, and Rasul Douglas came away with a pick-6 in addition to four pass breakups and five tackles.
The Packers gave Matt Stafford fits without having to blitz. They recorded two sacks and 18 pressures, including six by Gary, per Next Gen Stats. They also now have tiebreaker advantages over the Arizona Cardinals and the Rams in the race for the NFC's top seed and the all-important playoff bye.
Rodgers is a mercurial weirdo who has his own reasons for doing things, but with the Packers now 35-9 under Matt LaFleur and pointed toward another deep playoff run, it's hard to imagine where Rodgers thinks he might have a better situation anywhere in the NFL.
The Patriots are for real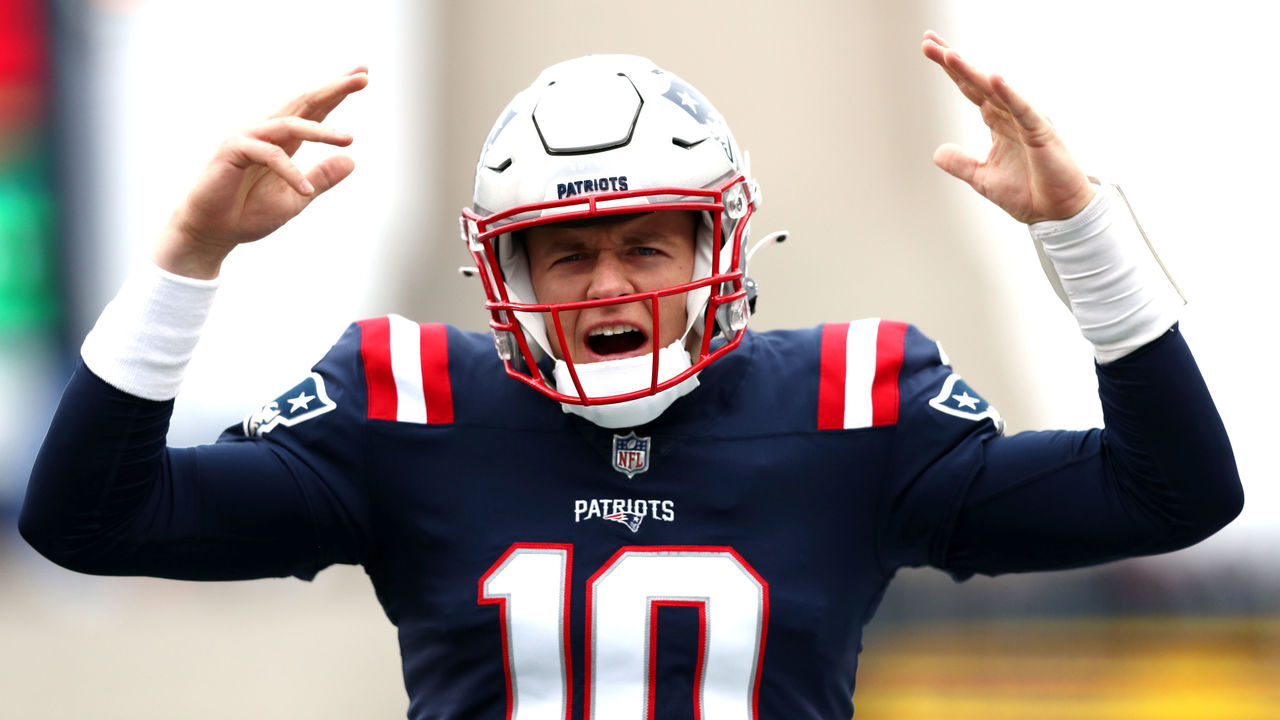 The New England Patriots won their sixth game in a row, eventually wearing down a depleted Tennessee Titans team that practically needed to lure Eddie George and Kevin Dyson out of retirement just to field a functioning offense.
There's no denying the Pats are again playing that brand of well-coached, disciplined football that defined them during the Brady-Belichick era. They've mostly kept things simple for rookie passer Mac Jones, but he's doing his part: Jones was 11-for-11 on play-action passes Sunday, per Next Gen Stats, and he also showed an ability to deliver some tough throws:
The Patriots are back in front of the Buffalo Bills by one-half game in the AFC East, and they travel to Buffalo next Monday night for the teams' first of two meetings.
Eagles, Jalen Reagor blow an enormous opportunity
With the Dallas Cowboys losing on Thanksgiving - their third defeat in four games - the surging Philadelphia Eagles had a real chance to make things interesting in the NFC East when they traveled up the Jersey Turnpike to face the crummy New York Giants. Yeah, well, so much for that.
Jalen Hurts tossed three interceptions and was a minus-14.3% in expected completions, no doubt causing anyone who thought he'd solidified his status as Philly's quarterback of the future to rethink their takes. But Hurts made some headway with some designed runs in the fourth quarter, only to have running back Boston Scott fumble in positive territory before Jalen Reagor dropped two touchdown passes in the waning seconds.
Oh, and this happened:
Instead of nipping at Dallas' heels with another trip up the turnpike to face the New York Jets on deck, the Eagles remain 2.5 games back with an eye on the draft board, where they could have as many as three picks in the top 14. Which might be for the best, all things considered.
Bengals look formidable again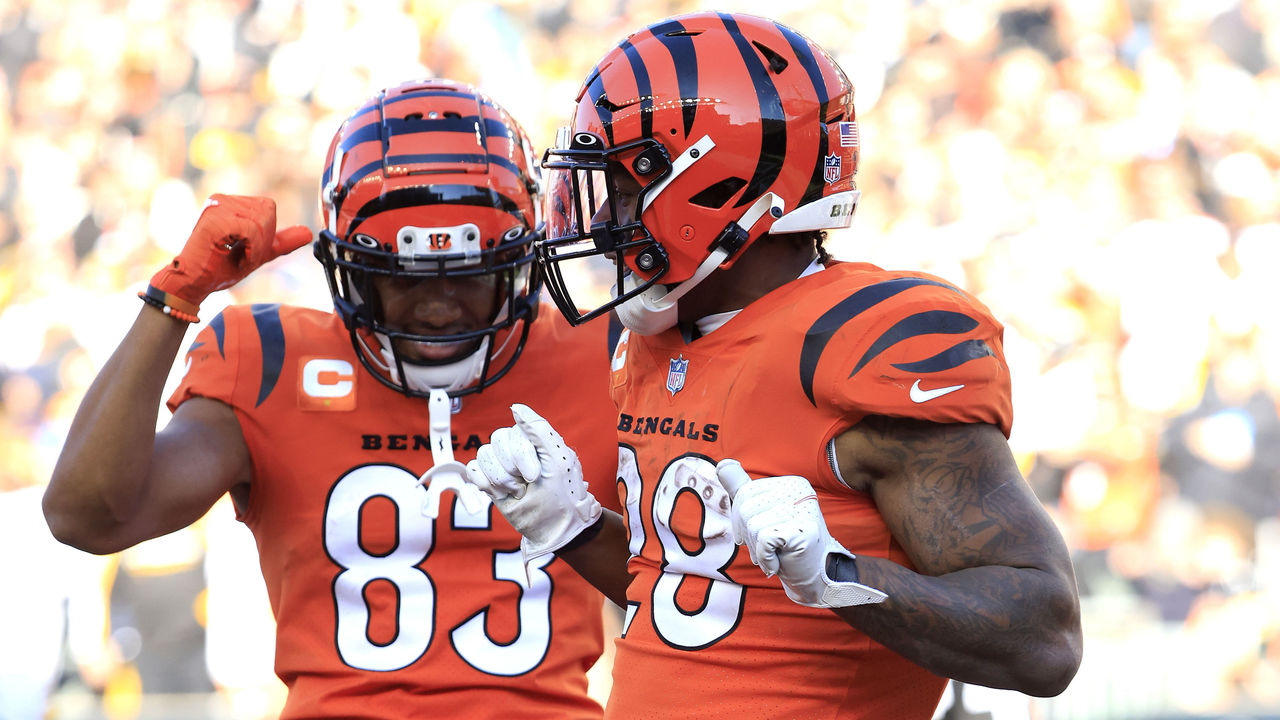 It was really only three weeks ago that the Cincinnati Bengals went into their bye with a brutal home loss to the Cleveland Browns. All they've done since is thump the Las Vegas Raiders and Pittsburgh Steelers by a combined score of 73-23. They remain in the thick of a crowded AFC playoff field.
But this win was more than that. Cincinnati served notice that Pittsburgh's reign as a division power may indeed be coming to an end. The Bengals not only swept the Steelers for the first time in 12 years, but they also handed them as thorough a beating as Pittsburgh has taken in a long time - Sunday's game was just the team's fifth loss by more than 30 points since the merger and second since 1989. The Steelers didn't have the excuse of having Minkah Fitzpatrick and T.J. Watt out with injuries, either.
Joe Burrow, Joe Mixon, Tee Higgins, C.J. Uzomah, and Tyler Boyd are all known commodities on offense. But the Bengals have given up 30 or more points just twice this season. This is a complete team. Get used to it.
Steelers don't look formidable
Getting swept into the Ohio River by the Bengals isn't a scenario the Steelers are accustomed to confronting.
It's an unpredictable season, yes. But with a remaining schedule that includes two games against the Baltimore Ravens, plus matchups with the Minnesota Vikings (away), Tennessee Titans (home), Kansas City Chiefs (away), and Cleveland Browns (home), it's hard to see how the Steelers dig their way out of this.
Guess that's why Cam Newton was unsigned for so long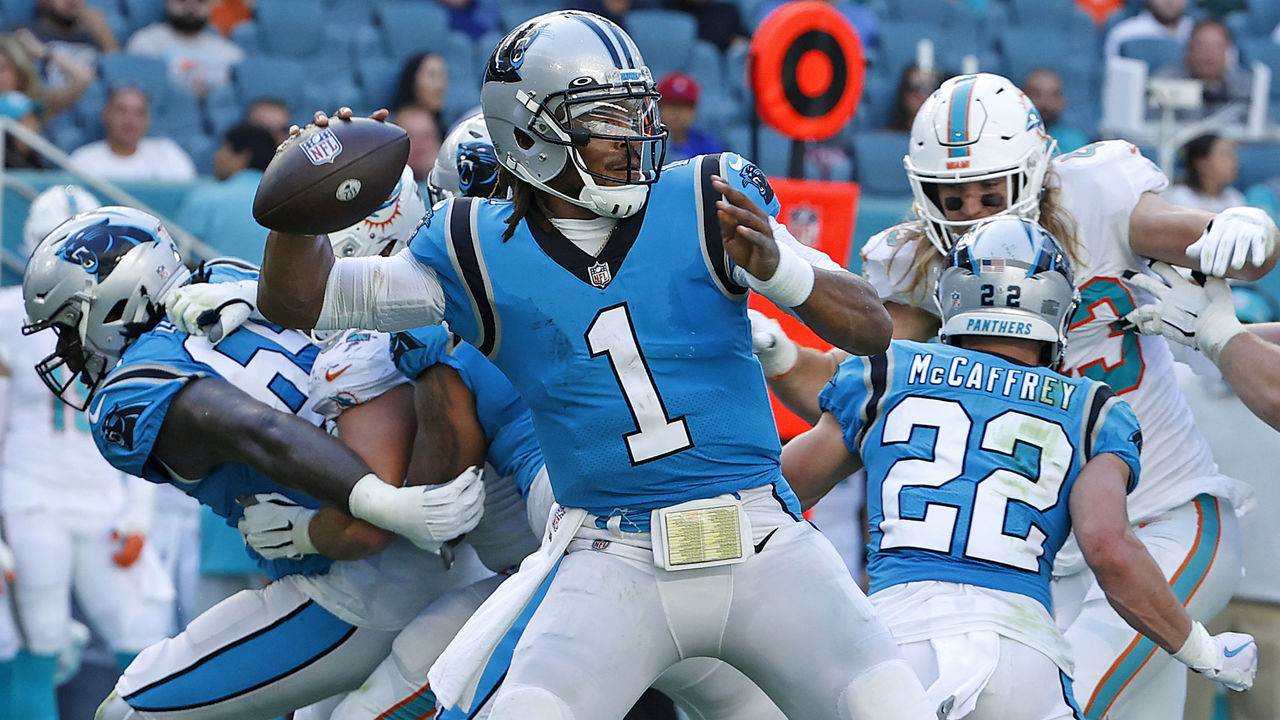 Newton's stat line in the Carolina Panthers' loss to the Miami Dolphins speaks for itself: 5-for-21 for 92 yards, two awful interceptions. He's now 0-2 as a starter and was benched for P.J. Walker early in the fourth quarter.
Newton's still a true red-zone threat with the ball in his hands, but his accuracy as a passer is a concern everywhere else: He was just 1-for-8 on throws of five or more air yards, including both of his picks, per Next Gen Stats. Head coach Matt Rhule and offensive coordinator Joe Brady go into the Panthers' bye facing lots of questions about how to get something from the quarterback position the rest of the way and beyond.
Jaylen Waddle, Dolphins are rolling
Don't look now, but the Miami Dolphins have won four in a row. In their surprisingly easy win over the Panthers, they got a breakout game from rookie wideout Jaylen Waddle, who totaled nine catches for a career-high 137 yards and a touchdown against a defense that came in as the fifth-most efficient unit against the pass.
Waddle helped make life easy for quarterback Tua Tagovailoa, who only tossed four incompletions but also averaged just 3.7 air yards per attempt. Perhaps most important for Waddle was his ability to rack up yards after the catch. He entered Week 12 averaging just 3.9 YAC, but he caught balls all over the field in this one and managed a pair of big gains after the reception: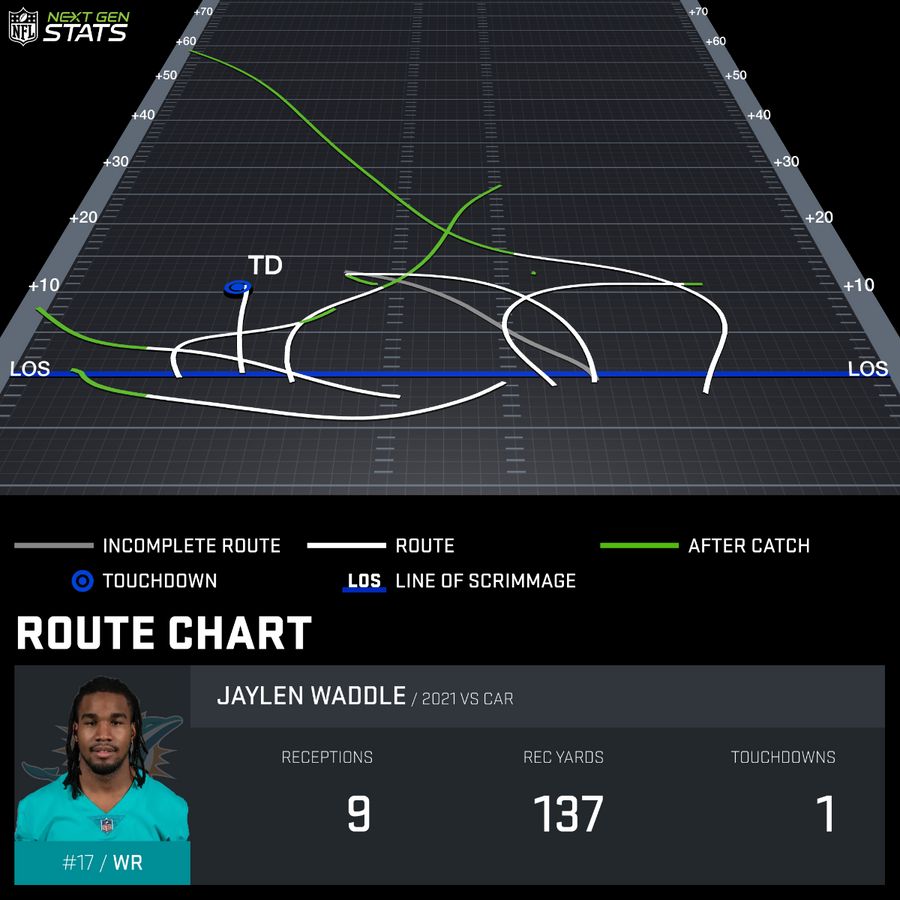 The Dolphins' defense also got solid performances from safety Jevon Holland and edge rusher Jaelen Phillips, their other first-round pick, who managed three sacks and nine pressures on just 27 snaps.
With home games against the Giants and Jets wrapped around their Week 14 bye, the Dolphins maybe have a chance to play their way into playoff contention. Maybe.
Holy cow, Patrick Surtain II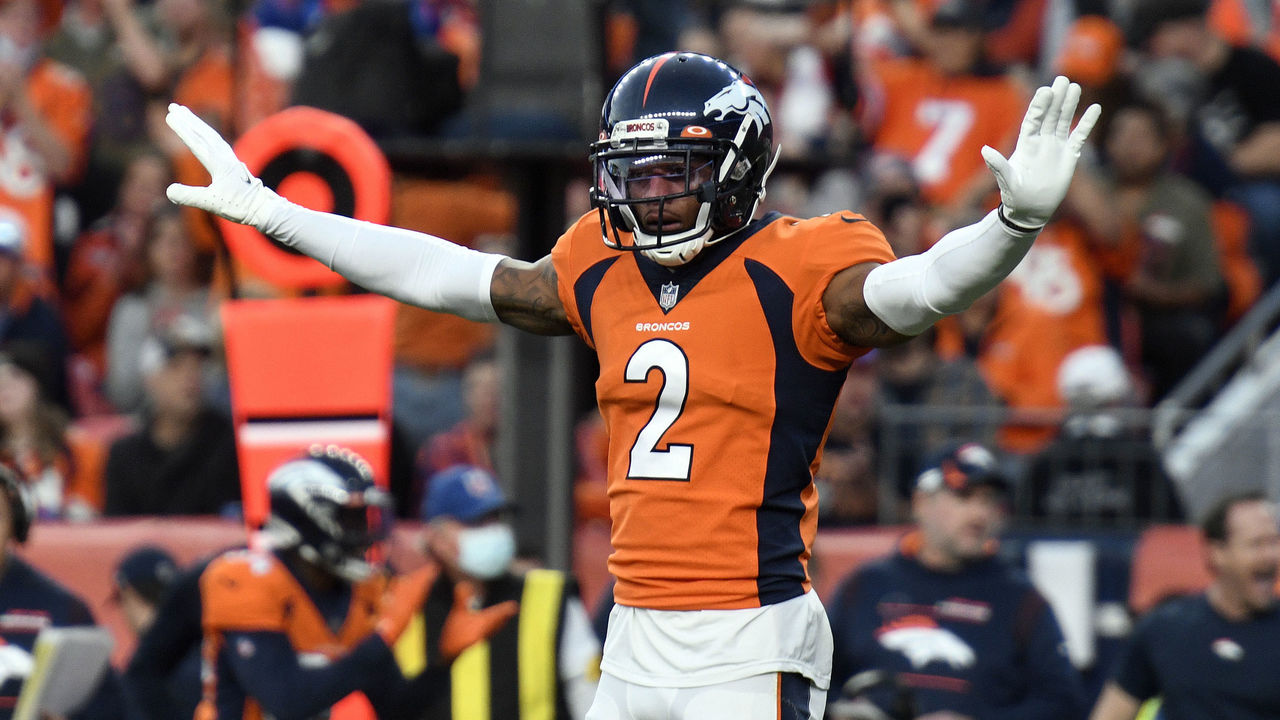 The Denver Broncos' decision to pass on Justin Fields (and Mac Jones!) with the ninth pick of the 2021 draft will definitely get scrutinized in the years ahead. But they're also getting a pretty solid return on their investment in cornerback Patrick Surtain II, who had a pair of backbreaking interceptions in a huge win over the Los Angeles Chargers.
First, with the Broncos clinging to a 14-7 lead early in the fourth quarter, Surtain stepped in front of Jared Cook to pick off Justin Herbert in the end zone at the end of a long drive. Then, after Teddy Bridgewater returned to the contest and led an 80-yard touchdown drive, Surtain put the game away with a 70-yard pick-6.
For the season, Surtain leads all rookies in EPA when targeted and is fourth among all defensive backs, per Next Gen Stats. He's the real deal.
Here come the 49ers
San Francisco looked dead and buried in the NFC West three weeks ago, but the team has since come on to win three in a row. The latest was Sunday's one-score victory over the Minnesota Vikings, who have a habit of losing one-score games.
Elijah Mitchell and Deebo Samuel combined to rush for 199 yards, but the Niners also created short fields thanks to an Azeez Al-Shaair interception and Kevin Givens' forced fumble of Dalvin Cook that was recovered by Al-Shaair.
The Niners have played their way into the No. 6 position in the NFC playoff standings, but they still have to face the Seattle Seahawks, Bengals, Titans, and Rams on the road.
Dom Cosentino is a senior features writer at theScore.
Comments
✕
10 takeaways from NFL Week 12
  Got something to say? Leave a comment below!