What the Von Miller trade means for the Rams and Broncos
Dustin Bradford / Getty Images
In advance of Tuesday's usually overhyped NFL trade deadline, the Los Angeles Rams acquired veteran edge rusher Von Miller from the Denver Broncos in exchange for the Rams' second- and third-round draft picks in 2022. What's the impact for both teams? Let's take a look:
1. The Rams get an additional pass-rusher for a defense that entered Week 8 ranked fourth in efficiency, both overall and against the pass. Miller is a meaningful asset in an NFC littered with high-powered offenses like the Tampa Bay Buccaneers, Green Bay Packers, Dallas Cowboys, and Arizona Cardinals. Miller is potentially the kind of addition who could vault Los Angeles toward the Super Bowl.
2. Miller is 32 years old and missed all of 2020 with an ankle injury. He might not be the one-man, game-wrecking presence he was five or six years ago, but he still has a lot to offer. He ranks ninth in the league in pass-rush productivity, a PFF metric that weighs sacks, hits, and pressures against pass-rush snaps. He's also played 76% of this season's snaps despite missing Sunday's game against Washington with another ankle injury. Miller's expected to be on the field for this week's game against the Tennessee Titans, reports ESPN's Adam Schefter.
3. The Rams' defensive front already features a one-man game-wrecker in Aaron Donald, plus they have Jalen Ramsey, one of the NFL's best cornerbacks. With Donald on the interior and Miller on the outside, opposing offenses will have a lot to account for when setting their protections.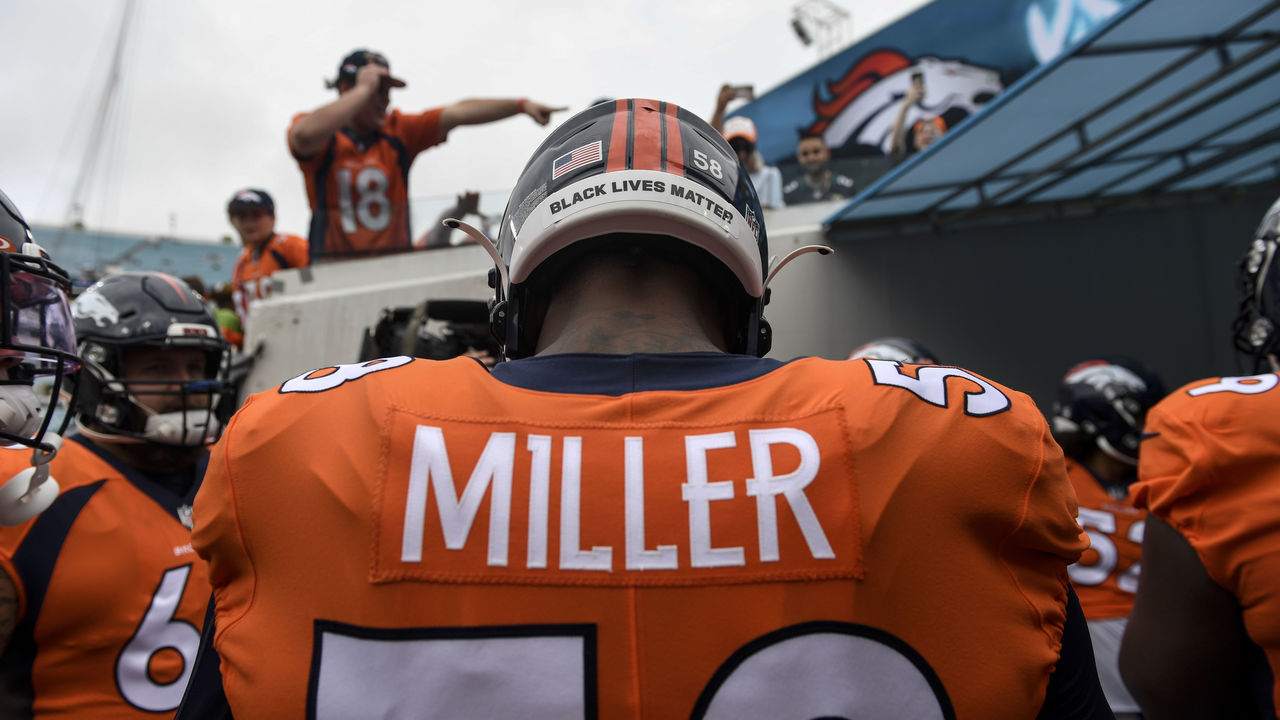 4. The Broncos appear to be punting on the season. Von Miller is unquestionably a legend, but this is a smart move when you put aside what he's meant to the franchise. Denver owns a 4-4 record and sits in 10th place in the AFC playoff standings. It also hasn't beaten a team with a winning record. Miller is scheduled to become an unrestricted free agent after this season, so based on his years of service, the Broncos risked losing him and getting back nothing more than a fifth-round compensatory pick … in 2023. Instead, they've found a way to get additional value for him that they'll need to get better.
5. "As many as four teams expressed interest in Miller," a source told local ABC reporter Troy Renck. The Broncos agreed to pay $9 million of Miller's remaining $9.7-million 2021 salary to get the deal done. There's no doubt the Rams lacked the salary-cap space to bring Miller in at full cost. Again, though, Denver essentially paid that price for two additional top-100 draft picks a year ahead of when it might have reaped a compensatory pick much later in the draft. Sure, Los Angeles' selections will likely be near the bottom of the order, but the Broncos now have 10 picks in 2022, including five in the first three rounds:
6. What will the Broncos do with all those draft assets? Select a QB? Trade up to select an even better QB? Trade for Aaron Rodgers? Stay put and stock the roster? Who knows! General manager George Paton is equipped for any and all possibilities.
7. The Rams are in win-now mode. But you knew that already. They've more or less been in win-now mode since 2018 - the year after Sean McVay took over as head coach. They signed defensive tackle Ndamukong Suh that offseason and traded for cornerbacks Marcus Peters and Aqib Talib, plus wideout Brandin Cooks. L.A. tried to maximize its roster around QB Jared Goff's rookie contract, but it also tried to sell season tickets and luxury boxes for its fancy-pants new stadium. It (mostly) paid off when the Rams immediately wound up in the Super Bowl. However, they've continued to mortgage their future since then by trading for Ramsey and Matthew Stafford. Now this.
8. The Rams don't have a first-round pick until 2024, and they haven't had one since selecting Goff No. 1 overall in 2016 - the year before McVay arrived. They still have eight picks in the 2022 draft, but nothing in the top 100:
And L.A. only has four picks left in 2023, with selections in the second, third, fifth, and sixth rounds.
9. In case you're wondering, the league tacks on 32 compensatory picks at the ends of Rounds 3 through 7, which are awarded to teams that lost high-priced free agents. The Rams lost four of those free agents last spring, and they were also granted an additional third-round comp pick under the expanded Rooney Rule that rewards teams for developing minority executives. The Rams qualified when director of college scouting Brad Holmes was hired as the Detroit Lions' GM. Over the Cap's comp pick chart projects the Holmes selection to land at No. 102 overall.
10. L.A. is clearly paying a steep price for what likely amounts to renting Miller for half the season. It's doing this after having already traded away a boatload of draft capital and in a season in which the NFC is heavily stocked with contending teams. It's a risky strategy that runs counter to a lot of the conventional wisdom around building a roster, but it also offers a potentially high reward.
11. Beyond this year, the Rams will have an aging, expensive roster and nothing but mid-to-late round picks in the next two drafts to provide reinforcements. Trading away draft selections has made their margin of error razor-thin. L.A. keeps zagging by banking on proven players to build a championship team, while most of the league is zigging by prioritizing the accumulation of cheaper, younger, unproven talent via the draft. It's an approach that's more or less worked for most of McVay's tenure, and it might bring home a championship this year. But if it doesn't, how much longer can it last?
Dom Cosentino is a senior features writer at theScore.
Comments
✕
What the Von Miller trade means for the Rams and Broncos
  Got something to say? Leave a comment below!