10 takeaways from NFL Week 3
L to R (Getty Images): Joe Sargent/Emilee Chinn/Ethan Miller
Sunday Rundown recaps the most important developments from the day's action and examines the significance of them moving forward.
Field-goal fun!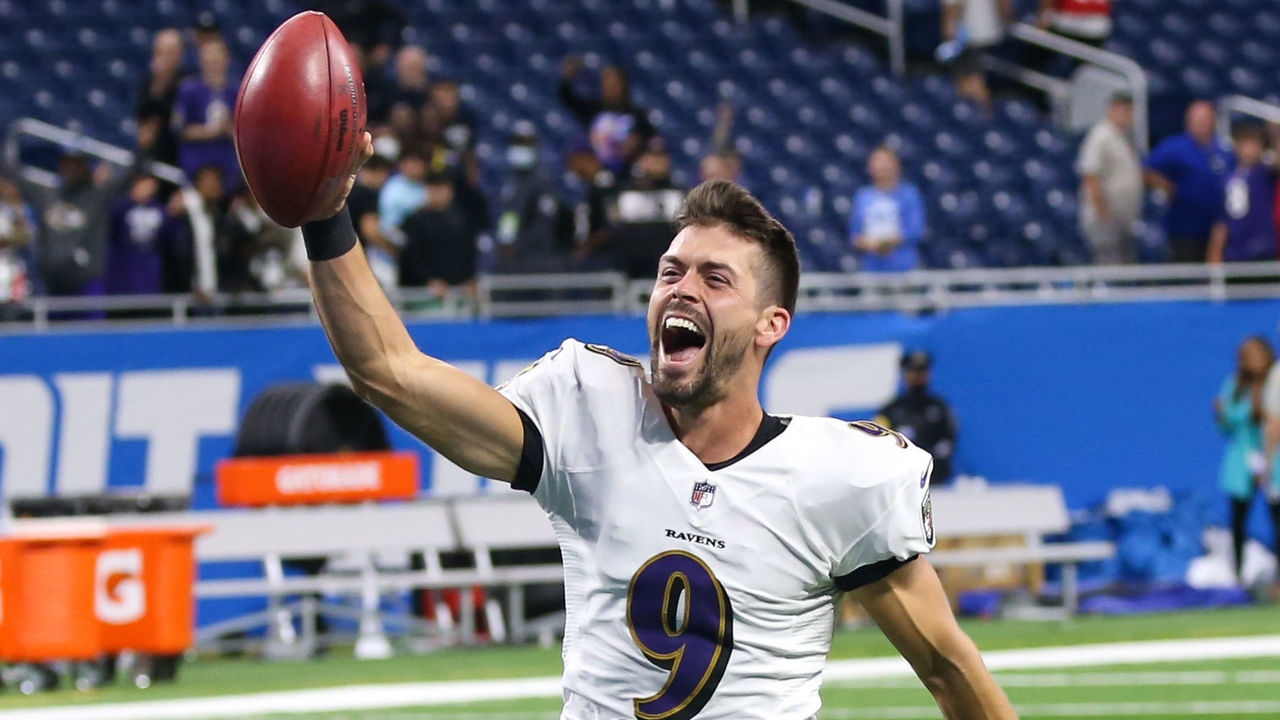 The day's early window of games provided not one, but two cracks at the longest field goal in history - and both wound up being among the most thrilling plays imaginable, for entirely different reasons.
First up was the Arizona Cardinals-Jacksonville Jaguars game. With the score tied 7-7 and two seconds remaining in the first half, the Cardinals had Matt Prater attempt a 68-yard field goal. His kick was short, but Jacksonville's Jamal Agnew lined up in the end zone, where he caught the kick and ran it back 109 yards for a touchdown - tying the record for the longest play in league history and providing the Jags with an honest-to-goodness highlight in what figures to be an achingly long season that likely won't offer up many more.
A little later, the Baltimore Ravens and Justin Tucker managed to top that. Trailing the Detroit Lions 17-16 with just 26 seconds remaining, the Ravens faced a fourth-and-19 from their own 16 with no timeouts remaining. Facing a three-man rush, Lamar Jackson calmly feathered a pass over a defender to Sammy Watkins that picked up 36 yards to the Lions' 48. Baltimore managed to get itself set to spike the ball to stop the clock with seven seconds to go. Then Jackson threw incomplete in a quick attempt to move closer for a Tucker field goal, though the officials appeared to miss a delay of game penalty that would have backed the Ravens up 5 yards, at least according to the play clock on the CBS broadcast.
With three seconds left, Tucker got his chance. He was sent out to try a 66-yarder. His kick bounced high off the crossbar before landing behind it, winning the game for Baltimore in the most improbable way possible. Tucker is now 16-for-16 on field goals in the final minute of regulation, which is mind-boggling. He also broke the record for the longest field goal by 2 yards - a mark held by Prater.
Who knew field goals could be so exciting?
Giants still stink
It's Year 4 for New York Giants general manager Dave Gettleman, Year 3 for quarterback Daniel Jones, and Year 2 for head coach Joe Judge. Yet the results never seem to get any better for the Giants, who lost at home to the woeful Atlanta Falcons to fall to 0-3.
Jones hasn't been awful; he's turned the ball over only once in three games, and his EPA/play of 0.13 against Atlanta was ... well, all right, it's just OK. But the offense lacks much imagination, the defense can't get a stop when it needs one, and Judge actually made a decision this cowardly:
Since the start of the 2017 season, the Giants are 18-49. That's the same record as their neighbors, the Jets. Yes, in that span, the two North Jersey swampmates are tied with the league's worst winning percentage. Things are so bad that during a halftime celebration honoring former quarterback Eli Manning, the crowd at the Meadowlands booed team owner John Mara.
The Giants can at least take solace in knowing their next seven opponents are the New Orleans Saints (away), Dallas Cowboys (away), Los Angeles Rams (home), Carolina Panthers (home), Kansas City Chiefs (away), Las Vegas Raiders (home), and Tampa Bay Buccaneers (away). Easy peasy.
What are the Colts doing?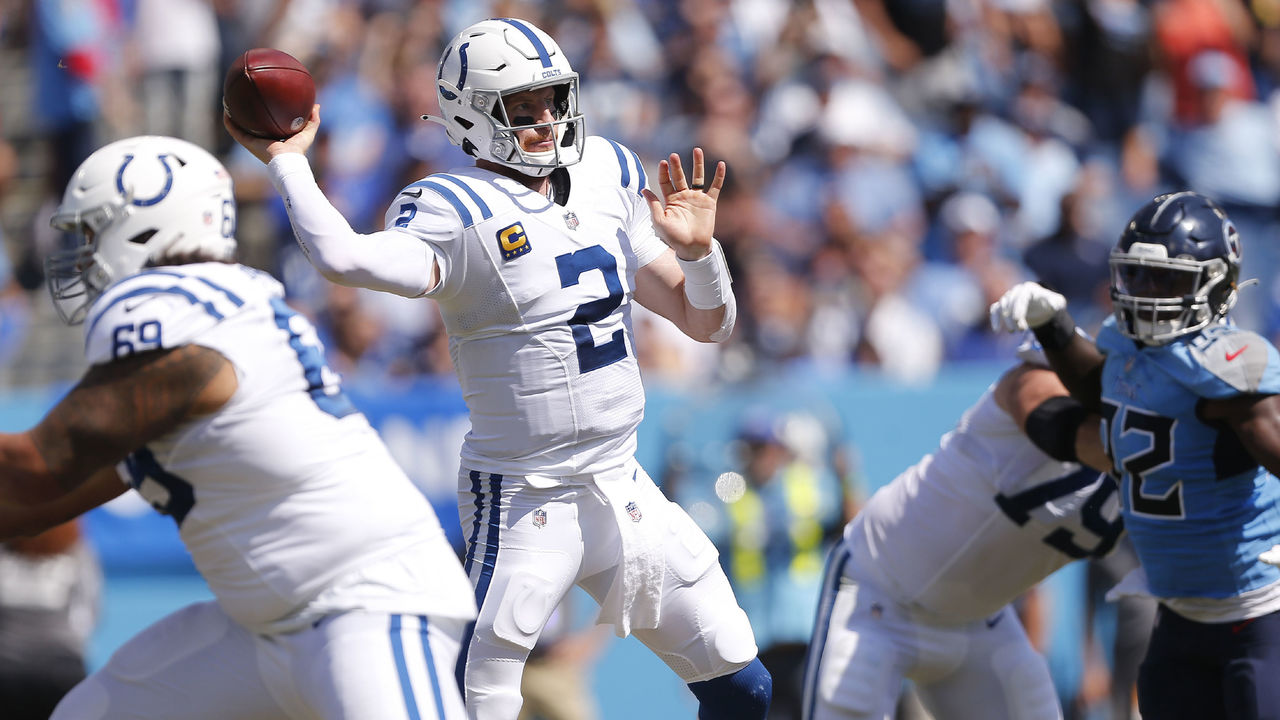 It was one thing for the Indianapolis Colts to think they could fix Carson Wentz. It was another for the Colts to back him up with Jacob Eason and Brett Hundley, given Wentz's extensive injury history.
Wentz played on two bum ankles in Indy's loss at the Tennessee Titans, and he completed just 51.3% of his throws - 12.3% below expectation. The Colts are now 0-3.
"He's our quarterback," head coach Frank Reich said afterward, according to Charlie Clifford of WISH-TV. "We felt like him at 70 or 80% was our best option."
Here's the problem with that: If Wentz plays 75% of Indy's snaps this season, the 2022 second-round pick they agreed to send to the Philadelphia Eagles to acquire him becomes a first-rounder. And Indy already looks like it could be on its way to drafting in the top 10.
The Colts will have plenty of chances to sit Wentz if the season keeps going sideways - he'll need to miss roughly three or four games for Indy to avoid meeting the trade threshold. But this seemed like a decent chance to chip away at that total while also giving Wentz an opportunity to get healthier. If even an injured Wentz really is their best option, the Colts might be in big trouble.
Rough 1st start for Fields
Maybe Chicago Bears head coach Matt Nagy wasn't BS-ing anyone with his decision to proceed slowly with first-round pick Justin Fields. But Nagy also looks like he's a big part of the problem here.
Fields' first career start was a disaster. He was 6-for-20 passing for 68 yards, along with three rushes for 12 yards against the Cleveland Browns. He was also sacked nine times and hit 15 times. Those sacks added up to 67 yards lost, which means the Bears officially netted 1 passing yard.
The rookie saw pressure on 55.4% of his dropbacks - the fourth-most in any game since the start of 2020, according to Next Gen Stats. But Nagy also didn't do anything by design to get him out of the pocket, which seems less than ideal.
Fields obviously won't see that kind of pass rush every week, but Nagy really ought to do more to help him, too.
Roethlisberger looks like he's finished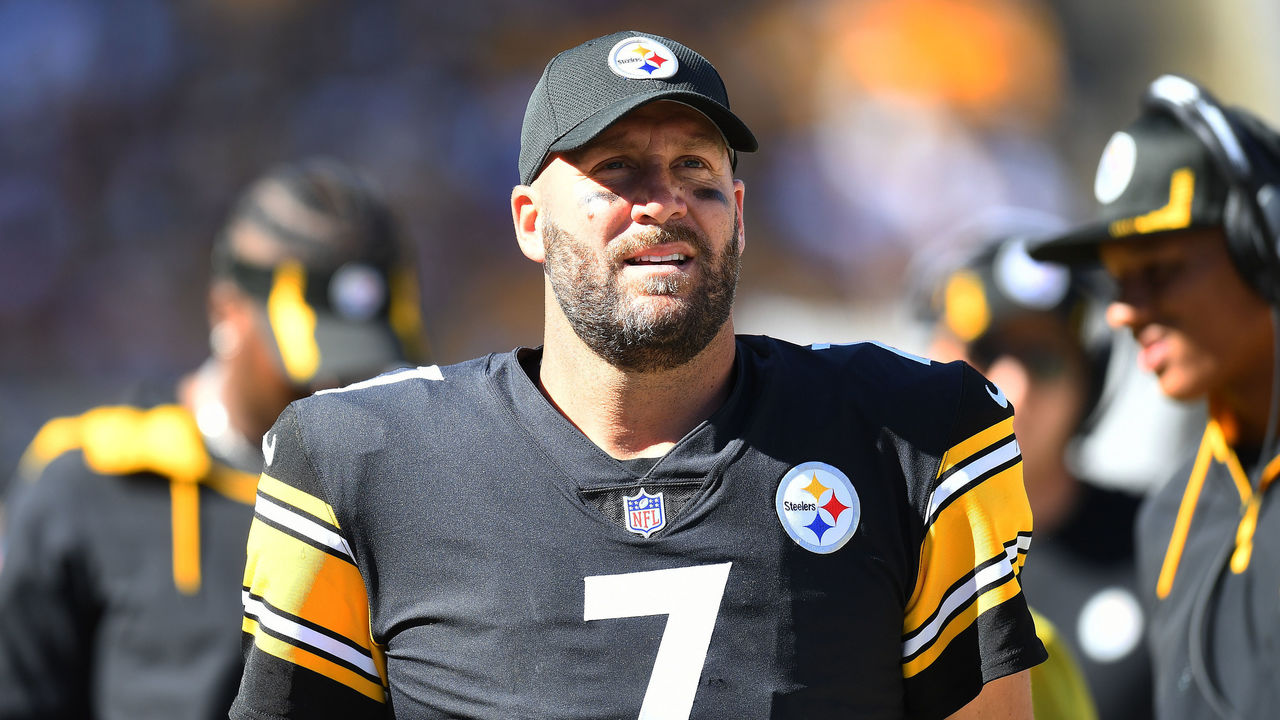 Three games into the season, there's an answer to the question of whether Ben Roethlisberger can still be the QB the Pittsburgh Steelers hope he can be, and it's not the answer they hoped for.
Forget the stats, forget about the offensive line being bad, and forget the fact that three of Roethlisberger's top receivers are hurt. He also continues to process slowly, miss open targets, and genuinely look like he's got very little left in the tank. Yes, first-year coordinator Matt Canada's offense looks just as unimaginative as Randy Fichtner's quick-pass-and-hope-for-the-best approach did last year, but Roethlisberger's many flaws are plain to see. He's holding back an offense with plenty of firepower, and there's no denying it anymore.
Roethlisberger's third-quarter interception against the Cincinnati Bengals, thrown into triple coverage right at the line of scrimmage, was all anyone needed to see. At that point in the game, his completed air yards were a sad 0.9. Look at this passing chart. Nearly a third of his 58 throws were at or behind the line of scrimmage: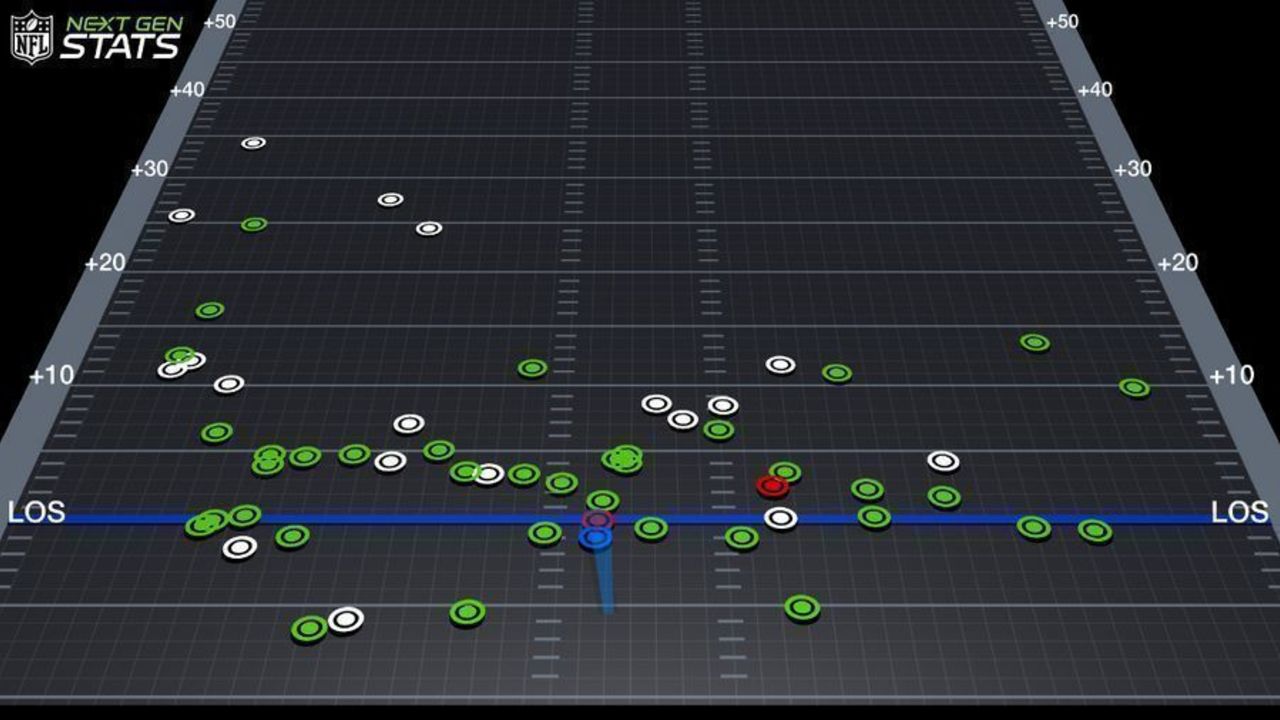 The will probably be Roethlisberger's final season. It's shaping up to be a long one.
Burrow, Bengals look good
On the flip side, the Bengals won in Pittsburgh for the first time in six years, and they did it with a solidly efficient performance from quarterback Joe Burrow.
Burrow attempted just 18 passes, but he completed 14 of them, with three going for touchdowns. It helped that he saw exactly one pressure from a Steelers defense that was without edge rushers T.J. Watt and Alex Highsmith, but Burrow took what was there. The offensive line had been a gigantic concern for the Bengals anyway.
Burrow needed just three plays (aided by a roughing the passer penalty) to march Cincinnati 60 yards to a TD at the end of the first half after the Steelers tied the game 7-7. And his 34-yard TD toss to Ja'Marr Chase to cap that drive was perfectly placed.
For his part, Chase had four catches on five targets. Two went for touchdowns. All the qualms about his drops in the preseason can officially be forgotten. The Bengals are shaping up to potentially be a factor in the AFC North, a division that seems about ready to leave the Steelers in the cellar.
Washington's defense doesn't look good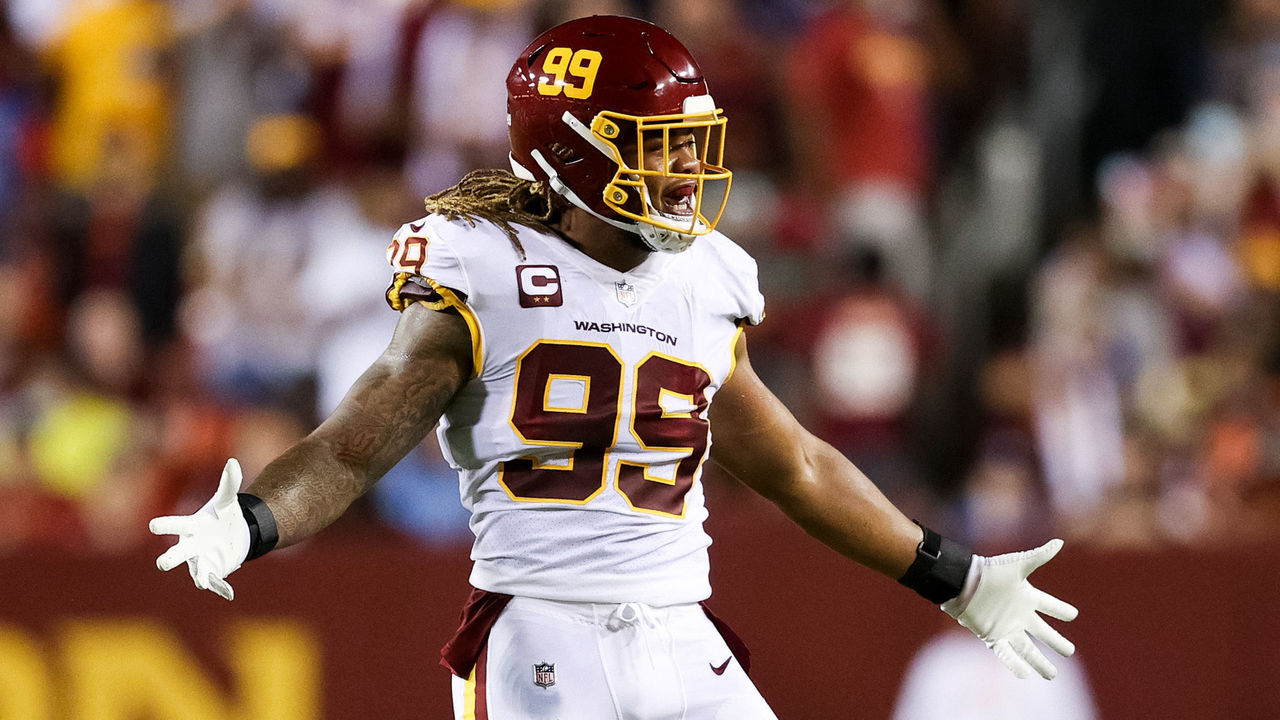 In 2020, the Washington Football Team's defense ranked third in DVOA and second against the pass. It was enough to carry a team with weak quarterback play to seven wins and a division title in the even weaker NFC East. That strong showing hasn't carried over.
A week after giving up 29 points against the sad-sack Giants, Washington got blown off the field by Josh Allen and the Buffalo Bills. Allen threw for 358 yards and was involved in five touchdowns. The Bills were also 9-for-15 on third down. (Related: Josh Allen is still pretty darn good.)
But this is how bad things are going right now for Washington's defense:
Washington's D gets a chance to get itself together in the next two weeks, first at the Falcons - Matt Ryan averages a league-low 3.2 completed air yards, according to Next Gen Stats - and then at home against the Saints. After that, the offenses it faces get much tougher.
Chargers go for broke and get it done
At the end of an otherwise outstanding showing on the road against the Chiefs, the Chargers looked like they were going to find another way to lose a one-score game, just as they've done a staggering 17 times since the beginning of the 2019 season. But head coach Brandon Staley stayed aggressive - and it paid off.
Trailing by three with less than three minutes remaining, L.A. settled for a game-tying field goal after a touchdown was wiped out by a penalty. That kind of failure to maximize scoring chances always seems to doom a team against Kansas City, which always looks like it can score whenever it wants, and as quickly as possible. The Chargers also had two TDs negated by penalties in last week's three-point loss to the Dallas Cowboys, so this was all very familiar.
Then, after getting the ball back when safety Alohi Gilman picked off Patrick Mahomes, the Chargers faced a fourth-and-4 at the Chiefs' 30 with 48 seconds to play. And, even though the analytics actually recommended a field goal ...
... Staley opted to go for it because any amount of time is potentially too much for the Chiefs to mount a comeback. But then came another pre-snap penalty, which pushed L.A. into a fourth-and-9 at the 35.
Yet Staley chose to go for it anyway, and Justin Herbert's pass to Jalen Guyton drew an interference call. Herbert hit Mike Williams for a touchdown two plays later, though Tristan Vizcaino missed the extra point, which still left Mahomes with 32 seconds to steal a victory. This time, it didn't happen. Mahomes moved the Chiefs to midfield before running out of time.
Staley also went for it on fourth-and-4 from the Chiefs' 28 while trailing by three on the first play of the fourth quarter - a decision that extended the drive and led to a touchdown, and one that also increased the Chargers' win probability by roughly 2%. It was a huge win for Staley, Herbert, and the Chargers, but it was also a statement about the importance of staying aggressive given the context of the opponent.
Last-place Chiefs? Last-place Chiefs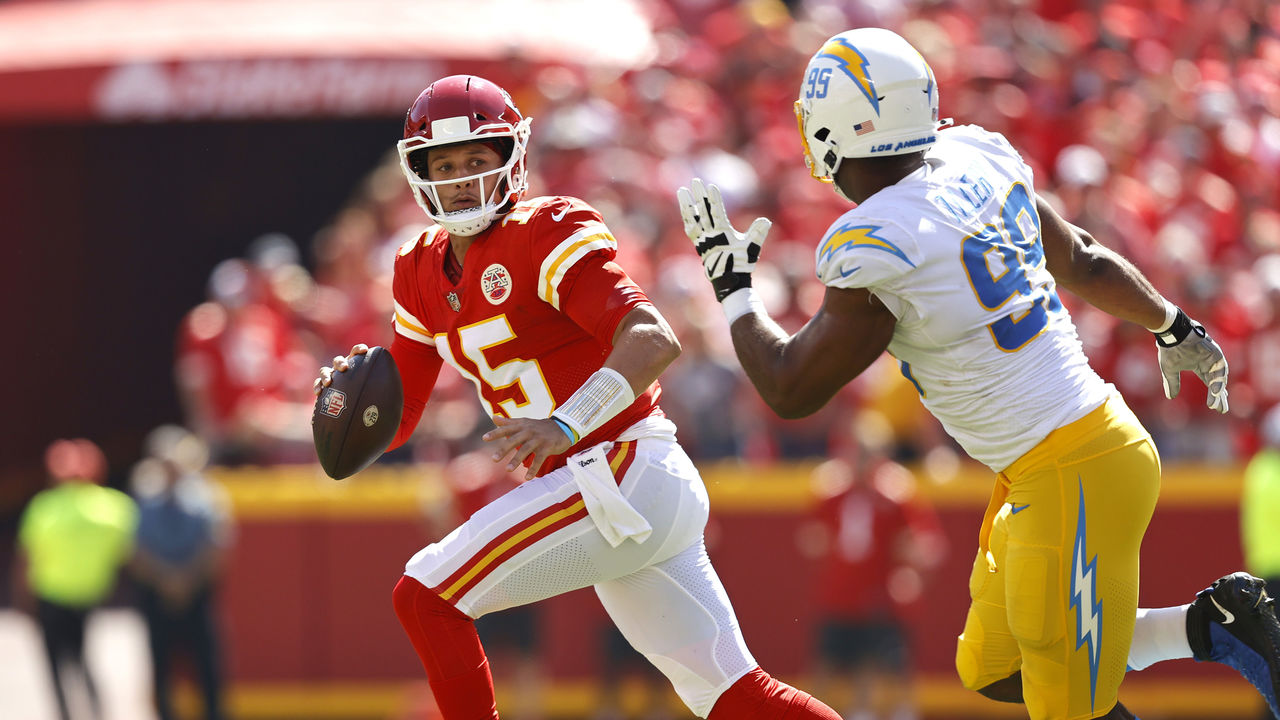 The AFC West has a pair of undefeated teams through three games, but they may not be the ones you were expecting. The Raiders stayed perfect with their overtime win over the Dolphins, while the Broncos notched their third straight victory with a shutout of the Jets.
The Chargers are 2-1 with a head-to-head victory at Arrowhead following Sunday's action, and that leaves Kansas City at 1-2 and the bottom of the division.
If that seems strange, that's because it is: Not counting last season's meaningless finale in which Mahomes didn't play, the Chiefs had won 31 of their last 34 division games. Now, they're in last place for the first time since Week 11 in 2015, or two years before Mahomes was drafted, according to ESPN.
To be clear: Kansas City's defense is a bit of a problem, but Mahomes, head coach Andy Reid, and that offense make it impossible to write them off any time soon.
My goodness, Aaron Rodgers
Remember when the Green Bay Packers got stomped by the Saints? That was so two weeks ago. In the Pack's wild win over the San Francisco 49ers, Rodgers had one of those nights where you're reminded that when he's on, it's difficult to imagine how any quarterback could possibly play better.
Jimmy Garoppolo brought the Niners back from a 17-0 deficit and even orchestrated a terrific eight-play drive to give San Francisco the lead with 37 seconds to go. Even with no timeouts, it was still too much time for Rodgers, who completed two passes to Davante Adams to advance 42 yards and set up Mason Crosby's 51-yard field goal on the game's final play.
The first throw to Adams, dropped just over the outstretched hand of Niners linebacker Fred Warner, was absolutely perfect. Same with an earlier TD to Marquez Valdes-Scantling, who also seemed to be covered until Rodgers found the tiny window that was available to get him the ball.
Just when you think you can begin to doubt Rodgers, he has a game like that to set you straight.
Dom Cosentino is a senior features writer at theScore.