theScore's NFL editors debate the hot topics around the NFL. Grab a cold towel and brace for hot takes.
Julian Edelman is a Hall of Famer
Jack Browne: True
Few outside Foxborough, Massachusetts, likely believe Edelman is a slam-dunk Hall of Famer on the level of Randy Moss, Larry Fitzgerald, or Marvin Harrison. His regular-season statistics admittedly pale in comparison to those of the aforementioned receivers and others of their caliber. But Edelman's case, while not overwhelmingly or conventionally strong, still has undeniable merit.
Edelman is the second-most productive postseason receiver in NFL history behind Jerry Rice, racking up the second-most catches (118) and receiving yards (1,442) while helping the New England Patriots win three Super Bowls. And considering Rice's ridiculous statistical dominance, being the best of the rest is no small feat. Edelman was not only hugely productive in those postseason runs, but he also came up clutch in the biggest moments.
The 34-year-old's fingertip snag that kept alive the Patriots' historic comeback against the Atlanta Falcons in Super Bowl LI was one of the best catches you'll see. He followed it up two years later with a 10-catch, 141-yard performance in New England's Super Bowl win over the Los Angeles Rams that earned him MVP honors.
Edelman's case is arguably most similar to that of Eli Manning - who is all but assured a gold jacket - but without a royal football surname to bolster it. Both players were underwhelming regular-season performers rarely mentioned among the best at their respective positions, but both are also owners of multiple titles, iconic postseason moments, and huge production in the games that mattered most.
Caio Miari: False
Edelman's playoff success is indeed impressive, but a decorated postseason resume combined with limited regular-season production shouldn't be enough for a spot in Canton.
Edelman topped 1,000 receiving yards in a season just three times, and his best year for touchdowns was a 2015 campaign that saw him score seven in nine games. He retired with 620 regular-season receptions for 6,822 yards and 36 touchdowns. Drew Pearson is the only wide receiver to be inducted into the Hall of Fame in the Super Bowl era with fewer than 50 TD catches. Pearson retired in 1983 with 48 touchdowns, three All-Pro nods, and a spot on the NFL's 1970s All-Decade Team. He also led the league in receiving yards once and helped the Dallas Cowboys win a Super Bowl. Still, he only became a Hall of Famer as a member of the senior category in 2021.
Edelman's regular-season resume lacks both consistency and dominance. He called it a career without a Pro Bowl or All-Pro selection and never topped any major receiving categories. And although Edelman's postseason success is undisputed, he achieved that success playing for arguably the NFL's greatest dynasty. For comparison, four-time Pro Bowl wide receiver Hines Ward was named Super Bowl MVP once and amassed 12,083 yards and 85 touchdowns before retiring in 2011; he hasn't been a Hall of Fame finalist in the last five years.
Getting into the Hall of Fame isn't an exact science. We don't know how many or which boxes a player has to check to earn a gold jacket. But while Edelman might have met the top criteria for a potential induction, he retires with most of the requirements unfulfilled.
Sam Darnold will be the guy for Carolina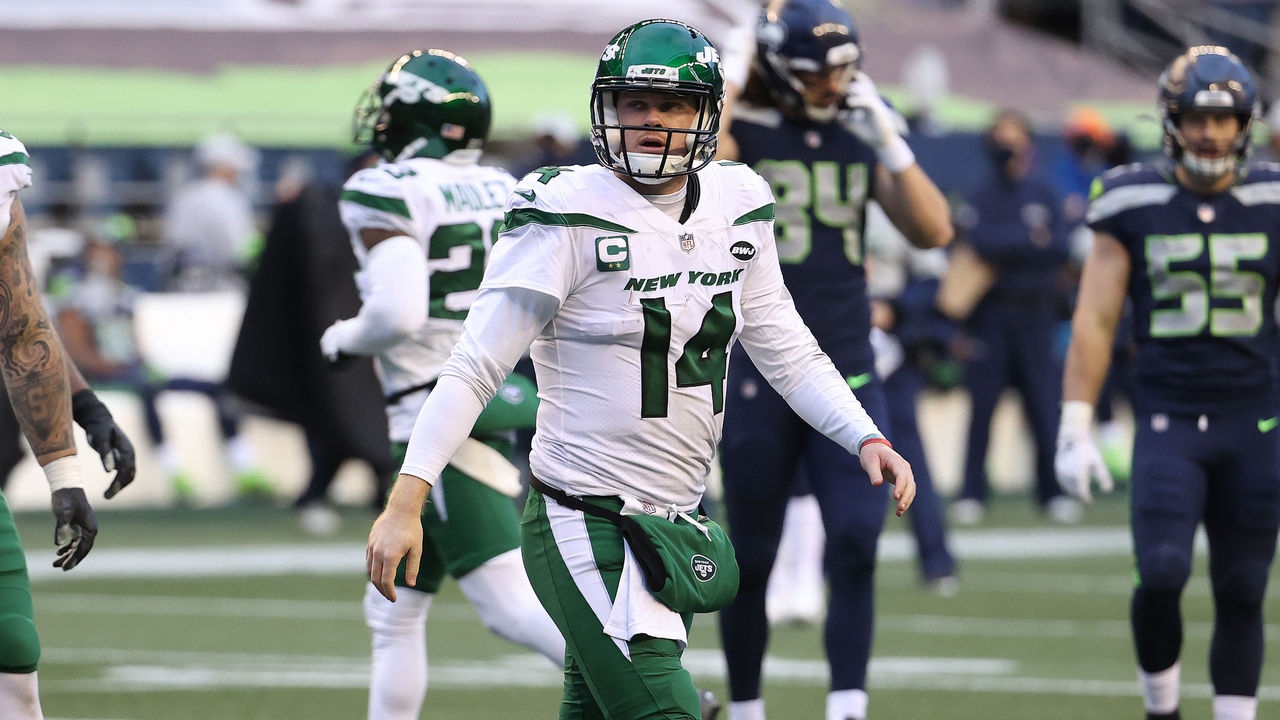 Miari: True
Darnold has been a major disappointment since entering the NFL as the third overall pick in 2018. But don't forget that as bad as he looked with the New York Jets, most - if not all - of the Jets' promising players have underperformed in recent years.
Two of Darnold's three NFL seasons were with head coach Adam Gase, whose offensive units have clearly held starting quarterbacks back. For instance, Ryan Tannehill posted a 93.2 passer rating during the 24 games he started for the Miami Dolphins with Gase on the sideline. The Dolphins traded Tannehill to the Tennessee Titans in 2019, and he's recorded a passer rating of 110.6 in 28 appearances since.
Another major difference for Darnold is the Carolina Panthers' offensive cast. Carolina's rising offense offers him an explosive duo of receivers in DJ Moore and Robby Anderson, not to mention a superstar running back one year removed from an All-Pro campaign in Christian McCaffrey. A new offensive line should also help. Darnold was sacked at least 30 times a season with New York, exposing one of the biggest flaws in his game: decision-making under pressure. Though the Panthers' offensive line won't solve that issue completely, it's one step ahead of New York's.
Finally, Darnold will be only 24 when the 2021 season kicks off. The former USC star has shown flashes, and the tough circumstances he faced with the Jets arguably left him with untapped upside. If Darnold can finally unlock the full talent that previously made him the NFL's youngest Week 1 starter since the AFL-NFL merger, he can easily be a top-15 quarterback - and maybe even a top-10.
Browne: False
Tannehill has become the go-to example for quarterback reclamation projects since his recent breakout with the Titans. But for every Tannehill, there are a dozen failed passers whose second chances only further proved they were never worth their initial investment. Carolina is banking on Darnold being another exception to the rule, even though there's far less evidence to the contrary than there was with Tannehill.
While Tannehill has certainly ascended to a new level with Tennessee, many have forgotten that he wasn't all that bad for Miami. He had an average finish in QBR of 22.8 across his six seasons with the Dolphins and earned a career-high mark of 15th in 2015. Tannehill's 16-game averages over that span were 3,715 yards and 22 touchdowns against 14 interceptions. He was nothing more than average, but he was average while playing behind an awful offensive line under an incompetent head coach.
Darnold has dealt with the same set of handcuffs. But unlike Tannehill, he's shown very little good to balance out the overwhelming amount of bad. In his three NFL seasons, Darnold has ranked 28th, 25th, and 33rd (last in the league) in QBR. He's also finished 30th, 32nd, and 32nd in DVOA. Beyond two or three flashy plays a year, he's been the definition of a replacement-level player. Darnold will have his work cut out just to match the quarterback he's set to replace; Teddy Bridgewater ranked 17th in QBR and 18th in DVOA last season.
It's easy to point to Darnold's physical skill set, the college tape that made him a No. 3 overall selection, and the Jets' undoubted failures to give him a real supporting cast. But if he is a top-15 quarterback who's been held back by circumstance, there would be far more evidence of it by now.
The 49ers will draft Mac Jones at No. 3
Browne: True
The NFL community is still reeling over rumors that the San Francisco 49ers will take Jones at No. 3 after their blockbuster trade with the Dolphins. It was widely assumed that Justin Fields or Trey Lance would be the preferred option for Kyle Shanahan and Co., especially after San Francisco surrendered an enormous haul of picks to climb to No. 3. Fields and Lance are consensus top-10 picks; it wasn't long ago that Jones was considered a late first-rounder at best.
But there's too much smoke to this rumor. First, Daniel Jeremiah of NFL Network - one of the most plugged-in draft analysts - said in late March that "the majority of people around the league" believe the 49ers are zeroed in on Jones. Then, in uncharacteristically definitive fashion, Adam Schefter of ESPN said last week that Jones will be the third quarterback off the board.
The former Alabama star doesn't possess outstanding physical traits and was part of a star-studded offense. His ceiling is seemingly far lower than those of his more talented compatriots. Many probably won't believe the 49ers are taking Jones until they actually hand in the card on April 29, but it appears the most likely outcome.
Miari: False
Jones going third overall just doesn't sound right. The 49ers do seem to like Jones more than most teams, but it's hard to believe they'll select a developmental starter over someone as talented as Fields - a player who's more dynamic and skilled and can make an impact in practically any NFL offense.
Jones did have an amazing 2020 college season, racking up 4,500 passing yards and 41 touchdowns. But the fact he was surrounded by an outstanding offense featuring the reigning Heisman Trophy winner in wide receiver DeVonta Smith can't go unnoticed. And as accurate as Jones was last year (77.4% completion percentage), neither his arm strength nor his athleticism is especially eye-popping.
Why would San Francisco risk the third overall pick on a quarterback who might need a friendly system and a solid supporting cast on both sides of the ball to succeed? The 49ers already have that signal-caller in Jimmy Garoppolo. The argument that Jones is an upgraded version of Garoppolo is fair. But today's NFL is made for dynamic quarterbacks, and Shanahan will find one in Fields or Lance, not Jones.
This year's draft evaluation has been limited and unusual due to the COVID-19 pandemic, so it's unlikely the 49ers are fully locked in on Jones despite rumors suggesting otherwise. Shanahan and San Francisco general manager John Lynch have yet to attend Fields' and Lance's second pro days, and both quarterbacks reportedly plan to showcase their abilities with drills and throws Shanahan uses in practice. That should be enough to convince the 49ers to draft the best quarterback available.