Taysom Hill got what? Here's how funny money works in the NFL
Tim Nwachukwu / Getty Images
The NFL's free-agency frenzy ramped up in earnest Monday, but one of the more head-scratching moves of the offseason occurred a day earlier, when the New Orleans Saints and one of their own, quarterback Taysom Hill, agreed to a lucrative contract extension. The catch is that the deal, as first reported by ESPN's Adam Schefter, is almost completely fake:
Four years and $140 million - an average of $35 million per season - is obviously the eye-catching part. But pay no attention to that. Rather, what matters are the words "voidable" and "a mechanism to free up cap space." The Saints really just rearranged a few items on the accounts-payable side of their salary-cap ledger. Then they whipped up some completely phony numbers to complete the transaction - and it's perfectly within the rules!
This use of voidable years and literal funny money has become a bit of a trend recently; Hill's contract is just the most extreme (and headline-grabbing) example. It's an approach that helps teams in the short term, but it's not without risk, since it pushes an eventual cap reckoning into the future. Confused? Don't be! We're here to help.
So what does this mean? Hill isn't going to see that money?
Nope. Not a cent. It's all made up, a total mirage designed to cook - ah, well, it's not quite right to say the Saints cooked the books because that would suggest they did something nefarious. In actuality, they simply converted money Hill was already scheduled to receive as his salary into a signing bonus.
This tactic - called a "restructure" by the scoop hounds - is typically good for the player because he receives that bonus money up-front, though some teams pay it in installments throughout the year. (Contrary to popular belief, restructures rarely involve pay cuts, though they do happen in specific circumstances.) In turn, the team gets to massage the way that bonus is accounted for on its salary cap.
According to the league's collective bargaining agreement with the NFL Players Association, signing bonuses count against the cap by being prorated across the life of the contract for up to five years. But because Hill's previous deal was scheduled to expire at the end of the 2021 season, the Saints needed to (wink wink) create an additional four years. The trick is that everything is scheduled to void after 2021, except for the cap accounting maneuver.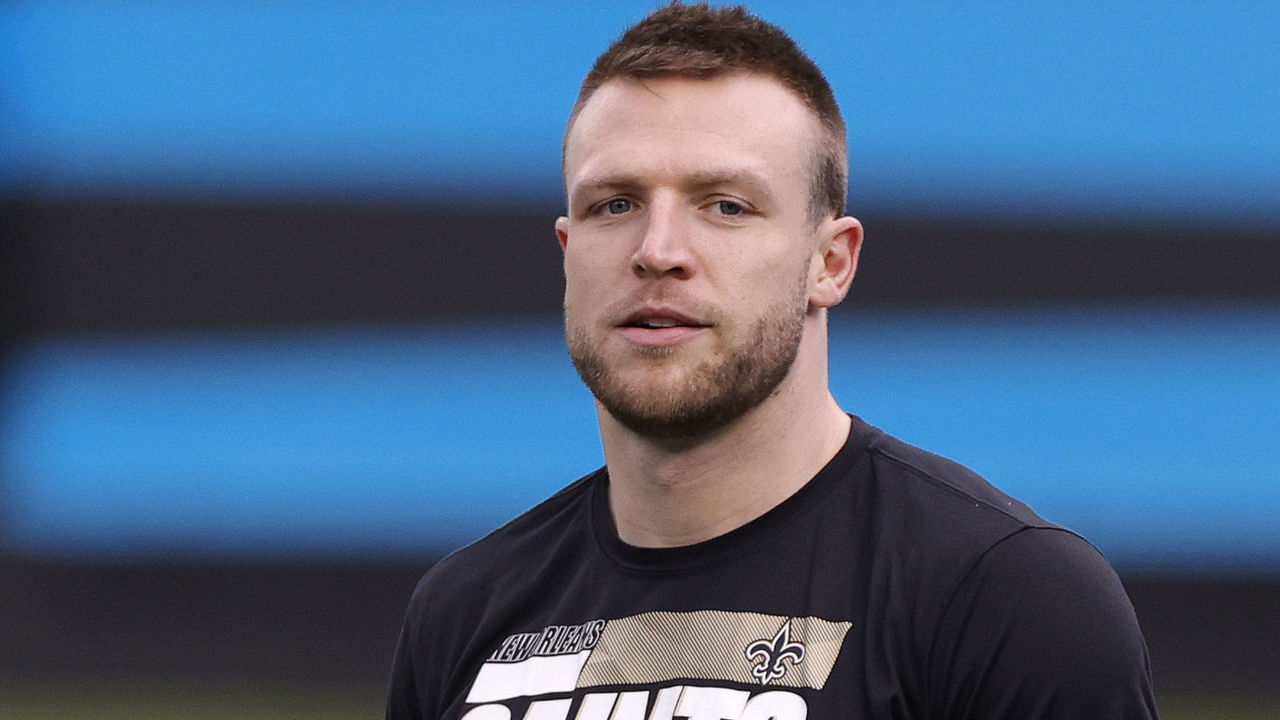 Can you put that in plain English, please?
This is going to get very bookkeeper-y, so stick with me. Per Pro Football Talk's Mike Florio, Hill signed a two-year, $21-million deal last April, with $16 million of that fully guaranteed, including an $8-million signing bonus. Hill made $841,000 in base salary last year, with a cap number of $4.841 million, which includes $4 million of that signing bonus. In 2021, he was scheduled to earn $10.72 million in base salary plus a $1.439-million roster bonus. Add those figures to the remaining $4 million in bonus proration, and Hill's 2021 cap charge was slated to be $16.159 million.
And the Saints are in cap hell.
Correct. They have until 4 p.m. ET on Wednesday to be compliant with the 2021 team cap of $182.5 million, but they're way over that number because their longstanding approach is to play chicken with the cap's consequences. They've made this work, in large part because the cap rose 65% from 2011 to 2020. They also absolutely nailed the 2017 draft, when they took cornerback Marshon Lattimore, tackle Ryan Ramczyk, safety Marcus Williams, running back Alvin Kamara, and linebackers Alex Anzalone and Trey Hendrickson - all of whom have been major contributors on low-cost rookie contracts for four years. (Kamara did sign an extension in September but it kept his cap number relatively low in the short term.)
Because the cap dropped 8% this year due to the pandemic's negative effects on league revenues, New Orleans needs to find cap savings wherever it can. So, according to Schefter, the team took $9.686 million of Hill's 2021 base salary and made it into a signing bonus. This reduced Hill's base salary to $1.034 million, or right around the league minimum. And to spread the impact of that $9.686-million bonus out across five years, New Orleans tacked four years onto Hill's contract. With me so far?
I think so.
The Saints have no intention of actually extending Hill's deal for another four years - at least not right now. So the contract also includes a provision that voids it at the end of the 2021 league year, which will be next March. The "four years" and "$140 million" that were added - however they were supposed to break down - all disappear like magic, and Hill can become a free agent.
Because it's all fake money tucked into those four extra years, the Saints could have made the contract's "value" as high as they wanted, though setting an average annual value of $35 million - the equivalent of Russell Wilson's deal with the Seattle Seahawks - is a bit of a devilish touch, considering that Wilson is feuding this offseason with Seahawks management. Good one, Saints!
The gimmick in all this - the entire point, really - is that the voided four years must remain on the Saints' books strictly for cap accounting. So they will have to deal with the ramifications of that prorated bonus conversion someday, in some way.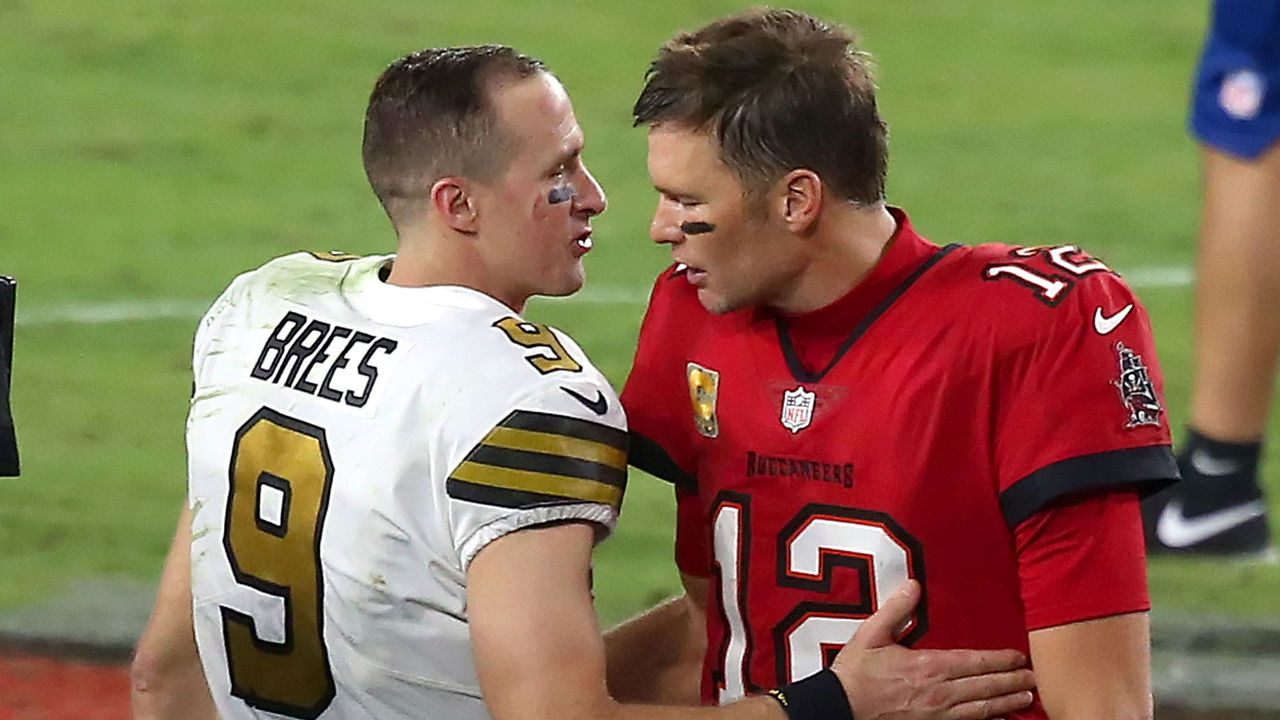 Whoa. They can just ... do that?
They can! Teams have been doing it for a long time - as far back as the 2006 collective bargaining agreement, in fact. It hasn't been all that common, but Tom Brady's final deal with the New England Patriots voided last March, and the Saints did it repeatedly for Drew Brees, right up until his retirement (which is part of the reason they find themselves in their current cap fix). But because the cap decreased this year and teams typically plan their spending for up to three years into the future, it's become a bit more common this offseason as a device for quick cap relief.
Oh?
Yep. The Dallas Cowboys' big extension with Dak Prescott included a pair of voidable years on the back end, and the structure brought his 2021 cap number down from $37.7 million - his projected figure on a second franchise tag - to $22.2 million, or a cap savings of $15.5 million. The Tampa Bay Buccaneers added voidables to both Brady's latest extension and the new deal given to inside linebacker Lavonte David. The Chicago Bears did it with kicker Carlos Santos, for some reason.
And the Pittsburgh Steelers loaded four voidable years onto Ben Roethlisberger's contract, which was set to expire after 2021 with Roethlisberger carrying a cap hit of $41.25 million in the final year. Roethlisberger actually took a $5-million pay cut on the $19-million salary he was owed. But all those machinations brought his 2021 cap figure down by more than $15 million. Brees, too, took a substantial pay cut in advance of his retirement.
NFL teams sure do have a way of transferring contractual risk onto the players, huh?
You get the idea. But teams are playing with a little bit of fire. There's also been a bunch of traditional restructures - i.e., signing bonus conversions spread across the terms of existing deals. The reason for this - in addition to the short-term cap advantages - is that the cap is expected to rise significantly in the years ahead, which ought to soften the blow. For one thing, the pandemic will (hopefully) have ended, or at least have come close to ending (please end soon, stupid pandemic). For another, the NFL is reportedly close to finalizing its next set of broadcast rights deals, which is where the league's real revenue stream comes from.
So how's this going to work for Taysom Hill, cap-wise?
The conversion of $9.686 million in salary to a signing bonus means that bonus will be applied to the Saints' cap in annual increments of $1.9372 million from 2021 to 2025. His 2021 cap number also contains the original $4 million in bonus proration and that $1.439-million roster bonus from his 2020 deal, plus his reduced salary of $1.034 million. Add it all up ($1.9372M + $4M + $1.439M + $1.034M), and Hill's 2021 cap hit is now just $8.41 million, or $7.75 million less than the $16.159 million it would have consumed without these shenanigans. Presto! Hill still gets everything he was owed before. The rest is just an accounting trick.
You keep saying something about risks and ramifications and playing with fire, though.
Yeah, there's a reason these voidable structures are more of a break-glass-in-case-of-emergency move than a regular feature of NFL contracts. The risk for the team comes if the contract voids before there's another extension. That bonus can be spread out for as long as the deal lasts, but once the player is no longer on the roster, the entire leftover total counts against the cap in the year that player leaves.
Once a team has restructured deals for multiple players - as the Saints already have done in recent weeks for Hill, Malcolm Jenkins, Cam Jordan, Demario Davis, Wil Lutz, David Onyemata, Andrus Peat, and Michael Thomas, with more likely to come - you can see how its cap could be weighed down once the bills come due.
Right now, Hill's annual bonus proration of $1.9372 million is slated to count against the Saints' cap through 2025. But once the deal voids after this season, all of that money - $1.9372 million multiplied by four, or just under $7.75 million - sticks to the team's books for 2022, after which they'd be clear of him. This means Hill would count for nearly $8 million against the 2022 cap even though he's no longer on the roster. This is called dead money, which is not money that's still owed to the player, but rather the final accounting for money already paid that had been pushed into the future. Ironically, Hill's dead money would be equal to the cap savings the Saints will realize this season.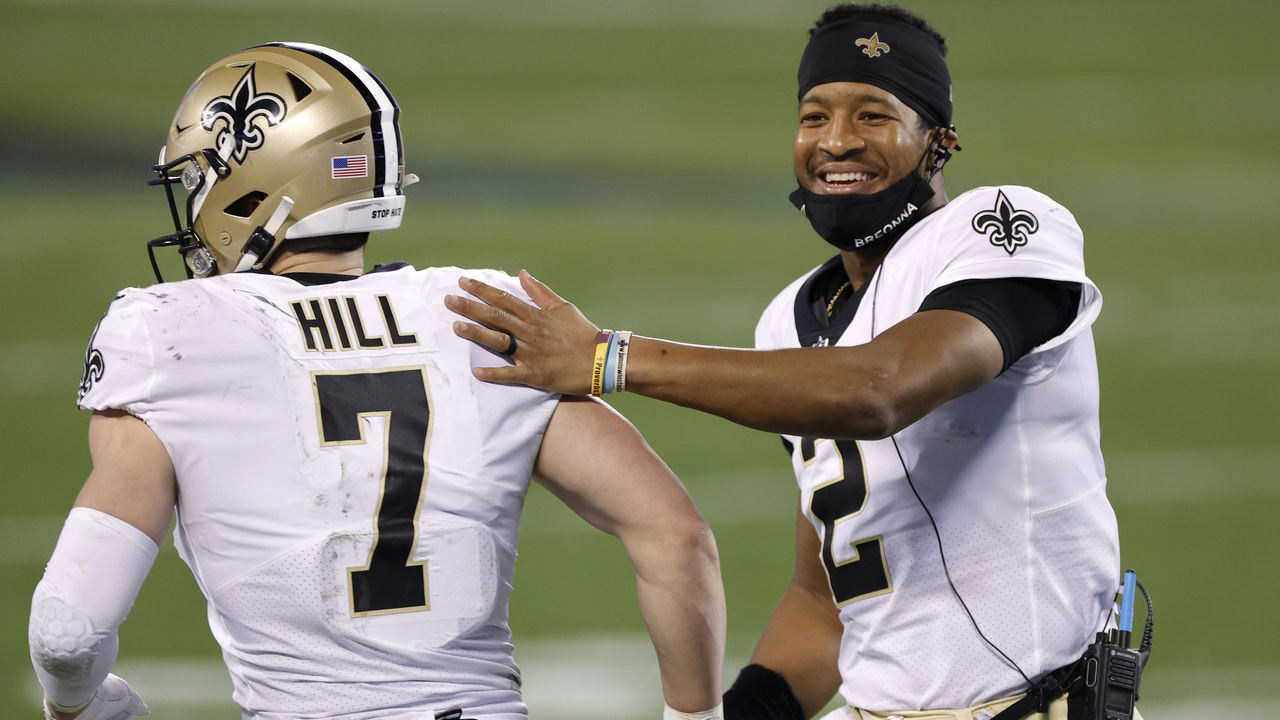 So the Saints would be stuck with it?
Not necessarily. They could always do another (real) extension with Hill after 2021, depending on how this season (and his competition with Jameis Winston) goes. That would allow New Orleans to keep manipulating the cap impact. Or, as Jason Fitzgerald of Over the Cap explained, even if the Saints want to move on from Hill after 2021, there's another conversion trick they could pull that would allow them to divide Hill's remaining cap impact across 2022 and 2023. But we don't need to get into all that right now.
These reckonings can be bad, huh?
Depending on how they happen, yeah. Brady still counted for $13.5 million of the Patriots' 2020 cap even though he was winning a Super Bowl for Tampa Bay. And as Albert Breer of Sports Illustrated pointed out, the Bucs would be on the hook for $24 million in dead money on Brady if he were to retire before the 2023 season. But as with Hill and the Saints, that's something the Buccaneers will have to deal with when the time comes. Just not now.
Dom Cosentino is a senior features writer at theScore.