Winners and losers from the Stafford-Goff blockbuster
L to R (Getty Images): Gregory Shamus/Abbie Parr/Icon Sportswire
With Matthew Stafford reportedly on his way to the Los Angeles Rams and Jared Goff heading to the Detroit Lions, the NFL's offseason drama is in full swing before Super Bowl LV even kicks off.
Below, we take a look at the winners and losers from Saturday night's blockbuster deal that will reportedly see Stafford traded for Goff, two future first-round picks, and a 2021 third-round selection.
Winner: Matthew Stafford
After years of propping up subpar supporting casts and playing under coaching staffs that did little to offset those talent disadvantages, Stafford is getting a well-deserved fresh start. The entire process was quick, painless, and really couldn't have worked out much better for the star quarterback.
With Stafford and the Lions having mutually decided it was time to move on, there's no bad blood here, which is likely an important factor for a player who was the face of this franchise for a decade. In landing with the Rams, he now finds himself in a situation unlike any he's experienced thus far.
Gone are the days of cycling through systems only to end up back at the same tried-and-true formula of putting the offense, and the entire team, squarely on his shoulders. Sean McVay's offense will be a breath of fresh air for Stafford, finally providing him with the foundation of a strong running game and putting him at the helm of a quarterback-friendly system that thrives on explosive plays off play-action.
The Rams are going to score, and they're going to score a lot. With the NFL's No. 1 defense complementing those efforts on the other side of the ball, it's tough not to get excited about the team's possibilities in the years ahead. After weathering the dysfunction in Detroit for so long, Stafford will be energized to finally have a legitimate chance at winning a ring.
Loser: Jared Goff
The debate over Goff's future was seemingly put to bed when the Rams gave him his big-money payday in the weeks leading up to the 2019 season. Regardless of what you thought of the former No. 1 pick and L.A.'s decision to pay him, he and McVay were to be tied at the hip for the foreseeable future. But things change quickly in the NFL, and this particular case was turned upside down faster than anyone could have reasonably expected.
The Rams didn't exactly hide the fact that they weren't pleased with what they were getting from Goff after two underwhelming seasons. It made sense that they'd be interested in an upgrade, at least theoretically, but the still-new contract figured to be prohibitive. Rather than accepting quarterback purgatory, the Rams got creative.
While nobody involved will ever say for certain, it's fair to assume the market price for Stafford wasn't anywhere near what it appears to have been on the surface (two first-round picks, a mid-round selection, and a young starter to step in as his replacement). More likely, the second first-rounder in this deal was added as a sweetener so that the Lions would agree to take Goff's contract and its $43 million in guarantees.
Being sent packing by the team that drafted you No. 1 has to be tough under any circumstances. Add in the reality that the Rams were desperate to move on before Goff's four-year extension even kicked in next season, and it becomes an even more disappointing turn of events. And that's before considering that all of a sudden he finds himself leaving a perennial contender to join a Lions organization that hasn't won a playoff game since the 1991 campaign.
In fairness to Goff, he's certainly not a lost cause. He's shown flashes of high-level quarterback play to this point, and he's still only 26 years old. His best years may well be yet to come. But the Rams bending over backward to get rid of him less than two years after seemingly locking him in as their franchise signal-caller isn't exactly the greatest endorsement of his trajectory.
Winner: Lions
How's this for a first impression of your new general manager? Two weeks after taking the Lions' job, Brad Holmes has already executed a home run trade that could be a major first step in the rebuilding process.
Shopping a veteran quarterback after the team and player agree it's time to part ways is no easy task. Leverage is already nonexistent because negotiating partners know you don't have the option of simply standing pat, and the longer it drags out, the more uncomfortable it gets.
So the Lions getting this thing done before the Super Bowl and bringing back such a significant return can be chalked up as a monumental win. Understanding that turning things around will be a process, taking on Goff's contract as a means of maximizing the draft capital coming back was a shrewd move in utilizing some of Detroit's financial flexibility.
The Lions don't need to treat the Goff acquisition like a total salary dump (a la Brock Osweiler), either. As a team now in search of a new franchise quarterback, there are worse gambles to take than what essentially amounts to a two-year, $43-million contract on a 26-year-old former No. 1 pick who's been to a Super Bowl. If he works out, great. If he doesn't, they now have a whole lot more draft capital with which they can keep taking swings, and perhaps Goff can be flipped for additional assets down the road.
Loser: Deshaun Watson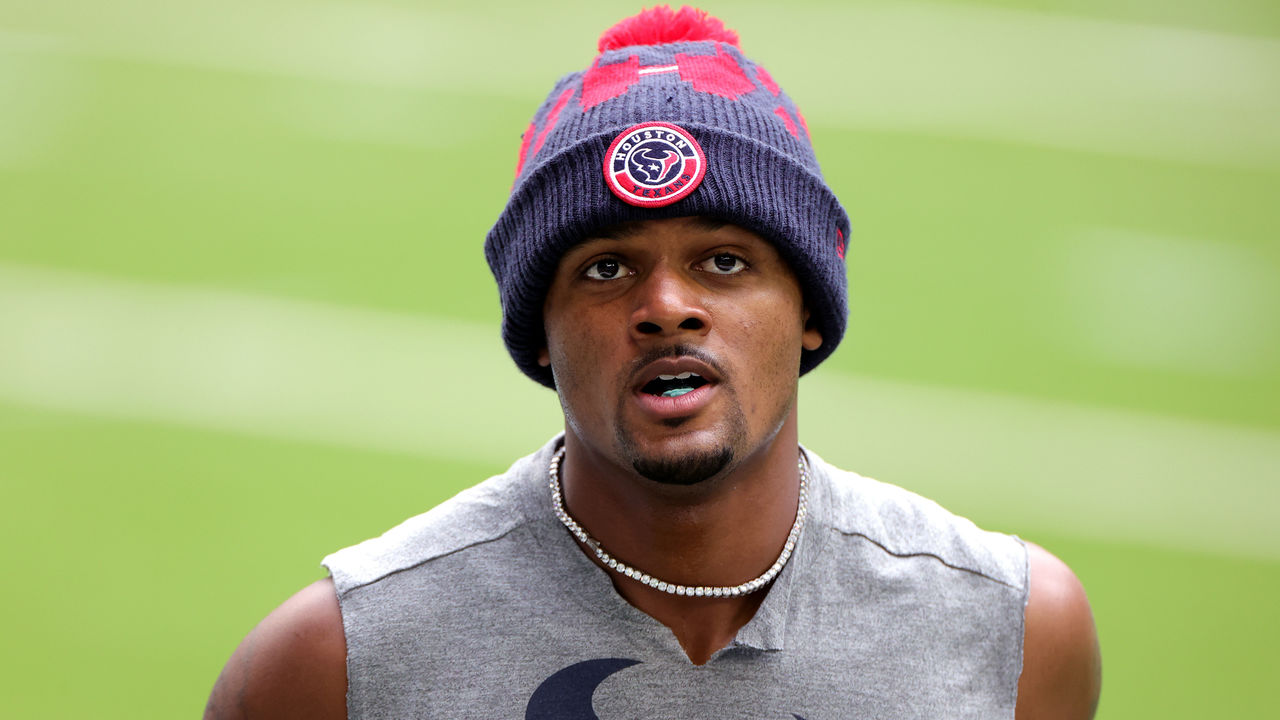 As mentioned above, this deal was probably far more complex than Stafford landing the Lions a bunch of picks and a new quarterback. At least one of those picks was likely a throw-in for the Lions to take Goff's contract.
Think of it this way:
Lions trade Stafford for first- and third-round pick
Rams attach first-rounder to Goff to dump his contract
In that sense, this shouldn't really impact Watson's value. It should be sky-high, to be clear, but suggesting Watson should go for, say, five first-round picks just because Stafford went for two misses the point that not all the picks involved in this deal were simply about getting the Lions value for Stafford.
Having said that, you can bet the Texans will do anything they can to pump up Watson's price. If that means using this deal as a barometer and demanding assets upon assets be added on top, of course, they'll do that. As they should.
Whether they're successful and whether this further complicates Watson's efforts to force his way out of Houston remain to be seen. But one thing is for certain: The Stafford deal didn't do him any favors.
Winner: Sean McVay
Make no mistake: The Rams are Sean McVay's team.
Les Snead may be the general manager, but Goff is on his way out likely because McVay decided he wasn't going to put up with mediocre quarterback play any longer. So the Rams got aggressive.
The cost of adding Stafford and dumping Goff, both in terms of future draft capital and 2021 cap space, is steep; so steep, in fact, that most teams likely wouldn't even consider this type of move. As we've seen with countless others, the default is riding it out and hoping you can salvage the middling quarterback you talked yourself into paying like a superstar.
But McVay knows how close his Rams are to a Super Bowl title, and he no doubt saw Stafford as the missing piece. So while the lack of draft picks will hurt, it'll all be worth it if this pushes L.A. over the top.
The Rams deserve criticism for paying Goff what they did when they did it. At best, he was the kind of quarterback you'd have wanted to see more from before committing long term. To their credit, though, they didn't accept their fate at the QB spot. And now they've got a legitimate Super Bowl window to pursue as a result.
Loser: Eagles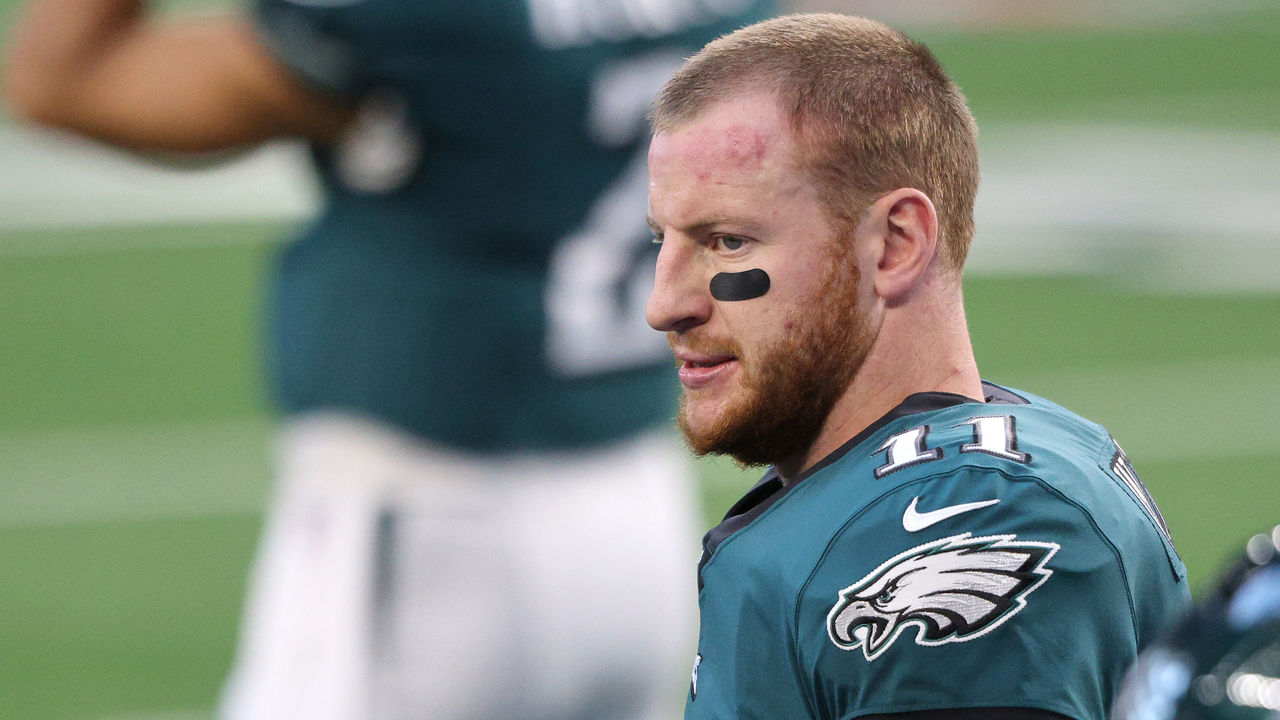 Market value is everything in the NFL. It's not hard to figure out what contracts might look like when premier players are up for extensions because the negotiating parties tend to find a comparable (typically the highest-paid player at the position) and work from there. Certain trades operate similarly.
That's why, if the Eagles had any plans of moving on from Carson Wentz this offseason, there won't be many fans of the Goff deal in Philadelphia. The infamous Osweiler salary dump, in which the Texans sent the Browns a second-rounder to take on the quarterback's contract, was one thing. A first-round pick is a much tougher pill to swallow, especially for a non-contender.
The Rams could justify parting with a second first-round pick because, with Stafford on the way in, this is a team that should be contending for several years. Philly never would have given up the No. 6 pick in this year's draft to get rid of Wentz, but even a first-rounder in 2022 is a dangerous proposition given this could be a lot more than a one-year rebuild project.
Barring a team completely falling in love with Wentz, which is difficult to imagine given his 2020 season, it seems unlikely that he's going anywhere.
Comments
✕
Winners and losers from the Stafford-Goff blockbuster
  Got something to say? Leave a comment below!