10 takeaways from Week 11
L to R (Getty Images): Chris Graythen/Rob Carr/Carmen Mandato
Sunday Rundown recaps the most important developments from the day's action and examines the significance of those events moving forward.
Mahomes magic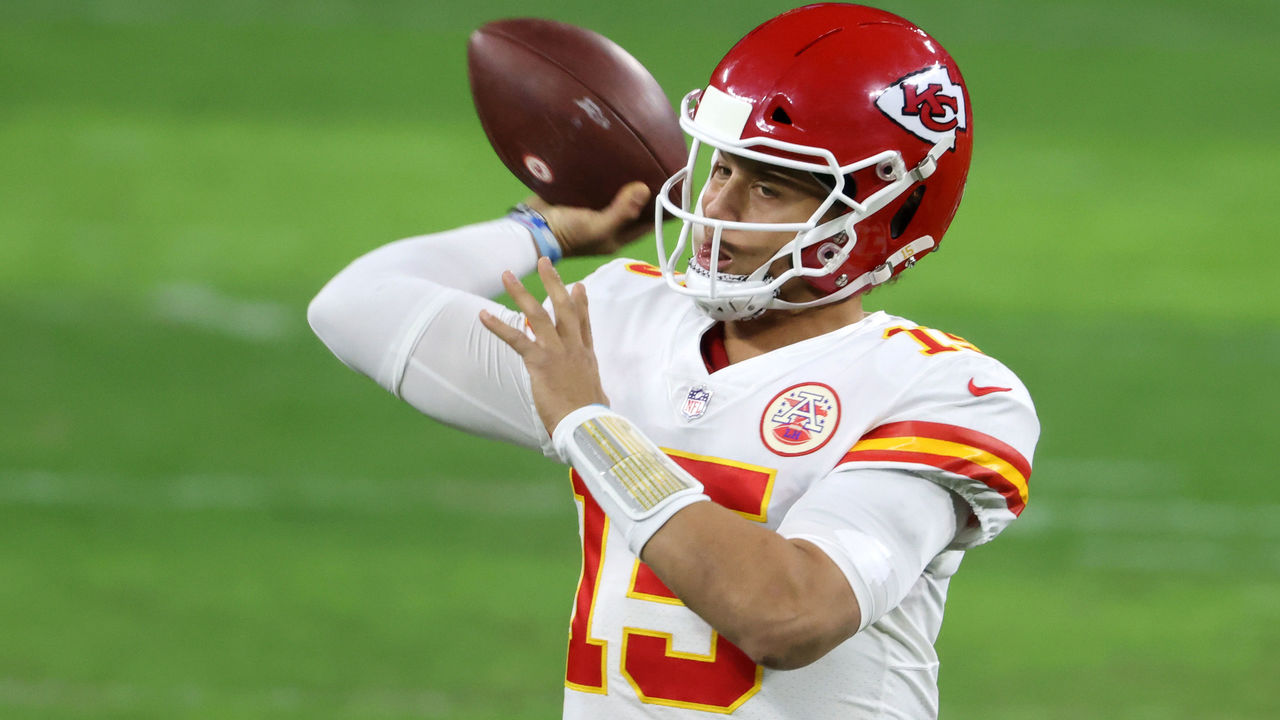 At this point, the thing with Patrick Mahomes is it's less about what he can do and more about how ordinary it's become to expect him to do it.
Mahomes was having another sensational night, but the Kansas City Chiefs trailed the Las Vegas Raiders by three points when he got the ball at his own 20-yard line with 1:43 remaining. Derek Carr, the Raiders quarterback who already hung 40 points on the Chiefs to beat them earlier this season, had a terrific night as well. Carr looked to be on the brink of defeating Mahomes again, but any amount of time the Chiefs signal-caller gets on the clock to win the game seems to be too much.
Seven plays and six Mahomes completions to four receivers later, and the Chiefs were in the end zone with 28 seconds to spare.
All told, Mahomes completed 34 of 45 passes for 348 yards, two touchdowns, and an interception - just his second of the year. He did it every which way: from the pocket, on the run, off his back foot, and by making quick reads to beat the blitz. It's simultaneously remarkable and routine. It's what he does.
Taysom's time comes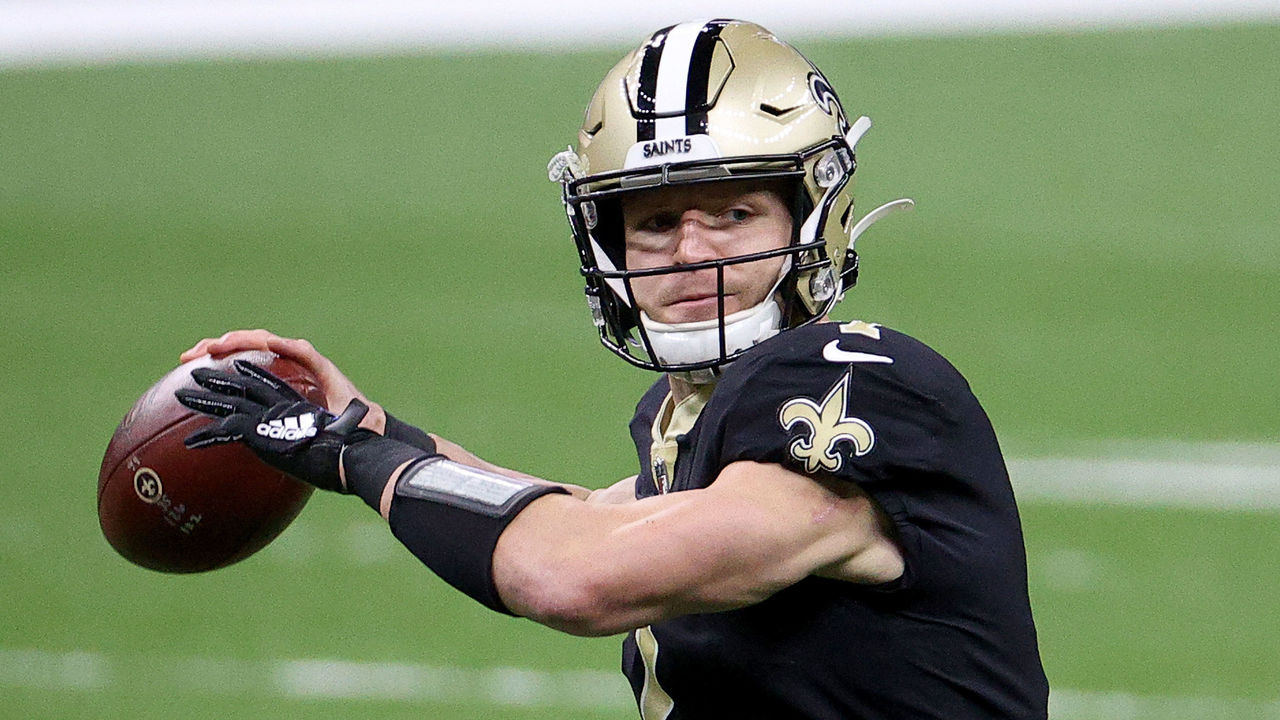 Sean Payton's curious decision to start quarterback Taysom Hill instead of Jameis Winston worked out for the New Orleans Saints. Hill completed 18 of 23 passes (78.2%) and averaged 10.1 yards per attempt. Two of those incompletions were drops by Michael Thomas and Alvin Kamara. Hill also rushed for an additional 51 yards and two touchdowns, though he lost a fumble. Who needs Drew Brees?
In all seriousness, Hill played about as well as Payton could have wanted, in large part because the head coach cooked up a play-action-heavy game plan that took advantage of Hill's running ability. Hill's lone deep pass attempt was an arm punt caught by Emmanuel Sanders. But he was also 4-for-5 for 73 yards on intermediate-range throws (10-19 air yards), per Next Gen Stats, and he targeted Thomas 12 times overall. Thomas wound up with nine catches for 104 yards.
Still, according to nflfastR data, Hill had a dropback EPA/play of just 0.04, and his estimated QBR was 59.2, which would rank in the bottom-third of the league. Anyone ready to start designing a bust in Canton for Hill might want to slow their roll.
Brees is on injured reserve with multiple broken ribs. He can't return until Week 14, at the earliest. The Saints have to play at the Denver Broncos and at the Atlanta Falcons between now and then.
The Saints' D is legit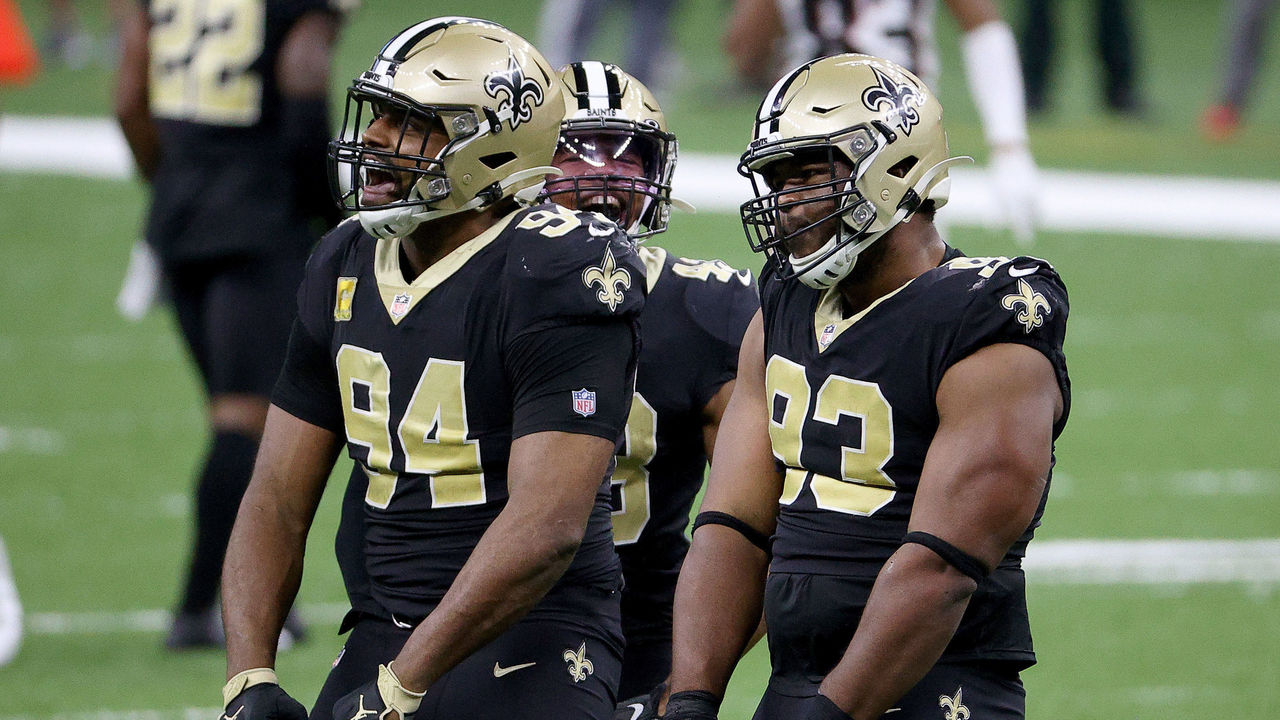 Saints fans can and should feel damn good about the way their defense is playing. A unit that came in ranked fifth in defensive DVOA - and first against the run - made life hell for Atlanta QB Matt Ryan.
New Orleans finished with eight sacks, 11 hits, two interceptions, and 11 passes defended. It was a banner day for inside linebacker Demario Davis, defensive tackles Cameron Jordan and David Onyemata, and defensive end Trey Hendrickson. The Falcons converted just two of 14 third downs all game and managed only 87 total yards in the second half. The Saints did all of this without injured cornerback Marshon Lattimore.
New Orleans has given up 25 total points in its last three games. No matter what Hill does until Brees comes back, that's the kind of defensive performance that can keep the Saints atop the crowded NFC, where just two games separate them from the conference's No. 7 seed.
What in the world is wrong with Carson Wentz?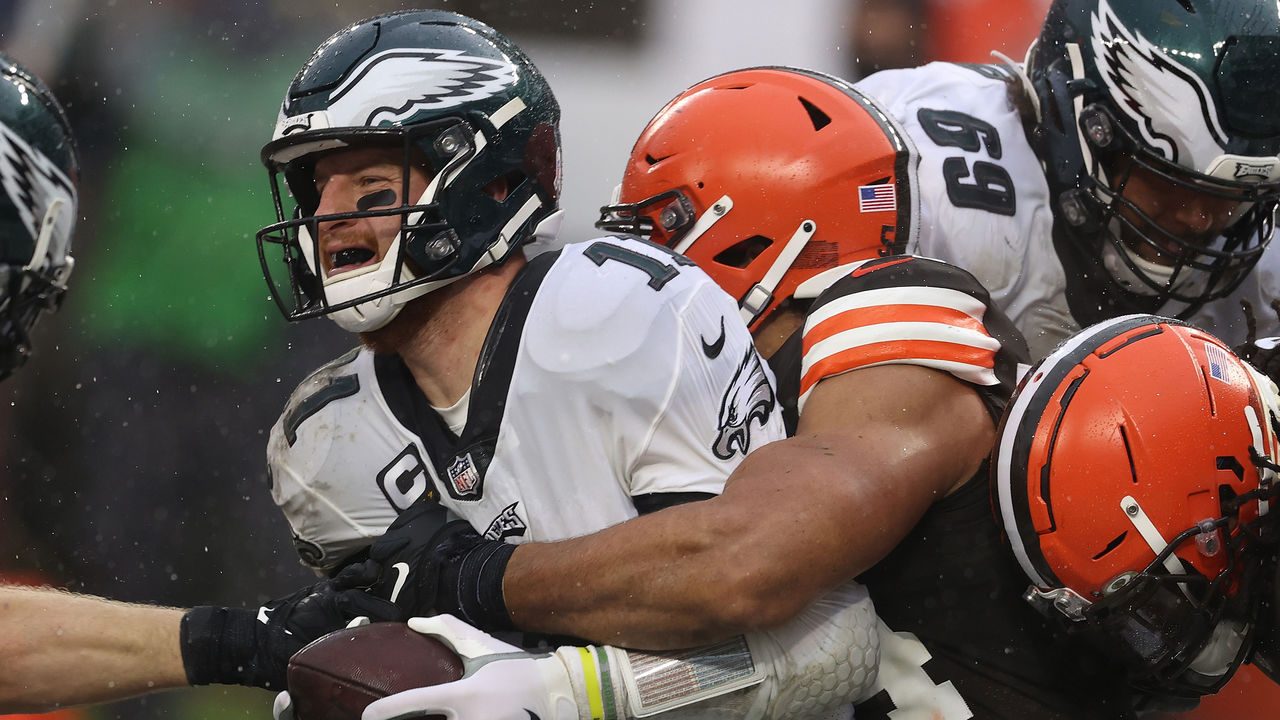 The Philadelphia Eagles have endured a staggering number of injuries to their offensive line and receiving corps. But it's no longer possible to spit-shine quarterback Carson Wentz's performance by citing those excuses. In Sunday's loss at the Cleveland Browns, Wentz was hot garbage - and it's a trend.
Wentz threw an awful pick-6 and another brutal interception near the goal line as the Eagles tried to come back in the waning minutes. He was also sacked for a safety on a play he seemed to have no feel for the pressure or situation.
Wentz's 14 picks and 40 sacks are both league-worsts - and no one else is close. He also leads the NFL with 10 fumbles. Philadelphia used a second-round draft pick on Oklahoma's Jalen Hurts to be Wentz's insurance policy. And yet ...
The punchline here is the Eagles are 3-6-1 and still lead the NFC East, with the New York Giants, Washington Football Team, and Dallas Cowboys all tied and a half-game back from Philadelphia. What a race!
Browns, Titans get huge wins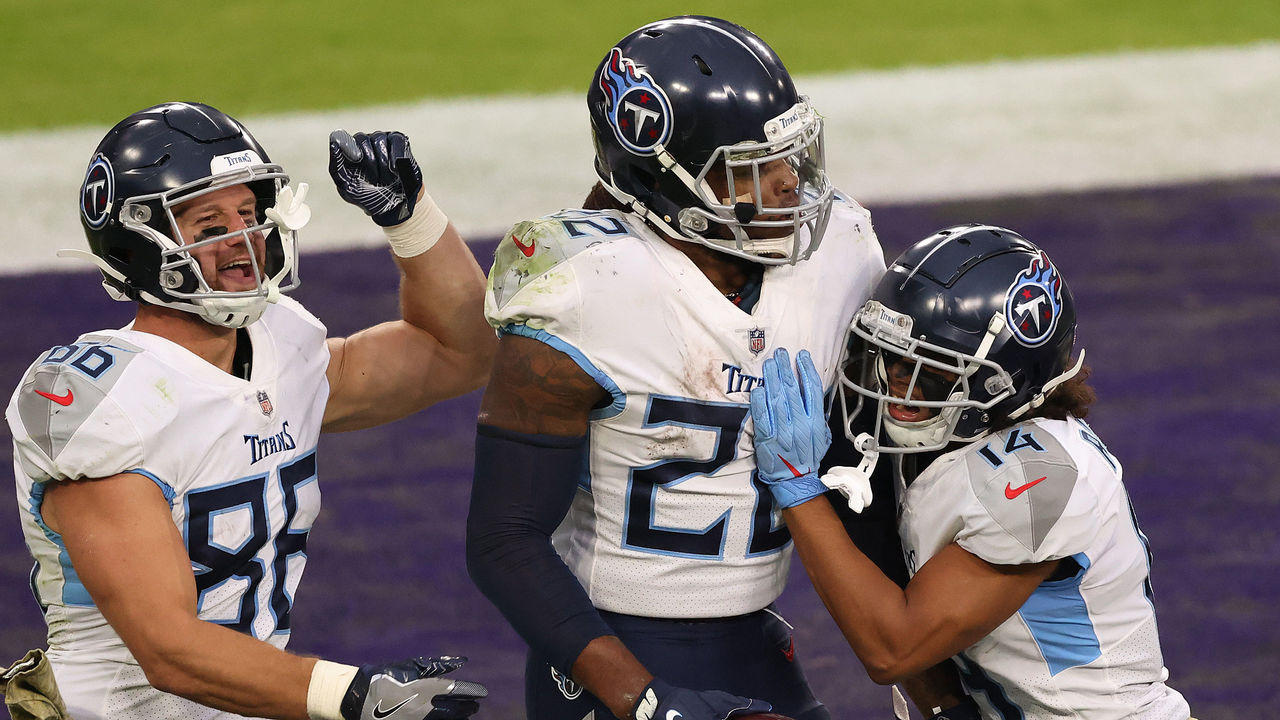 The Cleveland Browns and Tennessee Titans held serve with important victories that keep them in the thick of the AFC playoff race. Yes, that's right: The Browns are now 7-3 and in second place in the AFC North. The Titans are also 7-3 and tied with the Indianapolis Colts atop the AFC South.
The Browns leapfrogged the Baltimore Ravens because of the Titans' overtime win at Baltimore. Even without edge rusher Myles Garrett, Cleveland put up another solid defensive performance. The Browns also won again even though Baker Mayfield (12 completions, 0.10 EPA/play) has more or less been reduced to a game manager who makes car insurance commercials.
The Browns are at the 1-9 Jacksonville Jaguars next week before heading to Nashville to face the Titans on Dec. 6. The Titans are at the Colts before hosting the Browns.
The world may not be ready for the Browns as a playoff team, but we've got a couple of weeks to either brace ourselves for the possibility or watch the Browns do familiar Browns stuff.
Whew!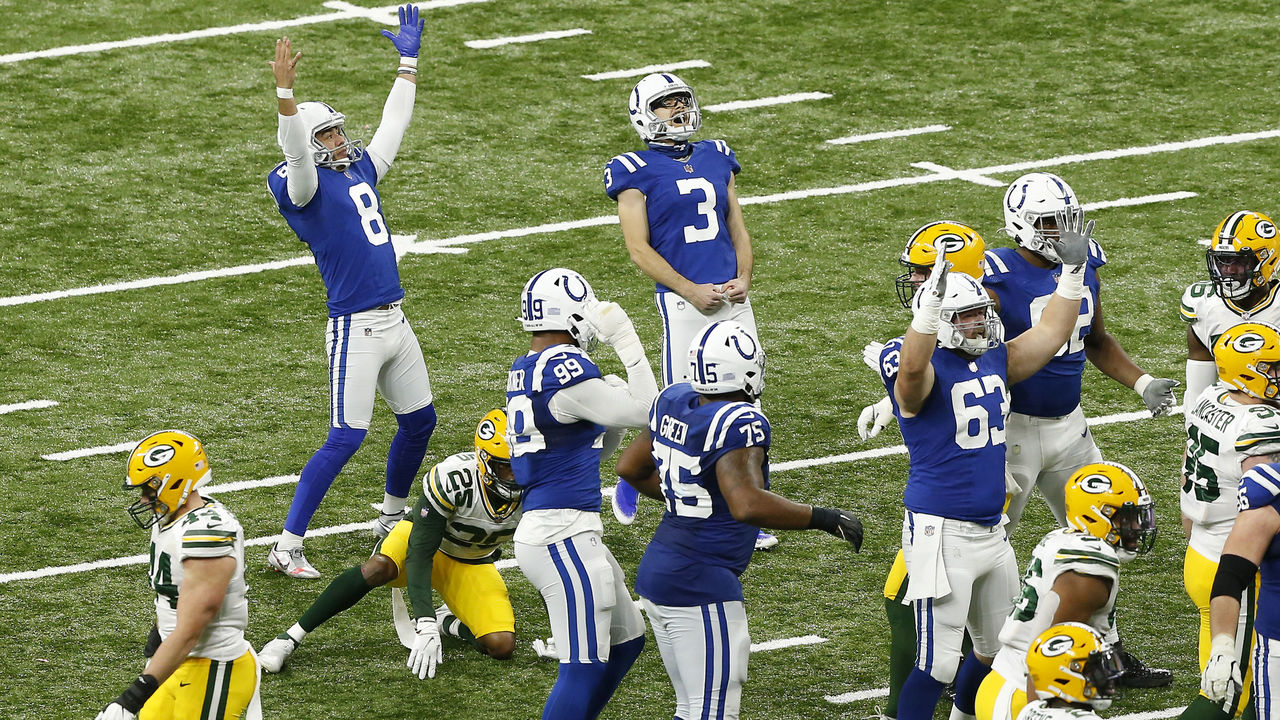 The Indianapolis Colts managed to hold off the Green Bay Packers despite themselves, which is something a good team does, I guess?
The Colts spotted the Packers a 14-point lead, fought back to tie, then got penalized five times during a late drive as they attempted to put the game away before getting bailed out by a review in which the replay official ruled that Philip Rivers' fumble returned for a touchdown was actually incomplete.
Indy allowed Green Bay to tie it at the end of regulation, but Julian Blackmon stripped Marquez Valdes-Scantling on the second play of overtime. Four snaps later, Rodrigo Blankenship won it with a 39-yard field goal.
Defense continues to be a major issue for the Packers, while the Colts have won four of five while getting just enough from Rivers. Indy can complete a sweep of the Titans next week to effectively give it a two-game lead in the AFC South.
Poor Joe Burrow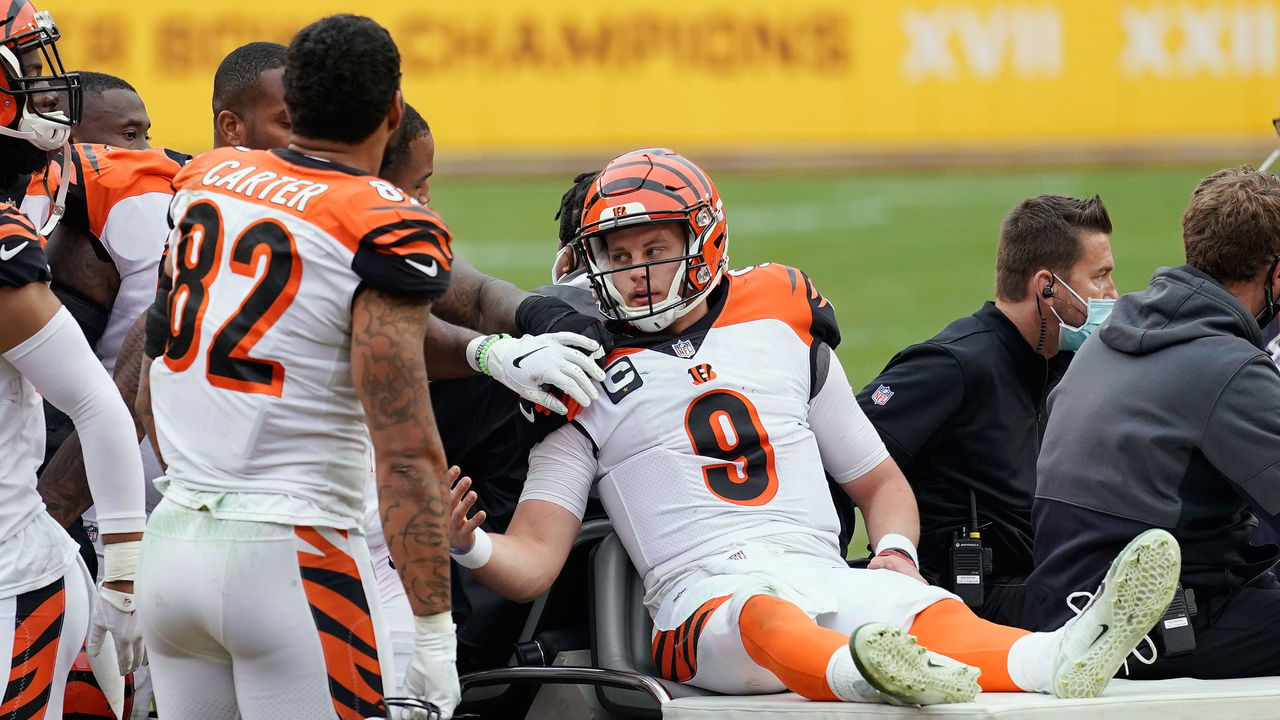 Cincinnati Bengals rookie Joe Burrow, the 2019 Heisman Trophy winner and this year's No. 1 draft pick, was producing as good a season as a QB on a crappy team might have been expected to have. Now he's done for the year with what's likely a torn ACL. Burrow should recover, but he's got a long, grueling rehabilitation in front of him, and that's a shame.
The only question is, how did Burrow manage to last this long behind Cincy's cheesecloth of an offensive line and in a system that frequently had him operating in spread formations with an empty backfield? Football's a contact sport and injuries are random occurrences, but the Bengals were playing with fire for most of the season. Now the franchise's biggest building block is on the shelf for the foreseeable future.
This was great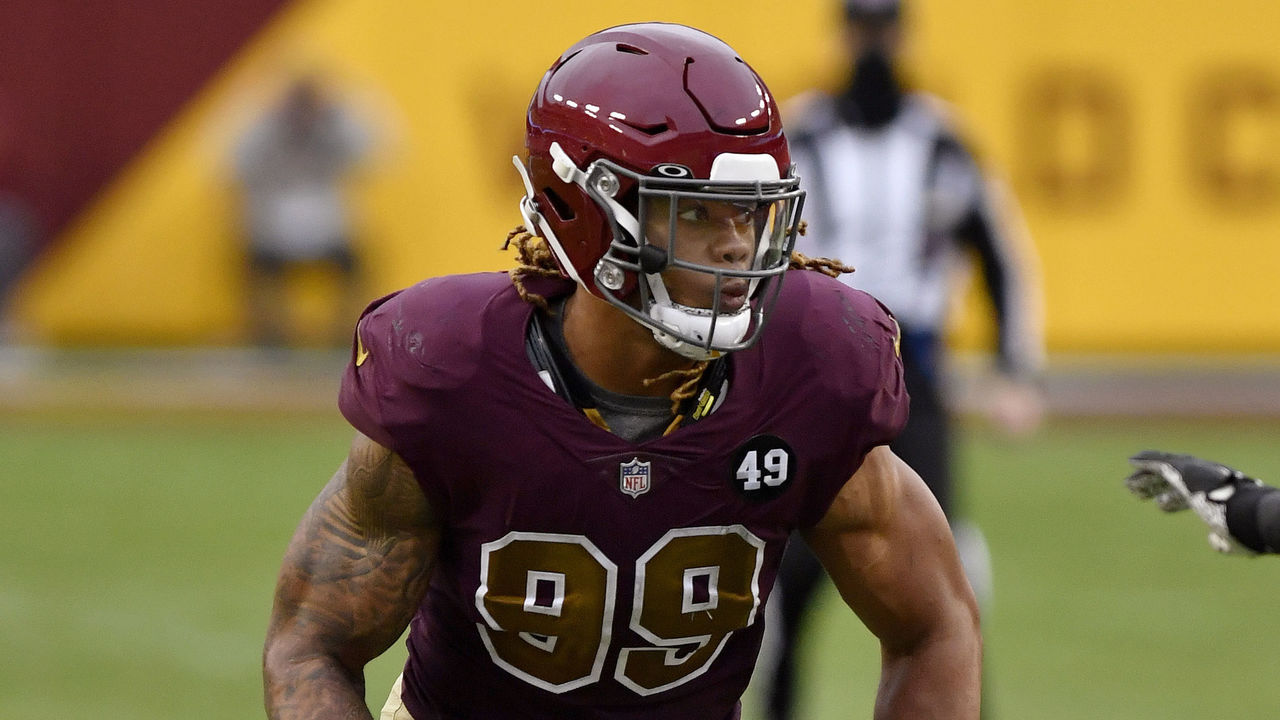 Burrow was involved in one of the season's most hilarious plays before his injury.
Early in the second quarter, on fourth-and-goal from Washington's 3-yard line, Burrow was flushed from the pocket and rolled to his right, only to have Chase Young pop him as he neared the goal line, jarring the ball loose. Washington appeared to scoop it up, only to fumble it into the end zone, where it was recovered for a safety.
But, wait. Bengals right guard Quinton Spain was whistled for holding. That left Washington head coach Ron Rivera with the option of accepting the penalty and having the Bengals kick a field goal, or declining it and taking a safety. Rivera accepted.
But, wait, again! Because all scoring plays are subject to replay review, this one got a second look. The replay official decided that, no, Washington safety Kamren Curl hadn't possessed the ball before knocking it back into the end zone. The play wound up being a touchback.
Join me in gazing in absolute wonder at the play-by-play description from the official game book:

The NFL rule book remains a comical, confounding mess.
Deshaun deserves better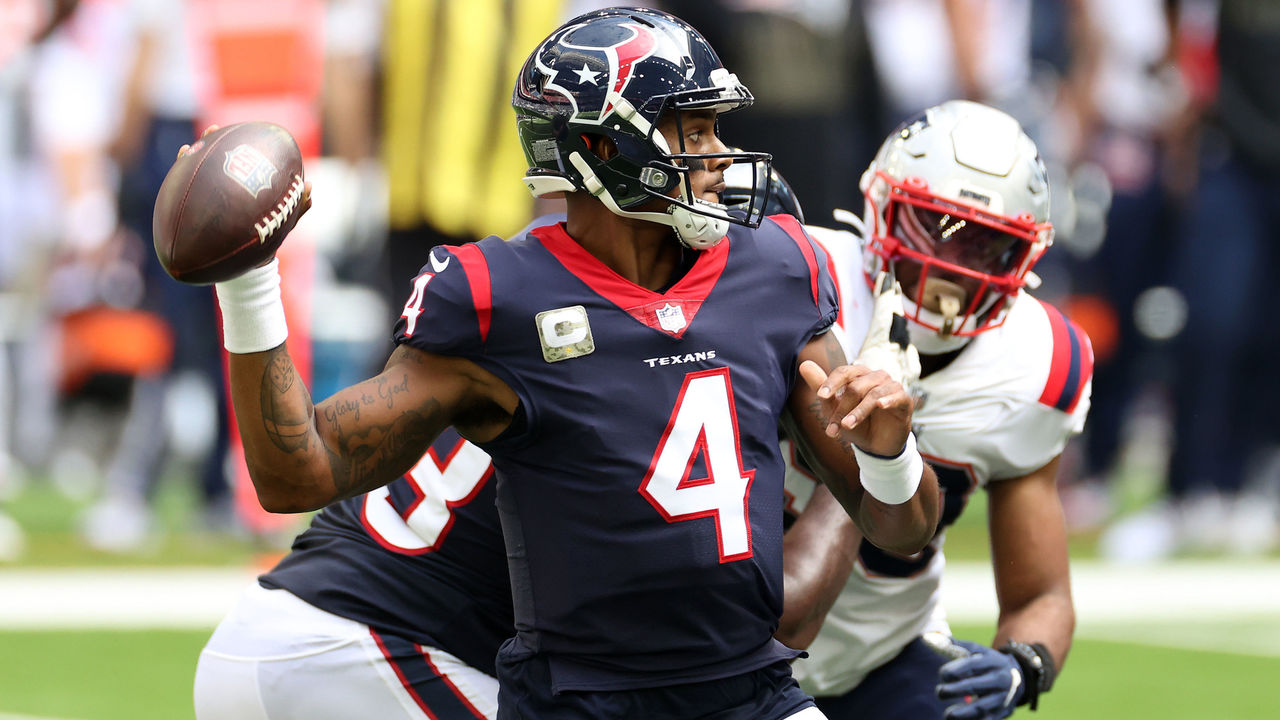 In case it wasn't clear already, the Houston Texans really do risk wasting Deshaun Watson's prime thanks to Bill O'Brien's ineptitude as a general manager.
Watson threw for 344 yards and posted an EPA/play of 0.43 in the Texans' win over the New England Patriots. He also rushed for a team-high 36 yards and a touchdown in which he bulldozed Pats safety Devin McCourty into another dimension - and he did it all with left tackle Laremy Tunsil out with a shoulder injury. Granted, the Pats are ranked last in defensive DVOA and used way too many three-man rushes to compensate for how poor their coverage is, but Watson keeps having games like this even as Houston has stumbled to a 3-7 record.
Watson entered Week 11 ranked sixth in DYAR and fifth in QB DVOA, and he now ranks fifth in EPA/dropback. Yet he's on a losing team that traded away DeAndre Hopkins and has no first- or second-round picks in next year's draft. O'Brien, who was fired as head coach and GM after Week 4, might be gone, but this game was a reminder that the fallout of his poor decision-making possibly stands to hinder Watson's chances of winning for a long time.
Tua benched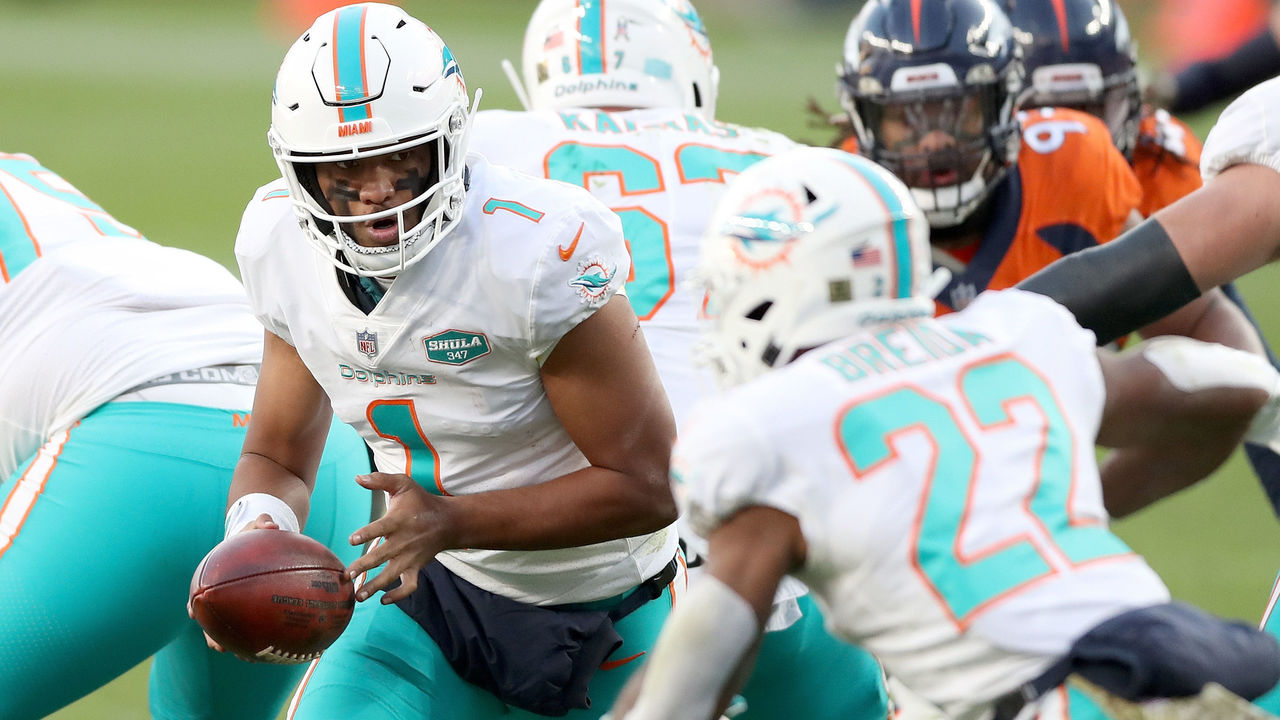 Tua Tagovailoa was 11-for-20 for just 83 yards and a touchdown when head coach Brian Flores lifted him for Ryan Fitzpatrick in the fourth quarter of the Miami Dolphins' eventual loss to the Denver Broncos. But why?
Tagovailoa took a hit that appeared to injure his foot, but Flores said afterward he made the switch because of performance. Fitzpatrick promptly marched Miami toward a field goal, but he also threw a game-ending interception deep in Denver territory. That's what can happen on the Fitzcoaster.
The Dolphins won five in a row largely because of their defense and special teams, which is a big part of the foundation they're building around Tagovailoa. They're still a borderline playoff team, but Flores' quick hook is an indication it's often difficult to make a smooth ascent with a rookie QB. It's also a sign that Flores needs to be careful not to damage Tagovailoa's confidence by yanking him at the first sign of trouble. The Dolphins get the Jets next, at least. That ought to help.
Dom Cosentino is a senior features writer at theScore.