How the Dolphins engineered such a quick turnaround
Photo illustration by Nick Roy / theScore
Remember when the Miami Dolphins were tanking? Remember how they traded away their left tackle and free safety and started a season with seven losses? Remember how they were on pace to become one of the worst teams in NFL history?
Believe it or not, that was just 13 months ago.
The Dolphins finished 2019 with five wins in nine games, and they're 6-3 this season. Miami has won five straight and is just a half-game behind the Buffalo Bills for first place in the AFC East. If the playoffs were to begin this weekend, the Dolphins would be the conference's No. 6 seed.
What happened? How did Miami manage to turn things around so quickly? And where do the Dolphins go from here?
The answer begins with second-year head coach Brian Flores, who has so far succeeded in implementing the Bill Belichick model in ways other former New England Patriots assistant coaches have not. General manager Chris Grier has built a roster that allows Flores to implement the sort of style he wants to play. This, in turn, has created a solid foundation around rookie quarterback Tua Tagovailoa, who, let's remember, has started just three games.
Let's look at the roster. The Dolphins' 2019 Fish Tank allowed them to enter free agency with nearly $90 million in salary-cap space and 14 draft picks, of which they wound up using 11, including six of the top 70 selections. Miami made a point of shoring up its offensive line and its defense.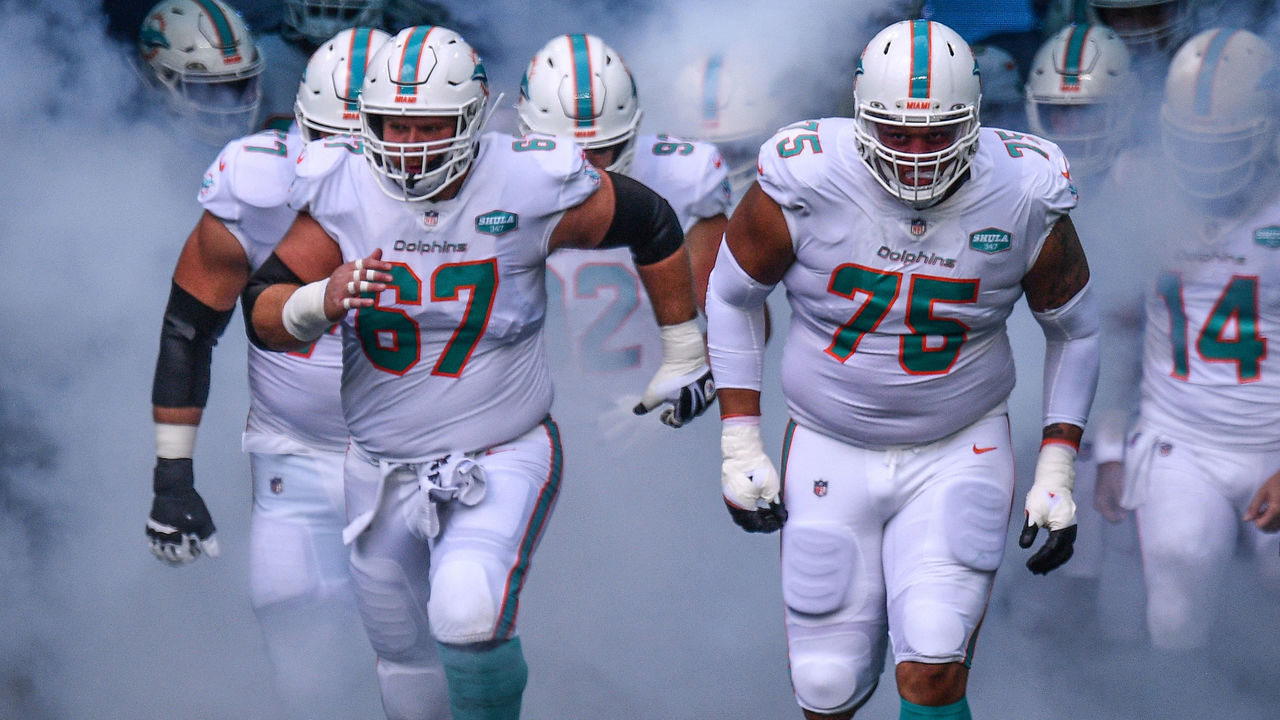 Along the offensive line, the Dolphins signed left guard Ereck Flowers and center Ted Karras in free agency, then used the No. 18 pick (acquired from Pittsburgh in the Minkah Fitzpatrick trade) on left tackle Austin Jackson. They used a second-rounder on guard/tackle Robert Hunt and a fourth-rounder on right guard Solomon Kindley. Right tackle Jesse Davis is the only starting holdover from last year when Miami's O-line finished dead last in adjusted line yards and 28th in adjusted sack rate.
This year's O-line group isn't great - it' still just 28th in adjusted line yards - but it's better than it was last year, which was the whole idea. It was widely assumed that the Dolphins were tanking to draft Tagovailoa, and even though their second-half turnaround last season bumped them down to the No. 5 pick, they were able to select Tagovailoa anyway, owing to a hip injury that had cast doubt on his recovery timeline. Thus it was a priority to protect him while using Ryan Fitzpatrick - who started the season's first six games - as a bridge. Miami has given up just 14 sacks, tied for the 10th-fewest in the league.
Defense and special teams, however, are where the Dolphins have made the biggest strides. They had signed cornerback Xavien Howard to a lucrative extension as early as possible - in May 2019, after his third season. Howard missed 11 starts due to injury last year, but he's notched five interceptions this season. Then, this offseason, Miami landed Byron Jones, the top free-agent corner on the market, before using the No. 30 pick on cornerback Noah Igbinoghene.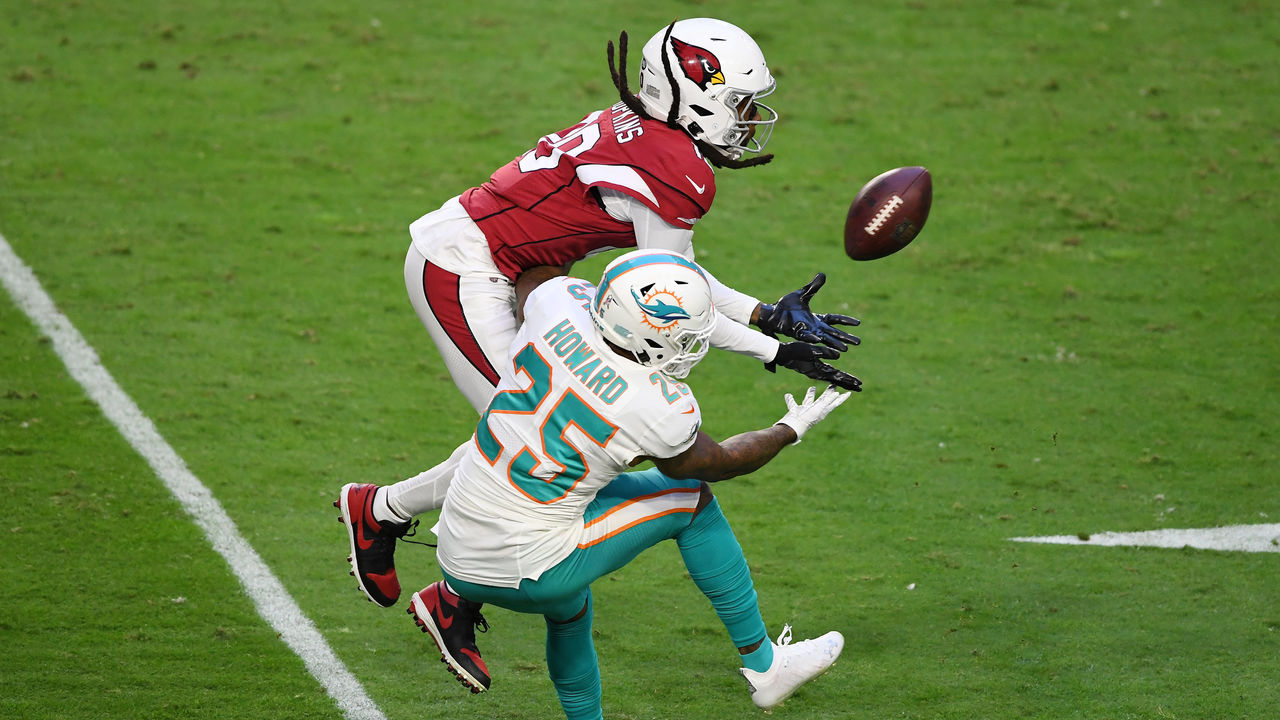 "With as many investments as the team has made at the position, it is clear Flores wants as many cornerbacks who can handle man coverage as often as possible - a page straight out of the Bill Belichick book of defense," Derrik Klassen wrote in this year's Football Outsiders Almanac.
Miami ranked last in the league in pressure rate last season (16.5%), so fixing the defensive front was another priority. The Dolphins signed free-agent defensive ends Emmanuel Ogbah and Shaq Lawson, both of whom are capable of playing outside the offensive tackle (5-technique) and outside the offensive guard (3-technique).
"Neither are ace pass-rushers," Klassen wrote, "but in Flores' scheme, that is fine considering much of their pressure is expected to be created through deception and overwhelming blitzes, not one-on-one matchups on the edge."
Having several hybrid-type defensive linemen - Christian Wilkins, last year's first-round pick, is another - allows the Dolphins to move players around as interchangeable parts, not unlike what Flores did when he was the Patriots' defensive coordinator. Miami also signed former Patriots linebacker Kyle Van Noy and used its second pick in Round 2 on run-stopper Raekwon Davis.
The improvements have been obvious: Miami's defense is ranked eighth in DVOA against the pass, per Football Outsiders, and seventh in expected points added per play, according to Ben Baldwin's database. They're tied for fourth in both takeaways (15) and turnover differential (plus-5), and six of those takeaways have come in Tagovailoa's three starts.
Miami's defensive personnel has allowed Flores to blitz a lot. The Dolphins are tied for third in the NFL in blitz rate (41.7%), but they're especially adept at coming at teams with uber-aggressive Cover 0 blitzes - man coverage with no deep safety - from all over the place.
As Dan Pizzuta of Sharp Football Analysis pointed out, the Dolphins even ran some Cover 0 with no defensive linemen and a ton of pre-snap movement in last week's win over the Los Angeles Chargers, which forced Justin Herbert into rushing throws like this:
The havoc and confusion that the Dolphins have generated with their zero-blitzes has allowed players like linebacker Andrew Van Ginkel to make splashy plays.
Van Ginkel returned a fumble 78 yards for a touchdown in Week 8 against the Los Angeles Rams. He also blocked a punt near the goal line early against the Chargers, which takes us to something else the Dolphins have been doing well: special teams.
Miami ranks first in special teams DVOA thanks to plays like Jakeem Grant's 88-yard punt-return touchdown against the Rams and exceptional work from kicker Jason Sanders, who is 20-for-21 on field goals. As The Athletic's Mike Sando noted, Miami is just the second team in the last decade to have a positive special teams EPA in the season's first nine weeks.
In fact, defense and special teams have carried the Dolphins while the offense has seen a drop in efficiency with Tagovailoa at quarterback.
There's one final factor to consider, and it's another credit to Flores. According to Sando, the Dolphins rank third in penalties per game (5.3) since the start of 2019 after having ranked 30th (7.7) under Flores' predecessor, Adam Gase.
"Very lightly penalized and strong on special teams," an anonymous league executive told Sando. "That is Page 1 and Page 2 from the book of Bill."
The Dolphins' immediate schedule - away to the Denver Broncos and New York Jets before the Cincinnati Bengals at home - is favorable. Miami then finishes the season with tougher home games against the Kansas City Chiefs and Patriots before closing out against the Las Vegas Raiders and Bills on the road.
It's unlikely the Dolphins can continue to get defensive touchdowns and big special teams plays as they've done in recent weeks. They're unlikely to be a Super Bowl threat this season, but it's starting to look like they're establishing the kind of foundation on which they can keep building in the years ahead.
Dom Cosentino is a senior features writer at theScore.