Let us now praise the unique mediocrity of Ryan Fitzpatrick
Mark Brown / Getty Images
On Sunday, Ryan Fitzpatrick won another game for a team that's designed to lose. Fitzpatrick is the Tank Commander of the Dolphins' front-office effort to not win, yet he's racked up three victories in Miami's last five games.
In a way, it's the perfect encapsulation of Fitzpatrick's itinerant NFL career. He has a tendency to play just well enough to create the illusion of success. That he's now been doing it for 15 seasons is a kind of success in its own right. It's time to give FitzMagic its due, if only because it's such a fantastically high-risk, high-reward joyride.
There's been a neat, circular pattern to Fitzpatrick's time in the NFL, which the Washington Post summed up rather succinctly last year: "Land a backup job, win the starting spot, play well enough to earn a contract, crash back to Earth, repeat." Journeyman quarterback is a well-worn NFL label, but Fitzpatrick may define the term better than anyone.
He has now started games for eight teams, breaking the record of seven he had shared with Chris Chandler and Gus Frerotte. Chase Stuart of Football Perspective noted that Fitzpatrick has now been the Week 1 starter for five franchises, and he's begun the year as a Week 1 starter in seven of the last nine seasons. The Wall Street Journal once reported that he had 141 active NFL teammates. That was three years and two teams ago.
Sunday's win against the Eagles was the 152nd game of Fitzpatrick's career and his 135th start. Since 1950, just 54 other QBs have played in that many games and made that many starts. But the general weirdness of Fitzpatrick's tenure is largely without equal. Pro Football Reference lists Tommy Kramer, Bobby Hebert, Lynn Dickey, Jon Kitna, Steve Bartkowski, Archie Manning, Brad Johnson, Charley Johnson, Neil O'Donnell, and Richard Todd as similar players, statistically. Only Brad Johnson (177) and Charley Johnson (165) have played in more games, and only Manning (139) has made more starts - and Fitzpatrick will tie Manning in that category if he starts the remainder of the Dolphins' games this season.
One final, edifying twist: Like Charley Johnson and Manning, Fitzpatrick has never made it to the playoffs. Wins and losses aren't the best way to measure a quarterback's ability, but there's something striking about Fitzpatrick's career record as a starter: 53-81-1.
"Yeah, Fitzpatrick has a nice long career of being mostly a little bit below average," Football Outsiders creator Aaron Schatz told me. "Which is respectable, given how hard it is to play in the NFL for so long."
How does he do it? Chan Gailey, Fitzpatrick's head coach with the Bills from 2010-12 and his offensive coordinator during both his seasons with the Jets in 2015 and 2016, said Fitzpatrick is indeed intelligent and uber-competitive. But Gailey said Fitzpatrick's most notable quality is how relatable he can be. This again might sound like Football Man-speak - Fitzpatrick is absolutely capable of regaling reporters with pithy quotes and coming across as extremely likable - but Gailey said Fitzpatrick genuinely gets along with everyone. That whole Amish Rifle routine - the beard, the T-shirts around the facility, the wedding ring out there on the field - works to endear him to his coaches and teammates.
"He makes everyone feel special, feel good, feel unique, feel needed," Gailey told me. "He's got a unique sense of humor, and when you're as smart as he is, he knows a little bit about everything, so he can relate to this guy that might come from this background, or this guy that went to that school, or this guy that likes cars, this guy that likes horses - he can relate to everybody. He pays attention. He wants to be that guy."
Gailey's words reminded me of that day last season when Fitzpatrick appeared at a postgame press conference decked out in then-teammate DeSean Jackson's jewelry and clothes: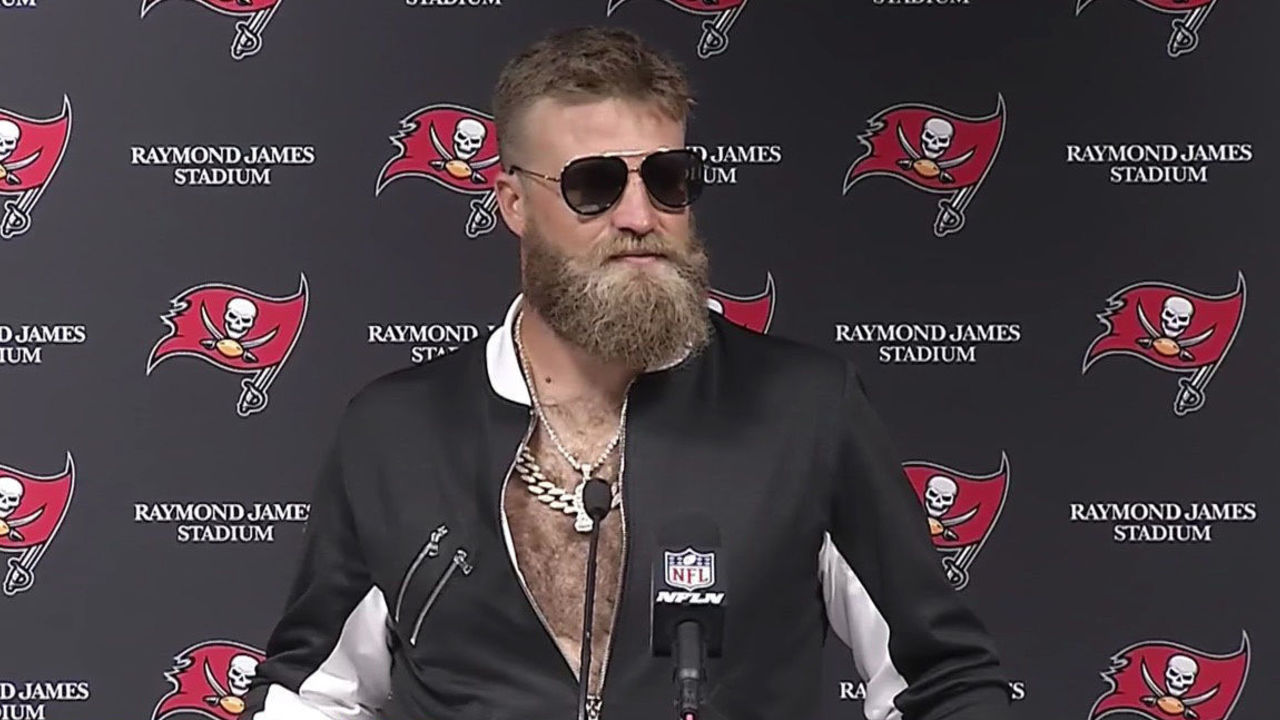 The stunt was vintage Fitzpatrick - in more ways than one. Gailey said Fitzpatrick's ability to relate to his surroundings has helped him build loyalty and trust with his teammates even though he lacks elite-level skills on the field. Also, Gailey said, Fitzpatrick's intelligence is simultaneously his greatest strength and greatest weakness.
"We tried to get him more consistent and talked to him about it," Gailey said. "He knows what they should have done in that defense, and when they don't do it, then he gets messed up. We had a game in Buffalo - we were going to throw a little quick out. It's Cover 2, and they've been jumping the quick out, so he says, 'I'm going to lay it over the top into the hole,' and throws a pick, and we lose the game at the end. That's the way it is. He's smart enough to hit it sometimes, and sometimes it backfires."
The advanced numbers back up Fitzpatrick's magnificent adequacy. Schatz said Football Outsiders has tracked Fitzpatrick as above replacement level based on FO's DYAR metric (defense-adjusted yards above replacement) pretty much every year since 2010. The only exception was 2016, though Schatz acknowledged that a dreadful, six-interception stinker against the Chiefs dragged Fitzpatrick down. At the same time, Fitzpatrick has never ranked in the top dozen in DYAR in a given season, and the only time he even cracked that tier was early last season with Tampa Bay. In 2019, he ranks eighth in Total QBR - ahead of Kirk Cousins, Aaron Rodgers, Matt Ryan, and Tom Brady. But he's also thrown 11 interceptions, sixth-most in the league.
If there's one thing about Fitzpatrick that surprises Gailey, it's that he wants to continue playing. Fitzpatrick and his wife have seven children, and Fitzpatrick turned 37 in November. Per Over The Cap, he's earned $62.5 million over the course of his career. Why keep doing it?
"He's got plenty of money, he's got a great family, all of those kids - I thought he would have gone to (his native) Arizona and just settle down," Gailey said. "But the thrill of victory is an amazing lure."
Fitzpatrick was a long shot to make the NFL back in 2005 out of - all together now - Harvard after he famously scored a 48 out of 50 on the Wonderlic at the combine, back when the Wonderlic was something the football press still took seriously. In a 2015 interview with "The Dan Patrick Show," Fitzpatrick acknowledged that questions about the test were his least favorite and also revealed that his Wonderlic legend was always something of a media creation.
"I come out of the test, and I think NFL Network or somebody - I don't even know if they were around back then, ESPN maybe - came up and said, 'It's been reported you got a 50,'" Fitzpatrick said. "And it's not like you take the test and they give you your score. I said, 'I left one blank, so I definitely didn't get a 50.' So then it was reported I got a 49. Again, everybody's trying to paint the picture. The myth was drawn of all the different test scores."
ESPN's draft profile of Fitzpatrick reads like a bingo card of white QB scouting cliches:
In our opinion, Fitzpatrick isn't likely to ever become a starting quarterback in the NFL but he has enough skill and the ideal intangibles to develop into a backup at the next level. There is so much to like about his competitiveness, decision-making and will to win when studying him on film, which is why we think a team should take a chance on him early on the second day of the draft.
That analysis proved to be fairly prescient. Fitzpatrick wound up going late on Day 2 - in the seventh round, 250th overall, to the Rams. He started three games across two seasons before landing with the Bengals. He made 12 starts for the Bengals in 2008 after Carson Palmer got hurt, then wound up with the Bills, which is where his neat, circular career arc really got going after he took over for Trent Edwards following the firing of head coach Dick Jauron.
Fitzpatrick threw for 3,000 yards in 2010, and in 2011 the Bills started 4-2 with Fitzpatrick throwing for 12 touchdowns and completing 66% of his passes. FitzMagic was a real phenomenon, so much so that the Bills rewarded him in the middle of the season with a contract that included $24 million in guaranteed money. And yet: Buffalo went on to finish 6-10, with Fitzpatrick throwing 17 interceptions in those last 10 games. He was cut after the 2012 season.
| | Record | Pct. | Yds/G | TD | Int | Rating |
| --- | --- | --- | --- | --- | --- | --- |
| First 6 games | 4-2 | 66.3 | 246.2 | 12 | 6 | 95.3 |
| Last 10 games | 2-8 | 59.7 | 235.5 | 12 | 17 | 70.1 |
There was a year with the Titans and a year with the Texans before the Jets traded a conditional seventh-rounder for Fitzpatrick to be Geno Smith's backup. In training camp, Smith's jaw was broken by a teammate during a locker-room skirmish, so Fitzpatrick began the season as the starter. It might have been his Most Fitzpatrick Season of all.
The Jets started 4-1, and Fitzpatrick kept the job even after Smith was cleared to return. They then lost four of their next five before winning five in a row - the last one an overtime victory over the hated Patriots that ended with Fitzpatrick going 3-for-3 for 74 yards to keep the Pats' offense from even taking the field in OT. This joyous interaction with center Nick Mangold during a postgame interview after a Week 15 win at the Cowboys captured the prevailing mood around the Jets at that time. The blood on the bridge of Fitzpatrick's nose added just the right flourish of try-hard grittiness:
FitzMagic was back! The only thing standing in the way of a playoff spot was a road finale against former Jets head coach Rex Ryan and the Bills. Fitzpatrick threw three interceptions in the fourth quarter. The Jets lost.
The following offseason, Fitzpatrick and the Jets engaged in a contract standoff that lasted until midsummer, when the Jets finally caved to his demand for $12 million for one season. Fitzpatrick proceeded to get benched after a 1-5 start that included that six-interception stinker against the Chiefs. He wasn't re-signed and he landed with the Bucs, where he flashed for a bit in relief of Jameis Winston before coming back for a second year. Last season, with Winston suspended, he threw for 400 yards in each of his first three games, which included upset wins against the Saints and Eagles. FitzMagic had been resurrected! The inevitable crash came hard, as it always does.
Fitzpatrick was benched for Winston during a brutal Week 4 defeat, though he did make three more starts later in the season before Winston supplanted him a second time. Now he's in Miami, where he began the season as the starter, only to get benched after losing the first two games by a combined score of 102-10. True to form, he won the job again in Week 7, and here we are. That familiar FitzMagic pattern is back, complete with three wholly unexpected victories. Enjoy it while it lasts.
Dom Cosentino is a senior features writer at theScore.