A rundown of the best games and most interesting trends to watch for in Week 8 of the NFL. All times Eastern.
The race is on
49ers (4-3) at Seahawks (5-1), 4:25 p.m.
Seattle, though coming off its first loss, remains in first place in the NFC West. San Francisco, though down to what seems like its ninth running back and 13th defensive lineman because of injuries, is just 1 1/2 games back … and in last place. Yeah, this is the best division in football - and it's still got a long way to go to sort itself out.
Football Outsiders' overall defensive-adjusted value over average (DVOA) rankings measure team efficiency based on down, distance, situation, and opponent on a per-play basis. All four NFC West teams sit between No. 7 and No. 11, with San Francisco ranked eighth and Seattle coming in at ninth. Football Outsiders' projection model also indicates there's a 38.4% chance the entire NFC West will finish with a winning record.
With the playoffs expanding this season to seven teams in each conference, it's also possible for all four NFC West teams to make it. This seems less likely to happen, however, since the runner-up in the NFC South (the Tampa Bay Buccaneers or New Orleans Saints) figures to be in the thick of the playoff mix, with the Chicago Bears also kinda-sorta hanging around as contenders.
Every in-division NFC West game is huge for the division race, the standings, and tiebreaker possibilities. And only three in-division games have been played thus far, with nine yet to go across the season's final 10 weeks, starting with this one.
| | at SF | at ARI | at LAR | at SEA |
| --- | --- | --- | --- | --- |
| 49ers | | Week 16 | Week 12 | Sunday |
| Cardinals | | | Week 17 | Week 11 |
| Rams | | Week 13 | | Week 16 |
| Seahawks | Week 17 | | Week 10 | |
If there's a factor worth watching - both for this game and going forward - it's the play of Seattle's defense, which is ranked 28th in defensive DVOA, 30th in third-and-long DVOA, and last in both red-zone passing DVOA and third-and-fourth down passing DVOA.
Close encounters
Steelers (6-0) at Ravens (5-1), 1 p.m.
Just how even has the Pittsburgh-Baltimore rivalry been through the years?
Since 2008, the year John Harbaugh took over as Ravens head coach, these teams have met 27 times, including on three occasions in the playoffs. The Ravens lead the series 14-13. The teams have combined to win nine of the last 12 AFC North titles, with Pittsburgh claiming five and Baltimore securing four. They're notorious for not liking each other, and here they are again, meeting in Week 8 with just one loss between them.
This season, Pittsburgh and Baltimore are pretty evenly matched as two of the league's best teams. The Ravens are ranked second overall in DVOA; the Steelers are ranked third. Pittsburgh's defense is the league's second-most efficient, while Baltimore's is third.
Want more? According to Pro Football Reference, the Steelers' D leads the league in pressure rate (37.6%), with the Ravens second (29.2%). And they both blitz more than anyone else - 46.1% for Baltimore, 44.3% for Pittsburgh. According to analyst Ben Baldwin's database, Baltimore's defense ranks first in expected points added per play (minus-0.136), with Pittsburgh second (minus-0.087).
Here's something unusual: Even though the Steelers are sixth in points per game (30.5) and the Ravens eighth (29.8), Baltimore quarterback Lamar Jackson ranks 23rd in defense-adjusted yards above replacement, while Steelers QB Ben Roethlisberger is 20th. The reality is that while both offenses are dangerous and full of playmakers, they're also streaky and inconsistent.
The winner gets a leg up in the division, with the rematch scheduled to be played in Pittsburgh on Thanksgiving night.
This is weird
Colts (4-2) at Lions (3-3), 1 p.m.
In last week's win against the Atlanta Falcons, Detroit wideout Kenny Golladay caught six passes for 114 yards on seven targets despite averaging just 1.45 yards of separation, per Next Gen Stats. Yet the Lions also handed the ball to Adrian Peterson and D'Andre Swift a combined 20 times for a total of 56 yards.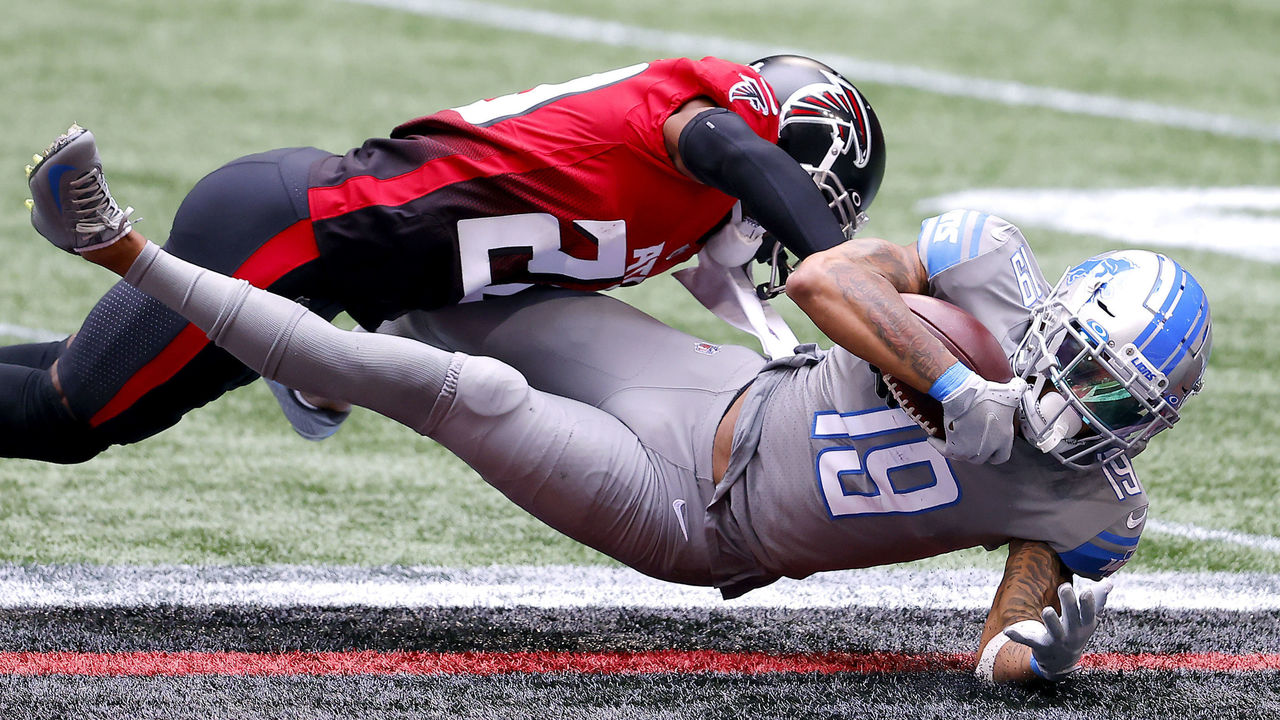 On the season, the Lions' pass rate on early downs (47.9%) is the fifth-lowest in the league, according to Baldwin's database, even though their EPA/play on rushes in those situations (0.136) ranks 24th.
In conclusion, the Lions are weird and they should be throwing the ball more, preferably to Golladay.
Tua time
Rams (5-2) at Dolphins (3-3), 1 p.m.
Miami head coach Brian Flores' decision to bench quarterback Ryan Fitzpatrick for rookie Tua Tagovailoa during last week's bye might seem curious, considering the Dolphins had just won three of four games. But then you remember that Ryan Fitzpatrick is Ryan Fitzpatrick, and it makes perfect sense.
The Dolphins' rebuild is taking shape, but they also used the No. 5 pick in the draft on Tagovailoa with the thought that he'd be their QB of the future. And as Andrew Beaton noted in the Wall Street Journal, the league's rookie wage scale makes it imperative for teams to maximize the time they have to get a quarterback off his training wheels while his contract is still cheap.
For Tua, that time is now, even if it means being introduced to Aaron Donald immediately. Welcome to the NFL.
Strange new world
Patriots (2-4) at Bills (5-2), 1 p.m.
I'm not sure I'm ready to live in a world in which the New England Patriots have been stuffed into a trash can by the day after Halloween, but that very well could be the world we now inhabit.
How far have the Pats fallen, and how quickly? After their Week 2 shootout loss at the Seahawks, it looked like Cam Newton would be a suitable replacement for Tom Brady. Since then? Not so much.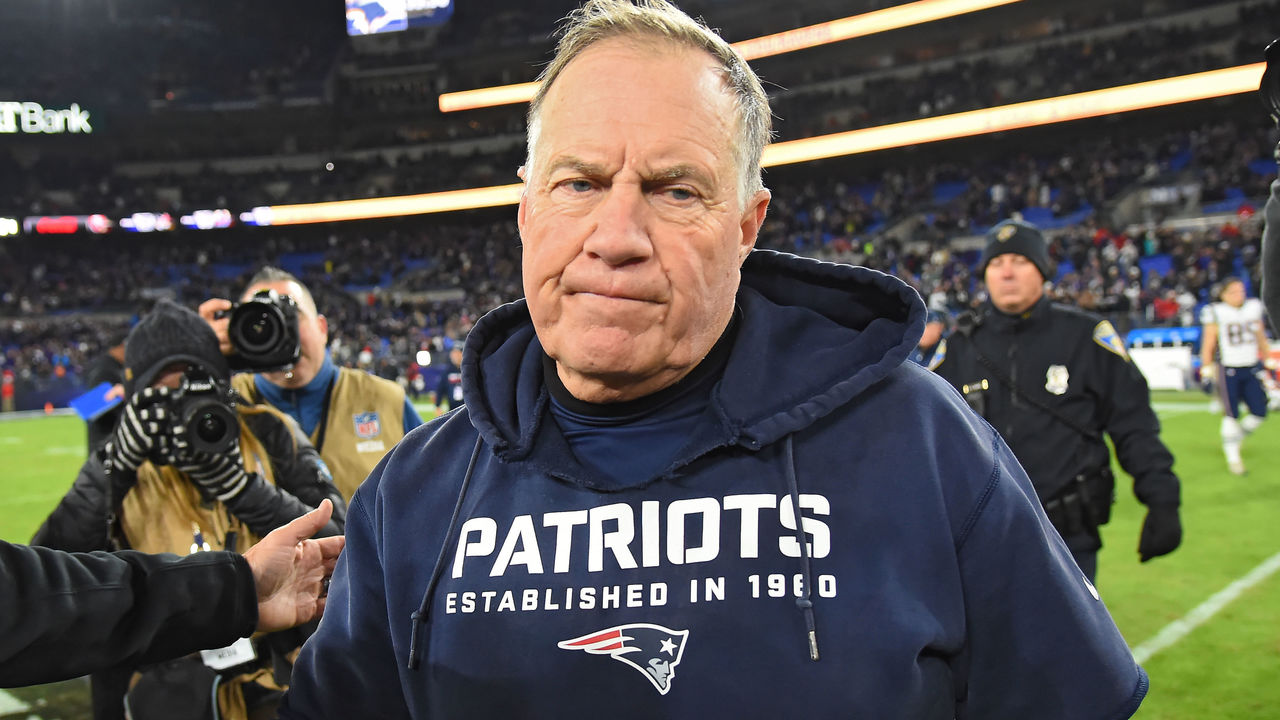 As Mike Sando of The Athletic noticed, the Patriots ranked eighth in offensive EPA/play in their first three games. But in the three games since, they're last - below even those janky New York Jets, a team that managed a total of 4 yards of offense in the second half last week.
The Patriots obviously aren't as good as they were early in the year, and they may not be as bad as they've looked lately. But unless they can somehow spook the Bills like they've been able to do for the last 20 years, they're about to be 3 1/2 games back in the AFC East and careening toward irrelevance. It's been dangerous to count the Patriots out in the past, but if they lose this one, it might be time.
Dom Cosentino is a senior features writer at theScore.