Week 2 Preview: 2 QBs and 2 RBs look to maintain positive changes
Maddie Meyer / Getty Images
A rundown of the best games and most interesting trends to watch for in Week 2 of the NFL. All times Eastern.
Jamal Adams vs. Cam Newton
New England (1-0) at Seattle (1-0), 8:20 p.m.
Sunday night's Patriots-Seahawks throwdown is shaping up to be the best potential chess match of Week 2.
The Patriots leaned into Cam Newton's ability to run the ball in last week's win over the Dolphins, which also included a heavy dose of play-action (50%, per PFF), both power and zone-read runs, and formations with two tight ends and two extra tackles, which looked like this:
Against the Seahawks, Newton and the Pats will face jackknife safety Jamal Adams, who was everywhere in a Week 1 win at Atlanta. Adams lined up all over the place and accounted for 12 tackles, including two for a loss, in addition to a sack and two quarterback hits.
Adams also rushed the passer 10 times, which is the most a Seahawks defensive back has done so since Sportradar began charting such things in 2015, according to The Athletic's Sheil Kapadia. How will Newton and the Patriots attack Seattle, and how will the Seahawks use Adams to counter that attack?
RB controversy in Pittsburgh?
Denver (0-1) at Pittsburgh (1-0), 1 p.m.
As the Pittsburgh Steelers gear up for their home opener Sunday against the Denver Broncos, head coach Mike Tomlin has a decision to make at running back.
James Conner has been the Steelers' feature back the last two seasons, but he also missed nine games during that time because of injuries. Conner also left Monday night's win at the Giants in the second quarter with a bum ankle, only to have Benny Snell Jr. rush for 113 yards on 19 carries as his replacement.
Snell, a 2019 fourth-round pick out of Kentucky, rushed for 426 yards and a pair of touchdowns last year. He slimmed down this offseason, telling reporters during training camp he was down to 212 pounds even though he had been listed at 224.
Snell did have one fumble Monday night, but he was bailed out by receiver JuJu Smith-Schuster's recovery. Snell picked up the blitz on Ben Roethlisberger's second-quarter touchdown pass to Smith-Schuster, and more than half of Snell's rushing yards (60) came after contact, per Sports Info Solutions. That could be an important factor given the injuries along the Steelers' offensive line.
Starting right guard David DeCastro missed Monday's game and hasn't practiced all week. His replacement, Stefan Wisniewski, injured his pectoral muscle late in the game and hasn't practiced all week either. And starting right tackle Zach Banner tore his ACL one play after Wisniewski went down.
Conner returned to practice Thursday, but Snell may be the better option now. How will the Steelers deploy them Sunday?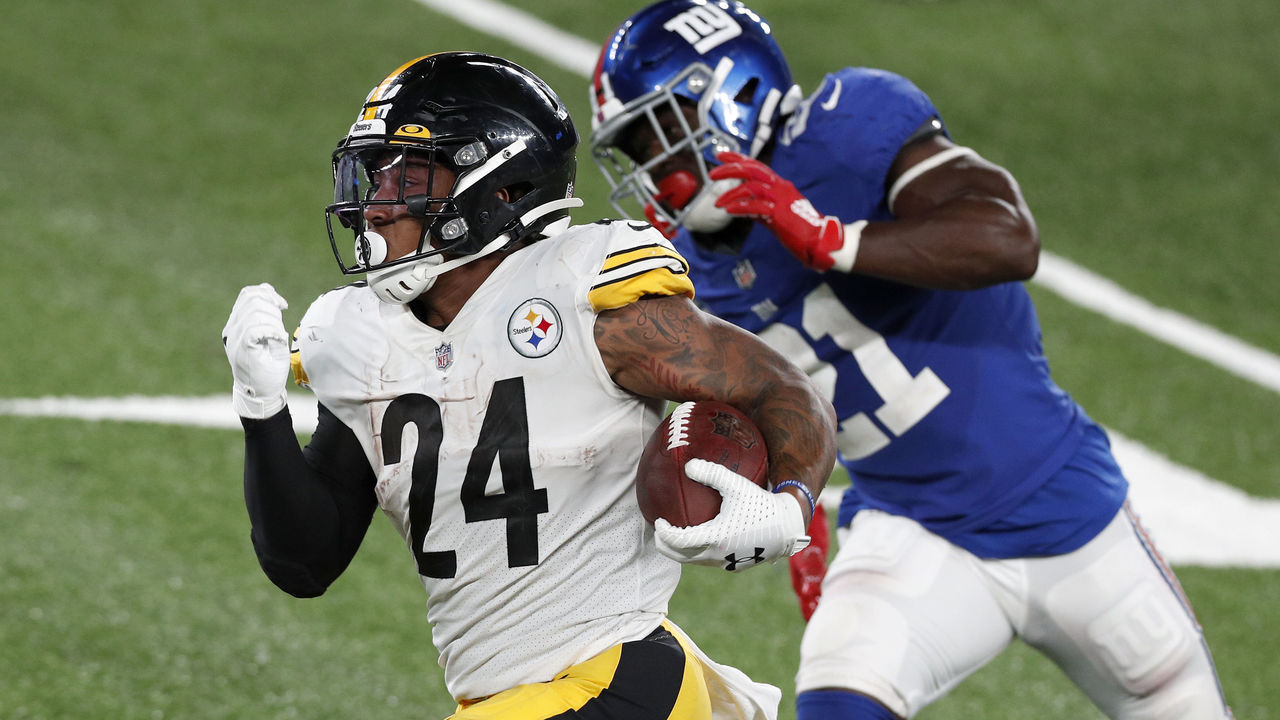 Bills making most of Josh Allen
Buffalo (1-0) at Miami (0-1), 1 p.m.
In his first two seasons, Josh Allen ranked 33rd and 28th in defense-adjusted yards above replacement (DYAR), a Football Outsiders metric that measures a quarterback's performance against replacement level while also factoring in situations and opponents. Heading into Sunday's matchup at the Miami Dolphins, Allen is ranked fourth in DYAR in 2020.
I know, I know: It was one game against the stumblebum New York Jets, whose defense is without star safety Adams (trade to Seattle) and inside linebacker C.J. Mosley (opted out). And, yes, Allen lost a pair of fumbles and made one of the worst throws you'll ever see. But offensive coordinator Brian Daboll is scheming around his shortcomings.
Though Allen has a big arm, he's notoriously inaccurate. He can also scramble. He attempted 46 passes, but he also led the Bills with 14 rushing attempts. Against the Jets, Daboll had the Bills spread things out:
According to analyst Warren Sharp on "The Ringer NFL Show," they used at least three receivers on every early (first and second) down in the first three quarters.
According to nflfastR data, they passed on early downs 61.5% of the time - the fourth-highest total in the league - and produced 0.577 expected points added (EPA) on those pass plays, which ranked second behind only the Baltimore Ravens.
According to PFF, Allen used play-action a whopping 41.5% of the time even though the Bills' running backs were handed the ball on just 18 of 78 plays from scrimmage.
The result was lots of manageable third downs: Buffalo faced more than 6 yards to go on just two of its 14 third downs. The Dolphins' improved defense will present a bigger challenge, but the way Daboll is using Allen looks encouraging.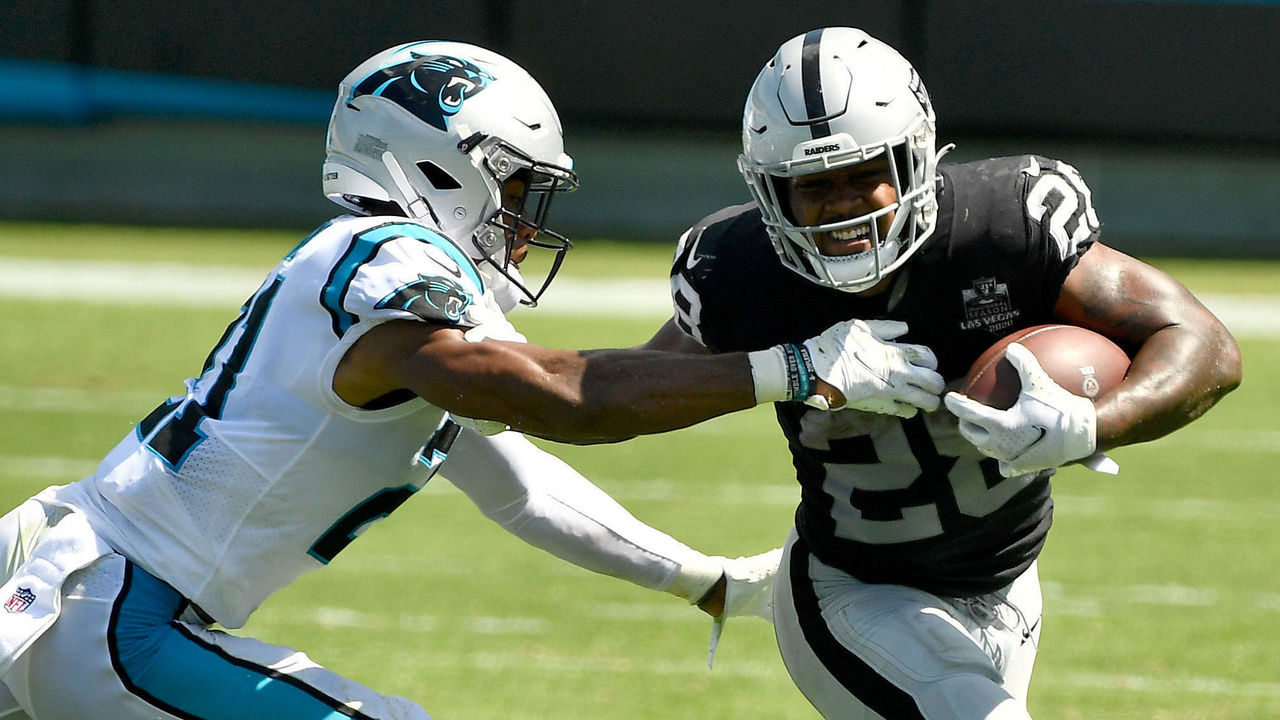 A new weapon for the Raiders?
New Orleans (1-0) at Las Vegas (1-0), 8:15 p.m. Monday
The Raiders were drafting a downhill running back when they selected Josh Jacobs 24th overall last year. But as they prepare for their Las Vegas home debut, Jacobs might also have a place in the passing game.
Jacobs, who rushed for 1,150 yards as a rookie, did his thing in last week's win at Carolina by pounding out 93 yards and three TDs on the ground. He rushed for a league-high nine first downs, and his 10 broken tackles were more than anyone else's, per Sports Info Solutions. But he also provided an added wrinkle in the passing game by catching four passes on six targets for 46 yards and two more first downs.
Jacobs was targeted only 27 times all of last season, which means he's already accounted for 22% of that total in just one game.
Eagles' offensive line vs. Aaron Donald
L.A. Rams (1-0) at Philadelphia (0-1), 1 p.m.
Washington sacked Carson Wentz eight times in Week 1 thanks to a combination of his tendency to hold the ball too long to try to make a play and issues created by injuries along the Eagles' offensive line.
Next up for Philadelphia? The Los Angeles Rams at home, and, uh, this guy:
Something tells me Eagles head coach Doug Pederson will scheme something that won't require Wentz to hang in the pocket for quite so long. Wentz's life might depend on it.
Kickers struggle in empty stadiums
NFL placekickers missed 19 field goals in Week 1 - the most on an opening weekend since there were 20 misses in 1982, according to The Associated Press' Josh Dubow, when kickers were far less accurate.
Pro Football Talk's Michael David Smith noticed something else: Kickers seem to be struggling outdoors in empty stadiums, at least based on Week 1, with few or no fans permitted because of COVID-19 restrictions. In indoor stadiums, kickers went 14-for-16 (88%) on field goals, while outside, they went 34-for-51 (67%).
Veteran San Francisco 49ers kicker Robbie Gould said in August that a lack of fans in the stands could affect the way the wind blows in outdoor stadiums, "because the fans usually in most stadiums will knock down the wind."
That will bear watching this weekend, though things got off to a good start with Cincinnati Bengals kicker Randy Bullock making all three of his field goals during Thursday night's outdoor loss at the Cleveland Browns.
Dom Cosentino is a senior features writer at theScore.
Comments
✕
Week 2 Preview: 2 QBs and 2 RBs look to maintain positive changes
  Got something to say? Leave a comment below!