Sunday Rundown recaps the most important developments from the day's action and examines the significance of those events moving forward.
Dak's brutal injury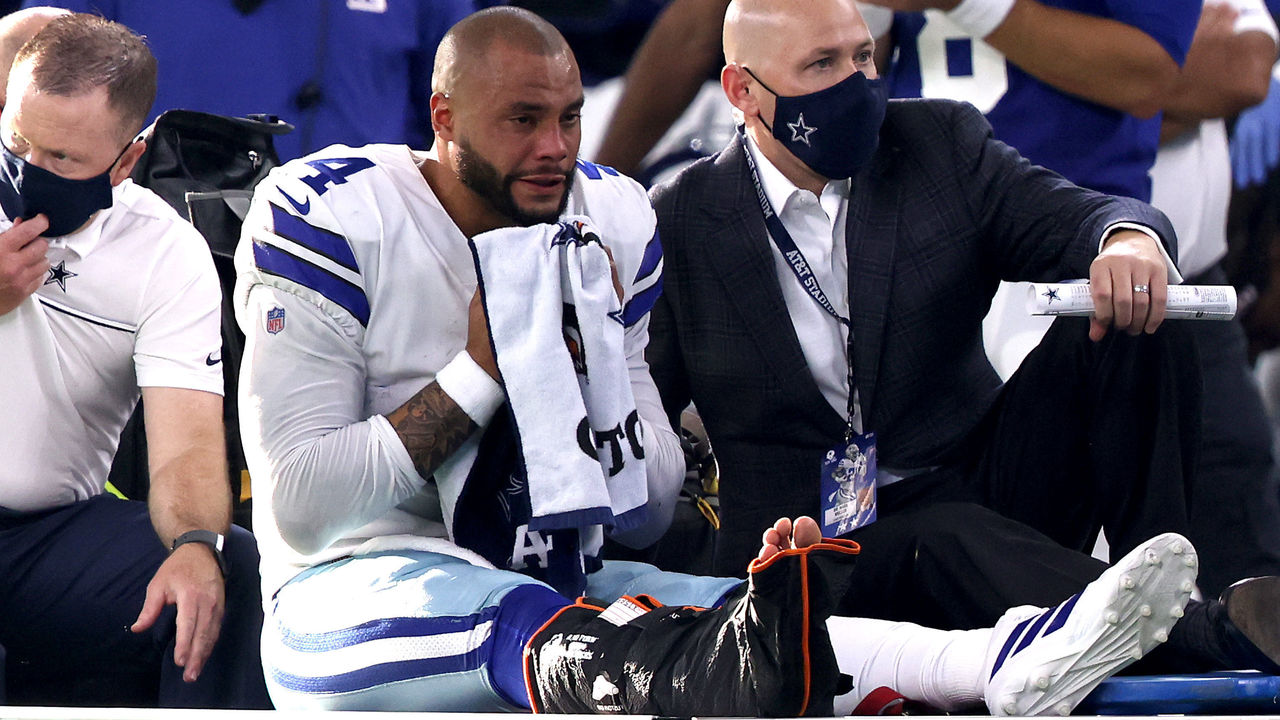 Dak Prescott's right ankle injury is awful in so many ways. There's the obvious physical pain for Prescott, along with the likelihood of a long recovery and extended rehab. But the Dallas Cowboys quarterback is also playing this season on the franchise tag, an artificial device owners use to control labor costs on the basis that a player is too valuable to lose, but simultaneously not valuable enough to receive a market-level, multi-year contract.
Prescott sustained a compound fracture dislocation and reportedly underwent surgery in hospital Sunday night. More details will emerge in the days and weeks ahead, but the tag leaves Prescott potentially exposed financially if the injury is serious enough to threaten his career.
There's also a sad irony to Prescott's injury, considering it came on the same day as ...
Alex Smith's return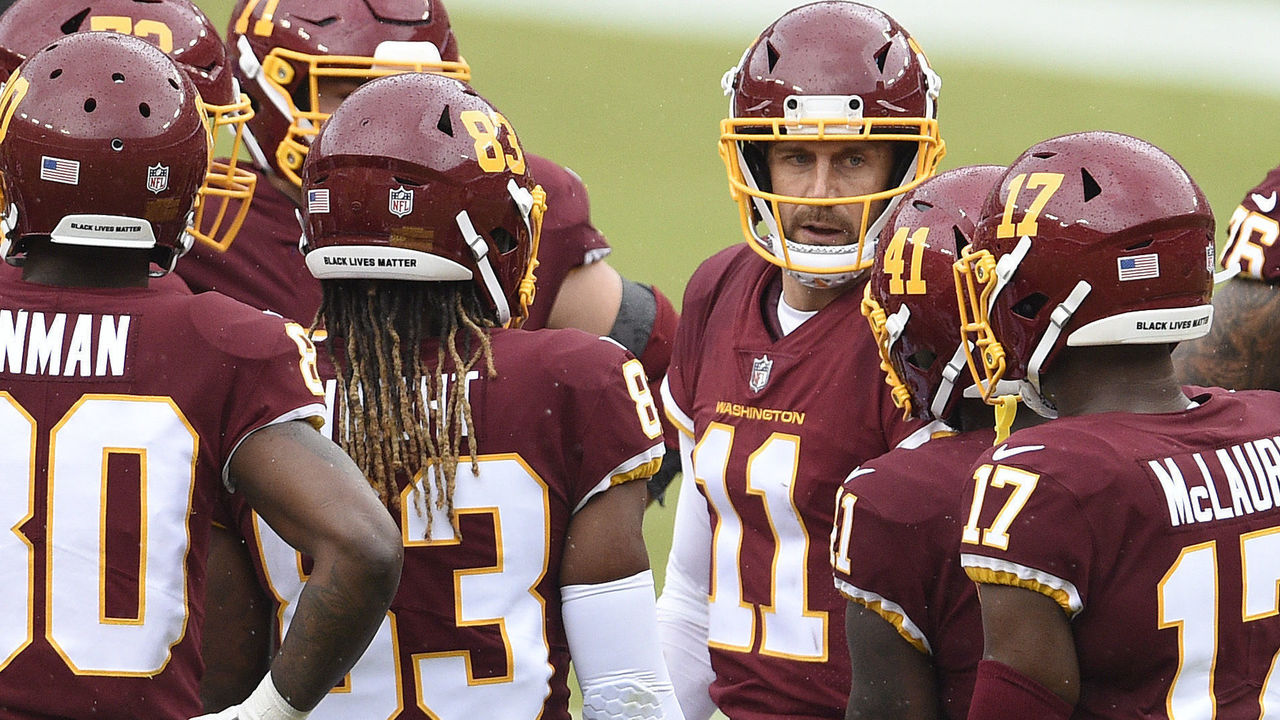 Alex Smith provided a feel-good moment when he returned to action for the Washington Football Team nearly two years after breaking both bones in his lower right leg, an injury so severe it required 17 surgeries.
It was less than ideal for Smith to come back against Aaron Donald and the Los Angeles Rams. Smith entered the game late in the second quarter. He was sacked six times as Washington lost its fourth in a row.
Washington head coach Ron Rivera said Kyle Allen would remain the starter as long as he's healthy. Allen had been cleared to play in the second half, but Smith remained in the game anyway. Whether Smith gets to play again seems less important than the fact he made it all the way back to play in the first place.
There's a sad irony to Smith's return, too, considering it came after Allen had to leave the game late in the second quarter because of a brutal helmet-to-helmet shot from Rams cornerback Jalen Ramsey that officially resulted in an arm injury.
Falcons clean house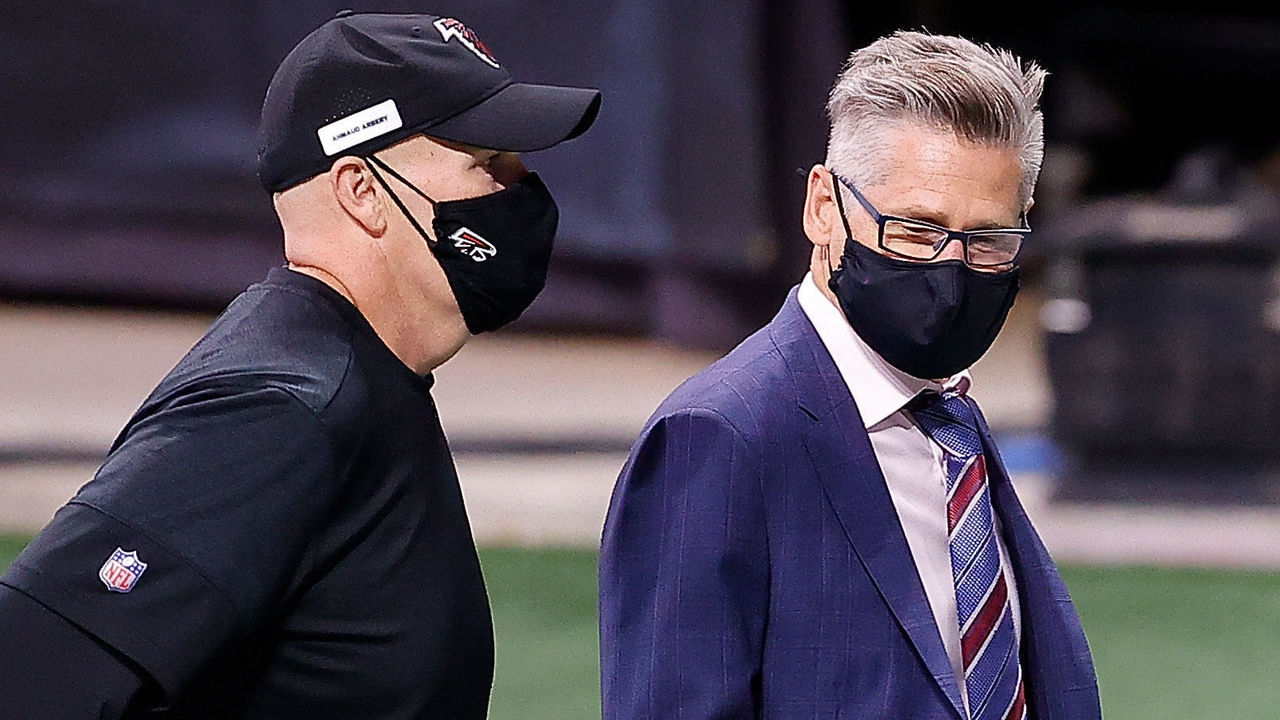 The Atlanta Falcons probably should have fired head coach Dan Quinn after last season, their second consecutive 7-9 finish. But with six wins in Atlanta's final eight games, the organization saw reasons for optimism. The team also opted for continuity, a staple for many of the league's most consistently successful franchises.
But the Falcons had been on a downward trend in recent years, their defense never able to hold up the high end of the bargain set by an offense featuring Matt Ryan, Julio Jones, and Calvin Ridley. That trend became a freefall with this year's 0-5 start, which included a pair of huge blown leads made worse by a series of self-inflicted mistakes. Sunday's home loss to the rebuilding Carolina Panthers was the last straw. Now both Quinn and Thomas Dimitroff - the team's general manager since 2008 - are out.
Atlanta will ride out the rest of the season with a to-be-determined interim coach, but its next GM will have a lot to fix. Dimitroff built the team that reached the Super Bowl four years ago with a lot of cheap rookie contracts. But as the Falcons paid big money to retain their veteran core, they failed to keep drafting well enough to develop a well-rounded roster.
Competition in the AFC West?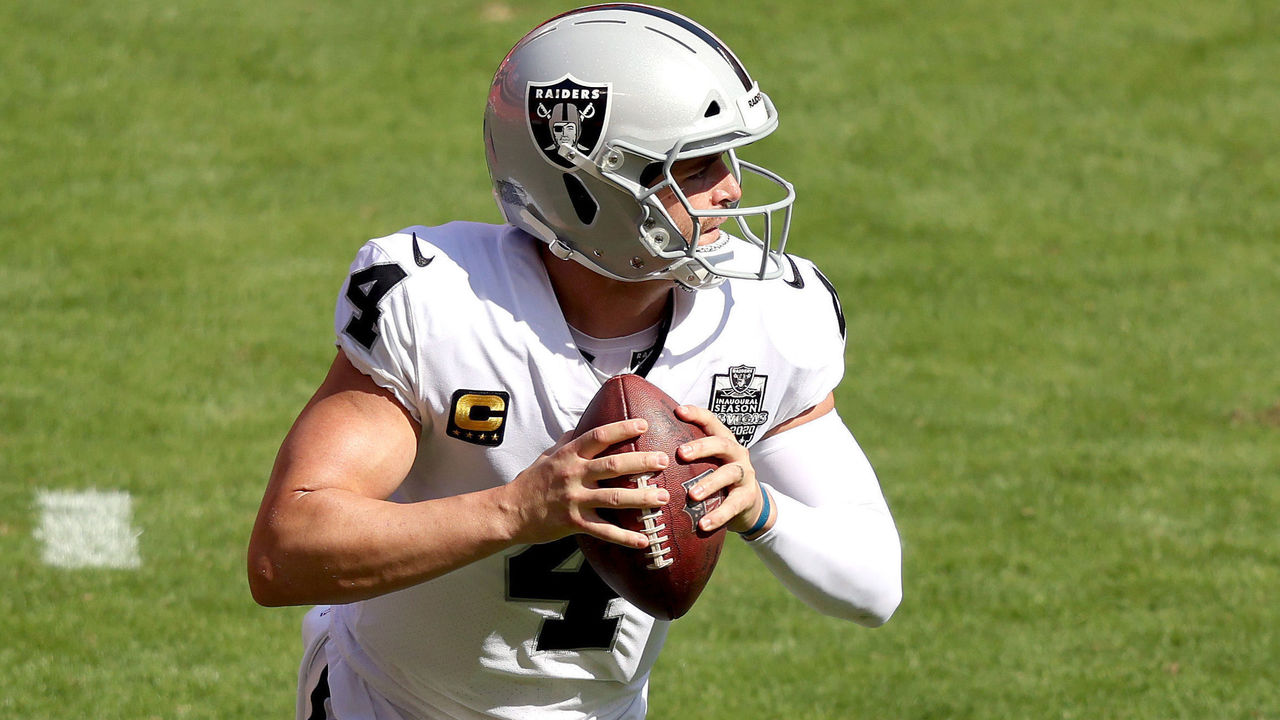 Just when the Kansas City Chiefs were about to establish another strangehold on their division, the Las Vegas Raiders rolled into Arrowhead Stadium to hang 40 on them in an upset. Kansas City had won 28 of its last 30 games against the AFC West, and it had a chance to build a three-game lead just five games into the season. Instead, that lead is now just one game.
Derek Carr threw for 347 yards, and he did it by attacking the Chiefs' defense with the deep ball. Carr had four completions of 40 yards or more, including two to Henry Ruggs that totaled 118 yards and a touchdown.
Carr had attempted just nine passes of 20-plus air yards in Vegas' first four games, according to PFF; he was 4-for-6 for 219 yards on deep balls in this one. It was the sort of field-stretching performance the Raiders had been hoping to get from Carr this year, and it couldn't have come at a more opportune time: in a divisional game against the defending champs on the road.
A thought on the Chiefs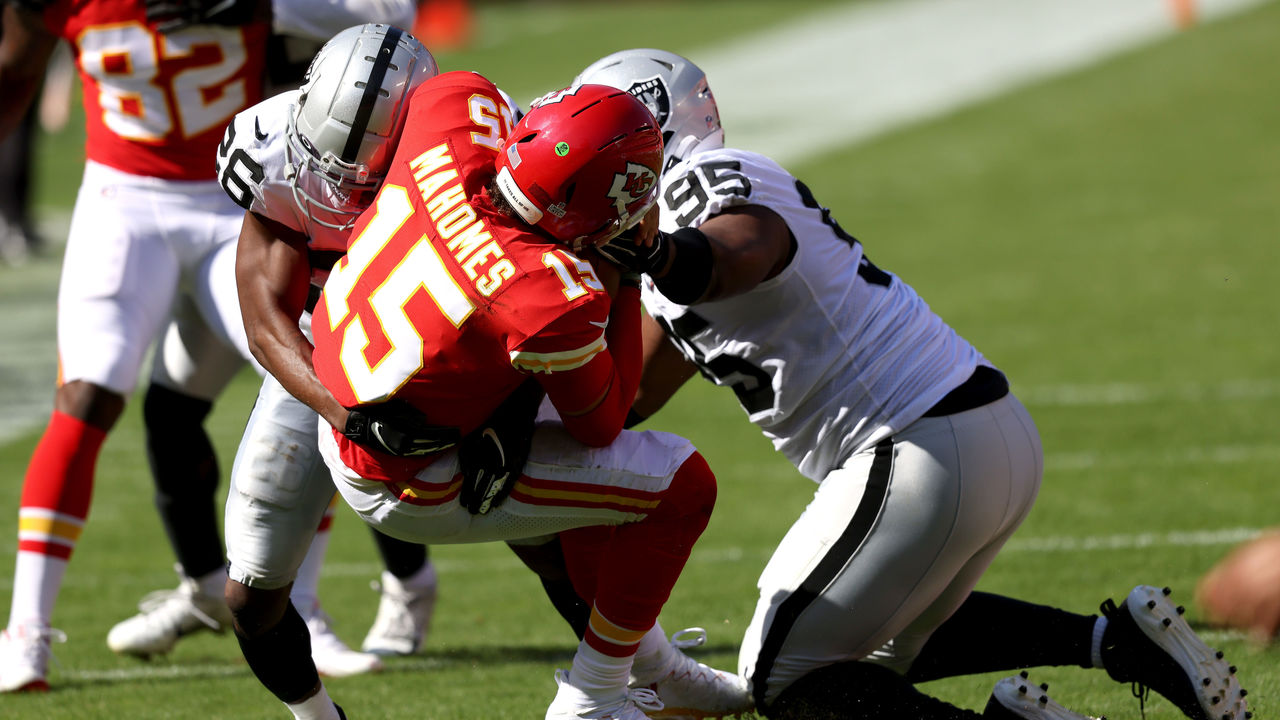 Kansas City is 4-1, and this was its first loss since Nov. 10 of last year, but the Chiefs haven't exactly been cruising. Yes, they thumped the Baltimore Ravens on the road, but they also struggled to beat the Los Angeles Chargers and needed to pull away late from the Cam Newton-less New England Patriots. Now this. And Kansas City travels to face the Buffalo Bills next week.
Another sensational Steelers WR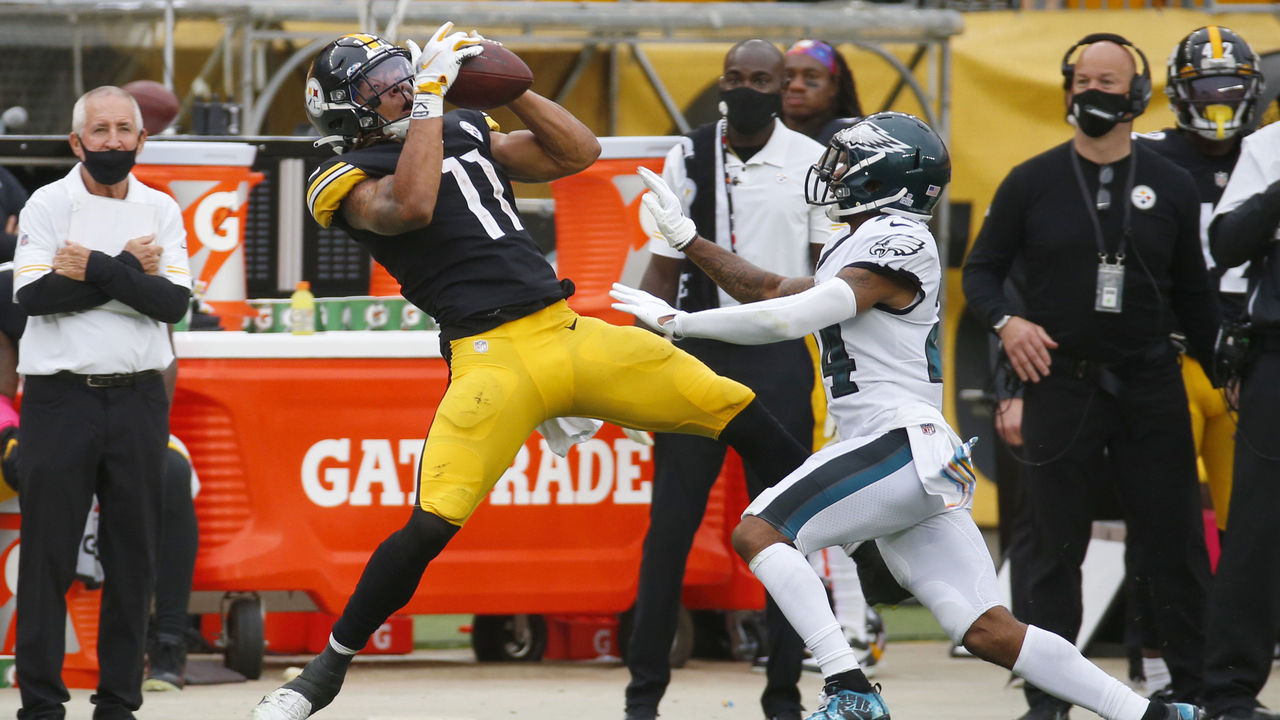 Mike Wallace. Emmanuel Sanders. Antonio Brown. JuJu Smith-Schuster. And now ... Chase Claypool.
For more than a decade, the Pittsburgh Steelers have been terrific at finding playmaking receivers in the draft without having to reach for one in the first round. It looks like they've done it again with Claypool. The second-round rookie torched the Philadelphia Eagles for four touchdowns - three receiving, one rushing - as Pittsburgh improved to 4-0 for the first time since 1979, a stat that seems hard to believe.
Claypool had a TD taken away because of a phantom pass-interference call. He also had a circus catch wiped out after a review revealed his second foot came down on a defender rather than the ground. Whatever. He's proving to be another fast target for Ben Roethlisberger, who has now posted a passer rating of at least 98.7 in all four of his starts since coming back from elbow surgery.
It's still hard to know exactly how good the Steelers are, though. Their opponents have a combined record of 2-14-1.
More Wentz struggles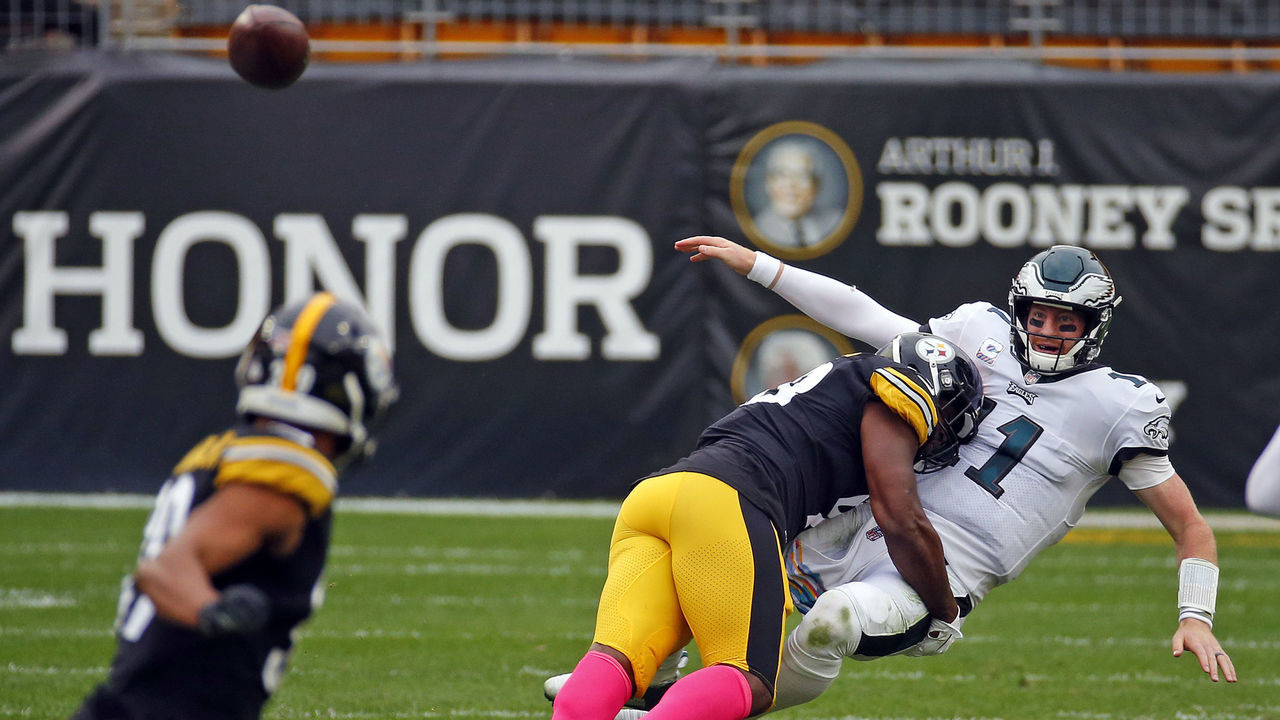 It might be time to seriously start worrying about Carson Wentz as the Eagles' quarterback, though most of the Delaware Valley has undoubtedly been doing just that since Week 2 or so. But it's also more complicated than that.
Wentz threw two more interceptions in Philadelphia's contest against the Steelers, though one came on a prayer in garbage time. He now has a league-high eight picks - more than he's thrown in any full season in his five-year career. He also was sacked five times and has now been dropped 19 times on the season. But the Eagles have a ton of injuries to both their offensive line and receiving corps. And even though head coach Doug Pederson has a well-earned reputation as a play-caller, the Eagles don't seem to be doing much to help their quarterback.
Instead of utilizing lots of quick throws and screens, the Eagles often call plays that tend to leave Wentz sitting in the pocket and throwing downfield. Against a Steelers defense that blitzes more than any in the league, Wentz's average time to throw was 2.85 seconds; his average intended air yards of 13.6 is the highest total for any QB in Week 5 so far, according to Next Gen Stats. Wentz is certainly not playing well, but his personnel isn't great and his team isn't calling the plays to help him succeed.
The Fitzcoaster rolls on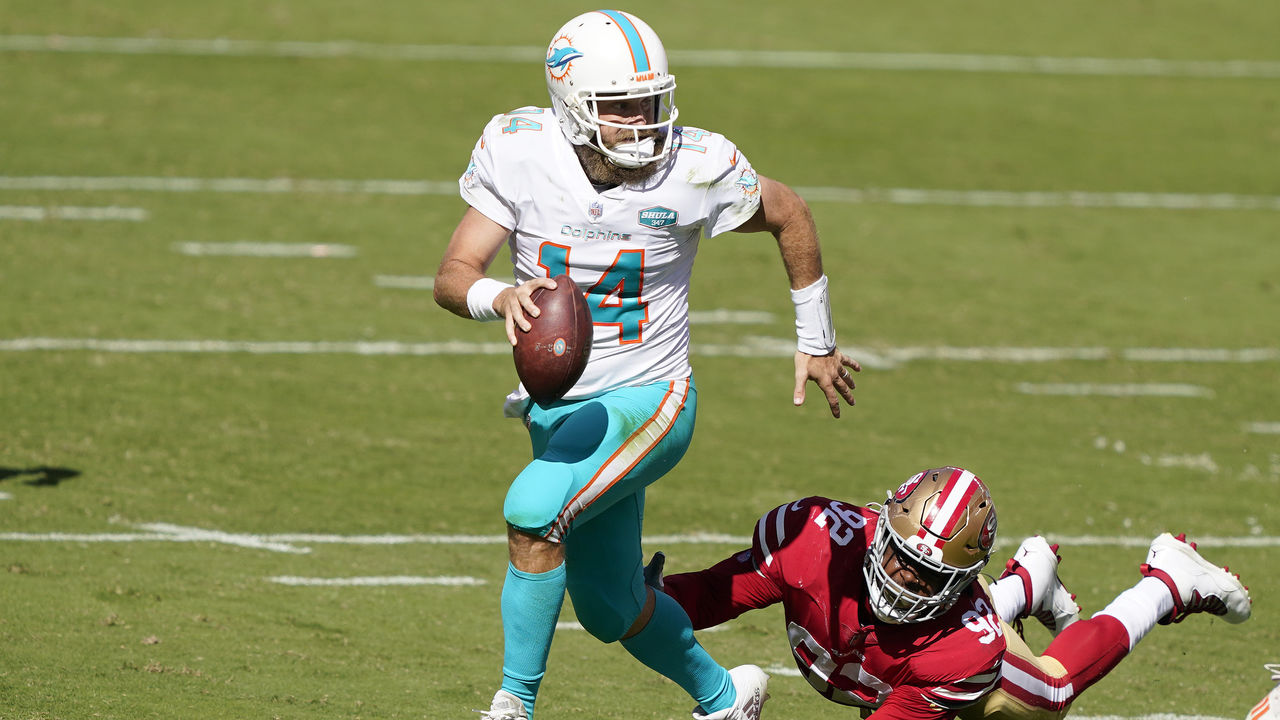 Ryan Fitzpatrick's just going to keep doing this until he's eligible for Social Security, isn't he?
Good Fitzpatrick showed up for the Miami Dolphins' road blowout of the San Francisco 49ers: He went 22-of-28 for 350 yards, three touchdowns, zero interceptions, and a 154.4 passer rating. It was his third game with a plus-100 rating this season.
Bad Fitzpatrick showed up in the other two games, throwing for a combined zero touchdowns, five interceptions, and a passer rating of 55.5. It's what he does, and he's been doing it for so long there's absolutely no telling how he'll fare next Sunday against the winless, sad-sack New York Jets.
What happened to Jimmy G?
The quarterback Fitzpatrick defeated, Jimmy Garoppolo, returned to the 49ers after missing two-and-a-half games because of a sprained ankle. Garoppolo was dreadful in the first half - he was 7-of-17 for 77 yards and two interceptions - and head coach Kyle Shanahan yanked him after halftime in favor of C.J. Beathard. Was it because of performance or injury?
It sounds like the injury compounded Garoppolo's poor performance in a game that had careened off the rails for San Francisco. That means Beathard hasn't supplanted Garoppolo for good. But that likely won't stop angry 49ers fans from insisting Shanahan was merely explaining away Garoppolo's poor performance with an injury excuse, which is the kind of thing that happens when the reigning NFC champions get their stadium doors blown off by the Dolphins, of all clubs.
Scheduling jenga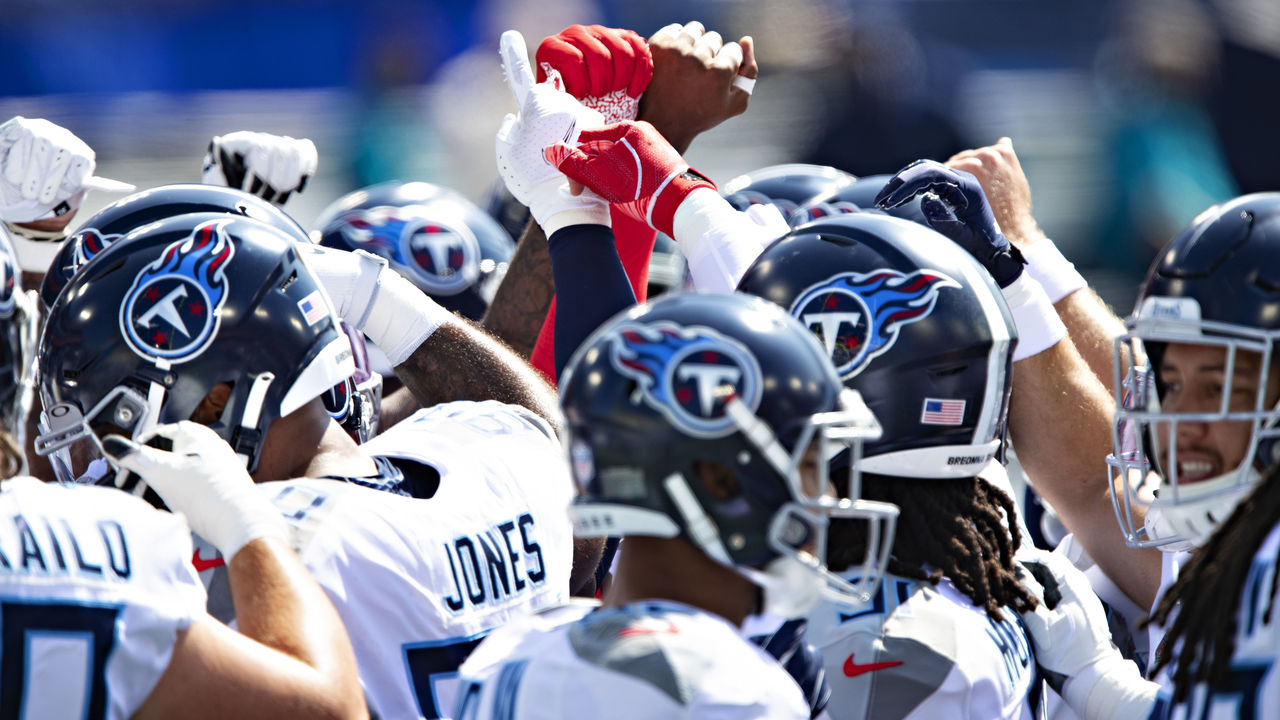 We all know the NFL is determined to press on with a full season despite the ongoing COVID-19 pandemic. But the league went next-level on Sunday afternoon by reworking the schedules for eight different teams - including bye weeks - and announcing all those changes in the middle of a slate of ongoing games.
Yet we still don't know what will become of the Tennessee Titans-Bills game still tentatively scheduled for Tuesday night. At this rate, we should half-expect the NFL to start adding hockey games to the schedule to keep this season going.
Dom Cosentino is a senior features writer at theScore.