NFL management rankings: How do all 32 GMs stack up?
Kelley L. Cox / USA TODAY Sports
theScore's football staff evaluates the leadership positions within each NFL organization to determine which franchise possesses the best management group.
First up are the general manager rankings.
Categories
32. Bill O'Brien - Texans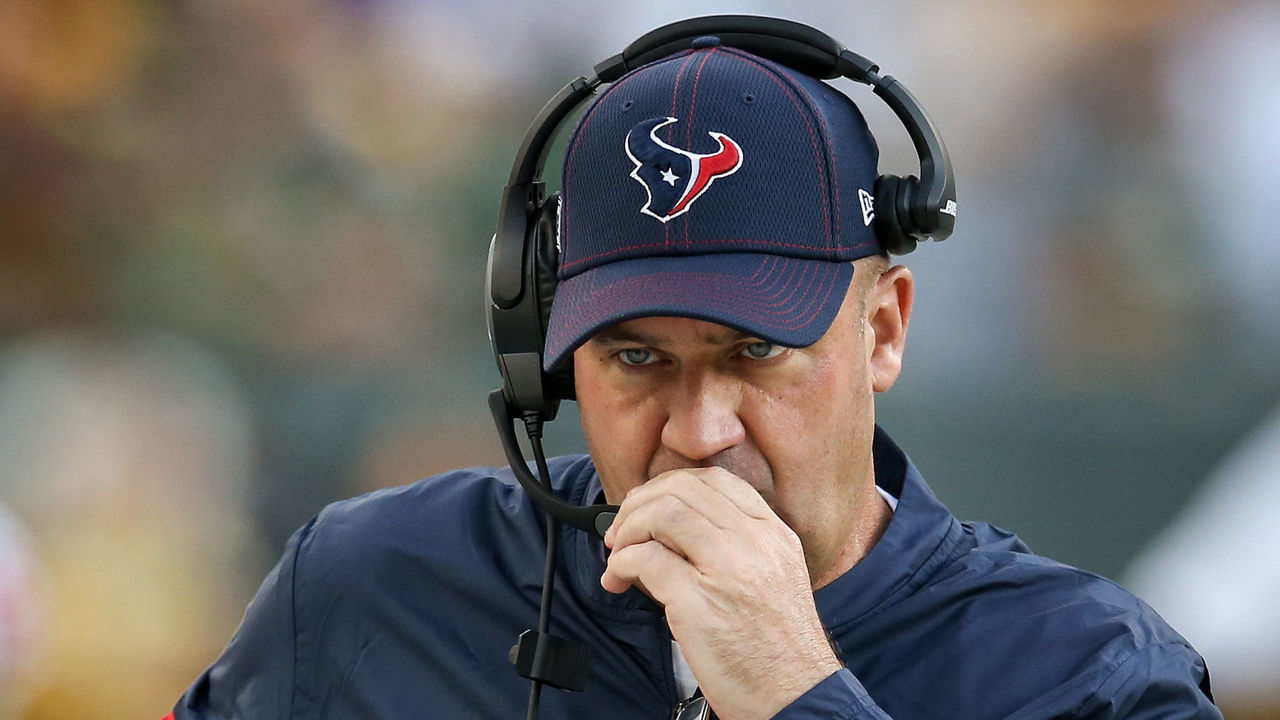 Last year, O'Brien had some decision-making power for the Texans. As a result, Houston acquired offensive tackle Laremy Tunsil and wide receiver Kenny Stills in exchange for a package that included two first-round picks, and traded away Jadeveon Clowney for nothing. This offseason, O'Brien, in his first big move after officially being named the team's GM, traded away All-Pro wideout DeAndre Hopkins without getting a first-round selection in return, and that's despite the Texans having just one top-80 draft pick in 2020.
31. Dave Caldwell - Jaguars
The Jaguars' 36-76 regular-season record since Caldwell was named GM speaks for itself. While it's unfair to solely blame him for Jacksonville's struggles, recent moves, like trading Calais Campbell for a fifth-rounder, don't help his case. The Jaguars' run to the 2017 AFC Championship Game seems like an even bigger aberration now, and Caldwell has failed to set up a rebuilding project for years. The dilemma continues in 2020.
30. Mike Brown - Bengals
The Bengals haven't won a playoff game since Brown became the team's owner in 1991. Cincinnati did make five straight postseason appearances beginning in the early 2010s behind a notable 2011 draft class that featured Andy Dalton and A.J. Green, but the club's offseason decisions - including its efforts to upgrade the secondary and offensive line - have fallen off in recent years. Brown has refused to cede football operations, but to his credit, the Bengals managed a solid 2020 offseason.
29. Dave Gettleman - Giants
When Gettleman arrived in New York two years ago, the Giants' best players were wide receiver Odell Beckham Jr. and safety Landon Collins. Both were gone after one year. The Giants have won nine games since 2018 and their future relies on Saquon Barkley and Daniel Jones, who was a surprise pick at No. 6 overall last year. Gettleman also made Nate Solder the NFL's highest-paid offensive lineman in 2018, which hasn't paid off. Hopefully, the GM won't overpay defensive end Leonard Williams, who was acquired last October for a pair of draft picks.
28. Andrew Berry - Browns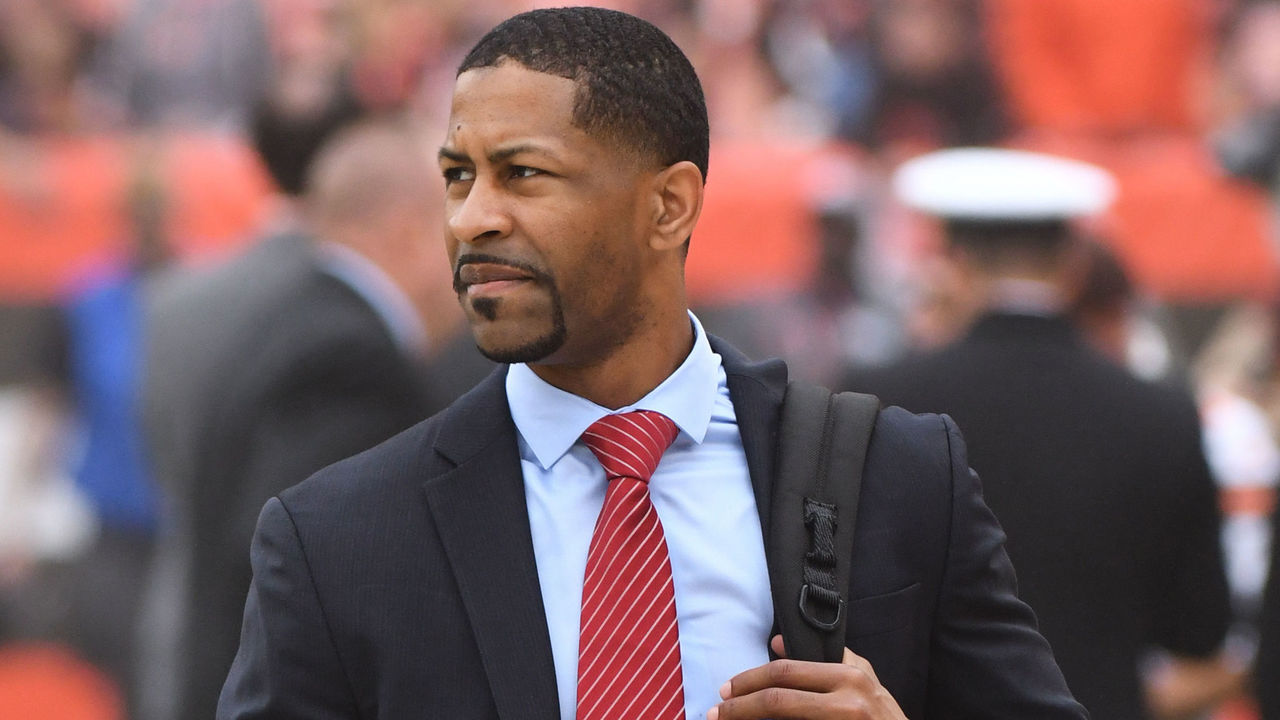 Although Berry is in his first offseason as GM, he's made promising free-agent moves, including the acquisitions of offensive tackle Jack Conklin and Austin Hooper (although the former Falcon did ink the most lucrative contract ever for a tight end). Additionally, Berry put up a strong class in his first draft.
27. Ron Rivera - Redskins
In his first year with the Redskins, longtime head coach Rivera also earned significant decision-making power over the roster, and he will be helped by vice president of player personnel Kyle Smith. Rivera's been conservative in his first offseason in Washington, making an obvious draft selection in Chase Young and adding a couple of defensive contributors in Kendall Fuller and Thomas Davis. He also traded Trent Williams for two draft picks but didn't add any major weapon to his Dwayne Haskins-led offense.
26. Joe Douglas - Jets
After a quiet offseason in his first year as Jets general manager, Douglas addressed New York's greatest needs this offseason without any flashy signings and with high-value picks. Although the Jets didn't keep pass-catcher Robby Anderson, the team did make necessary additions to the offensive line and its wide receiver corp to support sophomore quarterback Sam Darnold. However, Jamal Adams' uncertain future means Douglas will soon face bigger challenges.
25. Bob Quinn - Lions
Matthew Stafford's contract, which was the highest in league history when it was signed in 2017, now offers good value for a top-tier quarterback. However, despite possessing a franchise signal-caller, Quinn hasn't been able to build a strong roster around him. Granted, the offensive line has improved, and landing wideout Kenny Golladay in the third round in 2017 was a steal. But some of Detroit's questionable decisions include using the eighth overall pick on tight end T.J. Hockenson and signing Trey Flowers to a $90-million deal. The Lions are 9-22-1 under coach Matt Patricia.
24. Ryan Pace - Bears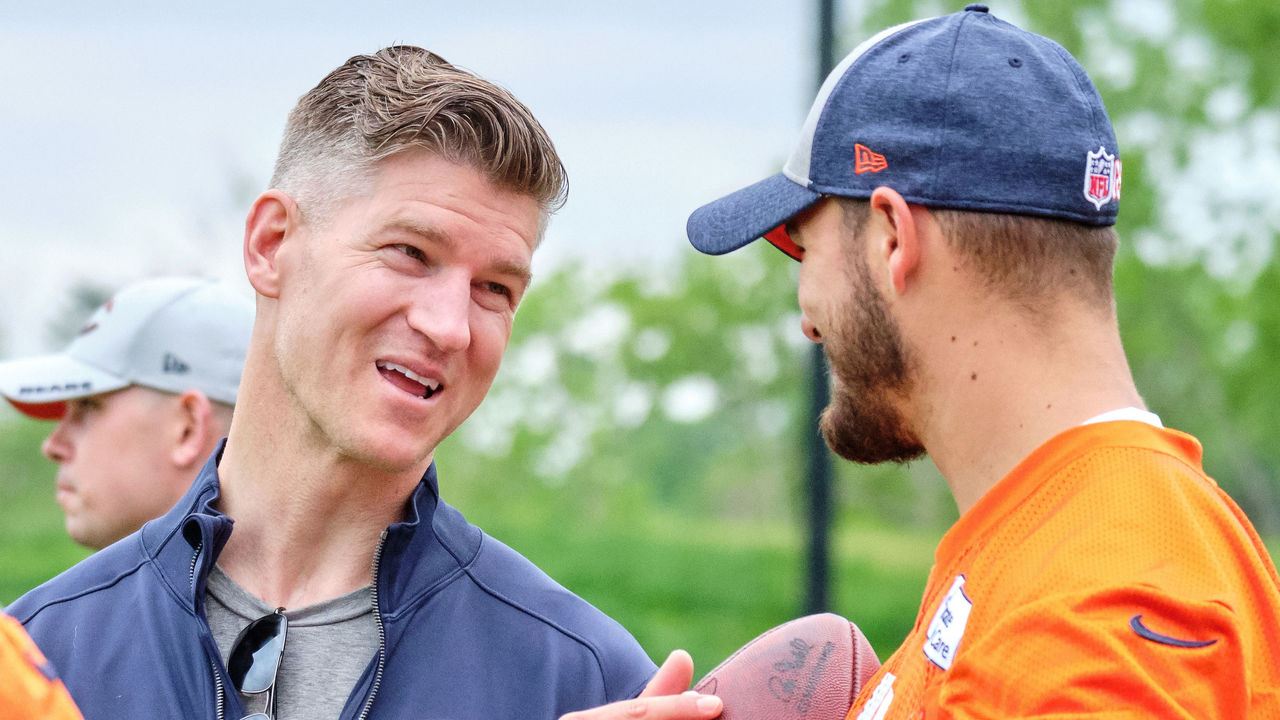 It's unlikely Khalil Mack will justify his six-year, $141-million deal, but the blockbuster trade for the edge rusher was Pace's best moment as a GM and resulted in the Bears having football's top defense. But Pace, who's had just one winning campaign, will always be tied to the 2017 draft, in which he traded from third to second overall to select Mitchell Trubisky in a class that featured Patrick Mahomes and Deshaun Watson. Adding Nick Foles for solid value was a rare good decision this offseason, as the Bears made questionable draft picks and overpaid veteran free agents Jimmy Graham and Robert Quinn.
23. Marty Hurney - Panthers
When Hurney returned to the Panthers in 2017, the team was looking for a couple of good acquisitions to perhaps repeat an exciting playoff run. However, three seasons later, things have gone in a different direction and Carolina is experiencing a complete rebuild. Despite several off-field changes this offseason by the organization, Hurney gained another chance to build a winning roster alongside a new coaching staff led by Matt Rhule.
22. Chris Grier - Dolphins
Grier has held the Dolphins' GM title since 2016, but he really only started making decisions last year. He kicked things off by hiring coach Brian Flores, which looks like a solid move, and followed that up an offseason later with an aggressive free agency. Among several signings, Miami inked corner Byron Jones to a historic deal before completing a draft class with three first-round picks. The selection of Tua Tagovailoa could be a franchise-changing move.
21. Mike Mayock - Raiders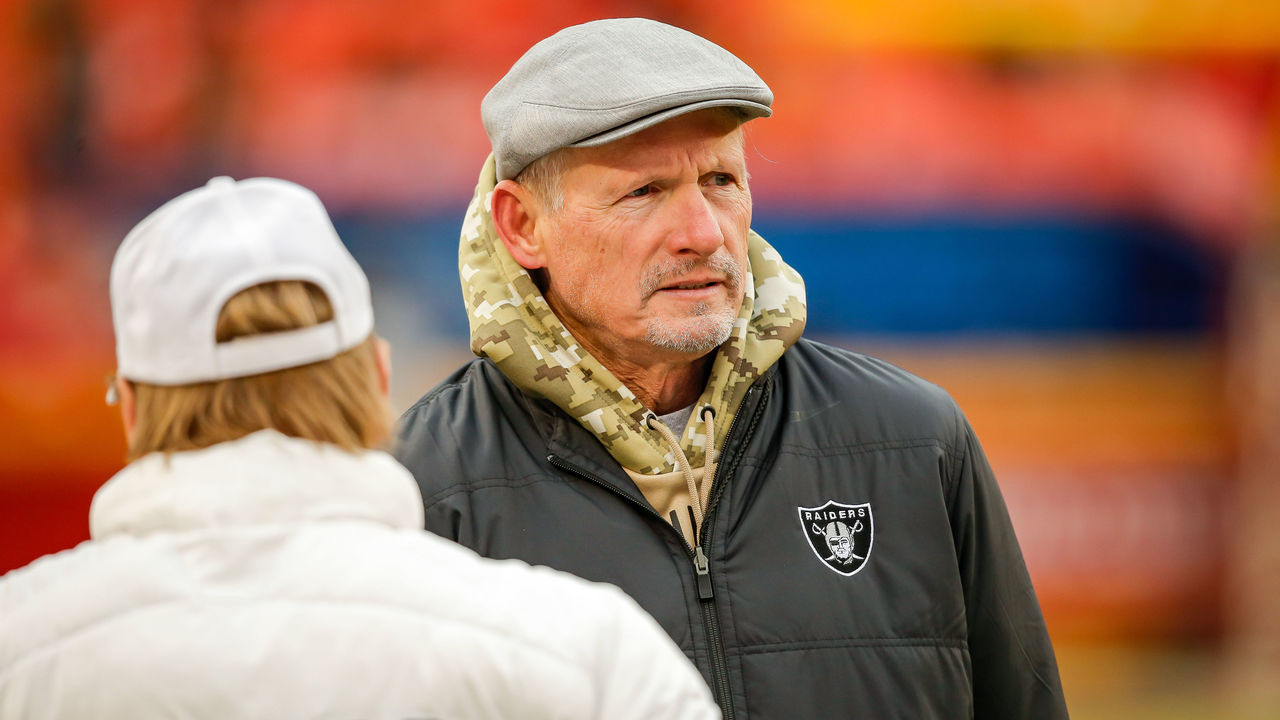 Mayock can be considered a GM trending up. He started his Raiders tenure in 2019 with the Antonio Brown trade and with five first-round picks over a two-year span. While the Brown experiment was a disaster, Mayock's 2019 draft class was notable, and he addressed roster needs with immediate starters both last year and this offseason. Most of Mayock's moves remain unproven, but they seem to have Las Vegas on the right track.
20. Jason Licht - Buccaneers
A lot of people were surprised that Licht kept his job after six playoff-less seasons, second-round kicker, and a 34-62 record as GM. Maybe he learned something during those years; after all, the Buccaneers acquired Tom Brady and Rob Gronkowski this offseason. Tampa Bay also made a couple of solid picks early in April's draft by selecting Tristan Wirfs and Antoine Winfield Jr. Keeping Shaquil Barrett under the franchise tag could be a smart decision for 2020 as well. Though he might not deserve all of it, Licht should get some credit for the Bucs' current Super Bowl aspirations.
19. Steve Keim - Cardinals
Keim kicked off his solid early seasons as Cardinals GM by trading for quarterback Carson Palmer and hiring head coach Bruce Arians. When this duo started to decline, Arizona struggled to upgrade its roster, mostly due to bad draft classes. Going after quarterback Kyler Murray and coach Kliff Kingsbury last season - just a year after adding Josh Rosen and Steve Wilks - were moves that should change Keim's reputation moving forward. The Hopkins trade this offseason may solidify the Cardinals' rise to a new level.
18. Brian Gutekunst - Packers
Gutekunst deserves credit for signing free agents Za'Darius Smith, Preston Smith, and Adrian Amos last year, though he might have slightly overpaid the first two. Landing cornerbacks Jaire Alexander and Josh Jackson in 2018 were also important calls. However, Gutekunst, who hired Matt LaFleur to replace Mike McCarthy, hasn't gotten the most out of Aaron Rodgers during his first two campaigns as GM, which naturally puts pressure on the Packers' front office. The combination of a quiet free agency and very questionable draft this year raises even more question marks.
17. Tom Telesco - Chargers
Individual talent has never been an issue for the Chargers since Telesco became GM in 2013. The team still has one of the league's most complete rosters. However, Los Angeles has been nothing but disappointing during Telesco's seven-season stint, combining for a 53-59 record with only two playoff appearances. Telesco will probably face his biggest challenge yet, as the post-Philip Rivers era is set to begin.
16. John Elway - Broncos
As a GM, Elway will be remembered for signing Peyton Manning, a decision that made the Broncos the best team in football for multiple seasons. Drafting Von Miller also added to Elway's executive resume. However, as fantastic as the Manning era was, Elway has struggled to find the quarterback's successor, and the Broncos haven't been to the postseason since Manning retired. Elway's latest attempt at a solution under center is 2019 second-rounder Drew Lock, who's received a promising supporting cast to play with.
15. Les Snead - Rams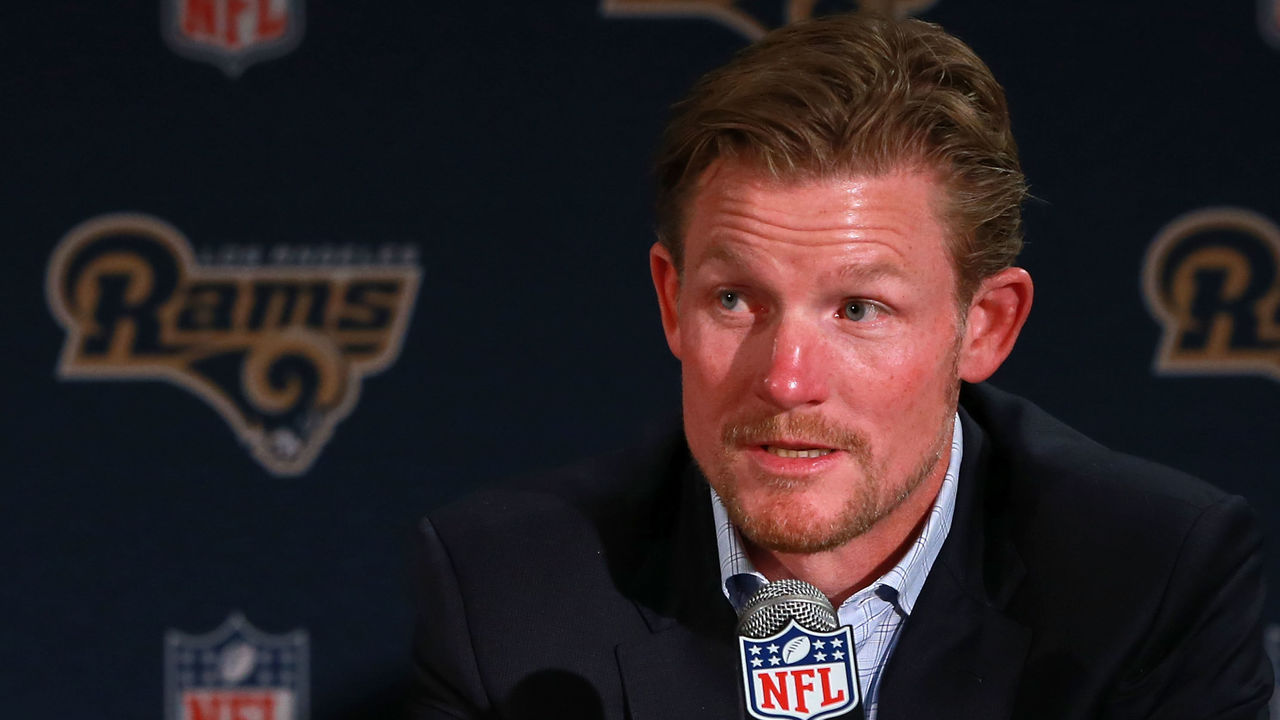 Snead is responsible for both the Rams' recent success and uncertain future. He's drafted All-Pros Aaron Donald and Todd Gurley, hired head coach Sean McVay, and acquired multiple high-profile names. However, he also gave up a lot of value after trading for the No. 1 pick in 2016 to select Jared Goff, and later overpaid Goff and Gurley on their extensions. The Rams' 9-7 record in 2019 felt like a losing season, and Snead now hopes young players can step up to help Los Angeles' roster, as the team is in a tight salary cap situation.
14. Jerry Jones - Cowboys
Few teams have as many stars as the Cowboys, who have made good acquisitions over the last five or six offseasons. Still, Dallas has experienced a lack of playoff success. It probably took too long for Jones to part ways with Jason Garrett, but Mike McCarthy is an interesting option for this team. Also, though Ezekiel Elliott, Amari Cooper, and Jaylon Smith signed extensions recently, Jones has yet to ink Dak Prescott to a long-term deal.
13. Jon Robinson - Titans
Robinson has built the Titans' backbone through his recent success in the draft (Derrick Henry, Kevin Byard, Adoree' Jackson, A.J. Brown) and free agency (Malcolm Butler, Ryan Tannehill). He was also responsible for hiring head coach Mike Vrabel. On the other hand, Robinson took Corey Davis fifth overall in 2017 and gave Tannehill a $91-million guaranteed deal in his age-32 campaign. What gives the GM an edge over other names on this list, though, is his surprising and satisfactory campaigns. Tennessee is 36-28 since hiring Robinson following a 3-13 season.
12. Thomas Dimitroff - Falcons
Dimitroff may have given the Falcons their greatest ever quarterback, running back, and wide receiver. However, he hasn't put together playoff-level squads in the last two seasons. Many will argue that keeping Dan Quinn was a mistake. Also, Atlanta's defense has struggled in every level and neither of Dimitroff's 2019 first-round blockers has had an immediate positive impact. Though his recent history hurts his case here, he may overcome that after making good-value acquisitions in Gurley, Dante Fowler Jr., and corner AJ Terrell this offseason.
11. Rick Spielman - Vikings
Spielman knows how to build good football teams. The Vikings went to the NFC Championship Game with Case Keenum under center three years ago and have had 19 Pro Bowlers and seven All-Pros in the last three seasons. What keeps Spielman from a higher tier is the quarterback position. The GM has struggled to find a franchise-caliber player under center, and his current starter is Kirk Cousins, who's inked two fully-guaranteed deals totaling $150 million with Minnesota since 2018.
10. Chris Ballard - Colts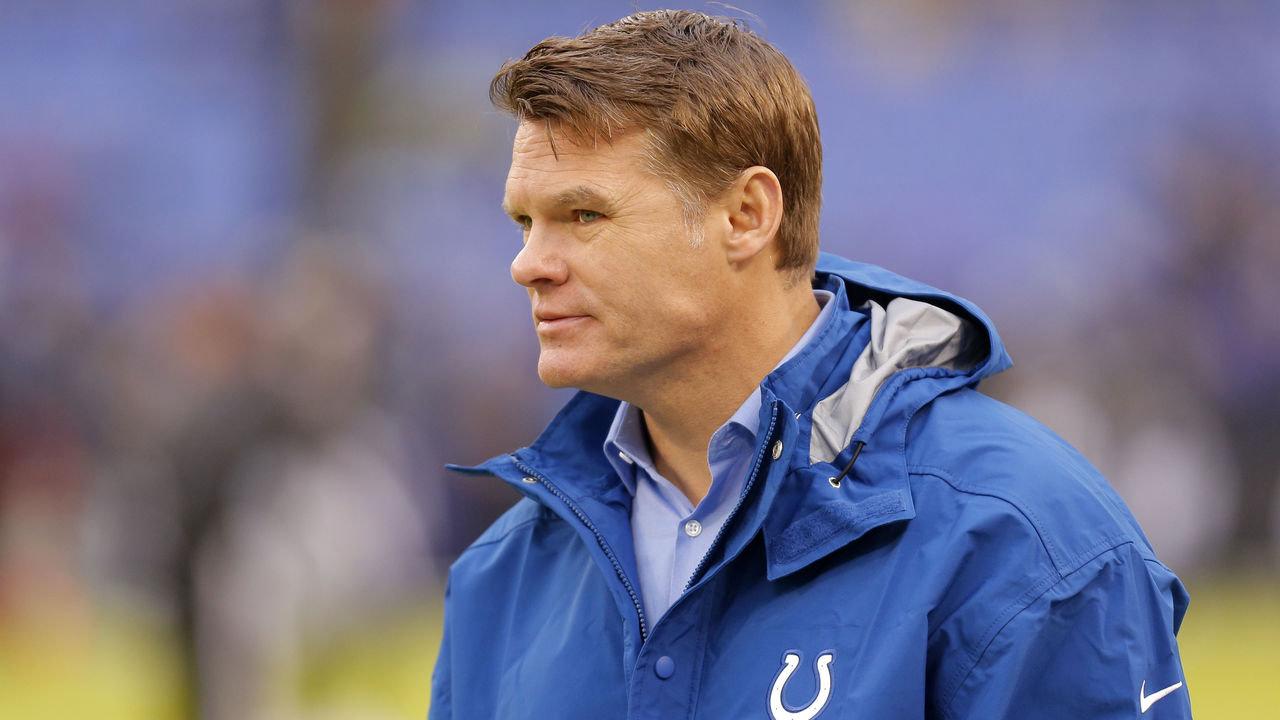 Ballard was en route to building a legitimate Super Bowl contender before Andrew Luck's surprise retirement in 2019. But the GM needed just one offseason to bring back hope to Colts fans, as he upgraded his roster with Philip Rivers, DeForest Buckner, and rookies Michael Pittman Jr. and Jonathan Taylor. Though Indy may have slightly overpaid Jacoby Brissett last year, Ballard's outstanding 2018 draft and overall offseason aggressiveness have changed the franchise's landscape.
9. Eric DeCosta - Ravens
DeCosta has been attached to the Ravens' decision-making for more than a decade, but he's technically just a second-year GM who's already proven to be one of the league's best. Despite losing several key veterans last season, DeCosta gave coach John Harbaugh the resources to finish the year 14-2. He added Earl Thomas and Mark Ingram along with rookie Marquise Brown during the offseason before his midseason trade for Marcus Peters, which was season-altering. The GM proved this offseason he wasn't just lucky in 2019, as he snagged a great draft class and acquired Calais Campbell for a fifth-round pick.
8. John Schneider - Seahawks
Schneider, who took the job in 2010, had early success finding talent in late-round picks and undrafted players, which helped the Seahawks win a Super Bowl. Selecting Russell Wilson in 2012 was a franchise-changing move by Schneider, who has since given the quarterback solid-value weapons in Tyler Lockett and, most recently, DK Metcalf. Granted, Seattle has had notable draft failures, and possibly losing Jadeveon Clowney could leave them short of elite defensive playmakers. But the team wouldn't have made the playoffs in eight of its last 10 seasons if it wasn't for Schneider.
7. Brandon Beane - Bills
Beane has made the right moves during the Bills' rebuild since he was hired in 2017, finding excellent assets in both the draft (Tre'Davious White, Tremaine Edmunds) and free agency (Mitch Morse, John Brown). Yes, the quarterback position still has question marks, and taking Josh Allen No. 7 overall in 2018 might have been a reach. However, Beane has had the right approach in supporting Allen by stacking Buffalo's receiving corps this offseason with the Stefon Diggs trade.
6. John Lynch - 49ers
The 49ers hired Lynch in 2017 following a 2-14 campaign. Three seasons later, they won 13 games and made it to the Super Bowl. Granted, the GM has inked some overvalued contracts with Dee Ford and Jimmy Garoppolo, and taking Solomon Thomas third overall in 2017 was an awful reach. But that's nothing compared to his other elite acquisitions through the draft (Nick Bosa, George Kittle, Fred Warner, Mike McGlinchey) and free agency (Richard Sherman). Lynch addressed all of San Francisco's biggest needs in 2020 by trading for Trent Williams and selecting wide receiver Brandon Aiyuk and defensive lineman Javon Kinlaw.
5. Howie Roseman - Eagles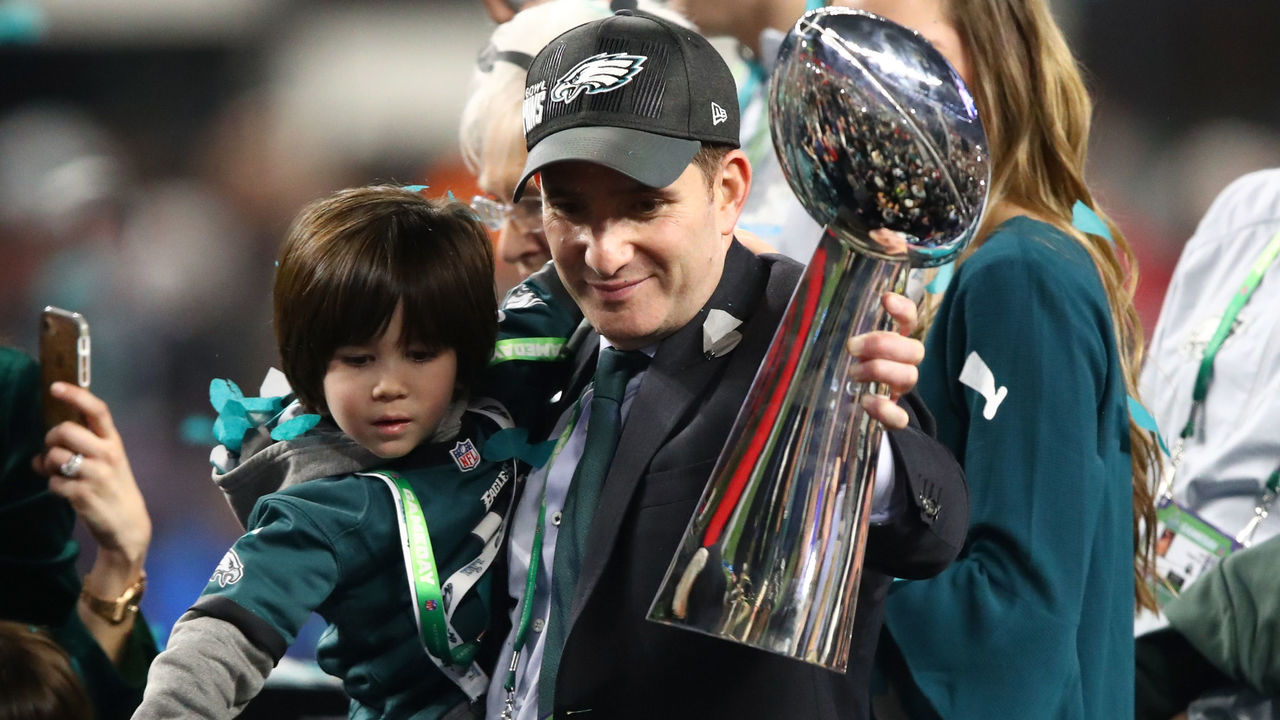 Roseman has been the Eagles' de facto GM since 2016 despite holding the official title for just a season. He built the team's Super Bowl-winning roster by hiring coach Doug Pederson and finding an answer at quarterback with Carson Wentz (along with Nick Foles). Granted, Philadelphia has inked pretty big contracts recently (Wentz, Lane Johnson, Brandon Brooks, Darius Slay), but its success in both free agency and the draft has led the club to the playoffs for three straight years despite being one of the NFL's most injury-plagued teams. Roseman might keep that trend going after using a first-round pick on Jalen Reagor and trading for Darius Slay.
4. Kevin Colbert - Steelers
The Steelers' offense after Ben Roethlisberger retires is uncertain, and the team failed to line up a strong receiving corps in its first year without Antonio Brown. On the other hand, Colbert deserves a lot of credit for building one of football's elite defenses last season. Bud Dupree, T.J. Watt, Terrell Edmunds, and Devin Bush Jr. perfectly fit the system that already featured veteran standouts, who Colbert also recruited. The GM even filled Pittsburgh's one missing piece in the secondary with an outstanding in-season trade for Minkah Fitzpatrick.
3. Mickey Loomis - Saints
Loomis built a Super Bowl-winning roster a decade ago, and after a period marked by subpar campaigns and off-field turmoils, he's once again given the Saints a squad loaded with superstars. The longtime GM has had disappointments in the draft, but after finding Michael Thomas as a second-rounder in 2016, he landed a group featuring Marshon Lattimore, Ryan Ramczyk, and Alvin Kamara a year later, giving Drew Brees plenty of assets to make another championship run. New Orleans, which has suffered three straight heartbreaking playoff defeats, has posted a 37-11 record since 2017.
2. Brett Veach - Chiefs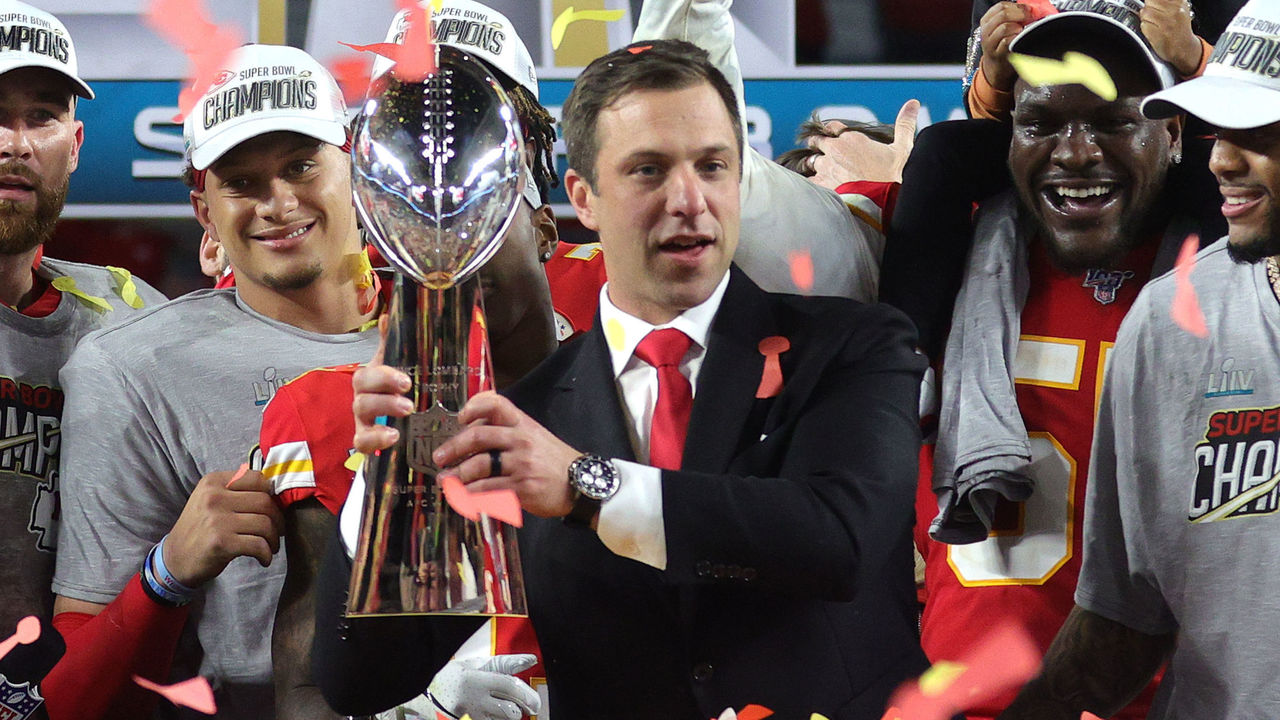 Though Veach did play a factor in the Chiefs' decision to draft Patrick Mahomes in 2017 (which might go down as the greatest call in franchise history), he didn't have the GM title until June of that year. Still, Veach's moves have given Mahomes and Andy Reid what was necessary to win a Super Bowl. The GM lined up more home run hitters alongside Tyreek Hill in the receiving corps, found low-profile contributors such as Damien Williams, and bolstered the defensive unit, especially with solid secondary acquisitions. Veach now has two long-term deals to ink with Mahomes and Chris Jones.
1. Bill Belichick - Patriots
Judging Belichick as a GM can be tricky because he's also a future Hall of Fame head coach. But signing Stephon Gilmore in 2017 and trading Jimmy Garoppolo and Jacoby Brissett are recent examples of what Belichick does best in the front office. At the end of the day, the best GMs are the ones who build better teams for the short and long term, and New England's been the most competitive club in the NFL over the last 20 years. Though Belichick rarely manages blockbuster trades and doesn't always keep the most talented players around, he knows how to map his roster weaknesses and put together a winning team better than anyone else.