NFL management rankings: How do all 32 coordinator duos stack up?
theScore's football staff evaluates the leadership positions within each NFL organization to determine which franchise possesses the best management group.
Next up, we rank each team's coordinator duo.
Categories
32. Miami Dolphins
OC: Chan Gailey
DC: Josh Boyer
Gailey last coached in the NFL during the 2016 campaign, when his Jets offense ranked 30th in scoring and 26th in yards per game. We're reluctant to assume the 68-year-old can ignite Miami's offense. Meanwhile, Boyer hasn't logged any defensive coordinator experience in the pros. Luckily, head coach Brian Flores will help lead his team's defense.
31. Detroit Lions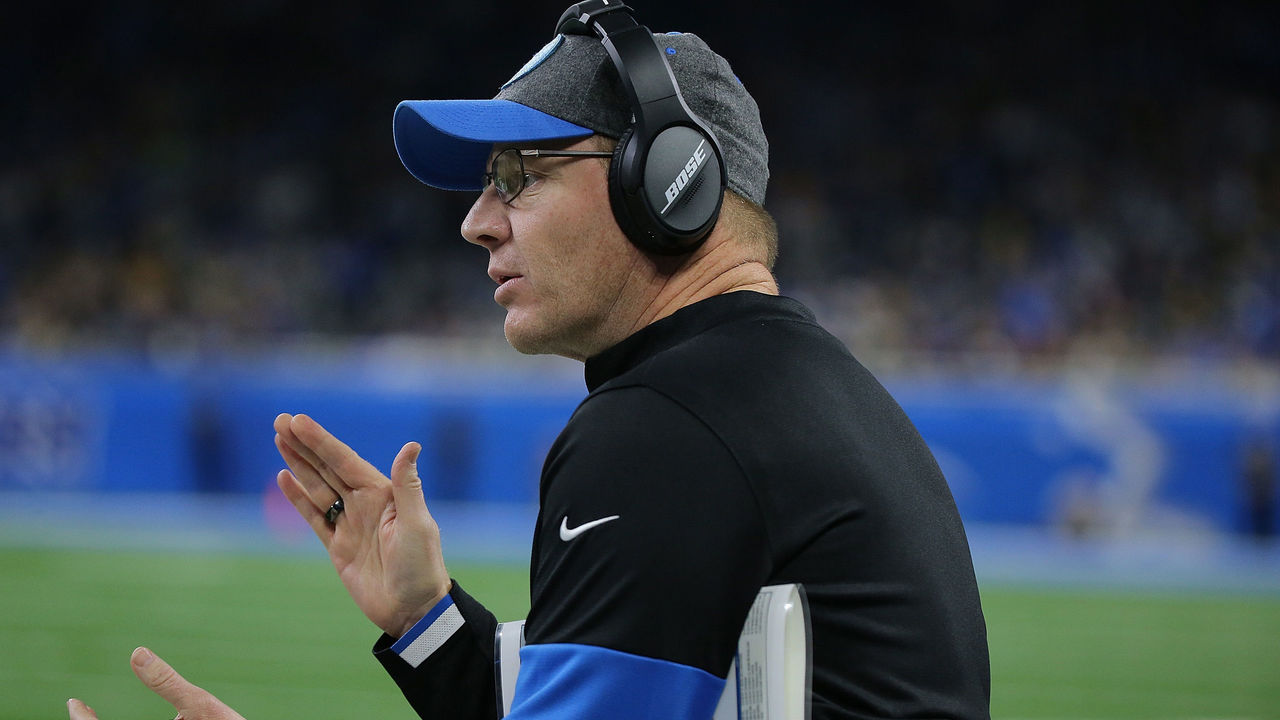 OC: Darrell Bevell
DC: Cory Undlin
Bevell didn't perform horribly in his first season with the Lions while dealing with a number of injuries to key players, and Detroit's low ranking is mostly linked to its defensive coordinator. One of the offseason's most surprising hires, Undlin somehow caught Matt Patricia's eye despite coaching an underperforming Eagles secondary over the last five years.
30. Houston Texans
OC: Tim Kelly
DC: Anthony Weaver
Bill O'Brien and Romeo Crennel will still be involved in the offense and defense, respectively, but both Kelly and Weaver haven't proven themselves. Houston at least achieves continuity among its staff, as the coordinator duo has been with the club for over five years in some capacity.
29. Cincinnati Bengals
OC: Brian Callahan
DC: Lou Anarumo
Cincinnati took longer than usual to hire top assistants for new head coach Zac Taylor in 2019, and that delay led to poor results. Despite fielding a talented defensive line and secondary, Anarumo's unit ranked 29th in total yards allowed last year, and the Bengals' run defense was the league's worst.
28. Los Angeles Rams
OC: Kevin O'Connell
DC: Brandon Staley
Sean McVay calls the offensive shots in L.A., partly because O'Connell has accrued just two years as a full-time NFL offensive coordinator. Staley is a major question mark after taking over for Wade Phillips, as he's never held his current position in the pros and is entering his first season with the Rams.
27. New York Giants
OC: Jason Garrett
DC: Patrick Graham
Many loved New York's hiring of Garrett, a former longtime head coach. However, the former Cowboys bench boss' experience as a play-caller has been limited in recent years, as he often deferred the majority of responsibilities to an assistant. Meanwhile, Graham struggled during his lone campaign with the Miami Dolphins in 2019.
26. Carolina Panthers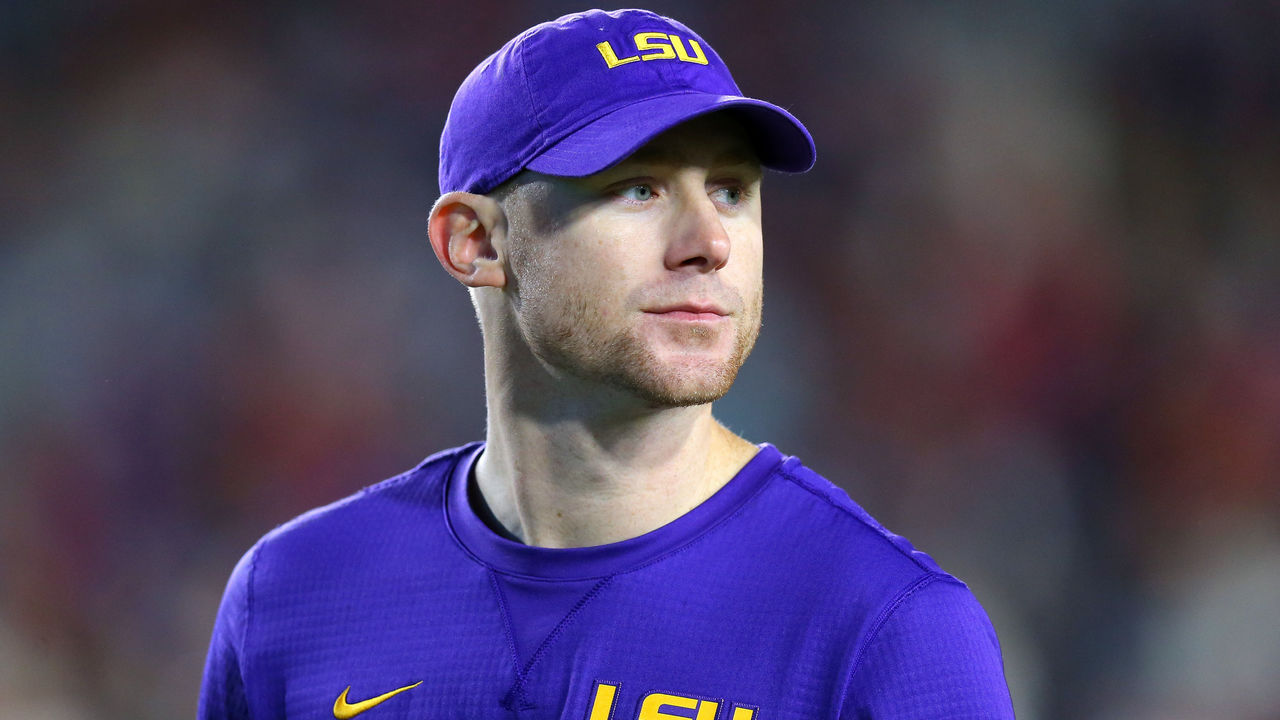 OC: Joe Brady
DC: Phil Snow
Carolina's coaching staff is loaded with uncertainty heading into 2020. Brady was the mastermind behind LSU's record-breaking offense with Joe Burrow, while Snow follows Matt Rhule to the pros after four years at Temple and three with Baylor. Time will tell if their styles can translate to the next level.
25. New York Jets
OC: Dowell Loggains
DC: Gregg Williams
Williams receives his fair share of criticism, but the 61-year-old remains a well-above-average coordinator. The Jets' defense surprisingly ranked seventh in 2019 in total defense, even while devoid of high-level talent outside of Jamal Adams. Loggains hurts New York's ranking here, as he's failed to produce a lasting impact as an NFL assistant.
24. Cleveland Browns
OC: Alex Van Pelt
DC: Joe Woods
Van Pelt hasn't logged much experience as an offensive coordinator, but he won't face significant pressure in Cleveland as Kevin Stefanski's right-hand man. His No. 1 task will be pushing Baker Mayfield toward a breakout campaign. Cleveland made a quality under-the-radar hire of Woods after his successful campaign with the 49ers as their defensive backs coach and passing game coordinator. He gained defensive coordinator experience with the Broncos in 2017-18.
23. Washington Redskins
OC: Scott Turner
DC: Jack Del Rio
The son of former NFL head coach Norv Turner, Scott is a rising star in the coaching ranks and follows Ron Rivera to Washington after coaching the Panthers' quarterbacks for two seasons. Del Rio has been out of the league since 2017, but he'll team up with Rivera to form a stable presence leading the Redskins' defense.
22. Chicago Bears
OC: Bill Lazor
DC: Chuck Pagano
Lazor is back in the NFL after a year at Penn State, and two unsuccessful seasons as the Bengals' offensive coordinator prior to that. At least Pagano, a former longtime head coach, provides some stability on his side of the ball. He may not have replicated Vic Fangio's success, but Chicago still owned a top-10 group in 2019 under Pagano.
21. Denver Broncos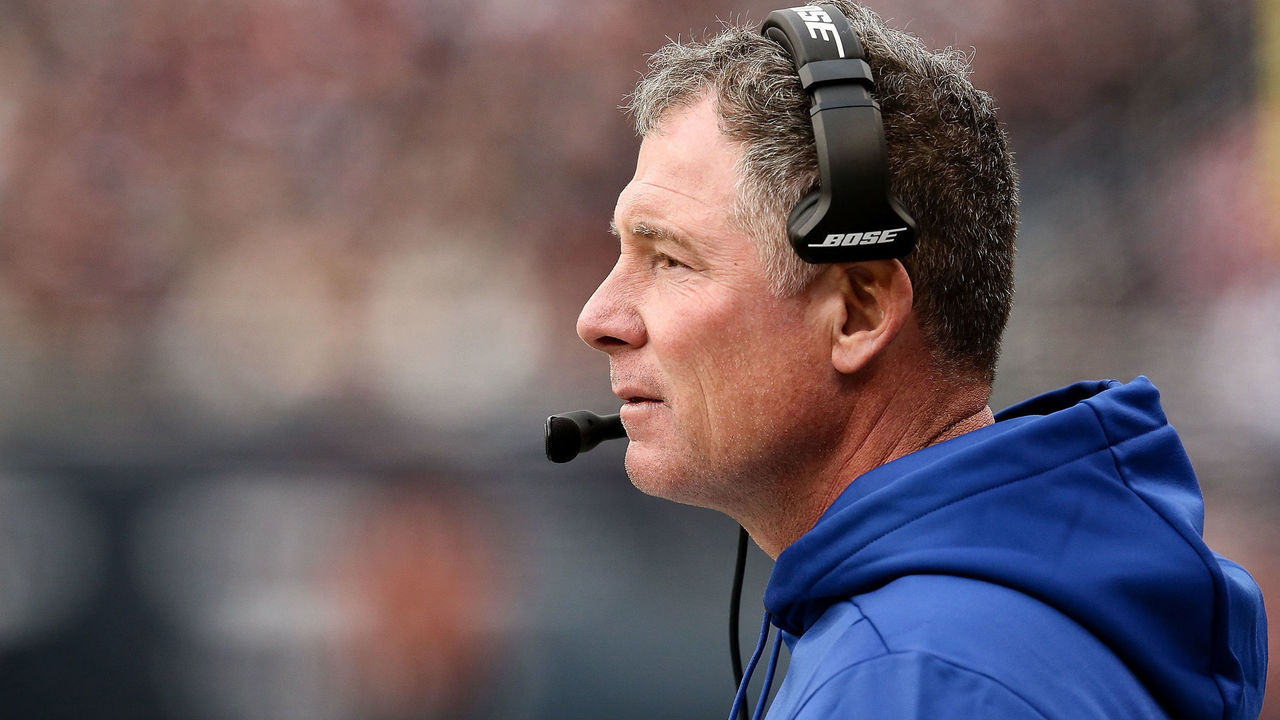 OC: Pat Shurmur
DC: Ed Donatell
Shurmur is among the many gifted offensive coaches who are never able to consistently succeed as a head coach, but he offers experience and aptitude as an assistant. His stint with a Case Keenum-led Vikings squad shouldn't be ignored. Meanwhile, Fangio has leaned heavily on Donatell since 2011, when the current Broncos head coach was the 49ers' defensive coordinator.
20. Jacksonville Jaguars
OC: Jay Gruden
DC: Todd Wash
Wash's stint with the Jaguars began in 2016, and his results have largely been linked to the team's defensive talent. While he's a relatively underwhelming assistant, Gruden represents a major upgrade for the offense. The 53-year-old failed to consistently yield results as a head coach, but he can lead a productive scoring attack.
19. Los Angeles Chargers
OC: Shane Steichen
DC: Gus Bradley
Steichen is a relatively unproven assistant, and that hurts Los Angeles' ranking. But Bradley is one of the league's top defensive coordinators. The Chargers finished with a top-10 unit in each of the last two seasons under his tutelage despite battling through multiple injuries at key positions.
18. Las Vegas Raiders
OC: Greg Olson
DC: Paul Guenther
Jon Gruden handpicked Olson and Guenther when he took the Raiders' job in 2018, and both have filled their roles admirably. The latter is slightly more proven, and he led an impressive turnaround for his unit. Guenther's defense ranked 19th in 2019 after placing 26th a season ago. They're a solid, if unspectacular, duo.
17. Atlanta Falcons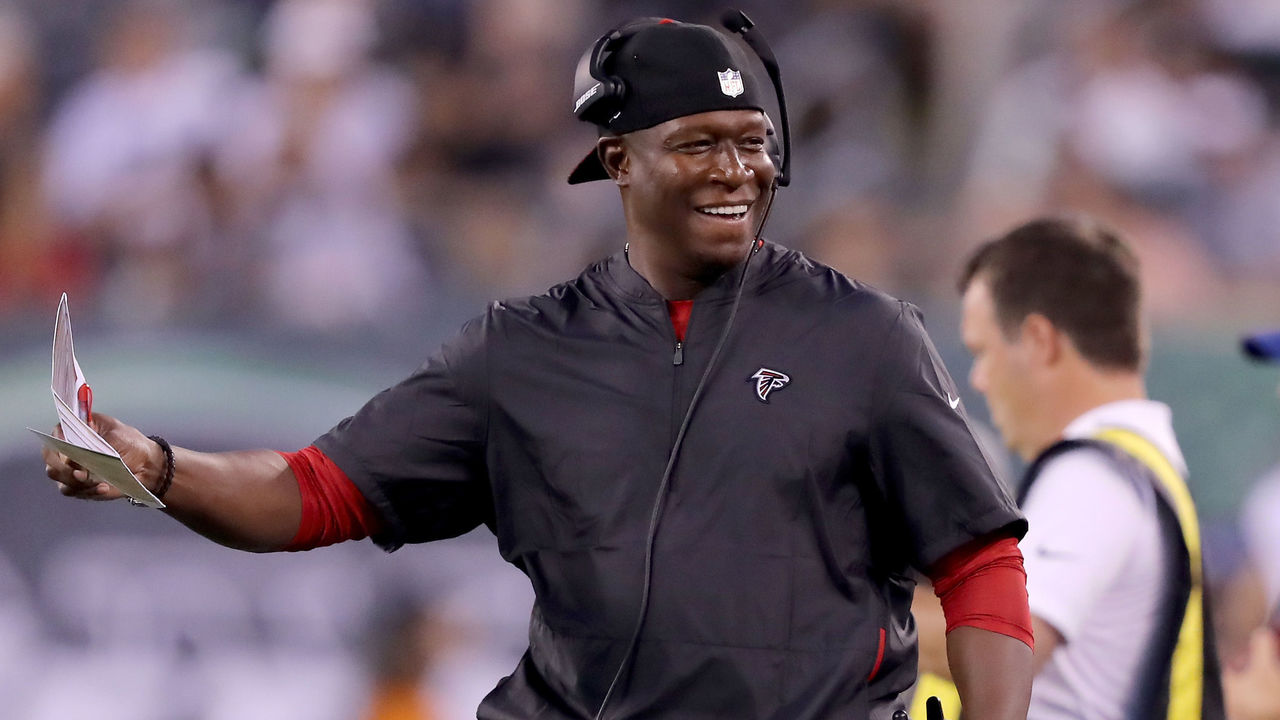 OC: Dirk Koetter
DC: Raheem Morris
Morris' increased involvement in defensive play-calling was a revelation for the Falcons last year, and his talented unit should be primed for a bounce-back campaign. Koetter has both head coaching experience and familiarity with some of Atlanta's personnel after being the team's OC from 2012 to 2014. But his offense underachieved en route to missing the playoffs in 2019. Despite racking up the third-most yards per game and fielding a plethora of talented weapons, the Falcons' 23.8 points per contest ranked just 13th.
16. Indianapolis Colts
OC: Nick Sirianni
DC: Matt Eberflus
Indianapolis doesn't possess the NFL's highest-profile coordinator duo, but both men work well under head coach Frank Reich. Sirianni helped the Colts rank 17th in points per game despite facing a number of challenges after Andrew Luck's retirement, while Eberflus' unit placed in the middle of the pack in most key metrics.
15. Arizona Cardinals
OC: Kliff Kingsbury (HC)
DC: Vance Joseph
Kingsbury proved his offense can be effective in the pros, and although the Cardinals don't officially employ an offensive coordinator, he teams with 21-year coaching veteran Tom Clements to lead his scoring unit. Joseph, a former head coach himself, failed to meet expectations during his first campaign in the desert. Arizona's defense struggled in 2019, finishing last in yards allowed.
14. Green Bay Packers
OC: Nathaniel Hackett
DC: Mike Pettine
Pettine catches a lot of flack for Green Bay's performance against the 49ers in last year's NFC Championship Game, but the Packers' defense was consistently solid in 2019, and he still represented a drastic upgrade over Dom Capers. Meanwhile, Hackett shoulders fewer responsibilities - which may be the right call given his lack of success in Jacksonville - with head coach Matt LaFleur running his squad's offense.
13. Dallas Cowboys
OC: Kellen Moore
DC: Mike Nolan
Moore began his coordinator tenure on fire, with the Cowboys averaging 32.3 points per game over their first three contests. Dallas' offense then endured some bumps along the road, but the former quarterback is widely regarded as a rising star. Nolan replaces Rod Marinelli and Kris Richard, though he hasn't held the title of DC since 2014 while with the Falcons.
12. Seattle Seahawks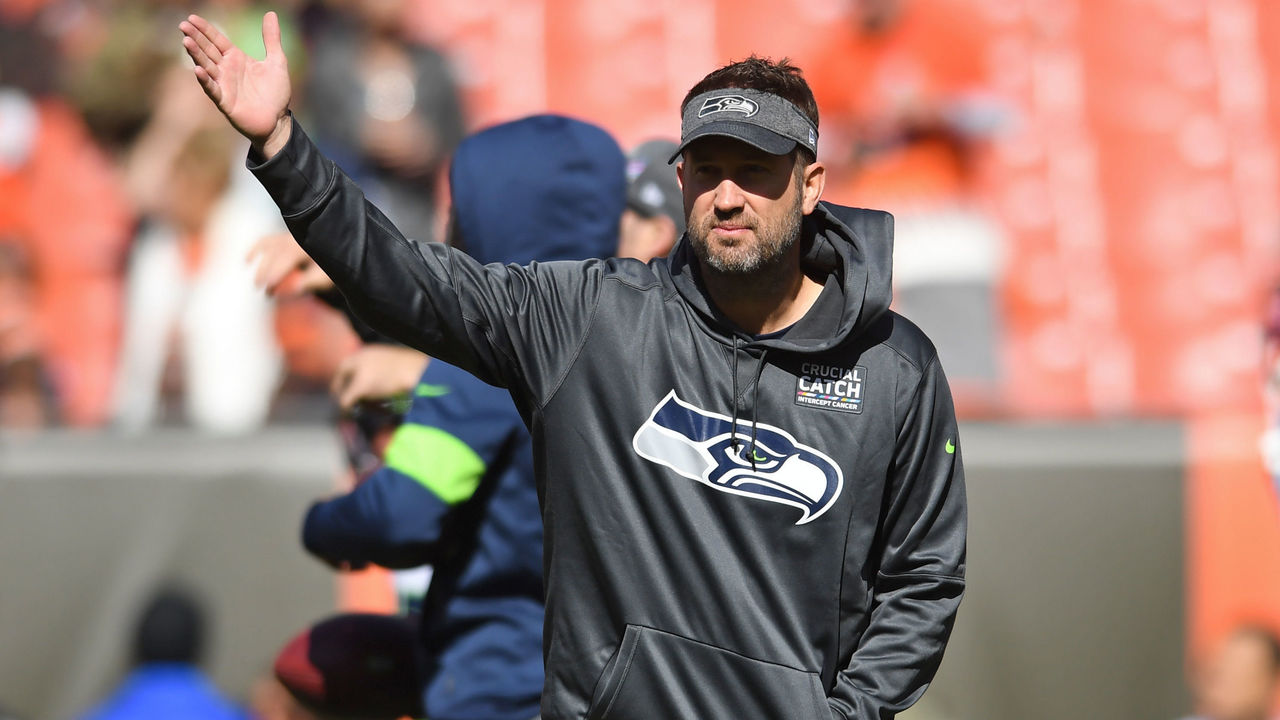 OC: Brian Schottenheimer
DC: Ken Norton Jr.
While Schottenheimer is among the league's most criticized assistants for not opening up Seattle's offense, the Seahawks have fielded a top-10 scoring unit in both of his years with the franchise. Meanwhile, Norton's defense hasn't quite met expectations, but his group showed significant improvement during the second half of last season.
11. Tennessee Titans
OC: Arthur Smith
DC: Mike Vrabel (HC)
Little was known about Smith prior to the 2019 campaign, but the 38-year-old was an integral figure throughout Tennessee's run to the AFC title game and Ryan Tannehill's remarkable resurgence. Head coach Mike Vrabel runs a stout defense with the help of a few key assistants, and the unit impressed against several dynamic offenses a season ago.
10. Minnesota Vikings
OC: Gary Kubiak
DC: Andre Patterson and Adam Zimmer
Kubiak owns an impressive resume as an NFL head coach and assistant, so Kirk Cousins and Dalvin Cook will likely be pleased with his 2020 promotion. The Super Bowl 50 champion as a head coach should help the Vikings recover after losing Stefanski to Cleveland. Adam Zimmer, the son of head coach Mike Zimmer, and Patterson have worked their way up the ranks, and they form a reliable trio with Minnesota's sideline boss. The Vikings' defense always seems to produce.
9. Buffalo Bills
OC: Brian Daboll
DC: Leslie Frazier
Buffalo didn't field the most explosive scoring attack in 2019, but Daboll consistently puts his group in a position to win, even without elite weapons. His offensive mind is bright, and there's a reason he's received recent head coaching interest. Meanwhile, Frazier implements Sean McDermott's defensive scheme perfectly. The Bills' defense ranked second in points allowed and third in yards allowed last year.
8. Pittsburgh Steelers
OC: Randy Fichtner
DC: Keith Butler
It couldn't have been easy taking over for Dick LeBeau, but Butler's excellence in Pittsburgh can't be overstated. Minkah Fitzpatrick, T.J. Watt, and Bud Dupree all enjoyed breakout campaigns last season while the Steelers led the NFL with 38 turnovers. Fichtner has endured his share of criticism since being hired as Pittsburgh's OC in 2018, though he made the most out of an injury-depleted roster. Both coordinators were vital during the Steelers' push for the playoffs in 2019.
7. Tampa Bay Buccaneers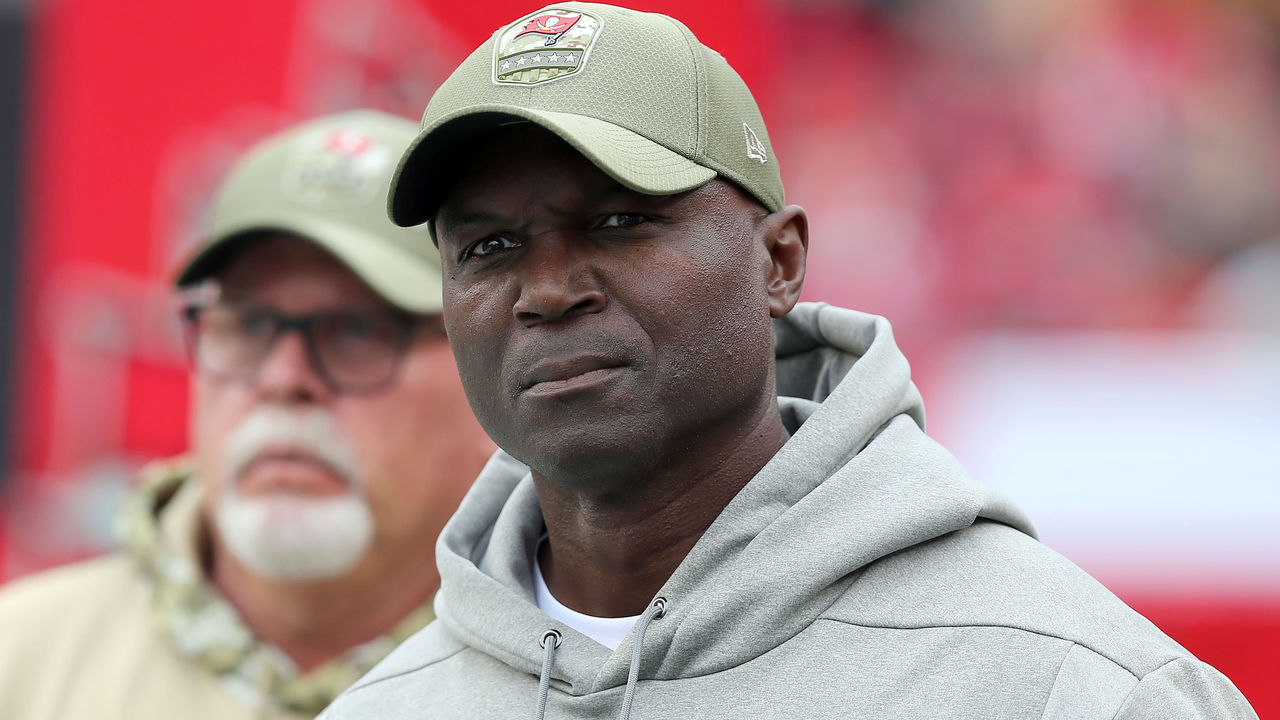 OC: Byron Leftwich
DC: Todd Bowles
Bowles, one of football's smartest defensive coaches, transformed a perennially leaky Bucs unit in 2019. The former head coach helped Tampa Bay improve at all three levels, and the team finished the year with the league's top run defense. The group figures to take an even bigger step in 2020. Offensively, Leftwich calling plays for Bruce Arians - albeit with mixed results - speaks volumes. The former quarterback is highly regarded as an ascending star coach, and an upcoming pairing with Tom Brady should vastly improve his results.
6. Philadelphia Eagles
OC: Doug Pederson (HC)
DC: Jim Schwartz
Pederson will once again lead an offensive coordinator-less Philadelphia offense this season with the help of top assistants Duce Staley, Rich Scangarello, and Marty Mornhinweg. The group should produce better results than Mike Groh's unit last year. Despite the Eagles' secondary being among the league's shakiest in 2019, Schwartz still fielded a top-10 ranked defense. His group consistently gets after the quarterback and defends the run well.
5. New Orleans Saints
OC: Pete Carmichael
DC: Dennis Allen
Carmichael isn't the highest-profile offensvie coordinator, but spending 11 seasons with one franchise in the same role is an impressive feat. Head coach Sean Payton trusts the 48-year-old, and New Orleans' scoring unit usually produces at an elite level. On defense, Allen doesn't get enough credit for developing a strong group after it was once among the NFL's weakest.
4. San Francisco 49ers
OC: Kyle Shanahan (HC)
DC: Robert Saleh
The Niners' defense was one of the biggest stories last season, with Saleh's unit dominating nearly every opponent en route to the Super Bowl. After enduring two disappointing seasons as a DC, the 41-year-old has surprisingly become a potential head coaching candidate. Shanahan, who's one of the league's most creative play-callers, coordinated a scoring attack that was equally productive in 2019, largely due to his mismatch-creating scheme.
3. Kansas City Chiefs
OC: Eric Bieniemy
DC: Steve Spagnuolo
Andy Reid gets a ton of credit for Kansas City's high-octane offense, and rightly so. But by all appearances Bieniemy calls plays on game day, too. He's very likely the league's best offensive coordinator, and Bieniemy should become a head coach in the near future. Spagnuolo was a questionable hire last offseason after spending the year prior out of football. He silenced doubters in a big way, leading a strong Chiefs defense that stepped up in the playoffs.
2. New England Patriots
OC: Josh McDaniels
DC: Bill Belichick (HC)
New England finally falls from the top spot after two straight No. 1 rankings in our series. Belichick is the team's de facto defensive coordinator, and he guided the league's premier unit in 2019. The future Hall of Fame coach seemingly does it all, and he does everything spectacularly. Meanwhile, McDaniels isn't among the hottest head coaching candidates every offseason by fluke. The top assistant has done some of his best work in recent years, taking a handful of declining players and below-average weapons and making his offense productive enough to win. This duo is the main reason we can't count out the Patriots in their first post-Tom Brady season.
1. Baltimore Ravens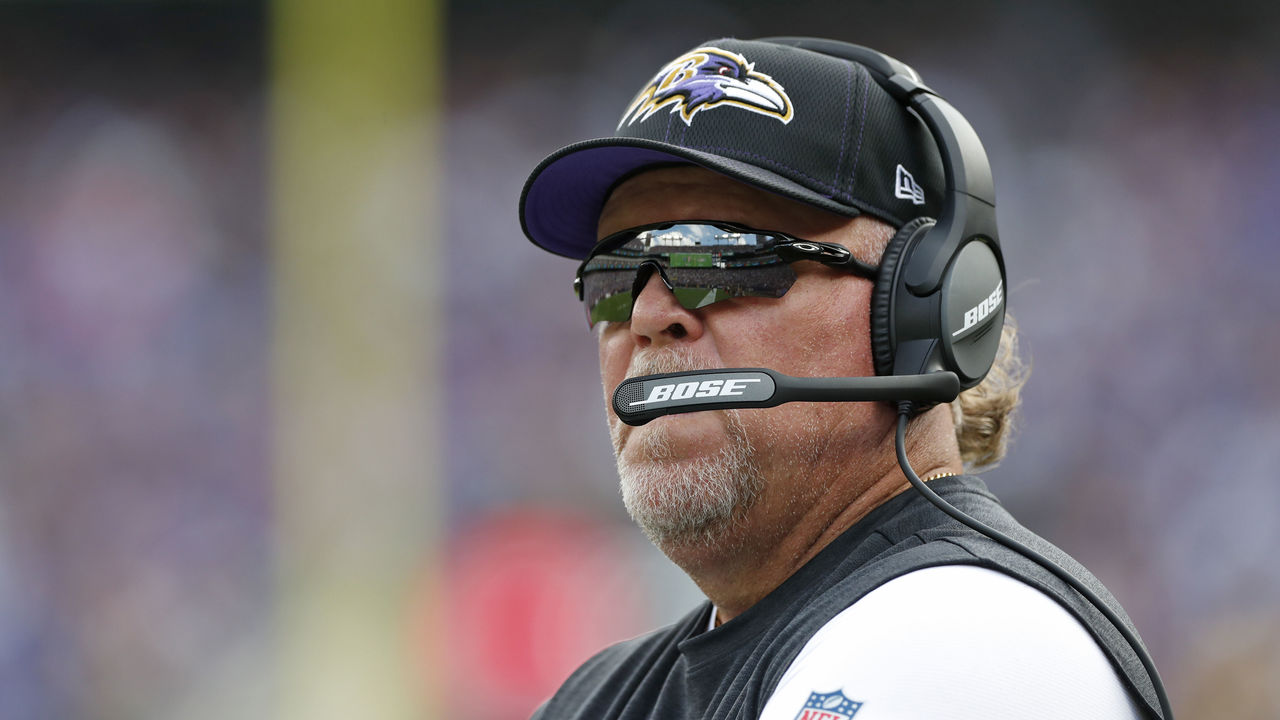 OC: Greg Roman
DC: Don "Wink" Martindale
You'd be hard-pressed to find a more productive and impactful coordinator duo in 2019. Roman was the league's best offseason promotion last year, transforming Baltimore's offense to fit Lamar Jackson's style and helping his quarterback dominate en route to winning MVP. Martindale was equally impressive, with the Ravens' secondary and pass rush consistently overwhelming opponents. Baltimore ranked fourth in yards allowed and third in points allowed.
Comments
✕
NFL management rankings: How do all 32 coordinator duos stack up?
  Got something to say? Leave a comment below!