NFL management rankings: How do all 32 head coaches stack up?
Ronald Martinez / Getty Images Sport / Getty
theScore's football staff evaluates the leadership positions within each NFL organization to determine which franchise possesses the best management group.
Next up are the head coaches.
32. Adam Gase - Jets
The New York Jets hired Gase to be something of an offensive guru, but they finished dead last in total offense and second-last in scoring in 2019. Though he inherited a leaky offensive line and few playmakers with the Jets, this isn't the first time Gase has struggled as a head coach; he's never produced an offense ranked better than 24th in his four years with the title. Accordingly, fans soured on him by the end of the season, with "Fire Adam Gase" appearing on banners and billboards.
31. Joe Judge - Giants
There's little evidence on which to judge this move by the New York Giants. The former New England Patriots special teams coordinator and wide receivers coach was a surprise hire this offseason, becoming the first special teams coordinator since 2008 to land a head coaching job. Judge is just 38 years old and learned under Bill Belichick, but he's held a job outside of special teams for only one season. He begins the 2020 campaign as our lowest-ranked rookie coach.
30. Matt Patricia - Lions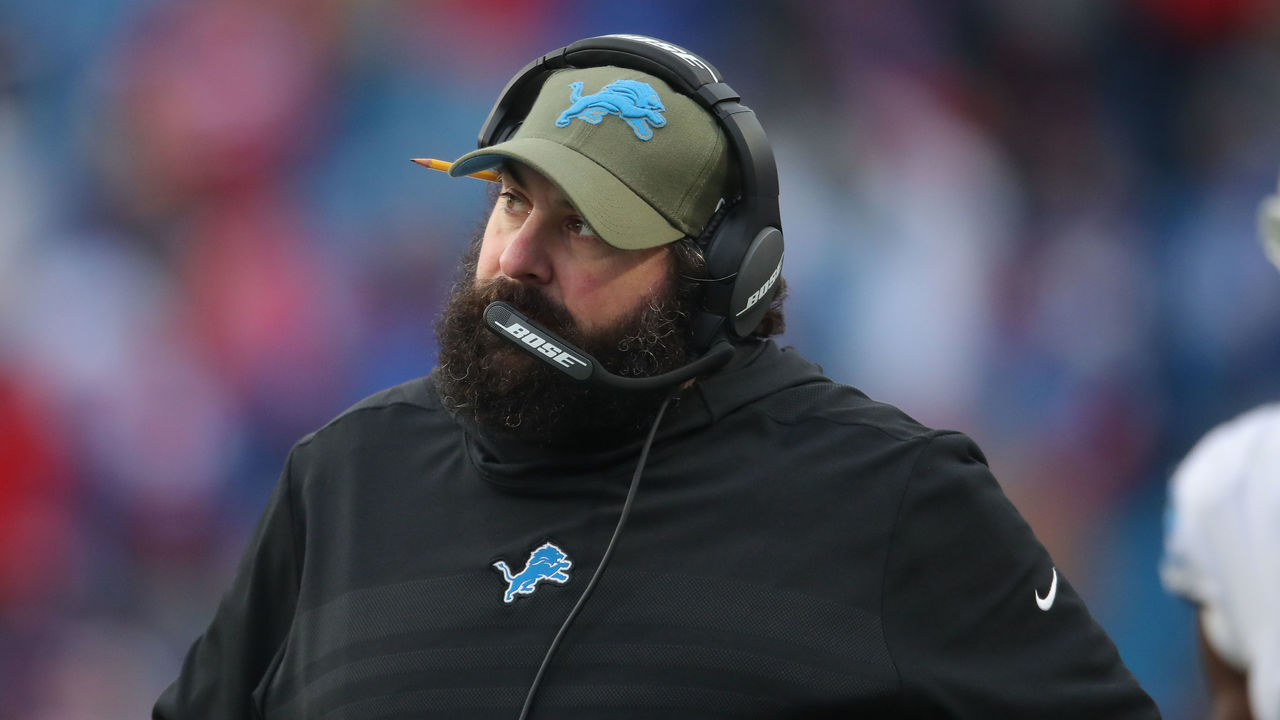 The rocket scientist hasn't figured out how to get the Detroit Lions to launch; Patricia has a 9-22-1 record in two years as a head coach. His tenure has been a rocky one, to say the least. And though the organization has stuck by him, the same can't be said for some of his players. Former Lions corner Darius Slay petitioned for a trade, afterward revealing that he and his ex-coach didn't see eye to eye and that it was hard to play for Patricia. The 45-year-old enters 2020 firmly on the hot seat.
29. Zac Taylor - Bengals
Taylor has just one season of work to evaluate, but he couldn't have made a worse head coaching debut. The Cincinnati Bengals lost their first 11 games of 2019 and were the last team to record a win. Taylor benched franchise quarterback Andy Dalton only to reinstall him as the starter three weeks later, and Cincinnati finished with the league's worst record. By the end of the year, the Bengals were drawing record-low crowds. The only positive is that Taylor enters his second season with more input on a roster that will be built around No. 1 overall draft pick Joe Burrow.
28. Kevin Stefanski - Browns
Stefanski enters his first head coaching gig as a relative unknown. The 38-year-old had spent his entire 14-year coaching career with the Minnesota Vikings and ascended to offensive coordinator for the 2019 season. Minnesota finished middle of the pack in offense but ranked eighth in scoring offense. The Cleveland Browns are counting on him to turn around a moribund franchise and get Baker Mayfield back on track. Stefanski spent two years as a quarterbacks coach and another five as an assistant QB coach, so perhaps he's the right person to help Mayfield rediscover his rookie form.
27. Doug Marrone - Jaguars
It becomes increasingly more clear with each passing season that the 2017 campaign in which Marrone led the Jacksonville Jaguars to the AFC Championship Game was an outlier. Jacksonville has gone 5-11 and 6-10 since. Marrone was retained despite owner Shad Khan labeling 2019's results as "unacceptable," and he now enters a make-or-break year with a barren roster. It's not a recipe for job security.
26. Matt Rhule - Panthers
Arguably the biggest question mark on this list, Rhule has only one season of NFL experience in any capacity, serving as the Giants assistant offensive line coach in 2012. He does, however, boast an incredible track record when it comes to turning around struggling college programs in short order, most notably bringing Baylor out of the Big 12 basement in the wake of the Art Briles scandal. The 45-year-old is an excellent leader, but it remains to be seen whether Rhule's skills can translate to the pros and guide the Carolina Panthers in a competitive NFC South.
25. Dan Quinn - Falcons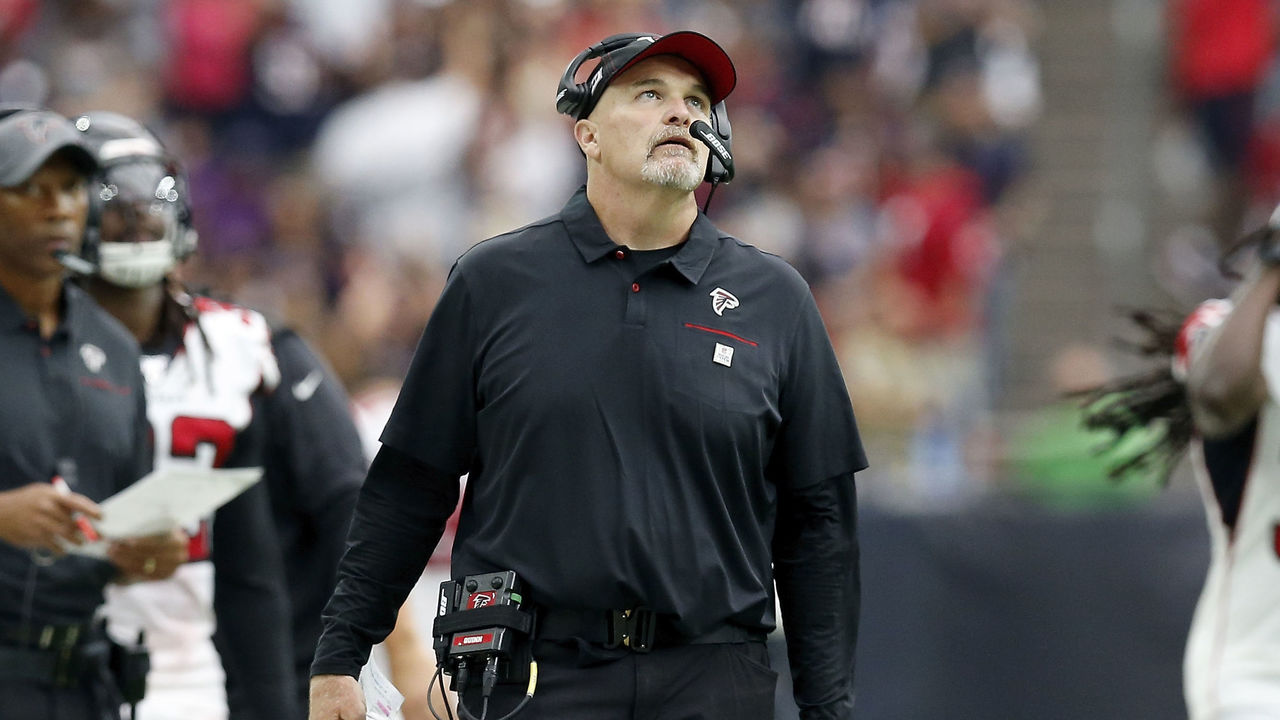 Quinn escaped the ax again in 2019 by winning the last four games of the season and six of the final eight. It appeared Quinn wasn't long for the role when the Atlanta Falcons opened the campaign 1-7, but the late-season turnaround earned him another year. Though the Falcons hired Quinn as a defensive guru, he's cycled through coordinators before finally relinquishing play-calling duties to new defensive coordinator Raheem Morris. Quinn has run out of moves and needs results in 2020.
24. Vic Fangio - Broncos
Fangio got his first head coaching gig at the tender age of 61 after 19 years as a defensive coordinator. In just one season, the Denver Broncos improved from 22nd in team defense to 12th, though they still needed to win four of their last five contests to finish just 7-9. The offense also improved late in the year when Fangio installed rookie Drew Lock at quarterback. The two will enter their sophomore seasons with far more expected of them.
23. Kliff Kingsbury - Cardinals
An offensive guru who joined the Arizona Cardinals after a six-year stint at Texas Tech, Kingsbury proved his highly anticipated system can function in the pros. With a season of experience under his belt and an improved roster at his disposal, he should take the next step in 2020. However, Kingsbury needs to display more control on both sides of the ball and improve his contingency plans for injuries to star players before we can rank him above some veterans.
22. Mike McCarthy - Cowboys
After spending a year out of the league, McCarthy returns as Jason Garrett's replacement with the Dallas Cowboys. The 56-year-old's track record speaks for itself: eight straight playoff berths, five division titles, and 2010's Super Bowl win. Though McCarthy's run of success was no fluke, his inability to adapt - and a deteriorated relationship with Aaron Rodgers - led to his downfall with the Green Bay Packers. He has to show he's learned from his mistakes to earn a higher ranking.
21. Anthony Lynn - Chargers
Lynn joined the Los Angeles Chargers as a relatively surprising candidate but has enjoyed success in his first three seasons with the club. A former running backs coach, the 51-year-old is known for establishing a dynamic ground game with multiple tailbacks. Despite a multitude of injuries seemingly every year, Lynn has guided the Chargers to a 26-22 record and a playoff win in 2018. He needs to add more to his resume and produce consistent results to climb this list.
20. Matt LaFleur - Packers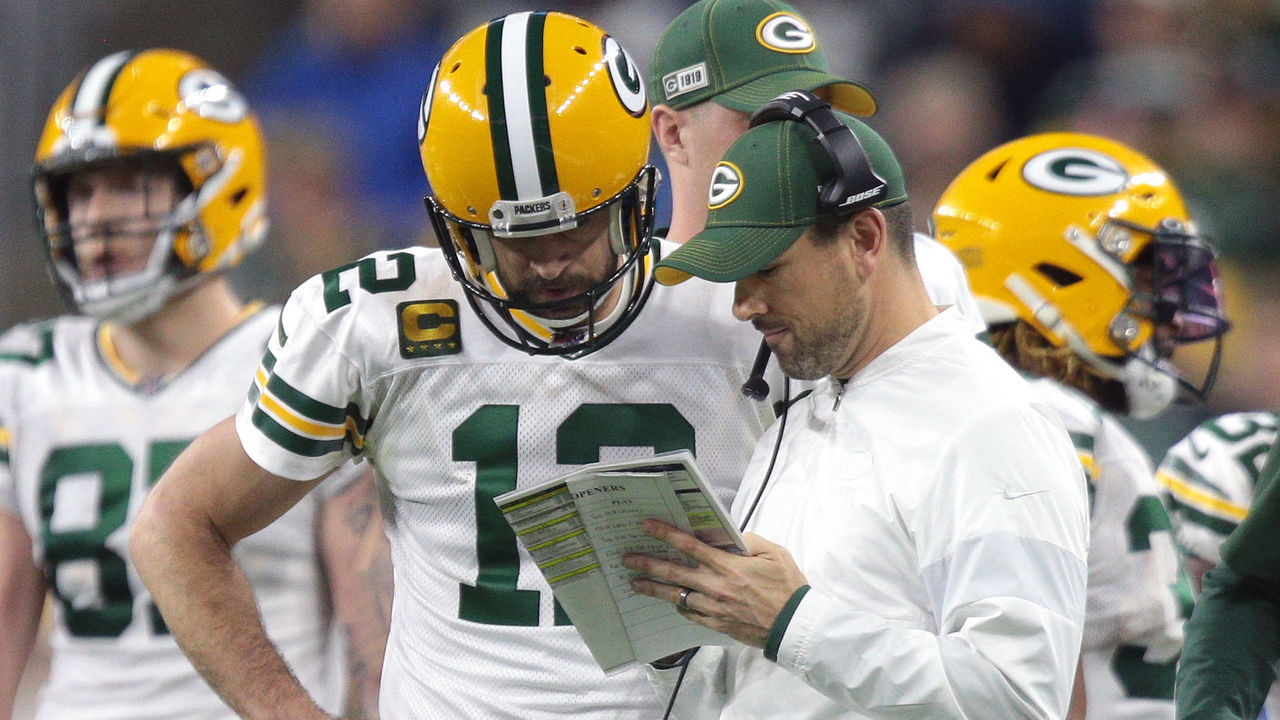 LaFleur may have landed this job by virtue of his friendship with Los Angeles Rams head coach Sean McVay, but he accomplished his most important goal in Year 1: get on the same page with Rodgers. However, it's somewhat concerning that the San Francisco 49ers obliterated his 13-win Packers twice in one year, and LaFleur failed to make Green Bay's passing game more explosive.
19. Matt Nagy - Bears
The 2018 Coach of the Year's stock sunk with a woeful second season, during which the Chicago Bears regressed on both sides of the ball. In particular, Nagy drew criticism for prematurely abandoning the run and assigning too much responsibility to struggling quarterback Mitchell Trubisky. The league seemed to catch up to his scheme in 2019, and now Nagy must counter in 2020.
18. Brian Flores - Dolphins
A 5-11 record is generally nothing to write home about, but Flores' rookie campaign with the Miami Dolphins was anything but normal. Miami stripped its roster of almost all high-end talent to position itself for the future, but the Dolphins wound up winning five of their final nine games. More importantly, they showed major improvement as the season progressed, which is a sign of solid coaching.
17. Bill O'Brien - Texans
With four division titles in six years, O'Brien clearly has a general understanding of how to run a football team. But he makes too many questionable in-game decisions to be considered an elite coach, and it never seems the Houston Texans quite live up to their potential. Overall, O'Brien is both an asset and a liability.
16. Jon Gruden - Raiders
An 11-21 record through two seasons leaves plenty to be desired, though Gruden does appear to have the Las Vegas Raiders moving in the right direction. No one can doubt the adoration players have for him, which is important considering it'd be easy to question a coach who spent nine years out of the league. The Raiders made significant strides on offense last season as Derek Carr set career highs in several passing categories and Josh Jacobs gave them a dynamic rushing attack.
15. Ron Rivera - Redskins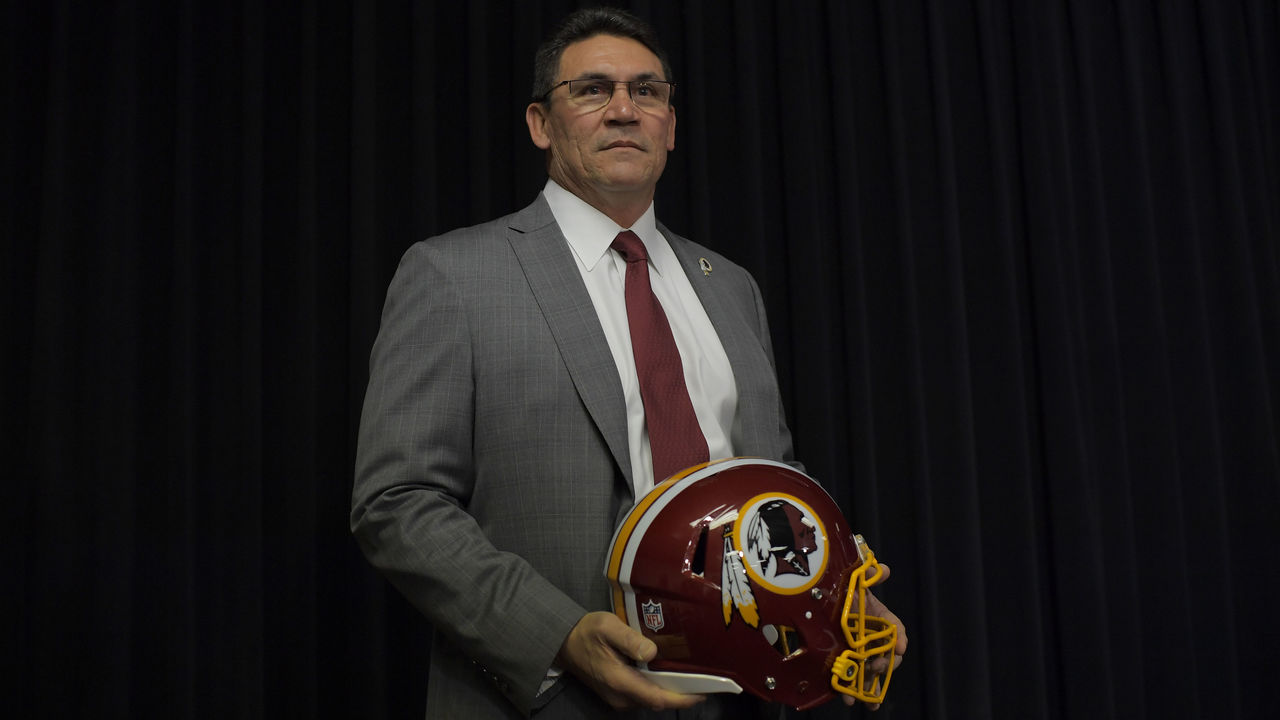 Rivera's most successful seasons may feel like ancient history, but the two-time Coach of the Year isn't to blame for the limited roster and quarterback injuries the Panthers suffered from before his dismissal. Rivera will have a chance for a fresh start with the rebuilding Washington Redskins. His experience and credibility will be important for a once-proud organization trying to restore respectability.
14. Frank Reich - Colts
In Reich's first year, the Indianapolis Colts rebounded from a 1-5 start and surged to the divisional round of the playoffs. In 2019, he showed it wasn't just beginner's luck, as the Colts won seven games with an unspectacular roster after losing their franchise quarterback two weeks before the season kicked off. Indy missed the playoffs, but the team started 5-2 before Jacoby Brissett sprained his MCL. The Colts' efforts to give Reich an improved roster this offseason could help him jump a few spots on this list.
13. Mike Vrabel - Titans
A pair of 9-7 seasons don't tell the full story of Vrabel's time with the Tennessee Titans. He made the tough - but correct - call to bench Marcus Mariota last season for Ryan Tannehill, who went on to guide the Titans to the AFC Championship Game. He also helped Malcolm Butler iron out some issues in his technique and recover from a poor start to his tenure. Without much star power, Tennessee has had to become disciplined, tough, and fundamentally sound - qualities that were associated with Vrabel throughout his playing days.
12. Bruce Arians - Buccaneers
Arians is one of only three active head coaches in the NFL with multiple Coach of the Year awards sitting on his mantle. He made the Tampa Bay Buccaneers competitive again in his first season with the club, giving hope to a franchise that was stuck in the mud. Tampa Bay won seven games thanks to improvements on both sides of the ball throughout the campaign, and Arians then helped lure Tom Brady from the Patriots in free agency.
11. Mike Zimmer - Vikings
Though the offense hasn't been as consistent as he'd like, Zimmer is responsible for the vaunted Vikings defense. He led Minnesota to 10-plus wins in two of the last three years, as well as to the 2017 NFC Championship Game with Case Keenum under center - an accomplishment that can't be ignored. The question now is whether Zimmer can take the Vikings any further.
10. Sean McVay - Rams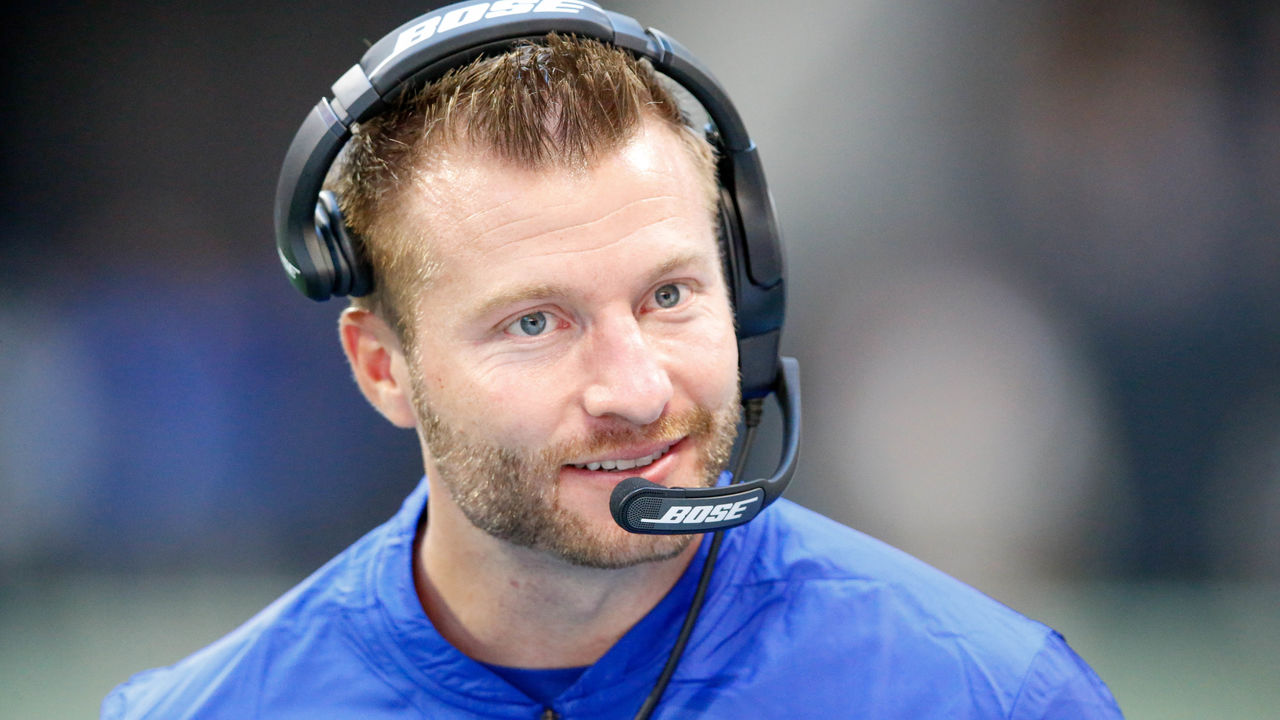 When a 9-7 season feels like a losing campaign, you've set a high bar. The Rams' offense didn't click for most of last year, and McVay will need to wave his magic wand again in 2020 to fix what was broken. There's no doubt he's one the most brilliant offensive minds in the NFL and a capable head coach. McVay is 33-15 during the regular season with two playoff appearances and one Super Bowl berth since the Rams hired him following a 4-12 campaign in 2016.
9. Sean McDermott - Bills
The Buffalo Bills went from a 17-year playoff drought to two postseason appearances in three years with McDermott in charge. The defensive-minded coach has built a sustainable culture in Buffalo, and now he has the necessary talent to take the Bills to the next level. The only knock is that his game management could use some improvement.
8. Pete Carroll - Seahawks
Enthusiastic as ever at 68 years old, few coaches are able to connect with and motivate players better than Carroll does. His charm is one of the reasons the Seattle Seahawks are seemingly always playoff contenders, years - and a significant amount of talent - removed from the teams that went to back-to-back Super Bowls in 2013 and 2014. Under Carroll, Seattle has never been shy about taking on talented players with big personalities, and it's worked out favorably more often than not.
7. Mike Tomlin - Steelers
A shaky 2018 campaign put Tomlin under a microscope, but he rebounded last season by nearly making the playoffs while flipping between a pair of XFL-caliber quarterbacks. Questions arose about his leadership when the Pittsburgh Steelers came unglued two years ago. However, those concerns were put to rest in 2019 when the locker room stepped up following the departures of multiple star players. Tomlin still owns the distinction of being the youngest head coach ever to win a Super Bowl.
6. Kyle Shanahan - 49ers
Even when Shanahan was losing games during his first two years with the 49ers, his undermanned offense showed great promise. With a healthy Jimmy Garoppolo in 2019, San Fran suddenly looked invincible. The only coaches ranked ahead of Shanahan have championship rings, and the 40-year-old could have been among them if Garoppolo hit an open Emmanuel Sanders late in Super Bowl LIV.
5. John Harbaugh - Ravens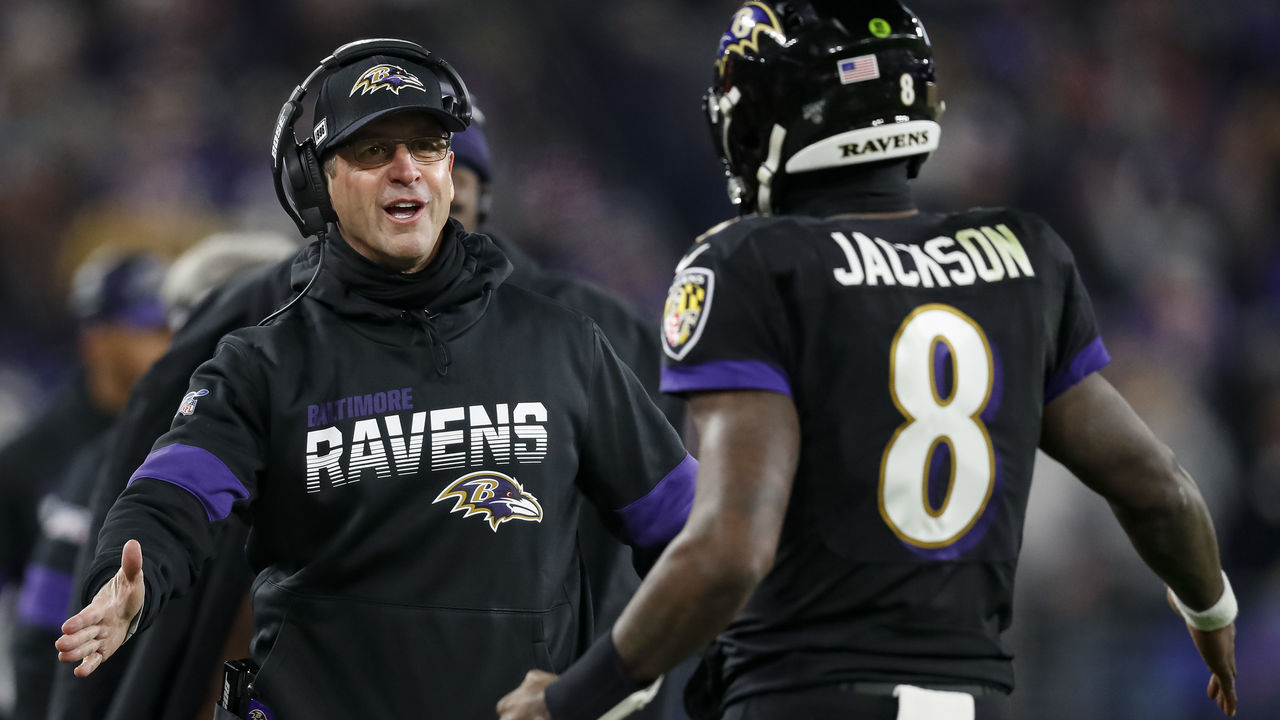 Harbaugh is among the most accomplished head coaches of the last decade and one of the few who has been with his team for 10-plus seasons. His resume with the Baltimore Ravens includes six 10-win campaigns, 10 playoff wins, four division titles, and a Super Bowl championship in 2012. The Ravens are among the league's most stable franchises thanks in large part to their longtime head coach. One of Harbaugh's best qualities is that he accepts his strengths and weaknesses and delegates when necessary, but his lack of mastery on either side of the ball keeps him a small step behind the top-tier bosses below.
4. Doug Pederson - Eagles
How many coaches on this list can say they've beaten Belichick in the Super Bowl with a backup quarterback and earned three straight postseason berths despite a litany of injuries each year? Only Pederson. He isn't the NFL's flashiest head coach, but he understands how to manage a team and always gets the most out of his players. He's earned more playoff victories this decade than all but five current coaches despite holding the position for only four seasons, and the Philadelphia Eagles always seem to be in playoff contention in an ultra-competitive NFC.
3. Sean Payton - Saints
It's a credit to Payton that nobody can figure out how to stymie his offense after all these years. While many of his colleagues struggle with a change in circumstances, Payton has adjusted perfectly to an aging Drew Brees, moving from a vertical system to a quick-pass scheme. The New Orleans Saints have ranked in the top 10 in yards every season and in points all but twice since the head coach joined the team in 2006. With the defense finally stable, Payton and Co. have morphed into perennial Super Bowl contenders.
2. Andy Reid - Chiefs
No coach squeezes more juice out of his quarterback than Reid does, as he most recently displayed by helping Patrick Mahomes become the most dominant player in football. In 21 seasons as a head coach with the Eagles and Kansas City Chiefs, Reid's teams have been to the playoffs an astounding 15 times. Now that he's finally won a Super Bowl, we can shove Reid's lifelong clock-management issues under the rug and celebrate his brilliance.
1. Bill Belichick - Patriots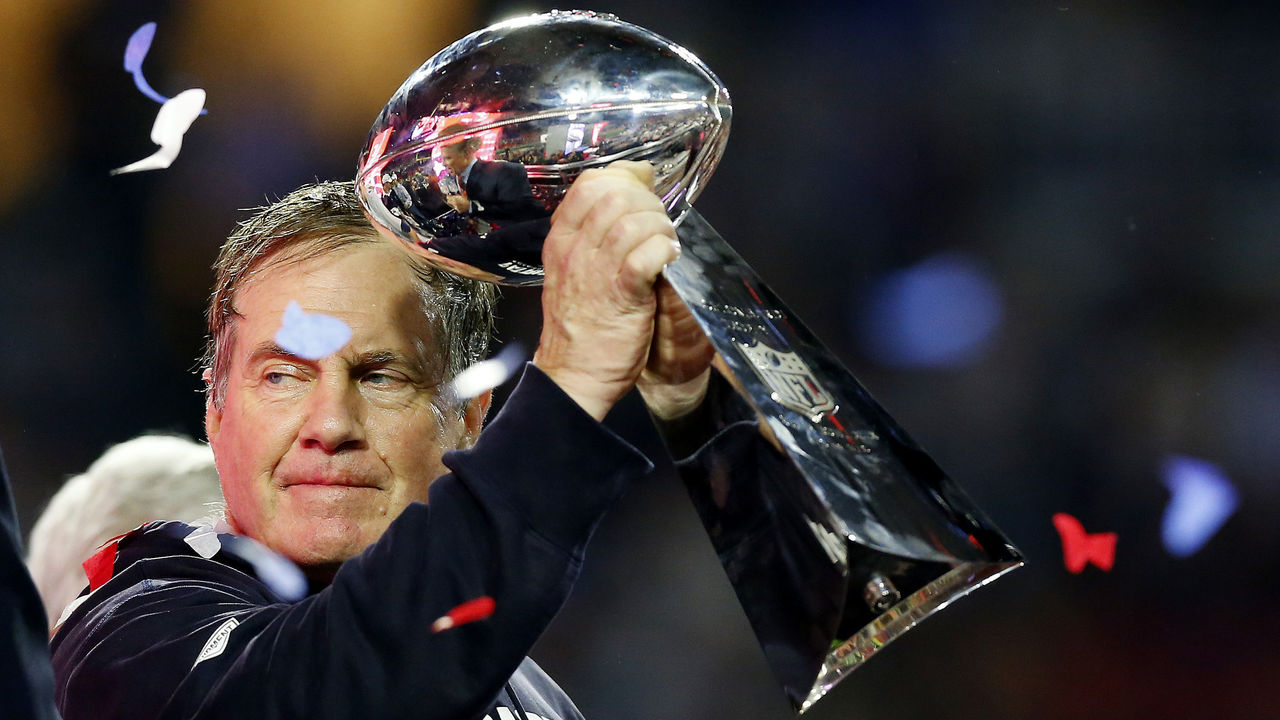 The only thing missing from Belichick's resume - and his argument for the greatest head coach of all time over Don Shula - is an undefeated season. Belichick will be tested more than ever without Brady, but it's not as though he hasn't won before without the future Hall of Famer. He went 11-5 with Matt Cassell at quarterback in 2008 and 3-1 with Garoppolo and Brissett in 2016 when Brady was suspended for "Deflategate." Nobody puts players in positions to be successful better than Belichick does.
Comments
✕
NFL management rankings: How do all 32 head coaches stack up?
  Got something to say? Leave a comment below!