NFL management rankings: How do all 32 team owners stack up?
Robert Deutsch / USA TODAY Sports
theScore's football staff evaluates the leadership positions within each NFL organization to determine which franchise possesses the best management group.
Next up are the ownership rankings.
Categories
32. Dan Snyder - Redskins
It's never a good sign when fans chant for the owner to sell the team, as they do at FedEx Field multiple times a year. Though his desire to win is undeniable - no owner has opened his or her wallet to free agents more liberally over the years - Snyder has always wound up undermining his own efforts. His impatience has resulted in unwise player transactions and premature firings of coaches and executives - except Bruce Allen, who was given way too much time as president. Off the field, the Redskins have been criticized for the mistreatment of cheerleaders and their refusal to change the team nickname, which carries an offensive connotation.
31. Jimmy Haslam - Browns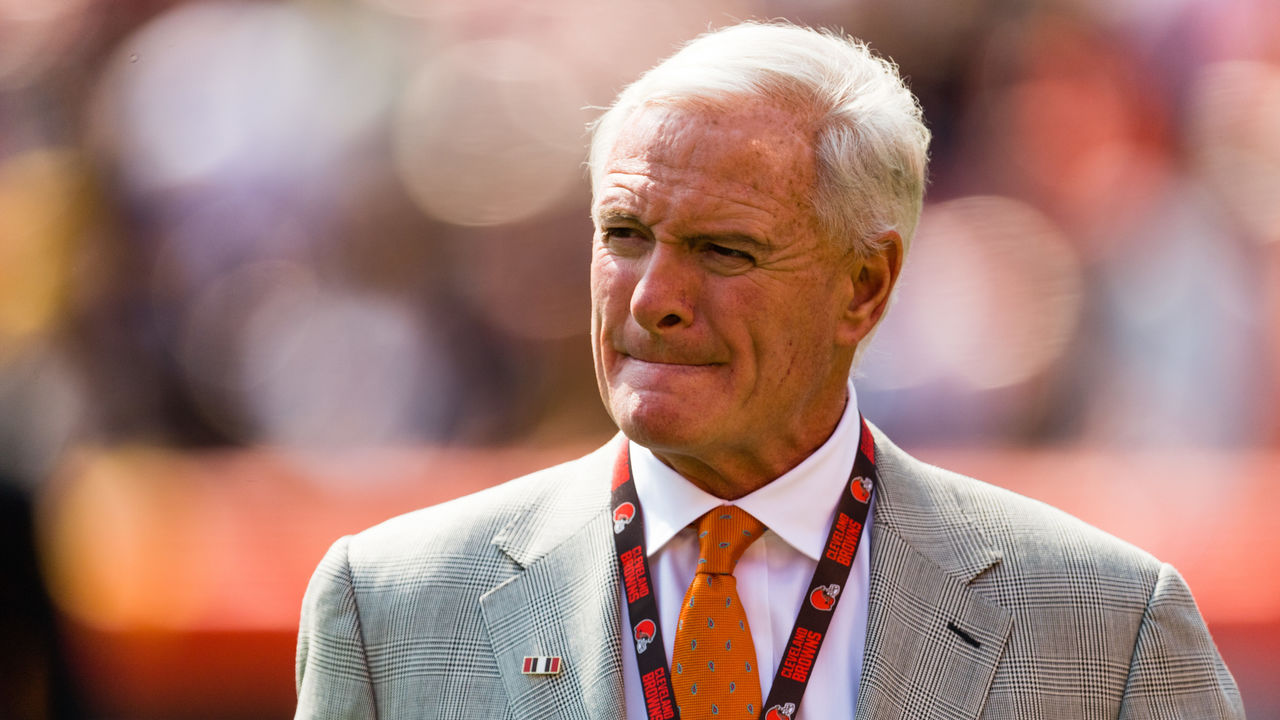 Under Haslam, the Browns have been one of the most embarrassing, dysfunctional, and futile organizations in all of America. In eight years of ownership and counting, the Browns have employed six head coaches (plus one interim) and six general managers, including one who illegally texted his desired play calls to the sideline during games. Cleveland hasn't made the playoffs with Haslam, who's responsible for the toxic culture that plagues the franchise each year. His reputation took a hit almost immediately after he bought the team, as his company Pilot Flying J was ordered to pay a $92-million penalty in 2013 for a five-year fraud scheme.
30. Mike Brown - Bengals
Former players have accused Brown of prioritizing profit margins over Super Bowl pursuits. His conservative spending has led to complacency with the front office, coaching staff, and roster, evidenced by a lack of splash moves at all three levels. In 2019, he hired a quarterbacks coach to replace Marvin Lewis - who was finally let go after 16 seasons without a playoff win - and Zac Taylor proceeded to go 2-14 off the bat. Even when the Bengals have been one or two pieces away from a possible championship, Brown has been hesitant to take financial risks.
29. Stephen Ross - Dolphins
Like a Katy Perry song, Ross tends to change his mind like a girl changes clothes. He bounces between full-scale rebuilding and win-now-at-all-costs visions, thrusting the Dolphins into a vicious cycle of mediocrity. We'll give him credit for this: Ross allowed the front office to tear down the Dolphins' roster for good in 2019, collecting draft picks and cap space along the way, and they now appear set for success in the future.
28. Woody Johnson/Chris Johnson - Jets
Remember that time the Jets picked Adam Gase over Mike Maccagnan in a power struggle, and then let Gase hire his own general manager? The Johnson brothers have a way of trusting the wrong people, and it's put them on par with the Dolphins for most of the last 20 years. Coaches and GMs with the Jets frequently go from the hot seat to being retained to getting fired within a 12-month span because ownership obsesses over weekly results rather than the sustainability of a process.
27. Dean Spanos - Chargers
The Chargers' move from San Diego, where they were beloved, to Los Angeles, where they've been an afterthought, cannot look worse through three seasons. Spanos forced the relocation after San Diego refused to cave to his financing demands for a new stadium. The 70-year-old has a reputation for being petty, which has led to squabbles with LaDainian Tomlinson and Joey Bosa, among others over the years. Infamously, Eli Manning refused to go to the Chargers before the 2004 NFL Draft because of his concerns with ownership.
26. Shahid Khan - Jaguars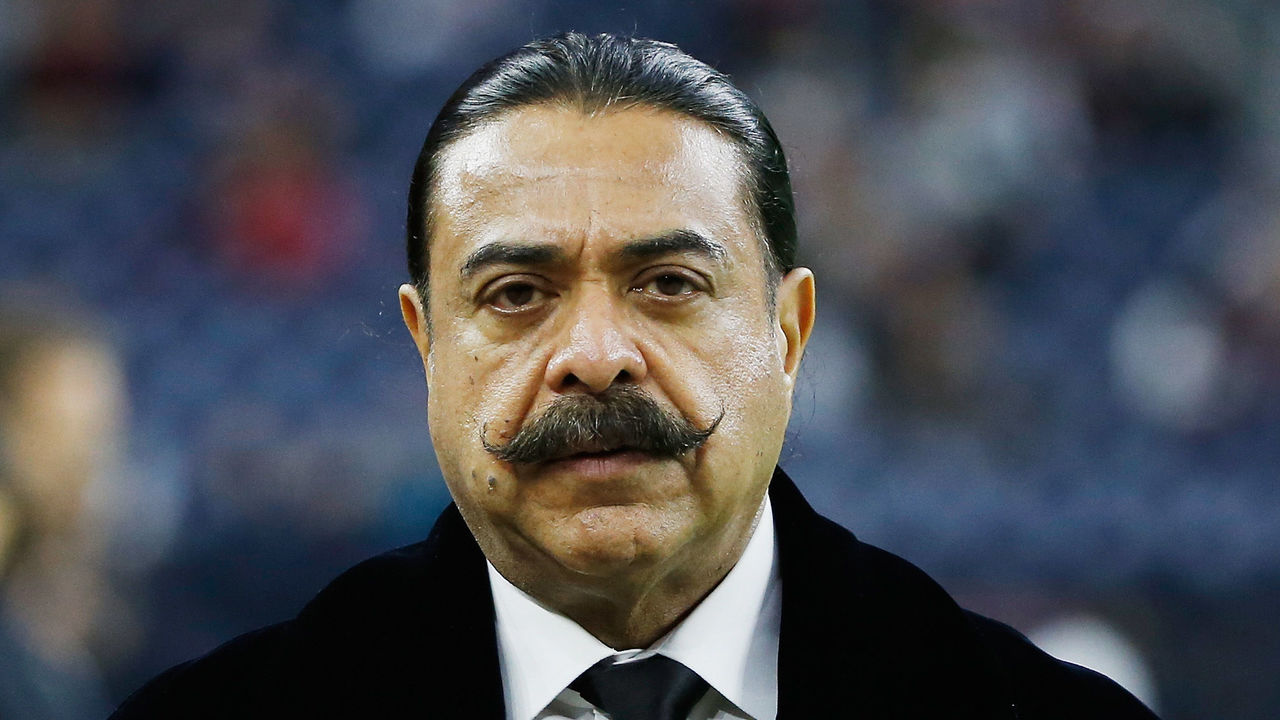 A good owner is able to recognize when a train is falling off the tracks, and Khan hasn't been able to do that for the Jaguars. He let Tom Coughlin stick around too long, and is likely allowing general manager David Caldwell and head coach Doug Marrone, who have generated 11 wins over the last two years, to do the same. Player morale has consistently been low in Jacksonville, which forced Khan to trade Pro Bowl cornerback Jalen Ramsey, who refused to ink an extension.
25. Martha Firestone Ford - Lions
Firestone Ford took over the Lions from late husband William Ford in 2014, and Detroit is no closer to a Super Bowl now than it was then. Her reluctance to make significant changes in the front office and beyond has been disappointing, and it's kept the Lions stuck in a state of national irrelevance. Firestone Ford has managed to keep the franchise's tradition of hosting a game on Thanksgiving alive, so that's a positive if you're a Lions fan.
24. Cal McNair - Texans
We're still getting to know McNair, who inherited the Texans from his father when he died in November 2018. But if first impressions mean anything, McNair isn't ready to reign over an NFL franchise. His most significant decision thus far was giving Bill O'Brien the official title of general manager, even though he's been a disaster in the player personnel department. Weeks after the promotion, O'Brien traded DeAndre Hopkins, an All-Pro receiver, for an overpaid, underachieving running back in David Johnson and a second-round pick.
23. Michael Bidwill - Cardinals
The Cardinals have had some success since Bidwill began running the franchise in 2007, but ultimately, his moves haven't panned out. In 2018, Bidwill looked foolish when he brought back Steve Keim, the general manager who assembled a three-win roster. He also fired the new coach he hired one year earlier and drafted a quarterback first overall after investing a top-10 pick with Josh Rosen. He made headlines months later for using the Cardinals' website to promote his political views, after commanding players not to use the team's platform to express theirs.
22. Mark Davis - Raiders
Desperate to restore glory to the Raiders, Davis gave out a ridiculous 10-year, $100-million contract to bring back Jon Gruden, who hadn't coached in nine years. Since then, they've gone 11-21. Davis also took the Raiders out of a passionate market in Oakland and moved them to Las Vegas. Rumors of cash-flow struggles have been embarrassing and hovered over the Khalil Mack trade that saw the Raiders jettison their best player in 2018 instead of extend him.
21. Terry Pegula - Bills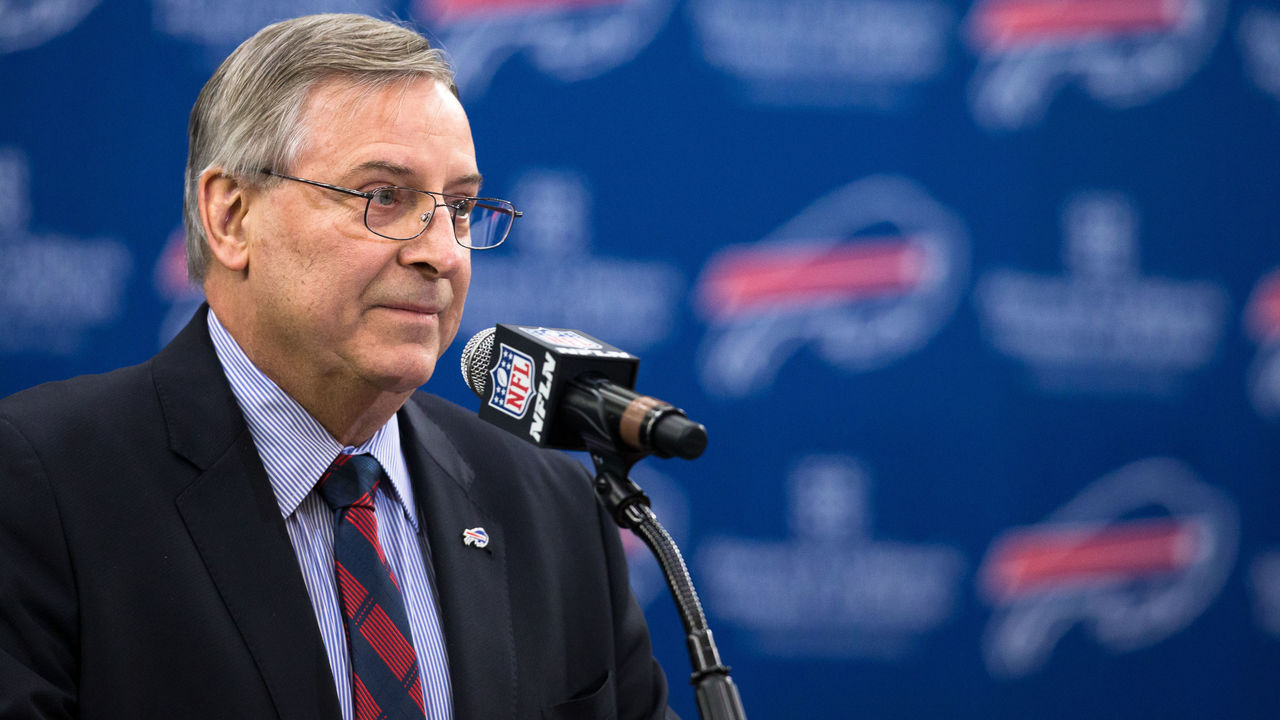 Pegula saved the Bills from a potentially imminent relocation when he bought the team from Ralph Wilson's estate in 2015. He also quickly ended the Bills' Toronto Series, to the delight of fans in Buffalo. Though he appears to have gotten the long-suffering Bills on the right track, the beginning of his tenure was marred by ugly exits of executive Doug Whaley, coach Rex Ryan, and president Russ Brandon, who was reportedly investigated for inappropriate relationships with female employees. Pegula still needs to resolve an uncertain stadium situation to ensure the Bills remain in Buffalo long term.
20. Glazer family - Buccaneers
Bryan, Joel, and Ed have tried to keep a big-picture mindset, but their patience has often been misguided. Jason Licht, Mark Dominik, and Bruce Allen all received too long of a leash as general managers, and the Buccaneers haven't made the playoffs since 2007. If not for Tom Brady deciding to take his talents to Tampa, the Buccaneers would remain off the national radar.
19. David Tepper - Panthers
If nothing else, Tepper bought the Panthers from scandal-ridden Jerry Richardson with a big-picture plan. Within two years, he remodeled the organization with an emphasis on analytics, and opened his wallet to lure coveted college head coach Matt Rhule. Time will tell if he's got the right blueprint, but thus far his record stands at 12-20 and includes a poor handling of head coach Ron Rivera, who was fired with five games left in 2019 after nearly a decade of service.
18. Amy Adams Strunk - Titans
Adams Strunk has brought stability to a franchise that was reeling when she became controlling owner in 2015. In her time atop the organization, she's called for new uniforms, landed the 2019 NFL Draft for Nashville, and watched Tennessee roll to the 2020 AFC Championship Game. On the other hand, the Titans haven't won more than nine games in a season since she took over and remain conservative in the player acquisition department.
17. Stan Kroenke - Rams
If putting a team in a gigantic market like Los Angeles and privately funding the construction of a state-of-the-art venue for billions of dollars is worth something - and it is - Kroenke is a good owner. But if ripping the franchise out of St. Louis, being largely invisible, and showing little care also matters - and it does - Kroenke is a bad owner. So what you ultimately get with Kroenke is something in between good and bad.
16. Jim Irsay - Colts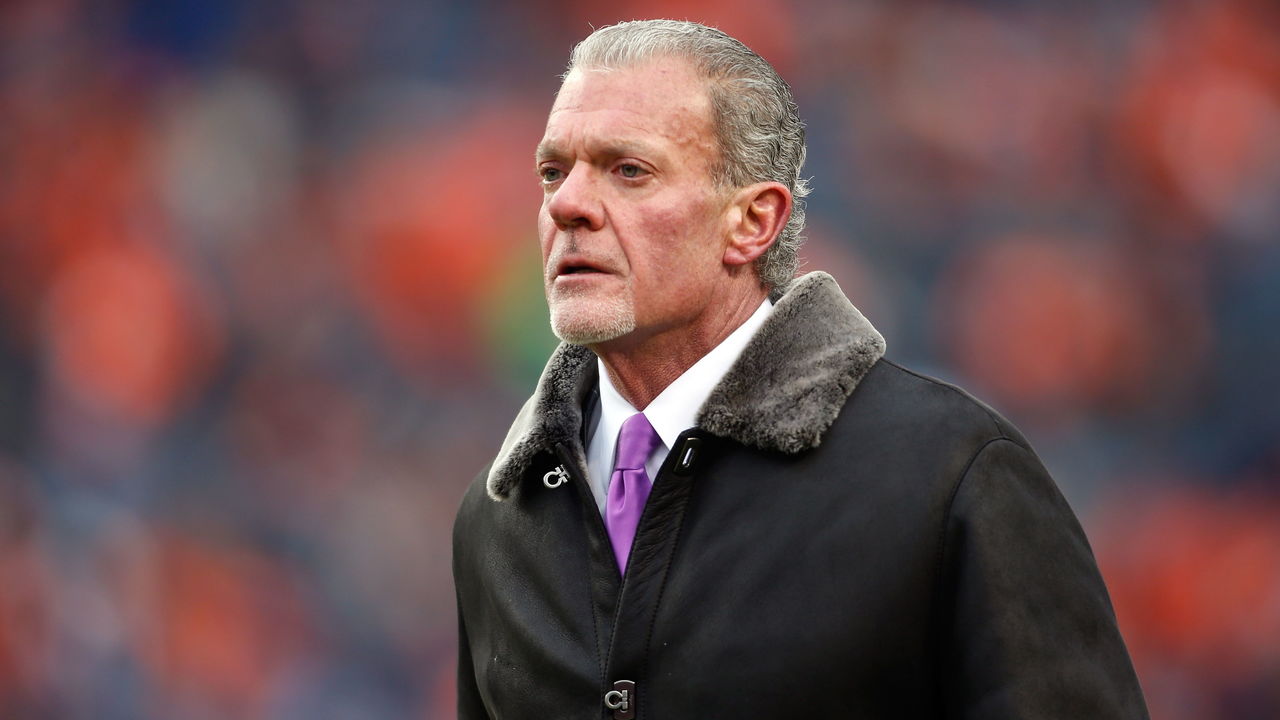 When a franchise quarterback like Peyton Manning or Andrew Luck has fallen into his lap, the Colts have usually looked like a well-run franchise. When Irsay hasn't had a franchise quarterback to compensate for deficiencies elsewhere, the Colts have usually looked like a train wreck. Off the field, his promiscuous personal life has brought shame to the Colts more than once. In 2014, the NFL suspended him for six games and fined him $500,000 after he pleaded guilty to operating a vehicle while intoxicated.
15. Joe Ellis (CEO) - Broncos
It's hard to assess Ellis' leadership, as he's been mostly quiet since taking over duties from late owner Pat Bowlen in 2014. Ellis has consistently backed John Elway as general manager, but how much of a choice does he really have? Elway is the most legendary figure in Broncos history and Ellis is just a figurehead. All in all, Ellis has kept the team stable as the Bowlen children fight for control of the franchise, and that makes him more of an asset than a liability.
14. Jed York - 49ers
York has watched a lot of losses from the owner's box, though he's also seen two Super Bowl berths in the last decade. His personal spat with Jim Harbaugh - who went 44-19-1 in four seasons - dented his image, and his decision to promote one-and-done Jim Tomsula after Harbaugh left further tarnished his reputation. On the flip side, York also brought in the John Lynch-Kyle Shanahan tandem that took San Francisco to Super Bowl LIV, and has done a better job lately of staying in his lane.
13. Gayle Benson - Saints
Benson inherited team control from her late husband when the Saints were on the rise, so drastic decisions haven't been required of her. But the New Orleans matriarch has shown up when called upon, speaking out strongly after an officiating debacle in the 2019 NFC Championship Game cost her team a conference title. Then, she helped spearhead the league's brief venture into pass interference reviews. Benson will face greater tests if the Saints eventually fall back into mediocrity, where they toiled before this active stretch of contention.
12. Jody Allen - Seahawks
The Seahawks have long been known for having one of the best home atmospheres in the NFL. While the fans are responsible for much of that, ownership deserves some credit for creating a revered game-day experience. Allen has kept the franchise steady since her brother, Paul, died in 2018. The Seahawks continue to have one of the strongest organizational identities in the league.
11. Jerry Jones - Cowboys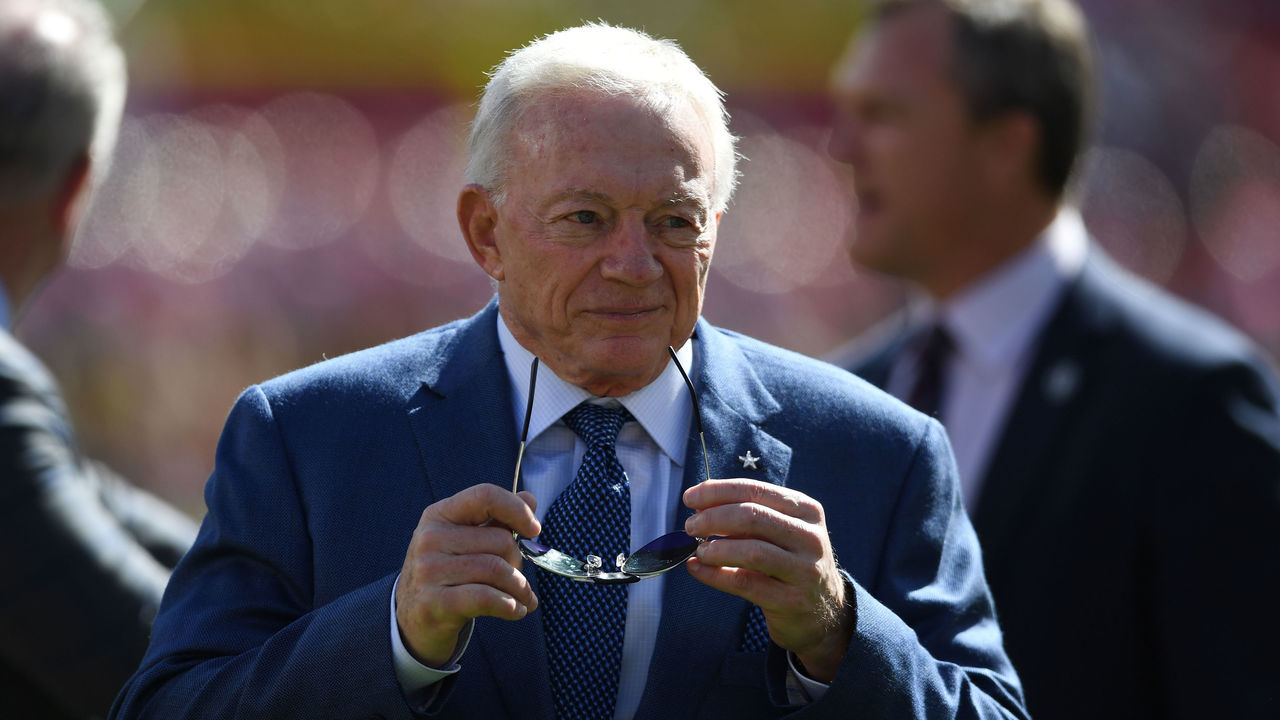 While he's the brunt of many jokes, Jones should be commended for his kinship with players, willingness to spend, and recent patience as it pertains to roster construction. By building through the draft, the Cowboys have been able to craft cost-efficient rosters that have enough talent to contend annually. Jones also set the bar for new NFL stadiums with "Jerry's World," and has turned the Cowboys into both a global brand and the most valuable franchise in the league. His drawbacks include criticizing employees publicly and creating distractions for the apparent sake of wanting attention, and refusing to relieve Jason Garrett of his coaching duties for so many years.
10. Zygi Wilf - Vikings
Even though he forced the public to finance more than half of it, Wilf did get a much-needed venue for the Vikings, opening U.S. Bank Stadium in 2016 amid relocation rumors. Wilf also brought Super Bowl LII to Minnesota, a coup considering the championship game had almost always taken place in warm-weather markets. The Vikings have had a mixed bag of results since Wilf bought the team in 2005, but with no extended droughts, it's safe to say he's served the franchise reasonably well.
9. Virginia Halas McCaskey - Bears
At 97, Halas McCaskey still attends every game in Chicago. The daughter of Bears founder George Halas, Virginia is a walking encyclopedia and a celebrated member of the organization. Whereas some owners struggle to give up authority in their later years, Halas McCaskey has been able to check her ego at the door and allow younger minds to run the team she so dearly loves.
8. John Mara/Steve Tisch - Giants
Formerly regarded as a model franchise, the Mara-Tisch partnership has undoubtedly fallen on tough times in recent years. They've hired three head coaches since 2016, and there were hints of disagreement between the co-owners when they decided to retain David Gettleman as general manager after the 2019 season. Still, Mara and Tisch have hoisted the Lombardi Trophy twice since joining forces in 2005 and generally understand how to build a strong organization.
7. Arthur Blank - Falcons
Blank possesses most of the qualities fans want in the owner of their favorite team. He usually has the Falcons near the salary cap, rewards homegrown stars financially, tries to balance the need for continuity against results, and speaks to the media periodically. He also sets affordable prices at concession stands inside Mercedes-Benz Stadium, which is a major win for fans.
6. Clark Hunt - Chiefs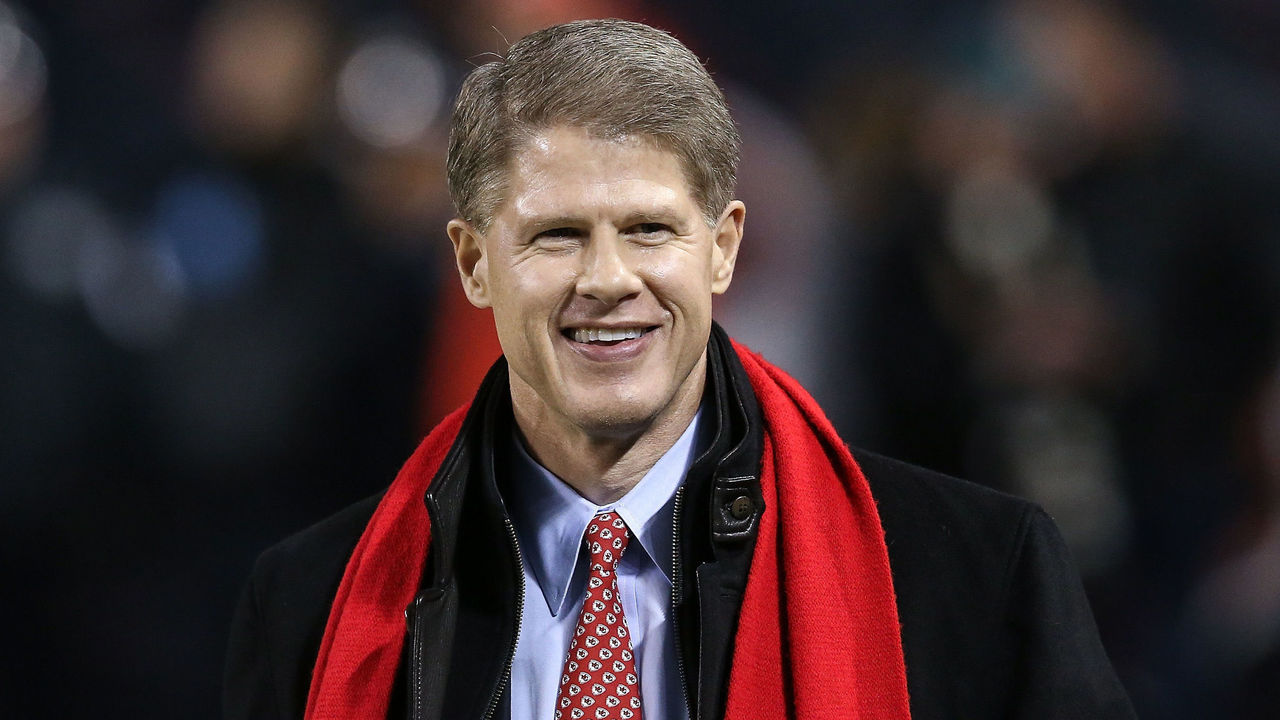 Moves to bring in risky characters, such as Tyreek Hill and Frank Clark, helped Kansas City capture Super Bowl LIV, and Hunt was the man who signed off on them. Since hiring Andy Reid as head coach, Hunt has stayed away from meddling, and he's been rewarded with a perennial contender. He also signed off on the Chiefs moving up in the draft to select Patrick Mahomes when they already appeared set with Alex Smith, and we all know how that turned out.
5. Jeffrey Lurie - Eagles
Usually for the better, Lurie has been one of the most trusting owners in the NFL despite residing in a high-pressure market. He gave 14 seasons to Andy Reid, who had the Eagles on the cusp of a title several times but could never win the big one. Conscious of the dangers of meddling, he then allowed Chip Kelly to run his franchise into the ground for three years. It could have been worse, but Lurie recognized Kelly needed to go and finally cut the cord. He turned to Howie Roseman and Doug Pederson, who delivered the first Super Bowl in franchise history and remain together in Philadelphia.
4. Steve Bisciotti - Ravens
In a league that typically favors outdated data models, the Ravens became a progressive franchise with their dive into the analytics world. It was Bisciotti's faith in a new approach that allowed Baltimore to revamp its roster-construction methods and identify Lamar Jackson as a future MVP quarterback. Bisciotti has rarely interfered in football operations, and his emphasis on continuity has resulted in minimal changes to the Ravens' structure.
3. Art Rooney II - Steelers
Like his father and grandfather before him, Rooney has upheld the great Steelers tradition, maintaining one of the most stable franchises in professional sports. Rooney's only coaching hire turned out to be a home run, as Mike Tomlin became the youngest head coach to win a Super Bowl and is still in Pittsburgh 14 years later. Rooney also chairs the NFL's Workplace Diversity Committee, working to grow opportunities for minority coaches and executives.
2. Public shareholders - Packers
The Packers are the only NFL team owned by the general public, giving them a unique charm. The one downside to their structure is the absence of a singular voice. Without an authoritative figure atop the hierarchy, the Packers have been slow to make changes in the front office, which has a trickle-down effect to the product on the field. Still, it's hard not to appreciate a team owned by the fans who fill Lambeau Field every week.
1. Robert Kraft - Patriots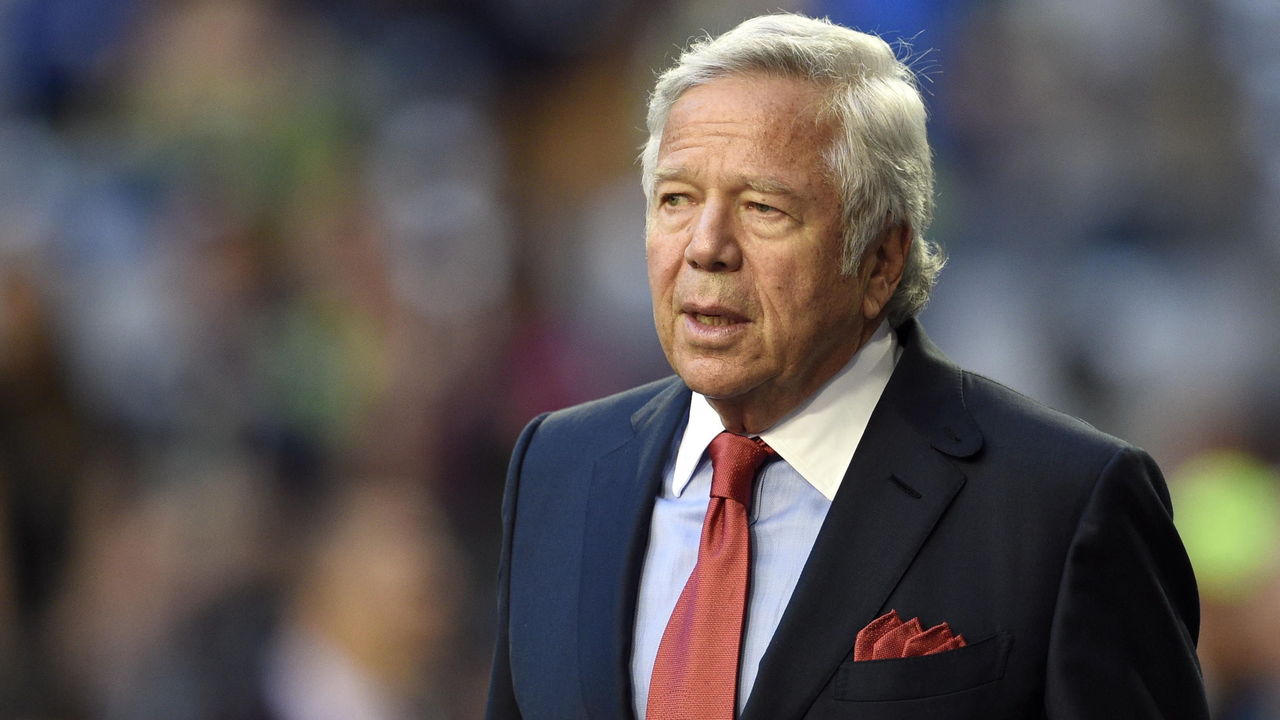 Since purchasing the Patriots in 1994, Kraft has overseen 10 runs to the Super Bowl and six championships. His greatest strength has been keeping his voice out of football decisions and allowing the people he's hired to run the team. In 26 years of ownership, Kraft has hired two head coaches, and both went on to lift a Lombardi Trophy: Pete Carroll and Bill Belichick. In 2017, Kraft made the Patriots the first NFL team with its own plane, adding to the first-class nature of the organization that many players have spoken about after playing in New England. Solicitation charges in 2019 blemish his record, but not enough to knock him from No. 1 in the rankings.
Comments
✕
NFL management rankings: How do all 32 team owners stack up?
  Got something to say? Leave a comment below!