In a five-part series, theScore's football editors give a verdict on whether 2019 breakout players will continue their success in 2020.
Up next are the tight ends.
Categories
QB | RB | WR | TE | DEF
Darren Waller, Raiders
2019 stats: 90 catches, 1,145 receiving yards, 3 receiving TDs
Waller became one of the league's best comeback stories last season after multiple substance-abuse policy violations nearly ended his career. After totaling just 18 receptions during his first four NFL campaigns, he was among the Raiders' most valuable players in 2019.
The tight end didn't contend with much competition for targets atop the Raiders' pass-catching depth chart, though. But while some may worry that Henry Ruggs' arrival in Las Vegas will threaten Waller's workload, the attention the rookie speedster will draw on the outside should actually help open things up for the rest of the offense.
After opposing defenses consistently focussed on Waller in the second half of his breakout 2019 season, an upgrade at wideout with a first-round talent like Ruggs might be what the former Georgia Tech standout needs to put together another strong campaign. Ruggs' eye-popping ability to stretch the field should complement Waller well.
Even if Waller isn't targeted 117 times again - the third-most among tight ends in 2019 - not being the Raiders' obvious No. 1 pass-catcher should help him remain hot in 2020.
Verdict: BREAKOUT
Tyler Higbee, Rams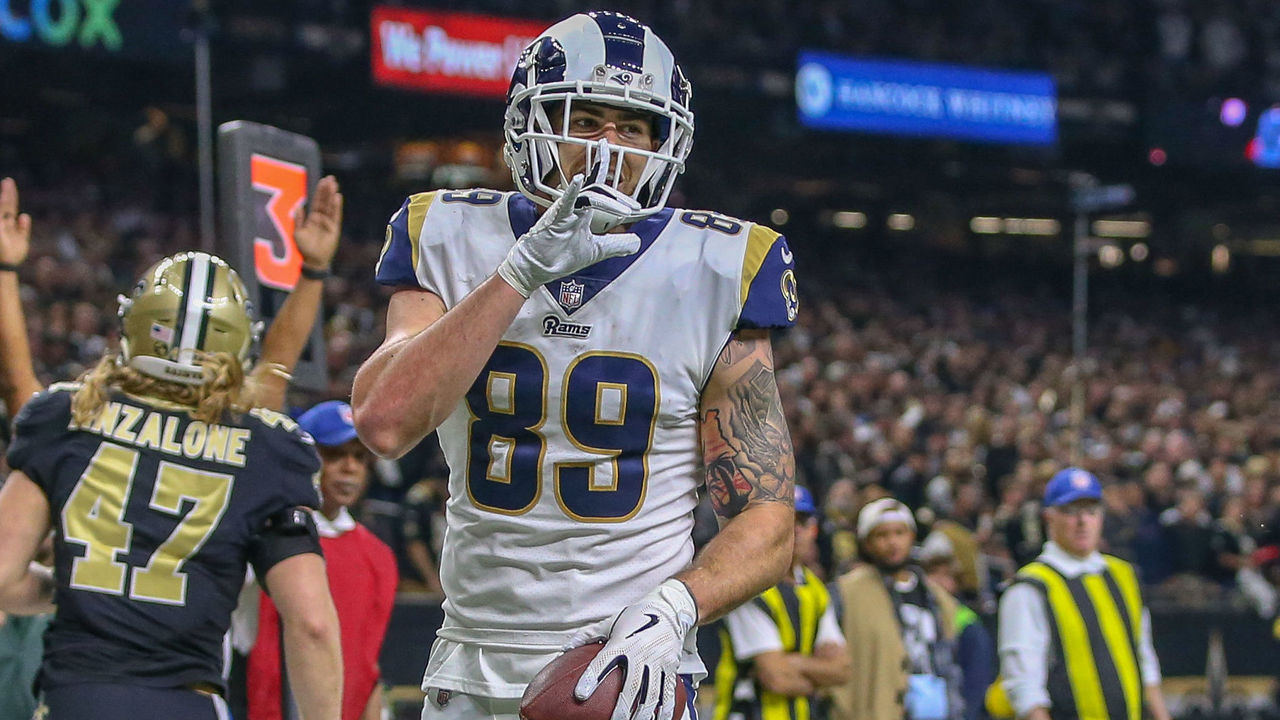 2019 stats: 69 catches, 734 receiving yards, 3 receiving TDs
The 2019 campaign began as another quiet year for Higbee, but then he suddenly produced excellent late-season performances. The 27-year-old amassed just 26 receptions over the first 12 weeks before becoming one of the NFL's top pass-catchers. In December, Higbee led the league in receiving yards (552) while also ranking third in receptions (43).
L.A. will surely ride Higbee's momentum moving forward, especially after the departure of Brandin Cooks, one of the team's most targeted receivers since 2018. However, Higbee's path to high-end success again still might not be clear.
The Rams added to their wide receivers, using a second-round pick on Van Jefferson this offseason. Additionally, Higbee will face direct competition at tight end with Gerald Everett healthy after suffering a knee injury in Week 12 last season that sidelined him for three games, and he never fully recovered.
If Everett wasn't sidelined in 2019, Higbee may not have received an opportunity to stand out. Here's how each TE fared before the former suffered his injury:
| Player | Games | Targets | Catches | Rec. Yards | TDs |
| --- | --- | --- | --- | --- | --- |
| Gerald Everett | 11 | 59 | 37 | 408 | 2 |
| Tyler Higbee | 10 | 33 | 26 | 212 | 1 |
The Rams' running game may also be an issue for Higbee's production, as the team's offense could be more balanced in 2020. Los Angeles ranked just 18th in rushing attempts last year, resulting in Jared Goff leading the league in throws (626). The club drafted running back Cam Akers in the second round this spring to potentially - and perhaps immediately - solve that problem.
Wide receiver Cooper Kupp's late-season struggles were also a factor during Higbee's outstanding December last season. Kupp posted five 100-plus-yard games - including a 200-yard performance - in his first eight contests, but he didn't record any such outbursts in his final eight games. Of the two, the wideout should clearly be favored to reproduce a breakout campaign in 2020.
Higbee will likely be featured in the offense more after averaging a lowly 20 catches over his first three seasons. However, the uncertainties surrounding the Rams' offense and the multiple options available to Goff might make it tough for him to replicate his 2020 production.
Verdict: FAKEOUT
Mark Andrews, Ravens
2019 stats: 64 catches, 852 receiving yards, 10 receiving TDs
While the Baltimore Ravens lacked consistency from their wide receivers last season and depth at the position , they enjoyed Andrews' monster sophomore campaign. The 2018 third-rounder led all tight ends in touchdowns (10), and he was easily Baltimore's leading pass-catcher after recording 64 grabs on 98 targets. No other Raven notched even 50 receptions.
Marquise Brown, the team's best wide receiver, produced good moments when on the field as a rookie, but he played just 51% of the team's offensive snaps. Though Brown should take a step forward in his second campaign and the speedster's targets will likely increase from 71, the other receiving options on Baltimore's depth chart probably won't threaten Andrews' production.
Additionally, the Ravens traded 2018 first-round pick Hayden Hurst, showing how satisfied they are at tight end. Hurst hauled in 30 of 39 targets for 349 yards and two scores in 2019, and if Baltimore's offense keeps rolling, that TE production is up for grabs. Andrews will now share the top of the depth chart with veteran Nick Boyle, who established career highs in receptions and yards last season, but he provides a bigger impact as a blocker.
A 3.17 yards per route run average - second among tight ends - highlighted Andrews' breakout campaign. With the Ravens' running game likely on track to replicate an elite season, their main passing weapons should continue to benefit from good matchups and open-field opportunities.
Verdict: BREAKOUT
Mike Gesicki, Dolphins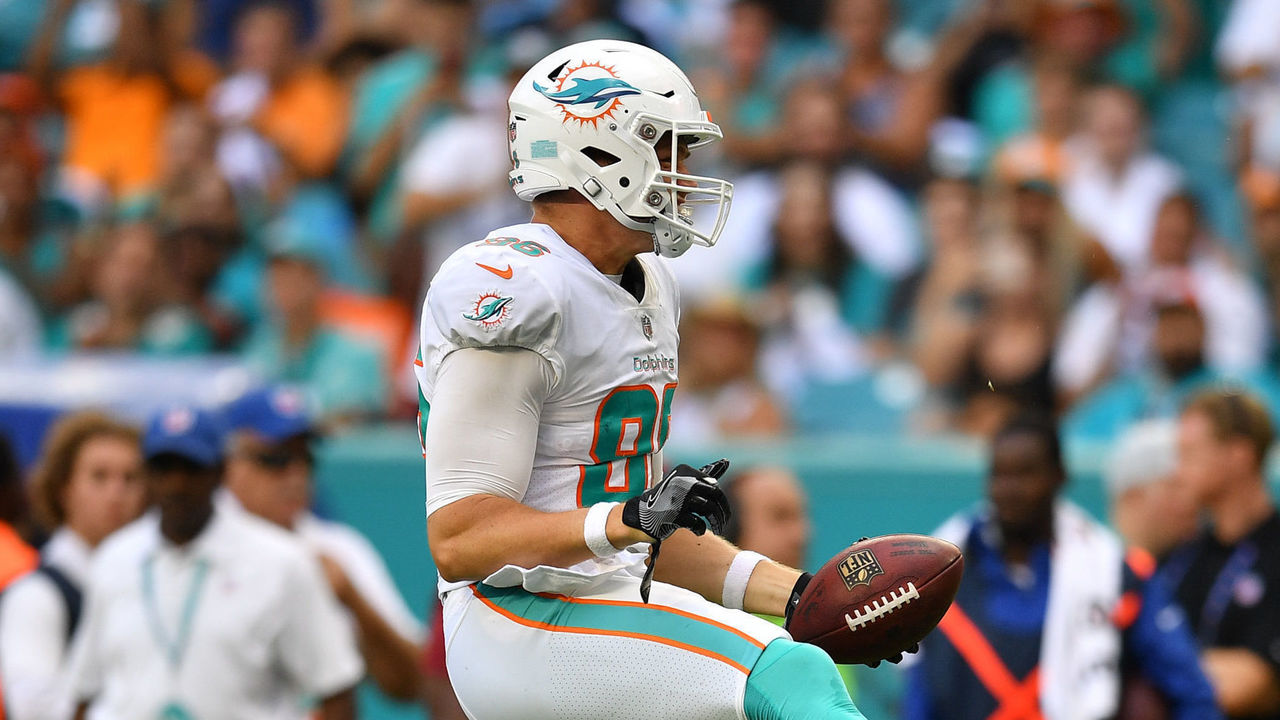 2019 stats: 51 catches, 570 receiving yards, 5 receiving TDs
Gesicki was close to being called a bust when the Ryan Fitzpatrick-led Miami Dolphins' offense started to heat up last season, and the tight end stepped up too. The 2018 second-rounder failed to find the end zone over his first 26 career games, but he scored five touchdowns over the final six games in 2019, finally showing off the receiving skills Miami was expecting.
However, there are questions tied to the 2020 Dolphins.
Fitzpatrick has been inconsistent throughout his career, and rookie quarterback Tua Tagovailoa will be in his shadow. Regardless of who's under center, projecting what's coming from the Dolphins' offense is difficult. New offensive coordinator Chan Gailey is also in place for Miami, and he's known as a wide receiver-friendly coach.
Granted, Gesicki often lines up in the slot, which could help his case here. He received the second-most targets from the slot among tight ends in 2019, according to PFF. But just one tight end has recorded 50-plus receptions in a season playing under Gailey during his head coach and coordinator tenures (Hall of Famer Tony Gonzalez).
A second notable TE to succeed under Gailey was Scott Chandler, who posted 43 receptions, 571 receiving yards, and six touchdowns in 2012 with the Buffalo Bills. But Chandler's momentum also continued without the coach, as he topped his catches and yards marks a year later when Gailey wasn't with the Bills anymore.
The Dolphins' offense will also look different following the arrivals of starting-caliber running backs Matt Breida and Jordan Howard, and the return of wide receiver Preston Williams, who was Miami's leading receiver before suffering a torn ACL in Week 9. And Gesicki's best games last year can be directly tied to Williams' midseason injury.
With Williams on the field, Gesicki received seven-plus targets in just one game, and he logged five such contests when the undrafted rookie was sidelined.
| | Targets | TDs |
| --- | --- | --- |
| With Williams | 31 | 0 |
| Without Williams | 58 | 5 |
As exciting as Gesicki was during his good games last season, he struggled as a rookie, and the Dolphins' offseason changes create uncertainty.
Don't be surprised if he finally finds consistency throughout an entire campaign. It seems unlikely, though, that Gesicki's production from November and December in 2019 will become his new standard.
Verdict: FAKEOUT
Dallas Goedert, Eagles
2019 stats: 58 catches, 607 receiving yards, 5 receiving TDs
For the second straight season, Goedert showed promising signs that he'll soon join the NFL's highest tight-end tier. In his sophomore campaign, the 25-year-old stood out as a blocker again while setting career receiving highs.
None of the Philadelphia Eagles' 2019 top three leading pass-catchers were wide receivers. Plagued by injuries, Philly's WR group was among the worst in the league, which explains why the team invested a first-round pick in Jalen Reagor in April.
The Eagles were in 12 personnel (one RB, two TEs, two WRs) more than any other team in 2019. While Philly has the talent available to get two solid tight ends highly involved in the game plan, not being able to deploy reliable wide receivers can create an issue. As a result, Philadelphia averaged 6.6 yards per pass attempt in 2019, ranking 26th in the NFL.
In 2020, the Eagles will get DeSean Jackson and Alshon Jeffery back from injuries, along with Reagor's debut. The veteran wide receivers missed 13 and six games in 2019, respectively, and they were never fully healthy during most of their appearances.
Jeffery, Jackson, and Goedert played an entire game together just once last season, with Goedert catching two passes on three targets for 16 yards in Week 1. Jeffery and Jackson were targeted seven and nine times during that contest, respectively, and they combined for three touchdowns.
Jeffery seemed to specifically impact Goedert's per-game production when he was available in 2019.
| | Games | Targets | Catches | Yards | TD |
| --- | --- | --- | --- | --- | --- |
| Jeffery out | 6 | 8.6 | 5.6 | 55.8 | 0.4 |
| Jeffery in | 9 | 4.9 | 3.3 | 36.4 | 0.3 |
The Eagles also still feature three-time Pro Bowl tight end Zach Ertz, the team's leading pass-catcher in four straight seasons.
The future does look bright for Goedert, and he'll probably improve overall in 2020. But his production might not skyrocket just yet since a healthier and reinforced group of wide receivers will boost the Eagles, and he's still limited as the No. 2 tight end behind Ertz.
Verdict: FAKEOUT