Two decades later, Andy Reid is still trying to author the perfect ending
Cliff Hawkins / Getty Images
The best way to tell the story of Andy Reid's 21 seasons as an NFL head coach is to start with the binder.
The binder has been mentioned through the years in countless news articles and books about Reid and his career. As the tale goes, when Reid showed up to interview for the Eagles' head coaching vacancy in 1999, he brought with him a binder stuffed several inches thick with detailed information about everything he had planned for building a championship organization, all the way down to how players should dress when traveling.
Eagles owner Jeffrey Lurie and team president Joe Banner were suitably impressed. They hired the 40-year-old Reid - then the Packers' quarterbacks coach - even though he had no experience as a coordinator. You know the story from there. Reid spent 14 seasons with the Eagles, and he's been head coach of the Chiefs for the last seven. He's won 207 games - good for sixth all time - and he's been to the playoffs 15 times. But his name is also synonymous with the one game he hasn't won: the Super Bowl.
Which brings us back to that binder. The binder has long served as a kind of shorthand for the Reid Method. It symbolizes his knack for organization, his granular attention to detail, his ability to master that which he can control.
On one hand, the binder represents all the successes Reid has achieved by projecting those qualities. On the other, the binder is a metaphor for Reid's shortcomings, particularly his struggles when plans go awry or get sidetracked. His clock-management issues come to mind, as do his numerous postseason failures.
Reid has a chance to change that narrative for good Sunday night, when the Chiefs meet the 49ers in Super Bowl LIV. He has unquestionably been one of the NFL's best head coaches - in this century and beyond. But it's also impossible to overlook that one glaring hole in his resume.
I lived in Philadelphia for most of Reid's tenure with the Eagles, and it never felt like he was fully appreciated there. He could be short and dismissive with the media, which fostered a perception of coldness and arrogance. Philly still embraced the personage of Buddy Ryan, who had sauntered proudly as the region's boorish id, even though Ryan never so much as won a playoff game.
From the beginning, however, Reid was far ahead of his time, even if it took a while for some of his counterintuitive methods to be fully understood.
He drafted quarterback Donovan McNabb when conventional wisdom suggested picking running back Ricky Williams. He emphasized passing the ball - despite the inevitable calls for more "balance" - because he understood the greater efficiencies to be gained from a pass-heavy offense, long before it was an article of faith in the analytics community, which didn't even exist then. He incorporated running backs into the passing game, knowing the value of getting the ball to a smaller, speedier back in space against a bigger, slower linebacker.
Reid took over a 3-13 franchise with a garbage roster and won a playoff game by his second season. In Year 3, the Eagles reached the NFC Championship Game - something they'd wind up doing for four consecutive seasons. They lost the first three, including two at home. They then added Terrell Owens in 2004 and finally broke through to reach Super Bowl XXXIX.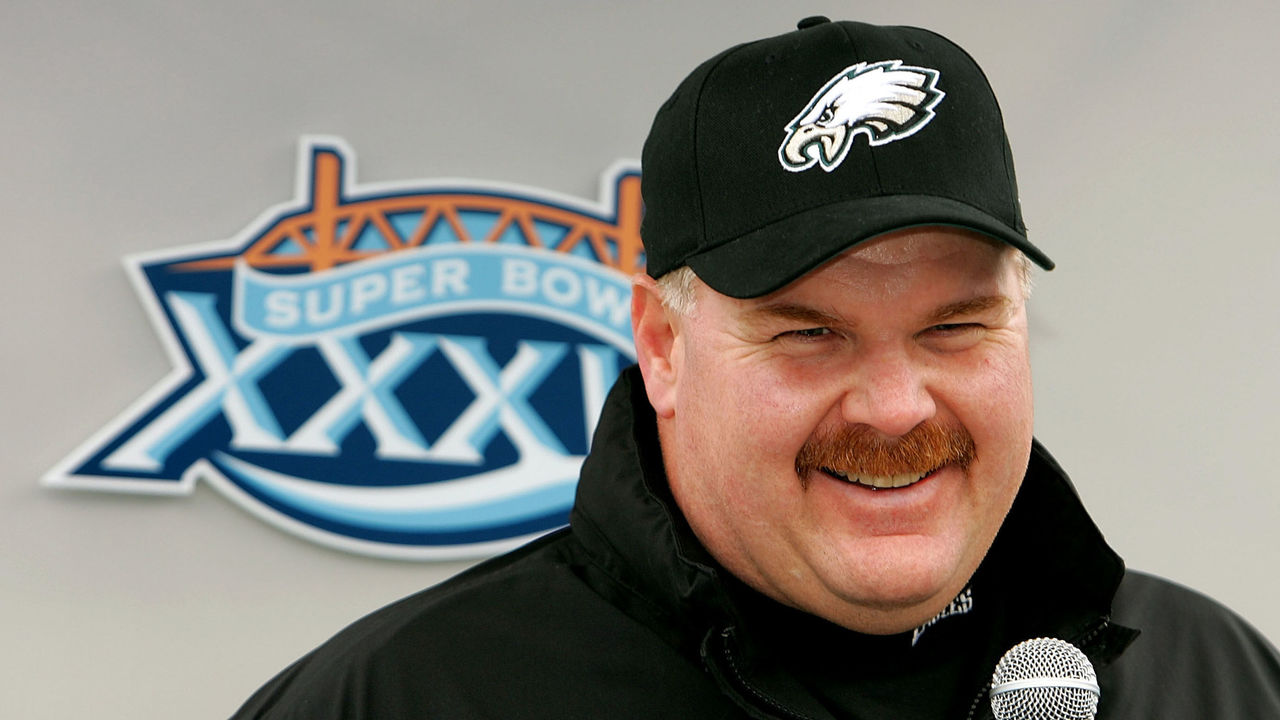 That Super Bowl loss to the Patriots did as much to cement Reid's reputation for poor clock management as any other. Trailing 24-14, the Eagles got the ball at their own 21 with 5:40 to play, still holding two timeouts. They slow-walked their drive, taking 13 plays and 3:52 before finding the end zone - without using a timeout. That was the first mistake. The second was Reid's decision to attempt an onside kick when a defensive stop would have given the Eagles the ball back. It failed, and the game was over.
Reid would get the Eagles back to the playoffs four more times across his final eight seasons, with just one NFC Championship Game appearance - a blown late lead against the Cardinals. He took a chance on Michael Vick, who had gone to prison and served his sentence after pleading guilty to charges related to dogfighting, and tapped into the quarterback's singular dual-threat ability. But it wasn't enough to get the Eagles back to the Super Bowl.
By his last two seasons in Philly, Reid seemed to be pressing too hard, and a kind of hubris had set in. There was the Dream Team that wasn't, the spectacular failure of defensive line coach Jim Washburn's Wide-9, and the baffling decision to name offensive line coach Juan Castillo defensive coordinator. Tragedy also struck: In August 2012, Reid's oldest son, Garrett, was found dead after a drug overdose in a dorm room at Eagles training camp. Philadelphia staggered to a 4-12 finish that season, and Reid was fired.
Rather than take any time off, Reid jumped right into an opportunity to coach the Chiefs. He was never one for much introspection anyway. Asked last week by NBC's Peter King about how Garrett's death affected him, Reid didn't share too much:
"I'm sure it did. I'm sure somewhere in there it has (affected me). I think that, along with age. I'm sure all these events affect in some way or another. Make you better. Make you more patient. Make you keep your eyes open a little bit better, more. Try to help get people second chances. All those things. I think those are all probably because of those type of events that happen in your life. We've all had something there that makes us what we are. I think it was probably something like that to it."
(Reid had agreed to talk to King on his way to work during the Super Bowl off-week - at the ungodly hour of 3 a.m. Just a reminder that NFL coaches tend not to be normal human beings.)
Once he arrived in Kansas City, Reid quickly put his plan in motion by trading for quarterback Alex Smith. In Reid's first season, the Chiefs improved from 2-14 to 11-5. But their first playoff game proved to be another Reid disaster: Kansas City somehow squandered a 38-10 second-half lead in a 45-44 loss to the Colts.
Unlike other coaches, Reid sensed he had to adapt to the changes that had been brewing at the college and high school levels: Spread-style offenses were becoming increasingly common, which in turn influenced the type of player that would matriculate to the pro game. Reid adjusted accordingly. First by hiring Brad Childress, his former offensive coordinator in Philly, as a "spread game analyst," and later by incorporating spread principles and more and more speed elements into his offenses.
This approach allowed Reid (based on the word of now-Chiefs GM Brett Veach) to spot the potential in a quarterback like Patrick Mahomes. Though Mahomes wasn't widely projected as a first-round pick, the Chiefs traded up to nab him 10th overall in the 2017 NFL Draft. Reid again zigged when the rest of the league zagged, and wisely found his future.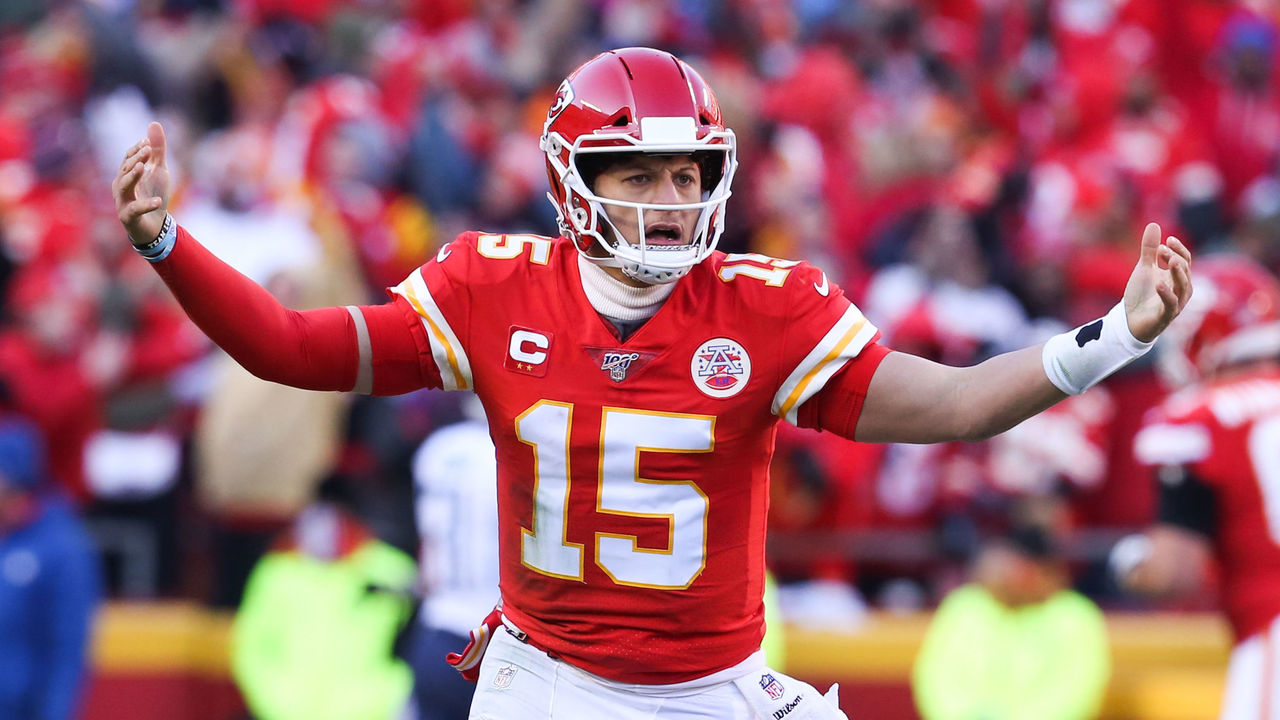 Reid has come under fire for providing opportunities to players such as Tyreek Hill, Kareem Hunt, and Frank Clark, all of whom have a history of violence against women. But he's certainly not the first coach to do so, nor will he be the last, as evidenced by the NFL's ham-fisted attempts to do something about domestic abuse. Violence against women is a complex societal problem, and as Diana Moskovitz wrote for Deadspin, zero-tolerance policies frequently only make things worse for victims. For sports leagues like the NFL, there are no easy answers.
On the field, Reid and the Chiefs continued to thrive - at least during the regular season. From 2015 to 2018, the franchise endured four more postseason disappointments:
A division-round road loss to the Patriots that eerily mirrored Reid's Super Bowl appearance with Philadelphia: The Chiefs took 1:34 to punch it in from the 1-yard line while down by two touchdowns in the waning minutes.
A division-round home loss to the Steelers in which a holding penalty wiped out a successful, game-tying two-point conversion. The Steelers screwed up the ensuing kickoff and took over on their own 5 with 2:38 left, but the Chiefs had just one timeout remaining because Reid had burned one in the third quarter. Kansas City never got the ball back.
A wild-card home loss in which the Chiefs jetted to a 21-3 lead against the Titans, only to lose 22-21.
A gut punch of an overtime loss at home to the Patriots in the AFC Championship Game. The Chiefs trailed 14-0 at the half, fought back to take the lead twice - including with 2:03 to play - only to fall behind again before tying things to force overtime. New England scored a touchdown on its first possession of the extra frame.
All the while, one of Reid's former coaching proteges, Doug Pederson, had managed to win Philadelphia its first Super Bowl. This unlikely confluence of events made it seem like Reid might never get his championship, or even another shot at it. Yet here he is, back in the Super Bowl for the first time in 15 years.
Super Bowl LIV will be Reid's 29th playoff game; only Bill Belichick, Don Shula, and Tom Landry have coached in more. Reid's 14 postseason wins rank sixth all time. Though he has more victories than any coach without a Super Bowl ring, he does have a peer in that regard: Reid's overall record of 207-128-1 is just slightly better than Marty Schottenheimer's mark of 200-126-1 (.618 to .613). Schottenheimer also coached for 21 seasons. He also never won a Super Bowl.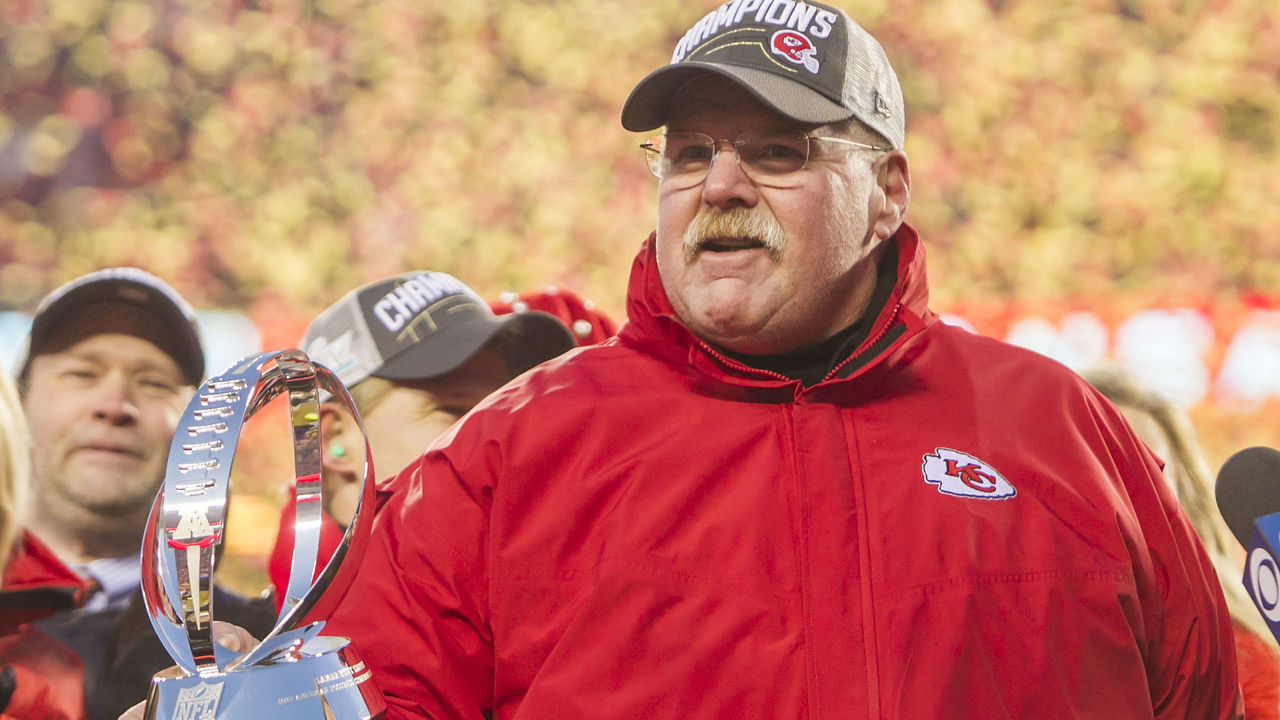 Once upon a time, it looked like Bill Cowher might be condemned to a similar fate. In Cowher's first 13 seasons with the Steelers, he went to the playoffs nine times. He lost the AFC Championship Game four times - all at home - and lost his only Super Bowl appearance. Then Cowher finally broke through when the Steelers won it all to cap the 2005 season.
In a sit-down interview for CBS Sports earlier in January, Cowher related the similarities to Reid. He cited the addition of quarterback Ben Roethlisberger as a big help and drew a direct parallel to Reid's situation with Mahomes.
"It's never too late; I proved that," Cowher told Reid. "In my 14th year, at some point, I got in the playoffs, I said, 'You know what? I'm going to take some risks. I'm going to do some things (that are) unorthodox, unconventional.'"
Cowher was no doubt referring to the pass-heavy approach the Steelers took early in their playoff wins against the Colts and Broncos that year. He asked if Reid felt the same way.
"I'm not going to change," Reid answered. "I'm not hesitating - there's no hesitation there."
Reid doesn't need to be like Cowher. He's been tinkering and evolving and staying ahead of the game's trends throughout his career. That's why he could stick to his plan after the Chiefs fell behind 24-0 against the Texans in the divisional round, and why he could do it again after Kansas City trailed the Titans 10-0 in the AFC Championship Game.
The binder has defined Andy Reid over the years. By late Sunday night, we'll know if it has a championship chapter at the end.
Dom Cosentino is a senior features writer at theScore.