Sunday Rundown recaps the most important developments from the weekend's action and examines the significance of those events moving forward.
Mahomes starting a dynasty
When was the last time, as an objective football fan, you could confidently say so early in a quarterback's career that you were witnessing one of the all-time greats? That certainly wasn't the case with Drew Brees, Tom Brady, or Peyton Manning - all sure-fire Hall of Famers from the modern era. Patrick Mahomes is just different.
He's got a long way to go in terms of the resume, of course - nobody is saying he's on the level of the aforementioned names in that regard. But you're just not watching the same game if you can't see he's already one of the best signal-callers this game has ever seen. And it's fair to wonder, as the Patriots' dynasty comes to an end, whether Mahomes is in the process of leading the Chiefs into their own decade-plus run of dominance.
Tennessee was a popular upset pick in this week's AFC title game due to a power running game and a Mike Vrabel defense that had just stunned an explosive Ravens offense in the divisional round. And hey, any given Sunday, right? But any such prediction willfully overlooked just how Mahomes tips the scales like no other.
Not only did the superstar make his share of big plays in the passing game - a weekly tradition to this point in his young career - but he even had answers for several key situations where the Titans managed to hold up well in coverage. A number of back-breaking scrambles gave him 54 yards on the ground - the second straight week he's led the Chiefs in rushing yards - putting him alongside Russell Wilson, Steve McNair, and Otto Graham as the only quarterbacks in NFL history with 50-plus in consecutive playoff games.
The Titans, much like the rest of the league, could only do so much to contain the league's premier player. And their offense, built upon the foundation of that strong running game, just couldn't keep up once the game really got going. Had Tennessee won, we'd be talking about a Cinderella story they'd better complete - because who knows when everything will fall right to give them another opportunity like this? For the Chiefs, win or lose, it feels like this is the first of many Super Bowl appearances over the next 10-15 years.
The Mahomes show has only just begun.
Mostert the X-factor in Miami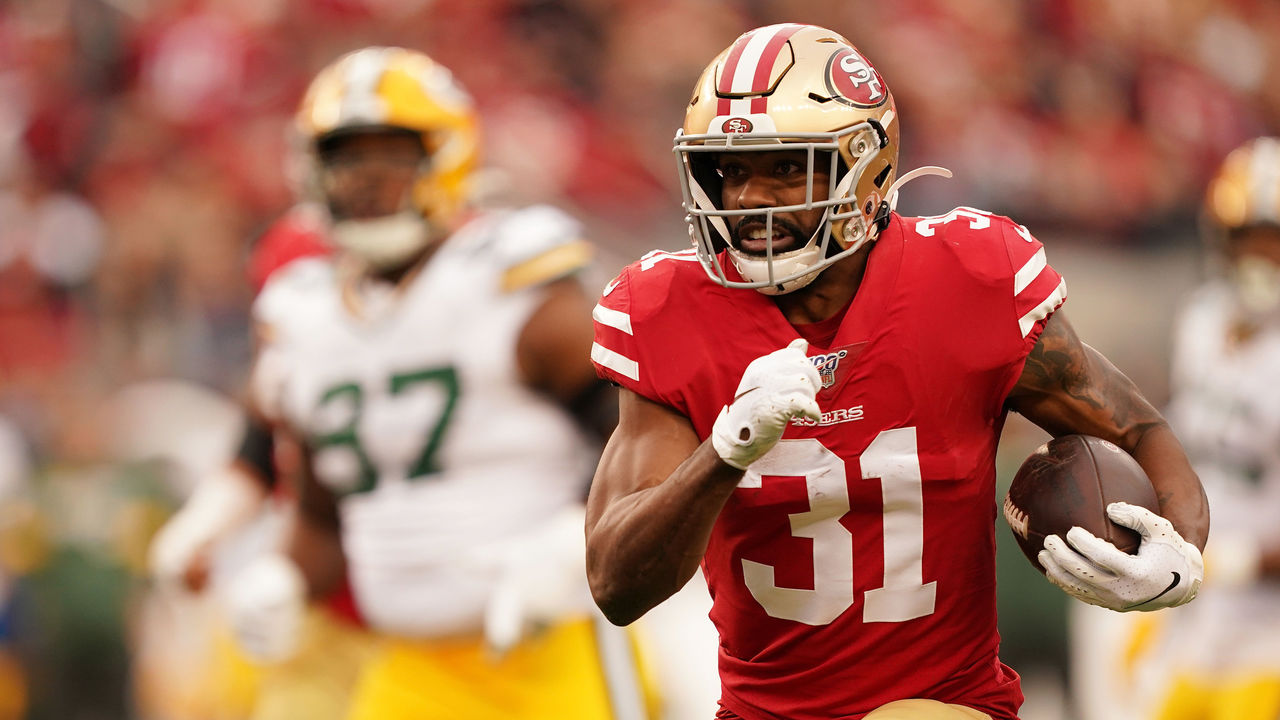 A Super Bowl between the Chiefs and 49ers will be billed as the ultimate clash between offense and defense, and understandably so. But that's just one of many major storylines looking ahead to Feb. 2, with Raheem Mostert and the 49ers' running game the one you should keep a particularly close eye on.
Kyle Shanahan's offense, much like that of his father, is friendly as can be to running backs. So while it was somewhat bizarre to see money spent on both Jerick McKinnon and Tevin Coleman in the last two offseasons, it couldn't be more fitting that a seemingly anonymous player making less than fullback Kyle Juszczyk is emerging as the biggest star of the group.
Raheem Mostert's ridiculous game against the Packers can probably be considered his coming out party for the national audience, but this was a long time coming. An ideal fit for Shanahan's run scheme - demonstrating an impressive combination of vision, shiftiness, and explosiveness - all Mostert needed was an opportunity to be the unquestioned lead guy. He got just that when Coleman went down in the first half, and he went on to rack up 220 rushing yards and four touchdowns.
Patrick Mahomes is going to make things happen against any defense, so the 49ers can't go into the big game expecting their defense to carry them to a victory. The offense will need to do its part, too, and whether the ground game capitalizes on its juicy matchup could very well end up being the difference in the end.
Packers have work to do
It was only a matter of time before the Packers' warts derailed their championship hopes. All year, the Packers lacked a dynamic passing attack and a stout run defense. A light schedule allowed the NFC North champions to skate past those issues more often than not, but against an elite team like San Francisco, they were exploited.
With Richard Sherman shadowing Davante Adams at times in the NFC title game, Aaron Rodgers needed his other receivers to step up. None did. The Packers became a run-first team in 2019 - not by choice, but out of necessity. Green Bay hasn't drafted a wide receiver within the first three rounds since 2015 - that pick was Ty Montgomery, who was eventually converted into a running back - and its lack of perimeter talent came back to haunt them.
Defensively, the Packers were gashed in the running game more than they were in Week 12 when the 49ers blew them out the first time. They gave up 37 points, yet San Francisco only threw the ball 8 times. Green Bay, which ranked 23rd against the run in the regular season, looked confused and overwhelmed by the pre-snap motion that helped create blocks and lanes for San Francisco. The Packers surrendered 220 yards and four touchdowns to Raheem Mostert and simply couldn't contain the run even when they knew it was coming.
The Packers undoubtedly made progress in their first year under head coach Matt LaFleur, but two glaring holes and ugly performances against the best of the NFC show there's plenty more work to do in Green Bay.
Midnight strikes for Cinderella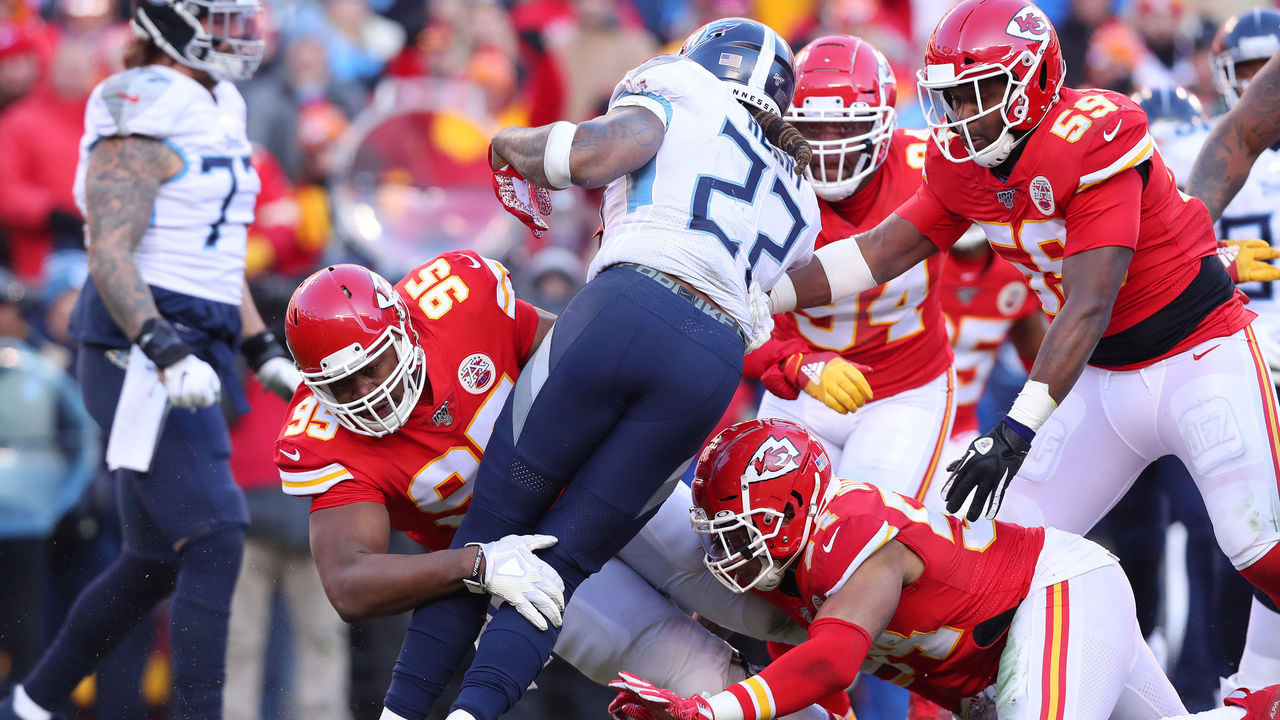 The NFL's latest feel-good story came to Kansas City as winners of three straight must-win road games dating back to Week 17. However, overcoming the NFL's most explosive offense in the unwelcoming confines of Arrowhead proved too much.
Tennessee raced to a first-half lead but wasn't able to follow the formula of recent weeks and kill the game with Derrick Henry chewing yardage and clock. Patrick Mahomes and Co. erased that lead before halftime with ease, as they did a week ago against the Texans, and Henry produced a pathetic -1 yard from scrimmage with the Titans in comeback mode in the second half. The NFL's leading rusher's 69 total rushing yards were his fewest since Week 9. Even worse: Henry sat on the bench as the Titans desperately drove late, ceding his spot to backup Dion Lewis' superior receiving ability.
And therein lies the big question the Titans must answer this offseason. Can they continue to build their offense with the primary goal of running the ball when all the evidence suggests passing is far more conducive to winning? Are they willing to make Henry the highest-paid running back in football when they're unwilling to let him play all-important passing snaps?
The Titans' old-school model got them within a game of the Super Bowl, and that's certainly worth celebrating, but if they're to take another step in 2020 it will almost certainly have to come via improvement in the passing game.
Playoff bye is paramount
For the seventh straight season, the Super Bowl will feature two teams that sat out Wild Card Weekend.
From the arrival of the NFL's current divisional alignment and playoff format in 2002 to the late 2010s, a string of low-seeded teams made deep playoff runs, with the 2005 Steelers, 2007 Giants, and 2010 Packers all winning the Lombardi as wild cards.
Lately, only teams earning playoff byes have sniffed the big game. Maybe it's too soon to call parity dead - the sixth-seeded Titans beat up on the top-seeded Ravens only a week ago, after all - but it's apparent there's no bigger advantage in football than the chance to rest, heal, and plan for a week while your peers fight for their playoff lives.
There's been talk in recent seasons of the NFL adding a third wild-card team in each conference, forcing the No. 2 seeds to give up their bye. Perhaps we should tap the brakes on that idea, lest we waste everyone's time with an expanded playoff that sends only No. 1 seeds to the Super Bowl.
'Big Red' finally back in the big game
Regardless of which team you root for, it's hard not to feel good for Andy Reid. With "Big Red" at the helm, the Chiefs reached their first Super Bowl in 50 years. Reid now has his second chance at capturing the elusive Lombardi Trophy.
The 61-year-old has amazingly taken his team to the postseason in 15 of 21 seasons as a head coach. Reid's 28 playoff games place him fourth all time, and his 14 wins rank sixth. Behind one of the premier offensive minds of his generation, whether it's with the Chiefs or Philadelphia Eagles, Reid's teams have been consistently in contention.
For years Reid came incredibly close to winning it all, but his team never got over the hump. Prior to Sunday's win over the Titans, he sported a 1-5 record in conference championship games. Despite the increased pressure to succeed, the veteran boss made a statement and further cemented what's been an illustrious career.
After countless heartbreaks, Reid is going back to the Super Bowl for the first time in 15 seasons. No one is more deserving.