Sunday Rundown recaps the most important developments from the day's action and examines the significance of those events moving forward.
Ravens are the NFL's best team
The Ravens have boasted one of the league's most dynamic offenses from the outset of the season. Putting points on the board has yet to pose much of a challenge, with opponents finding it nearly impossible to defend a unit that, led by MVP front-runner Lamar Jackson, features the perfect blend of power running and explosive passing plays.
Baltimore's defense was another story in the early stages, though, as it seemed like the Ravens were giving up big plays nearly as often as they were producing them.
But all of a sudden - and perhaps we should've expected this from an organization that's so often prided itself on a strong defense - Baltimore's figuring things out on that side of the ball.
The midseason acquisition of cornerback Marcus Peters seems to have been the catalyst, as the first signs of improvement came with consecutive winning efforts against Russell Wilson and Tom Brady. Sunday's dominance against the Texans was the group's most impressive outing yet, with the Ravens getting to Deshaun Watson for six sacks and a total of 10 quarterback hits en route to a 41-7 win.
The newfound balance on both sides of the ball, demonstrated against some top competition, makes the Ravens the best team in football right now. At the very least, they have to be the Super Bowl favorite in the AFC.
Redskins are the NFL's worst team
The few home fans who bothered to show up Sunday chanted "Sell the team" as the Redskins closed out a blowout loss to the Jets - the same club that gave the Dolphins their first win a mere two weeks ago - in what was probably the lowest point any NFL team has reached this season.
Washington was awful in all facets of the game, allowing Sam Darnold to throw a career-best four touchdown passes while his burgundy-clad opposite, Dwayne Haskins, looked far from deserving of being on an NFL field.
Haskins fumbled twice and was intercepted before two garbage-time touchdowns saved his stat line, but at no point did the Ohio State product look like a player who will blossom into the franchise quarterback he was drafted to be. Haskins hasn't gotten much help from his coaches, blockers, or receivers in his four appearances (two starts) this year, but his issues with recognizing and avoiding pressure are on him, as is his penchant for turnovers.
If Haskins doesn't catch up to the speed of the pro game over the season's final six weeks, it's fair to wonder whether the Redskins might consider following the Cardinals' lead by taking a first-round quarterback in successive years - a move that would necessitate Haskins being traded as Josh Rosen was.
A competent organization would allow its head coach to help make that future-altering decision, but the Redskins have proven to be anything but over the last few decades. There are only 32 head coaching jobs in the NFL and Washington will find a willing candidate, but the prospect of working for meddling owner Dan Snyder and bumbling team president Bruce Allen should lead top candidates to turn their noses up at the gig. By all appearances, the Redskins are in their current state because Snyder and Allen insisted on drafting Haskins against the wishes of their staff.
The Bengals are winless and the Dolphins have the least amount of talent, but the Redskins are the NFL's most hopeless team. For their fans, chants of "Sell the team" might be the only glimmer of hope.
Cardinals have bright future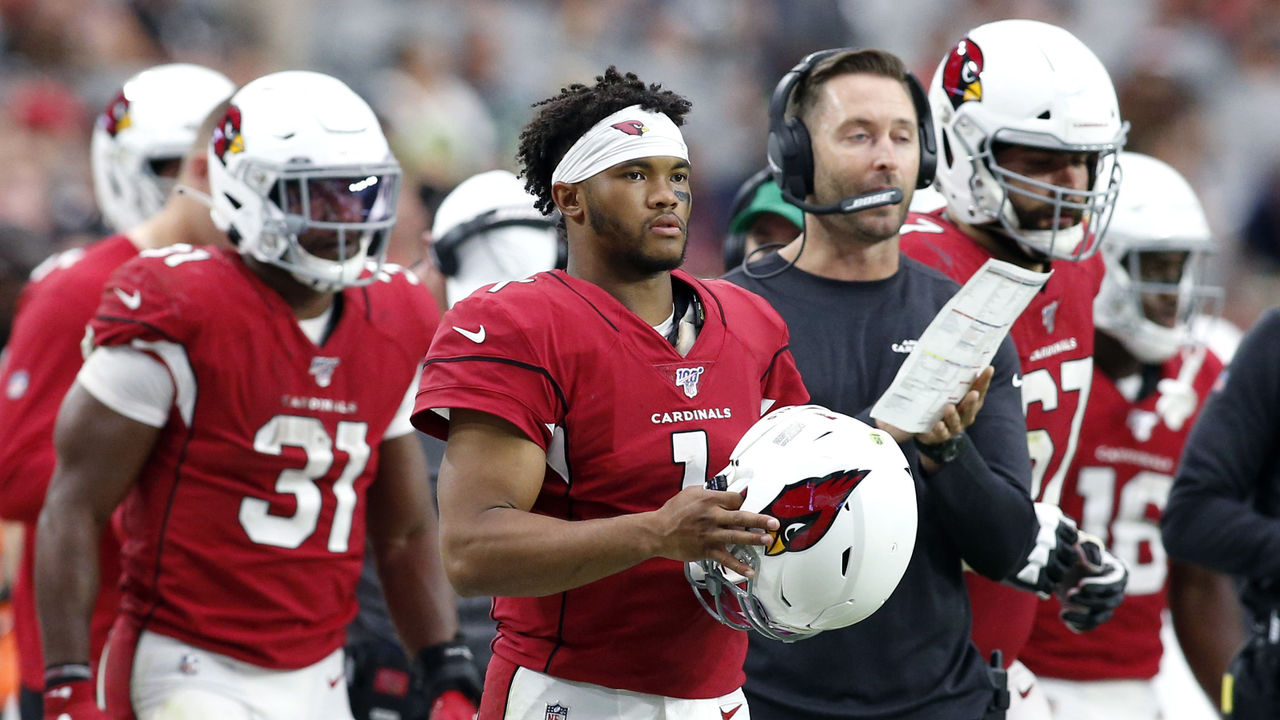 The Kliff Kingsbury hire, and the subsequent move to bail on Josh Rosen to draft Kyler Murray, made for a polarizing offseason in Arizona. Whether it was a matter of being forward-thinking, or a little too bold, was up for debate. Nobody should be second-guessing this team's direction now, though.
The new era for the Cardinals has yet to yield many results in the win column, but those are coming. And it shouldn't be long before they come in bunches.
Kingsbury's Air Raid system gets players open as well as any in the league, and Murray's combination of electric arm talent and an ability to make big plays with his legs makes him the perfect quarterback to run the show. Though both matchups with the 49ers ended in losses - the latest of which came Sunday afternoon - Arizona gave the NFL's No. 2 defense all it could handle in both outings.
And this is all with what can safely be considered one of the lesser-talented rosters in the NFL, particularly on the offensive line.
Another offseason to add to this group will do wonders to maximize a foundation highlighted by Kingsbury and Murray. Playoff contention should be the goal in 2021, but don't be surprised if the Cardinals make a push to speed up the process and get there next year.
Watson drops out of MVP race
The NFL's MVP race is down to two men: Lamar Jackson and Russell Wilson.
Deshaun Watson gave it his best shot but he couldn't keep pace with Jackson's Ravens on Sunday. Defenders harassed Watson all afternoon, holding him to just 18 completions for 169 yards with two turnovers and zero touchdowns - the first time this season Watson has failed to throw for a touchdown - while sacking him seven times.
As has typically been the case during Watson's brief career, the Texans' pass protection was woeful. Left tackle Laremy Tunsil returned to the lineup after missing Week 9 but didn't look much like a player worth the two first-round picks the Texans traded for him in late August.
Not all blame lies with the line, however. Watson willingly took far too much punishment and even appeared to narrowly avoid a major ankle injury at one point. His best trait is his tenacity and he's thrown many touchdowns on plays he extended that other passers couldn't have, but his tendency to try to do too much has left him battered and bruised. And it's finally showing.
There's certainly no shame in dropping out of the MVP race in November, but it's fair to ask if Watson must change his approach if he's ever to put up MVP numbers over a full season.
New identity in Dallas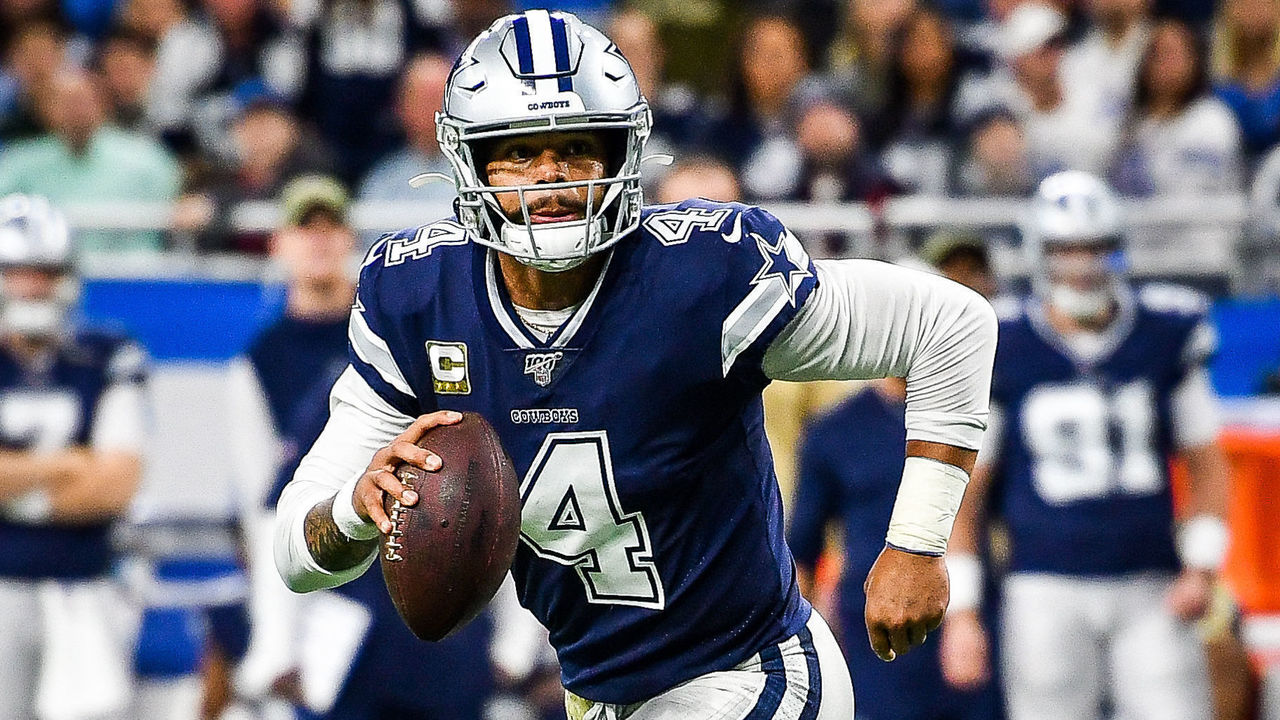 For as long as Ezekiel Elliott has been in Dallas, the Cowboys went about as far as he and the offensive line could take them. It was all about the running game, and for good reason. Few could pound the rock like this team.
Things are starting to change, though. Elliott's production has tapered off a bit, as he's averaging just 4.3 yards per carry, although he absolutely remains one of the league's elite running backs. The reason for the shift is more about Dallas' offense no longer needing to go through him. And that's because the Cowboys have one of the league's brightest young stars at quarterback.
Dak Prescott put together yet another stellar performance Sunday afternoon, completing 29 of 46 passes for 444 yards and three touchdowns in leading the way to a win over the Lions. He's now on pace for 5,153 yards and 33 touchdowns this season, which would blow away his previous career highs.
Prescott's emergence is going to go a long way toward the Cowboys giving themselves a chance in the postseason because, as he's shown multiple times this year, the offense's explosiveness with the ball in his hands allows Dallas to be effective playing from behind. And when the Cowboys are ahead, there aren't many running backs you'd rather have to put the game away than Elliott.
If the defense can get back on track after a few disappointing efforts, this could be a scary playoff team.
Don't bemoan Dolphins for trying to win
Any lingering talk of the Dolphins tanking officially died when they attempted and recovered a surprise onside kick in the first half of Sunday's game against the Bills. That's not a play you call if your goal is to lose.
Miami fumbled the ball away on the next play and slumped to a 37-20 defeat, ending a two-game winning streak in the process. Maybe it was a microcosm of the team's season. The Dolphins aren't talented (that's by design as their brass rebuilds the roster from the ground up), and their ill-fated attempts to score can have the appearance of deliberate ineptitude, but they're a feisty group who will hit you with their best punch, and it just might knock you down if you take it lightly.
On paper, the NFL is the perfect league for tanking. Lose every game and you're guaranteed the rights to draft the best player in college football. But football isn't played on paper, of course, and the 53 men who suit up every Sunday can't reasonably be asked to play at anything less than full throttle with their careers on the line on every play. That reality was laid bare Saturday when presumptive top pick Tua Tagovailoa's football future was threatened by a major hip injury.
The Dolphins could tank, and they could earn the top pick, but it wouldn't guarantee them any future wins. Their earnest efforts to win this season won't result in many victories, either, but they could set a foundation for future Dolphins squads to build on.
Rams ramping up Gurley?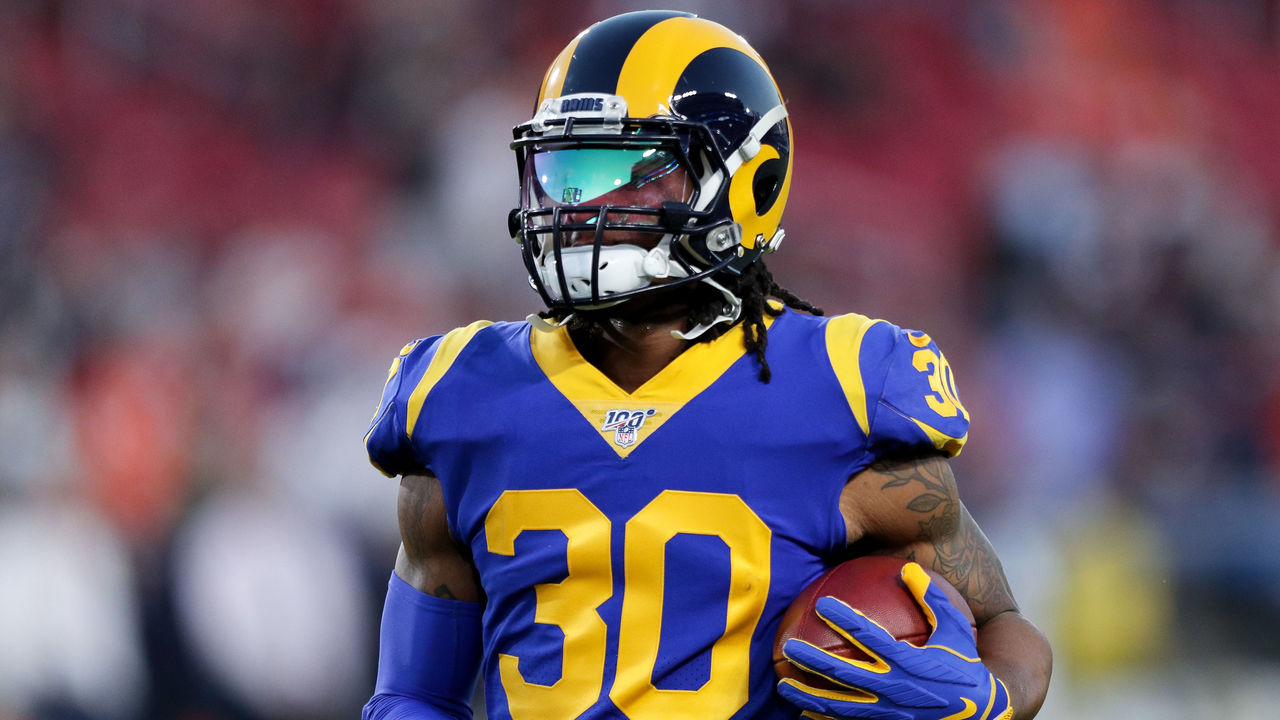 Todd Gurley's workload, or relative lack thereof, has been a story throughout the 2019 season. Despite the Rams insisting that he's healthy, the snaps and overall opportunities have been well short of what you'd expect for an All-Pro back.
It seemed possible that, after a playoff run in which his knee became an issue, the Rams were being extra careful with some sort of load-management plan. But might we now be entering a time where they're beginning to take off the reins?
Following a two-game stretch where he saw just 22 total touches, Gurley received a season-high 25 carries in Sunday night's win over Chicago. He didn't go off by any stretch, but racking up 97 rushing yards against a stout Bears defensive front, while adding another 36 yards on three catches, made for one of his more productive games of the year.
More importantly is the apparent indication, for what may be the first time this season, that Gurley can and will handle a full workload. The Rams' offense has struggled more than anyone could've expected this year, but Gurley once again working as a true offensive centerpiece down the stretch would be a major development for its chances of turning things around.
Put Minshew back in
One game of Nick Foles was enough to lay bare that the Jaguars made a mistake reinstalling their $88-million man as the starter over breakout rookie Gardner Minshew.
Foles, who suffered a broken collarbone in the first game of the season and hadn't played since, finished Week 11 with numbers that appear respectable: 33-of-47 passing for 296 yards, two touchdowns (one in garbage time), and one interception. But the film reveals that Foles was far from impressive, as he checked down on many throws for a measly 6.3 yards per attempt.
Foles' run to Super Bowl MVP honors was historic, but he has 56 regular-season appearances on his resume and it's obvious he's a below-average passer. When the best argument for starting him is based on his paycheck, it's no argument at all.
Minshew's magical start had fizzled by the Jaguars' bye, but he still has upside that Foles simply lacks. Let the mustachioed kid finish the season.
Falcons showing signs of life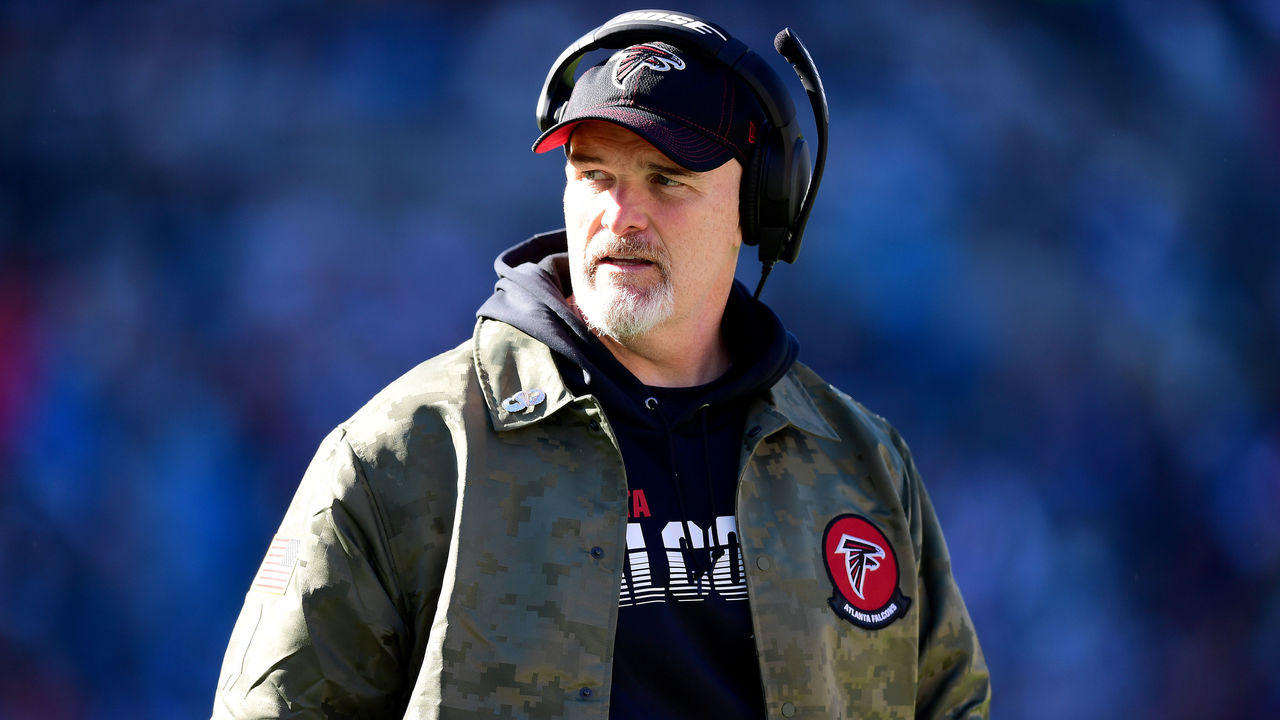 Where was this all year?
After yielding a mere three points in Sunday's dominant effort against the Panthers, the Falcons' defense has put together consecutive impressive performances in bouncing back from an abomination of an opening eight-game stretch.
Given what we'd seen in the first half of the season, last week's convincing win over the Saints seemed like little more than the kind of division-rivalry fluke result we see every year. But after an equally impressive effort on the road in Carolina, blowing out the Panthers 29-3, it seems as though Atlanta has made some truly meaningful changes on the defensive side of the ball.
Will this be enough to save Dan Quinn's job? Probably not. Even if the Falcons get hot enough to approach the .500 mark, the question then would be why Quinn couldn't make the necessary changes before it was too late. It's long past time to move on.
What this does tell us, though, is that expectations for this Falcons team - many experts saw them as a likely playoff club - may not have been so misguided. There's a lot of talent on this roster. A quick turnaround could be on the horizon with a strong coaching hire and a productive offseason to follow.
Weekly reminder that the new PI rule is a mess
This isn't a penalty in the NFL in 2019:
It was almost immediately apparent that the new rule making pass interference reviewable wasn't going to solve all of the NFL's problems, but few anticipated things would degrade to this point. Officials seem to be getting calls on the field correct at an all-time low rate, perhaps because they believe that any errors they make will simply be corrected upon review. But the review process has been so inconsistent, with several obvious instances of interference not being penalized because they don't meet the NFL's impossibly high standard of evidence, that many coaches have given up challenging such plays entirely.
The league must now face the possibility that a rule aimed at preventing another Rams-Saints non-call could result in an even more befuddling and embarrassing mess in the postseason. If any avenue exists to fix this rule - or the application of it, at least - before January, the NFL must make it happen.