To quote the indelible Ariana Grande: "Thank u, next."
The Baltimore Ravens sent us into Week 3 in rather comfortable fashion, but wins by the New England Patriots, Houston Texans, and Kansas City Chiefs mean most people in your pool are likely feeling comfortable as well.
The 2019 season still awaits its first big upset. Favorites of five or more this season are 13-2 straight up, with the Carolina Panthers (-6.5 in Week 2) and Cleveland Browns (-5.5 in Week 1) the only ones to lose outright. Ten teams are favorites of five or more points this week, however, and it could be time for the other shoe to drop. Here's a guide to avoiding that shoe.
Safest pick: Dallas Cowboys
The Dallas Cowboys are 21-point favorites in Week 3, and even that doesn't seem like enough. Dak Prescott has seven touchdowns through two weeks for the 2-0 Cowboys, who won by an average margin of 14 points over a pair of divisional opponents - traditionally much closer games.
The Miami Dolphins, the Cowboys' opponents Sunday, are 0-2 and lost those two games at home by an average margin of 46 points. Now they hit the road for the first time under rookie head coach Brian Flores and will face a Super Bowl favorite without their best defensive player, having just traded Minkah Fitzpatrick to the Pittsburgh Steelers.
In NFL history, there have been 10 favorites of at least 20 points in NFL history, and none of them lost the game straight up. After this week, that sample will be 12, with the New England Patriots favored by 21.5 over the New York Jets. So why not pick the Pats? The Jets have a couple of playmakers who at least make you somewhat nervous in Le'Veon Bell and Robby Anderson - at least more nervous than Kalen Ballage and Preston Williams. It's also a divisional game in Foxboro, and anyone who's been following this column knows I strongly recommend avoiding those.
When there's an alternative as appealing as Dallas, don't get cute.
If you're feeling lucky: NFC North over AFC West
This is for people who picked the Cowboys to beat the Giants in Week 1 and the Patriots over the Dolphins in Week 2. If either one of those teams remains at your disposal, stop reading and go submit your pick.
Last weekend, the Chicago Bears and Detroit Lions beat the Denver Broncos and Los Angeles Chargers, respectively. In Week 3, the Green Bay Packers host the Broncos and the Minnesota Vikings welcome the Oakland Raiders to the Land of 10,000 Lakes. Expect the NFC North to triumph over the AFC West again.
Aaron Rodgers over Joe Flacco requires little explanation, especially since the Broncos have to fly across the country for an early start on the heels of a demoralizing loss. These aren't Mike McCarthy's Packers, either. Under that regime, the Packers occasionally didn't show up, leaving them prone to upsets. For the first time in years, they have a very strong defense to pair with their elite quarterback. Green Bay is a much more well-rounded team than the one that came to rely wholly on the brilliance of Rodgers to win. Flacco might not eclipse 150 passing yards against this secondary.
The Vikings also feel like a safe pick, as they typically dominate inferior opponents under Mike Zimmer. Since he took charge, the Vikings are 26-5 straight up as home favorites and 13-1 as favorites of six or more. Look for them to take out their frustrations on the Raiders after a tough loss at Lambeau Field.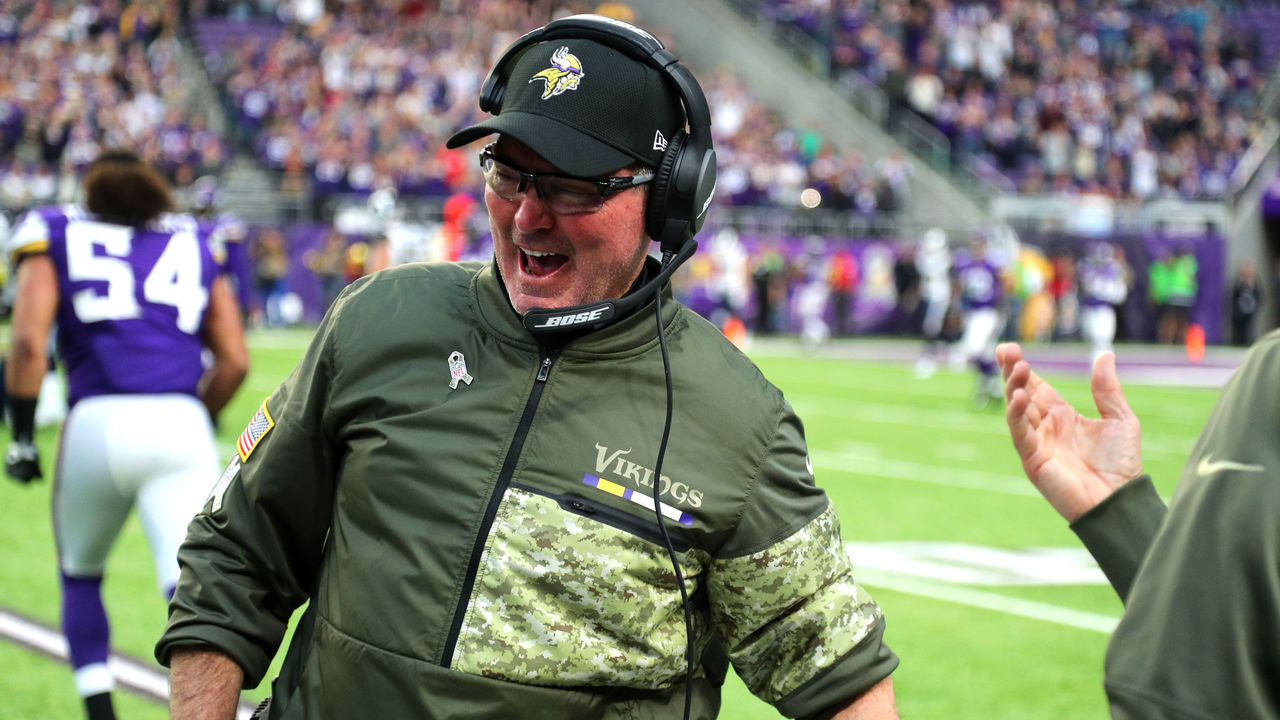 Avoid: Kansas City Chiefs
Patrick Mahomes has been dynamite at home, but why even go down this road? With so much chalk on the board this week, there are much safer underdogs to bet against than the Baltimore Ravens.
There's no doubt that "Money" Mahomes can sling it, and the Ravens' secondary is prone to giving up big plays. The Kansas City Chiefs are 12-0 straight up with Mahomes as a home favorite of at least four points. Still, this isn't a great matchup for them. Baltimore can run the ball like few other teams. The Ravens will look to control the clock and keep their offense on the field, which means Mahomes will be rooted to the bench. As incredible as he is, he can't score from there.
In just his fourth career start, Lamar Jackson took the Chiefs to overtime at Arrowhead Stadium last season. Don't put yourself through that kind of stress.
| HOME (SPREAD) | AWAY | WINNER (SAFETY RANKING) |
| --- | --- | --- |
| Dallas (-21) | Miami | DAL (9.5) |
| New England (-21.5) | NY Jets | NE (9) |
| Green Bay (-8) | Denver | GB (8) |
| Minnesota (-8) | Oakland | MIN (8) |
| Buffalo (-6) | Cincinnati | BUF (7) |
| Kansas City (-7) | Baltimore | KC (7) |
| Philadelphia (-7) | Detroit | PHI (6) |
| San Francisco (-7) | Pittsburgh | SF (4) |
| Tampa Bay (-6.5) | NY Giants | TB (4) |
| Indianapolis (-2.5) | Atlanta | IND (3) |
| LA Chargers (-3) | Houston | LAC (3) |
| Seattle (-5) | New Orleans | SEA (3) |
| Jacksonville (+1) | Tennessee | TEN (2) |
| Arizona (+3) | Carolina | ARI (1) |
| Cleveland (+3) | LA Rams | LAR (1) |
| Washington (+4.5) | Chicago | WAS (1) |
Safety rankings are out of 10, based on author's picks
Alex Moretto is a sports betting writer for theScore. A journalism graduate from Guelph-Humber University, he has worked in sports media for over a decade. He will bet on anything from the Super Bowl to amateur soccer, is too impatient for futures, and will never trust a kicker. Find him on Twitter @alexjmoretto.