10 dark horse NFL MVP candidates
Streeter Lecka / Getty Images Sport / Getty
If you named Alex Smith as a potential MVP candidate prior to the 2017 season, you would have been laughed out the room.
Ditto for Carson Wentz, who was coming off a rocky rookie season, and Todd Gurley, who looked like just a guy during Jeff Fisher's final year with the Los Angeles Rams.
The likes of Tom Brady, Aaron Rodgers, and Drew Brees, if healthy, are in contention for the award every season. But, as last year showed, each campaign can produce candidates straight out of left field.
Here are 10 dark horse candidates for MVP during the 2018 NFL season:
Rob Gronkowski
Brady's consistent candidacy for MVP makes it hard for any other New England player to get noticed. But if there's one member of the Patriots capable of overshadowing the face of the franchise, it's Gronkowski.
As is the case with many on this list, the star tight end would need a career year. He recorded 1,327 yards and 17 touchdowns on 90 catches in his second NFL season, so the bar is sky high. What helps Gronkowski, however, is New England's lack of other established receiving options. Aside from Chris Hogan, the Patriots' cupboard is bare until Julian Edelman returns from his four-game suspension - and even then, he's 32 years old and coming off a torn ACL.
The lack of options in the Patriots' offense makes Brady vulnerable to a down season. If the 41-year-old's numbers are good but not great, at least by his high standards, it isn't reaching to think Gronkowski can become the first tight end to win the award after dominating with his increased workload.
David Johnson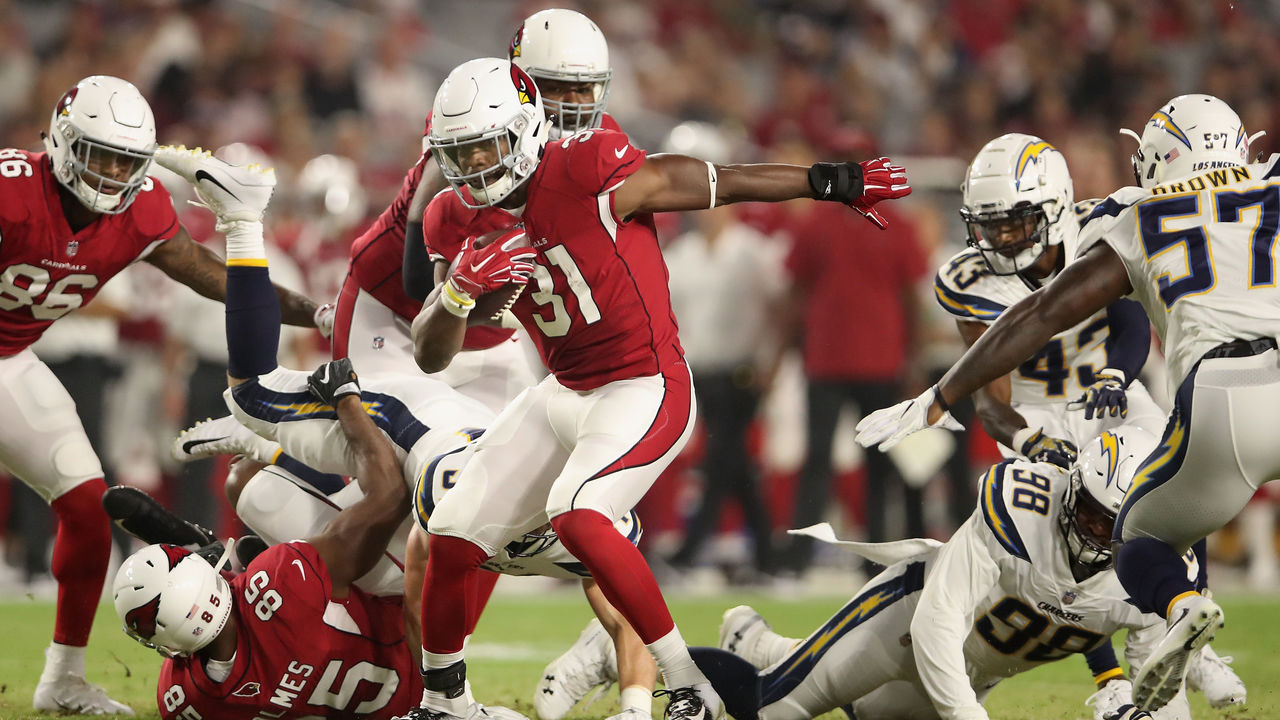 David Johnson has a mission for 2018: To remind the NFL that he's one of the league's most intimidating and productive running backs after a lost 2017 due to injury. With the Cardinals lacking receiving options outside of the immortal Larry Fitzgerald, and the brittle Sam Bradford under center, Johnson should receive more than enough opportunities to get his message across as Arizona rides its rushing offense.
Johnson is equally talented as a runner and receiver, so putting up eye-popping stats shouldn't be an issue. He flirted with the 1,000/1,000 club in 2016 and could do that again this season. Of course, as a running back, that still might not be enough. After all, Chris Johnson ran for 2,000-plus yards in 2009 and still didn't get a single vote for MVP.
Arizona also likely needs to make the playoffs for Johnson to stand a chance, a tough ask in the difficult NFC West. But there's little doubt Johnson has the talent to blow past those obstacles.
Patrick Mahomes
The hype surrounding Patrick Mahomes is reaching dangerous levels, but it's easy to get excited about the Kansas City Chiefs' strong-armed passer. Mahomes is brimming with potential during his first full season starting, especially with his talent and the weapons around him.
Andy Reid is a masterful schemer. The head coach will undoubtedly find all kinds of nightmarish ways to unleash receivers Tyreek Hill and Sammy Watkins, running back Kareem Hunt, and tight end Travis Kelce. Expecting Mahomes to perform like an MVP immediately is optimistic, even with those weapons, but Deshaun Watson proved that it's possible.
Moreover, while the Chiefs should be in contention to win the AFC West, their defense looks vulnerable after finishing 30th in DVOA in 2017, according to Football Outsiders. That should lead to plenty of shootouts, and opportunities for Mahomes to highlight his talents and compile MVP-worthy numbers.
Andrew Luck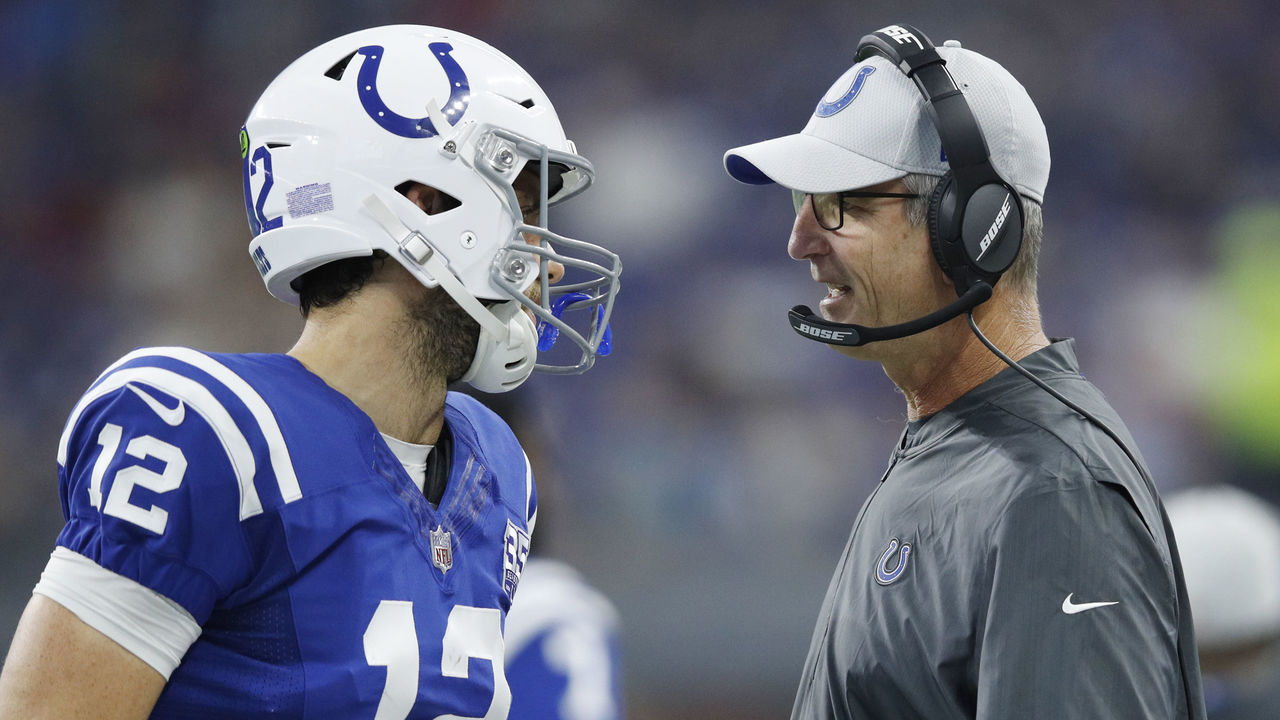 The question of if Andrew Luck will play again has been answered. Now, the question is how the Indianapolis Colts' star quarterback will perform after missing so much time with a lingering shoulder injury. Luck looked solid in the preseason, but he didn't push his game to a higher gear.
If he's fully healthy, though, there's little doubt Luck can put up MVP-level production. He did that in both the 2014 (40 touchdowns) and 2016 (96.4 passer rating) seasons despite dealing with that shoulder issue throughout the latter campaign. Plus, new head coach Frank Reich is bringing over a system that made Carson Wentz an MVP frontrunner in 2018 prior to his injury, and it also positioned Nick Foles to become the Super Bowl MVP.
Beyond wideout T.Y. Hilton and tight end Jack Doyle, Indy's offensive weapons leave a lot to be desired. But that means Luck should get serious consideration if he can drag the Colts to an unlikely 10-plus-win season.
J.J. Watt
After spending most of the last two seasons on the sidelines due to back and leg injuries, J.J. Watt is likely just grateful to be stepping back onto an NFL field. It's unclear if the Houston Texans' pass-rusher will be the same unstoppable force he was while winning three Defensive Player of the Year awards from 2012 to 2015, but even at 80 percent Watt is still a top-tier defender.
Of course, history is against Watt. Alan Page and Lawrence Taylor are the only defensive players ever named MVP. But Watt is the most dominant defensive talent since Taylor, and if he returns at close to his previous level and leads Houston to an AFC South title, voters may be tempted to give the future Hall of Famer the equivalent of a lifetime achievement award. That would also make up for not giving Watt enough consideration during his two 20-plus-sack seasons (2012, 2014).
Watt's biggest issue is that a playoff appearance for Houston will likely require Deshaun Watson to pick up where he left off in 2017 prior to his injury, making it hard for voters to look past the sophomore quarterback.
Saquon Barkley
To find a rookie MVP winner, you have to go all the way back to 1957 - 10 years before the first Super Bowl. That player? Jim Brown, of course. The legendary Cleveland Browns running back took home the first-ever honor from the Associated Press. In the 60 seasons since there have been few legitimate runs at joining him.
But as Watson showed last season, it just takes the right player and scenario, and Saquon Barkley will be thrown into a talented New York Giants offense set to run through Odell Beckham Jr. But after spending the No. 2 overall pick on Barkley, New York will need to get the rookie his work. A 400-plus-touch season isn't out of the question, and if Beckham gets hurt again, it's a near certainty.
And unlike others on this list, Barkley shouldn't have to fight off an MVP push from his quarterback, as Eli Manning will be more of a game manager than a game winner in 2018.
Antonio Brown
No wide receiver has been named MVP in NFL history. But last season, Antonio Brown arguably came closer than any pass-catcher before him until a late-season injury erased his candidacy. Between Weeks 11 and 15, the Pittsburgh Steelers wideout caught an absurd 39 passes for 627 yards and six touchdowns.
Unfortunately, Brown suffered an injury in what was supposed to be his statement game against the Patriots and Brady, the leading MVP candidate at the time (and eventual winner). He caught just two passes during that game and then missed the last two weeks of the regular season. If Brown kept up his average of 156.8 yards per game during the sizzling four-game stretch prior to his injury, he would have been within touching distance of breaking Calvin Johnson's single-season receiving yards record (1,964 yards).
The All-Pro receiver will continue to be a target monster in 2018, even in Pittsburgh's stacked offense. Last year's MVP race may have been Brown's best chance to make history, but he's made a career out of beating the odds.
Marcus Mariota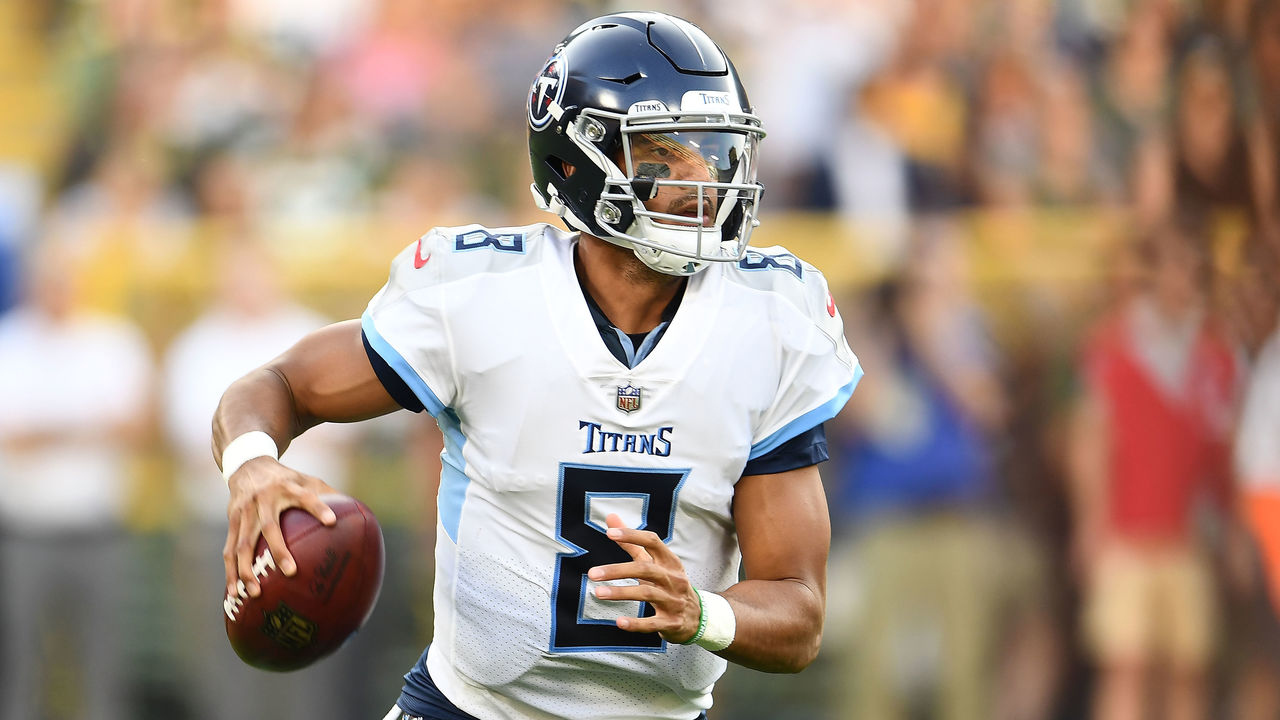 After three seasons in the NFL, the jury is still out on Marcus Mariota. Is the Tennessee Titans quarterback a special talent who was held back by an ill-fitting scheme and an old-school head coach? Or is he an athletically gifted but flawed passer whose ceiling is more limited than we thought due to health issues and struggles with the deep ball?
We should find out in 2018. The Titans hired Matt LaFleur to be the team's offensive coordinator. LaFleur spent last season working under Sean McVay, and the year before he was alongside Kyle Shanahan. He should bring over a lot of the same concepts that have made the Los Angeles Rams and Atlanta Falcons so dynamic offensively, including an affinity for play-action that will ease the stress on Mariota.
The young quarterback knows what it takes to win a major award. He took home the Heisman in 2014 after scoring a mind-boggling 57 total touchdowns. If LaFleur can restore Mariota as a running threat while also maximizing the Titans' strong supporting cast, the quarterback could have a Wentz-like jump in production.
Khalil Mack
The newest member of the Bears instantly becomes Chicago's best player, and it isn't even close. Mack's presence should boost an average defense - the Bears ranked 14th in defensive DVOA last year - and one that's consistently struggled to create takeaways under coordinator Vic Fangio.
Mack is a playmaking machine. Only Chandler Jones has recorded more sacks since the start of the 2015 season, and Mack is a more dominant run defender. He's among the few edge rushers capable of breaking the single-season sack record of 22.5, a must for any defender dreaming of hoisting the MVP award.
A Mitch Trubisky breakout campaign would probably derail any chances of Mack winning MVP, but considering all the new pieces on the Bears' offense, it's likely new head coach Matt Nagy eases in his quarterback. So, if Chicago does exceed expectations, the $141-million man could be first to receive plaudits.
Alvin Kamara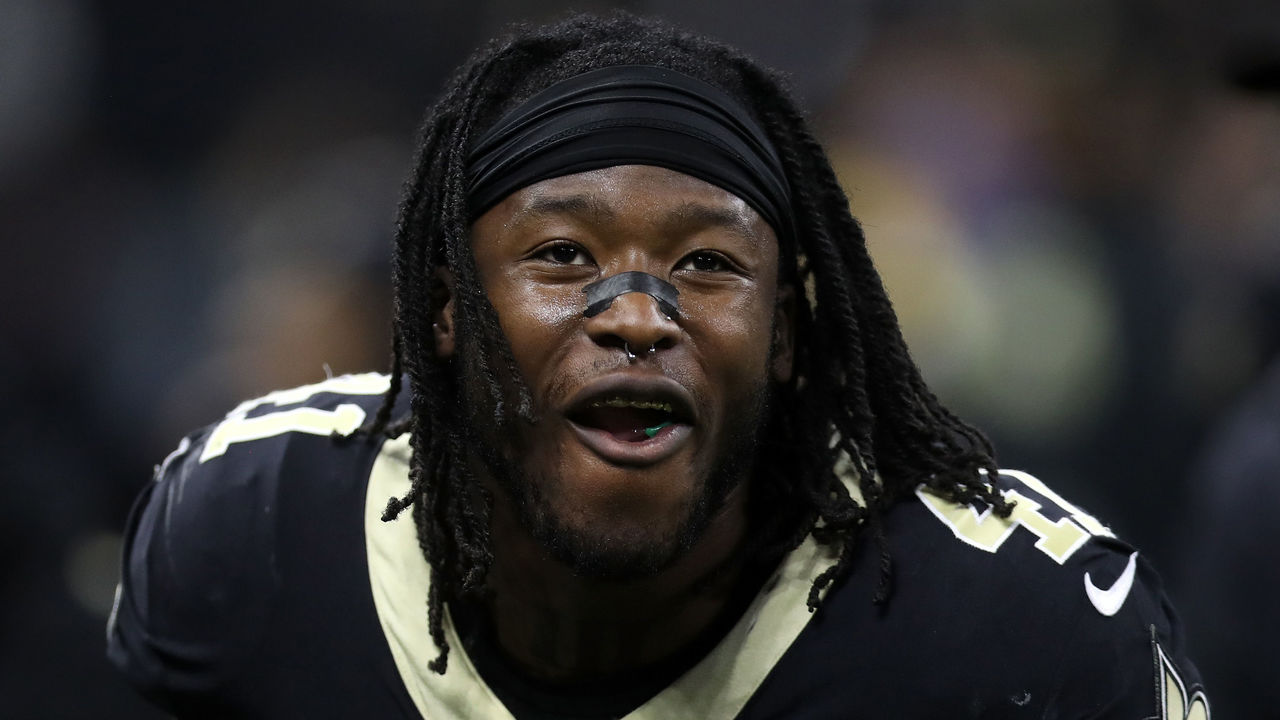 Alvin Kamara came out of nowhere to become one of the NFL's most versatile offensive threats. The New Orleans Saints running back led the league with an absurd 6.1 yards per carry in 2017, and only 12 players (10 receivers plus Le'Veon Bell and Travis Kelce) finished with more catches.
The 2017 third-round pick changed the entire complexion of the Saints' offense, and he was the key to the team's resurgence. Doesn't that sound like the definition of an MVP? Entering 2018, Kamara could easily take his production to another level, especially with running mate Mark Ingram suspended for the first four games.
Whether New Orleans is comfortable giving Kamara a bigger workload remains to be seen. The 23-year-old only received 120 carries in 2017, but he looked capable of taking on more work. Kamara's efficiency numbers will naturally take a hit if that happens, but the MVP award is rooted in both quality and quantity.
(Photos courtesy: Getty Images)
Comments
✕
10 dark horse NFL MVP candidates
  Got something to say? Leave a comment below!