Breakout or fakeout: Can Geno, Jacobs, other offensive stars stay hot in 2023?
Julian Catalfo / theScore
In this two-part series, theScore's football editors give a verdict on whether 2022 breakout players will continue their success in 2023.
First up are the offensive stars, with defensive players on deck. Rookies from last season weren't considered.
Geno Smith, QB, Seahawks
2022 stats: 4,282 yards, 30 TDs/11 INTs, 69.8% completion rate, 100.9 passer rating
Smith enjoyed one of the NFL's greatest comeback campaigns last season. Many thought the Seahawks would rebuild after trading Russell Wilson, which left Smith - a backup for most of his career - and Drew Lock as the team's quarterback options. Not only did Smith beat Lock for the QB1 role, but he earned the first Pro Bowl nod of his career in his 10th NFL season while leading Seattle to the playoffs.
A second-round pick in 2013, Smith lost relevance around the league after two unimpressive seasons with the New York Jets to start his career. However, he led the NFL in completion percentage in 2022 and ranked fifth in passer rating, cashing in on a three-year, $75-million deal this offseason. It's more difficult to stay on top than to get there, though.
Comparing Smith's resurgence to other QBs is hard given its uniqueness. Kurt Warner, who put on a show with the Arizona Cardinals late in his career after years as a backup, comes to mind. But Warner had already won two MVPs before losing his starting role for the first time. Smith never came close to that, tossing 25 touchdowns to 34 interceptions in his first two pro campaigns. Will the 2022 Comeback Player of the Year deliver under pressure now that all eyes are on him again? He didn't meet the expectations early in his career, and things won't get any easier in 2023 with opposing defenses having more time and tape to prepare to stop him.
Granted, the Seahawks have put together a solid supporting cast around Smith, most recently adding first-round receiver Jaxon Smith-Njigba. But we'd be jumping the gun by saying Smith will consistently be this good suddenly at this point in his career. Let's wait one more year.
Verdict: FAKEOUT
Jalen Hurts, QB, Eagles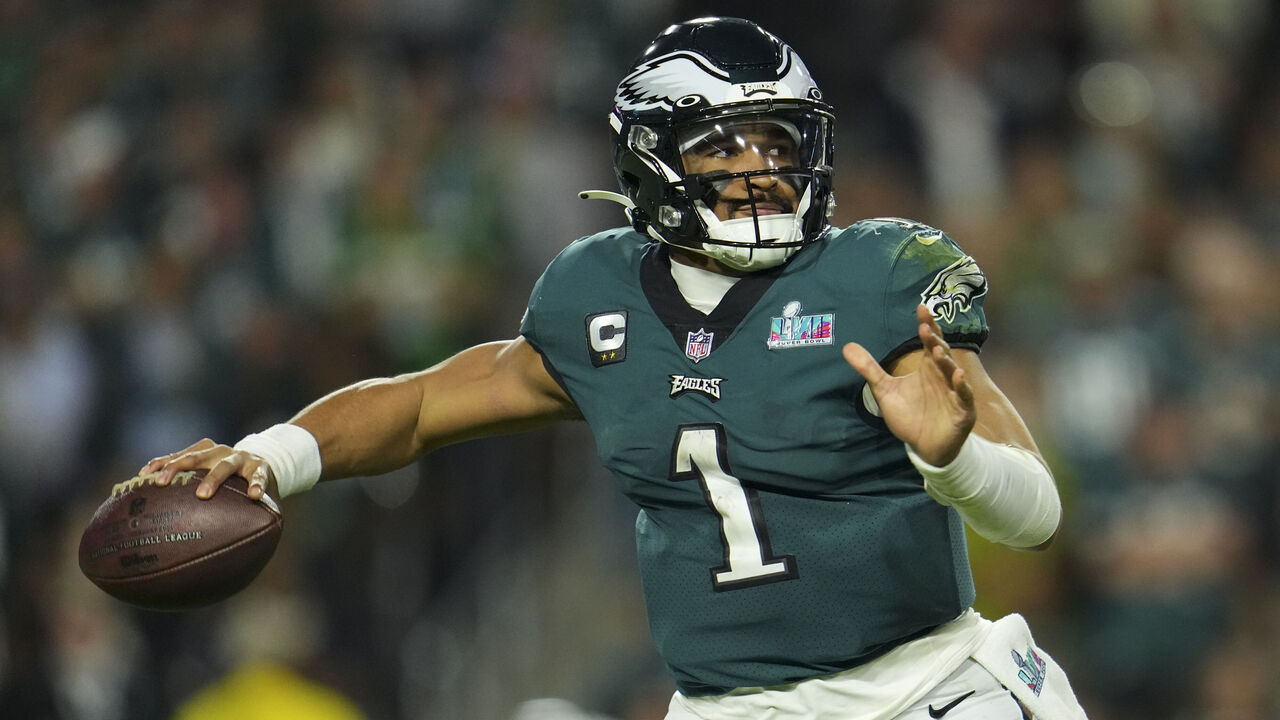 2022 stats: 3,701 yards, 22 TDs/6 INTs, 66.5% completion rate, 101.5 passer rating, 760 rushing yards, 13 TD runs
There were a lot of questions regarding Hurts entering last season, particularly about his potential as a passer. But he put those question marks to bed with a breakout campaign that made him an MVP candidate. Despite missing two regular-season games, the 24-year-old ranked ninth in big-time throws, including the playoffs, according to PFF. And only 1.8% of his plays were turnover worthy, the NFL's second-lowest mark. We have reasons to believe this is just the beginning for the former second-round pick.
Hurts is surrounded by an elite supporting cast that features a premier duo of pass-catchers in A.J. Brown and DeVonta Smith and the league's best offensive line. Philadelphia also added running backs D'Andre Swift and Rashaad Penny this year. The Eagles lost offensive coordinator Shane Steichen, but they should be OK with former quarterbacks coach Brian Johnson replacing him alongside third-year head coach Nick Sirianni.
Hurts will never become a passer like Patrick Mahomes. But the improvements he's made in the passing game, combined with his ability to run the ball, make him one of the NFL's most dangerous playmakers. He's the perfect quarterback for an Eagles offense that should remain a juggernaut for years.
Verdict: BREAKOUT
Trevor Lawrence, QB, Jaguars
2022 stats: 4,113 yards, 25 TDs/8 INTs, 66.3% completion rate, 95.2 passer rating, 291 rushing yards, 5 TD runs
After having an underwhelming rookie season, Lawrence showed in 2022 why he was one of the best draft prospects in recent years. He posted a strong second half of the season en route to leading the Jaguars to the playoffs for the first time since 2017. Yes, Lawrence was inconsistent at the start of the campaign. But he figured things out and fixed most of his issues as the season progressed.
The 2021 No. 1 pick tossed an NFL-high 17 interceptions while passing for only 12 TDs in Year 1. But that was under Urban Meyer, one of the worst NFL coaches in recent memory. With Meyer gone and Doug Pederson on the sideline, Lawrence made a big jump last year. It took him a few weeks to get comfortable, but the league should take notes of the Clemson product's most recent performances:
| Weeks | 1-8 | 9-18 |
| --- | --- | --- |
| Cmp% | 62.5 | 69.7 |
| TDs | 10 | 15 |
| INT | 6 | 2 |
| Rate | 84.8 | 104.6 |
| TWP* | 11 | 8 |
| BTT** | 9 | 19 |
| Record | 2-6 | 7-2 |
* Turnover-Worthy Plays (PFF)
** Big-Time Throws (PFF)
Lawrence also had a historic wild-card game against the Los Angeles Chargers, throwing four first-half interceptions before helping Jacksonville stage the third-largest comeback in NFL postseason history. That game sums up Lawrence's 2022 pretty well - he didn't panic under pressure after making mistakes and showed the resilience a top-tier QB needs to succeed.
Jacksonville is bringing back its top pass-catchers in 2023 and adding Calvin Ridley to the mix. Expect Lawrence, who turns 24 in October, to reduce his mistakes. The sky is the limit for the Pro Bowl QB, who could break the Jaguars' single-season record for passing yards (4,428) and touchdown passes (35) very soon.
Verdict: BREAKOUT
Miles Sanders, RB, Panthers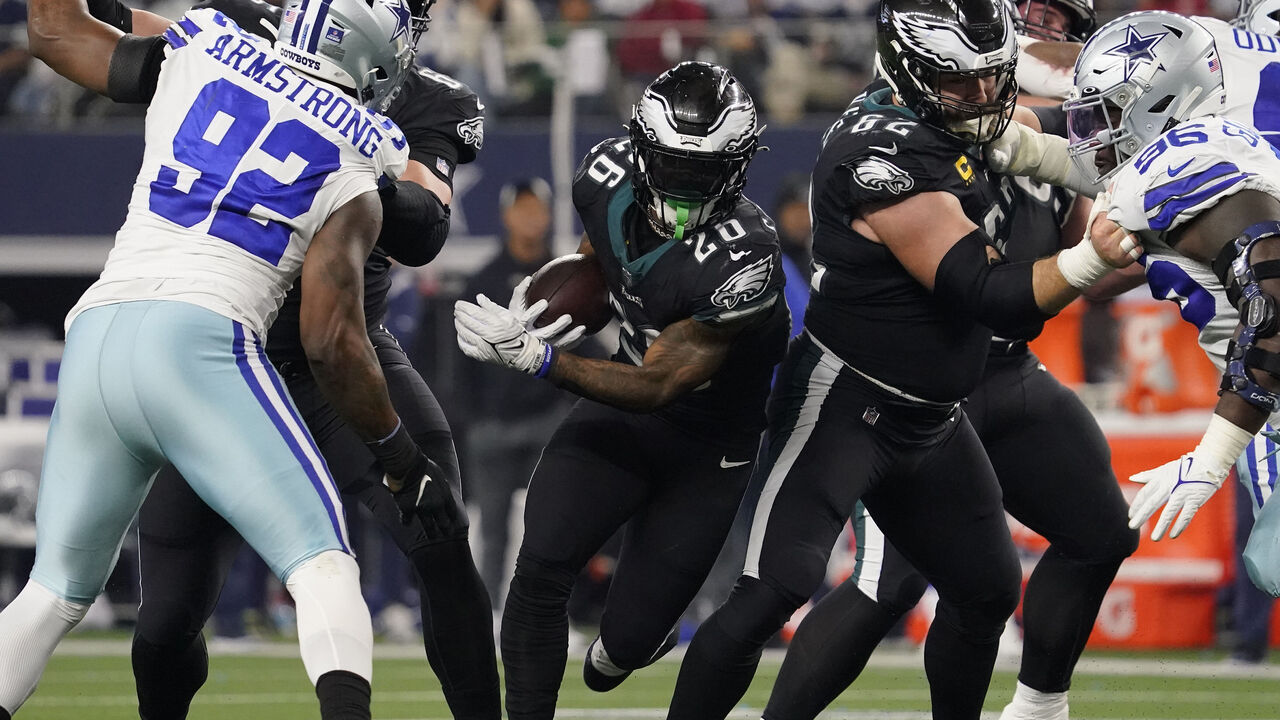 2022 stats: 259 carries, 1,269 yards, 11 TDs; 20 catches, 78 yards
Sanders needed a big year before testing free agency for the first time, and he delivered. The former second-round pick, who didn't score a single touchdown in 2021, set career highs in rushing attempts, yards, and TDs with the Eagles in 2022. He ranked fifth and eighth in yards and touchdowns on the ground, respectively, and signed a four-year, $25-million deal with Carolina in the offseason.
Sanders has averaged 5 yards per carry since entering the NFL in 2019 but played behind the league's best offensive line over that span. The Penn State product also led the league in yards before contact last season, and he deserves some credit for that. However, we have to question whether he would've put up those numbers while playing behind a non-spectacular line like the one he'll line up with in Carolina. The Panthers were good in pass protection but ranked 21st in run blocking last year, according to PFF.
It looks like Carolina will also have Sanders more involved in the passing game now that he's reunited with Duce Staley, his position coach from his rookie year. Sanders caught 50 passes in 2019, but his impact as a pass-catcher has declined each year and was nearly nonexistent last season. Ahead of his age-27 season, Sanders will get the touches, but we're expecting him to underperform on the Panthers.
Verdict: FAKEOUT
Josh Jacobs, RB, Raiders
2022 stats: 340 carries, 1,653 yards, 12 TDs; 53 catches, 400 yards
Jacobs' contract year in 2022 couldn't have gone much better. After the Raiders' new regime declined his fifth-year contract option, the former first-round pick put on a show, leading the NFL in rushing and scrimmage yards and earning a first-team All-Pro nod. Though the franchise-tagged running back has yet to agree to terms on a long-term deal with Las Vegas, several factors indicate his success is sustainable.
Jacobs is more comfortable with coach Josh McDaniels and his staff than with the Jon Gruden-led coaching staff that drafted him 24th overall in 2019. He said in January that Las Vegas' coaches are "on another level" compared to the previous group. The Alabama product broke out despite playing behind an O-line that placed 17th in the run game, the worst-ranked line among running backs who finished in the top seven in rushing. He led the league with a whopping 90 missed tackles forced after a rush.
Even during the Gruden era, Jacobs had already shown his potential, rushing for 1,150 yards (4.8 per carry) as a rookie. In his first year under McDaniels, the 25-year-old took his game to another level and proved he belongs among football's premier running backs.
Verdict: BREAKOUT
Jamaal Williams, RB, Saints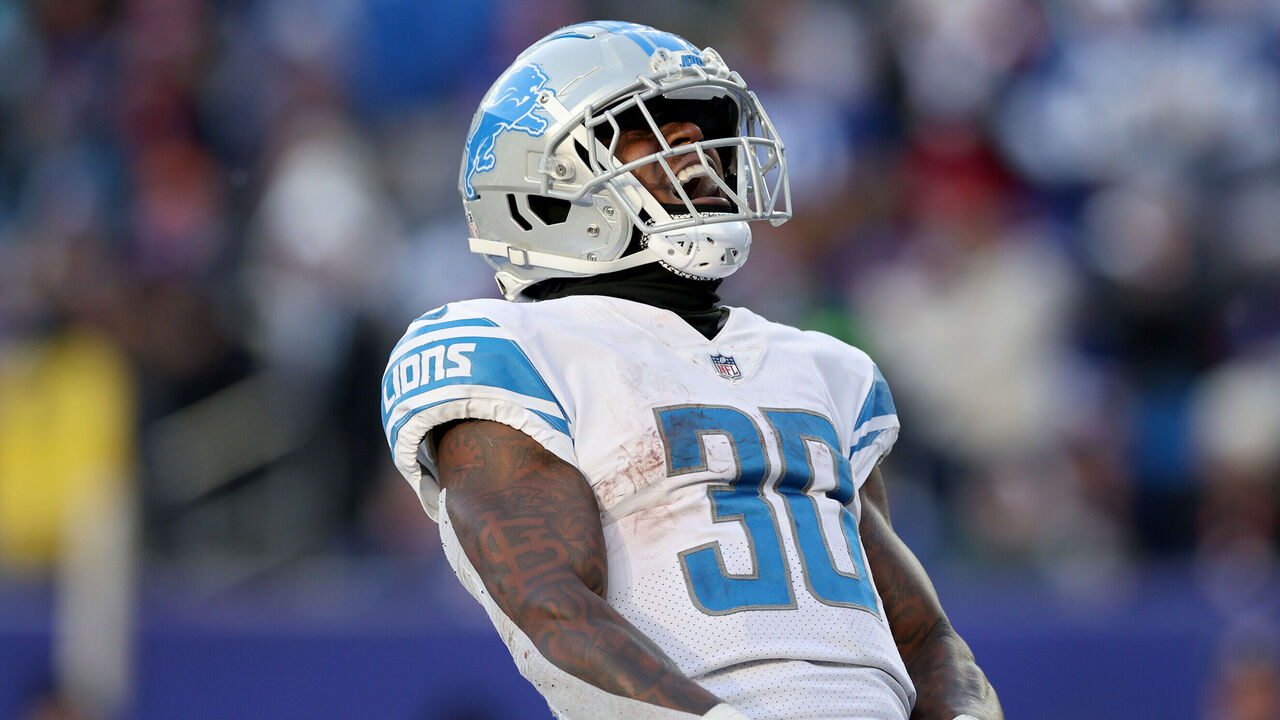 2022 stats: 262 carries, 1,066 yards, 17 TDs; 12 catches, 73 yards
We heard Williams' name a lot in 2022 as he set career highs in rushing attempts and yards while leading the league in TD runs. He was an important part of the Detroit Lions' top-five offense and earned a three-year, $12-million contract with New Orleans in free agency. But don't let Williams' numbers fool you.
As impressive as his TD total is, keep in mind that 14 of them were scored inside the opponent's 5-yard line, including 10 from the 1-yard line. The 28-year-old - who averaged 4.1 yards per rushing attempt - lacked explosiveness, and only 8.4% of his carries resulted in gains of 10 or more yards despite Detroit boasting a top-10 offensive line.
Signing Williams wasn't necessarily a bad move for the Saints by any means. He's a good blocker and a reliable workhorse who should help New Orleans' running back depth chart immediately. His interviews are also must-watch TV. We just don't believe Williams has enough explosiveness and flash to put up the same numbers this year as he did in 2022.
Verdict: FAKEOUT
Tony Pollard, RB, Cowboys
2022 stats: 193 carries, 1,007 yards, 9 TDs; 39 catches, 371 yards, 3 TDs
Pollard has established himself as one of football's most electric playmakers. He's a big play waiting to happen, with 11 of his 23 career touchdowns covering at least 20 yards. The Memphis product ranked sixth at his position with 503 rushing yards after contact in 2022, outplaying Ezekiel Elliott en route to becoming the leader of Dallas' backfield. Pollard's ability to hit a home run on any given play is absurd, but can he keep up his impressive play as the No. 1 guy now that Elliott is out of the picture?
Many around the NFL see Pollard mainly as a speed threat and not exactly a reliable workhorse who can lead a backfield. But he faced eight-plus defenders in the box at the snap 22.28% of the time last year, a higher rate than Jacobs and Sanders, for instance. Granted, Pollard has never had more than 200 rushing attempts in a season, but his workload has increased each year, going from 130 carries in 2021 to 193 in 2022. Add 39 receptions to the equation, and his 232 touches last campaign look pretty good and suggest he can be a three-down back. Pollard averaged more than 5 yards per carry in three of the previous four seasons.
It'll be interesting to see how Mike McCarthy will use Pollard in 2023, with the head coach calling plays this season instead of former Dallas offensive coordinator Kellen Moore. It seems unrealistic that Pollard will keep his absurd big-play rate with more snaps likely coming his way, but he's done enough to prove he's ready to be the main guy.
Verdict: BREAKOUT
Brandon Aiyuk, WR, 49ers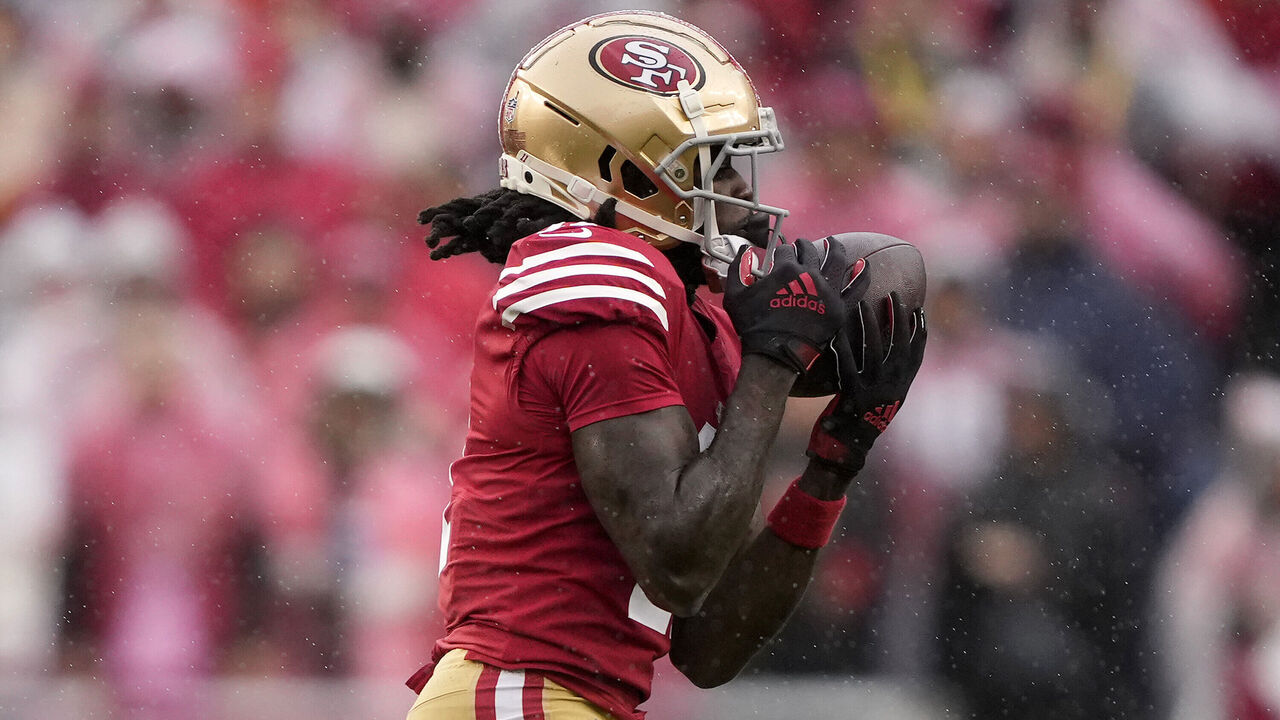 2022 stats: 78 catches, 1,015 yards, 8 TDs
Aiyuk dazzled and had a career year in San Francisco last season, leading the team in receptions and receiving yards while showing off his elite route-running ability. Aiyuk had a 115.9 passer rating when targeted, the third-highest in the league among wideouts with at least 100 targets. Now the 2020 25th overall pick carries high expectations into 2023 and is in great shape. But the same can't be said about the 49ers' quarterback room.
Brock Purdy is recovering from a complete tear of the UCL in his throwing elbow, and it's unclear if he'll be available for Week 1. The Niners have reportedly been bracing for an absence that could stretch to Week 4. Trey Lance suffered an ankle injury in 2022 and has started only four games in two years. Finally, Sam Darnold is already on his third team, and never once has he tossed at least 1,000 yards to the same player in a season. The bigger part of Aiyuk's 2022 production (567 yards and five touchdowns) came from Jimmy Garoppolo, who's now in Las Vegas.
Besides, Deebo Samuel - who led the Niners in targets per game in 2022 - will be healthier after missing four contests last year. Aiyuk caught 22 passes for 282 yards and two scores with Samuel sidelined.
The 49ers will likely still be one of the NFL's most competitive teams due to their stacked roster. But until San Francisco figures out its quarterback situation, it's hard to project big things for the team's top pass-catchers, no matter how good they are.
Verdict: FAKEOUT
Juwan Johnson, TE, Saints
2022 stats: 42 catches, 508 yards, 7 TDs
Can you name the tight ends with the most TD receptions in the NFL in 2022? The top two are relatively easy, Travis Kelce and George Kittle. But you were wrong if you said Mark Andrews, T.J. Hockenson, or another star next. That third spot belongs to Johnson, tied with Cole Kmet. Johnson was also in the top 20 for receptions, yards, and first downs among TEs for the first time, an unexpected outcome for a former undrafted free agent who had 17 receptions over two seasons before 2022. The 6-foot-4, 231-pounder is a real threat due to his athletic ability, but it'll be hard for him to replicate his success.
A decent part of Johnson's production happened with the Saints down big in the fourth quarter, including a pair of garbage-time TDs. Also, the 26-year-old posted arguably his best games of the campaign versus the Atlanta Falcons and Cardinals, who both struggled to stop tight ends. Not to mention, multiple New Orleans pass-catchers ahead of Johnson on the depth chart to start the year struggled to stay healthy.
The Saints now have quarterback Derek Carr, who's had success with tight ends in the past. But New Orleans also recently signed Foster Moreau, a veteran tight end who started 14 games last year and has previously played with Carr. The Saints will look different in 2023, and Johnson will have more competition for targets.
Verdict: FAKEOUT
Andrew Thomas, OT, Giants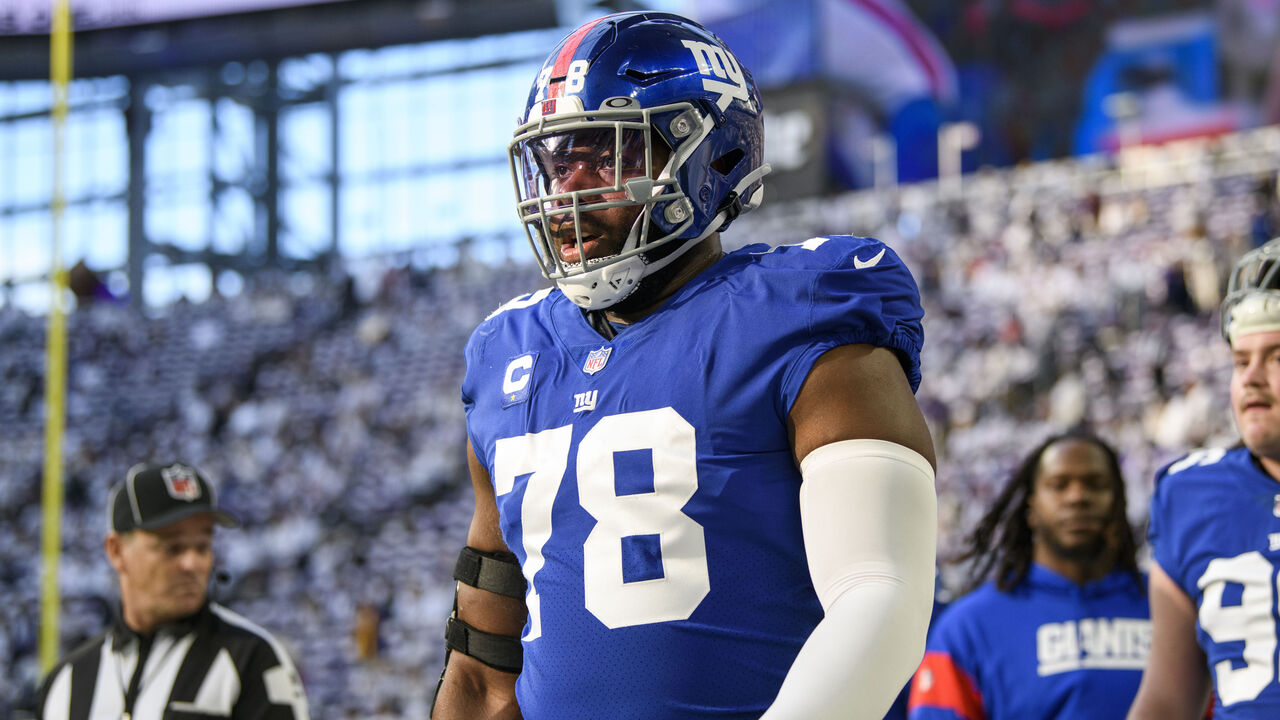 2022 stats: 3 sacks allowed, 21 total pressures allowed, 2 penalties
Thomas reached new heights in 2022 and was key in helping the Giants make the playoffs in Brian Daboll's first campaign as head coach just a year after the team won only four games. The 2020 fourth overall pick was PFF's third-best offensive tackle in the NFL and potentially changed the course of a career that had bust written all over it at one point.
The Georgia product struggled as a rookie and allowed 57 pressures, the second-most in the league that season. He improved in Year 2 but was still far from living up to the hype. However, Thomas put on a show in 2022 and was a cornerstone of New York's offense, finishing the campaign as one of the team's most consistent and important players. And it's not that Thomas stood out because he wasn't tested enough. He faced the Cowboys (twice), Eagles, Seahawks, Baltimore Ravens, Washington Commanders (twice), and Indianapolis Colts - all teams that ranked in the top 12 in total sacks.
Thomas was only 21 in his first NFL season, and his pre-draft evaluations in 2020 anticipated that he needed time and good coaching to become an elite pass-protector. That makes even more sense in 2023, as Thomas, now 24, continues to show improvement and heads into his fourth season with the reigning Coach of the Year on the sideline. We shouldn't expect a drop-off from him anytime soon.
Verdict: BREAKOUT