Deal or no deal? Lakers, Suns should talk blockbuster AD trade
Christian Petersen / NBA / Getty Images
Welcome to Deal or no deal?, a series we're launching ahead of the NBA's Feb. 9 trade deadline. Its purpose is to find sensible trade partners, both from a team-to-team and team-to-player perspective.
These aren't necessarily trades that have been reported or speculated about in the past, but rather trade scenarios we've come up with, and ones we believe all parties involved should look into.
First up in the series: Anthony Davis, his Los Angeles Lakers, and the Phoenix Suns.
Proposed trade
Suns receive: Anthony Davis
Lakers receive: Deandre Ayton, 2025 1st-round pick, 2026 pick swap, 2027 1st-rounder
The first thing to address is why the Lakers would trade Davis, a 29-year-old superstar who wants to be in L.A., who's enjoying one of his finest seasons, and who has at least a year remaining on his current contract. But it shouldn't be so difficult to understand.
For as well as Davis played before being sidelined by a foot injury, the Lakers were still a bottom-five team in the Western Conference, chasing the most mediocre of play-in squads. General manager Rob Pelinka somehow again achieved the impossible: he built another team so incompetent and ill-fitting that even a healthy Davis and LeBron James weren't enough to make the Lakers a contender.
Last season, the Lakers actually lost the minutes they played with both James and Davis on the court. This year, the team has won those minutes by a modest 2.1 points per 100 possessions, but still went 8-11 in the 19 games both stars suited up in before Davis' latest injury. Contrary to popular belief in Hollywood, the Lakers are too far from title contention for any tweaks or trades centered around Russell Westbrook and/or their 2027 and 2029 first-round draft picks to make enough of a difference.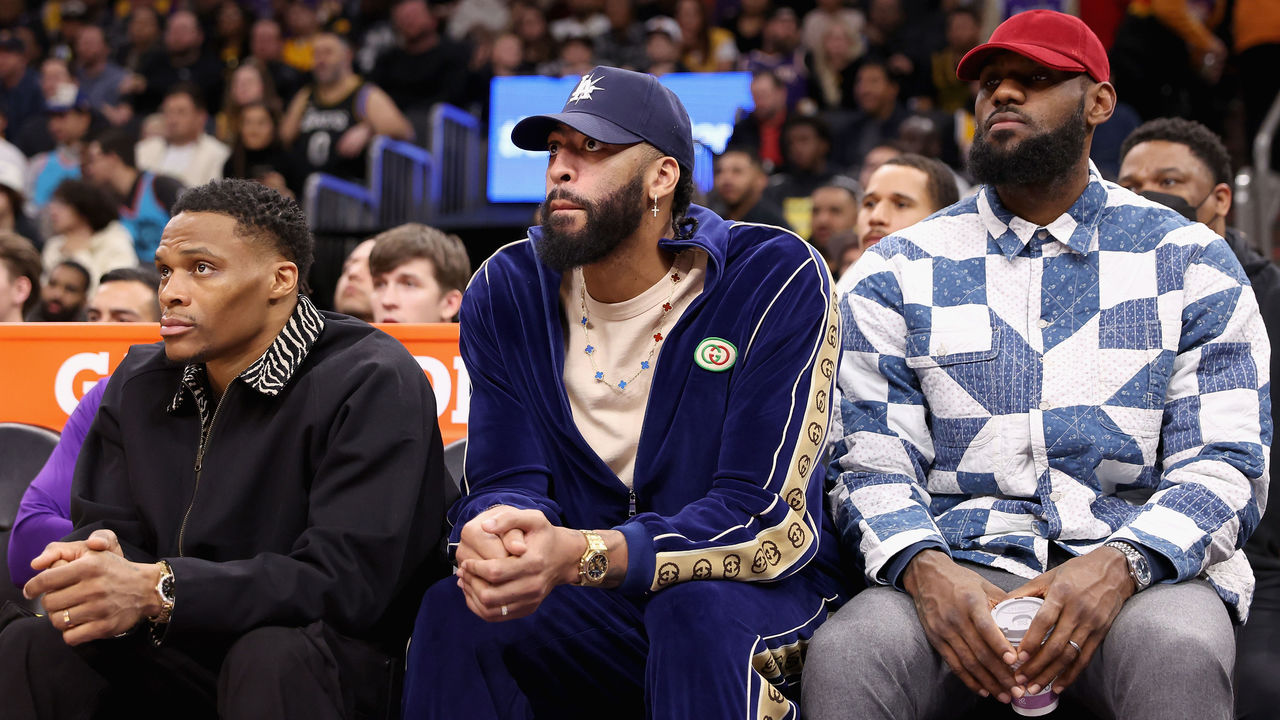 The team is going nowhere this season, and even if you believe a 2023 free agent might help James and Davis get over the hump next season, that's still banking on the Lakers' two incumbent stars staying healthy. For as awe-inspiring as James' durability and longevity have been, the soon to be 38-year-old has missed an average of 22 games per 82 over the last four years. Meanwhile, Davis' right foot injury is only the latest in a dizzying list of ailments that have caused him to miss a quarter of his teams' games over the first decade of his career.
As great as Davis remains when healthy, his checkered injury history means his ability to be the Lakers' future after James eventually leaves and/or retires is suspect, at best. Davis can opt for free agency in 2024. Should the downtrodden Lakers be eager to give a then-31-year-old Davis, of all big men, another max contract?
There's more: L.A. doesn't control its own first-round draft pick again until 2025, the closest thing it has to a blue-chip prospect is Austin Reaves, and no team would trade LeBron unless it's what the eventual all-time scoring leader wants. Add it all up, and if the Lakers accepted their fate as a non-contender whose hands are tied, they'd realize the best path forward to protect their future viability is trading Davis in 2023.
Despite the injury concerns, Davis remains one of the league's most dynamic stars when healthy. Teams that can realistically challenge for a championship in the present, unlike the Lakers, should be less concerned about Davis' next contract or longevity. To legitimate contenders, Davis should simply represent the finishing touch on a title team, and one who's still under contract for two potential playoff runs.
In any Davis trade scenario, the Lakers should target a player good enough to help LeBron continue to play relevant basketball and compete on some level (even if just for a play-in spot), but one young enough to form part of the foundation of the next great Lakers team, whenever that squad may come to fruition.
Though nowhere near the caliber of big man Davis is, Ayton checks both boxes. He's a 24-year-old center averaging roughly 18 points, 10 rebounds, and two assists on 62% shooting; an interior bully who also possesses a soft touch. Ayton's a near 7-footer who shoots 84% at the rim, but who's also above average from the mid-range, and is an improving playmaker.
He's far from a finished product, and he's certainly not perfect. Ayton's defensive consistency and offensive assertiveness leave something to be desired, especially for a Suns team trying to win now. The hope would be that with more responsibility in L.A., Ayton fine-tunes his game, while the Lakers would acquire a young star yet to hit his prime, one who's under contract through 2025-26.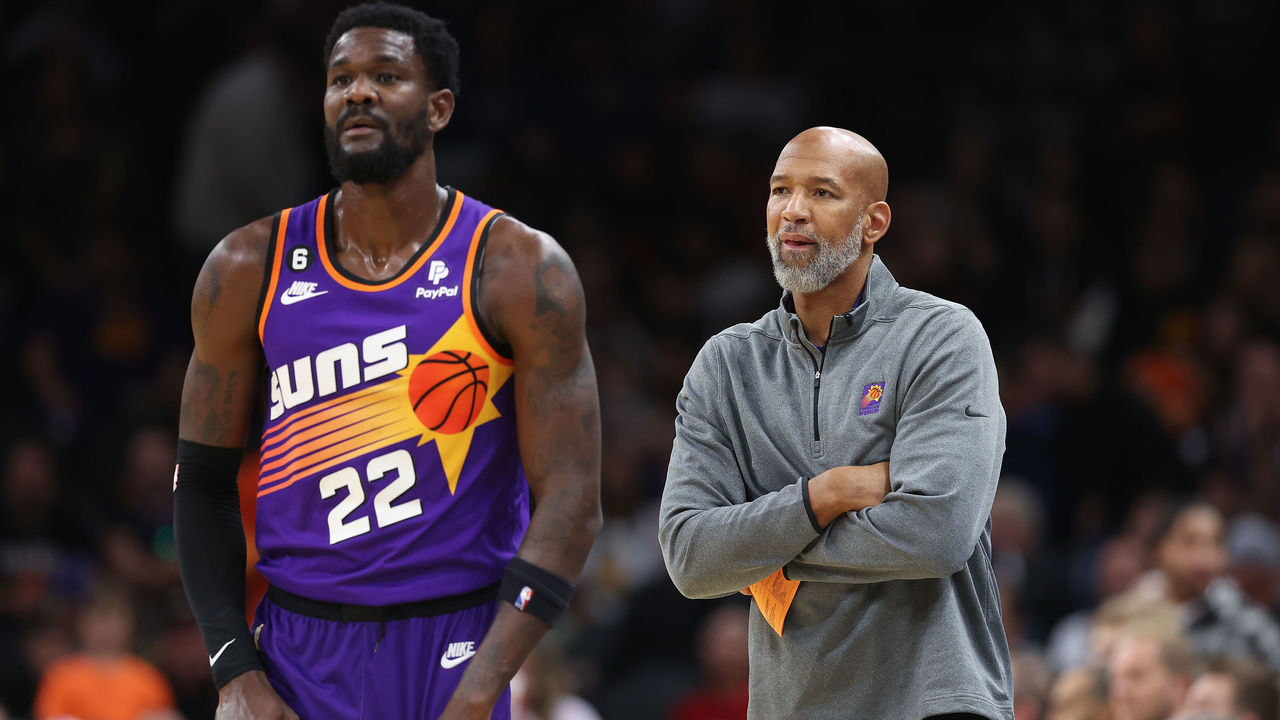 Ayton's an obvious trade candidate given his reported discontent in Phoenix and his clashes with head coach Monty Williams. Though Ayton can be traded as of Jan. 15, he has veto power over any trades for a year after Phoenix matched Indiana's offer sheet for him. However, I can't imagine a 24-year-old multi-millionaire declining an invite to work and play in L.A.
For the Suns - a fading contender one player away from getting over the hump - Davis could team with Devin Booker and Chris Paul to headline the Western Conference's new team to beat in 2023 and 2024.
Ayton's $30.9-million salary makes this a workable one-for-one trade, but given the difference in quality, the Suns would have to part with a considerable amount of draft capital. Luckily for Phoenix, the team owns all its future picks.
Recent trades for Donovan Mitchell and Rudy Gobert saw Cleveland and Minnesota part with at least three first-round picks outright, at least one future pick swap, and multiple youngsters, but both Mitchell and Gobert had at least three years remaining on their current contracts when dealt. Dejounte Murray had two years remaining on his deal when Atlanta sent three first-rounders (one of which was a conditional first-rounder that belonged to Charlotte) plus a pick swap to San Antonio.
Davis is injured again, and only has a year and a half remaining before a 2024-25 player option, but he also might be the best player of the bunch; he's certainly better than Gobert and Murray. So it stands to reason the Lakers would demand at least two first-round picks outright, and at least one future pick swap, helping L.A. replenish its barren draft cupboard. Waiting until 2025 for the picks to begin conveying, when Davis' two-year window with Phoenix would be closed, also benefits the Lakers.
So, Davis to Phoenix for Ayton, multiple first-rounders, and a pick swap or two. Deal or no deal?
Joseph Casciaro is theScore's senior content producer.
Comments
✕
Deal or no deal? Lakers, Suns should talk blockbuster AD trade
  Got something to say? Leave a comment below!