What the Cavaliers reveal about the mechanics of playing tall ball
Mark Blinch / Getty Images
Size never really went out of fashion in the NBA.
Sure, plenty of teams tried the small-ball strategy after the Golden State Warriors made it sexy in the mid-2010s. The Houston Rockets pushed the concept to its logical conclusion in 2020, and the Los Angeles Clippers rode it to the brink of the Finals last season. However, the guiding principle has always been more about putting a team's five best players on the court than downsizing for the sake of downsizing. Each of the last three champions won in part by leveraging their size up front.
It's true that twin-big looks in which neither big man is a viable floor-spacer have gone out of vogue. While the vast majority of teams still start traditional centers, the nominal power forward position (whatever that means in this day and age) is now populated almost exclusively by stretch bigs and big wings. What the Cleveland Cavaliers are doing - not just starting two traditional big men together but starting a third 7-footer next to them - is basically unheard of.
A team's personnel will generally dictate its play style, but plenty of teams also let the league's play style du jour drive their personnel decisions. The Cavaliers could've done that. They could've balked at signing restricted free agent Jarrett Allen to a long-term contract after drafting Evan Mobley third overall, wary of how the two non-spacing bigs might fit together in an NBA trending toward perimeter play. They could've stopped there rather than expending trade capital to acquire another big man, Lauri Markkanen, in a sign-and-trade that involved doling out another hefty contract. But Cleveland chose to go all-in on size while basically eschewing wings. That gambit is paying off handsomely.
The Cavs currently sit fourth in the East at 18-12 and have won nine of their last 11 games. They own the conference's best net rating and the NBA's second-ranked defense. They're outscoring opponents by 10.2 points per 100 possessions when Allen, Mobley, and Markkanen are on the floor together. Playing big comes with its share of drawbacks in the pace-and-space era, but it's a successful formula under the right circumstances. It's just about having the right kind of bigs and knowing how to use them. Much like Draymond Green is uniquely equipped to make small ball sing, the Cavs' bigs - specifically Mobley and Allen - are built to thrive playing tall ball.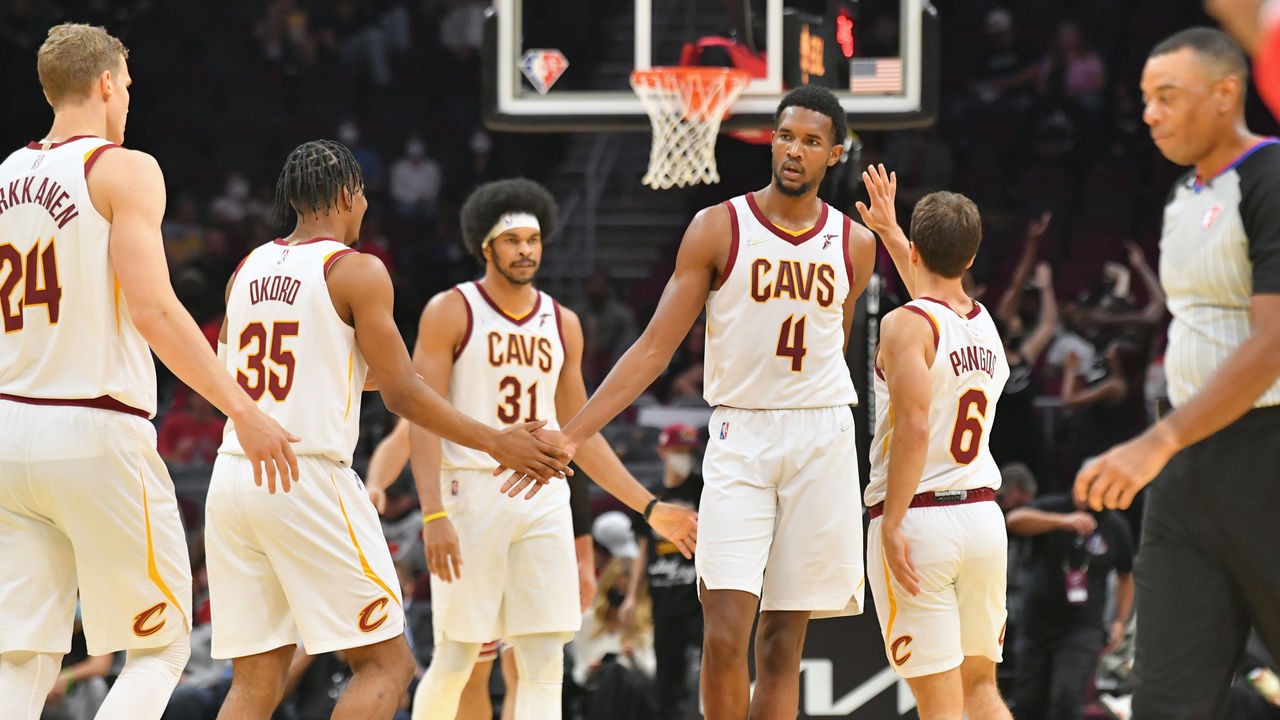 Mobley and Allen are the driving forces behind Cleveland's elite defense. They combine to shrink the court and blot out the rim with their length, mobility, help instincts, and timing. Allen has active hands and nimble feet and is one of the most fearless shot-blockers in the game. Mobley is a straight-up defensive savant, with preternatural court sense and footwork that you rarely see in any player his size, let alone a 20-year-old rookie. The Cavs have a ludicrous 95.9 defensive rating in 518 minutes when Mobley and Allen are on the floor.
Cleveland allows the league's fourth-highest frequency of shots at the rim, partly due to some flimsiness at the point of attack and partly by design. The Cavs also have by far the lowest defensive field-goal percentage on at-rim shots due to Mobley and Allen patrolling the backline. Opponents shoot 51.6% at the basket when Allen is contesting and 52.2% when it's Mobley, ranking them second and fourth among players challenging at least six rim shots per game.
As much as the rim protection itself, the duo's value lies in how their imposing interior presence allows the Cavs to impact the action in front of them. With the benefit of a safety net, their perimeter defenders can focus on running opponents off the 3-point line and can feel just fine with funneling opposing ball-handlers toward the basket. Cleveland allows the league's ninth-lowest opponent 3-point attempt rate and fourth-lowest 3-point percentage, and that's just one ripple effect of the big men's inside-out influence.
There's a misconception that multi-big lineups are stylistically inflexible because people often conflate defensive versatility with switchability in today's game. That may be true on an individual level, but the goal is to be versatile in a team context. In that sense, putting more size on the floor often provides more schematic versatility. To wit: Allen and Mobley are executing all manner of defensive coverages, from dropping and hedging to switching and playing at the top or bottom of a zone. And much of that is made possible by their presence alongside one another.
Both have also looked quite comfortable defending on the perimeter, moving their feet fluidly and unfurling their enormous wingspans to corral and disrupt ball-handlers without committing fouls. The Cavs' willingness to bring them up high isn't just about each guy's ability to hold his own on an island. Switching 1-5 pick-and-rolls, for example, is a much dicier proposition when you only have one rim-protector on the floor because you're liable to get burned on the back end of it even if that switch holds up on the perimeter.
In Cleveland's case, when one of its bigs gets pulled out of the paint - either by a switch onto a guard or by the gravity of an opposing stretch big - the other is behind him ready to rotate, scram out subsequent mismatches, protect the rim, and clean the defensive glass. The Cavs can send two to the ball and trust that the backline will maintain its integrity. Their overwhelming length at the point of the screen can also make it extremely difficult to slip passes to the short-roller around those blitzes, often forcing enough loft to buy the low man time to rotate over:
That level of protection is what's allowed Markkanen to flourish in his new role as an oversized small forward. Markkanen was a tweener big in Chicago who struggled to find his role because it was unclear whether his best position was the 4 or 5. Turns out it was neither. Markkanen never had the help instincts or interior presence to anchor the backline, but he's proven surprisingly adept at chasing smaller players around the perimeter. He also has plenty of cover any time he's slow to rotate or gets beaten off the bounce. With Allen and Mobley behind him, Markkanen is insulated. And he's a serviceable enough tertiary rim-protector to help further insulate them.
The Cavs' exterior defenses get breached quite frequently, but it doesn't matter much when the interior wall is this strong:
The Cavs' zone use is another way their length shrinks the court. They can do the conventional thing and have their bigs anchoring the backline of a 2-3, but they've also dabbled in inverted zones that deploy those guys up top to inhibit penetration. They can also split the difference, with Mobley operating at the top of a 3-2, while Allen and Markkanen provide a stout layer of reinforcement behind him:
Compare that variegated approach to a team like the aforementioned micro-ball Rockets, who had minimal schematic versatility despite rostering plenty of versatile defenders. That team didn't have much choice but to switch everything. While that worked for them in a lot of scenarios, it left them vulnerable and unadaptable against opponents who understood how to attack switches. It also led to them getting obliterated on their own glass.
This season's Toronto Raptors are another good counterexample, as they don't have a traditional-sized center on the roster. The Raptors are widely considered to be a versatile defensive team because of all the schemes Nick Nurse is willing to throw at the wall. However, they're beholden to certain help principles that, in many cases, tie back to their dearth of rim protection. They swarm the post, help from the strong side on nearly every drive, and crash from the corners to provide a supplemental wave of deterrence at the basket. Toronto puts itself in rotation constantly, which leads to it giving up a boatload of corner threes and a ton of offensive rebounds.
The Cavs, conversely, can basically play however they see fit without having to make significant concessions. They can drop, blitz, switch-and-scram, and zone up. They can also defend post-ups one-on-one and can afford to stay home on shooters rather than aggressively helping on drives or pinching on pick-and-rolls. Conceding a lot of transition opportunities is one of the few hindrances of their size, but they're still defending those plays at a high level.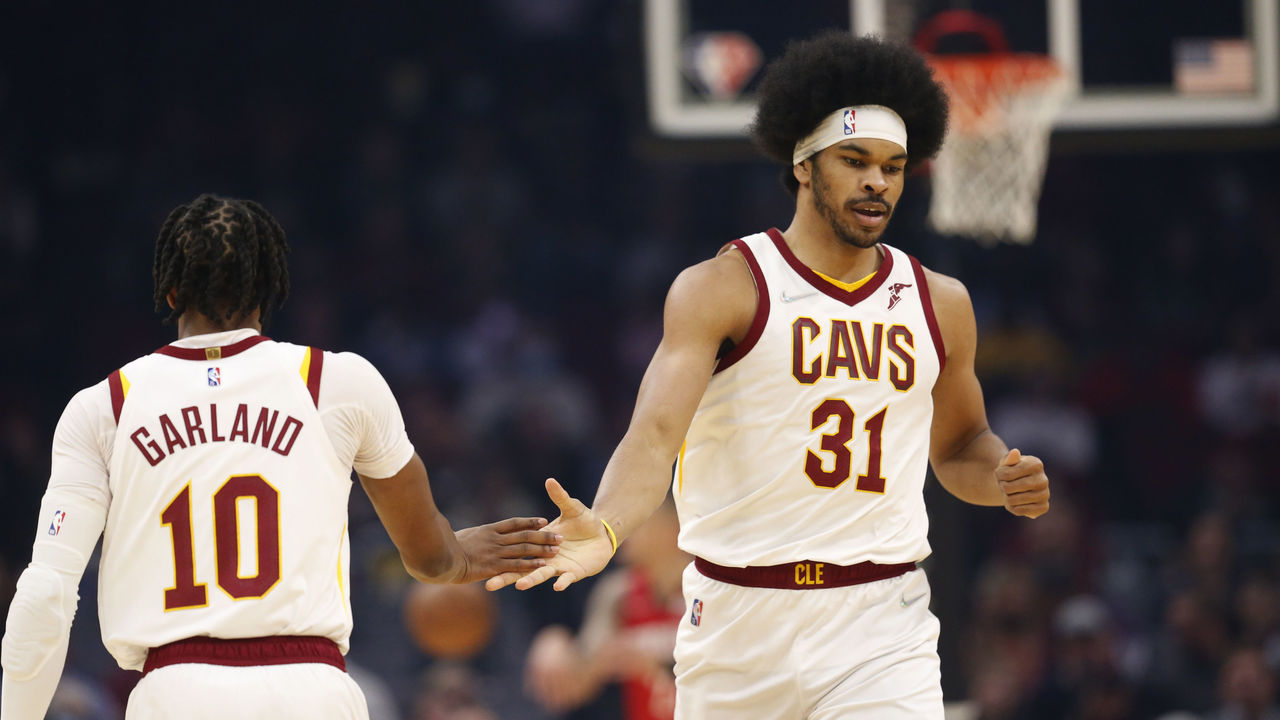 The offensive end is where questions creep in about the frontcourt fit. The Cavs rank a modest 19th in non-garbage-time offensive efficiency and 21st in the half-court, according to Cleaning the Glass. Their output with Allen and Mobley on the floor together would rank 27th. Cleveland has done a good job turning defense to open-court offense, and it has ways to make use of its size in the half-court - elbow sets, high-low action, double ball screens - but spacing is a major issue, especially with Isaac Okoro starting at the 2.
That's how things tend to go for tall-ball teams. They almost always have more success on defense than on offense because they usually sacrifice shooting and ball-handling for rim protection and rebounding. The Milwaukee Bucks' defense was just stingy enough in last year's playoffs to overcome their oft-anemic offense. The long-scrutinized Sabonis-Turner pairing in Indiana has posted elite defensive marks basically every season. The short-lived Embiid-Horford frontcourt in Philadelphia, while disastrous overall, was dominant defensively.
Markkanen's ability to hang on defense has been paramount because his shooting and off-ball gravity are playing a huge part in keeping the Cavs afloat at the other end of the floor. Cleveland scores 9.3 more points per 100 possessions when Allen and Mobley play with Markkanen than without him.
The trio is also taking advantage of the fact that two of them have a height mismatch against nearly every opponent. As with every other aspect of his game, Mobley arrived with a precocious feel for the low block. And Markkanen ranks in the 77th percentile as a post scorer, showing an improved ability to dribble into deep position after getting run off the arc. In some cases, he'll flow from pindowns into post-ups when opponents take his jumper away by switching those actions.
The Cavs as a team rank third in post-scoring efficiency, and Allen's burgeoning back-to-the-basket game has been a particularly important development. He never demonstrated much facility or appetite for the craft during his run in Brooklyn, but he's refined his footwork, can string multiple post moves together, and has developed a highly effective hook shot. Allen has put those newfound skills to use by punishing switches and pancaking smaller defenders with duck-ins and deep seals. He's averaging 1.1 points per post-up, second in the league among players who've finished at least 40 possessions out of the post.
Of course, none of this would work without a passer and off-the-dribble creator of Darius Garland's caliber to tie everything together. He may be a 6-foot-1 point guard, but in many ways, he's been the key to unlocking Cleveland's jumbo lineups.
He can mitigate the team's lack of spacing with his ability to thread passes through narrow corridors, burrowing ball-handling, in-between craft, mid-range gravity off of Allen's roll gravity, exceptional touch on lobs, and ability to salvage broken possessions with his creativity and pull-up shooting. For as good as Mobley and Allen have been, Garland has probably been the Cavs' most impactful player on balance. Their offense would drown without him.
Every paradigm-breaking play style and roster design is, to some extent, a "don't try this at home" endeavor. Another team might see it and think it seems like a sensible idea, but they need to have the right ingredients to have any hope of pulling it off. We'll see if the Cavs can succeed enough with their approach to spawn imitators.
Cleveland still has some kinks to iron out, and the offensive concerns might become even more problematic when transition opportunities dry up in the playoffs. But for a franchise that hasn't sniffed .500 in a non-LeBron season since 1997-98, making the playoffs would be a welcome start to what's looking like a very promising new chapter. Nowadays, it's getting harder to imagine the Cavaliers not making the postseason because they're executing their tall-ball vision to near-perfection.