Mighty morphin' power forwards: What it means to play the 4 in today's NBA
Photo illustration by Nick Roy / theScore
It's popular to suggest positions are irrelevant in today's NBA. This isn't a novel concept. The term "positionless basketball" has been in mainstream use since Erik Spoelstra's Heat adopted it in 2012, and its principles were being applied by forward-thinkers like Don Nelson far earlier than that.
The traditional 1-through-5 paradigm is outmoded, and the league seems to recognize it. All-Star ballots now have only two categories to choose from: "backcourt" and "frontcourt."
That said, for a supposedly apositional game, we still spend plenty of time talking about positions. We still frequently hear about players who prefer to play one position over another. We still openly wonder whether certain players can or can't handle the rigors of particular spots; whether this guy is a pure point guard, or that guy is a natural center. Positions still largely govern roster and lineup construction, and frame the way we conceptualize the sport.
In many ways, the power forward sits at the nexus of the positional revolution. The rise of the stretch-four was one of the earliest indicators of the direction the game was headed, and that player type went from being a luxury to a practical necessity over the last decade. More multifaceted archetypes like the playmaking-four and the point forward began to proliferate while the bruising, back-to-the-basket power forward disappeared almost entirely.
"I think it has evolved into more of a skill position, where it used to be a power position," says Trail Blazers head coach Terry Stotts. "But I think that position, whether you call it the power forward or not, everybody needs more versatility. They still have to rebound, still have to hold their position. But the ability to handle and shoot and run have become much more important."
While lineup cards still adhere to the conventional five-position model, most contemporary analysis sorts players into three primary categories: guards, wings, and bigs. The power-forward pool is a hodgepodge of players from the latter two groups.
There are dramatic differences in style and function within those broad positional categories, but we can make some general distinctions: Wings are smaller and fleeter of foot than bigs, more comfortable shooting from deep, creating off the dribble, attacking off the catch, and defending on the perimeter. A big's purview, by comparison, involves more screen-setting, rim-running, posting up, and scavenging in the dunker spot, while playing as close to the basket as possible on defense. Bigs who shoot threes almost always do so off of the catch.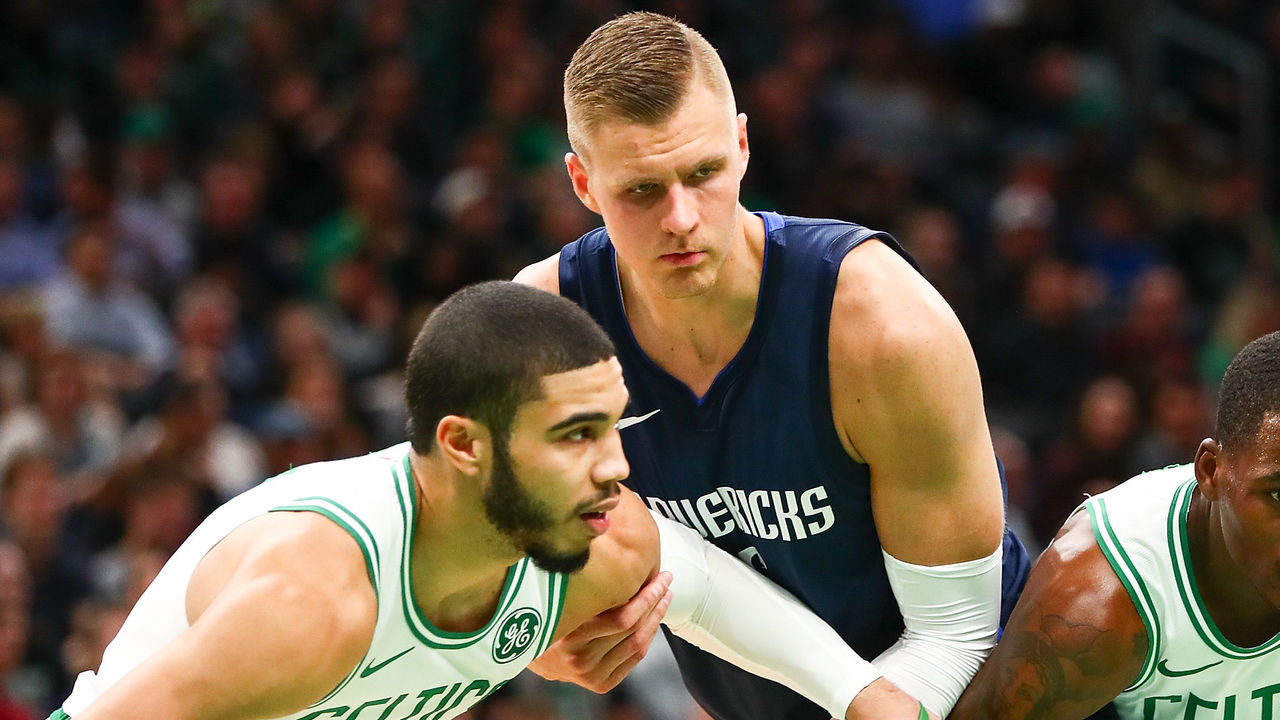 The 4-spot used to be primarily occupied by small bigs, but now it's primarily occupied by big wings. Twin-big looks have gone out of vogue, especially those in which neither the 4 nor the 5 is a viable floor spacer. When the player occupying the nominal power forward position profiles as a traditional big man, it's considered a flaw in roster construction, an anachronism that's destined to be exposed or mothballed in the playoffs, or a temporary Band-Aid applied out of desperation, usually for limited minutes.
Last summer, FiveThirtyEight's Jared Dubin sifted through nearly a decade of lineup data to map the sharp decline of two-big usage across the league. Those lineups accounted for only 6.4% of all minutes during the 2018-19 campaign, down from 58.8% in 2011-12. That trend did, however, see a bit of a snapback this season, as teams like the 76ers, Lakers, Pacers, Mavericks, Heat, Grizzlies, Cavaliers, and Knicks trotted out bigger, more traditional frontcourt looks for extended stretches.
Using Dubin's criteria (which defines a "big" as a player who is either listed as a center or as a power forward while also measuring at least 6-foot-8 and attempting less than one 3-pointer per 36 minutes), two-big lineups accounted for 9.1% of all minutes in 2019-20 before the season was suspended.
The variance in the way teams are using the power forward is part of what makes the position so difficult to define, and so fascinating. Take a sampling of the players who regularly started at the 4 this season and you'll find a broad spectrum of sizes, styles, and roles; on one end a Taurean Prince or a Jayson Tatum, on the other a Domantas Sabonis or an Anthony Davis. For all the talk of a small-ball revolution, virtually every team apart from the Rockets still starts a traditionally sized center. The power forward spot is often the hinge on which a team's identity swings.
So, what does it actually mean to play the 4 nowadays? Does the distinction go beyond "second tallest player on the floor"? Do players continue to adhere to the construct of traditional roles? Do they still have preferences about what positions they play?
The answers tell a number of different stories.
'Just spots on the floor'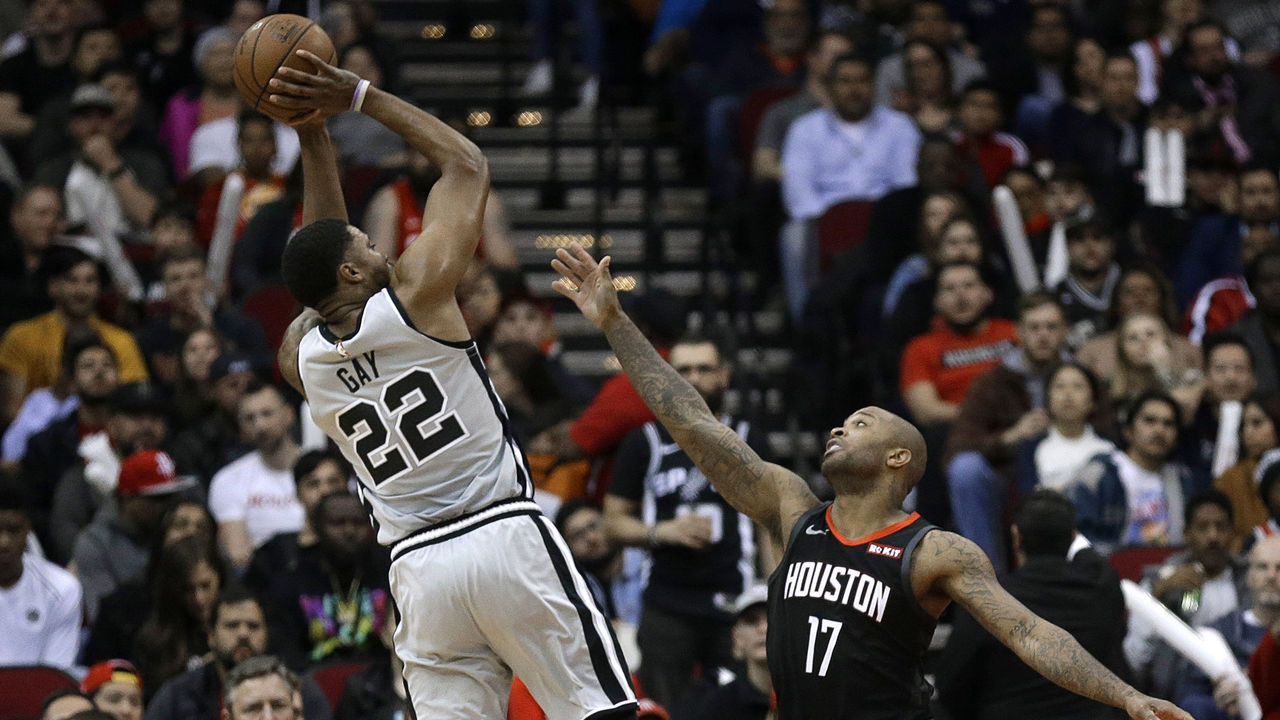 "I think if you'd asked me this question two or three years ago, I'd probably say I prefer the 3," Moe Harkless, a 6-foot-7 wing, told me back when he was primarily playing the 4 for the Clippers, before he was shipped to New York and got bumped back down a position due to the Knicks' power-forward logjam. "But the way the league is now, you're playing one big, three wings, and a point guard. Maybe I'm setting more screens and stuff when I'm playing the 4, but the way we (the Clippers) play, and the way a lot of teams play, there's really not that much of a difference."
At 6-foot-8, Rudy Gay entered the league in 2006 as an oversized 2/3. But in recent years, particularly since signing with the Spurs in 2017, he's been deployed almost exclusively as a small-ball 4.
"I think it's like being an additional wing, but it's also about positioning and where to be," Gay said of his adopted position. "It's kind of the same, but it has its differences, for sure. It's about spreading the floor and being in the right place at the right time. You have to be the outlet. And also, you don't dribble as much as you do if you're the 3 or the 2."
P.J. Tucker was still ostensibly a power forward when I talked to him, still a couple months away from the Clint Capela trade that would nominally make him a full-time 6-foot-5 center. But the positional definition predictably meant little to a guy who prides himself on his defensive versatility and plays for perhaps the most position-agnostic team in the league. He insisted his role and mindset remained the same whether Capela was on the floor with him or not.
"I don't have a position," Tucker said. "I don't want nobody to say I'm a position because I can guard every position. It doesn't matter because it's all just spots on the floor. Some people might say, 'Oh, I want to be a 3,' or 'I'm a 4,' or 'I'm a 2 not a 3.' It doesn't matter. Who cares?"
The thing is, not everyone is built like Tucker - a 245-pound bowling ball with a 7-foot wingspan - and not everyone can just slide from one position to another without a second thought. Take Taurean Prince, a comparatively slender 6-foot-7 wing who predominantly played small forward before joining the Nets this season. Kevin Durant's absence forced him to play 83% of his minutes at power forward, per Basketball-Reference.
"It's a big difference, definitely an adjustment," Prince told me. "I'd rather play the 3, but the 4 is what the team needs."
"I'm just more comfortable at that position," he said when I asked what he prefers about the 3. "It's all interchangeable on offense, but you're guarding different types of players."
Prince is far from the only player who's expressed a preference for a particular position. Anthony Davis has been vocal about his desire to play the 4 over the 5, which is the reason the Lakers are paying Dwight Howard, JaVale McGee, and DeMarcus Cousins this season (and the reason Omer Asik retired a rich man). In the past, big wings like Carmelo Anthony and Paul George have been openly resistant to the idea of sliding up from the 3 to the 4, even as the distinction became increasingly conceptual.
"See, like, why?" Tucker wondered. "It's like an old connotation. It's a mindset. For so long, guys like me were called tweeners, and it was the worst thing you could ever be called back in the day. That was my knock coming out of college. 'You're a tweener.' Now it's, like, the biggest asset ever."
Perception and practicality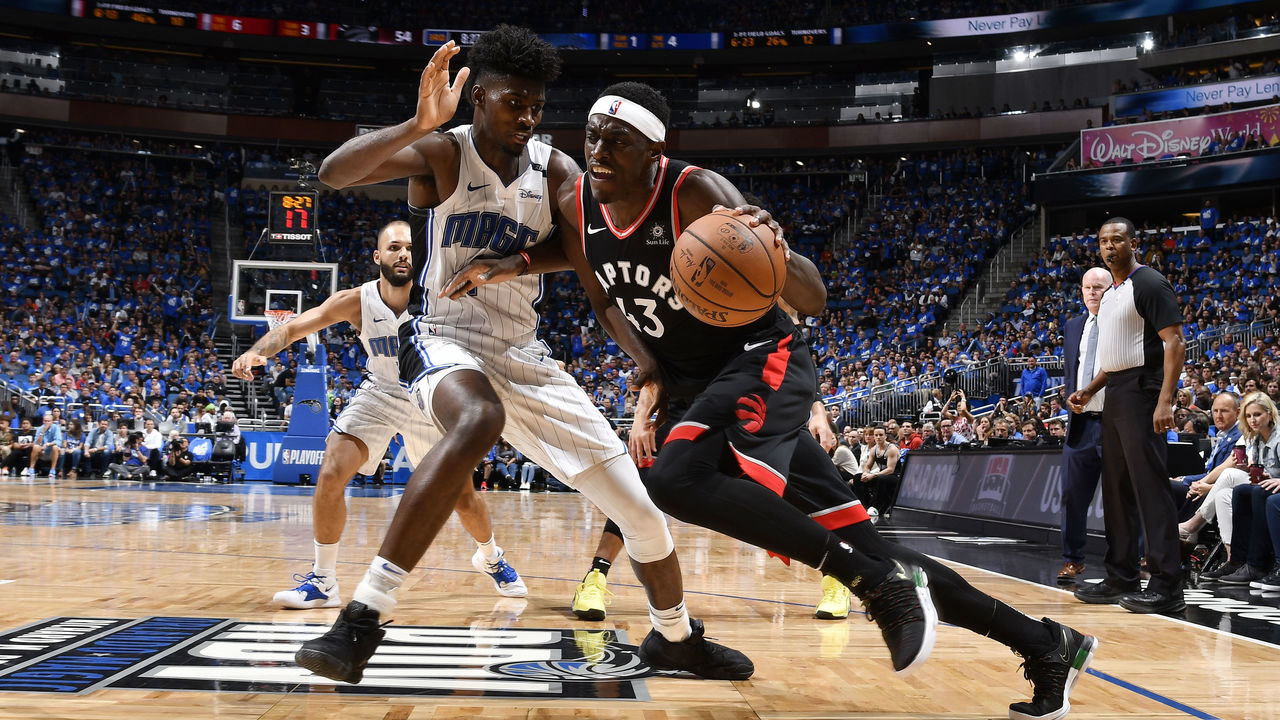 Positions are also context-dependent, and most teams play more conventional styles than the one played in Houston, where role players are almost entirely interchangeable.
On offense, the Rockets essentially have one position - the lead ball-handler role variously occupied by James Harden and Russell Westbrook - and four other guys who spot up around whichever one of them has the ball. On defense, they toggle assignments, cross-match, and switch every screen. So it makes sense that Tucker wouldn't think twice about playing any one position versus another. In Houston's system, it really is all the same to him.
Tucker himself has a lot to do with that. His ability to guard both the perimeter and the interior at an elite level, and his amenability to spending the majority of offensive possessions parked in the corner - where he shoots 40% on a league-high volume of attempts - are huge reasons the Rockets play the way they do. But while Tucker may view positional preference as a matter of perception, for most players there's a practical consideration as well.
"For some teams they're interchangeable," Gay said. "For some teams."
In conservative defensive schemes, rim-protecting centers can largely avoid switches and stay within spitting distance of the hoop. But in a two-big alignment, one big needs to be able to switch liberally and chase guys around the perimeter.
"When I'm playing the 4, it's more guarding guys that are quick - like (Pascal) Siakam - running around, using ball screens, setting ball screens, doing a bunch of different stuff," said Jonathan Isaac, a dynamic but willowy 6-foot-11 combo big for the Magic. "At the 5 it's more simply based. (The opposing center) is going to go set pick-and-rolls, I need to be in my drop, I need to box out tough because he's usually stronger than me."
"I definitely prefer playing the 4," he added. "I just think it fits me better. But at the same time, playing the 5 has advantages, with being quicker than guys and being able to slip to 3 and figure out ways to score. As I continue to get stronger, I don't know, maybe the 5 is better for me."
'Can he defend that position?'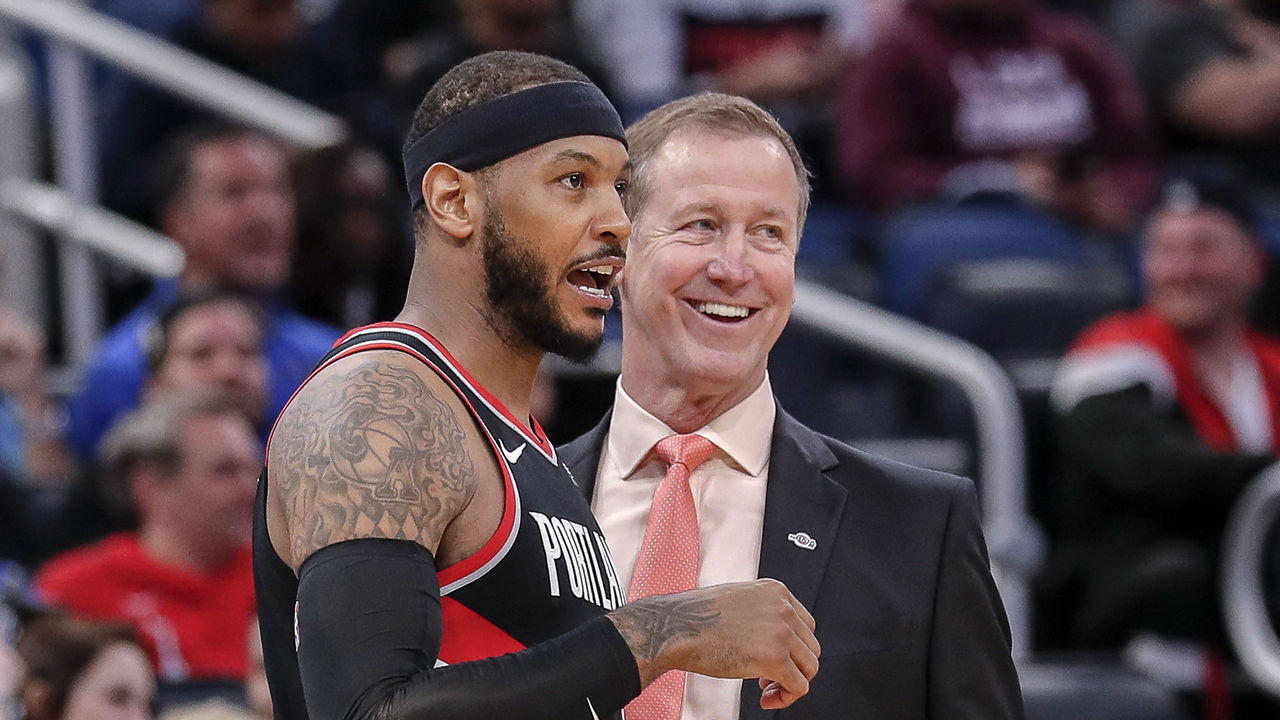 In theory, power forwards reside in the sweet spot between wings and bigs, but more often these days they fall into one category or the other. The position has become something of a transient stopover; a way station for players either en route to becoming 5s or arriving from their former posts at the 3.
On one end of the platform you have veteran wings who are no longer as quick as their small-forward counterparts, but have the size and strength to tussle with bigger bodies. (Think Anthony, Gay, Danilo Gallinari, or late-career Paul Pierce.) The logic is fairly simple: The higher one can climb on the positional ladder, the more one's skills play up. Being an average 3-point shooter, ball-handler, and passer as a 4 is a lot more valuable than being average at those things as a 3.
It's not a panacea, though. The defensive side of the equation still poses major challenges for those guys, even if they can hold their own in individual matchups with opposing power forwards. Playing the 4 also requires the awareness and instincts to be an effective helper, while navigating a preponderance of small-big pick-and-rolls.
"At the defensive end it's different as far as schemes, especially helping on guards," Gay said. "You deal more with point guards (as a 4)."
And compared to playing the 3, there's less help behind you if you're slow to rotate or get beaten off the bounce. Anthony learned that the hard way when Donovan Mitchell basically ruined his life in the first round of the 2018 playoffs.
On the other end, you have young bigs who fit a traditional mold (Sabonis, Zach Collins, Marvin Bagley) being shoehorned in as their teams' 4, either out of necessity or as a trial run to see if they might be able to stick there long term. While those guys can theoretically move their feet well enough to handle the position's defensive demands on the perimeter, it's widely acknowledged that their natural positions, and ultimate NBA destinies, are at the 5.
The Blazers got a taste of both this season. They started Collins at the 4 until he separated his shoulder in their third game; they plucked Anthony out of NBA exile to fill the vacancy shortly thereafter.
"To me it's about whether you can defend your position," Stotts said. "In our case, Zach can move his feet, and offensively he can be effective as a 4-man. The question to me was, can he guard mobile 4s? And he can. Most coaches look at how the defense is going to be able to handle it. Can he guard that position? If he can, then you're able to take advantage of it at the other end."
What it means to defend one's position, though, changes nightly. And that gets at a crucial component of this conversation. Players' roles are largely shaped by who they match up against, which means they're largely shaped by the opposing coach's lineup decisions. Positions may be irrelevant for a team in a vacuum, but no team exists in a vacuum; every team is bound in part by the way the league's 29 other teams play. If every team decided to play like the Rockets, Tucker wouldn't be a small-ball anomaly, he'd just be a center.
The league collectively downsizing at the 4 made it more palatable for wings to slide up a position. The increase in two-big usage this season may have been an aberration, or it may have been a step towards tilting the scales back in the other direction.
'Everyone's playing smaller ball'
For now, the average team is still more willing to concede the size advantage than the quickness or spacing advantage. That makes it incumbent on the big men playing power forward to leverage any advantage they can find.
"Teams throw more double-teams at us because they know we have the size advantage," the 6-foot-11 Sabonis said of his fellow bully-ball 4s. "So you've just got to read it, make the best of it that you can, find the open man, try to get rebounds."
Because of that size advantage, playing the 4 at the offensive end doesn't necessarily mean spending more time on the perimeter than you would at the 5.
"Playing at the 4, I'm normally going against guys who are smaller, since everyone's playing smaller ball. So, as far as post-ups go, at the 4 it's more beneficial," said Al Horford, whose decision to sign with the 76ers last summer was believed by some to be spurred by a desire to play more power forward. "At the 5, I'm stretching bigs out, taking them out of the paint, things like that.
"It's all on matchups, but I would say (I prefer) the 4."
Many teams that play two bigs together have them exchange roles depending which end of the floor they're playing on. The Mavericks, for instance, often slot the 7-foot-3 Kristaps Porzingis alongside another big. They use Porzingis as their floor-spacing 4 on offense, but on defense have him lurk near the basket while his frontcourt partner (usually Maxi Kleber) deals with stretchier forwards. The Pacers, who start Sabonis and Myles Turner together, have a similar arrangement, with Turner providing the stretch on offense and Sabonis providing it on defense.
"I feel like for me, with this team, the 4 and 5 are very similar," Sabonis explained. "Coach wants me to be in the pick-and-roll, which is what I was doing last year as a 5. The only difference is I'm guarding 4s to start and finish games. And that might be a little more challenging for me."
It was surprising to hear both Sabonis and Stotts point to defense as the area where added size would make them vulnerable. The data shows that two-big lineups generally have more success at the defensive end than the offensive end, which was borne out by most of those lineups that were deployed for extended minutes this season. In broad strokes, playing big means sacrificing spacing and playmaking at one end for more rebounding and rim protection at the other.
In spite of the purported challenge of guarding 4s for Sabonis, the Pacers defended extremely well with him and Turner on the floor together. The offense, on the other hand, functioned significantly better when either guy played without the other. (Indiana's offensive rating with Sabonis at the 5 would rank second in the NBA. With both bigs on the floor, it would rank 29th.)
The Sixers' new frontcourt alignment produced a ton of well-documented hiccups, but still registered a sterling 101.2 defensive rating when Horford and Joel Embiid shared the floor. Unfortunately, that was negated by a hideous 100.1 offensive rating. Philly scored 11 more points per 100 possessions with Horford at the 5 than it did with him at the 4. It's a reminder that players' self-perceptions are sometimes at odds with what's best for them and their teams.
'Whatever gets me there'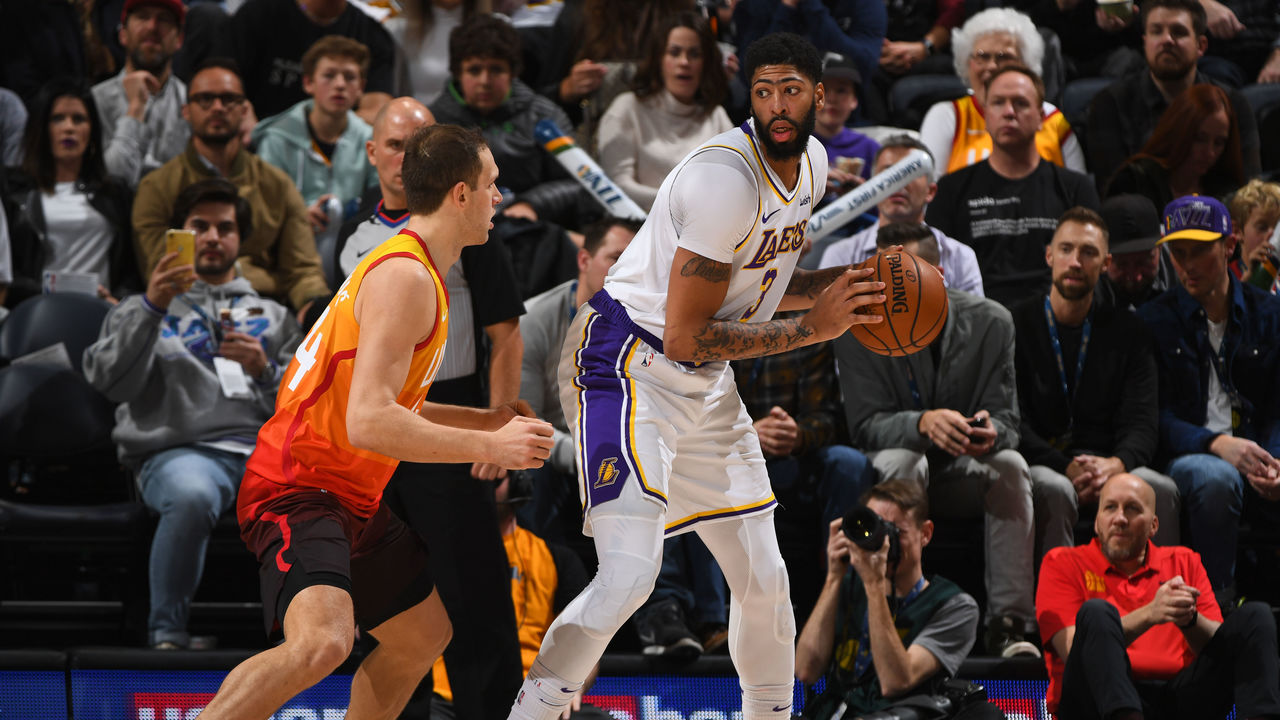 It's hard to say whether this season's two-big uptick will beget more of the same because the results have varied so much from team to team, and it's looking less likely that we'll get a glimpse of how those lineups would fare in the playoffs.
Where the Sixers and Pacers struggled, the Lakers thrived playing Davis alongside either Howard or McGee, dominating the boards and sealing off the paint while maintaining elite offensive efficiency. (Having LeBron James to tie everything together helped a bit.) Unlike Horford, Isaac's preference for the 4 was validated by the Magic's far superior performance with him there than at the 5.
And on the other end of the spectrum, many of the teams that predominantly deployed wings at the 4 - like the Spurs, Blazers (following Collins' injury), Pelicans, Nets, Hawks, and Wolves - had real issues either defending opposing forwards, protecting the paint, rebounding, or all of the above. The Jazz's decision to ship out Derrick Favors and downsize at the power-forward spot helped buoy their offense, but also played a big part in dragging their defense down from elite to slightly above average.
The reality is, a lot of teams have to choose what they're willing to live with at that position. Nowadays the ideal power forward needs to be strong enough to bang with bigs, agile enough to stick with wings, and alert enough to help on guards, all while bringing a modicum of floor-spacing and/or playmaking at the offensive end. There just aren't a ton of guys who fit that description, hence the mishmash of former 3s and future 5s.
In time, things will change, and the position will look different than it looks now. The NBA hasn't become apositional, so much as it's come to demand the adaptability to keep up with its rapidly changing positional paradigms. Increasingly, players who want to stick around are letting go of whatever conceptions they once had of what they're supposed to be.
"At this point I just want to be on the floor," Gay said. "So, I see myself as whatever gets me there."
"I don't really have a preference, honestly," Harkless said. "Early in my career I was a 3. When I was in high school I played point guard. Now, I'm just a basketball player."
Joe Wolfond writes about basketball and tennis for theScore.