Stock Watch: What's trending in the NBA 📈
Welcome to the initial public offering of Stock Watch, a series on the trending topics up and down the NBA.
⬆️ 76ers role players on the rise
The shorthanded Philadelphia 76ers have dropped two straight to concede top spot in the East, but it hasn't been due to lack of effort from the team's role players. Joel Embiid (COVID-19) and Seth Curry (foot) joined Matisse Thybulle and Tobias Harris in protocols before Tuesday's visit from the Bucks, but the Sixers still nearly escaped with a win thanks to a combined 72 points from Tyrese Maxey, Shake Milton, and Georges Niang.
Philly's "next man up" ethos has served Doc Rivers particularly well at the offensive end, where the Sixers share the NBA's best 3-point percentage with the Warriors (38%) and are second only to the Dubs in effective field-goal percentage (55.4%). Seven players are averaging double figures, while Maxey, Milton, and Furkan Korkmaz are outperforming expectations in the backcourt to further mitigate Ben Simmons' continued truancy. Read more on that here.
⬇️ T-Wolves misfiring at the Target Center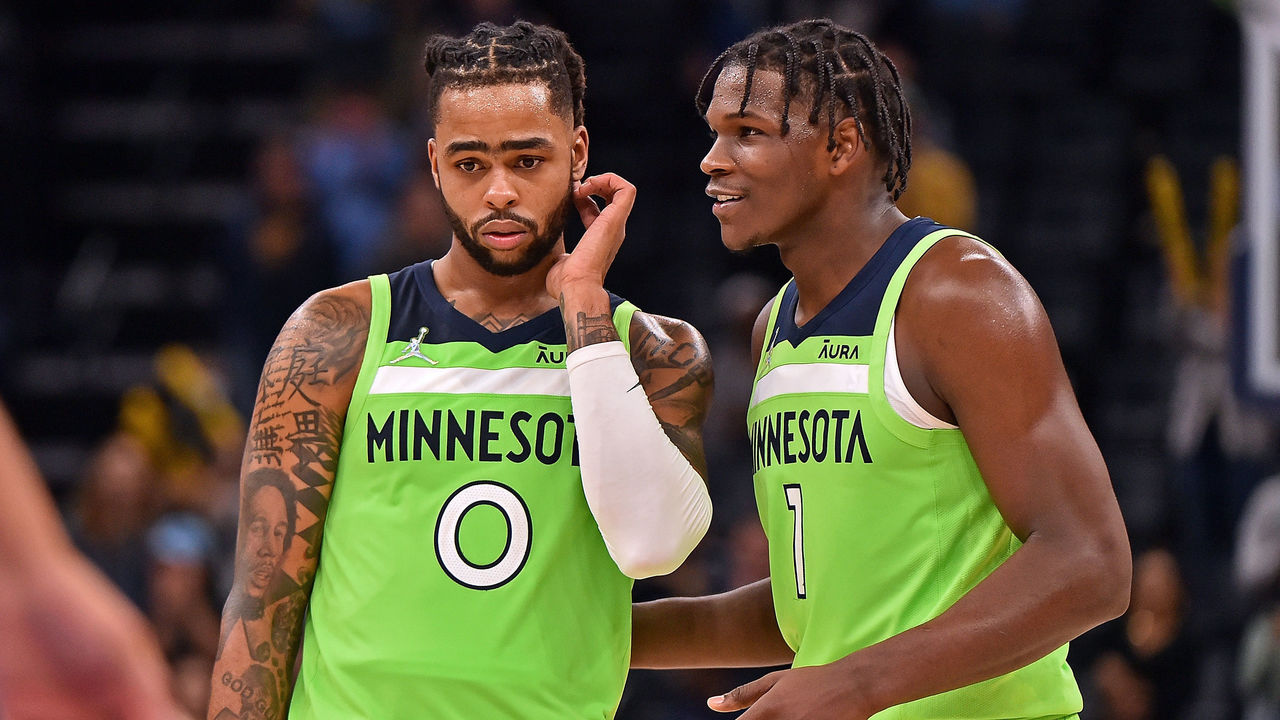 The Minnesota Timberwolves gave us hope - they were at home for seven of their first nine games, which featured the Zion-less Pelicans twice, a pair against the Kawhi-less Clippers, and meetings with the Rockets and Magic. The Wolves got off to a 3-1 start, and it was all peachy in the Twin Cities. Then it all went pear-shaped, and Minnesota happily obliged by blowing the subsequent four-game homestand.
The offense is dawdling, overly deliberate, and far too easy to defend - throw a second defender on Karl-Anthony Towns and watch them brick speculative efforts from beyond the arc. Through Tuesday, the Wolves are 23rd in 3-point percentage (.328) despite leading the league in attempts (44.4 per game). The thing with hope is that it can only lead to disappointment.
⬆️ Anthony conjures up magic for Orlando
Cole Anthony is off to a torrid start in his second NBA campaign, posting averages of 20.2 points, 7.1 rebounds, and 5.2 assists through 11 contests. Anthony's also knocking down over three 3-pointers per game on 41.4% shooting from deep and has quickly solidified himself as the alpha in a crowded Orlando backcourt.
The UNC product continued his strong play this past week with a career-high 33 points and five treys in Sunday's win over the Jazz. His performance earned him a few unlikely MVP chants from the Magic faithful, which an animated Anthony quickly dismissed. "I ain't gonna lie, I started saying stop it a little bit because I don't feel like I deserve that yet," he said in a highly-entertaining postgame interview.
⬇️ Raps big Boucher down bad
Chris Boucher is easy to cheer for: An improbable rise from poverty and basketball obscurity in Montreal forged a path dotted with junior colleges, undrafted status, a G League MVP nod, and a pair of NBA titles. His story has all the hallmarks of a redemptive tale. For the Toronto Raptors, Boucher has been a vital two-way cog emblematic of the franchise's esteemed talent development. But it's all come to an abrupt halt this season.
"I didn't see any up," Nick Nurse said when asked about Boucher's early-campaign ups and downs, and it hasn't gotten any better in the club's nine subsequent outings. Boucher is averaging 5.2 points on 34% shooting (19% from 3) - a massive decline from last campaign (13.6/51/38) - and to make matters worse, he's playing his way out of the rotation due to decisions like waving off two pleas from Scottie Barnes to make a cut during Sunday's loss to the Nets.
⬆️ Warriors among league's elite again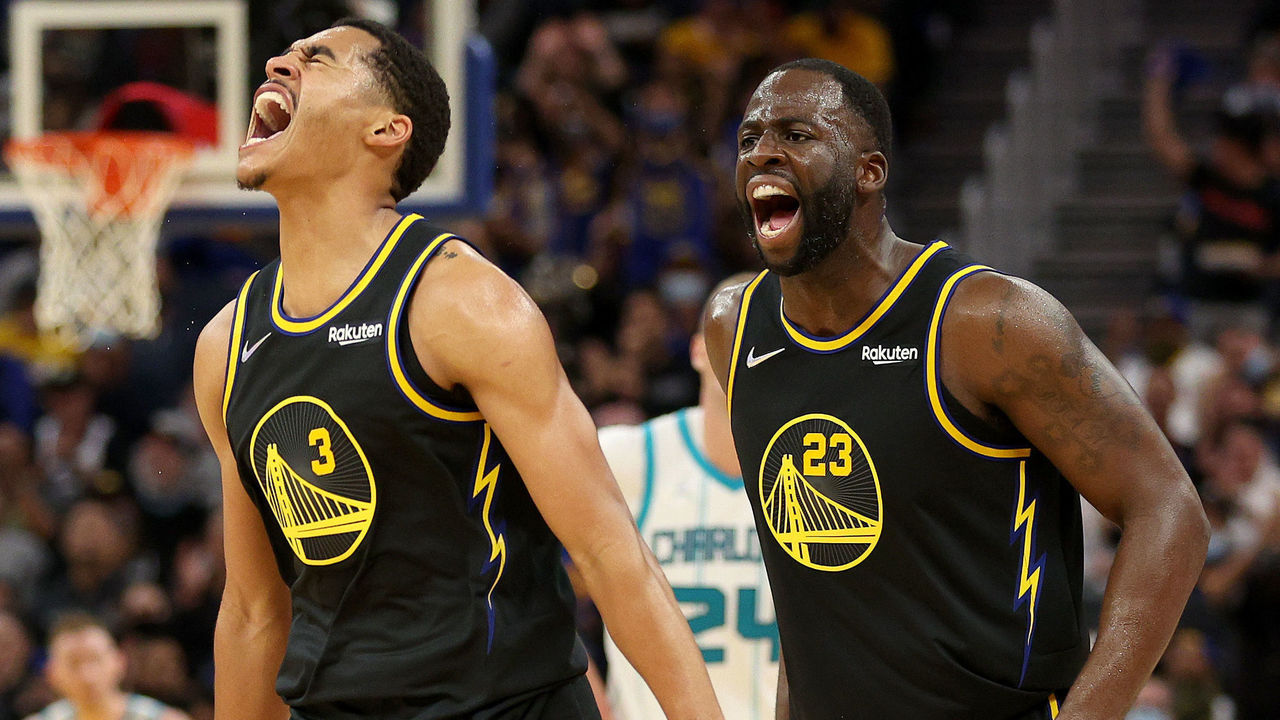 After a two-year hiatus, the Warriors are back to their rightful place atop the Western Conference. Stephen Curry is once again playing at an MVP level, but this season he's back to having the necessary depth around him to truly contend. Golden State is off to a fast 9-1 start and owns the top defensive rating (98.2) and net rating (13.2) in the NBA thus far. The Dubs have been especially hot over the last week, winning their four contests by an average margin of 22.5 points.
Jordan Poole deserves significant recognition, as well. The sharpshooter has taken a massive leap this campaign as Curry's sidekick, posting 18.2 points per game with a 54.3% effective field-goal percentage. Poole has been especially lethal of late, averaging 24.5 points per contest over his last four games.
⬇️ Hornets lack sting on west coast swing
The Charlotte Hornets have regressed after a franchise-best 4-1 start. Six losses in a seven-game stretch culminated in a 30-point drubbing against the Kings, capping off a ghastly west coast swing. There are several reasons why: An NBA-worst 113.2 defensive rating doesn't help, but the Hornets have also stunk at closing out games. In Sunday's loss to the Clippers, Charlotte yielded an unanswered 22-point fourth-quarter run that proved consequential.
The next night, the Hornets went scoreless in the opening three minutes of the fourth frame save for a pair of free throws, giving the Lakers a 14-point lead in an overtime defeat. And it can't be understated how reckless Los Angeles was in the fourth - Rajon Rondo was ejected for clubbing Terry Rozier in the head, and Russell Westbrook (who had seven turnovers) and Carmelo Anthony both picked up technical fouls in a contest that the hosts seemed eager to throw away. Another opportunity missed for Charlotte.
Comments
✕
Stock Watch: What's trending in the NBA 📈
  Got something to say? Leave a comment below!