A scary injury cut his season short, but Bassitt gave pitchers a roadmap to follow
Alex Bierens de Haan / Getty Images
After taking a line drive to the face that fractured his jaw and other facial bones, Oakland A's ace Chris Bassitt remarkably hopes to pitch again this season. While he was robbed of completing a full, remarkable campaign - he led American League pitchers at the time of his injury in one Cy Young Award metric tracked by theScore - he accomplished much nonetheless: he improved upon his unusual skill set and gave other pitchers a possible roadmap to emulate.
Just about everything Bassitt did in 2021 was unconventional. He threw in an unorthodox way and utilized an unusual mix of pitches better than he ever had. Perhaps what's most remarkable about one of the game's best pitchers this season is that he pitched cleanly.
Earlier this year, before MLB began policing foreign substances, perhaps as much as 80% of pitchers were using sticky foreign substances. But Bassitt says he's never used sticky stuff and there was no change to his fastball spin rate this season. He showed this year how to excel in a lower-spin environment. It was a big reason why the A's find themselves in the playoff chase.
"It's not a moral code," Bassitt told theScore prior to his injury. "I just thought it affected my sinker too much to use it. I would yank it. For whatever reason, I never got comfortable with using sunscreen and rosin or pine tar. I've tried it - not in games - but, obviously, in the bullpen and stuff. I was like, 'This isn't for me. I don't really need it. I'm not going to start using it.' … Then Spider Tack and these things come out and they are way worse than pine tar, and I know for a fact I can't use them. ... I know there are teams out there, 'Hey, use this stuff, we are going to teach you how to use it.' Oakland is not one of those teams."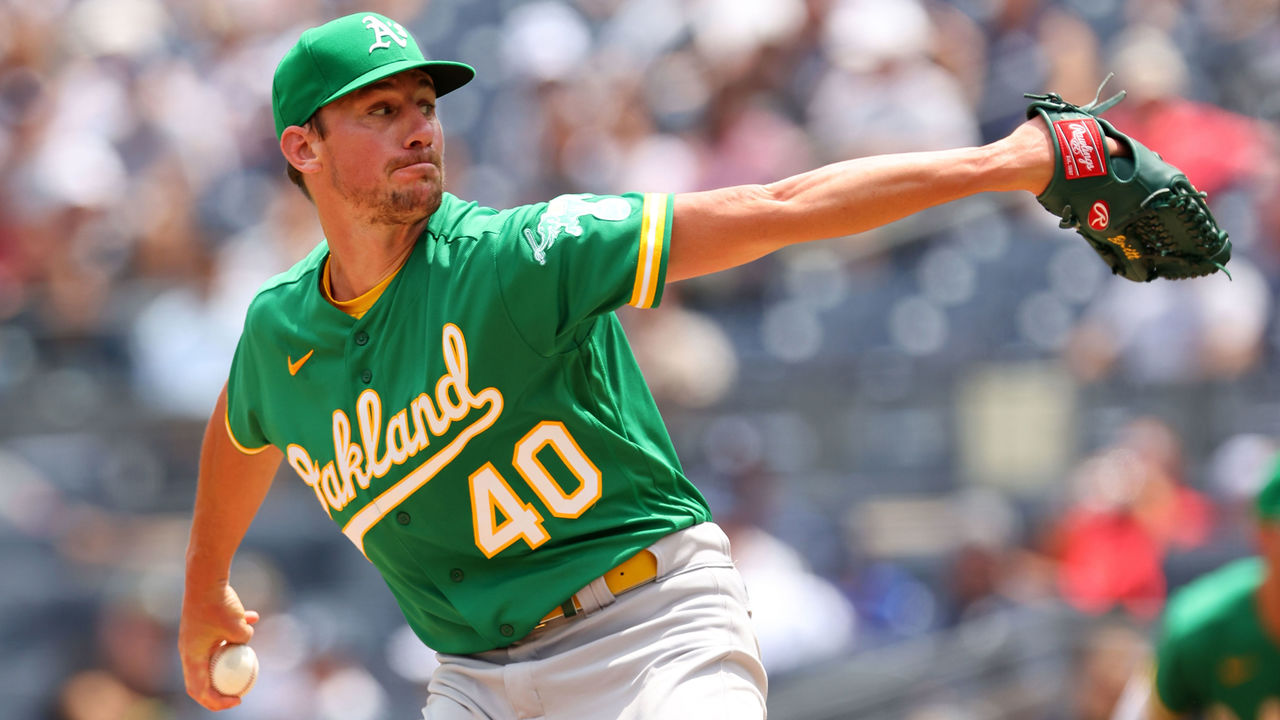 His avoiding of sticky stuff makes sense considering Bassitt throws his two-seamer - an out-of-style pitch for many - more than any offering and also uses his changeup 10% of the time. Both pitches can benefit from less spin. Since sticky-stuff enforcement began in early June, Bassitt owned the ninth-best ERA- in the majors (71) among qualified pitchers.
"Unfortunately, guys did get affected. I don't totally agree with the timing of it all," Bassitt said. "At the end of the day, I'm glad I'm not a guy who had to make the adjustment midseason."
He proved you can succeed with a variety of fastballs featuring below-average spin.
Despite his low-spin, four-seam fastball, Bassitt got an above-average amount of swing-and-miss, which should be of interest to all pitchers who had sticky stuff taken away from them this year. Pitchers use sticky foreign substances to increase spin, resulting in increased movement and swing-and-miss.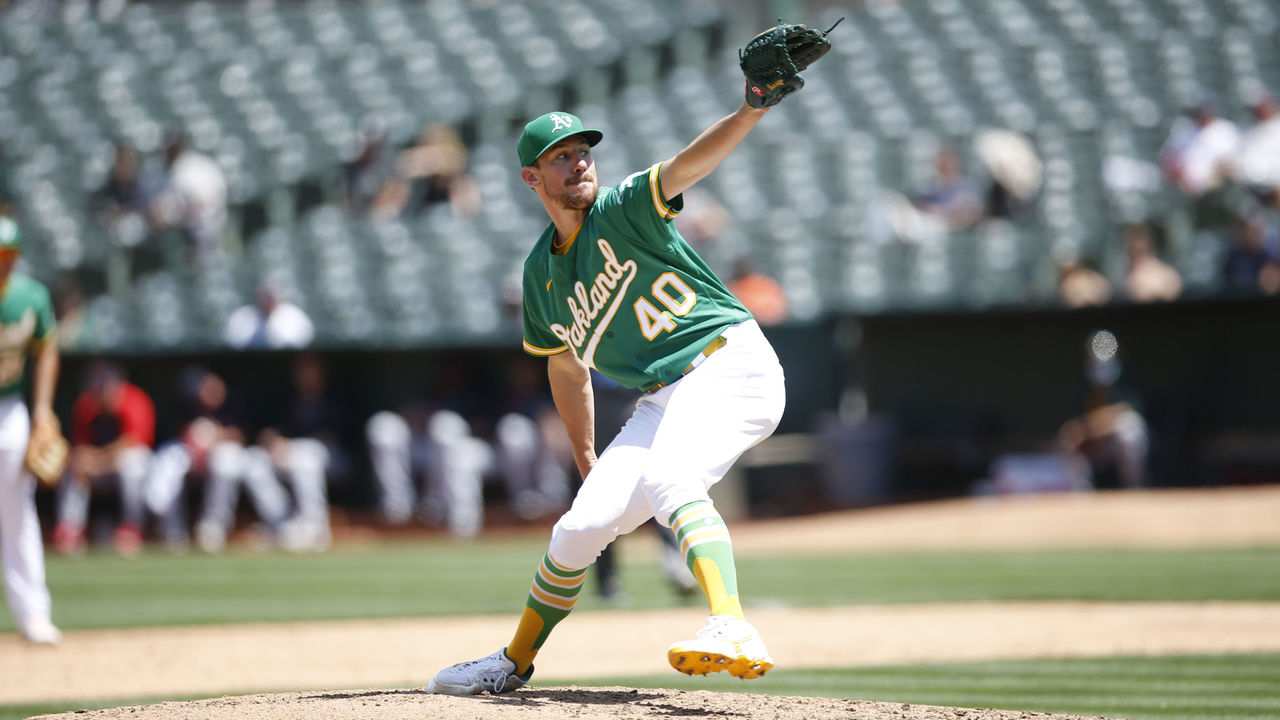 As Owen McGrattan of FanGraphs wrote recently in exploring Bassitt's season, one way to "hack" a low-spin, four-seam fastball like Bassitt's, to generate more swing-and-miss than would be expected, is to throw from a lower release point. Such an approach works for Josh Hader. Bassitt owns an above-average percentage of swing-and-miss on his four-seamer (15.9%), and he threw it from the lowest average release point of his career this season.
Bassitt has never tried to stay tall with his 6-foot-5 frame; rather, he drops down toward the mound similar to Tom Seaver, who popularized drop-and-drive mechanics. Bassitt drops so low that his right leg occasionally brushes the pitching mound. It's allowed him to have one of the lowest release points in baseball, especially given his 6-foot-5 frame, and it's as low as it's ever been. Of the 411 pitchers to throw at least 500 pitches this season through Aug. 20, Bassitt ranked 331st in release point height, according to Statcast data.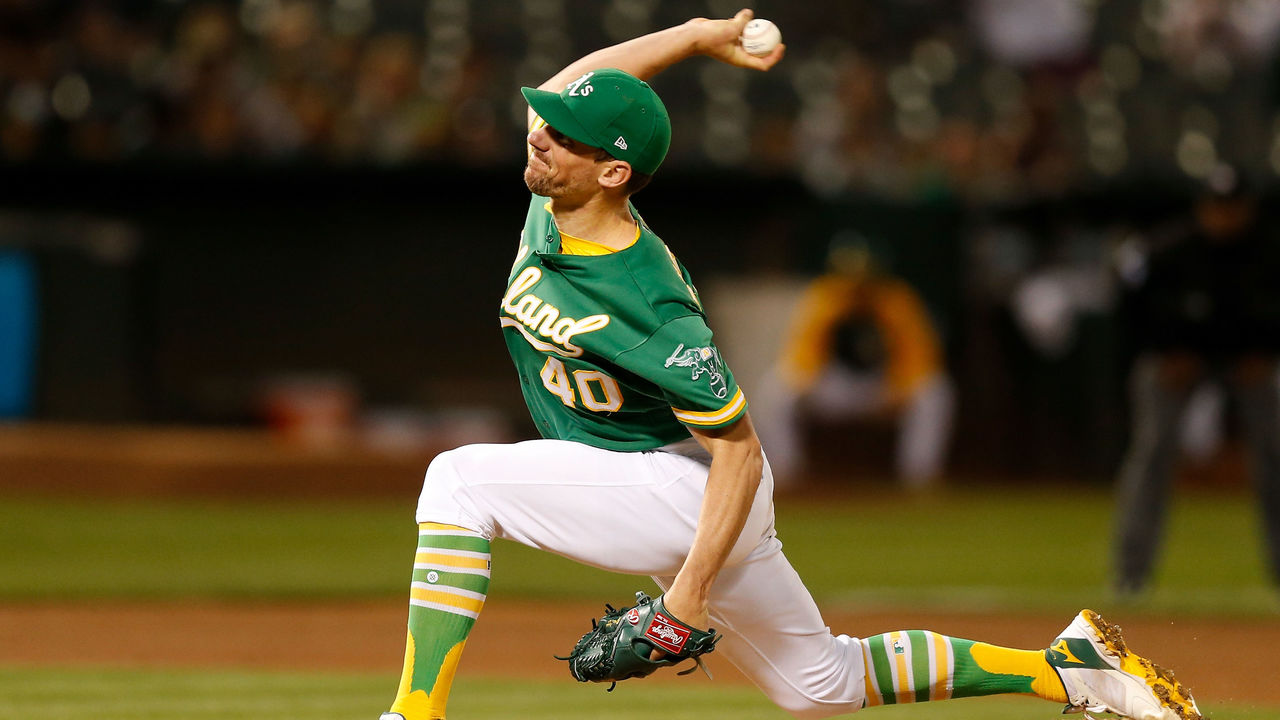 He's thrown this way for as long as he can remember. No one told him to change when he was pitching at Genoa High, east of Toledo. No one told him to change at the University of Akron. No one told him to change when he entered pro ball after the Chicago White Sox drafted him in the 16th round in 2011, or after he was traded to the A's in the Jeff Samardzija deal in December 2014.
"There are two to three times a game where my back leg will hit the mound when I am throwing," Bassitt said. "I don't think there are many guys in the big leagues that have to worry about their back knee cap hitting the ground, but I am one of the weird ones that do that. God gave me the ability to be weird and funky. Thankfully, the White Sox didn't change me and the A's didn't either."
Bassitt's motion is made even weirder as he jerks his head and left shoulder toward first base, allowing his right arm to come through in a more direct path than one might expect with such a low release point.
Only Hansel Robles, Jacob deGrom, Marcus Stroman, Shane Bieber, and Brady Singer have less horizontal distance in their release - meaning how far their pitching hand extends sideways from the body - and as low or lower vertical height on their release among righties. Stroman (5-foot-7) and Robles (6-feet) are two of the shortest right-handed pitchers in baseball. Bieber and deGrom are Cy Young winners. Bassitt believes the deception his release creates is one of his great advantages and something analytics cannot capture.
What was also unusual about Bassitt this year is what came out of his funky delivery: a funky assortment of pitches.
At the time of his injury, only two qualified starting pitchers threw three fastball varieties and at a combined rate more often than Bassitt (74% of all pitches): Lance Lynn (93%) and Tyler Anderson (74.1%). Only three - Lynn, Anderson, and Tyler Mahle (85% on two varieties) - throw more total heaters.
Bassitt had the fourth-highest sinker usage this season (36.9%) before he was hurt, and no one threw a sinker along with two other fastballs at a rate of 10% or higher (four-seam, 18.3%; cutter, 18.8%).
Such fastballs can be masked or tunneled for much of their path toward the plate, and perhaps those variations give pitchers like Lynn and Bassitt the confidence to pound the zone - knowing batters have to guess which fastball type it will be.
Bassitt threw 48.4% of his pitches within the strike zone, per Statcast pitch tracking, the best rate of his career in any season where he tossed more than 30 innings. He threw 63% of first pitches as strikes, another career high, helping him to personal bests in strikeout and walk rates.
Bassitt threw essentially the same pitch mix and at the same velocities as he did prior to his Tommy John surgery in 2016, which he blames on "chasing velocity" through a weighted-ball program he adopted prior to the injury. Bassitt even discarded that training regimen, showing he's willing to stray from everything considered trendy and cool in baseball today.
While Bassitt's pitch arsenal did not change dramatically this year, how and where he executed pitches did.
"If I wanted to go up and in to a lefty, I've had troubles in the past of having a pitch that gets to that spot. We've worked on it over the last couple of years so well that I'm now able to go up and in to a lefty pretty easily," Bassitt said of his cutter. "With a righty, up and in was kind of a mistake. I was always down and in. I had a hard time getting it up and in. I don't know if it was a mental block thing. ... One, it looks bad, and, two, I don't want to hit someone in the head. But I've become very comfortable throwing in the four areas, so to speak.
"I think the confidence comes from being able to hit those spots."
This season, his four-seam fastball - which he throws up and in to righties - and cutter crossed the plate at their highest elevations in his career (3 feet and 2.7 feet, respectively), evidence he attacked the upper parts of the zone more efficiently. Compared to 2019, he more than tripled the rate in which he throws up-and-in cutters to lefties.
He owns three other options (curveball, changeup, and two-seamer) that he uses regularly to work at the bottom or below the zone. His two-seamer is crossing the plate at the second-lowest height of his career (2.33 feet). What that all means is there were greater location differences between his main offerings. He gave batters more to think about.
During his last, full start earlier this month in Cleveland, Bassitt breezed through the first four innings but allowed the first two runners to reach in the fifth. The old Bassitt might have nibbled, but he attacked Owen Miller in the zone. Miller ultimately grounded into a double play. He then jammed the left-handed-hitting Andres Gimenez with a cutter boring into his hands, which produced an inning-ending groundout. At the time of his injury, Bassitt was one of only a handful of pitchers on track to throw 200 innings. He had already set a career high for innings pitched (151).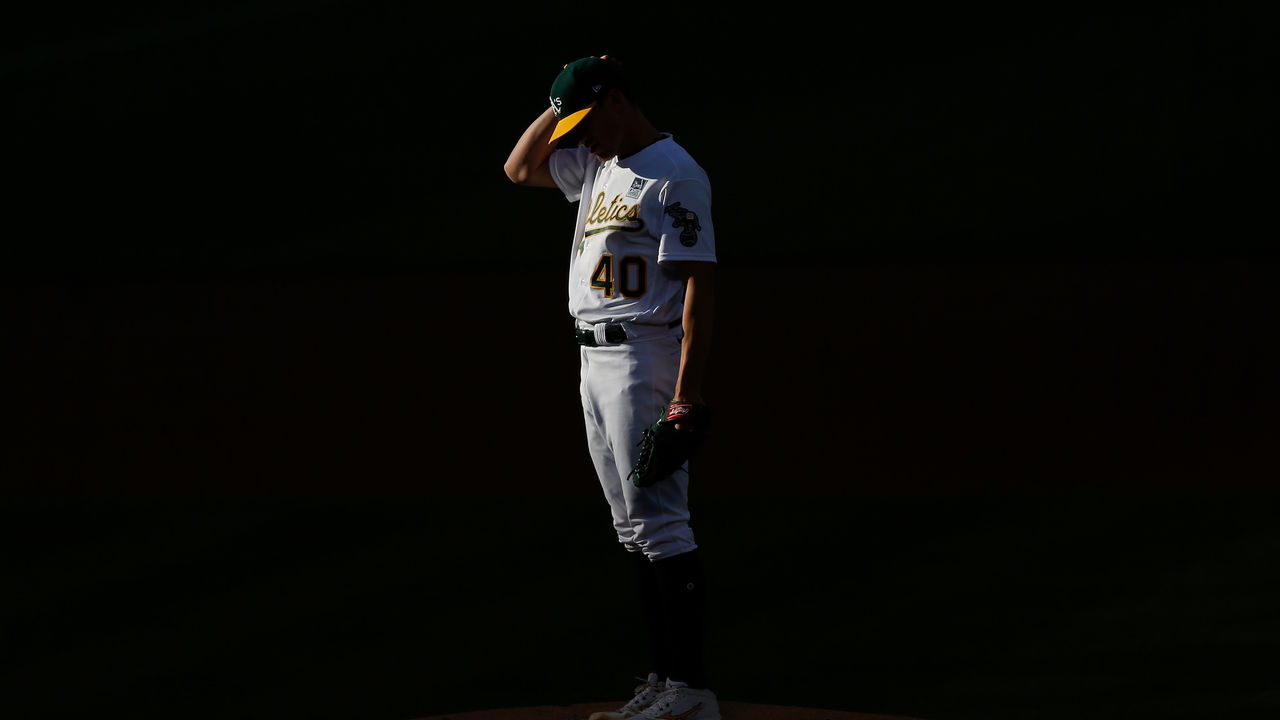 While he doesn't have any pitch that grades as a dominant offering by velocity (he's around league average) or by movement profiles (his two-seamer and changeup have above-average horizontal movement), his six-pitch mix is a lot for hitters to process. He's improved his command and he's become more fearless attacking the zone.
While a return in 2021 seems like an aggressive timetable, hopefully the baseball world again gets to see his unusual approach produce exceptional results. While Bassitt's season was cut short, there was a lot to learn from it.
Travis Sawchik is theScore's senior baseball writer.
Comments
✕
A scary injury cut his season short, but Bassitt gave pitchers a roadmap to follow
  Got something to say? Leave a comment below!