How pitchers are adjusting to baseball's sticky-stuff crackdown
David Berding / Getty Images
Around 5:30 p.m ET on Monday, the best pitcher in baseball, New York Mets ace Jacob deGrom, became the first person subjected to Major League Baseball's enhanced screening for sticky substances.
As deGrom walked off the mound at the end of the first inning, he was intercepted at the first-base line by home-plate umpire Ben May before crew chief Ron Kulpa arrived to inspect his glove, hat, and belt. The crowd booed; deGrom smirked. He made his way, uneventfully, through security.
He said he didn't have a problem with the procedure after he was checked twice during the game. While his spin rate was down Monday, deGrom's fastball at 2,350 rpm instead of 2,500 rpm was still dominant in five innings of work.
"Honestly, I didn't mind it," deGrom told reporters. "It was quick, and it went pretty easy. We were told that we were going to be checked … it was actually pretty easy walking off the field."
The new policing process didn't go as smoothly Tuesday. Nationals ace Max Scherzer was annoyed at being checked by umpires, like an airline passenger running late before being pulled aside by TSA for screening. He became incensed when Phillies manager Joe Girardi asked for yet another examination. For a moment, it looked like Scherzer might fully disrobe on the field. Athletics reliever Sergio Romo ripped off his belt and dropped his pants later that night, annoyed with baseball's new process.
"What we're doing right now, this is not the answer," Scherzer said after the game. "These are (commissioner Rob) Manfred rules. Go ask him what he wants to do with this."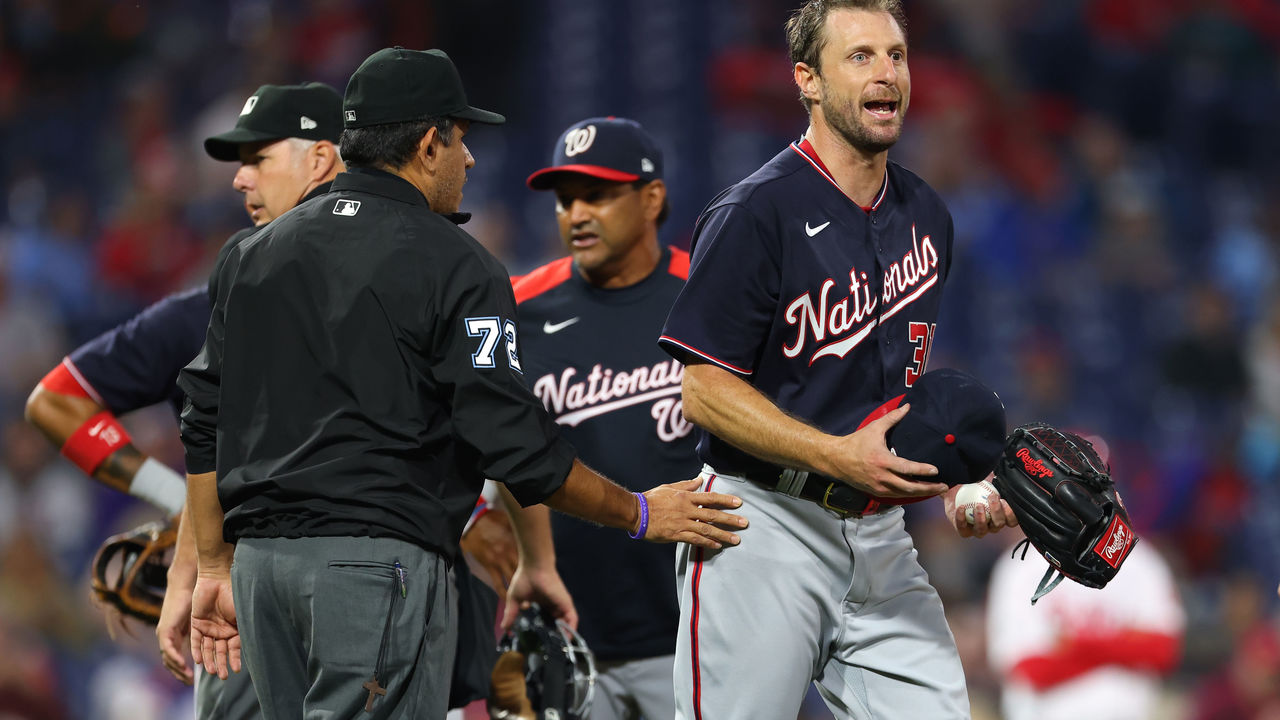 However, the "Manfred Rules" appear to be working as MLB intended so far, as the game tries to get out of its sticky situation.
No pitchers were ejected Monday or Tuesday. Umpires apparently found nothing applied to hats, gloves, belts, or fingertips that was worthy of a 10-game suspension, although it's unclear how thorough every search was and will be. What seems clear is no pitcher wants to be caught, and especially not be the first caught. What also seems apparent: pitchers and teams already changed behavior following MLB's June 3 memo that warned of more stringent policing, and that change might have reached a new level starting Monday.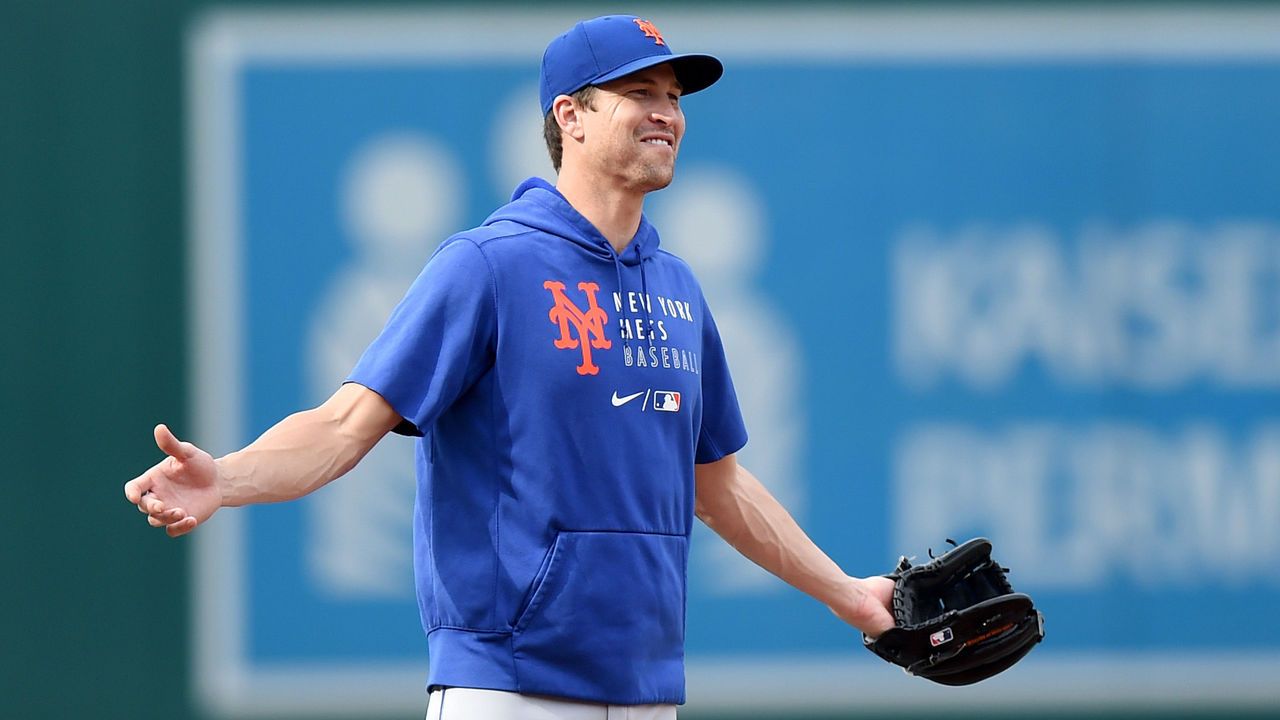 What we've learned: Spin rates are down at the individual level since June 3 and continue to decline, and some teams have shed more revolutions per minute than others. Moreover, some pitchers might be making adjustments to their pitch mix, trying to find the right arsenal in an environment of less spin.
There wasn't a full slate of games Monday, but 897 four-seam fastballs were thrown. The impact from sticky stuff - or lack of it - is immediate, as I learned firsthand. The average four-seam spin rate Monday was 2,265 rpm with an average pitch velocity of 93.8 mph.
Another 1,632 fastballs were thrown Tuesday, with the spin rate dropping to 2,233 rpm. Through the first two days of increased policing, four-seam fastball spin rate stands at 2,244 rpm.
That's down from the season average of 2,319 rpm through June 2. The fastball spin rates of Monday and Tuesday marked a further decline from the average from June 3-20, when pitchers averaged 2,269 rpm.
There are only two known ways to increase fastball spin: through more velocity or by using a grip-enhancing substance. Velocity has remained steady all season, including Monday and Tuesday. From June 3 to June 20, the four-seam fastball ratio of rpm to mph (24.1) was back to a level near where it was in 2015 (24) after increasing each year to 24.8 in 2020 and increasing in the first two months of this season.
It's fallen to 23.9 since Monday.
Check out how the 2021 rolling 10-day average for four-seamer spin rates has cratered in graph form here - it's jarring.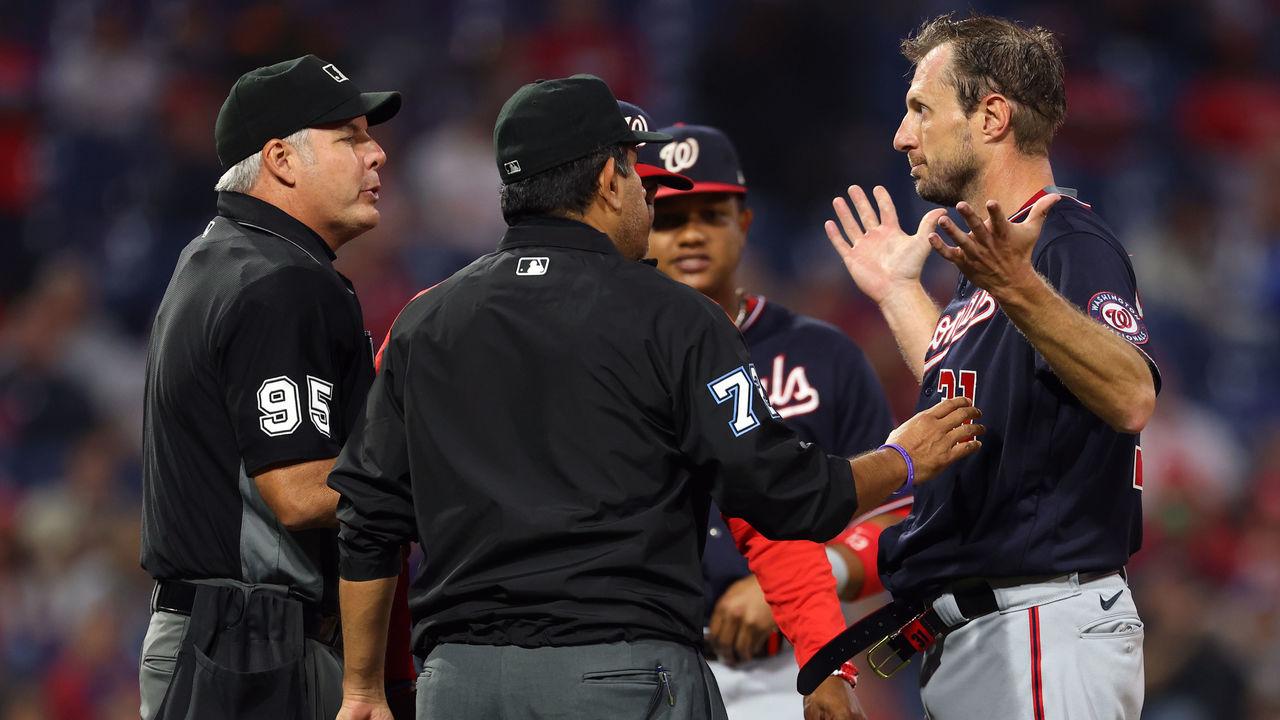 Some pitchers have had more fastball decline than others.
Of the 327 pitchers who threw at least 20 four-seam fastballs since the start of the 2020 season through June 2, and threw a fastball since the first memo on June 3 through June 20, 73.1% had an rpm/mph drop. We use an rpm/mph measure, also known as a Bauer Unit, to control for any velocity changes. Among all pitchers, 38.8% had a decline of at least 0.5 Bauer Units, and 17.4% had a decline by more than 1.0 Bauer Unit. Those percentages have inched up each week since the June 3 memo.
And since Monday, since enforcement began, there's been even more decline.
Of the 121 pitchers who threw at least 20 four-seam fastballs since the start of the 2020 season through June 2, and who've thrown at least one since Monday, 98 had a rpm/mph decline. That's 81% of all pitchers. Moreover, 63.6% had a decline of at least 0.5 Bauer Units, and 45.5% had a decline by more than 1.0 Bauer Unit.
Gerrit Cole's rpm/mph ratio (23.4) Tuesday was his lowest since Aug. 13, 2016, when he was on the Pirates. His raw fastball spin was down 244 rpm from his season average, which was in decline since his June 3 start. Scherzer's fastball rpm was down by more than 100 rpm.
Given the outcry from pitchers, and given those declines, it seems the majority of pitchers were using something; perhaps the majority were using a concoction like sunscreen and rosin, while a smaller group was using the heavy-duty sticky stuff. Remember: Not all sticky stuff is equal. We found rosin and sunscreen increased spin far less than Spider Tack and Firm Grip. And not all individual arms are using sticky stuff equally.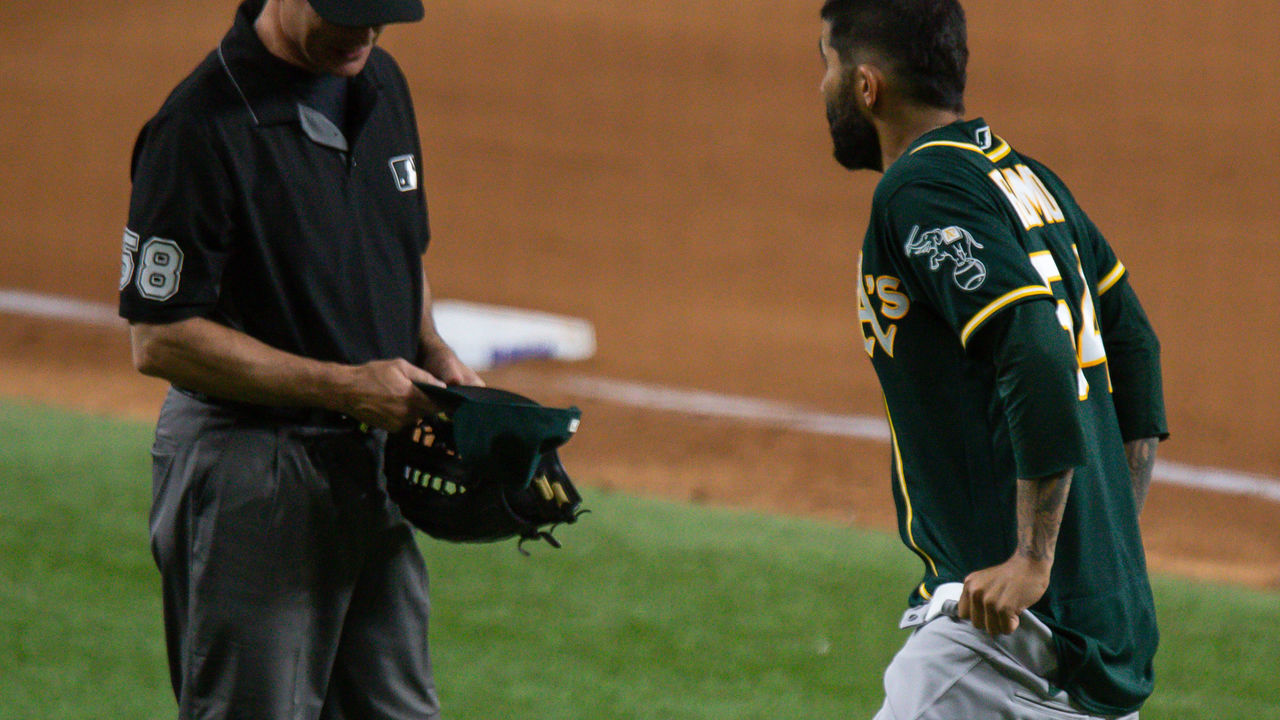 At the team level, some staffs are shedding more spin than others. Through play Sunday, the Tigers (-111 rpm), Diamondbacks (-97), Brewers (-97), Dodgers (-93), Athletics (-86), Reds (-85), Braves (-84), and Giants (-82) have all lost an average of 80 or more rpm on their fastballs between June 3-20 without shedding any meaningful velocity. Only the Rockies (+19), Blue Jays (+13), and Marlins (+6) have added spin.
There was no correlation among individual teams between less spin and changes in swing-and-miss rates or slugging percentages by opposing hitters, though we didn't adjust for quality of opponent or ballpark. It'll be interesting to see if teams that lose more spin than others have negative performance consequences over time.
The other interesting development: Some pitchers have made pitch-mix changes.
Twenty major-league pitchers are throwing their two-seam or sinking fastballs at a rate of 10 percentage points or greater since June 3 through play Sunday. The two-seam fastball benefits from less spin, as pitchers generally want it to sink rather than resist gravity like a four-seamer. Twenty-four pitchers have reduced their four-seam fastball usage by 10% or more. Some notable pitchers who increased two-seamers and reduced four-seamers include Trevor Bauer, Brad Hand, Matt Harvey, Tarik Skubal, and Zack Wheeler. (Wheeler's fastball spin rate went up slightly Tuesday.)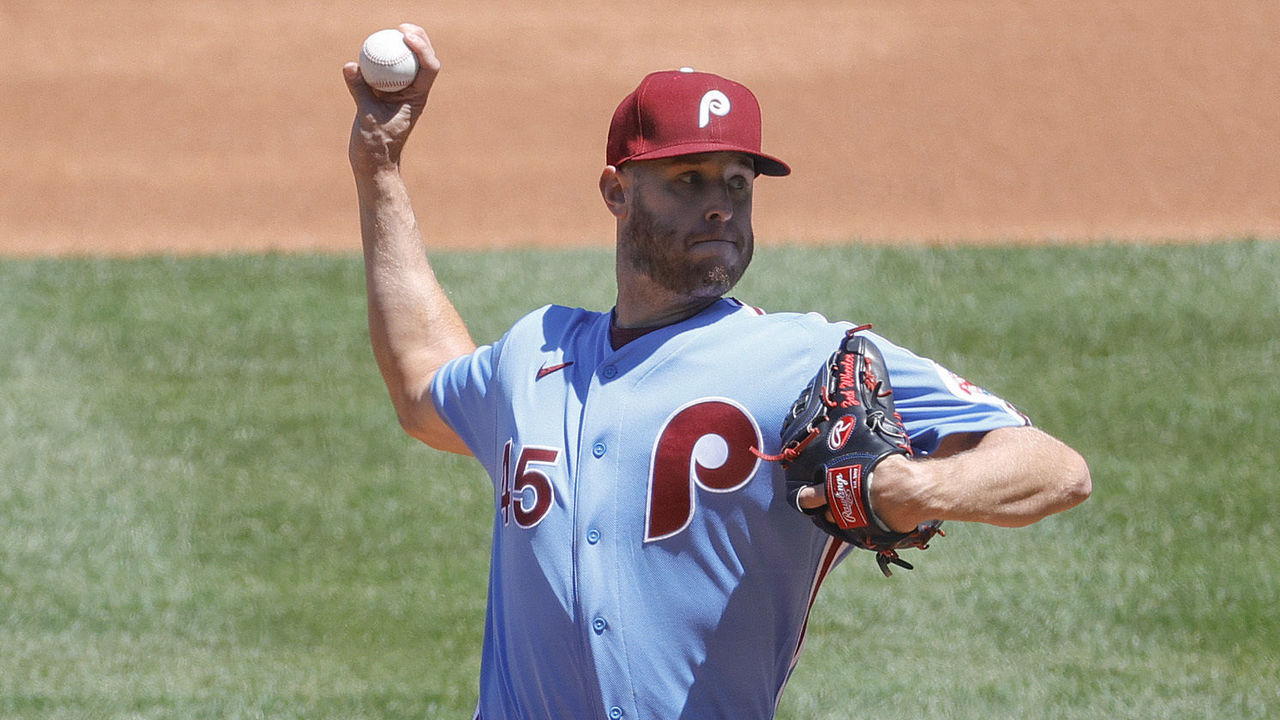 At a league-wide level, there haven't been dramatic changes in pitch usage since June 3, but two-seamer usage is up 0.9%, the greatest climb among pitch types. Perhaps the two-seamer, which has largely fallen out of favor in recent years, can make a comeback.
While it's difficult to draw too much from short-term pitch-mix usage or perhaps even spin rate changes, it appears pitchers are already adjusting and adapting.
And while it could be short-term noise, offense is trending in the direction MLB wants since June 3. MLB batting average is up (.245 since June 3 vs. .236 before) and strikeout rates are down (23.4% vs. 24.2%). Walk rate has declined, placing doubt on the idea pitchers need, say, Spider Tack for control.
We're still very early in the enhanced policing era, but it's possible the threat of policing alone has leveled the playing field and will get baseball out of this sticky mess.
Travis Sawchik is theScore's senior baseball writer.
Comments
✕
How pitchers are adjusting to baseball's sticky-stuff crackdown
  Got something to say? Leave a comment below!