NBA trade deadline: Breaking down every deal
Cato Cataldo / National Basketball Association / Getty
Quick-hit analysis of every trade made before Thursday's 3 p.m. ET deadline.
Heat land Oladipo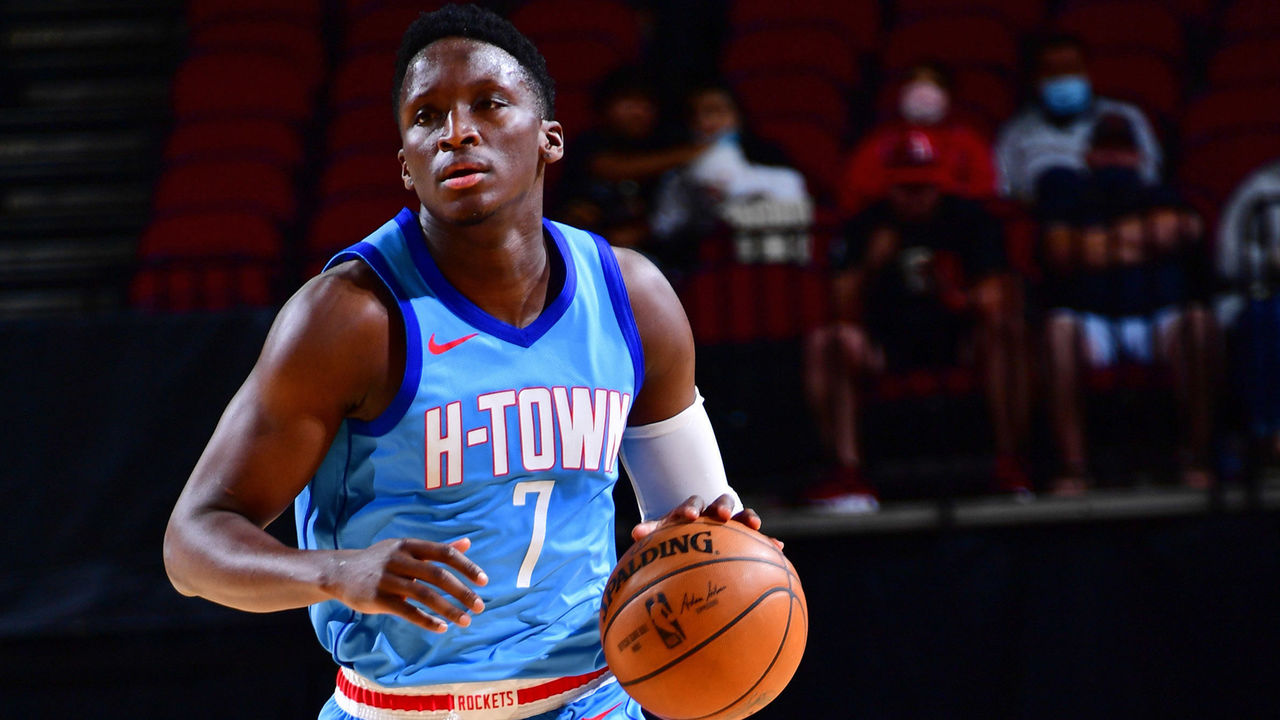 Heat acquire: Victor Oladipo
Rockets acquire: Avery Bradley, Kelly Olynyk, 2022 1st-round pick swap
Miami was rumored to be Oladipo's preferred landing spot when reports of his unhappiness in Indiana first surfaced last year, and the Heat remained his expected landing spot in 2021 free agency once Houston traded for him earlier this season. Now Oladipo finally gets to where he always wanted to be, and the Heat acquire a potentially game-changing talent whose free agency they can take charge of.
The only loser is Houston.
Oladipo isn't the All-NBA player he was before a devastating quad injury two years ago, but he's shown signs of life recently; the 28-year-old averaged more than 25 points over his last eight games and is averaging roughly 21 points, five rebounds, and five assists on the season. His efficiency and defense have yet to come around, but as he regains his health in his preferred destination and in a winning environment, Oladipo should help the Heat.
Adding a dynamic scorer, slasher, and facilitator to a team already boasting Jimmy Butler, Bam Adebayo, Duncan Robinson, Goran Dragic, Tyler Herro, Kendrick Nunn, and Andre Iguodala gives Miami one of the league's highest two-way ceilings.
The Heat could've signed Oladipo outright in free agency, but they likely would've had to gut more of their roster to create the necessary cap space. Unless the two-time All-Star's game falls off a cliff or he proves unable to stay healthy in the long term, there's little chance Miami could've acquired a more significant upgrade than Oladipo - now or on the open market - without sacrificing much more in return.
The deal makes a lot less sense for the Rockets, who acquired Oladipo just two months ago in the four-team James Harden blockbuster.
Olynyk (on an expiring contract) and Bradley (team option for next season) were included strictly for salary-matching purposes for the rebuilding Rockets. In terms of the big picture, Houston flipped Oladipo for the right to choose between Miami's and Brooklyn's 2022 first-rounders. Was that really the best the Rockets could do?
While they do possess a treasure trove of future draft picks, by the time next season tips off - just nine months after trading an MVP caliber superstar with multiple years left on his contract - the Rockets likely won't have a single player on their roster to show for that trade. - Joseph Casciaro
Redick lands in Dallas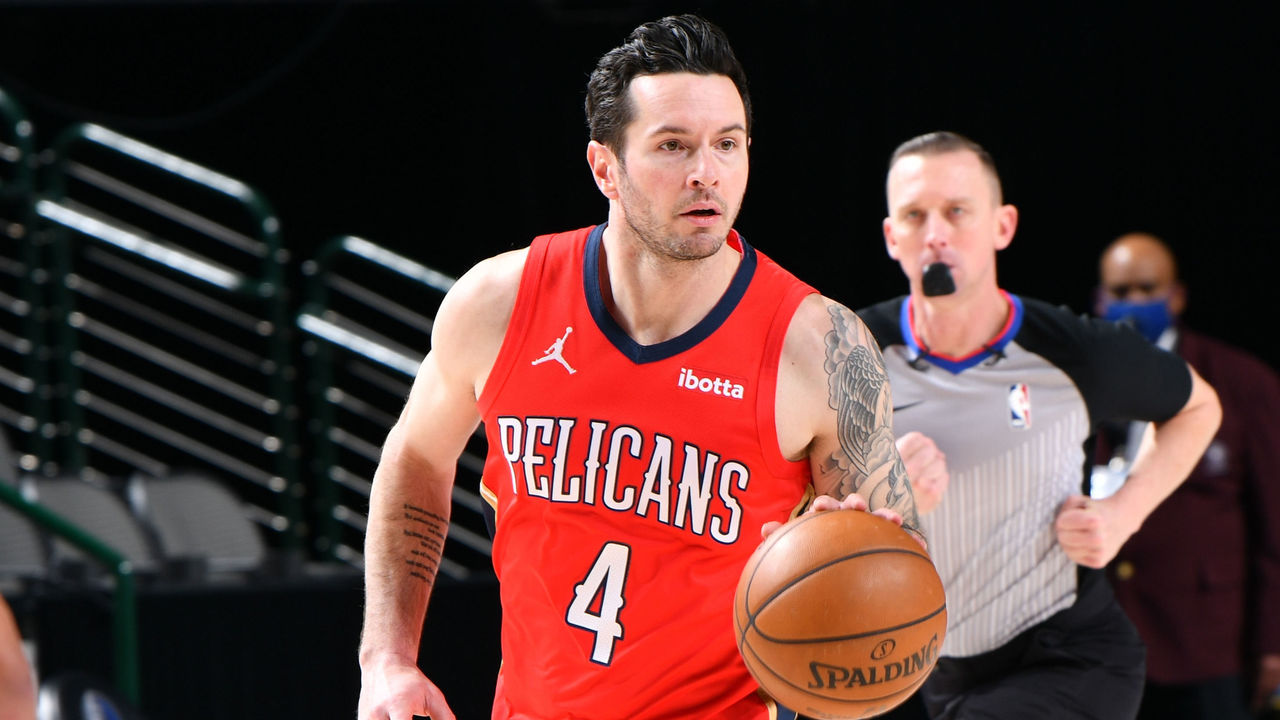 Mavericks acquire: JJ Redick, Nicolo Melli
Pelicans acquire: James Johnson, Wes Iwundu, 2nd-round pick
Though it's rebounded recently, 3-point shooting has been a bugaboo for Dallas for most of this season, and it's a big reason they've dropped to ninth in offensive efficiency after finishing first last year. When your offense revolves entirely around the playmaking genius of Luka Doncic, dotting the arc with knockdown shooters is a pretty easy path to offensive success.
Redick, 36, is obviously on the downswing, and there are going to be major questions about his ability to stay on the floor in the playoffs given his defensive limitations. Even his vaunted shooting has fallen off, as he's hit just 36.4% of his threes this season. But he's still one of the best off-ball movers in the NBA, and his ability to relocate and fire up quick-trigger jumpers will be a nice addition to a Mavs offense that has a tendency to get stagnant when Doncic is dribbling in place. Redick can basically fill the role Seth Curry played in Dallas last year, albeit with sketchier defense and a bit less off-the-dribble juice.
Melli is a stretch-big in theory only, and he's having such a disastrous season it's not even worth discussing his inclusion (which is for salary-matching purposes alone).
The Pelicans may miss the spacing Redick provided, and it will hurt a bit to lose him as a screener in the inverted pick-and-rolls they ran for Zion Williamson, but Johnson will help shore up their disastrous defense, which is probably a more important consideration at this point. Iwundu is a lower-end prospect, but getting him and a second-rounder for a player they were reportedly considering buying out at one point is a fine piece of business. - Joe Wolfond
Hornets nab Wanamaker
Hornets acquire: Brad Wanamaker
Warriors receive: Cash
Wanamaker's having an uncharacteristically terrible shooting season, but he's a veteran guard and tough defender for his size who can shoot and help run a second unit. He's also on a cheap, expiring deal, so the Hornets essentially just spent some money to shore up a young rotation as they embark on a playoff push.
The Warriors, meanwhile, clear another roster spot (they also cleared one by sending Marquese Chriss to the Spurs for cash) that could prove useful as the buyout market takes shape. - Casciaro
Raps move on from Davis
Kings acquire: Terrence Davis
Raptors acquire: 2021 2nd-round pick (via Grizzlies)
On the heels of the Matt Thomas deal, this move made it seem like the Raptors were deliberately opening up roster spots for a Kyle Lowry trade. In the end, they held onto Lowry, but these moves look fine on their own.
Davis, like Thomas, lost his spot in Toronto's rotation amid inconsistent play that included consistently poor decision-making at both ends of the floor. Allegations of domestic abuse clouded his sophomore season, and for multiple reasons, it made sense for the Raptors to move on. Collecting yet another mid-40s pick in the upcoming draft could turn out to be pretty useful for a team that prides itself on scouting and player development.
Those character concerns didn't dissuade the Kings, who add a strong shooter and semi-competent ball-handler who's not far removed from a promising rookie campaign. They'll have a few months to assess how he fits and decide whether they want to retain him in restricted free agency. - Wolfond
Rondo for Lou Will
Clippers acquire: Rajon Rondo
Hawks acquire: Lou Williams, two 2nd-round picks, cash
When fans and observers clamored for the Clippers to acquire a point guard, I don't think this is exactly what they had in mind.
The legend of Playoff Rondo has been proven time and again, so it's possible the Clippers will be a better team two months from now, but this trade makes little sense for Los Angeles.
Both Rondo and Williams are veteran guards who've lost a step, but Williams is the better shooter and pick-and-roll operator, has played over 500 more minutes than Rondo this season, and is on an expiring contract. Rondo is still owed $7.5 million next season, and while he's a better defender and playmaker in theory, his advantages over Williams in those facets of the game are not as glaring as they once were (especially since Lou's playmaking has improved in recent years).
A Clippers team already without much draft capital or young talent just gave up multiple picks to turn one aging guard into a less durable one on a worse contract.
Williams returns to his hometown Hawks for the second time in his career, and if nothing else, he gives a young team a veteran reserve and shot creator to aid in a playoff push. That Atlanta acquired a couple picks in the deal without taking on any long-term salary made it a no-brainer for the Hawks. - Casciaro
Jazz add more shooting, Raps clear roster spot
Jazz get: Matt Thomas
Raptors get: 2021 2nd-round pick (via Warriors)
The Jazz are the best 3-point shooting team in the league, and they just got a little better. Thomas has a lot of limitations as an NBA player, but he is a legitimate marksman from long range, having hit 45.7% of his threes across two seasons with the Raptors.
He doesn't offer much beyond that, and he won't factor into Utah's playoff rotation as a result, but as a specialist who can come off the bench for a few minutes a night and keep their drive-and-kick, 3-point-bombing machine humming, Thomas is a fine addition.
In a vacuum, the Raptors receiving a second-rounder that should land in the 40s for a player who'd fallen out of their rotation is a nice piece of business. But it's more interesting as a suggestion that Toronto might be clearing a roster spot to potentially fill in a Kyle Lowry trade. Stay tuned. - Wolfond
76ers pivot to Hill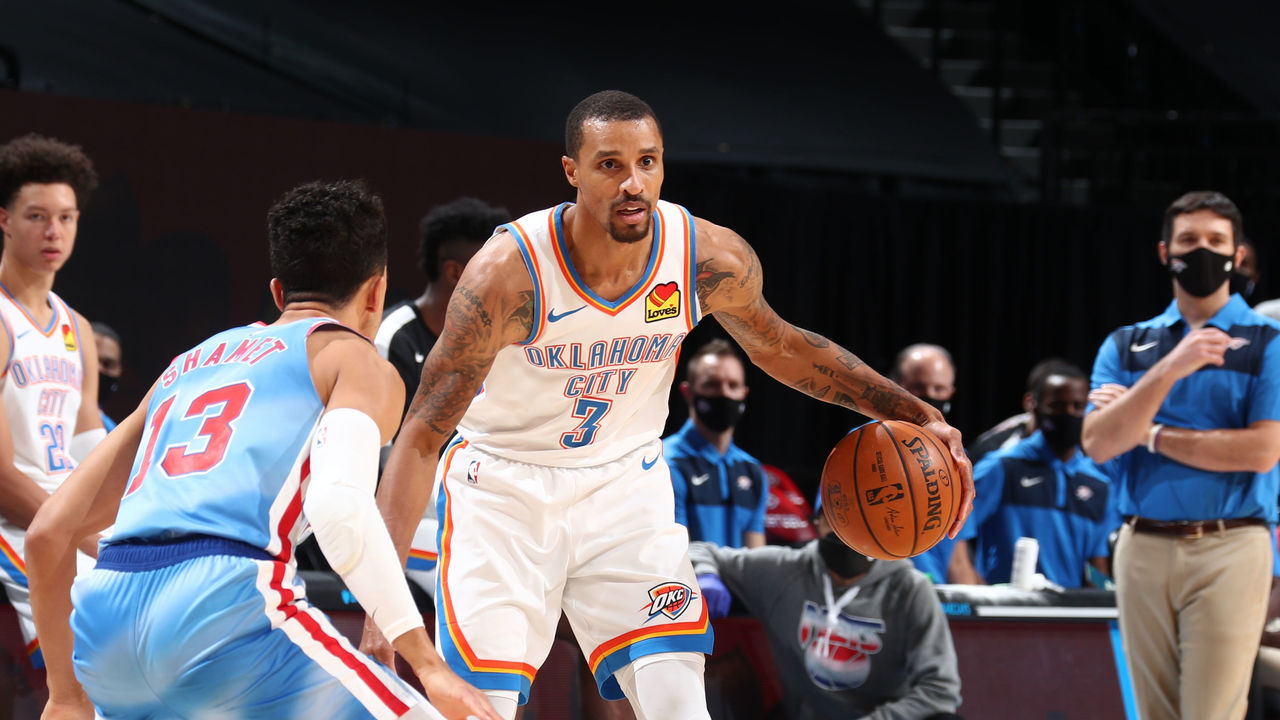 Sixers get: George Hill, Ignas Brazdeikis
Thunder get: Tony Bradley, Austin Rivers, 2025 2nd-round pick, 2026 2nd-round pick
Knicks get: Terrance Ferguson
The Thunder get more picks, because of course they do. The Knicks take a flier on a wing with some physical tools, because why not. But this trade is all about Philly.
The Sixers have reportedly abandoned their pursuit of Kyle Lowry due to the Raptors' high asking price and moved on to a less starry point guard who cost them very little.
Hill is a decent consolation prize, if a slightly disappointing pivot for a team with championship aspirations. He doesn't move the needle nearly as much as Lowry would - he's not in the same stratosphere as a passer, off-the-dribble creator, pull-up shooter, or team defender - but he's a steady-handed game manager who defends his position well and adds yet more shooting to a Philly team that's now brimming with it. Hill is a tremendous shooter off of the catch, having hit at least 40% in seven of the last eight years and 47.5% this season.
What he doesn't really address is the team's lack of half-court dynamism, as he isn't much of a threat to shoot or break down defenses off the bounce. The Sixers rank last in the league in made pull-up threes and 26th in accuracy (30.6%) on those shots. Hill is a reluctant off-the-dribble shooter; he's taken just 17 of them this season (a little more than one per game) and made just three.
Still, he can dribble, pass, shoot, and defend, and those types are in short supply for this Philly team. Throw in the optionality that comes with Hill's partial guarantee for next season, and this was a nice, no-risk addition. The only downside, if the Sixers are indeed out of the Lowry sweepstakes, is the opportunity cost. - Wolfond
Blazers land Powell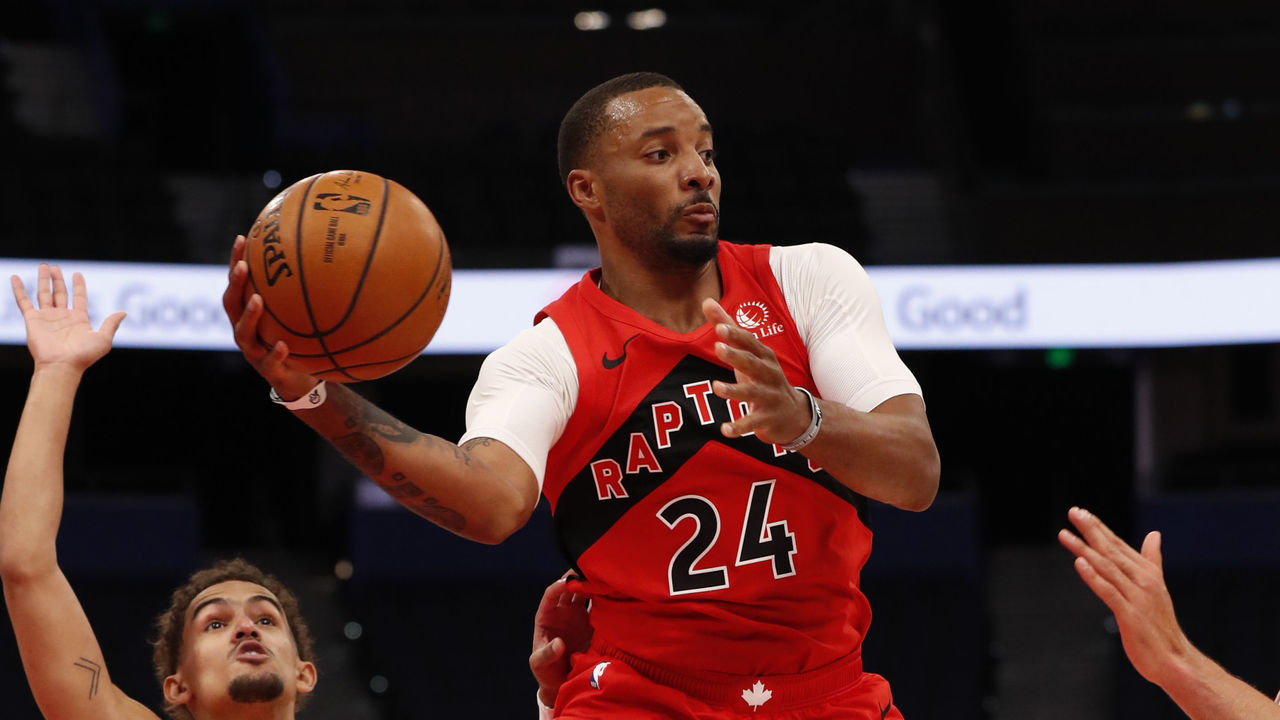 Trail Blazers acquire: Norman Powell
Raptors acquire: Gary Trent Jr., Rodney Hood
Powell's having a tremendous scoring season and has been incredibly efficient the last two years. As Portland understands, you can never have too much shooting or enough shot creation.
Over the last two seasons, Powell has averaged 17.6 points on roughly 50-42-85 shooting in less than 30 minutes per game. He's a great off-ball threat who can punish teams that load up on Damian Lillard and CJ McCollum, either as a dead-eye shooter or a cutter working off of Jusuf Nurkic. He can also create for himself and get to the rim. Powell can play the 2 or 3 in small lineups with Lillard, McCollum, and Robert Covington, and he can also carry Portland's offense off the bench.
The Blazers got better, but it's worth wondering whether they could've used Trent to acquire a player that addresses the team's more obvious needs. Portland remains a defensive tire fire, with only Sacramento posting a worse defensive rating through more than half the season. Though Powell has the length to guard multiple positions, he's an inattentive defender whose impact on that end of the court rarely matches his potential, and his decision-making leaves a lot to be desired.
Powell was a key contributor to Toronto's run of perennial contention, and he came up big for the Raptors on multiple occasions in the playoffs, including during the team's 2019 title run. But as a pending free agent, his scoring prowess will fetch him a bloated new contract that his overall effectiveness won't match, which is why the Raptors were wise to get something for him now.
Trent is six years younger but is already an elite shooter himself, canning 42.8% of his 5.6 3-point attempts per game over the last two seasons, and he has more defensive upside.
The drop-off from Powell isn't as stark as you might suspect, so the Raptors shouldn't regress much this season if they still want to compete, and they now have the chance to add an intriguing and improving young talent to their core of Pascal Siakam, Fred VanVleet, and OG Anunoby.
Trent's a restricted free agent, but his small cap hold means the Raptors can use their financial flexibility this summer while still retaining the 22-year-old on a long-term contract later in the offseason. Hood's contract (roughly $10.9 million) is non-guaranteed next season, so his role in this deal was likely just a matter of matching salaries. - Casciaro
Heat add Bjelica
Heat acquire: Nemanja Bjelica
Kings acquire: Moe Harkless, Chris Silva
After drawing an opening night start for Miami, injuries and poor play meant Harkless never carved out the role many envisioned he'd take on with the Heat, and he eventually found himself out of Erik Spoelstra's rotation altogether. Turning Harkless and the rarely used Silva into a capable shooter - albeit one mired in a season-long slump - is good work for the Heat.
Bjelica bounced in and out of Sacramento's rotation as he struggled to find his shot or his footing this season, but the veteran big man entered the season as a career 39% 3-point shooter. He's also on an expiring contract, so this is a low-risk, high-reward move all around for Miami. Bjelica's ability to stretch the floor at his size also makes him a potential Kelly Olynyk replacement in the event the Heat need to move Olynyk's larger contract in a bigger move today. - Casciaro
Nuggets get their man in Gordon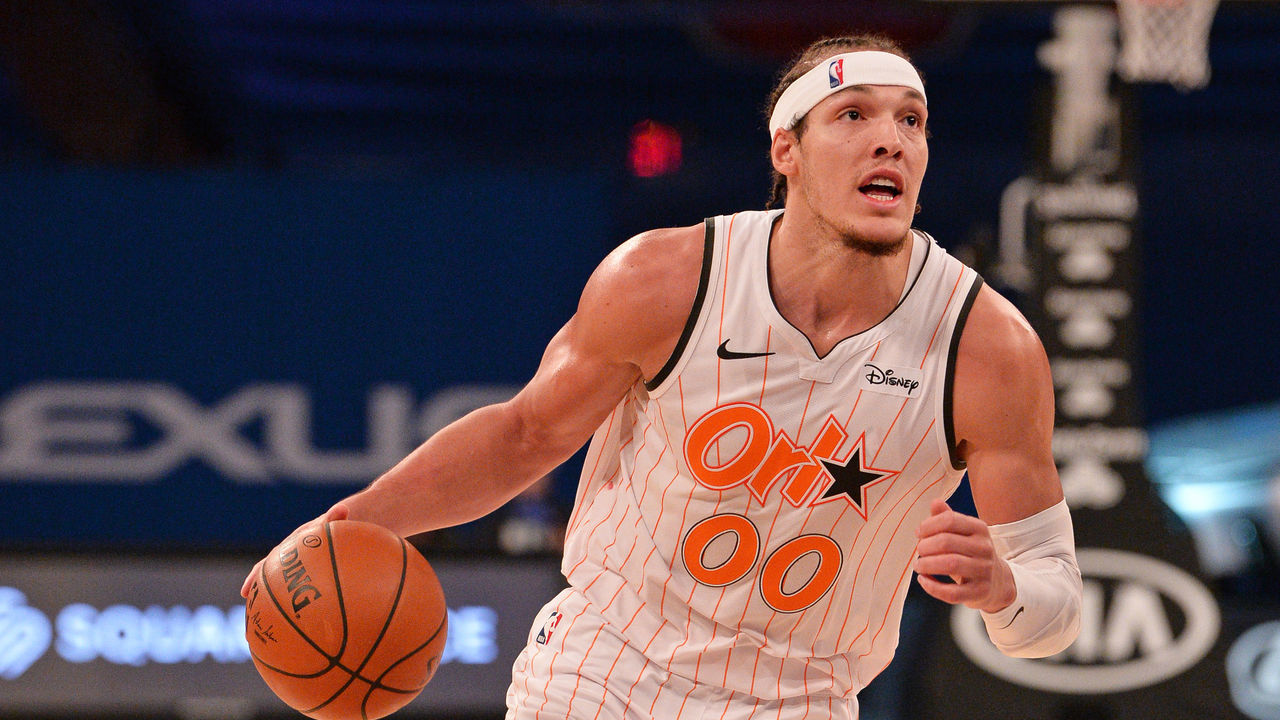 Nuggets acquire: Aaron Gordon
Magic acquire: Gary Harris, R.J. Hampton, 2025 1st-round pick (top-five protected)
The Magic continue to strip their roster for parts, and this time it's Denver on the receiving end of the sell-off.
The Nuggets addressed the biggest need on their roster with arguably the best such player available. Gordon is the type of hybrid forward that Denver lost when Jerami Grant departed in free agency; a big wing who can capably guard 3s and 4s, and whose athleticism and cutting ability should make him a snug offensive fit next to Nikola Jokic. He and Michael Porter Jr. will be basically interchangeable at the forward spots, with Gordon taking the tougher defensive assignment.
Gordon does have a penchant for freelancing and stepping outside his capabilities at the offensive end, and he'll need to find a balance in order to be the version of himself that helps the Nuggets most. They have too many capable playmakers for him to be using possessions to explore his stagnant off-the-dribble game. If he's willing to focus on his off-ball craft, Gordon should find his way to plenty of profitable looks just by cutting from the weak side while Jokic and Jamal Murray engage defenses with their two-man game on the strong side. Gordon hasn't been much of a spot-up threat in the past, but this season, he's shooting a scorching 43.5% on catch-and-shoot threes. If that's even remotely sustainable, Denver is going to be an absolute nightmare to defend.
The acquisition cost isn't nothing; Harris was the most important piece of the Nuggets' point-of-attack defense, and they don't really have a way to replace what he gave them at that end. They're also effectively dealing two first-rounders, since Hampton got picked 24th overall a few months ago. But given the Nuggets' needs, and the fact that they're getting a high-upside 25-year-old who fits those needs perfectly and has a year left on his contract beyond this one, the trade was a no-brainer, especially given the protections they were able to add on the distant future first. - Wolfond
Bulls add Theis, Brown in 3-team trade
Bulls acquire: Troy Brown, Daniel Theis, Javonte Green, cash
Wizards acquire: Daniel Gafford, Chandler Hutchison
Celtics acquire: Mo Wagner, Luke Kornet
While this move will barely register in the shadow of Chicago acquiring Nikola Vucevic, the Bulls get the best players in this deal in Theis and Brown.
Theis solidifies Chicago's frontcourt and brings more defensive versatility to a roster that lost Wendell Carter Jr. and Otto Porter Jr. earlier in the day. Though Brown is struggling through a down year, he's a 21-year-old with good size who can defend multiple positions in the backcourt or frontcourt. He still has plenty of upside, so his $5.2-million cap hit next season shouldn't be a problem.
Wagner has yet to fully capitalize on his potential, but he was quietly solid for Washington. At worst, he gives a Boston a shooting big to contrast Tristan Thompson, though overall, the Celtics' frontcourt is worse today than it was yesterday.
A 2019 second-round pick, Gafford has shown some promise as a high-energy defensive big, though his offensive game is limited. Hutchison has spent his season dealing with COVID-19, a leg injury, and falling out of Chicago's rotation. For a Wizards team that should have an eye on the future, it's strange that they would move Brown for youngsters with less upside, though that may speak to how they view both Brown and Gafford. - Casciaro
Celtics land Fournier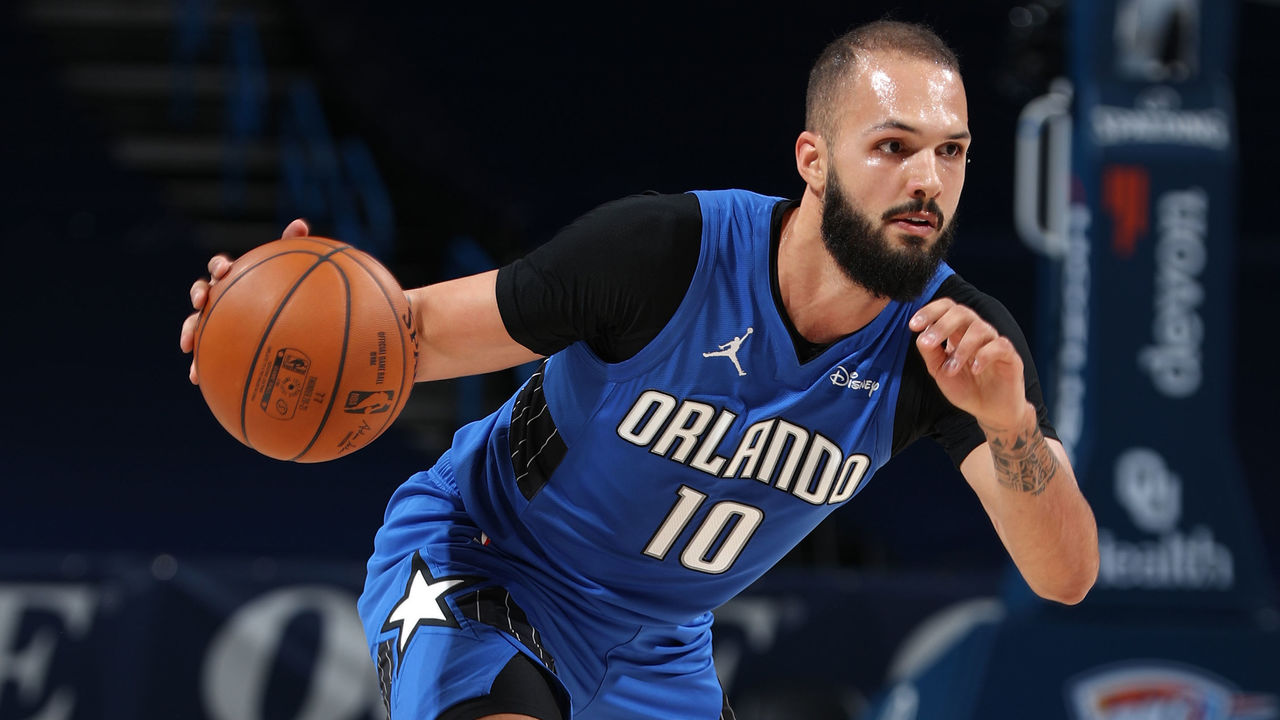 Celtics acquire: Evan Fournier
Magic acquire: Jeff Teague, two 2nd-round picks
Orlando's fire sale continues and the Celtics add an impact scorer on the cheap, yet fans of both teams are likely disappointed in this deal.
Magic fans surely thought Fournier would command more than a couple second-rounders, while Celtics fans likely hoped Boston's historic trade exception would be used on a bigger name. That exception, however, allowed Orlando to move Fournier without taking on any unwanted money (Teague will be immediately waived), while the Magic also now create a $17.1 trade exception of their own. In addition, a thin Celtics team adds a player who can move the needle without sacrificing any depth, as Fournier essentially replaces Teague, which is a massive upgrade.
Remember, the exception expires after a year, so there was no guarantee Boston could've acquired a better player while using it, especially without giving up any first-round picks.
Fournier is a real boost for Boston. He can't replicate everything the Celtics lost when Gordon Hayward left for Charlotte, but he does give them another scorer and shooter to add to their abundance of shot creation. As a quietly improved playmaker, Fournier also provides some insurance for Kemba Walker, who has yet to reclaim the full breadth of his powers in working his way back from knee issues.
A 28-year-old on an expiring contract, Fournier is quietly enjoying another career year, averaging a career-high 19.7 points and 3.7 assists on 60.4% true shooting and converting 38.8% of his 7.2 3-point attempts per game. Putting him on the court beside Jayson Tatum, Jaylen Brown, and Walker should improve Boston's 12th-ranked offense.
Fournier isn't going to solve any of the Celtics' defensive concerns or their lack of size inside, but Boston still has a ($10.9-million) portion of that aforementioned exception - created when Hayward was signed and traded - to use this summer. - Casciaro
Bulls land Vooch in blockbuster with Magic
Bulls acquire: Nikola Vucevic, Al-Farouq Aminu
Magic acquire: Wendell Carter Jr., Otto Porter Jr., 2021 1st-round pick (top-four protected), 2023 1st-round pick (top-four protected)
The Bulls are taking a massive swing, and the Magic are finally blowing it up.
In Chicago, the big question is how good the team can be over the life of Vucevic's contract, which runs through the 2022-23 season. The 30-year-old center is a major injection of juice for the Bulls' 18th-ranked offense. He's a mauler on the block, as capable of dropping in feathery fadeaways as he is of backing his way to the basket or slinging darts out of double-teams. Only Joel Embiid gets more post touches per game.
The Bulls also run a ton of elbow action, and Vucevic will fit perfectly into the high-post facilitator role that's been occupied by Carter and Thaddeus Young this season. He's just as capable a passer as those two and a significantly more dangerous scorer. He's also a legitimate stretch 5 who's shooting 40.6% from deep on 6.5 attempts per game this season. Because of his ability to roll, pop, pass, and abuse mismatches on the back end of switches, the two-man game between him and Zach LaVine has a chance to be deadly.
The real issues will be on the defensive end. Vucevic is a decent positional defender and a strong rebounder, but he doesn't offer much as a rim-protector and struggles defending in space. Between him, LaVine, Coby White, and Lauri Markkanen, the Bulls are going to play a lot of minutes with multiple minus defenders on the floor. That seems likely to cap their ceiling over the next few years, though Markkanen may not be part of their long-term plans, and in the meantime, their offense should be electric enough to make the Bulls a solid playoff team.
Whether that's enough to justify trading arguably their best prospect along with a huge chunk of draft capital may depend on whether it incentivizes LaVine to re-up when he hits free agency after next season.
For the Magic, as much as it hurts to lose their franchise player, it was time for them to hit reset - and this is a fantastic haul. Carter still has loads of untapped upside, and he could form a fearsome defensive frontcourt alongside Jonathan Isaac. They're getting a pick that should land in the 15-20 range in this year's draft, and a 2023 pick that could turn out to be tremendously valuable if things go sideways in Chicago. Porter is likely to be rerouted to a third team or bought out. Orlando's rebuild is starting to take shape. - Wolfond
Nuggets bring McGee back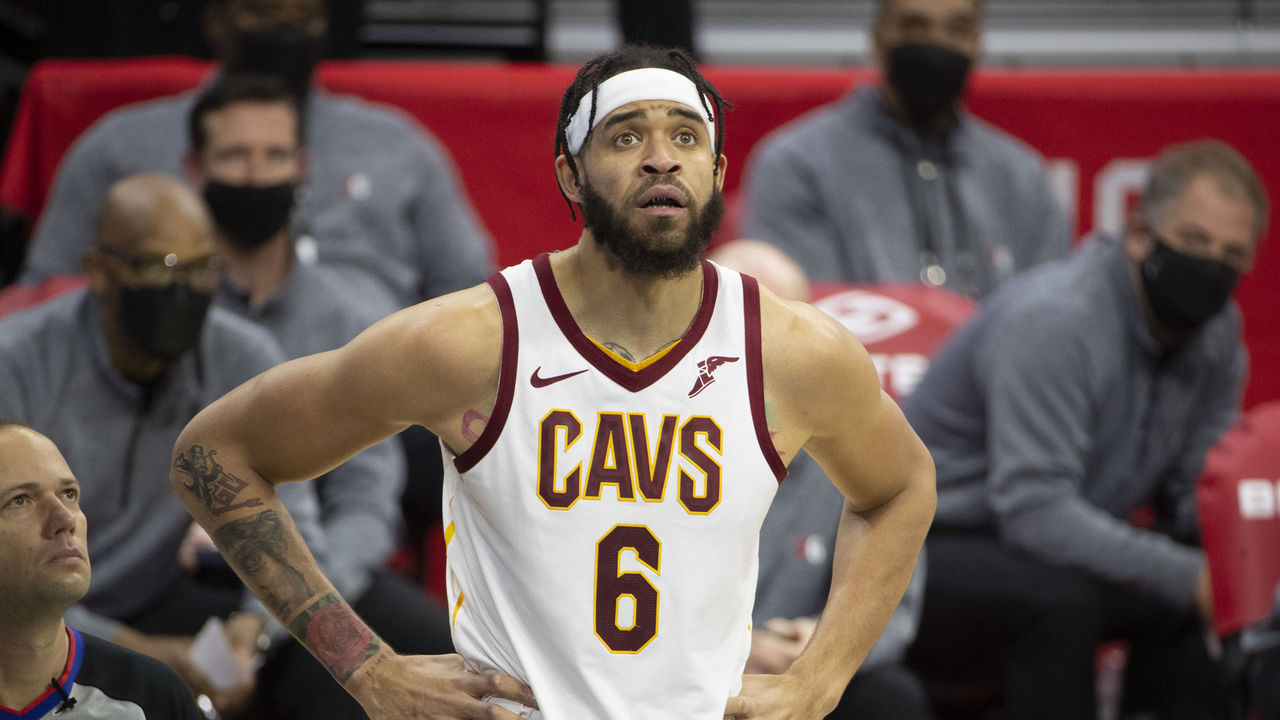 Nuggets acquire: JaVale McGee
Cavaliers acquire: Isaiah Hartenstein, 2023 2nd-round pick (top-46 protected), 2027 2nd-round pick (unprotected)
The Nuggets needed a rim-protector and backup center, and they plugged both holes with the addition of McGee, who spent four years in Denver earlier in his career.
The 33-year-old 13-year veteran isn't quite the same athletic force or interior finisher he once was, but McGee gives the Nuggets exactly what the team needs in a limited role behind Nikola Jokic. McGee averaged eight points, five rebounds, 1.2 blocks, and an assist on 52.1% shooting in just 15 minutes per game for Cleveland this season. He remains a solid rebounder and elite rim-protector: Out of 120 players who have defended at least 120 shots at the rim, McGee ranks first in defensive field-goal percentage (47.4).
Hartenstein has shown some promise in limited playing time in both Denver and Houston, and multiple draft picks might seem a bit steep for a veteran role player like McGee, but the Nuggets are on the cusp of true title contention and are led by a superstar having an MVP-caliber season. Filling a glaring need - even in a reserve role - is worth the price.
McGee obviously wasn't part of a rebuilding Cavs team's future plans, so this is also a good piece of business for Cleveland. - Casciaro
Kings, Pistons exchange PGs
Kings acquire: Delon Wright
Pistons acquire: Cory Joseph, 2021 2nd-round pick (via Lakers), 2024 2nd-round pick
This deal seems to suggest the Kings, one of the league's most interesting potential sellers, don't intend to weaken their team at the deadline. In shelling out a pair of second-rounders, they've meaningfully upgraded their backup point guard spot.
Wright is having an excellent season, posting nearly a 4-to-1 assist-to-turnover ratio and ripping two steals per 36 minutes. He's a better shooter, passer, at-rim finisher, and off-ball defender than Joseph, and his size gives him more positional versatility. That means we'll likely see him playing alongside De'Aaron Fox - and possibly even in three-guard lineups with Fox and Tyrese Halliburton - more often than Joseph did. Wright is probably best with the ball in his hands, but he's hit 41.4% of his catch-and-shoot threes this season, compared to 31.8% for Joseph.
Whether that upgrade will be enough to propel the Kings to a play-in spot is another matter. They're currently three games out of the 10-seed in the West, with the Pelicans and Warriors standing between them and a crack at their first playoff berth in 15 years. They also own the seventh-worst net rating in the NBA at minus-4.6, which doesn't exactly portend a big second-half surge.
But the acquisition cost was reasonable - that Lakers second-rounder will land in the 50s - and Wright can also help Sacramento next year, when he's on the books for a modest $8.5 million. Joseph's $12.6-million salary for next season was mostly non-guaranteed, and he was almost certain to be waived.
The potential complication actually involves Richaun Holmes, an impending free agent for whom the Kings don't have full Bird rights, meaning they either need cap space to re-sign him or can only offer a modest raise on his current $5-million salary. Adding Wright's guaranteed deal to the ledger makes that trickier, unless it's a prelude to another move.
There isn't much to analyze from the Pistons' side of things. They're building for the future, and a Kings draft pick, even a distant second-rounder, is never a bad asset to have. Because of Joseph's non-guarantee, this move will also help them shed payroll for next season. Hooray. - Wolfond
Comments
✕
NBA trade deadline: Breaking down every deal
  Got something to say? Leave a comment below!