The 2011 Mavericks were the NBA's greatest overachievers
Nathaniel S. Butler / NBA / Getty Images
Following our recent series on the best teams never to win their league's championship, we're flipping the concept. This series will examine a selection of the most unlikely teams to reach the mountaintop. These teams can be ones that got hot at the right time, or those who belong to franchises that have not often tasted the Champagne of champions. The series began with MLB and NFL entries.
Before the start of the 2010-11 NBA season, Dallas Mavericks guard Jason Terry had the Larry O'Brien Trophy tattooed on his right biceps. It served as both a motivational reminder and as a show of unbridled confidence in what that Mavs team was capable of.
At first blush, that confidence seemed unfounded. For one thing, the competition was steep. The newly assembled superteam in Miami flanked the league's best player with another top-five talent and a third future Hall of Famer in his prime. The Lakers had retained all the major pieces from their second straight championship run. The Spurs were still the Spurs. The Thunder were on the rise.
For another thing, dusk seemed to have fallen on the Mavs' day as contenders. They had their chances during the Dirk Nowitzki era, and had come up short. They blew a 2-0 lead to lose the controversial 2006 Finals, then got bounced in the first round after a 67-win season a year later. They'd won just one playoff series since that ill-fated Finals trip five years earlier, and had begun to look like one of those great teams for whom it simply wasn't going to happen.
The personnel group in Dallas was also atypical for a title team. The Mavs were the oldest team in the league. Nowitzki, their one certified star, was 32. Terry was 33. Shawn Marion, who'd be 33 by season's end, could still play some strong defense but was nowhere near the athlete he'd been in his prime. Tyson Chandler was a comparatively spry 28, but was already playing in his 10th NBA season and was coming off a lousy, injury-marred campaign in Charlotte in which he scuppered a trade by failing his physical. The team's regular-season minutes leader was 38-year-old Jason Kidd.
At the time, only five teams in the 3-point era had won titles with only one All-Star, and two of them (the '98 Bulls and '95 Rockets) featured Scottie Pippen and Clyde Drexler, respectively, as their second-best players. The Mavs didn't have anything resembling a second star, and even by the standards of "star by committee," the supporting cast didn't exactly look like championship material. Six teams were given better title odds before the season.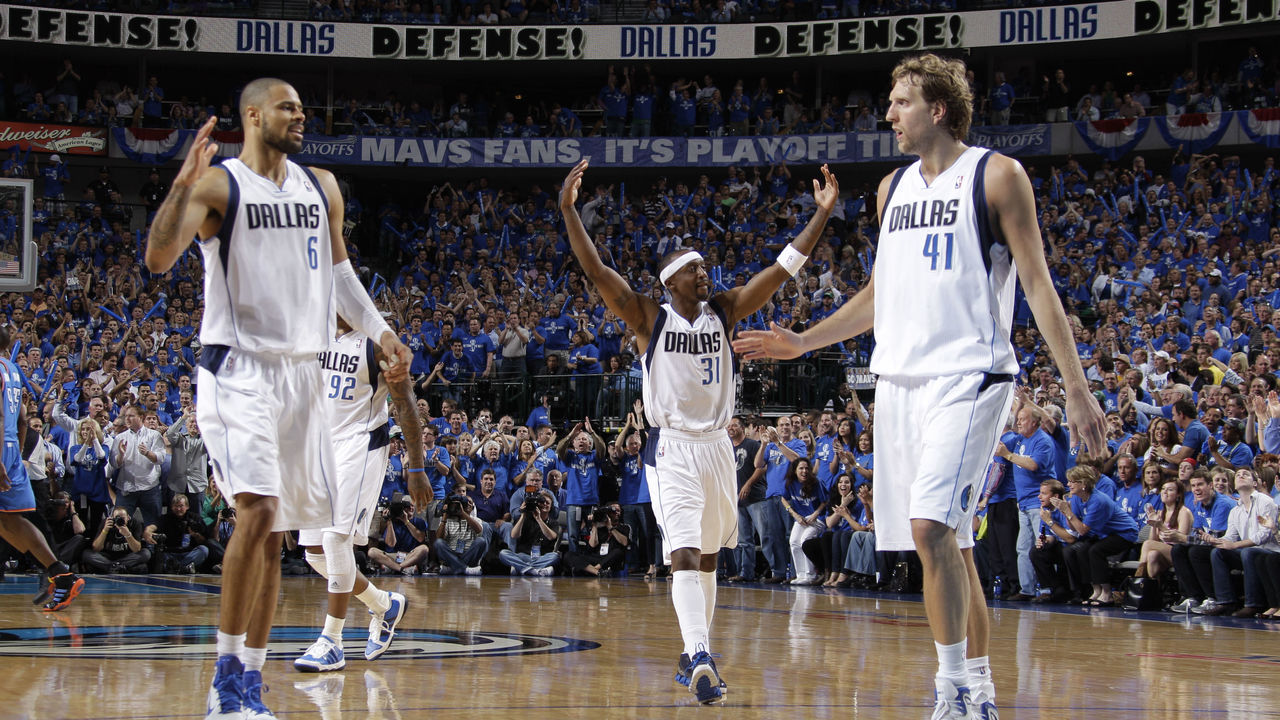 Teams at such a late stage of their competitive cycle, with so many near misses in the rearview and their star player on the wrong side of 30, don't tend to rewrite their story in the middle of the last chapter.
Dallas put together a 57-25 regular season - besting its preseason over/under line by 7.5 wins - but the team's underlying numbers weren't especially impressive. It had the point differential of a 53-win club, with the league's ninth-ranked offense and eighth-ranked defense. That's the profile of a solid playoff team, but not exactly a championship contender, and certainly not the kind of team capable of slaying some of the biggest giants of the day.
Plenty of prognosticators expected those Mavs to lose in the first round to the Trail Blazers, a talented young team that made a splashy midseason trade to acquire Gerald Wallace. When Brandon Roy, on literally his last legs, scored 18 fourth-quarter points to spark a 23-point Game 4 comeback that knotted the series at two, it seemed like Portland, not Dallas, was the team of destiny.
But the Mavs were a wildly streaky team - during the regular season, they immediately followed up a stretch of nine losses in 11 games with a run in which they won 18 of 19 - and they got red-hot at the right time. After Roy's career denouement tied the first-round series, the Mavs lost only three games the rest of the way, a run that was as notable for who they beat as for the fact they were the last team standing.
After dispatching the Blazers in six, Dallas drove a stake through the heart of the Kobe-and-Pau-led Lakers with a second-round sweep. The Mavs caught a bit of a break when the 61-win Spurs flamed out in the first round against the upstart Grizzlies, but the young Thunder team they met in the conference finals was no joke. (They'd go on to win the West the following season.) Dallas flicked them away in five games. And in The Finals, well, shocked probably isn't a strong enough word to describe what the Mavs did to the Heatles.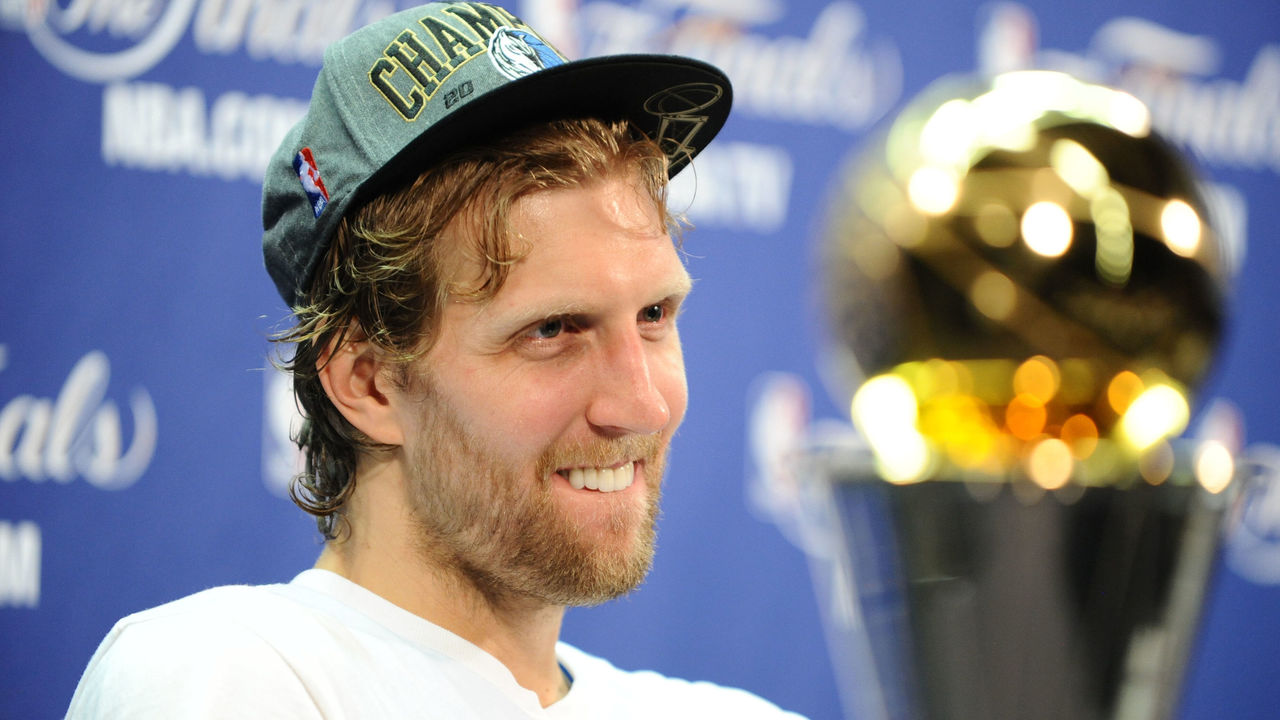 Equally memorable was the way they did it: With a handful of stirring fourth-quarter comebacks, multiple swing games in which dialed-in defense, heroic shot-making down the stretch, and Nowitzki's unflappability turned a series on its ear.
There's some dispute about the concept of "clutch" teams, and whether that should count as a trait or a fortuitous outlier. An analytical assessment would suggest that teams that inflate their win total by squeaking out a bunch of close wins are eventually going to get yanked back down to earth by the gravitational pull of regression. Maybe that's a slight overcorrection, though. Maybe we lose something when we lean so heavily on predictive analysis and ignore the descriptive.
The 2010-11 Mavs certainly suggested as much. They were a walking rebuke to the notion that the outcomes of close games between good teams are essentially coin flips. They were by far the best clutch team in the league during the regular season, ranking first in both offensive and defensive efficiency in the final five minutes of games within five points. And instead of regressing to the mean in the playoffs, they kept pulling out narrow, come-from-behind victories, each more extraordinary and improbable than the last. The higher the stakes got, the better Dallas performed in crunch time.
Some of Nowitzki's numbers from that postseason are flat-out comical. In 50 clutch minutes, he scored 66 points on 76.8% true shooting (15-of-28 from the field, 3-of-5 from deep, 33-of-34 from the line), with an on-court rating of plus-73. Think about that. In basically one regulation game's worth of clutch minutes with Dirk on the floor, the Mavs outscored their opponents by 73 points. (They played about 20 clutch seconds without him, and were outscored by two.)
Needless to say, they own the biggest playoff clutch-time differential in NBA.com's database, which stretches back to the 1996-97 season. Here's how they stack up against the other best clutch playoff teams from the recent past:
| Playoff year | Team | Clutch minutes | Clutch +/- | Clutch net rating |
| --- | --- | --- | --- | --- |
| 2011 | Mavericks | 50 | 71 | 60.3 |
| 2002 | Lakers | 57 | 58 | 39.0 |
| 2007 | Cavaliers | 59 | 47 | 30.4 |
| 2005 | Spurs | 56 | 39 | 23.9 |
| 2009 | Lakers | 50 | 33 | 25.4 |
| 1997 | Bulls | 43 | 32 | 34.7 |
So many of those comebacks seemed to break their opponents' wills. Against the Lakers, the Mavs erased a 16-point third-quarter deficit in Game 1 on the road, and never looked back. They pulled away in the second half of Game 2 to take a 2-0 lead back to Dallas, and after trailing for nearly the entire second half of Game 3, including by seven points with five minutes to play, they closed the game on a 17-5 run to effectively salt away the series. The Mavs shot 46.2% from three in the sweep. Nowitzki, Terry, and Peja Stojakovic (playing in his final NBA season) combined to go 32-of-61 from beyond the arc.
Against a Thunder team that represented the league's future, led by a superstar unicorn in Kevin Durant who was basically Dirk 2.0, Nowitzki had maybe his greatest playoff performance in a Game 1 win, scoring 48 points on 12-of-15 shooting and a historic 24-of-24 from the line. After dropping Game 2 at home, the Mavs led wire-to-wire in Game 3 in Oklahoma City, building a huge lead and staving off a spirited Thunder comeback.
In Game 4, it was the Thunder's turn to lead wire-to-wire … until, of course, Dallas stormed back from 15 down with under five minutes remaining in regulation to force overtime. Nowitzki outscored the Thunder 12-2 during that stretch, on his way to another 40. OKC led for 47 minutes and 15 seconds of game time. The Mavs won in OT.
They closed things out with another fourth-quarter comeback in Game 5.
The Finals was a redux of the 2006 series between Dallas and Miami, only this time instead of young Dwyane Wade and washed Shaquille O'Neal, the Heat were led by Wade, LeBron James, and Chris Bosh. That trio had just bulldozed its way through the East, routing the 62-win Bulls in the conference finals. The Heat were younger, faster, more athletic, and more talented than the Mavs. Their coronation was at hand.
Things began according to script. Miami comfortably won Game 1, and was well on its way to a 2-0 series lead, holding a 15-point lead with just over six minutes to play in Game 2. Wade had just capped a 13-0 Heat run with a 3-ball from the corner, right in front of the Dallas bench. But then, almost as if guided by muscle memory, the Mavs did what they'd been doing all year: they knuckled down, and started to chip away.
After some gritty team defense and a quick scoring spree from Terry pulled the game back within reach, Nowitzki took over. He closed the game on a personal 9-3 run, his final two points coming when he spun past Bosh - who was justifiably overplaying the turnaround jumper from the mid post - for a go-ahead lefty layup in the dying seconds.
The entire tenor of the series changed after that. Miami wore all the pressure and started to play tight, while Dallas, whom nobody had really expected to win, began to believe.
Looking for an offensive jolt after losing Game 3, coach Rick Carlisle slid J.J. Barea into the starting lineup, and the 5-foot-11 waterbug proceeded to skitter around and through the Heat's aggressive defense. He diced them up in the pick-and-roll, and averaged 13.3 points and 4.7 assists while shooting 5-of-10 from deep over the final three games. Kidd rained triples and defended his decrepit ass off. Terry burned every bigger guy he saw on switches, including, on several occasions, LeBron. Even DeShawn freaking Stevenson came up huge, shooting 13-of-23 from 3-point range.
One underrated feature of that Mavs team was that its coaching staff was stacked, with former and future head coaches Terry Stotts and Dwane Casey working under the venerable Carlisle. Casey, in particular, was credited with crafting the defensive game plan that short-circuited Miami's electric offense. Without a ton of elite individual defensive talent, Dallas mixed in a lot of zone and zone-hybrid looks with the rejuvenated and indispensable Chandler anchoring the back line, Kidd and Marion doing yeoman's work on the perimeter, and weaker defenders like Terry and Nowitzki able to find ample shelter within the team-oriented scheme.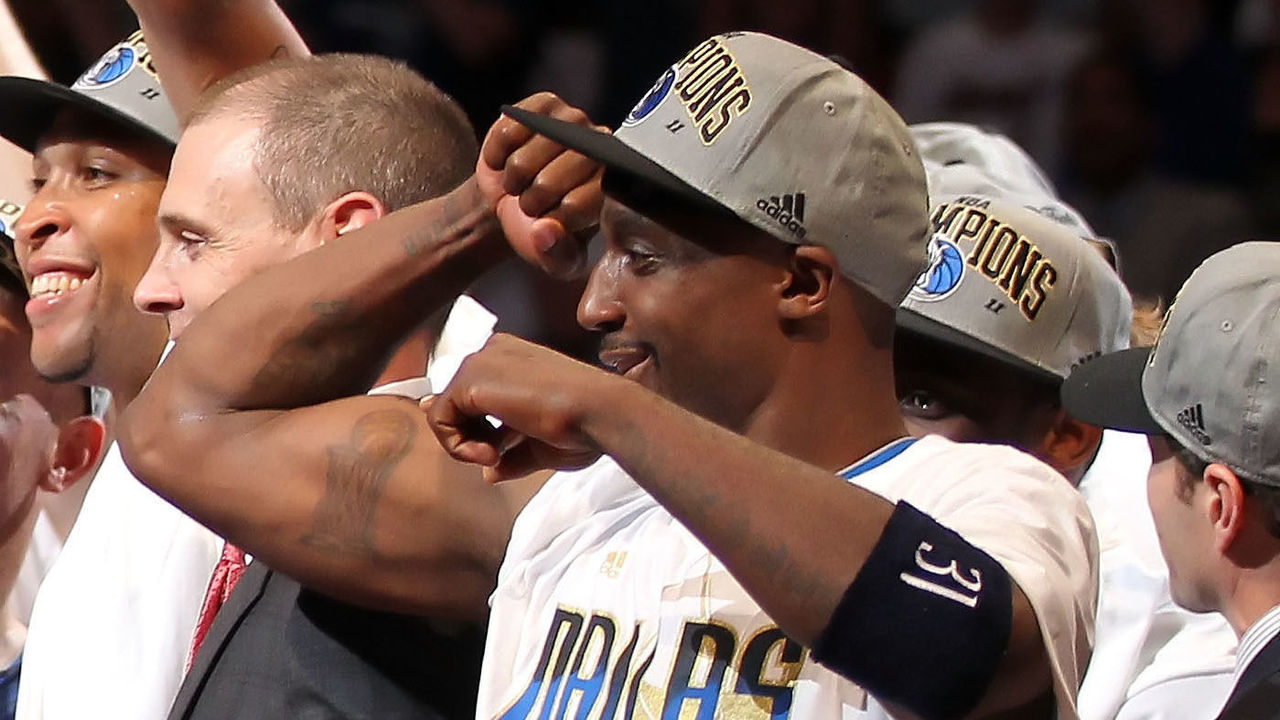 The Heat had role players who could stretch the floor, but none of their Big Three were known for their distance shooting. Aided by the fact that Miami always played a non-shooting center and Bosh wasn't yet a 3-point threat, Chandler was able to rove and help and stunt to the nail, blocking off LeBron's driving lanes and spooking him at the rim. For parts of the series, Dallas held James in check while using the much smaller Kidd as his primary defender. Kidd would dig down and swipe at the ball, or take a charge if James deigned to post him up.
The knuckleball vexed James. Unable to get into any kind of rhythm in isolation, unable or unwilling to penetrate off the dribble, pushed out to the perimeter where he was forced to rely on a wobbly jumper, he melted into a puddle of passivity. Dallas held him to eight points in Game 4, the worst playoff game in probably the worst playoff series of his career. He averaged just 17.8 points in series, and wasn't the leading scorer in any of the six games.
James has credited his subsequent evolution as a player to that Mavs defense.
"I wasn't that good of a player in that series," he said years later, while in the midst of one of his many eviscerations of Casey's Raptors. "Dwane Casey drew up a game plan against me in The Finals to take away things that I was very good at and to try to make me do things that I wasn't very good at. So, he's part of the reason why I am who I am today."
The Heat as a whole changed their approach after that, adopting a small-ball style that turned James into a post-up-mashing power forward and Bosh into a floor-spacing center en route to winning the next two championships.
The 2011 Finals may be remembered as LeBron's greatest failure, but the 2011 playoffs will forever be remembered as Dirk's masterpiece. He averaged 27.7 points, 8.1 rebounds, and 2.5 assists on .485/.460/.941 shooting, and ended the postseason by hoisting the Finals MVP trophy (after having a good cry in the locker room).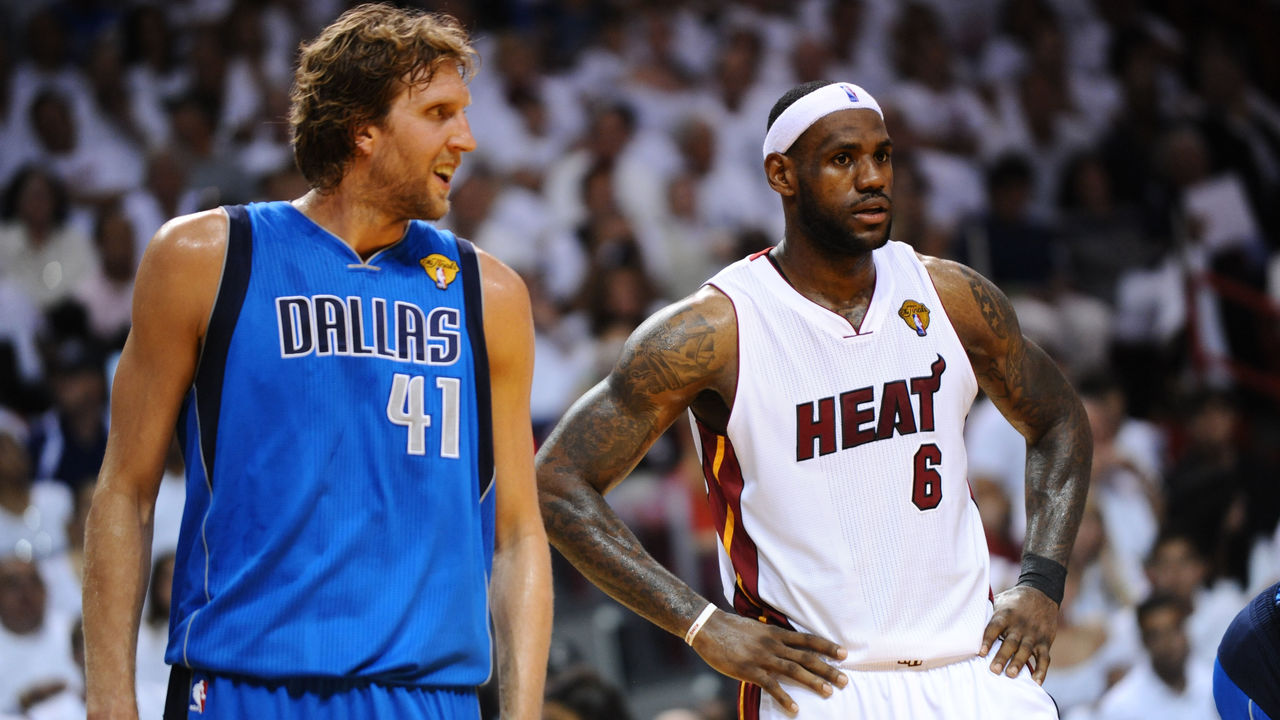 His teammates and coaches very much rose to the challenge, but this was still the rare instance in which a single star managed to take his team the distance. (Incidentally, the closest modern comparable is probably that 2006 Heat team led by Wade, who went supernova to will his inferior supporting cast past Nowitzki's Mavs after falling behind 2-0 and very nearly losing Game 3. Five years later, Dirk returned the favor with an even more improbable upset.)
Nine years later, the legacy of the 2011 Mavericks still looms large. They offer hope to every borderline contender carrying a staid core through multiple near-miss seasons, the vast majority of which either get impatient and blow things up or watch their championship windows close before they can seal the deal. Those Mavs stand as an example that if a good team simply holds its foundation together while improving on the margins, rather than making a panic trade or embarking on a pre-emptive teardown, eventually things might break just right.
That team will be remembered for being many things: The David that slew the South Beach Goliath; the team that left an enduring blemish on LeBron's postseason resume; one of the clutchest teams in NBA history; one of the NBA's unlikeliest champions and greatest overachievers; and, of course, the team that somehow validated Jason Terry's irrational confidence.
When you remember them, remember them well.
Joe Wolfond writes about basketball and tennis for theScore.
Comments
✕
The 2011 Mavericks were the NBA's greatest overachievers
  Got something to say? Leave a comment below!
BOS
Bruins
5-12-0, 6th Central
STL
Blues
13-4-0, 2nd Atlantic
MTL
Canadiens
5-7-0, 2nd Central
TOR
Maple Lefs
10-6-0, 2nd Atlantic
MTLTEST
Canadiens
5-7-0, 2nd Central
TORTEST
Maple Lefs
10-6-0, 2nd Atlantic