Almost Famous: From 2006-08, UCLA reached the right place at the wrong time
Wally Skalij / Los Angeles Times / Getty Images
Sports history is littered with great teams that dominated their regular seasons only to fall short of ultimate glory. Our writers are paying tribute to those teams that were Almost Famous. After tackling college football, NFL, MLB, NBA in the 1990s and 2000s, and the NHL in the 1970s and 1990s, here is the final entry of the series: college basketball.
Since the NCAA Tournament field expanded to 64 teams in 1985, only four schools have managed to reach three consecutive Final Fours.
The classically great Duke teams of the late 1980s and early 1990s made five consecutive Final Fours, finally winning national championships on the fourth and fifth tries in 1991 and 1992.
A few years later, Kentucky made three in a row from 1996-98, winning the championship over Syracuse in 1996 and Utah in 1998.
Michigan State made a similar run from 1999-2001, winning it all in 2000 when Mateen Cleaves and Morris Peterson led the Spartans over Florida.
The most recent team to make three Final Fours in a row never lifted the national championship trophy. The UCLA basketball teams of 2006-08 were superlative for a number of reasons: a 97-17 record, seven NBA draft picks (five first-rounders), and three consecutive Pac-10 titles. But the Bruins also went down as one of the best teams that didn't win a national championship.
Their three-year run of elite success simply came at the wrong time in college basketball history.
How UCLA got there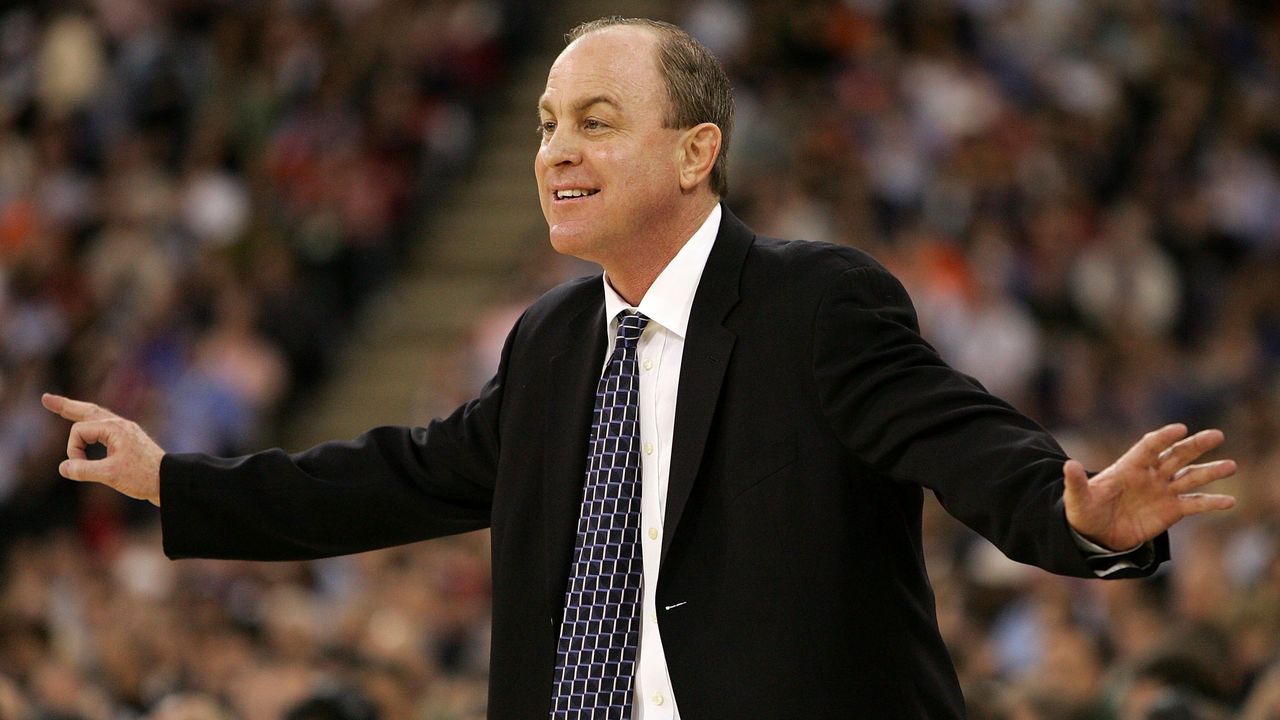 Ben Howland took over UCLA in 2003 following one of the worst seasons in the storied program's modern history. The Bruins had a 10-19 record in 2002-03, their first losing season in 55 years, and fired head coach Steve Lavin as a result. Howland, who brought Pittsburgh to back-to-back Sweet 16s in 2002 and 2003, went to high school in Southern California and was still an up-and-comer at the age of 45.
The program had drifted far from the dominant days under John Wooden; from 1980-2003, UCLA made one Final Four appearance, winning the national championship in 1995. Howland's first season wasn't much better Lavin's last. The Bruins went 11-17 in 2003-04.
The freshman class UCLA signed in 2004 changed everything.
Ranked seventh nationally by 247Sports, the class was made up of four SoCal natives. Jordan Farmar, a five-star point guard from Woodland Hills, was the headliner. Arron Afflalo and Josh Shipp, two 6-foot-5 guards from Los Angeles, both ranked in the top 40 nationally. Forward Lorenzo Mata-Real wasn't ranked in the top 100, but would develop into a role player who stayed all four years.
The youth infusion led to immediate results. Farmar, Afflalo, and Shipp were first, third, and fourth in minutes played as freshmen. UCLA's win total improved from 11 to 18, and with four consecutive wins to end the regular season, the Bruins earned an at-large bid to the NCAA Tournament. They lost to Texas Tech in the first round, but set an expectation for the following year. When the preseason AP Top 25 was released before the 2005-06 season, UCLA was 19th.
The next recruiting class was loaded, too: Three top-100 players (Darren Collison, Alfred Aboya, and Michael Roll), plus Luc Richard Mbah a Moute, an underrated forward who would start from day one.
2005-06: Run to the title game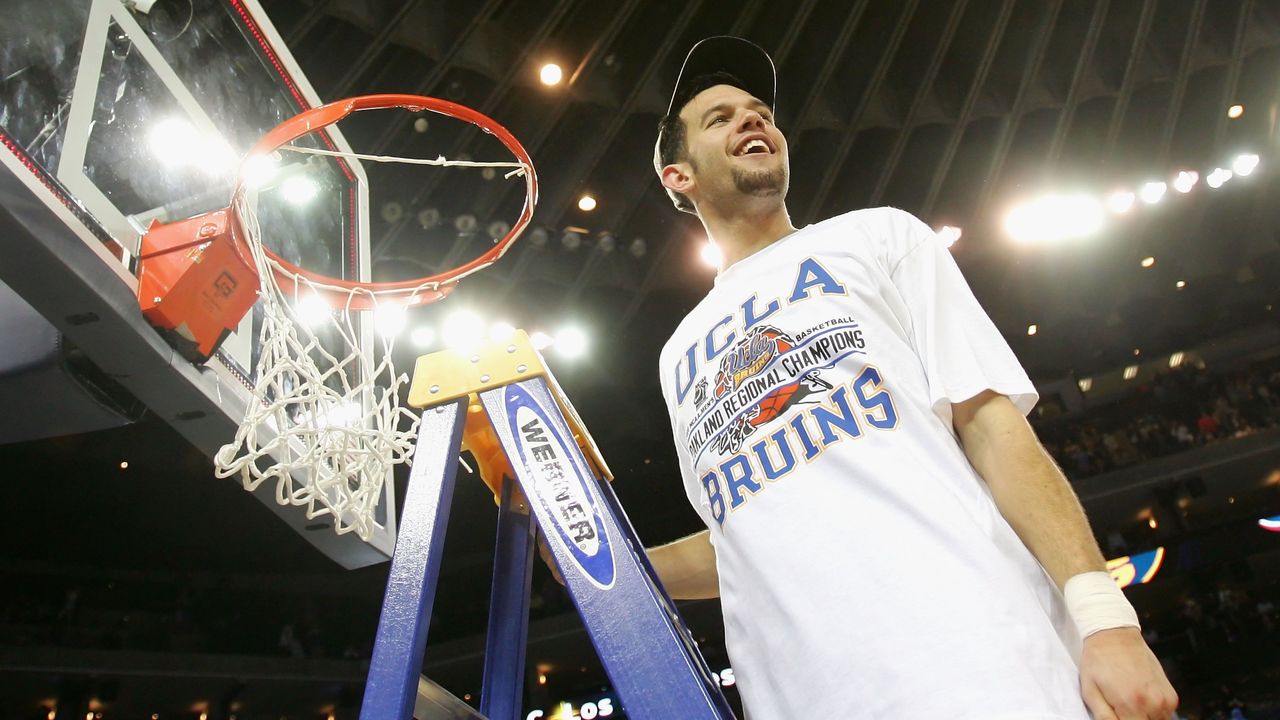 The Bruins were still young in 2005-06. They started two seniors: Forward Cedric Bozeman and center Ryan Hollins. The rest of the rotation was made up of freshmen and sophomores.
Still, Farmar and Afflalo played like experienced guards. Afflalo led the team with 15.8 points per game. Farmar was one of the best passers in the country, averaging 5.1 assists to go with 13.5 points. Together, they raised the bar.
"We have expectations this year," Afflalo said after UCLA's season-opening win over New Mexico State. "We're still young, but we're a good team. This team could be very special."
Behind them was depth. Bozeman and Hollins combined to average 14.6 points and 8.1 rebounds per game. Mbah a Moute, the unheralded freshman, emerged as one of the Pac-10's best rebounders. Collison, the quick freshman point guard, was a quality backup to Farmar.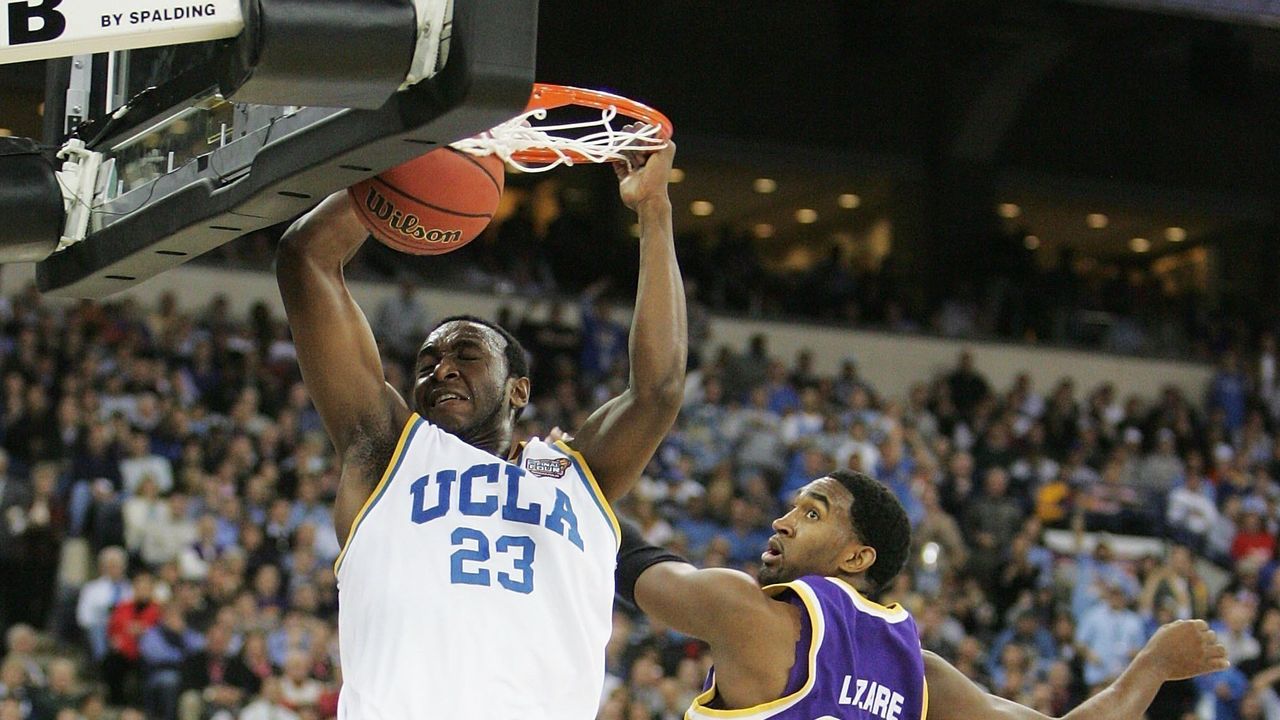 UCLA began the season 11-1, losing only at a neutral site to a Memphis team that would be a No. 1 seed in the tournament. The Bruins lost consecutive games only once.
With a 75-54 win at Stanford to close the regular season, UCLA celebrated its first outright, regular-season conference title since 1997. One week later, the Bruins won the conference tournament over California at the Staples Center. It was enough to earn UCLA, 27-6 for the campaign, a No. 2 seed in the NCAA Tournament.
As would be the case in 2007 and 2008, UCLA's hallmark was its defense. The Bruins were fourth, second, and fifth in adjusted defensive efficiency during their Final Four seasons, per KenPom.com. UCLA entered the 2006 NCAA Tournament having held seven consecutive opponents to 60 or fewer points.
Defense got the Bruins to the national championship game, too. UCLA crushed Belmont 78-44 in the first round, then narrowly held off 10th-seeded Alabama 62-59 in the second.
The regional, played at Oracle Arena in Oakland, played host to the most memorable game of the run. The young Bruins went up against Gonzaga and All-American Adam Morrison.
The Bulldogs led by 13 at halftime. They led by nine with 3:26 to play. They controlled the entire game.
Then, depending on your purview, Gonzaga collapsed. Or UCLA came alive in a fury.
The Bruins scored the game's final 11 points. With under 20 seconds left and trailing by one, Farmar stole the basketball in the backcourt from J.P. Batista and fed it to Mbah a Moute for the go-ahead bucket. Pandemonium ensued in the final seconds - UCLA celebrated like it had won a championship while Morrison fell to the court in tears.
Two days later, UCLA avenged its regular-season loss to Memphis with a 50-45 victory. Afflalo forced Memphis star Rodney Carney into one of the worst games of his career, limiting him to five points on 2-of-12 shooting. UCLA reached its first Final Four in 11 years.
"At UCLA, no other banners but national championships go up," Farmar said after the game. "We haven't really done anything in the eyes of UCLA and UCLA fans."
By seed, the Bruins were the favorite when they arrived in Indianapolis for the Final Four. They were matched up with fourth-seeded LSU, a team led by Glen Davis. The other semifinal featured third-seeded Florida and 11th-seeded George Mason.
UCLA manhandled LSU; the Bruins held the Tigers to 32% shooting and didn't allow a 3-pointer in a 59-45 win. Mbah a Moute starred with 17 points and nine rebounds.
Florida topped George Mason in the other semifinal, setting up a championship between teams with something in common: youth. The Gators started four sophomores and a junior. UCLA started two sophomores, two seniors, and a freshman.
The result, though, was surprising for UCLA: A Bruins team that dominated teams inside all season got a taste of its own medicine.
Joakim Noah and Al Horford combined for 30 points, 16 rebounds, and eight blocks. UCLA's inside options, Mbah a Moute and Hollins, shot 7-of-19 combined. Farmar scored 18 points on 21 shots, and Afflalo was unable to get hot. The Gators pulled away to their first national championship, 73-57.
2006-07: Run it back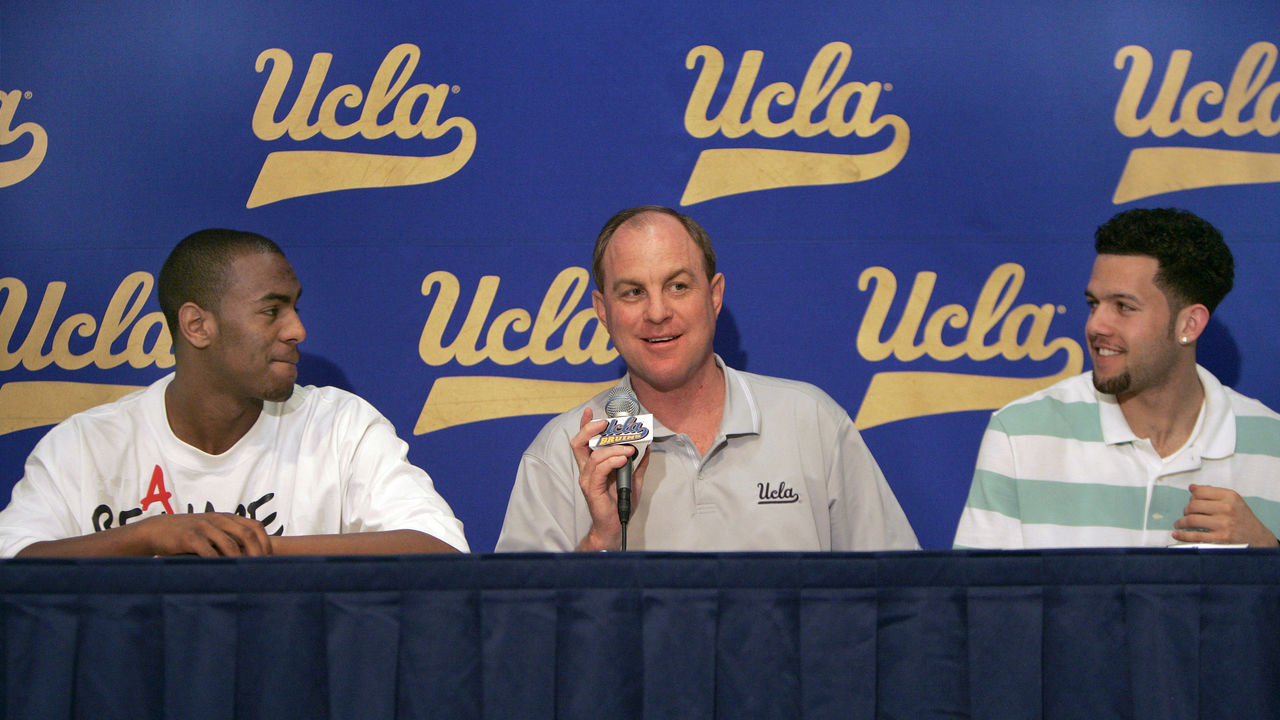 Farmar, Hollins, and Bozeman were gone. Farmar was drafted 26th overall by the Los Angeles Lakers. Hollins went 24 picks later to the Charlotte Hornets. Bozeman played 23 games for the Atlanta Hawks before beginning a decade-long career in various leagues, international and domestic.
The rest of UCLA's core returned, though, and the Bruins added a three-star freshman named Russell Westbrook to the bench.
UCLA began the season ranked No. 6. It never dipped lower than No. 7.
The Bruins began the season 14-0 and entered the NCAA Tournament 26-5, good enough for another 2-seed. Their defense was again stout, but the offense looked even better. Afflalo was the go-to scorer, averaging 16.9 points per game. Collison (44.7% from 3-point range) and Shipp (13.3 points per game) made massive jumps from their freshman to sophomore seasons.
In the NCAA Tournament, UCLA's stingy defense held up against nearly everyone. The Bruins held Weber State to 42 points in the first round and Indiana to 49 in the second. They held Pittsburgh - Howland's former team and one of the better offensive squads in the country - to 55 in a Sweet 16 win.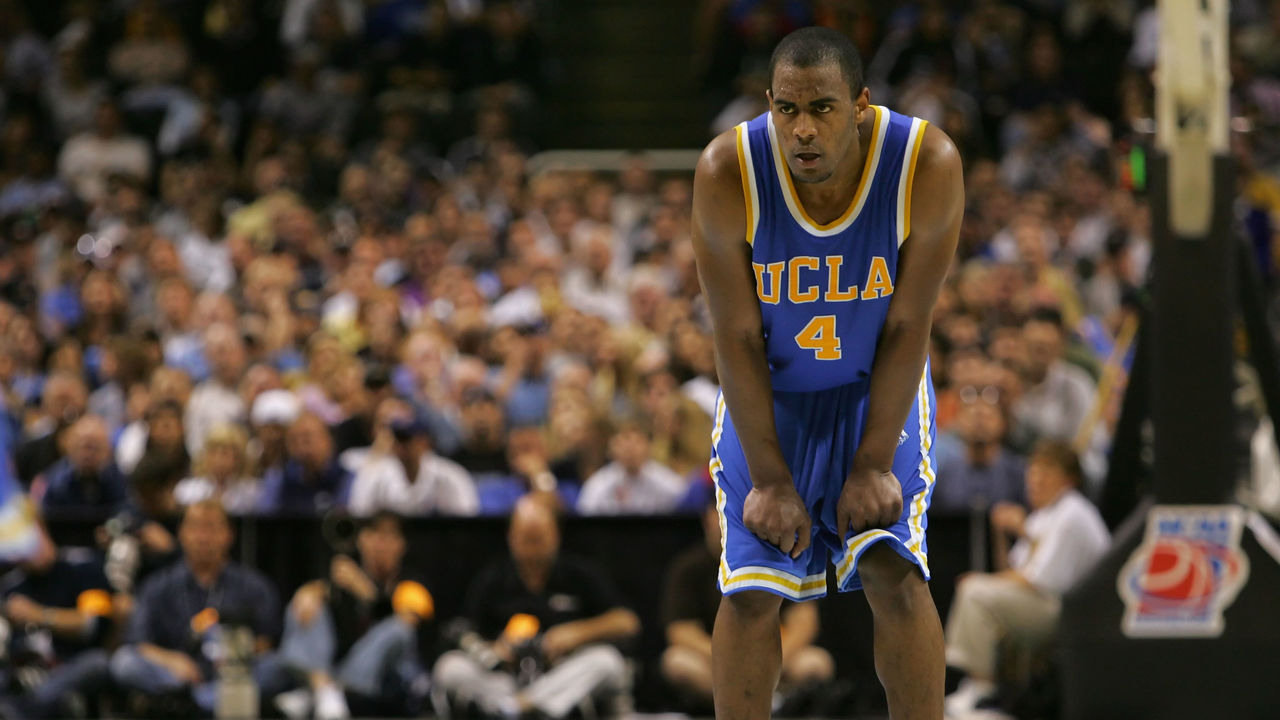 Facing top-seeded Kansas in the Elite Eight, Afflalo scored 24 points on 10-of-15 shooting. UCLA forced 21 Jayhawks turnovers, winning 68-55 to return to the Final Four. It would be another six years before a team held Kansas to 55 or fewer in a game again.
Unfortunately, the Bruins' timing wasn't any better. It wasn't their fault that their time coincided with one of the best college basketball teams of the last 20 years. But UCLA had to know it had its hands full in the national semifinals when it drew the same Florida team it lost to in the national championship a year prior.
Florida's starting five hadn't changed. The venue - the Georgia Dome - was different, but the result was much the same. Florida dominated UCLA on the glass, the Bruins guards struggled to shoot (Afflalo and Collison went 8-of-28 combined), and UCLA went home trophy-less, again.
Less than two weeks later, Afflalo declared for the NBA draft.
"My intent was to come here and win a championship. That was what I was recruited for," he said at the time. "I compete to win, I don't compete to participate … so I was very disappointed."
2007-08: Changing of the guard
Afflalo went 27th overall to the Detroit Pistons in the 2007 draft, but he left a Bruins team that still had championship aspirations.
The 2007-08 UCLA Bruins entered the season ranked second overall. They might have been the best team Howland assembled.
It was a team full of veterans - Mata-Real was the lone senior, but Collison, Shipp, Mbah a Moute, and Aboya were all experienced juniors. Westbrook stepped into the starting lineup as a sophomore.
And Kevin Love, the No. 4 overall player in his freshman class, was the centerpiece. He averaged 17.5 points and 10.6 rebounds per game, cementing his status as a one-and-done lottery pick.
You can count UCLA's losses that season on one hand. There was the two-point loss to an excellent Texas team in December. A nine-point loss to O.J. Mayo, Taj Gibson, and USC in January. A surprising hiccup against a sub-.500 Washington team in February.
Until the Final Four, that was it. UCLA went 31-3 and swept the Pac-10's regular-season and conference tournament titles.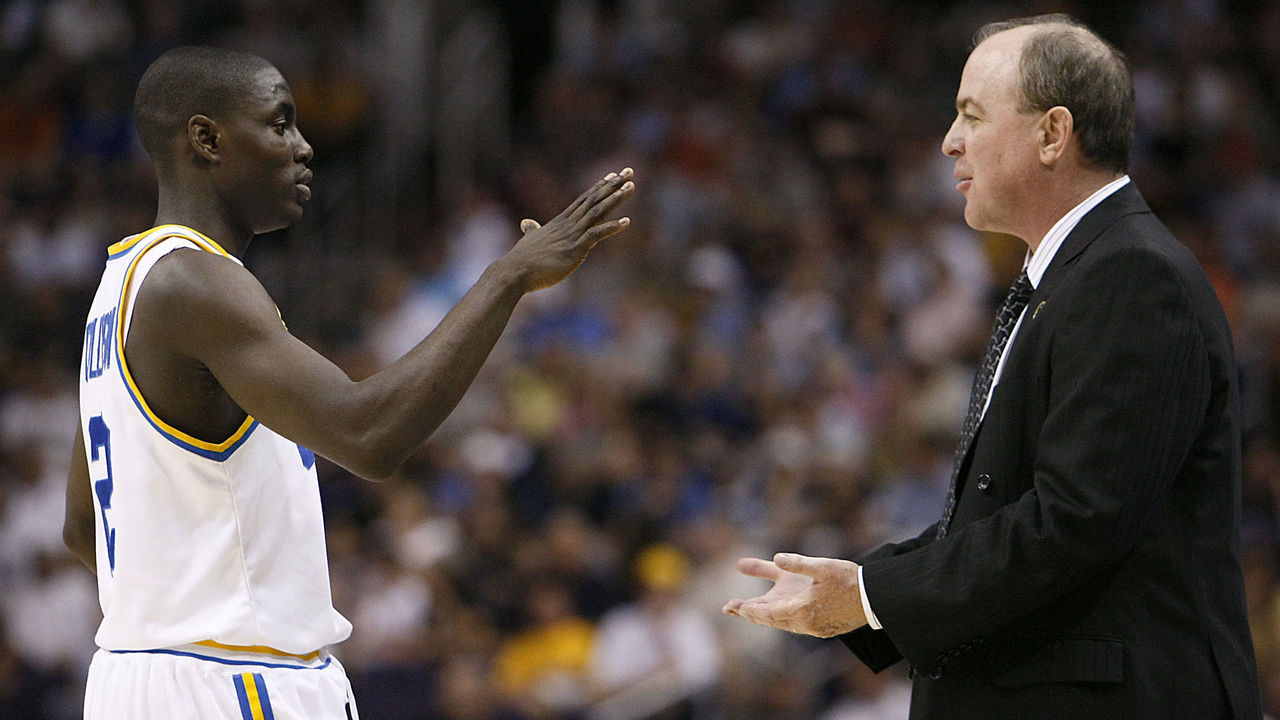 The Bruins were elite on both ends. They could rebound, led by Love and Mbah a Moute. They could score in a variety of ways; four players - Love, Westbrook, Collison, and Shipp - averaged more than 12 points per game. Collison shot a sterling 52.5% on 3-pointers.
In some other years, this UCLA team could have won a national championship. Think 2011, when no top seed reached the Final Four. Or 2014, when a 7-seed (Connecticut) and 8-seed (Kentucky) played for it all. UCLA advanced to its third consecutive Final Four in 2008 by pummelling the 3-seed in its region, Xavier, by 19 points.
But 2008 was a uniquely top-heavy year. It remains the only time since the field expanded to 64 teams that all four No. 1 seeds made the Final Four. The best team in its time zone, UCLA was merely the third-best team at the Final Four in San Antonio.
The Bruins' run came screeching to a halt with a 78-63 loss to Derrick Rose and Memphis in the national semifinals. Rose scored 25 and Chris Douglas-Roberts scored 28, outshining Westbrook, who scored 22. The Tigers lost to Kansas in overtime in the final. For the third consecutive year, UCLA played in the arena where the champion is crowned but went home empty-handed.
"As disappointing as this loss is, it's hard to be here three years in a row and not come away with a championship," Howland said after the game.
Howland's right. To reach the Final Four three consecutive seasons and not win is incredibly difficult.
No team has reached three Final Fours, period, since UCLA's run from 2006-08. With every passing season, it appears harder to do. In the 11 tournaments from 2009-19, only about half of the Final Four teams (23 of 44) were 1- or 2-seeds. The last team to reach two consecutive Final Fours was North Carolina, which lost in the final in 2016 before winning the championship in 2017.
Most power schools are unable to replicate the roster cohesion that UCLA had from 2006-08, with high-level players like Afflalo and Collison sticking around for three and four years, respectively. The combination of talent - two top-five NBA picks - and experience - four key juniors and a senior - that UCLA had in 2007-08 was hard to match.
Those three UCLA teams produced five first-round NBA draft picks: Farmar, Afflalo, Westbrook, Love, and Collison. Mbah a Moute, drafted in the second round in 2008, enjoyed a decade-long NBA career. UCLA hasn't advanced past the Sweet 16 since 2008.
Other than the Bruins, the only teams to make three consecutive Final Fours without winning a title did so when the tournament field was smaller than 64.
3 consecutive Final Fours
| Team | Years | Championships |
| --- | --- | --- |
| UCLA | 3 - 2006-08 | 0 |
| Michigan State | 3 - 1999-01 | 1 |
| Kentucky | 3 - 1996-98 | 2 |
| Duke | 5 - 1988-92 | 2 |
| Houston | 3 - 1982-84 | 0 |
| UCLA | 10 - 1967-76 | 8 |
| North Carolina | 3 - 1967-69 | 0 |
| Ohio State | 3 - 1960-62 | 1 |
| Cincinnati | 5 - 1959-63 | 2 |
| San Francisco | 3 - 1955-57 | 2 |
Right before the field expanded to 64, Houston reached three consecutive national semifinals, from 1982-84. The Phi Slama Jama Cougars lost in the national championship to North Carolina State in 1983 and Georgetown in 1984.
The only other team to accomplish this dubious feat: North Carolina, which made three consecutive Final Fours from 1967-69. Like the UCLA teams of 2006-08, the Tar Heels were in the right place at the wrong time.
Their string of Final Four runs just so happened to coincide with the first three of seven consecutive national championships … by UCLA.
Mark Cooper is theScore's NCAA writer.
Comments
✕
Almost Famous: From 2006-08, UCLA reached the right place at the wrong time
  Got something to say? Leave a comment below!