Almost Famous: Everything clicked for the 2001 Mariners, until it didn't
Star Tribune / Getty Images
Sports history is littered with great teams who dominated their regular seasons only to fall short of ultimate glory in the playoffs. Our writers are paying tribute to those teams who were Almost Famous. We start with Major League Baseball.
At the outset of the millennium, the Seattle Mariners were already fading back into irrelevance, their customary state, following a brief period of prosperity in which they captured two American League West titles - and secured the franchise's first two trips to the postseason - from 1995-97.
In the wake of a second straight losing season in 1999, the Mariners installed new general manager Pat Gillick, who had built back-to-back World Series winners in Toronto, to reverse that trajectory. It paid immediate dividends. Gillick aggressively revamped Seattle's roster that winter, signing All-Star right-hander Aaron Sele, smooth-swinging first baseman John Olerud, and Japanese closer Kazuhiro Sasaki, and ultimately transforming the Mariners into a playoff team despite trading away disgruntled franchise icon Ken Griffey Jr. on the eve of spring training.
Buoyed by a transcendent campaign from shortstop Alex Rodriguez, another monster year from ageless DH Edgar Martinez, and solid contributions from each of their major offseason additions, the Mariners finished 91-71 in 2000, good enough for the American League wild card. They proceeded to launder the Chicago White Sox in the division series, sweeping them in three games, before having their title run kiboshed by the dynastic New York Yankees, who bested the Mariners in six games in the ALCS and would thereafter bulldoze their way to a third straight World Series title.
As successful as their season was, the Mariners' return to prominence seemed destined to be short-lived. Rodriguez, the franchise cornerstone who had been so integral to that wild-card berth, was to hit free agency that winter, and realistically, the Mariners weren't going to be able to compete for his services on the open market. ("There are going to be no hometown discounts," Rodriguez told several members of the Mariners' brass in an early offseason meeting, according to Sports Illustrated's Tom Verducci.)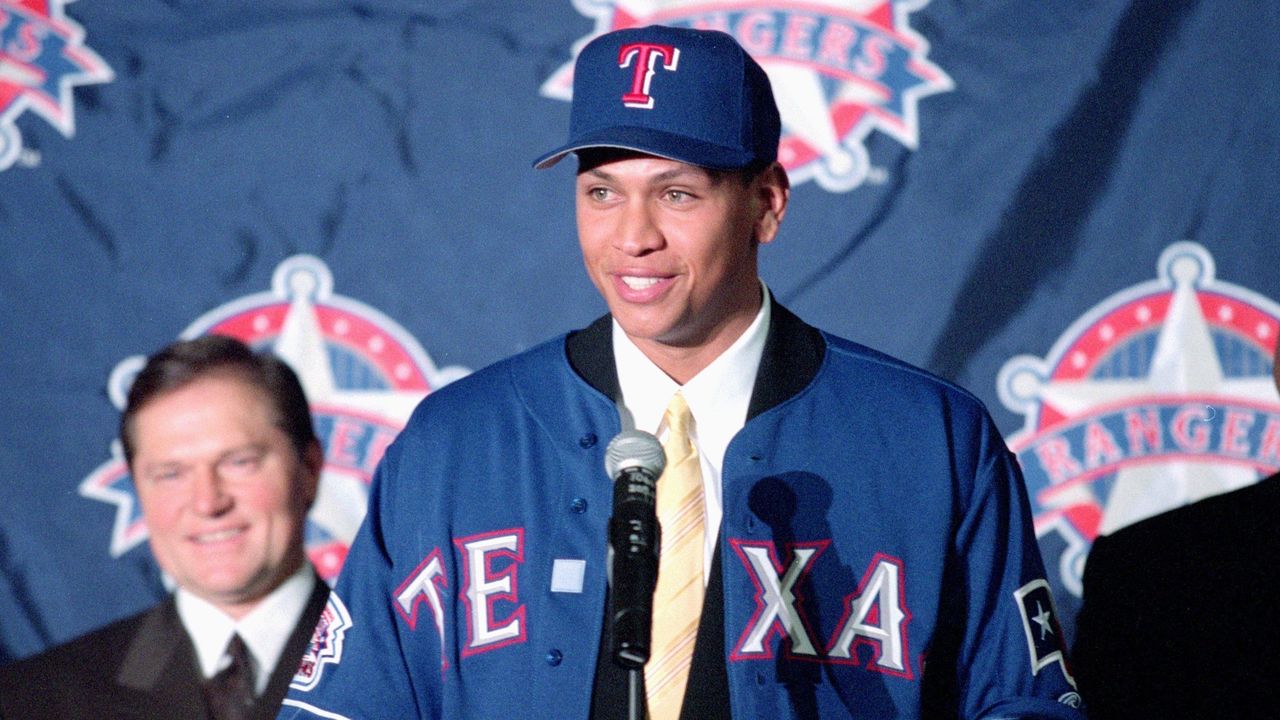 The club had weathered the Griffey trade with aplomb, but nothing could possibly compensate for the loss of Rodriguez, who'd racked up more WAR than everybody except Barry Bonds, Jeff Bagwell, Griffey, Mike Piazza, and Mark McGwire since becoming an everyday player in 1996.
Seattle made no splash in trade or free agency after Rodriguez signed a record-breaking $252-million contract with the Texas Rangers shortly before Christmas. The Mariners arrived for spring training as putative also-rans in the AL West. When they descended on Peoria in February, the Mariners' biggest offseason addition was a 27-year-old curiosity named Ichiro Suzuki, a legend with the Orix BlueWave and the first Japanese position player to be posted and signed by an MLB club. His skill set and lithe build inspired skepticism as to whether he could play the game at its highest level.
The other new faces in the Mariners' spring clubhouse were overwhelmingly over-the-hill cast-offs, such as Carlos Baerga, the former Cleveland Indians fixture who was released before Opening Day; Norm Charlton, a journeyman reliever who allowed nine runs in three innings with the Cincinnati Reds the season prior; and Bret Boone, a 32-year-old second baseman with good genes but a long history of mediocrity in the big leagues.
With good cause, optimism was low as Opening Day neared; in ESPN's preseason predictions, none of their dozen pundits pegged the Mariners to win the AL West in 2001, and only two tabbed them to earn the wild card for a second straight season.
They were all wrong. The Mariners neither crumbled nor squeaked into the playoffs in 2001. Instead, they enjoyed the most dominant regular season in modern baseball history, riding a series of breakouts, bounce-backs, career years, and good luck to a record of 116-46, which tied them with the 1906 Chicago Cubs for most wins in a season.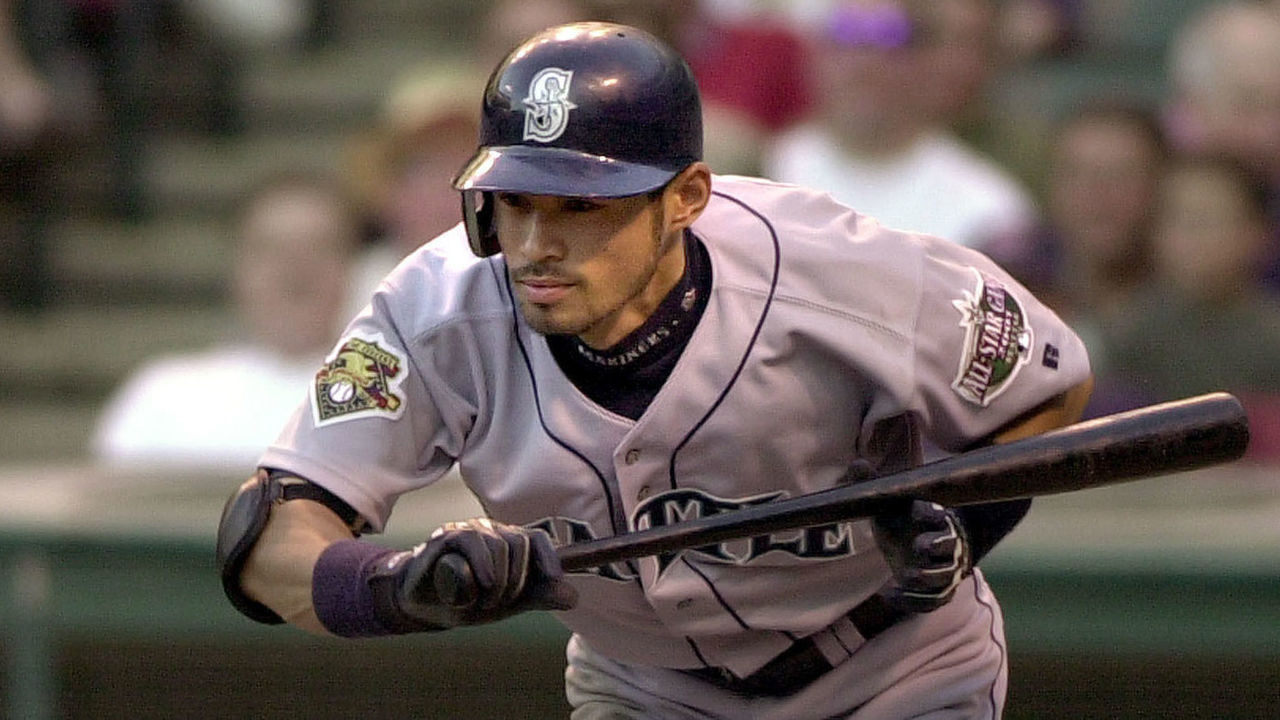 Suzuki, who would soon be on a first-name basis with North American baseball fans, was a revelation. He hit .350/.381/.457 with 56 stolen bases while playing exemplary defense in right field en route to American League MVP honors. Boone, who had been a below-average hitter in five of his six previous seasons, was somehow even more valuable than Ichiro, putting up an out-of-nowhere .950 OPS (153 OPS+) while smashing 37 home runs and finishing second in the AL - tied with Alex Rodriguez - with 7.8 WAR.
Mike Cameron, the defensively gifted center fielder who headlined the package the Mariners received from Cincinnati for Griffey, enjoyed the finest offensive season of his career, too, complementing his exemplary glovework with a 123 OPS+, 25 homers, and 34 steals en route to 5.5 WAR. Martinez, obviously, kept raking: The future Hall of Famer put up a robust .306/.423/.543 line, finishing 13th among qualified hitters in wRC+ (157) in his age-38 season.
Quietly, as is his wont, Olerud enjoyed another sublime year at the plate, hitting .302/.401/.472 (136 OPS+) while missing only three games all season. And just about everyone else who played a meaningful role for the Mariners hit the cover off the ball that year, too. Seattle's offense was historically prolific, as potent as both the 1928 and 1998 Yankees after adjusting for league and park effects, and the Mariners finished the 2001 campaign first in the majors in virtually every offensive category, from runs scored (927) to on-base percentage (.360) to stolen bases (174) to wRC+ (116).
Their pitching staff was a force to be reckoned with as well. Led by 24-year-old right-hander Freddy Garcia, who topped the league in innings pitched and placed third in Cy Young voting, the Mariners' rotation finished in the top five in the AL in ERA (3.77), FIP (4.29), WHIP (1.25), and WAR (13.3). Both Sele and 38-year-old left-hander Jamie Moyer eclipsed the 200-inning plateau, and rookie Joel Pineiro fashioned a 2.36 ERA across his 11 starts.
Inexplicably, Seattle's patchwork bullpen was even more dominant. Sasaki, who earned the AL Rookie of the Year Award in 2000, turned in an even better sophomore campaign, finishing tied for second in the majors with 45 saves - behind only the Yankees' Mariano Rivera - while crafting a 3.24 ERA and minuscule 0.89 WHIP. He was only the second-best reliever in Seattle's bullpen that year, though.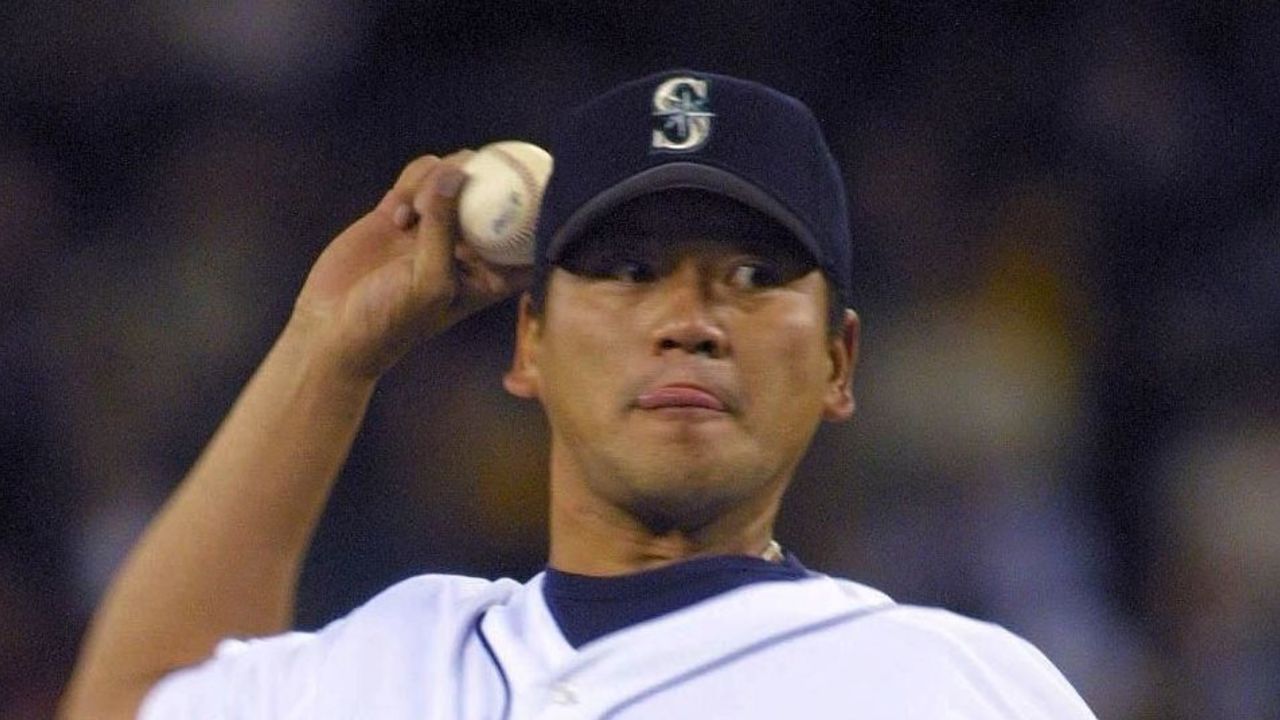 Arthur Rhodes, a 31-year-old left-hander whose lousy surface stats consistently belied his strikeout numbers, finally put it all together in 2001, crafting the second-lowest ERA (1.72) and FIP (2.14) among qualified relievers while pitching almost every other game as the Mariners' left-handed setup man. (For the second year in a row, Rhodes eclipsed 70 relief appearances.)
Jeff Nelson, an unheralded offseason addition, served as Rhodes' right-handed complement and was nearly as brilliant, earning his first and only career All-Star nomination at the age of 34 thanks to his 2.76 ERA and elite strikeout numbers. (Among qualified relievers, only Houston's Octavio Dotel struck out more batters per nine innings than Nelson, who whiffed a career-high 12.1).
Meanwhile, Charlton, a lefty specialist who turned 38 before spring training, dispelled rumors of his demise, posting a 3.02 ERA with a 0.99 WHIP across his 44 outings and holding left-handed hitters to an anemic 169/.253/.282 line. With so many weapons at manager Lou Piniella's disposal, the Mariners' bullpen was a well-oiled machine, leading the bigs in ERA (3.07), WHIP (1.09), and opponents' batting average (.201), and finishing behind only the Yankees' Rivera-led bullpen in win probability added (10.23).
Dominant on both sides of the ball, the Mariners were a behemoth. They put the league on notice with a 20-5 record in April, highlighted by a nine-game winning streak. By the time June rolled around, they were 40-12 and hadn't yet lost three consecutive games. At the All-Star Game, which the Mariners hosted in their brand new ballpark, Safeco Field, they boasted a 19-game cushion atop their division at 63-24 (.724).
Regression barely hit them in the second half. The Mariners stumbled to a comparably meager .704 winning percentage after the break, going 53-22 over their final 75 contests. On Sept. 19, with two more than weeks left to go in the season, the Mariners clinched their division with a 5-0 shutout of the Los Angeles Angels.
Four straight losses followed - their longest losing streak of the year - and the Mariners entered their final series of the season, a four-game set at home against the Texas Rangers, with a record of 113-45, needing a sweep to set baseball's single-season record for wins. They won the first three, claiming the new American League record with their second victory, but were bested 4-3 in the final game of the year, denying Seattle sole possession of the MLB record. It's hard to imagine they were all that heartbroken, having just wrapped up the ass-kickingest season of the live-ball era.
Ultimately, however, the legacy of the 2001 Mariners endures largely because of what they didn't achieve. Despite spanking the league all year in every respect - for instance, the Mariners actually fared better on the road (.728 winning percentage) than at home (.704) - they couldn't parlay that regular-season dominance into October glory.
After barely outlasting the Cleveland Indians in the best-of-five division series, eking out a 3-1 victory in the decisive Game 5, the Mariners were crushed by the Yankees in the ALCS for a second straight year. They took only one game off the reigning champions, who held Seattle's mighty offense to three runs or fewer in four of their five matchups and a cumulative .211/.289/.345 batting line.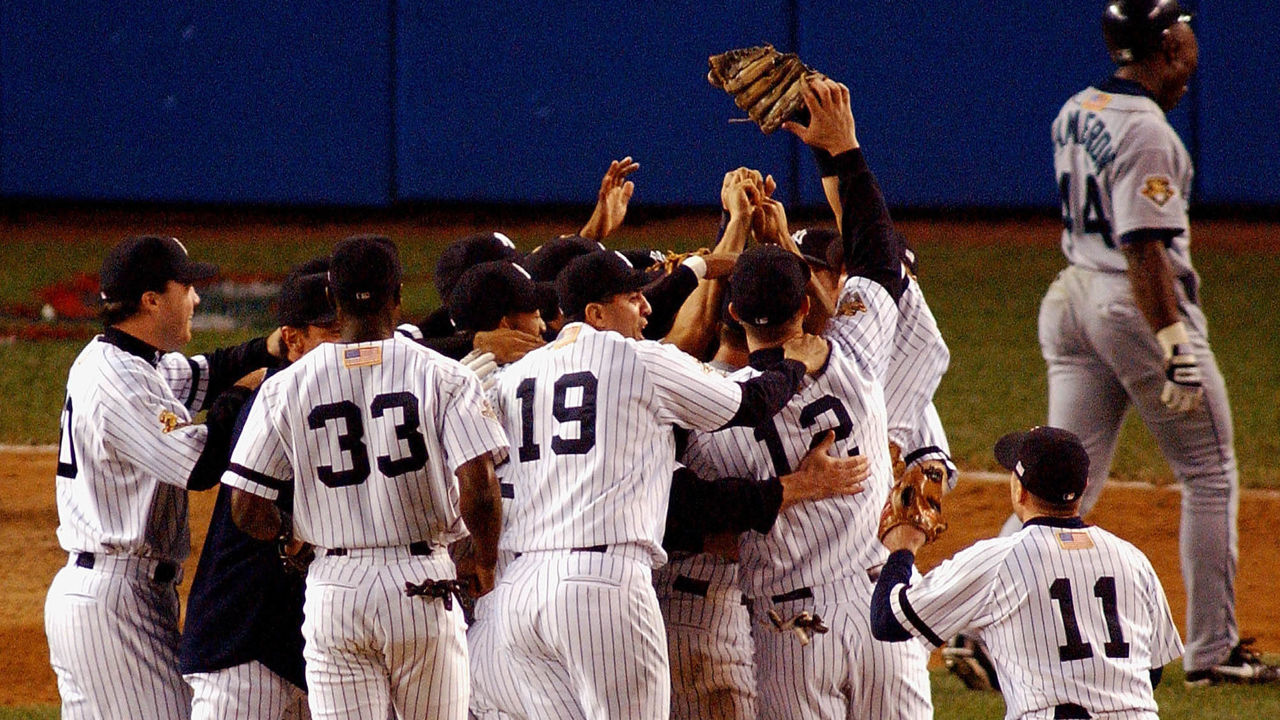 "It wasn't supposed to be like this," Boone, who slugged a pair of homers and managed a 1.013 OPS for the series, said following his club's Game 5 defeat. "It wasn't supposed to end here."
As anticlimactic as their finish was, the Mariners' fruitless postseason run nevertheless cemented their place in baseball history. They're the best team to never win a World Series.
Jonah Birenbaum is theScore's senior MLB writer. He steams a good ham. You can find him on Twitter @birenball.