Almost Famous: 1995-96 Red Wings weren't quite ready for prime time
Graig Abel / Getty Images
Sports history is littered with great teams that dominated their regular seasons only to fall short of ultimate glory in the playoffs. Our writers are paying tribute to those teams who were Almost Famous. After tackling MLB in Part 1, the NHL's up next.
Dynasties have long been one of my favorite things about sports. They're relatable to all fans and offer the fair-weather supporter either a bandwagon to hop on or something to complain about.
When an NHL franchise has an opportunity to capture its third title in four years, fourth in six, or whatever number we feel constitutes a dynasty in that era, I'm all in. Why? Because sports are where we go to witness great feats, and a dynasty, at its core, is about a group of people accomplishing several great feats over a period longer than most can achieve. Dynasties are success to the extreme. They give us benchmarks, records, and history.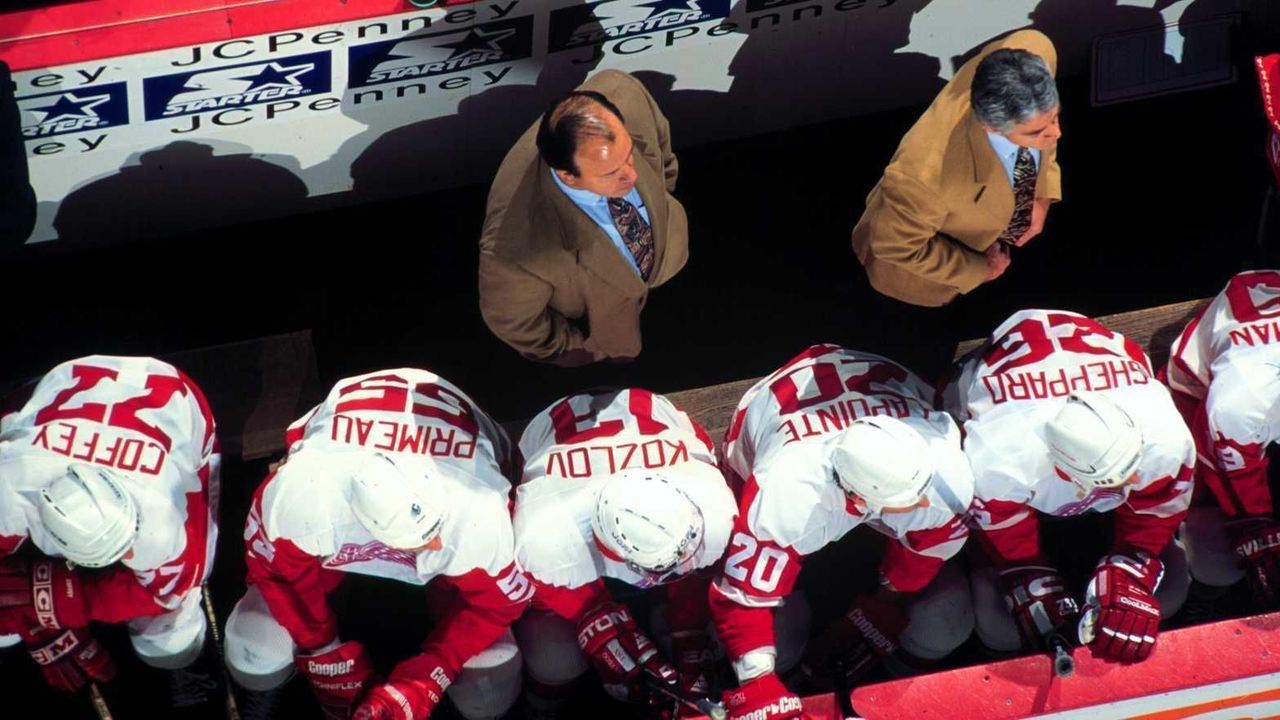 Enter the 1995-96 Detroit Red Wings, who, had they won the Stanley Cup, would have sparked a heated debate. Detroit won in 1997 and 1998 and then again in 2002, so a 1996 Cup would have made it three championships in a row, and four titles over seven years, all accomplished with a handful of the same characters along for the ride.
What separates this particular squad from a long list of excellent regular season teams that failed to win the Cup in the post-1967 expansion era - including recent entries like the 2018-19 Tampa Bay Lightning, 2010-11 Vancouver Canucks, 2009-10 Washington Capitals, and 2006-07 Buffalo Sabres - is, well, another long list. The 1995-96 Wings check off all the chef's kiss-worthy boxes associated with truly special teams.
Led by captain Steve Yzerman and all-timer Nicklas Lidstrom, Detroit finished the regular season with a 62-13-7 record and 131 points. This set a new mark for most wins in a single season (Tampa won 62 in 2018-19) and stands as the second-highest points total in a single season. The Wings had a whopping 27-point lead in the overall standings over the second-place Colorado Avalanche. Among the league's 26 teams, Detroit owned the league's best defense, third-best offense, top-ranked penalty kill, and second-ranked power play. This utter domination produced a plus-144 goal differential.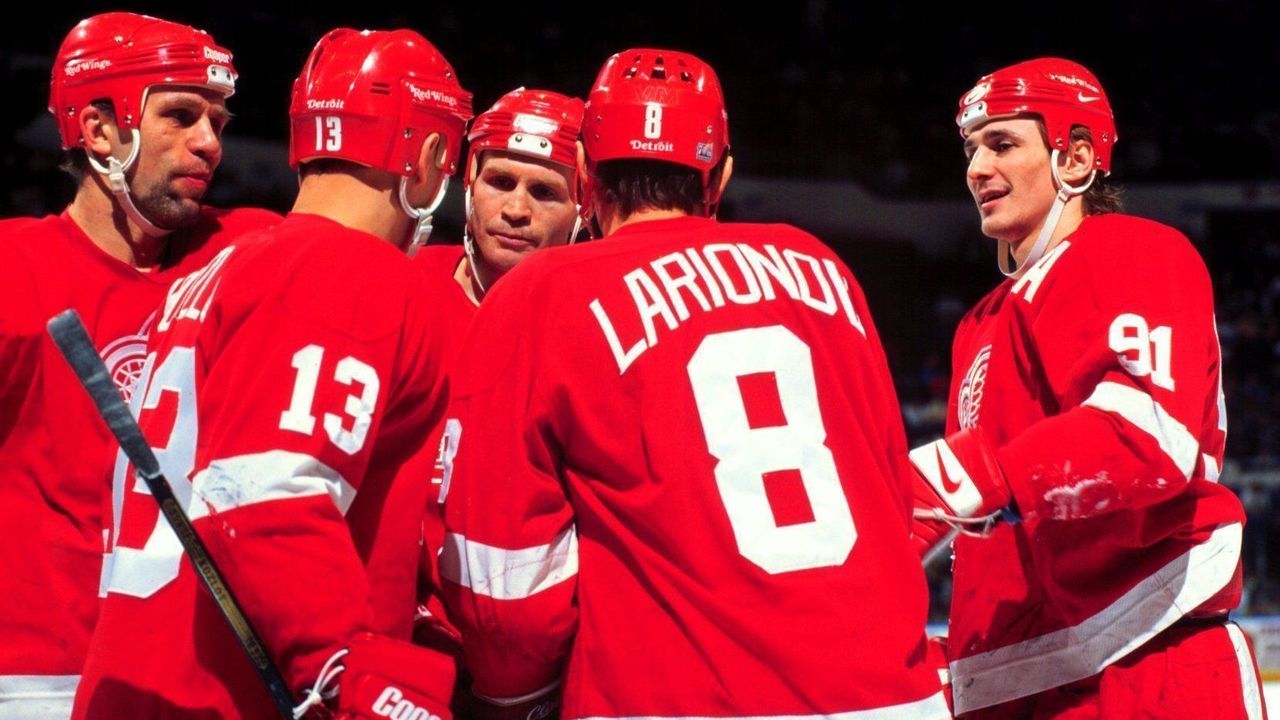 Seven players from the 1995-96 roster are in the Hockey Hall of Fame: forwards Yzerman, Sergei Fedorov, Dino Ciccarelli, Igor Larionov, and defensemen Slava Fetisov, Paul Coffey, and Lidstrom. General manager Jim Devellano and head coach Scotty Bowman are also Hall inductees. Bowman, widely considered without equal in NHL coaching circles, took home his second and final Jack Adams Award in 1996 for molding and motivating such a feared, meticulous team.
"They're like bloodhounds. They smell blood and they go for the kill," is how CBC commentator Brian Hayward described Bowman's Wings during a playoff game. They were one of those rare teams capable of breaking through the defining characteristics of its era. In the clutch-and-grab NHL, they married high speed with puck control to dominate action at both ends. This wasn't a case of a group riding the coattails of a few superstars, either. Bowman, hired by the Wings in 1993, had plenty of intriguing options.
The famous Russian Five of Larionov, Fedorov, Slava Kozlov, Fetisov, and Vladimir Konstantinov personified Detroit's brand of hockey. Borrowing from their collective experience with the Red Army team in the former Soviet Union, the five-man unit toyed with opponents, zooming the puck around with ease for long stretches of even-strength play. Their assigned positions were mere formalities in the free-flowing, puck-possession system Bowman allowed them to play.
Fedorov led the 1995-96 Wings in scoring with 107 points in 78 games and also earned the second of three Selke trophies as best defensive forward. Yzerman, Coffey, Kozlov, and Larionov also recorded 70 or more points, while Keith Primeau, a towering power forward with soft hands, scored 27 goals, trailing Fedorov's 39, Yzerman's 36, and Kozlov's 36. A 35-year-old Ciccarelli, still a net-front monster, chipped in 22 goals in 64 games.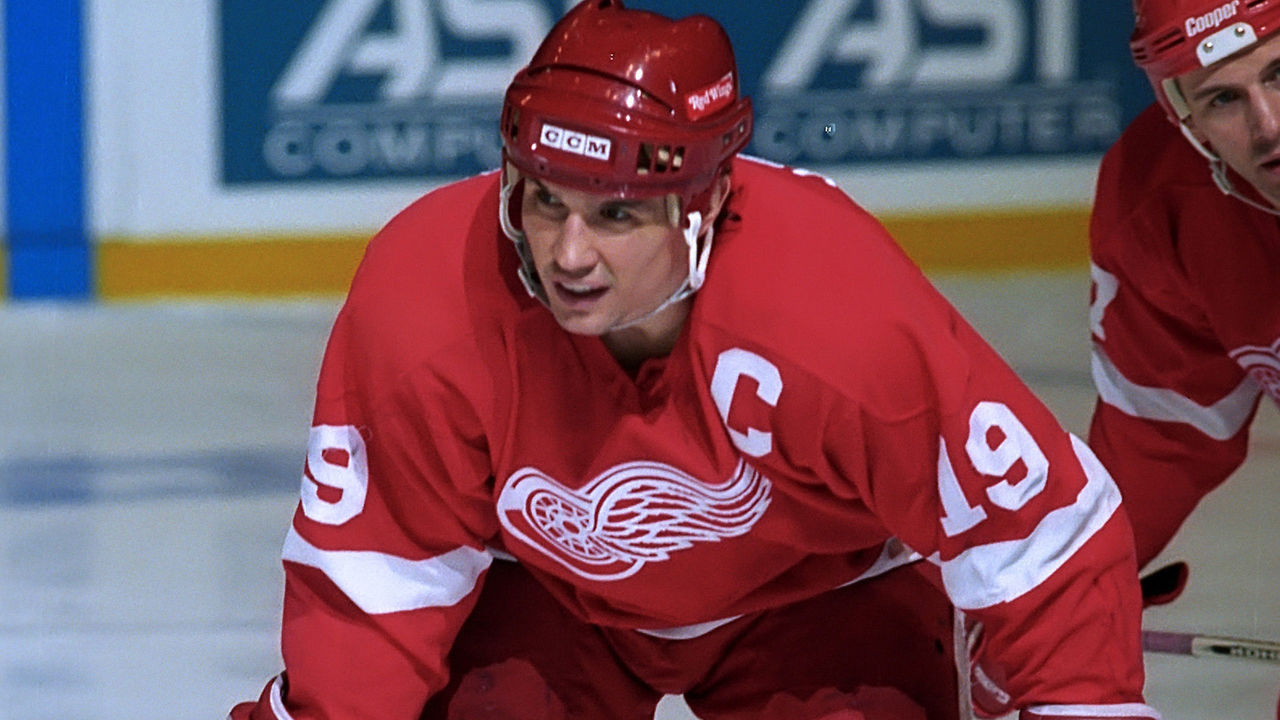 A loveable troupe of role players and an understated goaltending tandem filled out Bowman's lineup card. All three members of the legendary Grind Line - Kris Draper between Kirk Maltby and Darren McCarty - were beginning to establish themselves as invaluable contributors. (Maltby was acquired via trade in March 1996.) Martin Lapointe and Stu Grimson provided grit and muscle on the wing. In goal, a young Chris Osgood appeared in 50 games, with 1989 Cup winner Mike Vernon serving as an overqualified backup in his second season in Detroit. The duo allowed only 181 goals in 82 games to claim the William Jennings Trophy.
With a nearly identical roster, the 1994-95 Wings went on a deep playoff run, ultimately dropping four straight in the Cup final to the New Jersey Devils. That Red Wings team won the Presidents' Trophy in a lockout-shortened season and went 12-2 through the first three rounds, but couldn't finish the job against Martin Brodeur, Scott Stevens, and company. This dynamic led to a series of questions ahead of the 1996 postseason, especially: Would Yzerman, then 30 years old and in his 10th year as captain, finally win a Cup ring?
In the first two rounds of the 1996 playoffs, it looked plausible. Detroit defeated the Winnipeg Jets in six games. Then they outlasted Wayne Gretzky, Brett Hull, and the St. Louis Blues in a hard-fought seven-game series. Detroit won the opening two games, lost the middle three, then won the final two. Yzerman scored the double-OT winner in Game 7, sending the Wings to Round 3 with a 1-0 win.
The Western Conference final was a juicy matchup: Colorado versus Detroit, the two top regular-season teams. Joe Sakic and Peter Forsberg versus Yzerman and Fedorov. The team that scored nine goals on Patrick Roy in the netminder's infamous last game in a Montreal Canadiens uniform versus the team that acquired Roy via trade from Montreal. Former Devils forward Claude Lemieux, the reigning Conn Smythe Trophy winner, versus the Wings - again.
That last matchup - Lemieux against a familiar foe - proved critical in a number of ways. In the first period of Game 6, Lemieux nailed Draper from behind, driving his face into the boards, earning a five-minute major in the process. But the Red Wings scored only once on the power play, and the Avalanche finished off Detroit hours later. Lemieux was eventually handed a two-game suspension, while Bowman's club was again left searching for answers, running out of gas against a dialed-in Avs club that would go on to win the Cup in four straight against the overmatched Florida Panthers. That it could happen after Yzerman's heroics in Game 7 against St. Louis, after the Yzerman moment the franchise had been waiting years for, made it all the more crushing.
The Avs won their first Cup, but Lemieux's cheap shot on Draper is the lasting memory from the 1996 playoffs. It's the exact moment when a bubbling rivalry became a full-on fierce rivalry. Detroit-Colorado became must-see TV for the foreseeable future. Goalie fights and back-and-forth games; the two teams won four of the six next Cups, Detroit getting its revenge in every way in 1997. Tantalizing theater.
Which begs the question: What's better - a dynasty or a rivalry? Hmm.
John Matisz is theScore's national hockey writer.