In the NBA, the playoffs are where we tend to learn the most about players and teams. This year, we don't know whether we'll see the league resume in time to play a postseason tournament or crown a champion. But with every team having played at least 63 games, the regular season still had a lot to teach us.
Here are 10 things we learned during the 2019-20 campaign:
There's a clear-cut top three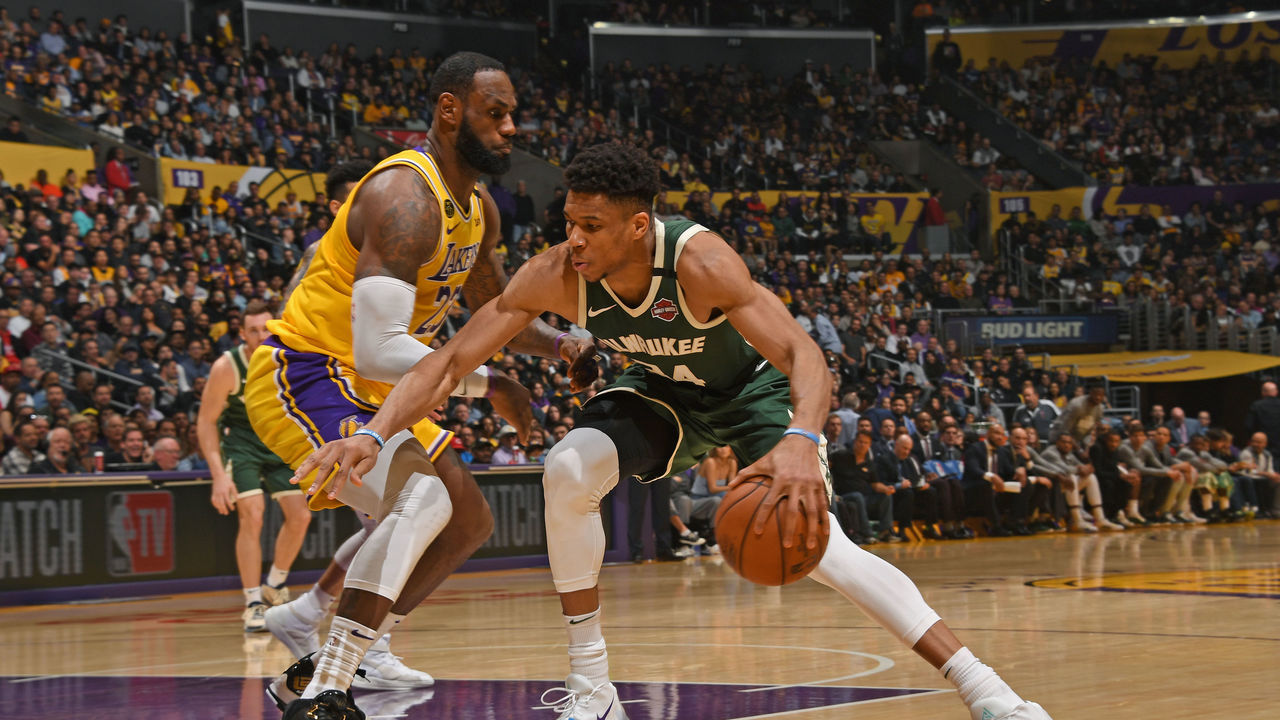 With Kevin Durant sidelined and Stephen Curry barely available, it became obvious by the time the season was suspended that three players currently stand head and shoulders above the competition.
Giannis Antetokounmpo is the MVP. The Greek Freak is the most consistently dominant player on the league's most consistently dominant team. Antetokounmpo looked poised to become the first player since Hakeem Olajuwon 26 years ago to win Most Valuable Player and Defensive Player of the Year in the same season.
He's a nearly unstoppable force getting into the paint and finishing at the rim. He's also an improved playmaker, making it tougher to load up the middle defensively against him, especially in a Bucks system that punishes opponents from deep.
Defensively, there's little Antetokounmpo can't do. He's nimble enough to defend guards and pick-and-roll actions on the perimeter. He's gotten strong enough to hang with most big men. His freakish length makes him a terror in passing lanes, and he's learned enough defensive intricacies to be an effective rover.
The only thing holding Antetokounmpo back from being the undisputed best player on the planet is a jump shot.
Enter Kawhi Leonard and LeBron James.
Every defensive trait we listed for Giannis also applies to Leonard, who adds mammoth hands - and an even greater defensive IQ - to the equation while being able to do it all without fouling.
Offensively, Leonard can barrel himself to the rim and parade to the free-throw line as needed and is also a vastly improved playmaker. However, unlike Antetokounmpo, he can also pick teams apart with his individual shot creation and pull-up shooting.
The Bucks know of Leonard's two-way game all too well. Remember, leading the Raptors' exquisite defensive effort against Antetokounmpo last spring was Leonard's superb work as the primary defender, and he helped bury Milwaukee with big plays on the other end, too.
Leonard may not play enough during the regular season to push Antetokounmpo for MVP, and he appears to cruise through stretches of regular-season games - or as he calls them, 82 practices - but he has the higher postseason gear.
Finally, James ties some of both Leonard and Antetokounmpo's best traits together.
If healthy, James will show up as often as needed during the long grind of a regular season, even at his advanced age. He'll find the perfect balance between scoring and quarterbacking, as evidenced by his league-leading 10.6 assists per game. In the midst of his best and most engaged defensive season in at least six years, he is once again up to the task of taking on the game's toughest defensive assignments. He remains the smartest player on the court - a high-speed computer processor of complex basketball minutiae in real time.
All of that was on display in a 48-hour span that included triumphs over Antetokounmpo and Leonard days before the season was suspended, and it's the reason why, if it came down to one game for everything you hold dear and you had your pick of any player on earth, James is likely still the right choice, even at 35 years old, in season No. 17. - Joseph Casciaro
Chris Paul is still the Point God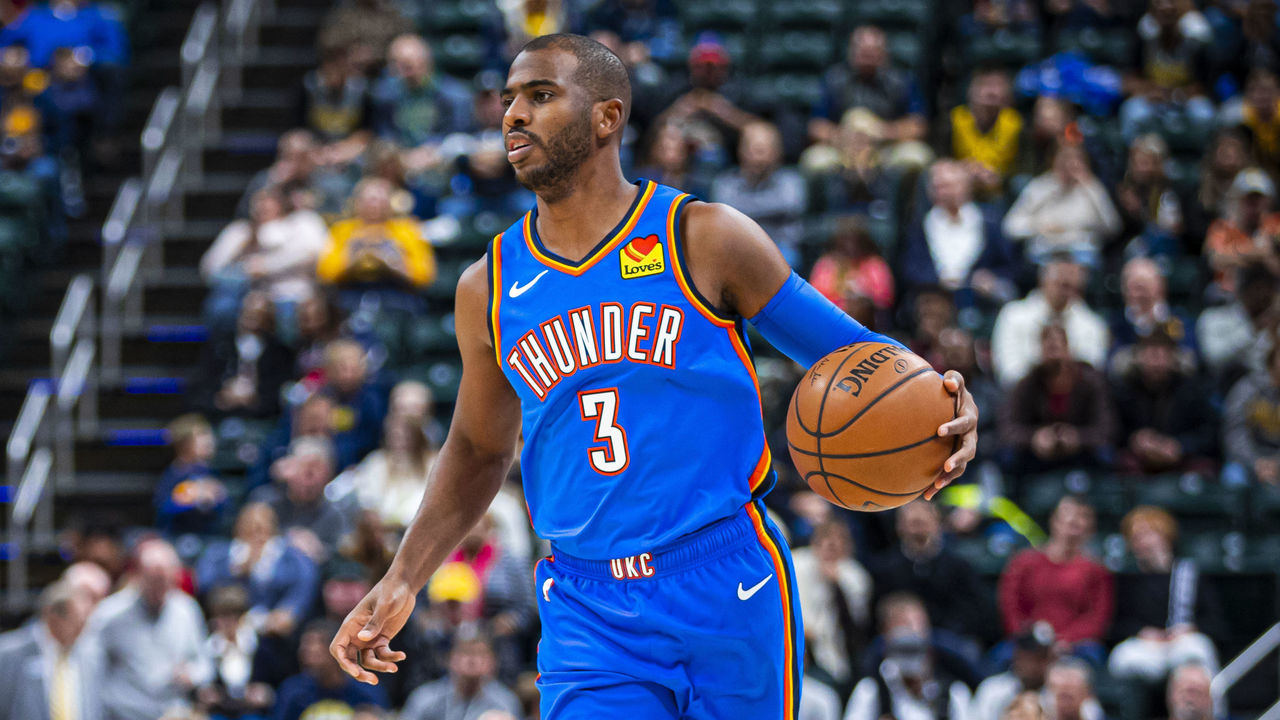 Basketball intelligence is the most durable skill an NBA player can possess. Even as one's physical capabilities inevitably wane, the ability to think a step (or several steps) ahead of one's opponents can make up for an awful lot. So, perhaps it shouldn't be a surprise that Chris Paul, in his age-35 season, continued to exert his sly and brainy brand of dominance.
When Houston traded him to Oklahoma City in the offseason, it was widely believed that the ostensibly rebuilding Thunder would try to reroute him to a third team in short order. When no trade materialized, it seemed like Paul had gotten trapped in a nightmare of his own making: Here was this ornery, perfectionist of a point guard left to spend his twilight years on a rebuilding outfit in a small market, gesticulating into the void, because no other team wanted to gamble on a six-footer in his mid-30s with a lucrative contract, checkered injury history, and reputation for chafing his teammates raw.
But, instead of being disgruntled, Paul embraced his circumstances and put forth one of the most impressive displays of leadership of his career. He pulled the Thunder up by the scruff of their necks and captained them to the exact same 40-24 record the Rockets had before the season was suspended. His assist numbers were down because he spent more time playing off-ball alongside budding young guard Shai Gilgeous-Alexander, but he was otherwise the same statistical darling he's always been.
His 60.9% true shooting percentage was the second-best mark of his career. He ranked ninth in the league in Real Plus-Minus and sixth in Player Impact Plus-Minus. The Thunder were 12.2 points per 100 possessions better with him on the floor than with him on the bench. He was arguably the NBA's best high-volume crunch-time player, which is how OKC went an incredible 29-13 (with a league-best 29.1 net rating) in games that were within five points in the final five minutes. It was also his healthiest season in years; he missed just one contest and had already eclipsed his games-played totals from each of the previous three seasons.
This wasn't Paul making the best of a bad situation; this was him turning a potentially bad situation into a good one for everybody involved. He and the Thunder were one of the league's best stories. - Joe Wolfond
The Leonard-less Raptors are still contenders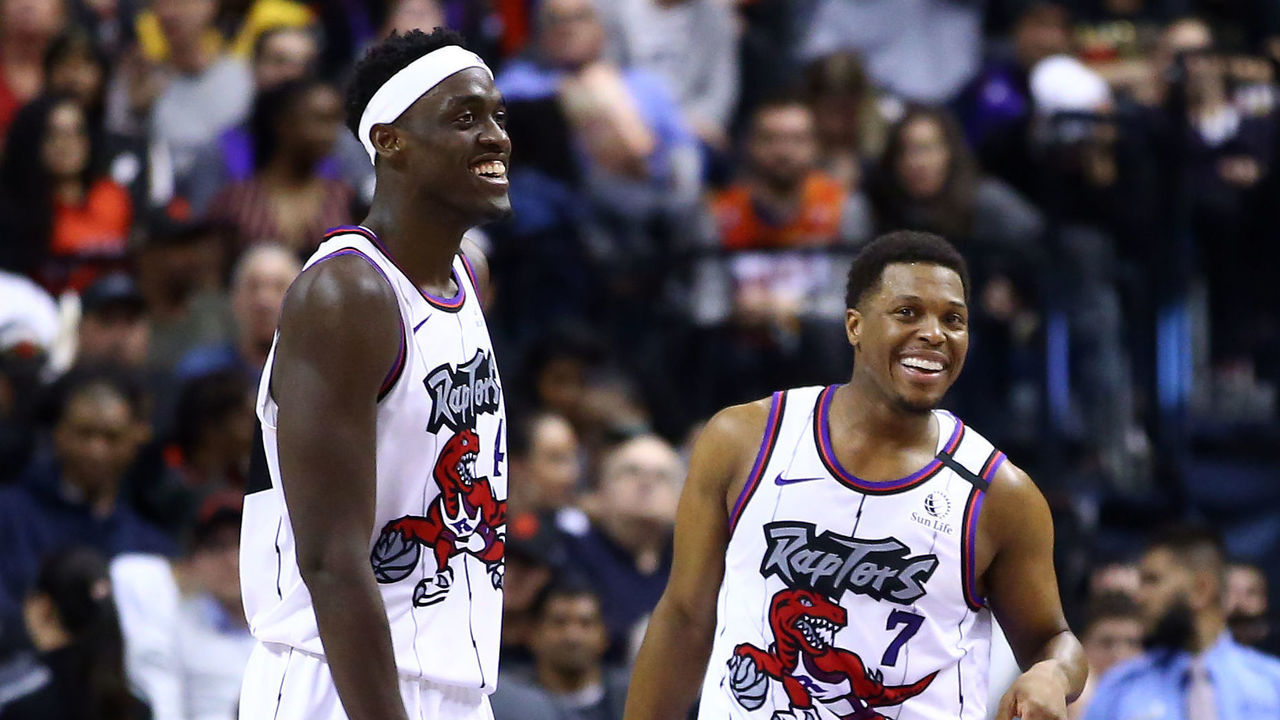 Watching the undermanned Raptors overwhelm opponents en route to a 46-18 record was a reminder of both how spectacular and how underappreciated the 2019 championship edition of the club was.
In that title team's wake, with championship starters Kawhi Leonard and Danny Green both shipping out to Los Angeles, Toronto found a new path to contention.
Pascal Siakam made the leap from breakout star and Most Improved to legitimate All-Star, and perhaps even All-NBA and All-Defensive team. Kyle Lowry, who just turned 34 years old, somehow emerged from last spring's title run even better, feistier, and craftier than before. In his 14th season, Lowry is as close to being the best point guard in the game as he's ever been.
Fred VanVleet established himself as a starting guard and combines with Lowry to make one of the league's most defensively disruptive backcourt combinations. OG Anunoby, at his best, looked like the type of stopper who could earn first-team All-Defense honors.
Serge Ibaka has become a pick-and-pop machine and improved playmaker on the offensive end while protecting the rim in ways he hasn't since his Oklahoma City days. Marc Gasol, when healthy, is still enough of a defensive game-changer and playmaking genius to negate his diminishing scoring. Norman Powell became a dependable scoring option, and the Raptors appear to have found another undrafted gem in rookie Terence Davis.
Nick Nurse, who was well on his way to Coach of the Year and who had made a name for himself on the offensive end, revealed himself as the game's most creative defensive mind.
The Raptors were on pace for 59 wins despite Lowry, Siakam, VanVleet, Gasol, Ibaka, and Powell missing at least 11 games each due to injury.
Their ceiling obviously wasn't the same without the individual, series-shifting brilliance of Leonard, but the Raptors, as presently constructed, boast as complete a two-way roster as there exists in the league. A path to The Finals still existed if things broke right. - Casciaro
OKC traded 2 stars and might've won both deals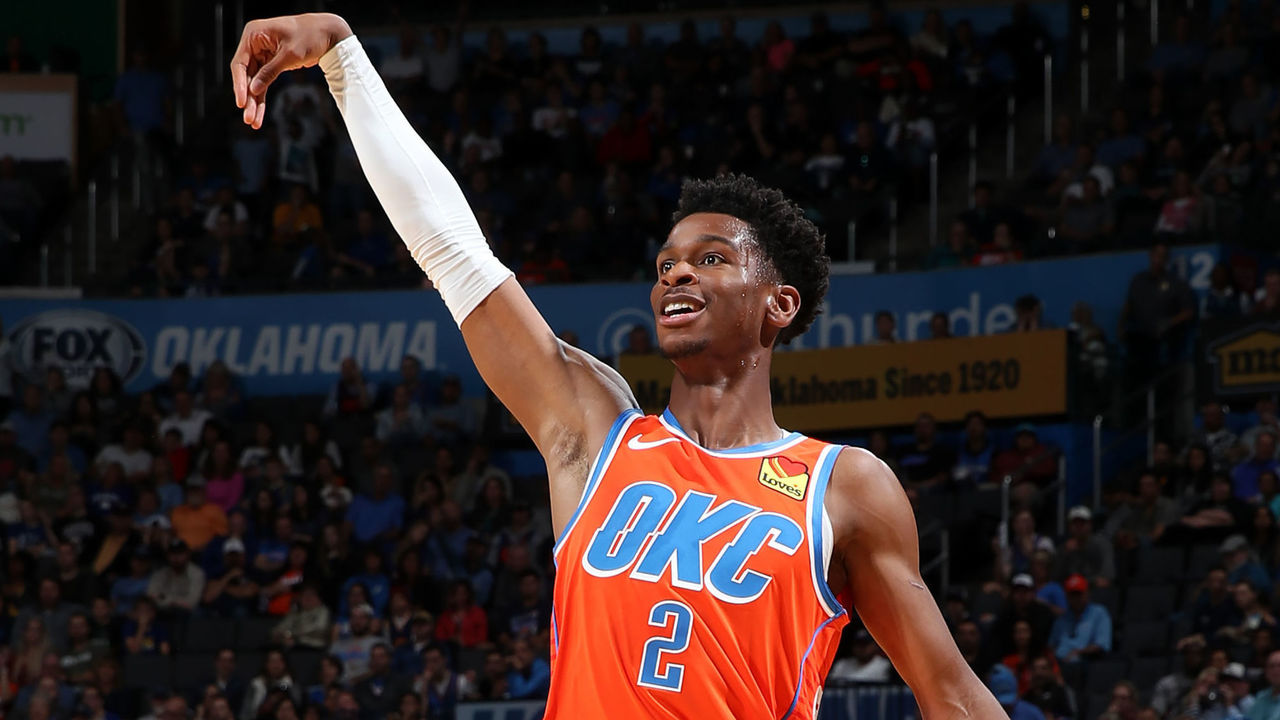 After boasting countless superstars while navigating various levels of postseason contention for the better part of a decade, trading both Paul George and Russell Westbrook in the span of a week last July was supposed to signal a willing free fall for the Thunder.
Instead, with Chris Paul playing his best ball in years, Shai Gilgeous Alexander - the crown jewel of the deal that sent George to L.A. - emerging as a future star, Danilo Gallinari remaining a walking bucket, and contributions from mainstays Dennis Schroder and Steven Adams, OKC became one of the league's most pleasant surprises.
At 40-24, the Thunder sat fifth in the Western Conference at the time play was halted, and the franchise finds itself in the rare position of being able to win in the short term while laying the foundation of a long-term contender.
Should they choose to run it back next season, Gallinari is the Thunder's only key rotation player not under contract for 2020-21, and just like this year, OKC shouldn't feel pressured to sell off its veterans, because the cupboards are already overflowing with future assets.
Between the George and Westbrook deals alone, the Thunder acquired six additional first-round picks between 2021 and 2026. OKC also acquired swap rights for three other first-rounders during that time and added a 2020 first-round pick from Denver in the deal that sent Jerami Grant to the Nuggets.
The Thunder somehow traded two superstars for one of the greatest hauls in league history and got better in the short term. That's absurd. - Casciaro
Westbrook can still be elite, in the right situation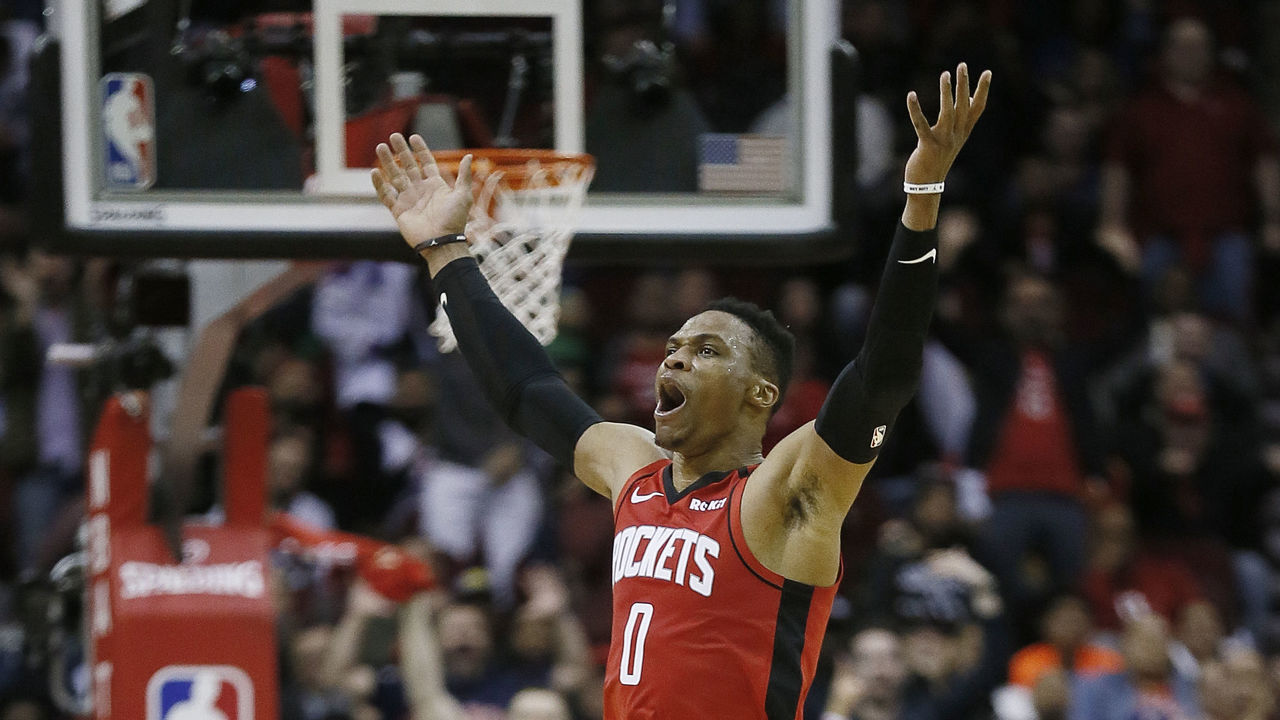 After a down season last year, capped by a dispiriting playoff showing, followed by a woeful first two months as a Rocket this season, it seemed evident that Russell Westbrook, 31 years old and coming off his third right knee surgery, was in the midst of an irreversible decline.
But then Clint Capela got injured, and Houston later traded for Robert Covington. The Rockets went all-in on five-out lineups, and Westbrook went haywire. He excised 3-pointers from his diet, cut down on mid-range pull-ups, and focused on being a homing missile by repeatedly launching himself at the rim. Playing in more space than he ever had before, he attempted 49% of his shots from inside the restricted area, the highest proportion of his career. That number spiked to 56% after Houston's move to full-time small ball.
It's worth noting that Westbrook had started to turn things around before the Capela trade - after the calendar flipped to 2020, he averaged 31.7 points on 52.7% shooting - so it's possible his resurgence had as much to do with getting fully healthy as it did the increased spacing. His game has always been predicated on speed and athleticism, and it's long been acknowledged that, without a reliable jump shot to fall back on, his drop-off could be precipitous once those physical gifts began to wane. One thing this season demonstrated is that we haven't reached that point yet; he still possesses the shot-out-of-a-cannon explosiveness that's defined his career.
His broken jump shot still makes him difficult to build around, but the Rockets proved that in the right system, with the right complementary pieces in place, Westbrook can still be an absolute terror. - Wolfond
Part II: Saturday