Why you need to bet San Diego State to win the NCAA Tournament
Find line reports, best bets, and subscribe to push notifications in the Betting News section.
If you're looking to bet one of the favorites to win the NCAA Tournament, you should first be reminded of this year's preseason poll and the series of shocking results that involved the teams atop it.
Four of the top 11 teams, and six of the top 14, are currently unranked, including preseason favorite Michigan State and last year's national champion, Virginia. The three highest-ranked teams in KenPom have the lowest efficiency ratings of any such clubs since 2005-06, which was a notably weak season. In other words, there is no overwhelming favorite this year.
However, one constant has been San Diego State (26-0), the only undefeated team in the nation and a mainstay in the top five for more than a month. The No. 4 Aztecs rank first in the NCAA's "NET" rankings and are closing in on the first No. 1 seed in school history.
In a season full of stunning upsets, the only team without a blemish is, by far, the best bet on the board.
As we highlighted Tuesday, San Diego State is an anomaly in the betting market. At theScore Bet in New Jersey, the team is still 18-1 to win it all - tied for the 11th-shortest odds - while fellow mid-major favorites Gonzaga (+700) and Dayton (+1200) are priced among the best in the field. At some books, the Aztecs are priced even longer.
| TEAM | ODDS (theScore Bet) |
| --- | --- |
| Michigan State | +600 |
| Gonzaga | +700 |
| Baylor | +800 |
| Duke | +800 |
| Kansas | +1000 |
| Louisville | +1000 |
| Dayton | +1200 |
| Kentucky | +1200 |
| Oregon | +1200 |
| Maryland | +1500 |
| Butler | +1800 |
| Field (all others) | +1800 |
| San Diego State | +1800 |
There's been nothing fluky, though, about San Diego State's dominance, even if books are slow to catch on.
The Aztecs are outscoring teams by an average of 17.7 points per game - second only to Gonzaga - and have won 23 of their 26 games by at least nine points, which are the most such victories in the nation. San Diego State ranks fifth in KenPom's adjusted efficiency margin - which is adjusted for opponent - and boasts top-seven marks on offense and defense.
This team is built for the rigors of the tournament, too. The Aztecs' scoring margin away from home (+16.5) is best in the country. They're building huge leads even with the slowest tempo of any top-20 team, which will help in March, as 12 of the last 14 champions were ranked outside of the top 100 in pace, and seven of the last 10 ranked 150th or lower.
San Diego State doesn't have any "household" names but junior guard Malachi Flynn has earned his spot on the Wooden Award watch list as the engine for his team's offense, which features four double-digit scorers. All five of the team's regular starters are also upperclassmen, which helps key a heady defense that forces opponents into the eighth-longest possession on average.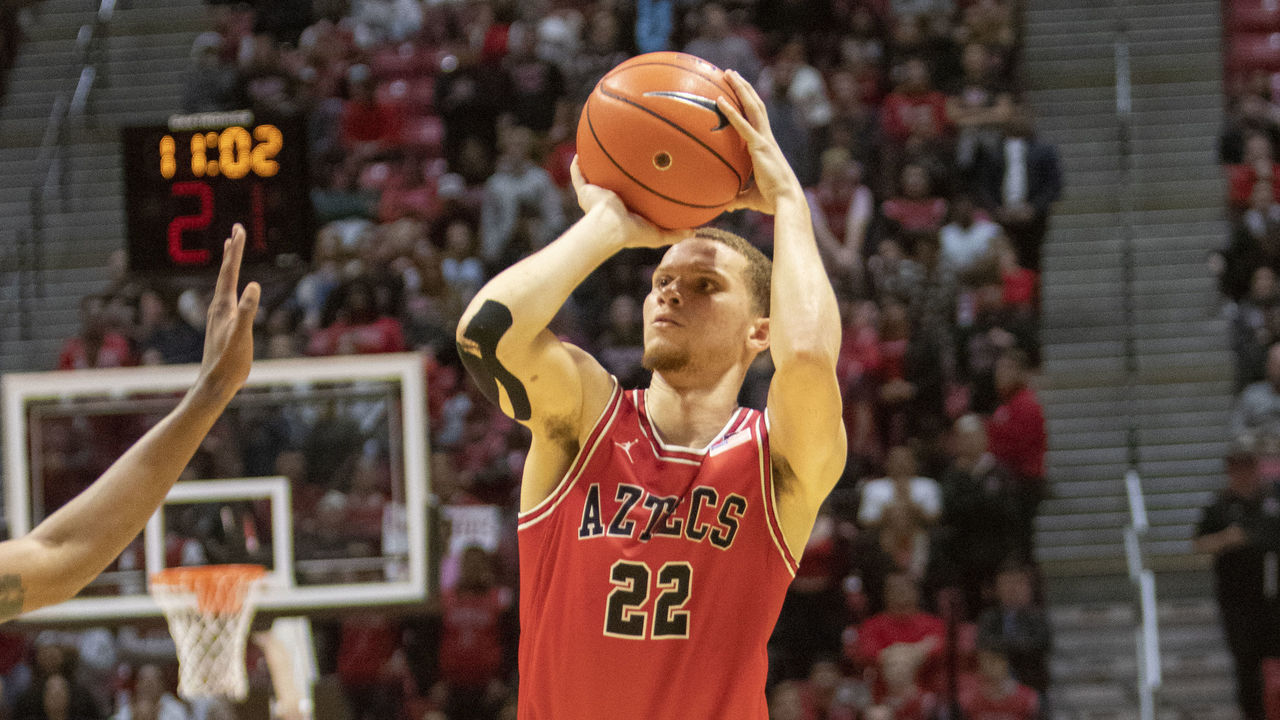 Even if you haven't watched a second of Aztec basketball, it's worth betting on this team to win the title, especially if it runs the table. History smiles fondly upon teams with a resume this sterling.
San Diego State has a 66.9% chance of finishing the regular season undefeated, according to KenPom, and it'll be the overwhelming favorite to win its conference tournament. Seven of the last nine teams to enter the NCAA Tournament with a perfect record have reached the Final Four - eight if you include Memphis' vacated 2007-08 run.
As of Wednesday, the Aztecs rank seventh in opponent-adjusted offensive and defensive efficiency. They're the only team in the country ranked that high in both. Since 2005, 18 teams have owned a top-seven offense and defense; 17 reached the Elite Eight, 13 made it to the Final Four, and eight won it all.
In fact, since KenPom started tracking this data in 2002, only three of the 24 teams with top-seven efficiency numbers on both sides of the ball failed to reach the Elite Eight. Any team with that level of production tends to have a safe floor in the tournament when either its offense or defense is inevitably tested.
And don't be concerned about oddsmakers showing such little confidence, because books have been wrong about San Diego State all season. The Aztecs are 17-8 against the spread - best of any ranked team - and have covered by an average of 5.44 points per game. Among those with at least a 20-game sample, that's the second-biggest ATS scoring margin by any team in the last eight seasons, behind only the 2018 Wofford squad.
You don't have to buy that San Diego State is the best team in the country; Kansas and Duke have more talent, Baylor has more impressive wins, and Gonzaga has proven itself as a mid-major giant. But in this crazy season, paying a short price on any of those teams is asking to be disappointed.
The Aztecs have exceeded expectations all year behind historically favorable numbers and a legit Player of the Year candidate. They have much better than a 5% chance to win it all - as their odds loosely imply - and their price will only shorten if they claim a top seed. Don't wait until it's too late. The best value in the country is hiding in plain sight.
C Jackson Cowart is a betting writer for theScore. He's an award-winning journalist with stops at The Charlotte Observer, The San Diego Union-Tribune, The Times Herald-Record, and BetChicago. He's also a proud graduate of UNC-Chapel Hill, and his love of sweet tea is rivaled only by that of a juicy prop bet. Find him on Twitter @CJacksonCowart.
Comments
✕
Why you need to bet San Diego State to win the NCAA Tournament
  Got something to say? Leave a comment below!